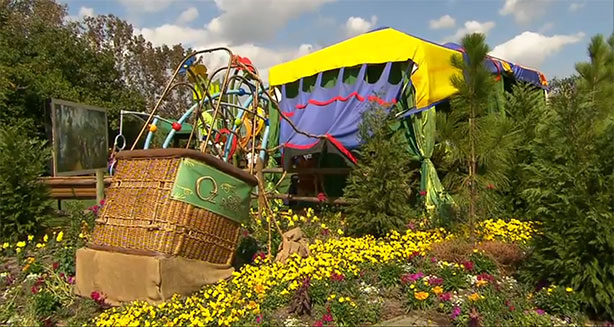 Coronado Springs Slide and Pool Refurbishment
The "Jaguar" waterslide at the Lost City of Cibola Pool at Disney's Coronado Springs Resort will be closed for refurbishment from February 9 through 20, 2015.  During the timeframe of February 18-20 the entire Lost City of Cibola Pool area will be closed.  Guests will be required to use other pools during the refurbishment.
Superstar Theater receiving interior makeover
The building known as the Superstar Television Theater (former American Idol) is currently being refurbished.  It's said to be the future home of a revamped version of the For the First Time Forever: A Frozen Sing-Along Celebration.  No timeframe has been announced to begin using the theater.
Crane to remain for another month
The large construction crane that keeps popping up in everyone's family photos at Cinderella's Castle will remain on the site until March 12, 2015.  They are using the crane to do some refurbishing and painting.  The walkway from the Merida meet beside the castle will remain closed and the smoking area has been moved to the opposite side of the castle.  This means that the Fairy Godmother will meet near the Fantasyland Wall.
Wild About Safety on in-room televisions
If you're interested in spending your vacation time learning about conservation, and you're staying onsite, you can tune your in-room television to Channel 81 to view the Disney Wild About Safety series.  The series features eight 12 minute videos on topics such as environmental safety, health transportation and water conservation.
Starbucks continues the invasion
Creature Comforts has closed at Disney's Animal Kingdom and will re-open this summer as the 4th in-park Starbucks location.  This follows the recent grand opening of the Trolley Car Cafe in Hollywood Studios.
Busch Gardens Food and Wine Festival
Busch Gardens Tampa is diving into the Food and Wine Festival forum for the first time.  Beginning March 7, 2015 guests will be encouraged to sample a variety of foods, wines and craft beers that will delight your palate and fill your appetite.  Here's the menu for the event:
Gourmet Lodge:
Explore the exotic flavors of Gourmet Lodge, featuring duck confit, venison chili and other exciting dishes.
Savory Tavern:
Tempt taste buds with the rich flavors of Savory Tavern, including coconut shrimp cigars, braised lamb shank and passion fruit flan.
Chef's Plantation:
Pan-seared salmon cakes, a griddled cheese cake sandwich and more await your palette at Chef's Plantation.
Coast to Coast Cookery:
Flavors of the land and sea come together at Coast to Coast Cookery, featuring hangar steak, bacon-wrapped prawns and more.
Field House Eatery:
The Field House Eatery is the Festival's biggest location, offering pan-seared scallops, roasted pork belly and mango éclairs right on Gwazi Field.
Southern Station:
Southern Station tantalizes taste buds with shrimp & grits, pan-fried cod and beef short rib.
Comfort Kitchen:
The Comfort Kitchen fuses classics like bacon mac & cheese with contemporary eats like habanero shrimp salad.
Light Fare Canteen:
Freshen up your palette at the Light Fare Canteen with scallop ceviche and an heirloom tomato & goat cheese salad.
Blazin' Bistro:
Blazin' Bistro breaks out the grill for fire-braised pork chops and jerk chicken sliders.
The Busch Gardens Food & Wine Festival will be offered from 12pm to 9 p.m. on Saturdays and Sundays ONLY, March 7 through April 26. The Festival is included with any pass, Fun Card or daily admission. Food and beverages are available for purchase at an additional fee.
In addition to the food and wine, they are offering special concerts at the Gwazi Field.  They have only released the concert lineup through March, but here's what's being offered thus far.
The Busch Gardens® Food & Wine Festival brings together the best in pop, soft rock, Latin, country, contemporary and classic music. Concerts begin at 6 p.m. and are included with admission to the park, so bring your glass and eat to great music and good times!
March 7 – Gavin Degraw
March 8 – Fifth Harmony
March 14 – Kool and the Gang
March 15 – Boys Like Girls
March 21 – Kenny Rogers
March 22 – Pentatonix
March 28 – Stephen Curtis Chapman
March 29 – El Gran Combo
Aquatica offering $8 admission on certain February Dates
Orlando area waterpark Aquatica is offering admission on certain February dates for only $8.00 plus tax.  You'll need to purchase your admission in advance and this special price is not available at the park ticket sales locations or kiosks.  Regular admission is $37.00
Planning on visiting the Central Florida are next month? If so, you might be able to enjoy a special offer that includes a single admission to Aquatica, SeaWorld's Waterpark for just $8.00 plus tax! To take advantage of this offer, Guests have to select in advance the date they plan on visiting the water park.
The "Splash & Save" tickets are only available for advance purchase and not available at the park (the regular price for advertised at the gates is $37.00).
At the time of publishing the $8.00 admission will be offered on February 14, 15,  22.  $16.00 admission is offered on February 21 & 28, March 1, 7, 8.  A number of dates offer $28.00 admission.