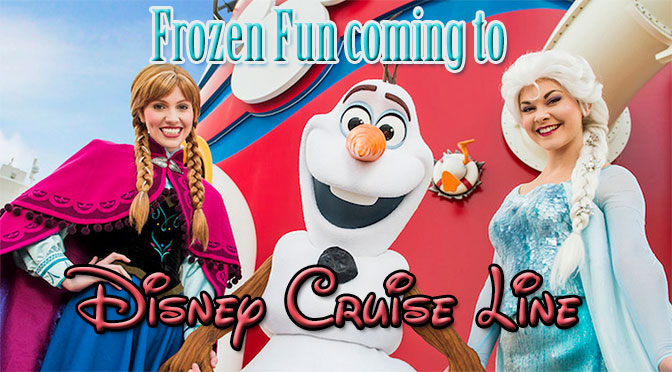 Disney Cruise Line released details today revealing plans to take their warm, cozy ships to a new Frozen level.  They are creating a new Frozen portion in their popular Disney Dreams on-ship show, a new Frozen deck party, more onshore adventures and a meet and greet with none other than OLAF himself!  Here's the details revealed today:
A Day of Frozen Fun, Including New Deck Party
Debuting this summer, on select Disney Magic and Disney Wonder sailings to Europe and Alaska, Disney Cruise Line guests are transported to the land of "Frozen" when the ship is transformed into a winter wonderland and a day of frozen fun culminates with an extravagant celebration with friends from the Kingdom of Arendelle. The deck party, "Freezing the Night Away with Anna, Elsa and Friends," is a family-friendly interactive celebration featuring the famous royal sisters and their fun-loving Nordic companions.
New Production Number in "Disney Dreams"
Our friends from "Frozen" are making their stage show debut at sea in the Walt Disney Theatre aboard the Disney Magic. In our original production, "Disney Dreams … An Enchanted Classic," Anna, Elsa and Olaf join the line up of beloved Disney characters who together teach a young girl the power of her dreams. Brand-new scenes featuring "Frozen" characters include renditions of three popular songs: "Let it Go," "For the First Time in Forever" and "In Summer."
Magical Meet and Greets
In addition to warm hugs, Olaf will be giving autographs and taking photographs with children and families while he is cruising with us. He is joining Anna and Elsa on the Disney Fantasy, Disney Dream, Disney Wonder and Disney Magic for some fun in the sun!
Adventures Ashore in Norway
This summer in Norway, the land that inspired Arendelle from "Frozen," Disney Magic cruisers will have the opportunity to join exciting new Port Adventures that bring this fairytale setting to life. One signature adventure ashore in Ålesund, Norway, created exclusively for Disney Cruise Line, will immerse guests in the splendor and charm of Norway, with the help of Anna and Elsa, in an enchanting storybook village.
Olaf's Summertime Freeze on Castaway Cay
We're cooling down Castaway Cay with the addition of Olaf's Summertime Freeze bar! Serving non-alcoholic specialty frozen drinks in souvenir cups, the creative menu features refreshing beverages such as "Olaf's Flurry Freeze," "Sven's Carrot Delight" and "Warm Hugs." Olaf's Summertime Freeze will be near the Pelican Point tram stop by Castaway Cay Family Beach.