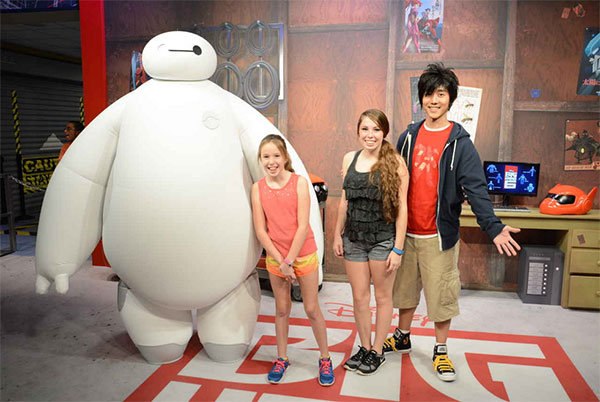 My girls wanted to drop into Hollywood Studios to check out the Comedy Warehouse Christmas Special, meet Hiro and Baymax, dance with some characters and ride a couple of favorites.  We then decided to hop to the Magic Kingdom to see the Jingle Cruise one last time.  I thought I'd share a few observations from the day.
Comedy Warehouse Christmas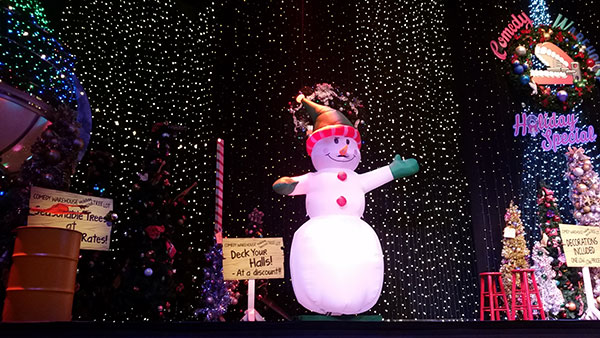 I can't believe I never went to see this before.  It was stinkin' hilarious watch the talented improv actors ham it up on stage.  We never visited Pleasure Island, so we didn't see the original versions, but this was great family fun.  Next year we plan to take this in a few times.
Hiro and Baymax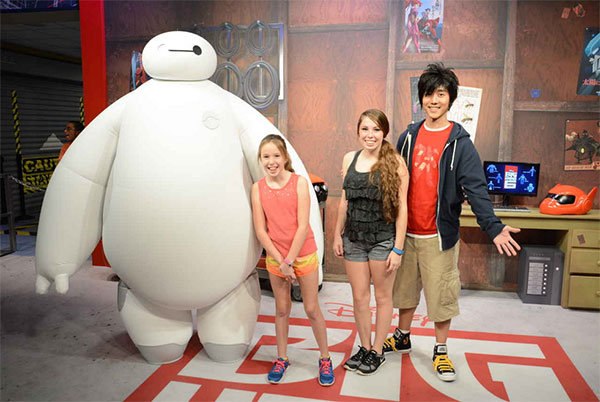 In case you missed the update yesterday, Hiro and Baymax are said to be extending their time at Walt Disney World.  They are now said to be staying until at least March 2015.  When I posted this on Facebook yesterday, it led to some wondering why characters have such a short run some times.  I can't tell you the reasons, but I know that many characters in that exact location have been out for only a few months to a year like Meet the Robinsons, Bolt with Rhino and Mittens, Up with Russell, Dug and Carl, Lotso and Chicken Little to name a few.  That's why I recommend meeting a character when you have the chance!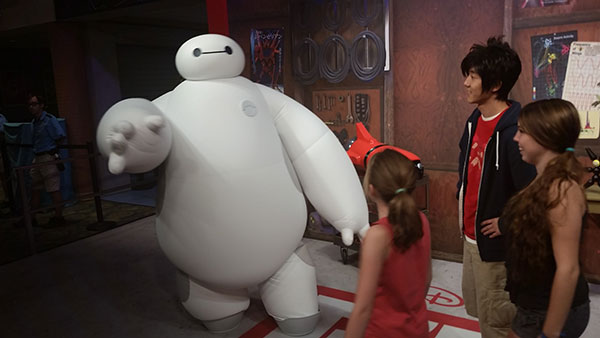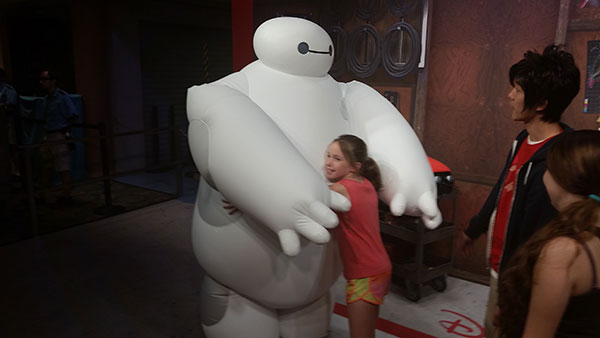 We waited a total of 58 minutes that included their 15 minute break that causes the line to move so slowly.  They often don't complete the 45 minute set before leaving early too.  My girls didn't mind the wait and we got to speak to a wonderful family who follows the blog and subscribes to Character Locator.  Someone asked if there is a way to avoid waiting an hour here.  My reply is not really.  People arrive early, arrive early again after their big break and stay in line.  It's a popular meet.  Perhaps WDW will find a way to at least keep Baymax around since he is the star of the meet.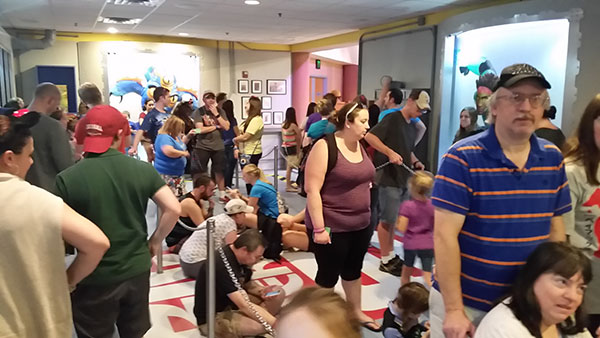 My little girl enjoyed a couple of fist bumps and a big hug and watched as Baymax began looking for Butterflies.  I told Hiro they should move to Epcot in the Spring to allow him to chase them.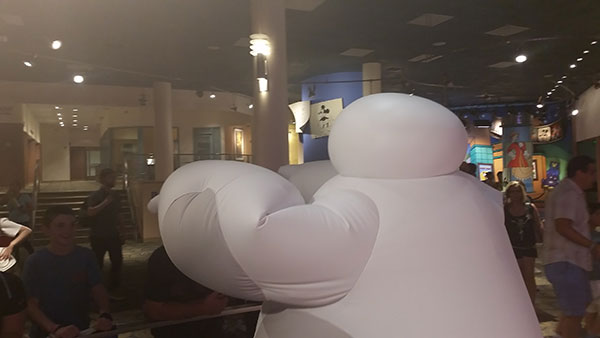 We then headed over for some dinner at Rosies All American Cafe which consisted of sharing some chicken nuggets.
Baymax Souvenir Drink Cup
After meeting Baymax, my little girl was excited to get a Baymax Souvenir Cup.  They cost $9.99 and come full of a choice of soft drink.  I've heard they are currently in short supply and don't know if they will get more.  Hollywood Studios is your best bet right now.  We ordered ours with the drink on the side to see if you come out ahead or behind this way.  You get more drink by allowing the Cast Member to fill the Baymax.  These are the things I do for quality reporting :)
Rock n Roller Coaster and Tower of Terror Photopass usage
We then used our Rock n Roller Coaster Fastpass, waited a few minutes and then used our Tower of Terror Fastpass.  If you're wearing a Magic Band, the photos and videos (when provided) are automagically adding to your mydisneyphotopass account.  If you are only using a park ticket, you must tap your card at the exit under the appropriate display.
Please turn off the goofy lights that are meant to ruin this photo!  You've placed enough text to mess it up already.
Rock n Roller Coaster currently only offers the photo that is taken as you enter the chute, screaming your lungs out, smiling or face frozen in terror.  If don't know the single rider beside me.  I think she didn't speak english because she just stared at me.  Either that or she was taken by my ravishingly good looks?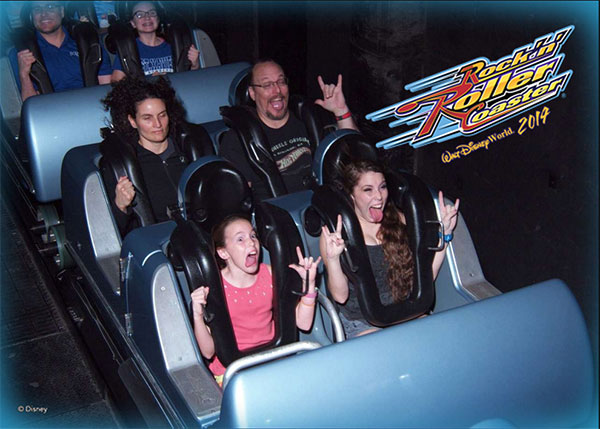 The photo for the Tower of Terror is taken as you reach the top point for your first drop.  You overlook the park and you'll see a flash.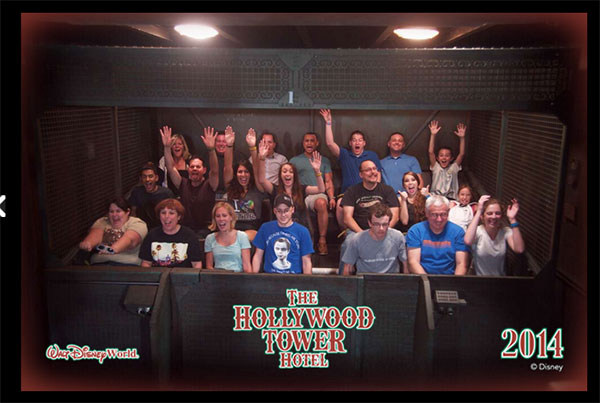 I'd show you the video, but I didn't pay for the Memory Maker package to test it out.  Just can't bring myself to pay for this to test it.  The video basically includes the photo above and the photo that is taken on the very first stop on the ride.  It includes those photos with some stock video footage that is actually pretty well done.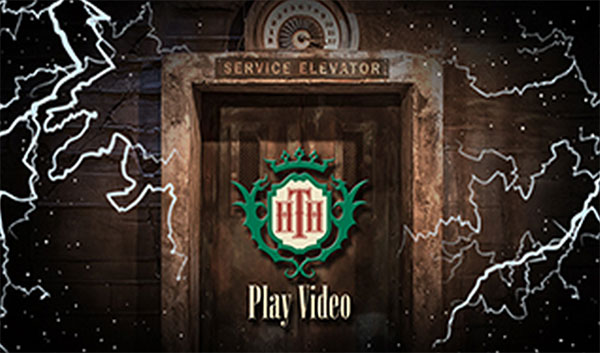 Bolt at the Holiday Dance Party
We wanted to see if Bolt might be out dancing at the Hollywood Studios Holiday Dance Party.  He was!  My little girl didn't remember having ever met Bolt previously.  It was 2008 and she was a little tot back then.  We were fortunate enough to meet Mittens and Rhino at the same time!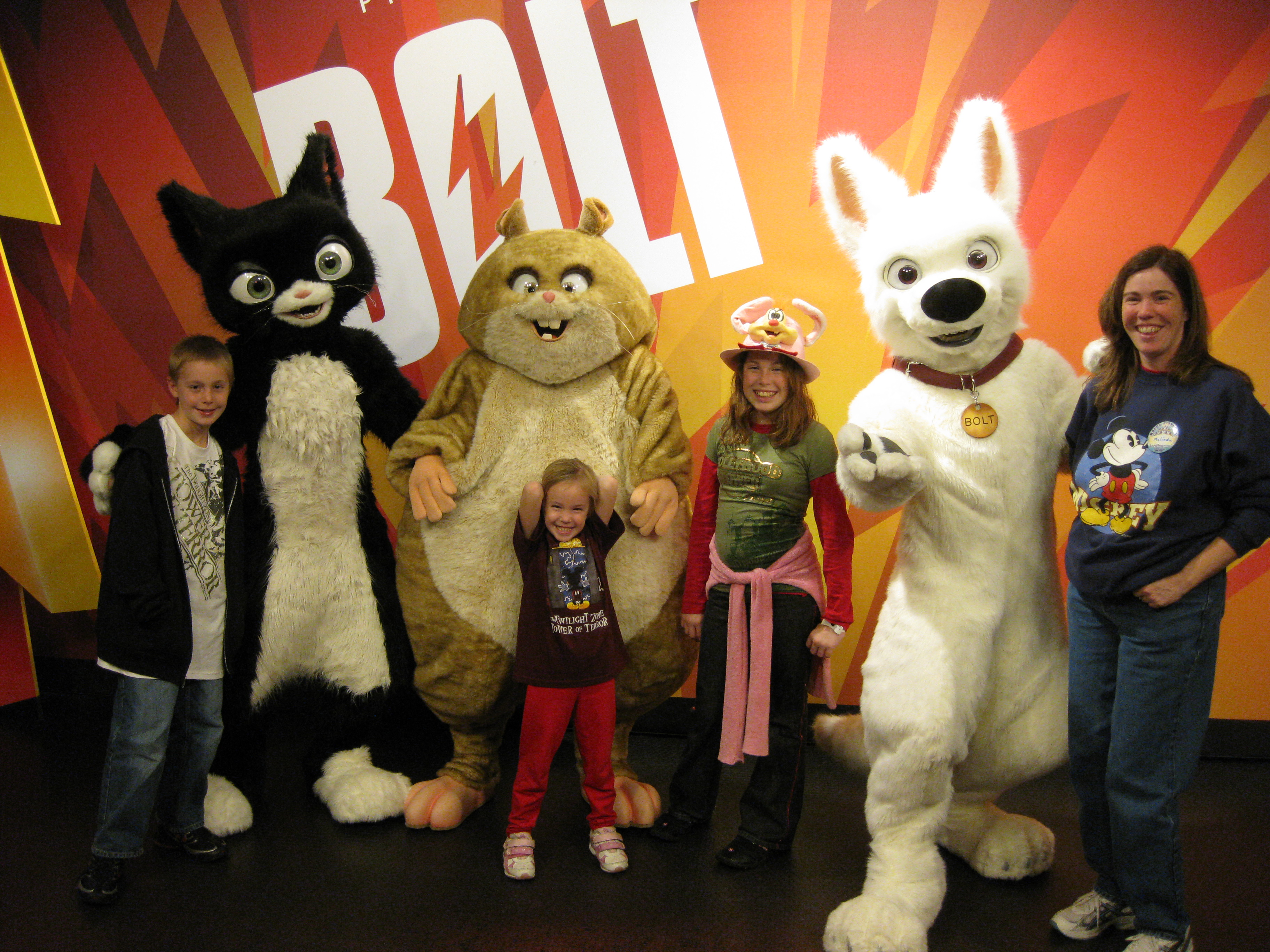 She enjoyed a little dance time with Bolt.  We saw Max, but he left before we could approach him.  She tried to run ahead, keeping her distance to say hello to him, but the Cast Member must have thought she was one of those kids that grab and tackle characters.  She just yelled "Hey Max" and he waved back as he departed.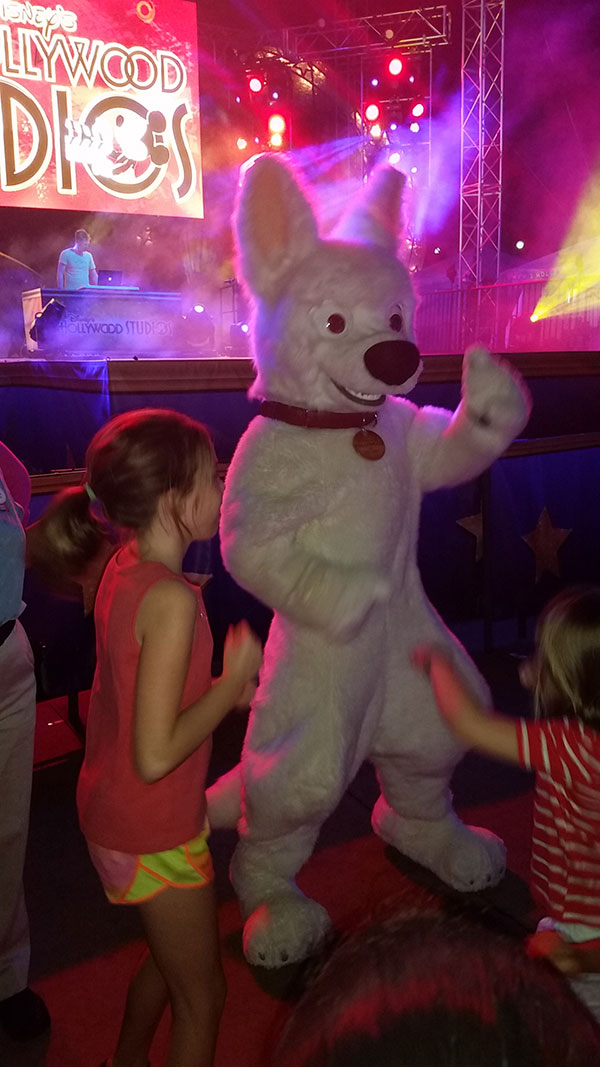 Bolt is quite a dancer!
Osborne Family Spectacle of Dancing Lights
We then headed over to catch the Osborne Lights as we call them.  I wanted to catch "What's This" as I hadn't seen this display before. It was the second one offered, so it didn't take too long.  It could take 30 minutes or more to go through the entire rotation of songs on the Streets of America.  It's just a camera phone video, but it gets the point across.
Do you want to build an iceman?
My little girl then wanted to go "Build a snowman."  We entered the Oaken's Trading Post area near the Mike and Sulley meet and greet and she was able to walk straight into the "snow" area.  This video tells the story better than I could.
Goodbye or Good riddance to the the Sorcerer's Hat?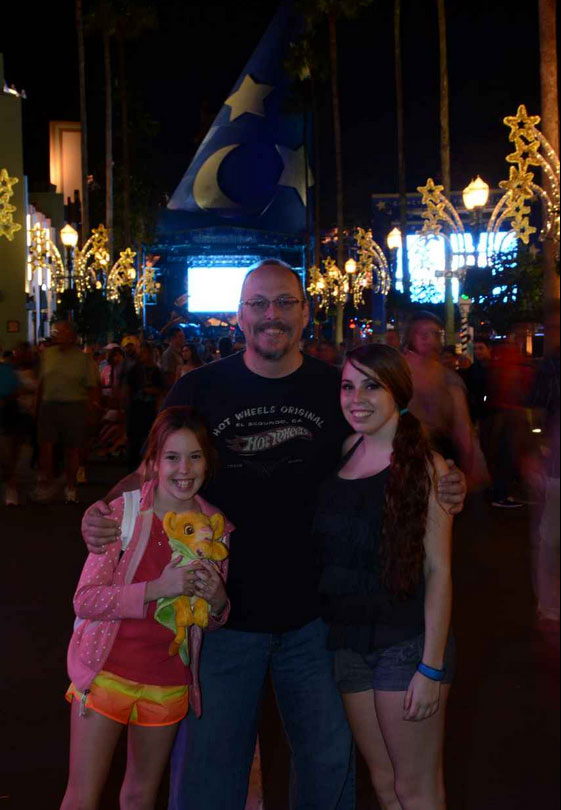 We stopped for a quick picture with the Sorcerer's Hat in the background.  It kind of ended with a big thud because the screen on the stage is really bright and there was no lighting on the hat, but I'm actually happy to see the same entrance that I saw on my first trip in 1990.  Now if they would just bring Roger Rabbit back!
We then park hopped over to a busy Magic Kingdom.  I had already told the girls it would be full of people wanted to squeeze as much fun out of their vacation as possible and I was correct.  Wait times were 30 plus minutes after 10pm and stayed that way pretty much until midnight.
A Frozen Holiday Wish
If you want to catch the Holiday Castle lighting ceremony, you're in luck as they extended until January 12!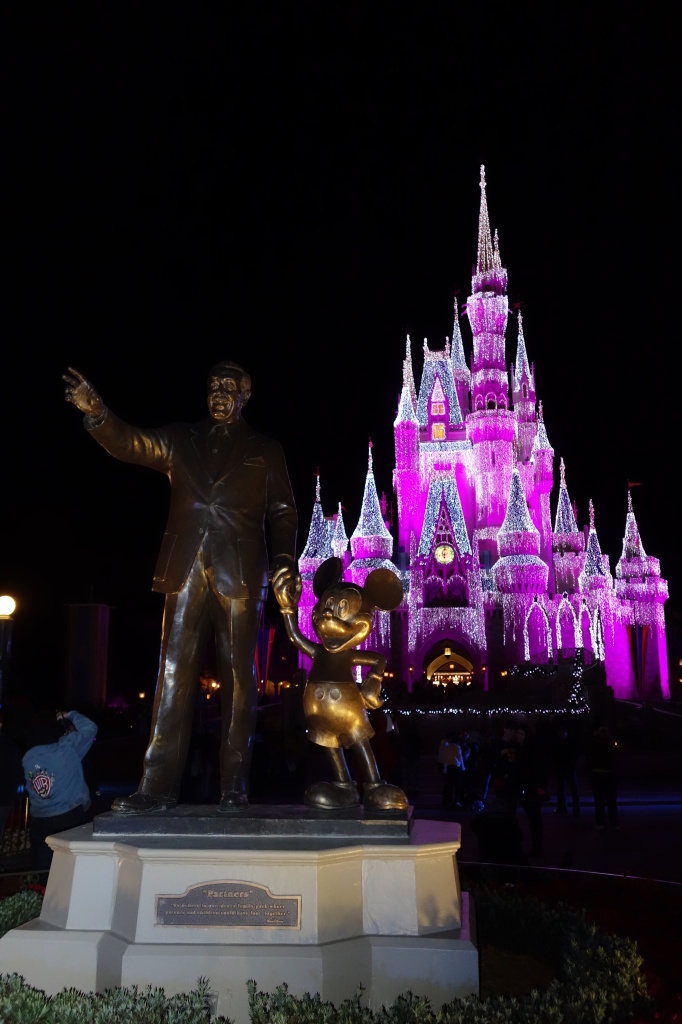 Want a unique view of fireworks?
If you want a unique view of the fireworks at the Magic Kingdom, you might try climbing the Swiss Family Treehouse a few minutes before it begins.  You'll be able to see the Castle and fireworks from a side view.
Get a Dole Whip with little or no wait.
Unless you're just dead set to pick up that non-dairy pineapple specialty that is a Disney craze at the little shack across the bridge in Adventureland, you can now get one for the same price at Sunshine Terrace next to the Magic Carpets of Aladdin.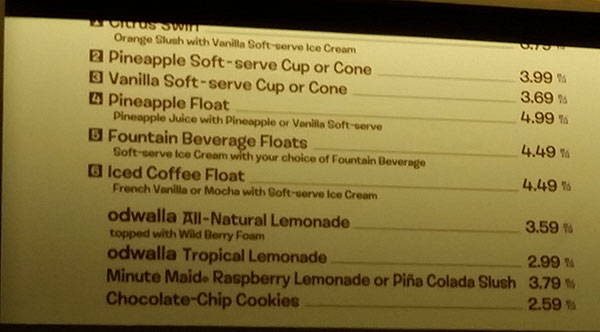 Well, that's all the news that I have today.  I'm sure I'll be back in the parks soon and I'll take my real camera with me.   Oh, I still owe you guys a Disneyland Paris report too, huh?