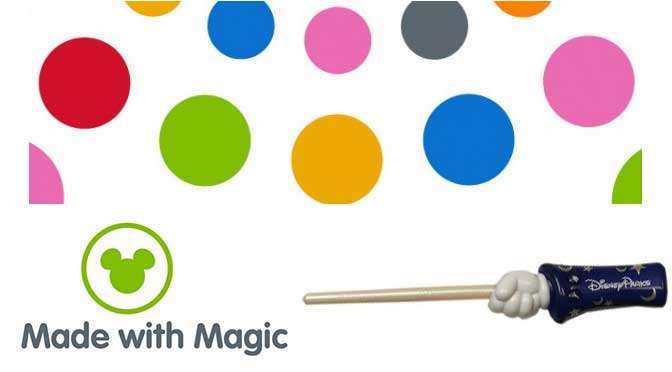 A couple of years ago Disneyland premiered the "Glow with the Show" Mickey ears.  They were a decent success in California and made their way east after a while.  Some guests like them for Fantasmic or Wishes.  The ears were the only item that synced to the music productions at the shows.  Disney World is now going to offer additional items and change the program's name.
Glow with the Show will now morph into a new name called "Made with Magic" and begin offering more items that seem targeted more toward children.  They'll offer new headbands, glowing Mickey hands and a glowing Magic Wand.  I'd bet that the magic wand will be uber popular with young children, especially boys.
Disney stated, "The Sorcerer Mickey wand will have multiple light-up functions and will give guests the ability to change the light patterns of other Made With Magic items. Guests can also place the Made With Magic items in a color-changing demo mode, when they aren't present at "Made With Magic"-enabled entertainment."
Each item will have a retail of $25.00.
Guests should look for the Minnie Mouse headband to arrive in late October and early November in select merchandise locations at Disneyland Resort and Walt Disney World Resort. The Mickey Mouse glove and the Sorcerer Mickey wand will be introduced in late November to early December at those same locations.
Which item would you look forward to purchase?