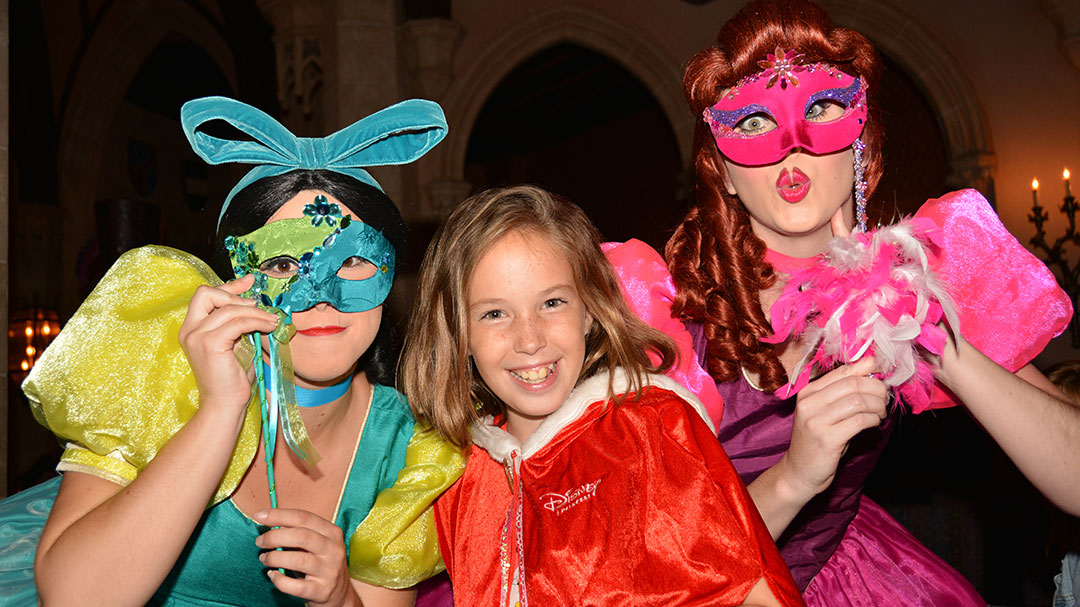 The Villains Sinister Soiree is a new add-on for Mickey's Not So Scary Halloween Party for 2014.  It costs $99 per person in addition to the Party ticket you had to purchase for admission to the party.  It requires a minimum group of two persons to book.
Disney promises that you'll receive an exclusive parade and fireworks viewing area, a dessert party and a chance to meet with villains that don't otherwise appear in the park.  I had a great deal of trepidation about using up half or more of my party time to experience this event. I jokingly mentioned that I'd go if someone sent me.
Well, Melissa at PrincessRants.com took me up on that challenge and provided the tickets to the Villains Soiree for my daughter and I to attend.  I was pretty shocked by it all, but welcomed the challenge.  I'll soon be providing a special Princess Touring Plan for the party for her site as well as a gift in kind.  After booking the Soiree, she asked if my little girl would like some masquerade masks to use in character meets and sent those to us for free as well.  Debbie ended up with 9 different masks.  It was a bit of a challenge to keep them from falling apart in a hot backpack and the characters kept wanting to see them all night long because they were so amazing.
A couple of details before we begin.
 You can only check in at this little kiosk outside the Magic Kingdom for your Soiree credentials.  And you can only check in at 4pm or later.
 You'll be given a special lanyard and a card that you'll need at the dessert party.  I said "Our last name party of two for late Soiree."  I was given a card that said "Pierce."  I said the name is wrong.  The person was like "Eh, close enough."  We got in either way. Hopefully they weren't arguing with the Pierce family when they arrived.
 Don't forget that you MUST have a ticket to the actual Hallowen Party in addition to the Soireee!
Mickey's Boo to you Halloween Parade
The Soiree provides a reserved area for the Halloween Parade.  We'll cover that in detail at a later time, but there was ample room for everyone at this parade.  The parade seating is for the FIRST parade only.  I actually sat in this exact same area for the SECOND parade on my earlier visit to the party and got the same seat for free.  The only other benefits in this area were small bottles of water (we took some for later) and a sucker.  How about an ice cream cart like the Frozen and Star Wars versions?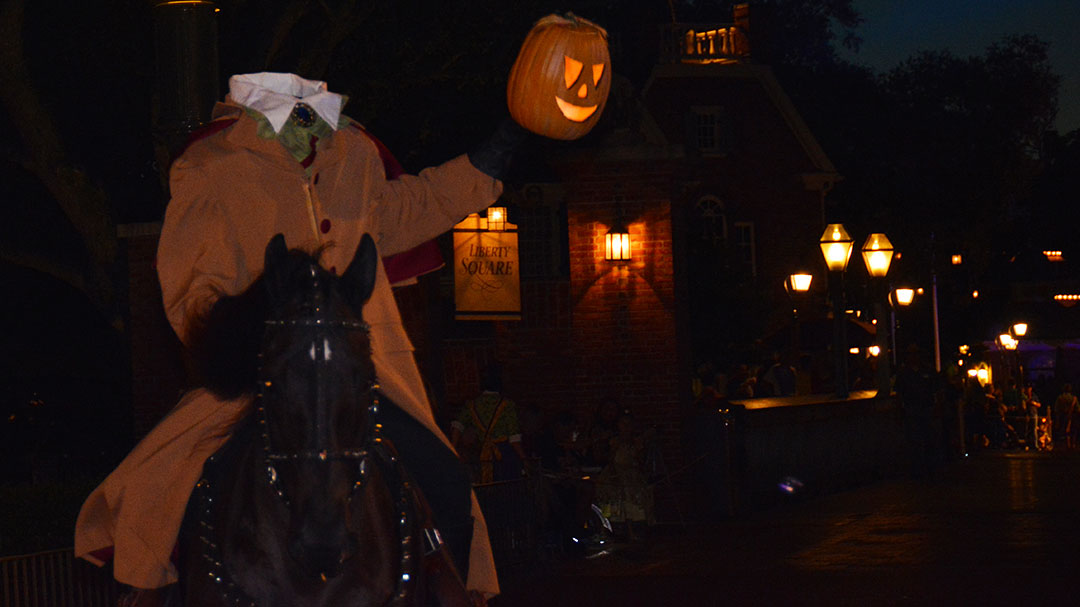 You aren't required to sit in this location or to even view the parade at all.  If you wish to view the second parade, just walk up after the fireworks and take the same spot after the ropes are removed.
Happy HalloWishes Fireworks
The Soiree provides the exact same reserved area for the Happy HalloWishes Fireworks.  I think this area is too close to the Castle (sound familiar to Star Wars?) because the largest blasts are behind the Castle instead of above.  I moved as far back in the reserved area as possible to take photos.  I still prefer my previous location on Main Street between Casey's and the Hub.
I still got a few nice shots by placing my camera really low to the ground on the tripod and faced upwards.  The only annoyance was the Cast Member who kept ruining my shots by pacing back and forth for no apparent reason.  Some fireworks were a bit low for my liking.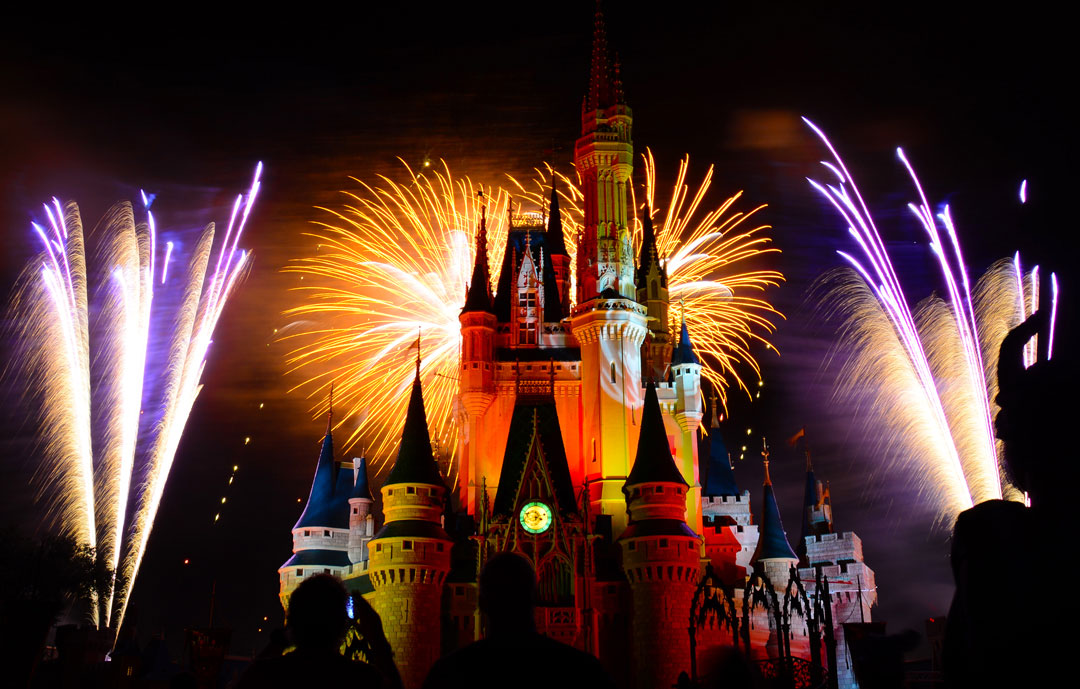 With that said, you don't have to sit in this area to view the fireworks or even watch them at all.
We actually arrived at 8:10pm for the 8:15pm parade and found a great spot in the bend coming from Liberty Square.  We grabbed some water and a sucker and waited for the Headless Horseman.  We watched the parade until 8:52pm.  We then stayed for the Villains Castle Show, Celebrate the Magic and Happy HalloWishes until 9:47pm.  We had committed a bit over 1.5 hours for these events but my little girl really wanted to see these things and this was a good view for each, except the fireworks.
We decided to meet Anna and Elsa really late in the party and the total time committed was 17 minutes, and still made it to the late Soiree in plenty of time for our 11:35pm check in time.
At 11:38pm we were invited into the Castle Lobby to meet with the Queen of Hearts, Anastasia and Drizella who were mingling in the lobby.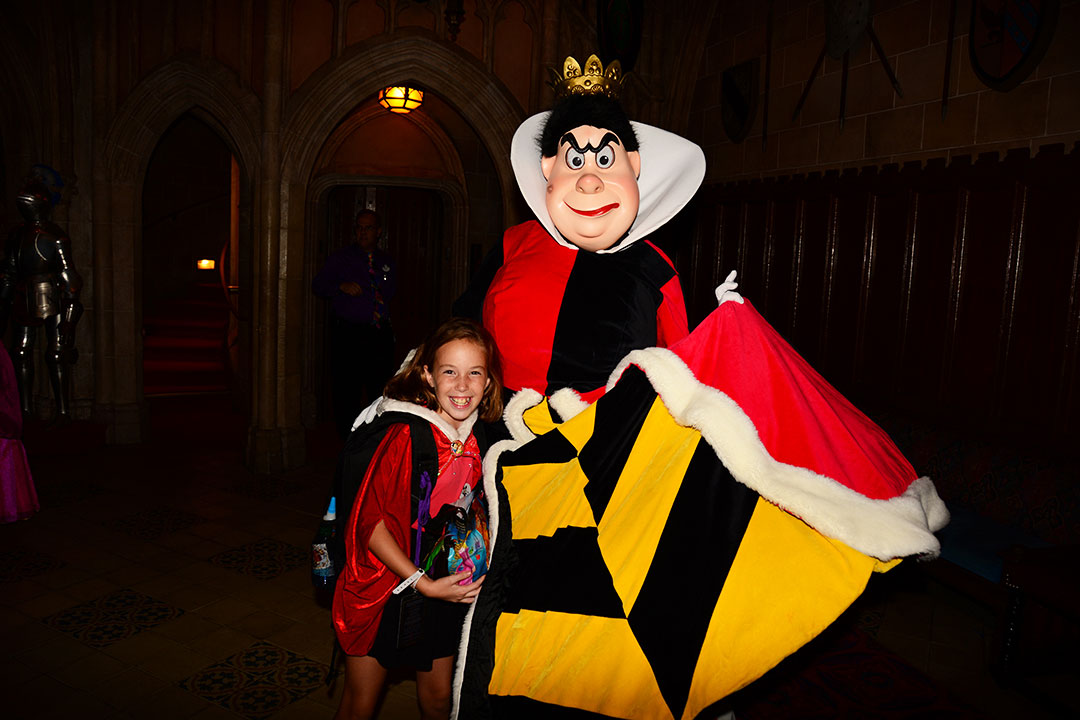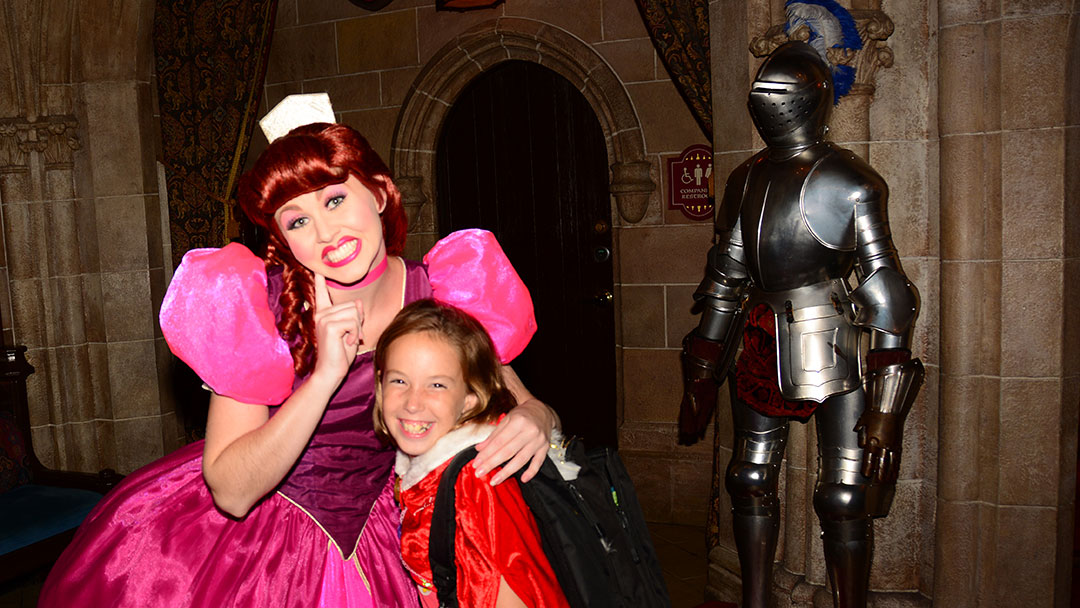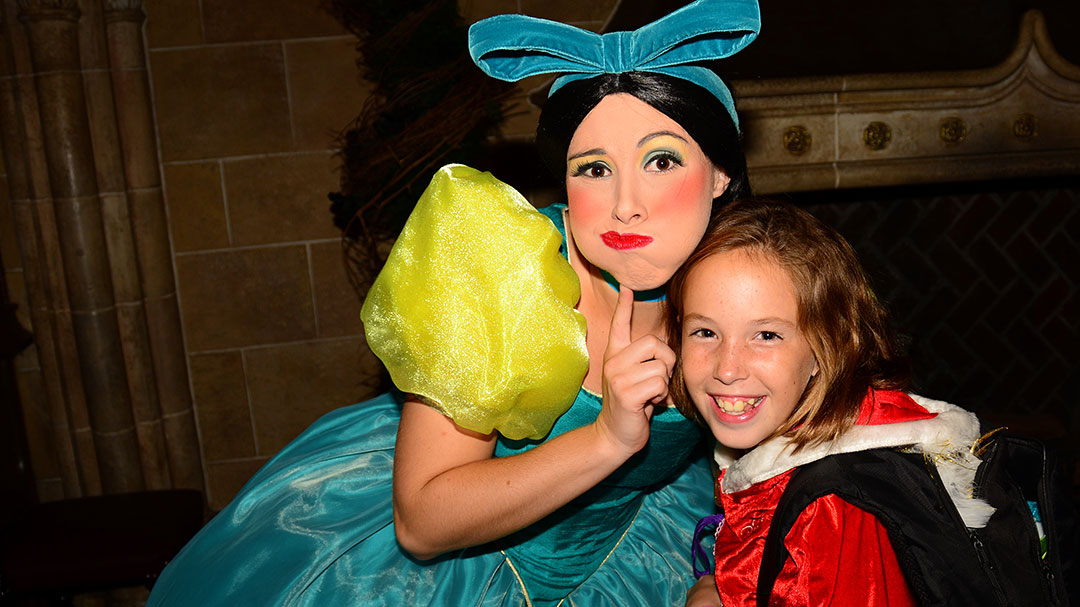 At 11:50pm we were allowed to climb the stairs or use the elevator to go to the main dining area.  We saw Frollo along our way to our table, but he didn't stop by to meet.  We saw Captain Hook in the distance, but he also didn't mingle.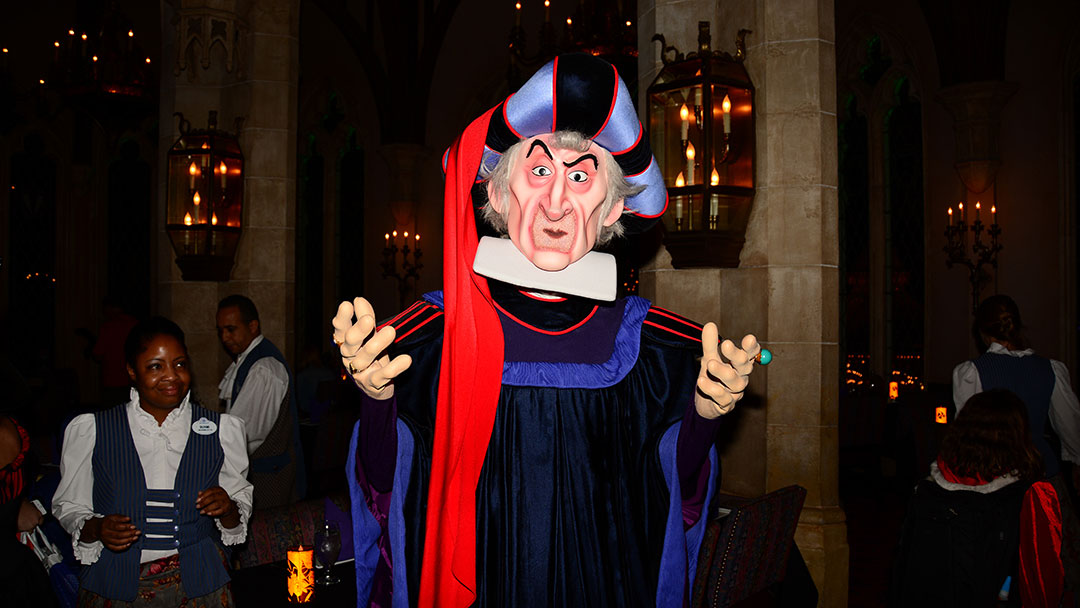 We were seated to a well decorated table that included the free Dragon mug, a plate of cheeses, breads, fruite and pickles.  We didn't care for the bleu cheese, but the one with the habanero sauce was good (sans sauce).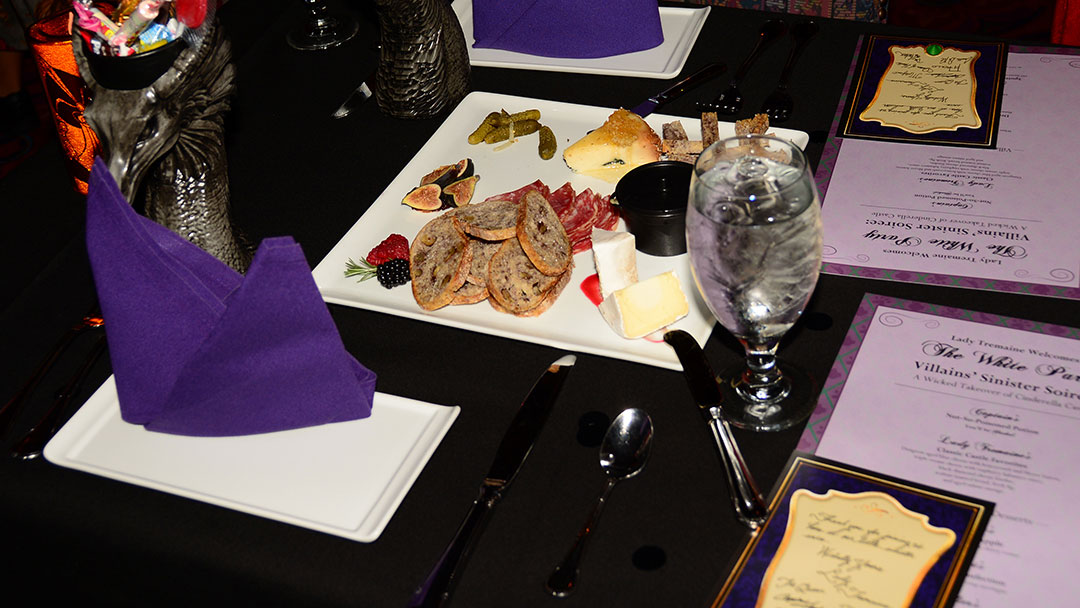 The server brought us this tasty punch that Lady Tremaine told us needed a good stir.  You get to keep the fancy, light up stir stick.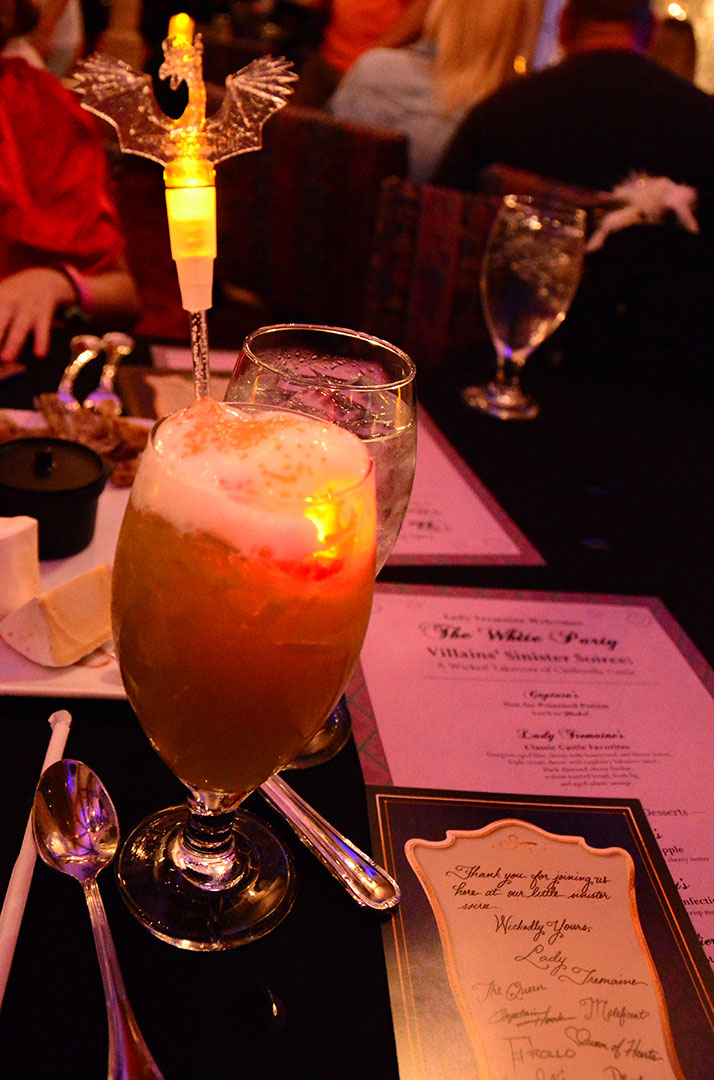 The table decor is different on each table but appropriate to the theme of the night.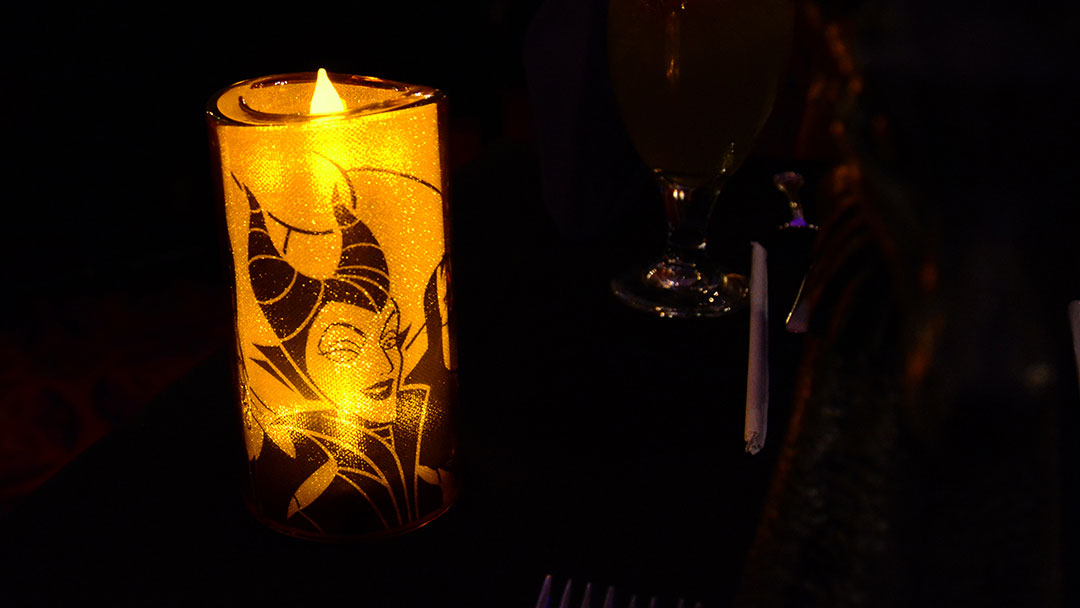 This apple decor was under a cover, but I couldn't get a decent shot that way.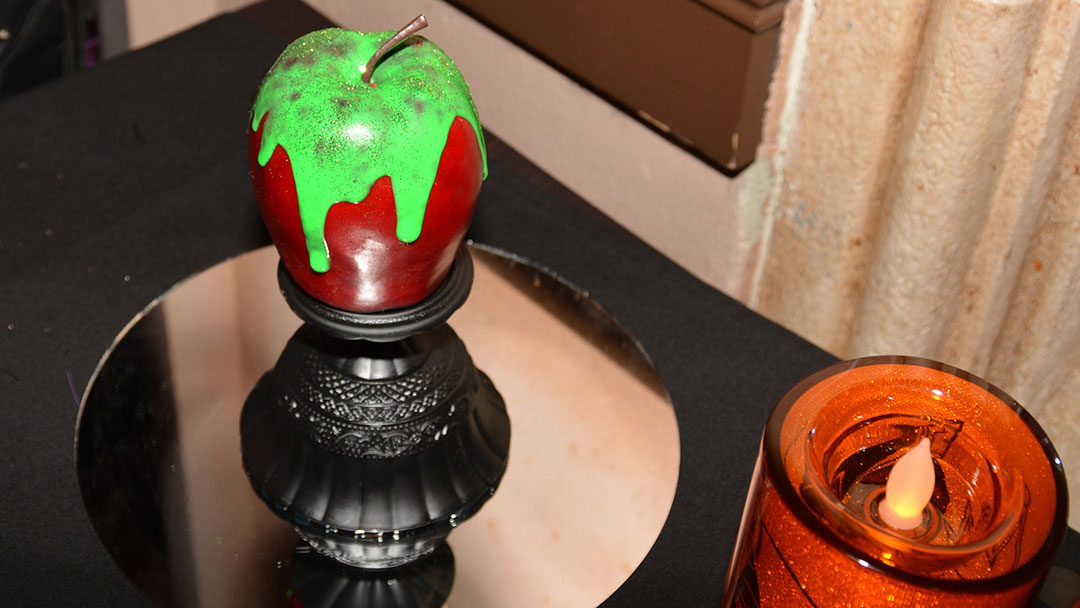 Terrible photo but this guy plays the organ while Lady Tremaine sings and entertains the guests.
The Snow Queen aka The Evil Queen aka Queen Grimhilde (Walt called her that, so don't bother arguing with me.)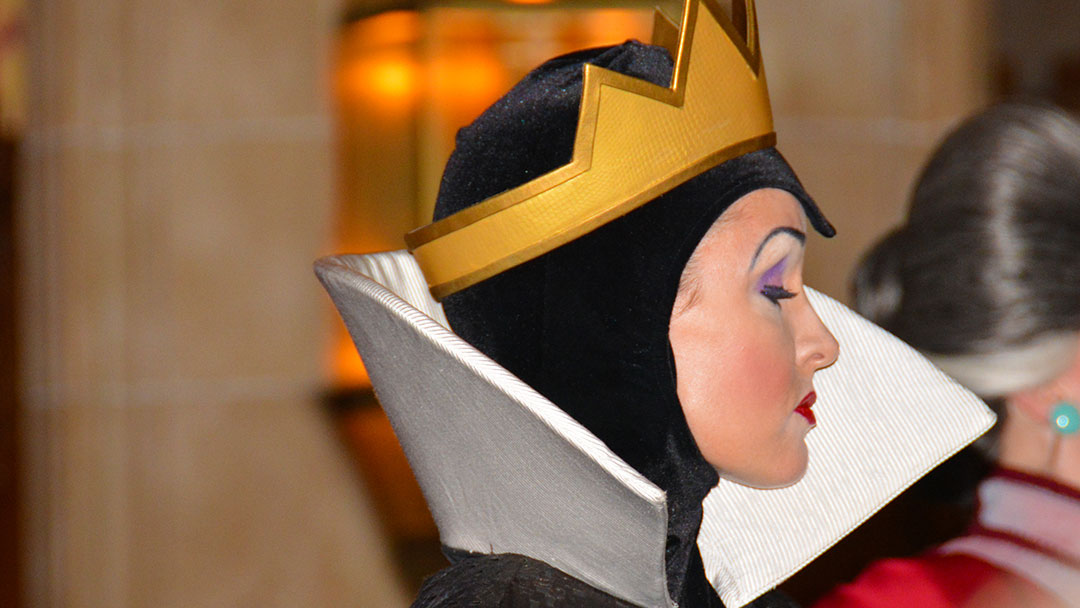 Cruella was on hand to meet.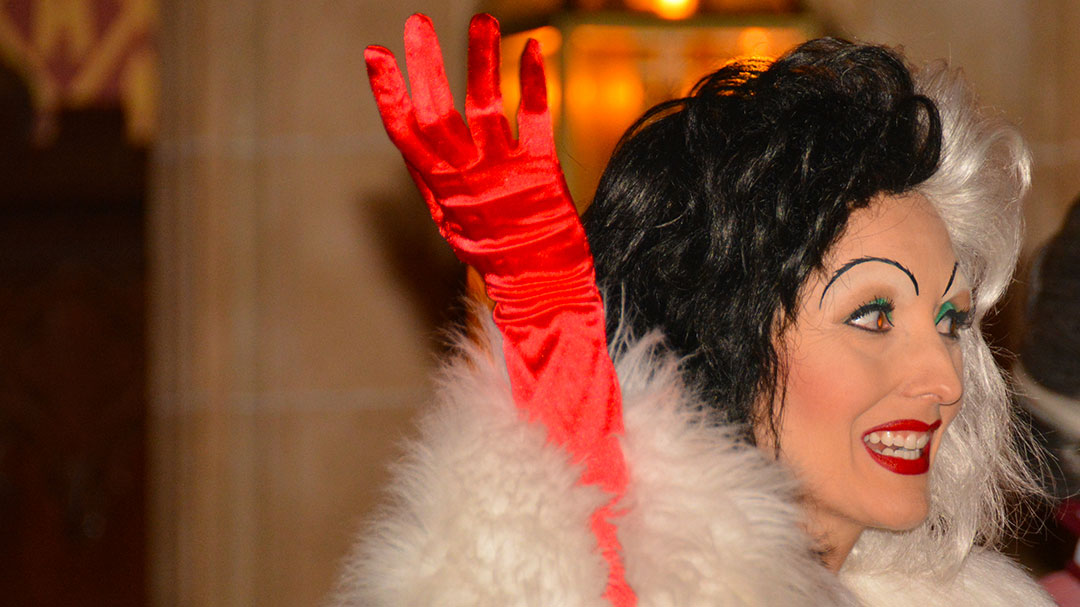 The star of the night is Maleficent.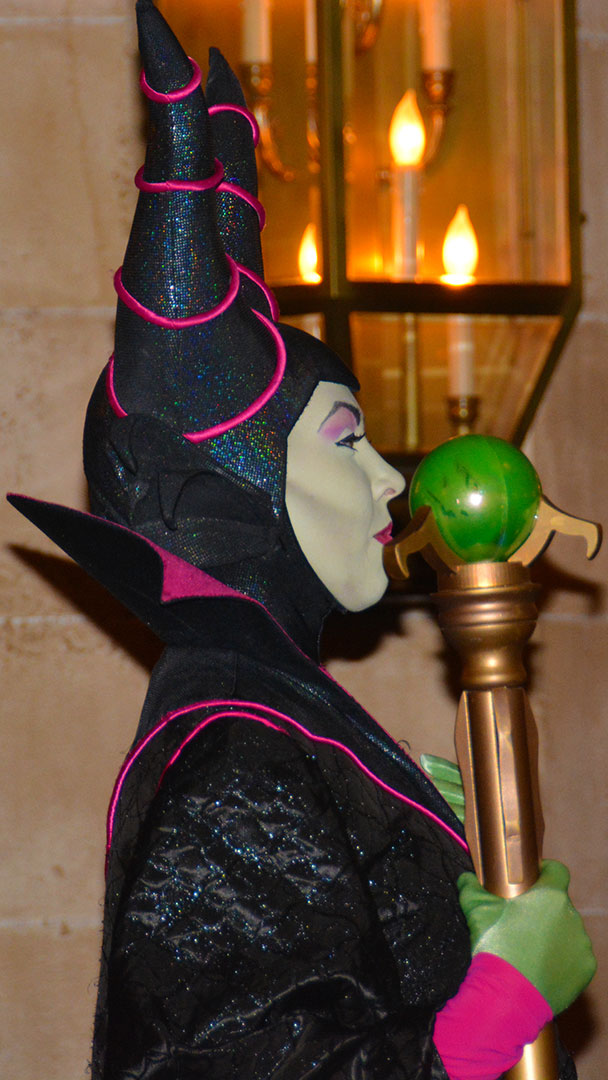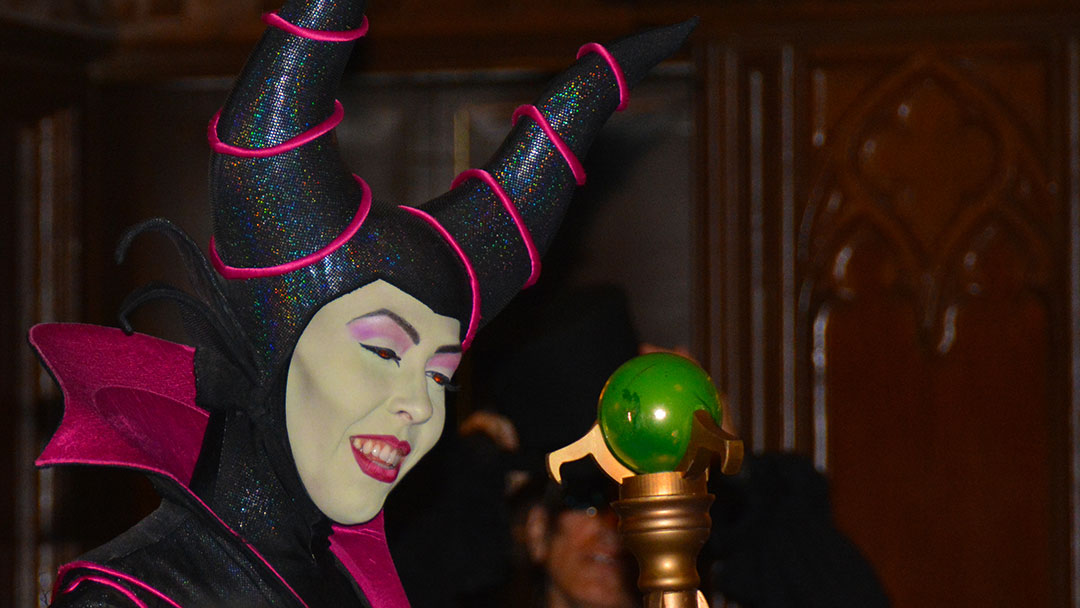 But Dr. Facilier is a real charmer.  Debbie really enjoyed chatting with him and tried to mimic his poses.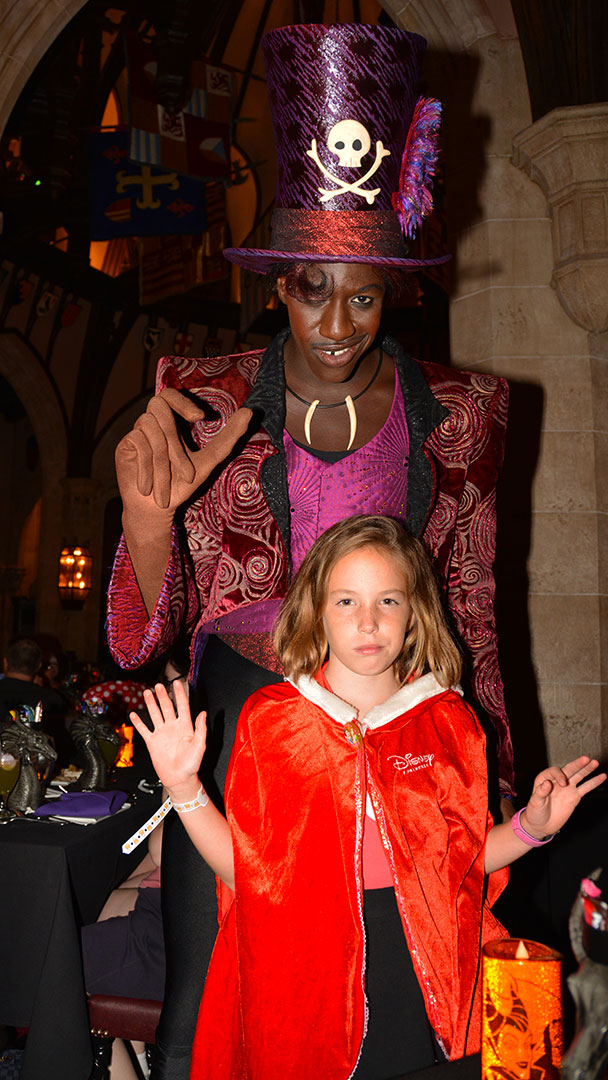 The Shadowman is an A+ performer and you should meet him, if you get the chance.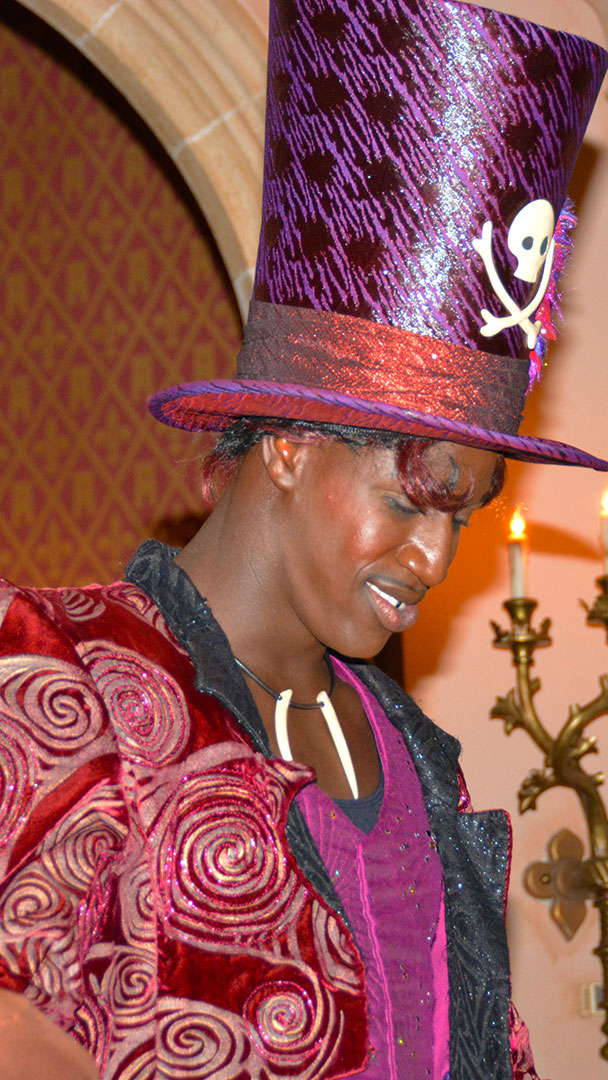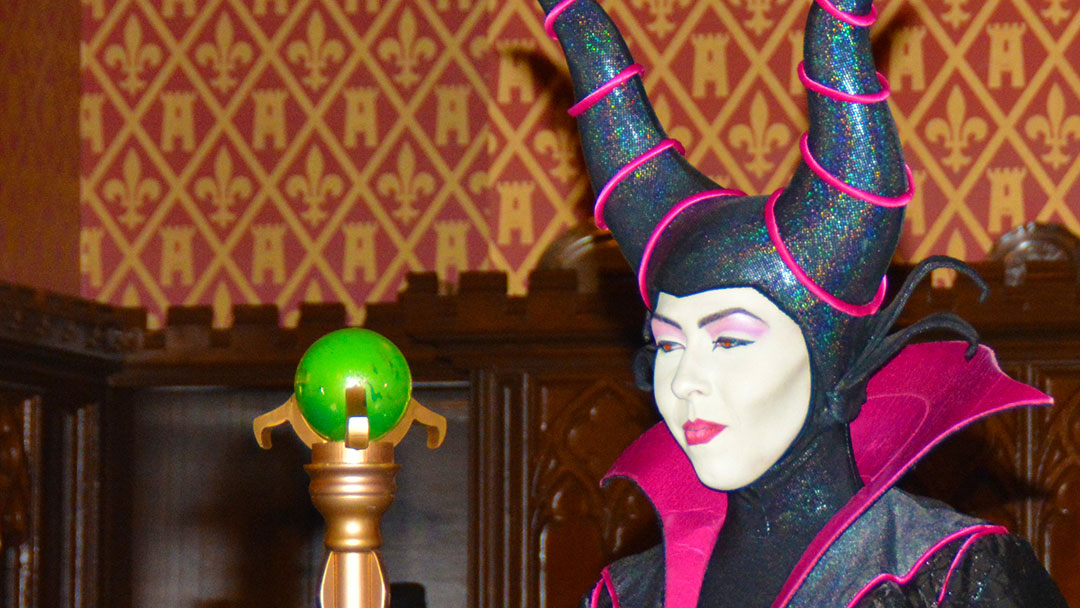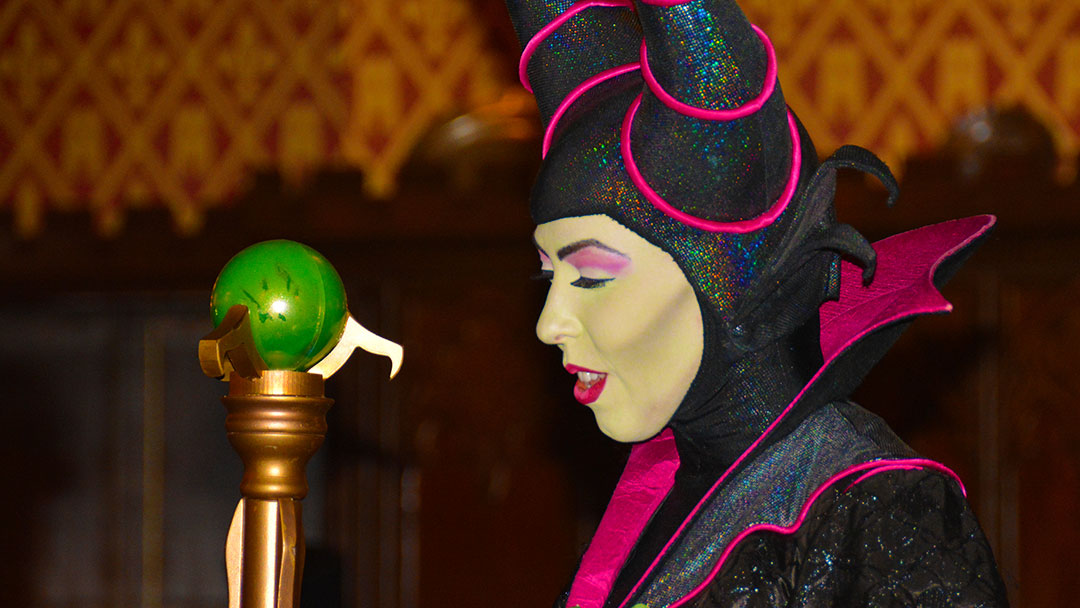 Cruella was the first to stop by the table and Debbie pulled out her special Cruella mask.  Cruella loved the mask and enjoyed talking to Debbie.  She later gave her the mask and told her "Stop hurting puppies!"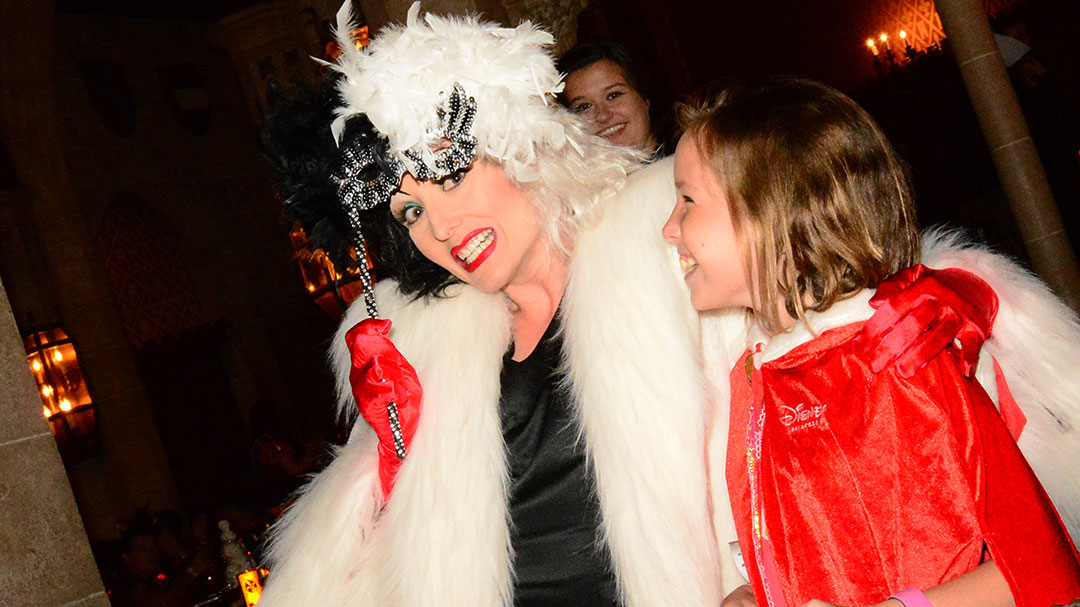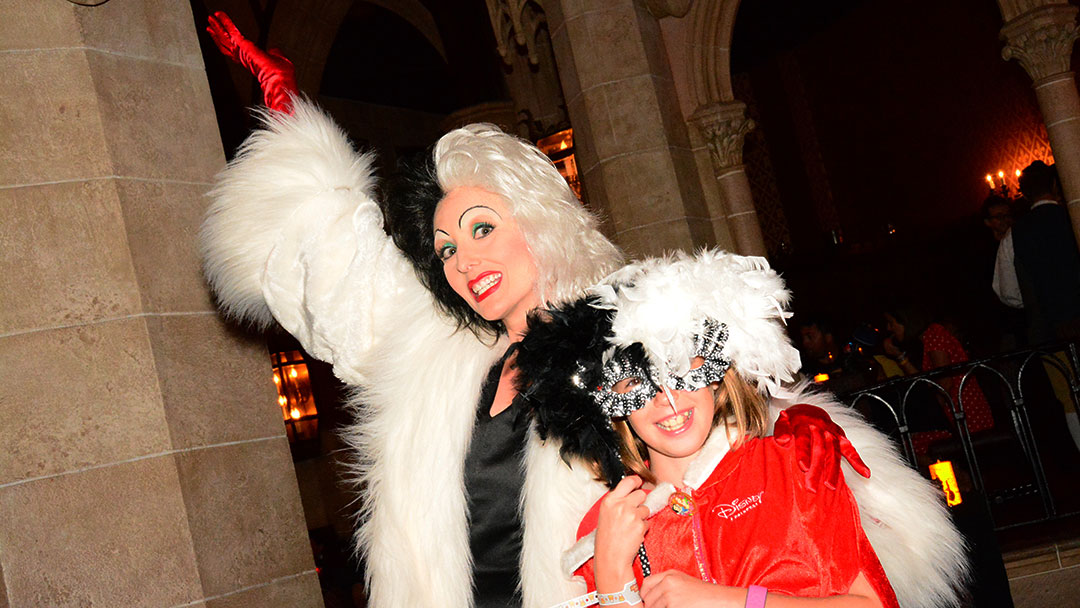 Maleficent then dropped by and was impressed with the special PrincessRants mask.  In the interest of time, we just told the characters that a friend made them, which is true!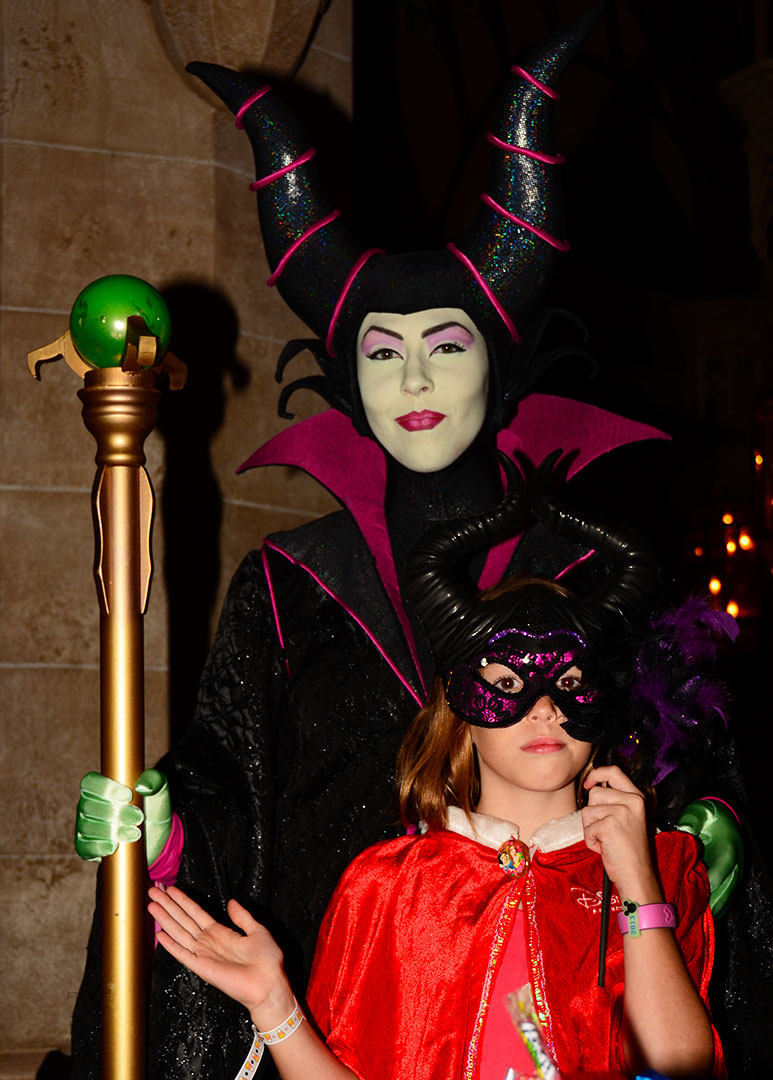 Drizella stopped by the table and chatted for a bit.  Tremaine family is a fun meet and you shouldn't miss them in the park during the day!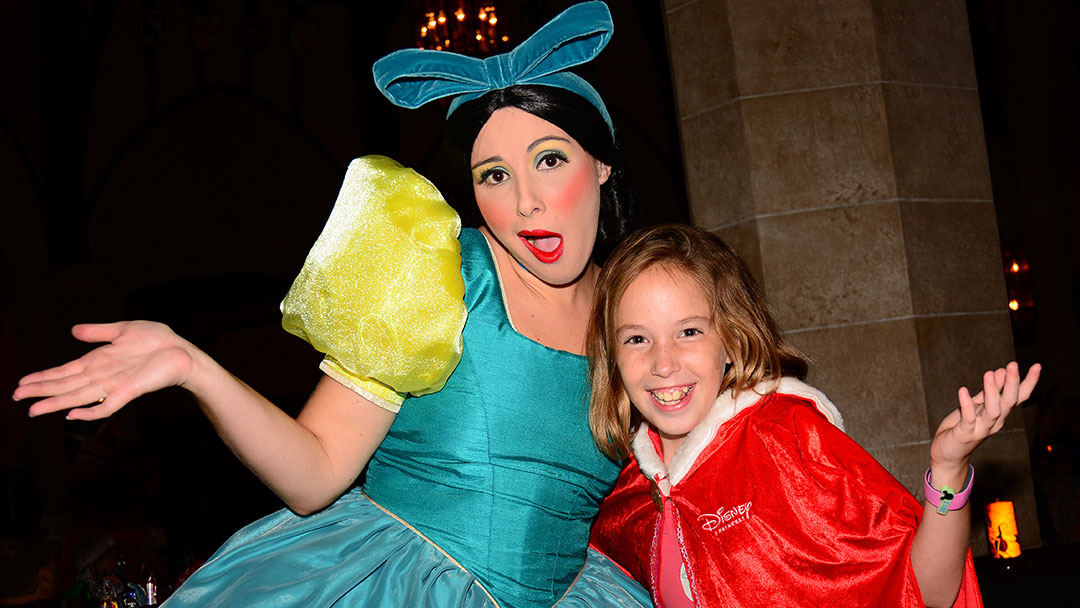 The villains then present their own special desserts.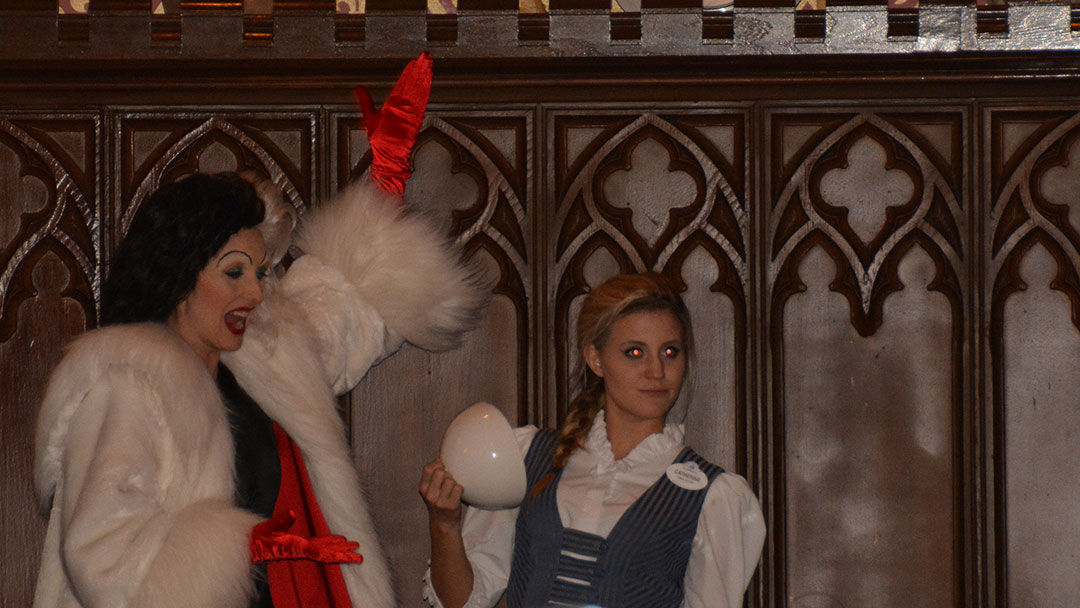 My favorite was the second to the left and the one on the right.  Debbie was so caught up with interacting with characters, and eventually entertaining guests nearby, that she didn't eat at all.  We were given a special box to carry them home.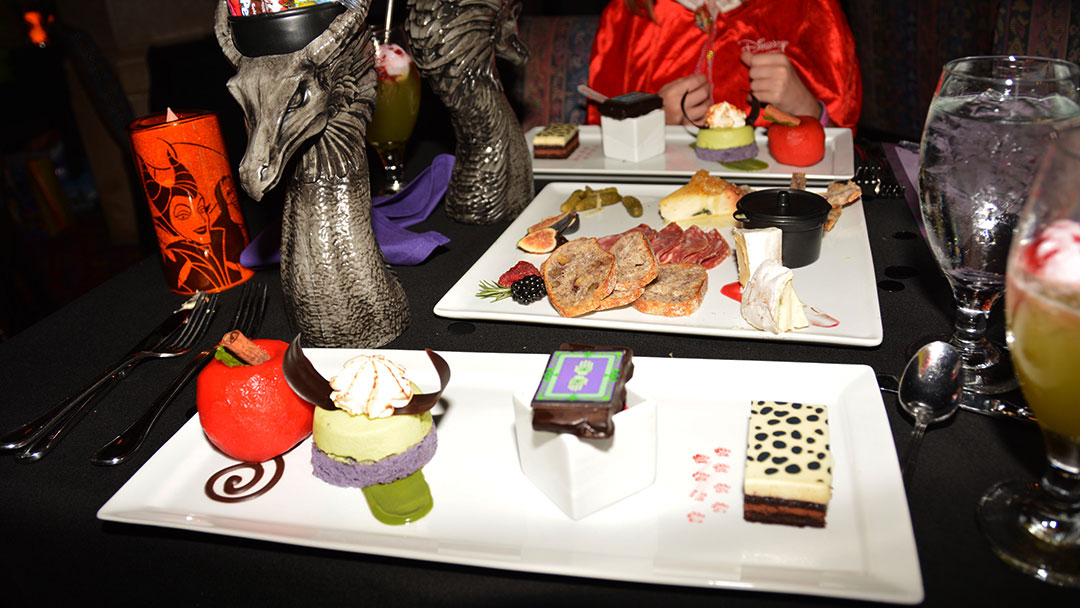 The "Bleeding Heart Apple" is a nice touch!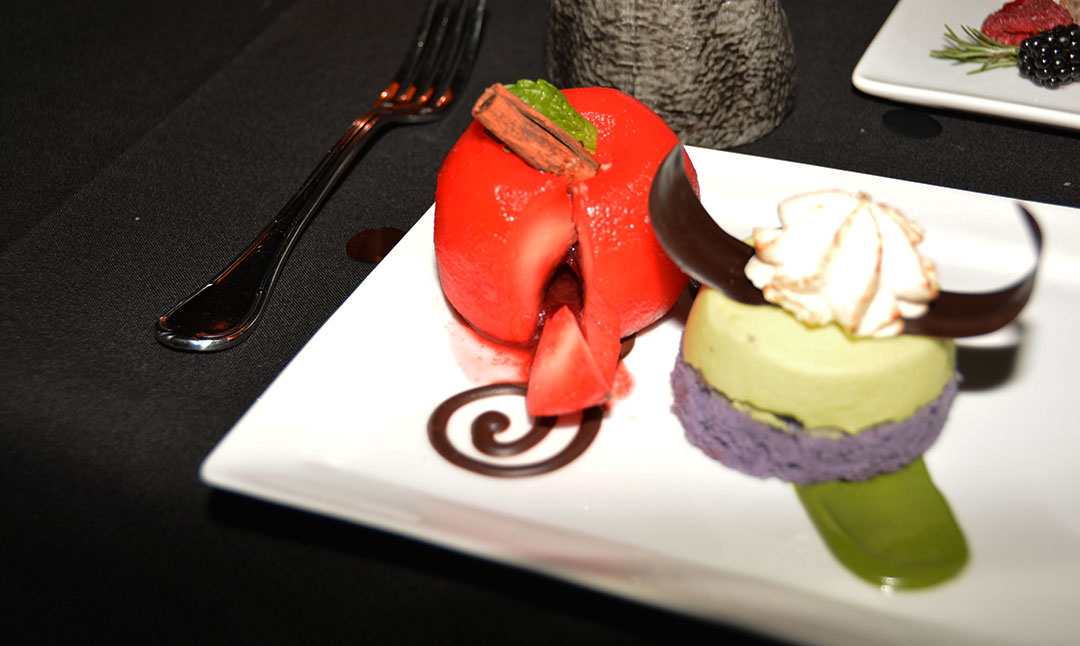 After Lady Tremaine completed her entertainment, she dropped by for a visit.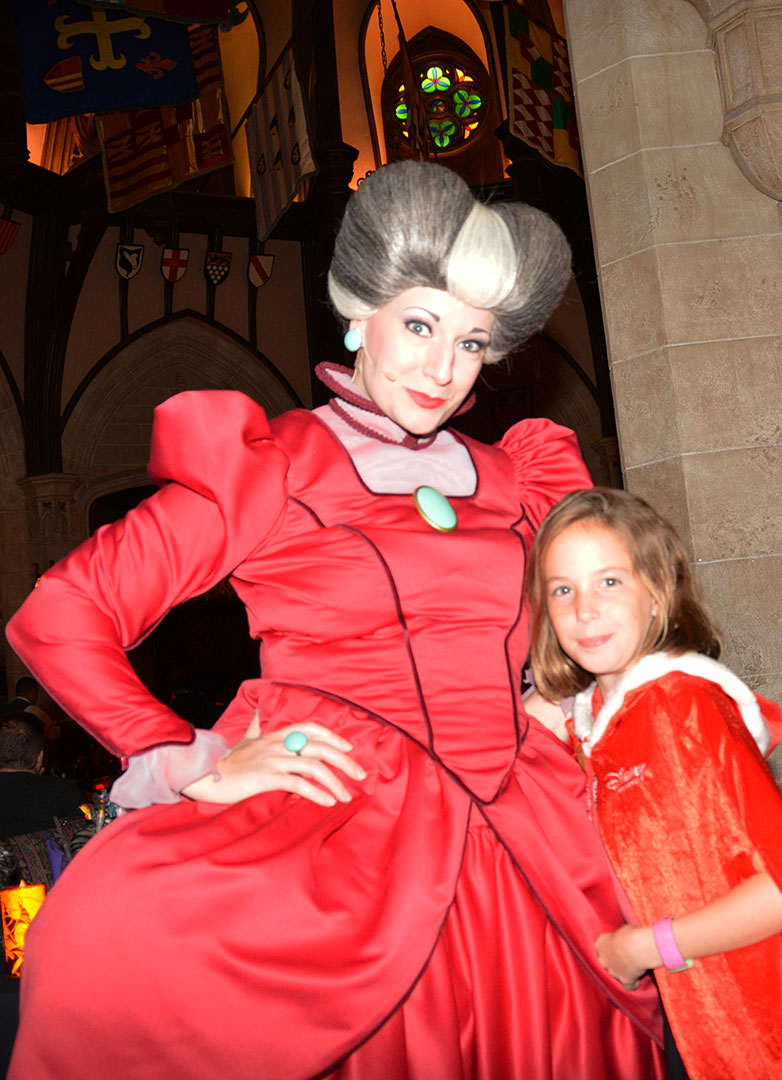 The Queen of many names stopped by and posed with my little girl.  The fist one was with the mask themed for her.  She seemed honored.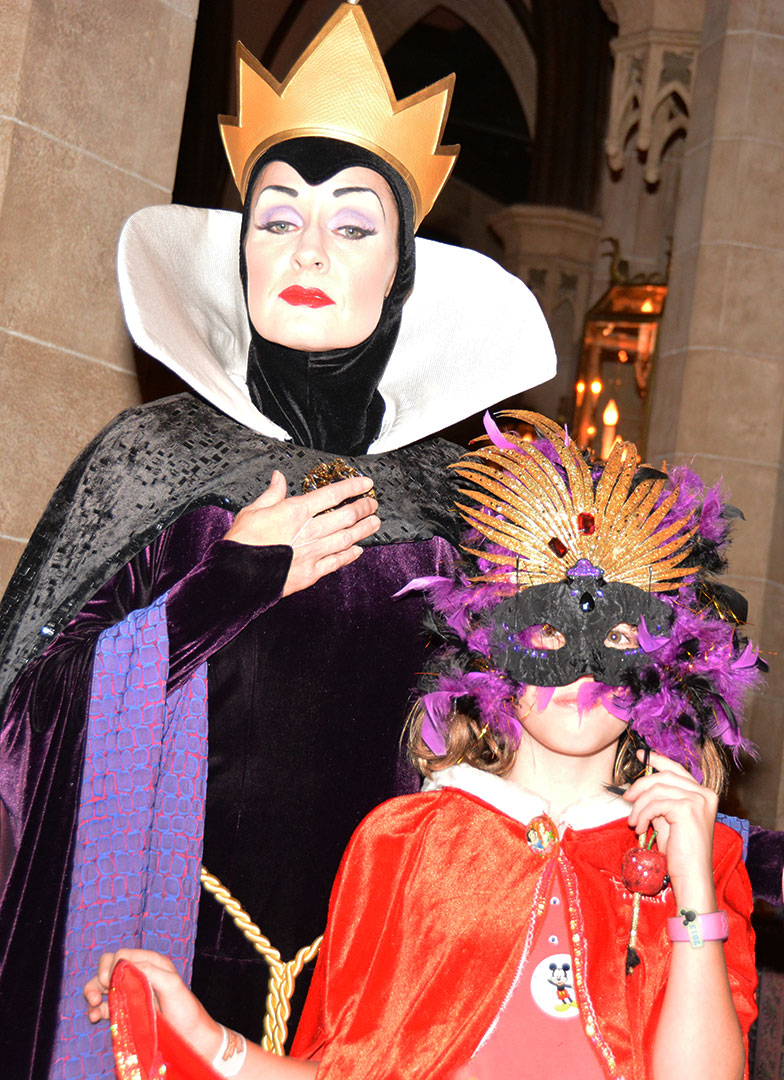 Then Debbie brought out the Snow White one, and the Queen didn't seem very impressed.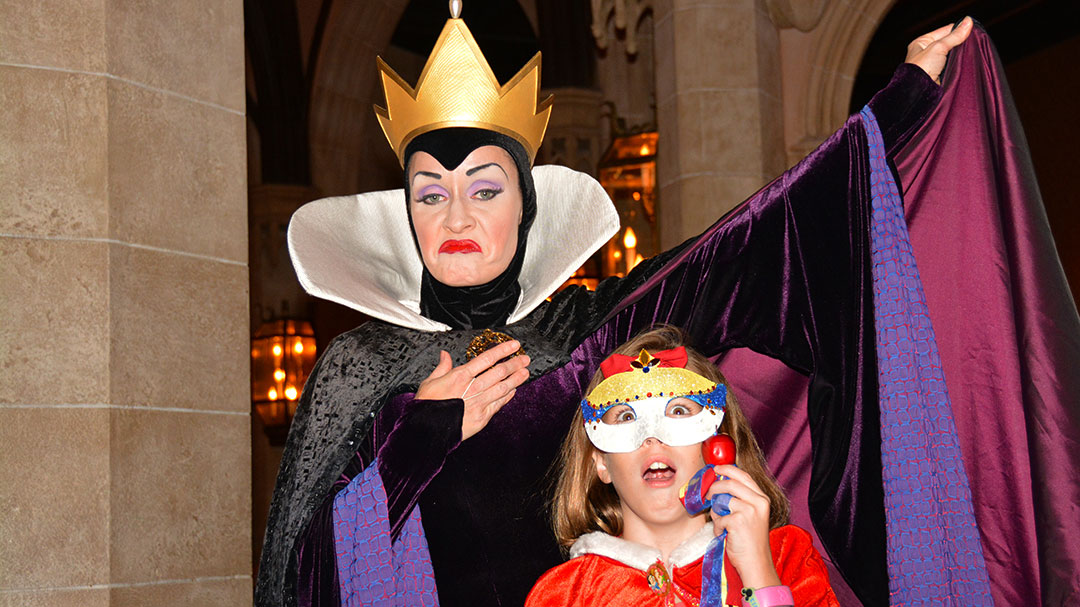 The Tremaine family did a little more "singing."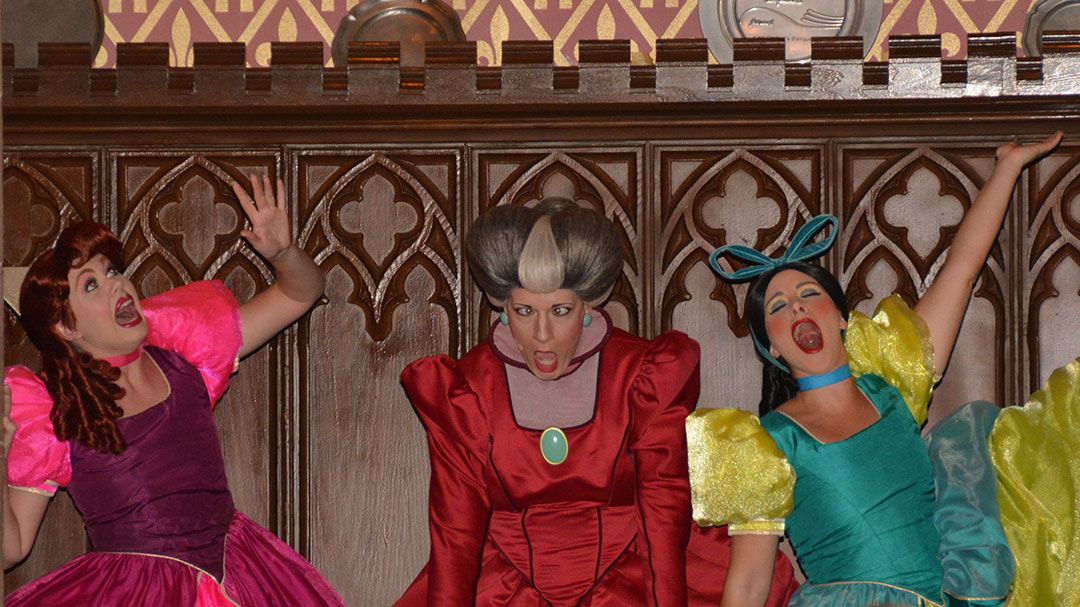 Anastasia was fascinated by the masks and wanted to see them all.  Can you tell that my girl was having an absolute blast!.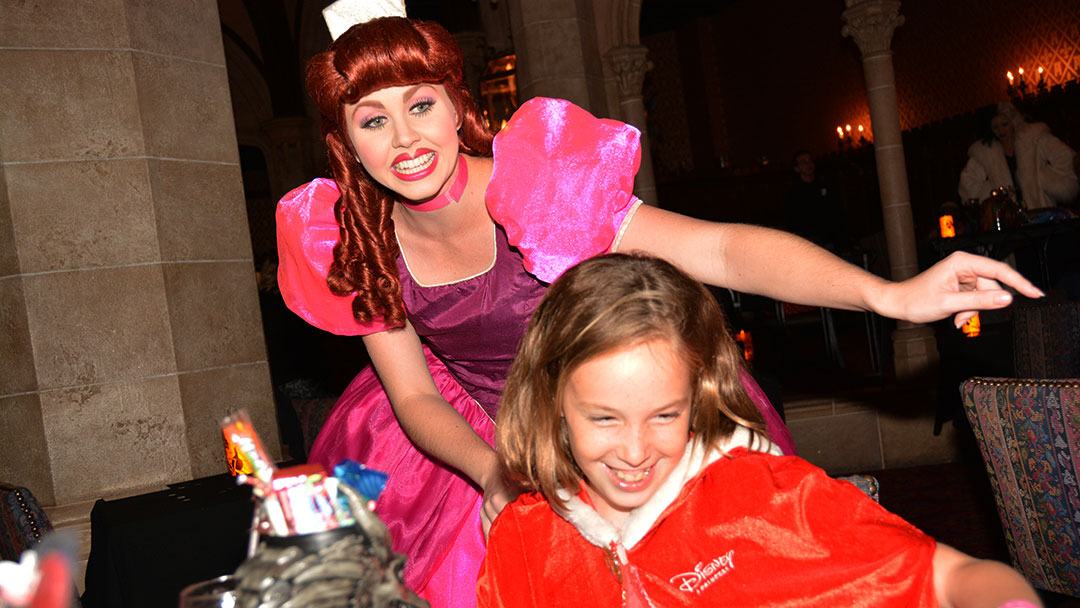 Drizella loved this mask because it looked like her.  She begged Debbie for the mask and asked what she had to do to get it.  Anastasia then ran over to show her mom.  Her mom told her to stop stealing things.  She told my girl that she would come clean her room for the mask (What day will you arrive?) and sang her a special song.  Debbie waffled on giving it away, even though she had given ones to Jane and Jasmine earlier in the night.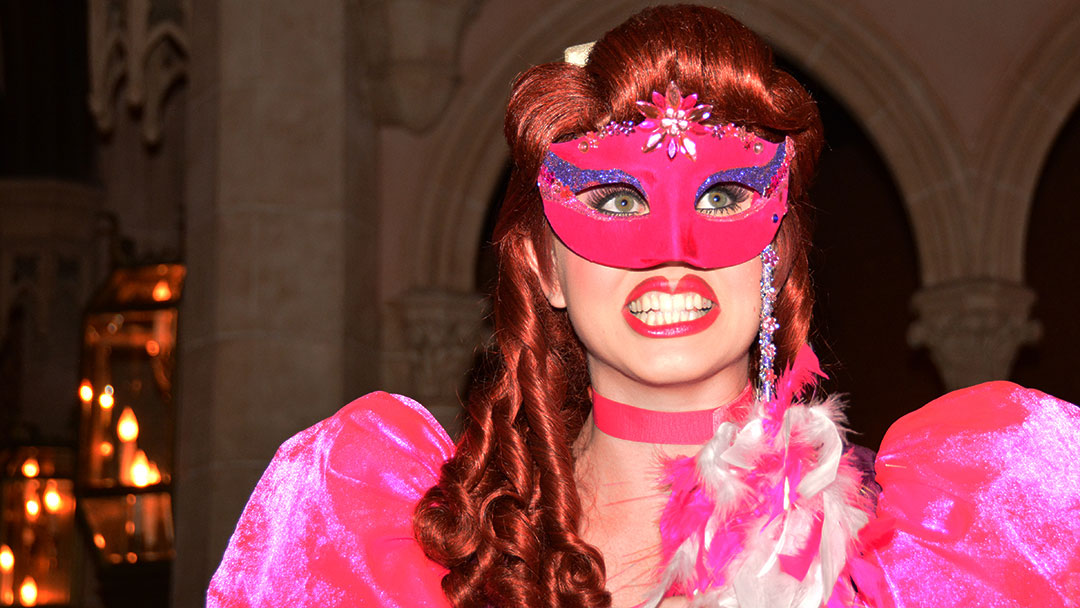 Anastasia was left to begging.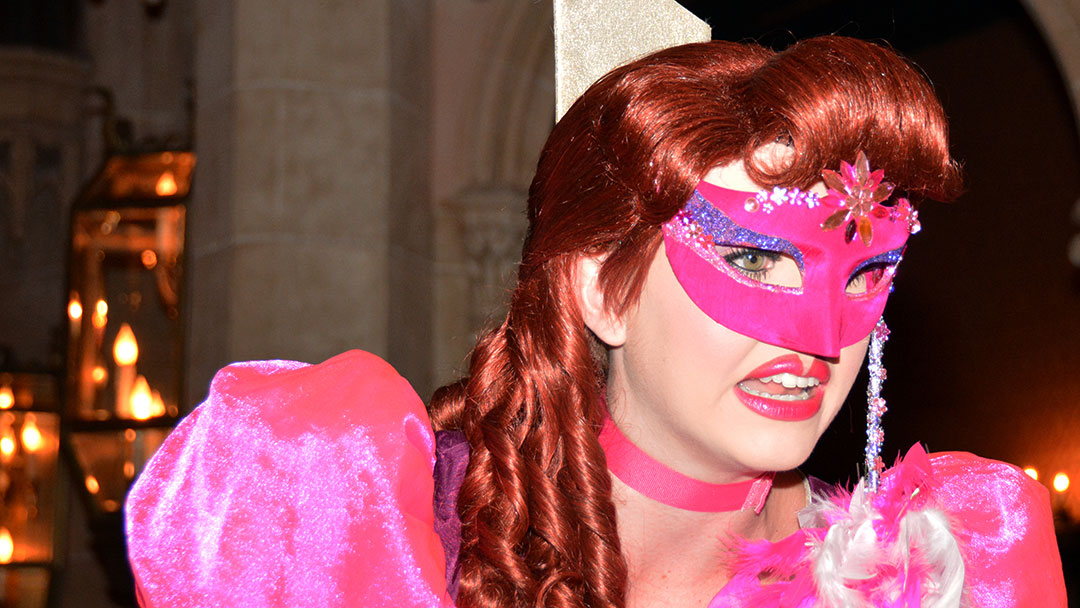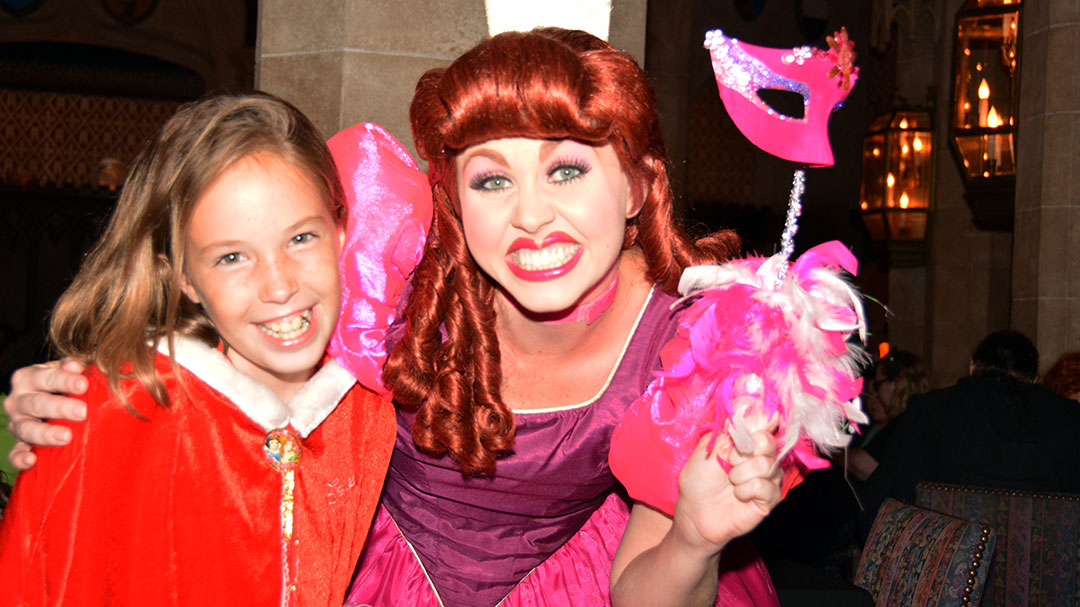 Debbie and I chatted and she said it wouldn't be fair to give one to Anastasia and not give one to Drizella. Anastasia didn't care if her sister got anything, just her. Eventually, Debbie taught her to share and presented each with a special gift. She hadn't planned on giving any of these away before the party, but her kind nature just took over. She kept a few for play time with friends.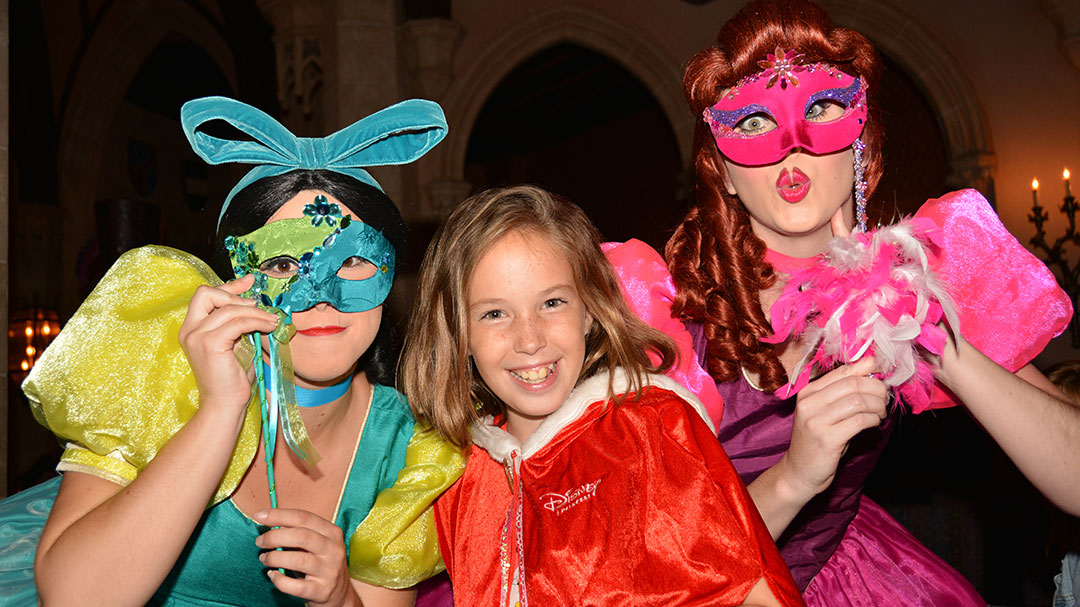 Debbie got these from the Tremaine girls.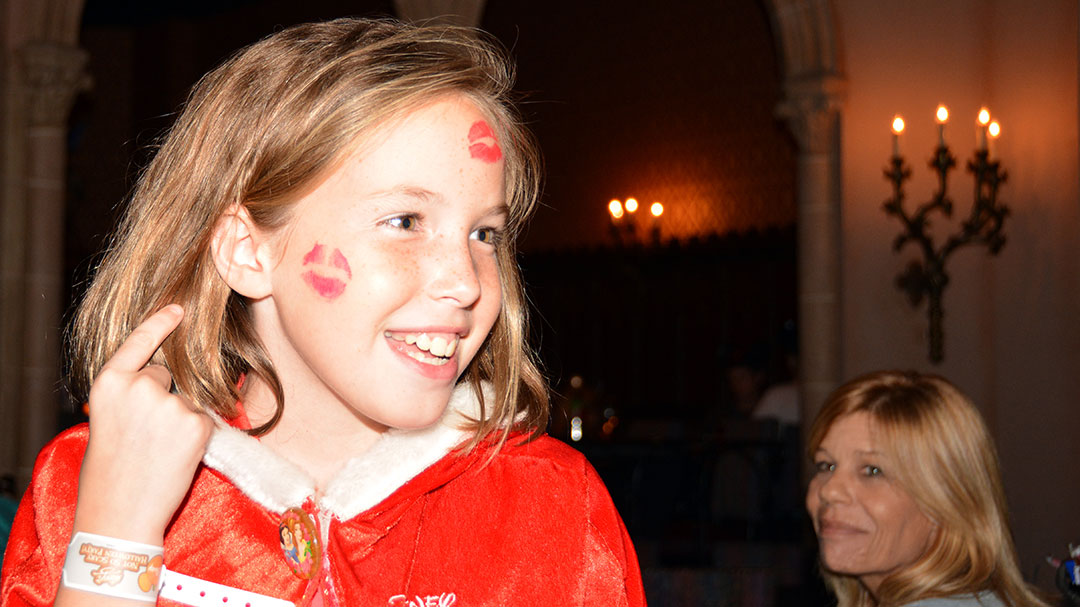 The Soiree was about to end and Dr. Facilier hurried over to the table to invite Debbie as the special guest invited to help close the night.  She got the photo of a lifetime!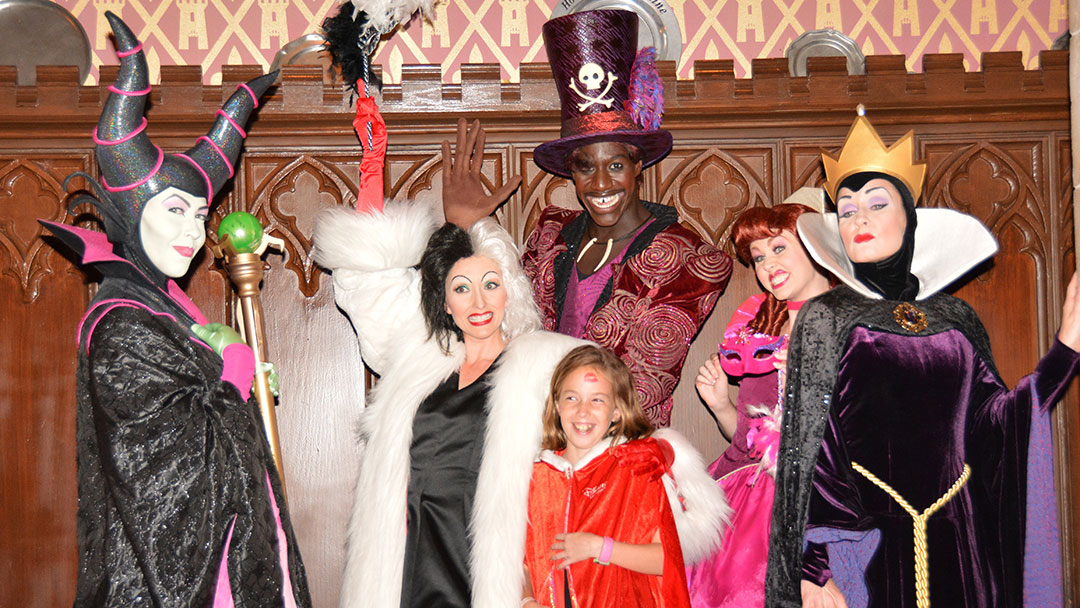 The sisters and Cruella couldn't stop saying thank you.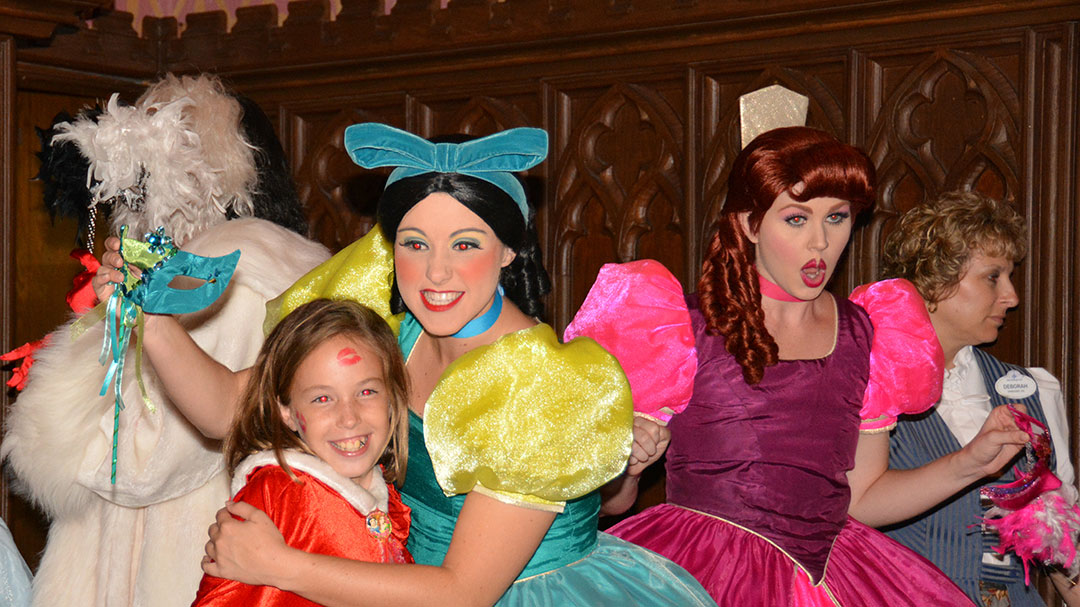 At 12:50am, Lady Tremaine sang a goodbye song and told everyone the event had ended.  We didn't want to leave, but we collected all our goodies and departed for home.
Was it "worth" it?  That experience for my little girl was worth it to us.  It wasn't pre-planned and it wasn't things they did because I have a blog.  I doubt some of them even knew I had one.  They did that because Debbie was having a blast with them and shared some special masks made as a gift for her.
I would ONLY choose the LATE Soiree though because the early Soiree will really cut into your party time.  We basically extended our party time by an extra hour with the Soireee.  We were able to meet a total of 34 characters, watched all the entertainment and had a terrific father/daughter date.  The date wouldn't have been possible except for the generosity of Melissa at PrincessRants.com, so go check out her site for the acts of kindness she extended to us.