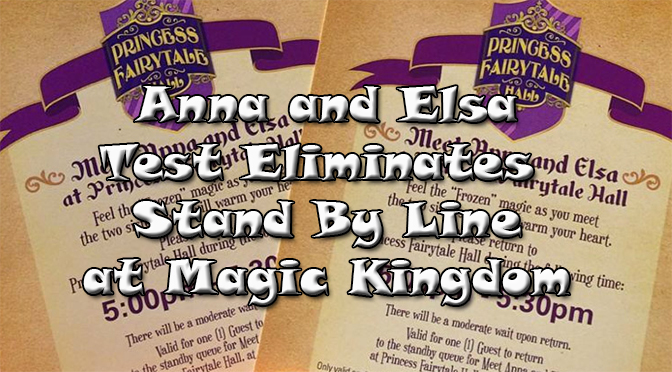 The Magic Kingdom began a 3 day test this morning that will not allow guests to stand in a long line to meet Anna and Elsa.  Guests who arrive for the traditional stand by line after it initially fills within a few minutes of park opening will not be allowed to actually wait in the line.  Instead they are being given a return time card that is reminiscent of the return time cards that are distributed at the For the First Time in Forever:  A Frozen Sing-a-Long and the Legend of Captain Jack Sparrow at Hollywood Studios
Today they're handing out return times for Anna and Elsa @WaltDisneyWorld. @Attractions @InsideTheMagic pic.twitter.com/Gtt8HO2Nqc

— branch nella vita. (@brandiORL) July 23, 2014
Guests who do not have Fastpass+ reservations are given a little card with a pre-printed return time listed on the card.  How will this affect your experience ?  The Fastpass-like card will allow you to meet the ladies with a "moderate" wait, but you'll need to arrive early in the morning to pick up that card or you'll be out of luck meeting the Frozen sisters.  Disney World expects the average guest using the return time card during this test to wait no more than 30 minutes to meet Anna and Elsa.
The change doesn't affect the regular Fastpass+ line.  The return time card test is hoping to eliminate the astoundingly long lines to meet Anna and Elsa at Fairytale Hall, but could push many guests out in the cold, if they don't arrive early enough to retrieve one of these FREE return time cards that don't count against your Fastpass+ allotment.
Guests using the DAS system for guests with disabilities will also be given one of these return time cards, but are being escorted to the Fastpass+ return time line, rather than the former stand by line.   They are expected to distribute about 75 return time cards per one hour time slot.  This would limit the return time cards to about 1200 guests per day during this test.
The current test is slated to take place from Wednesday, July 23 through Friday, July 25.