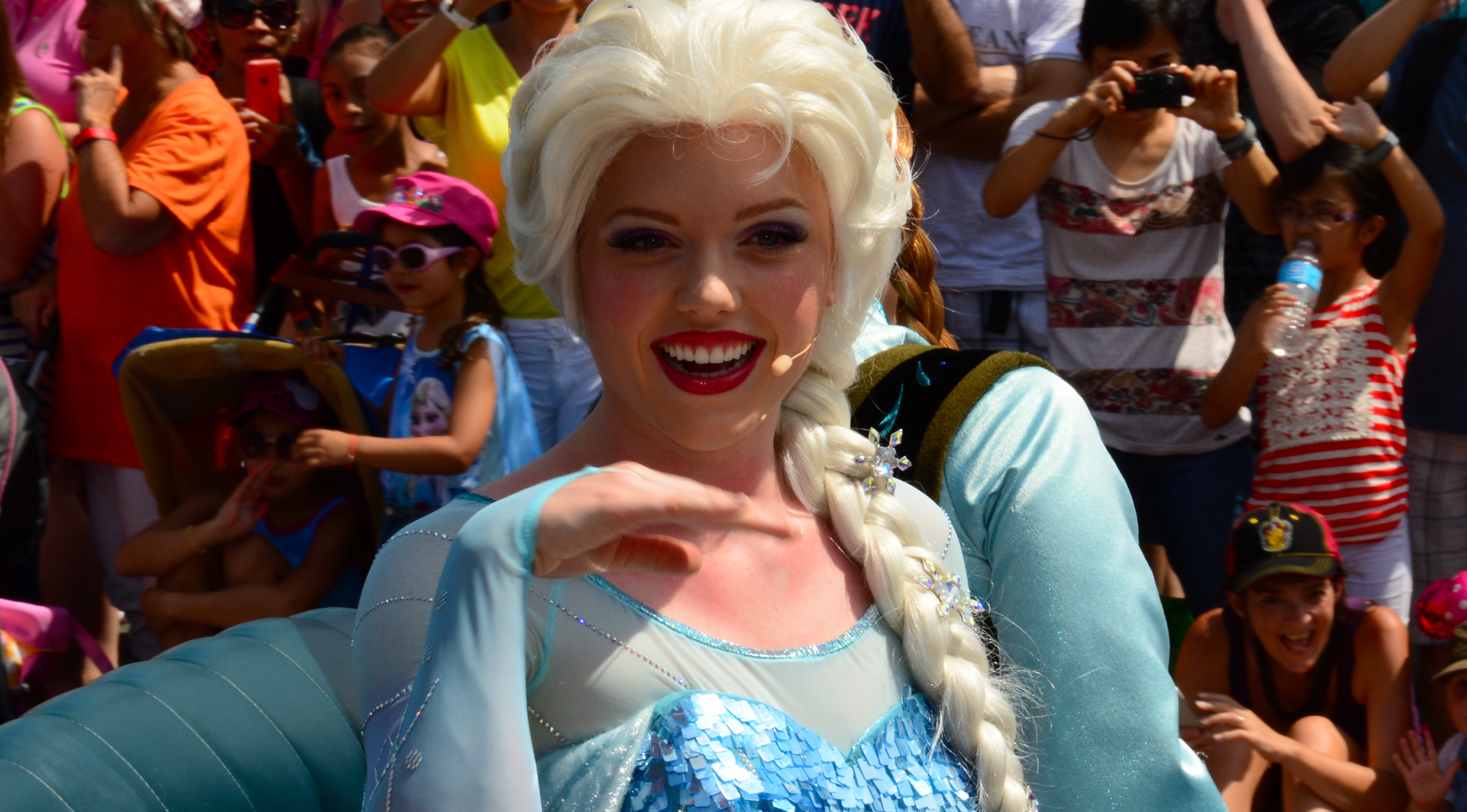 I set out on a Saturday to learn what Hollywood Studios would be like on an Extra Magic Hour day.  I rarely recommend that people attend parks on Extra Magic Hour days because the lines are longer than other days, the restaurants are busier and it just feels more busy.
Hollywood Studios started something new just for the Frozen Summer of Fun Live celebration.  In the recent past the parks have moved to eliminating "Welcome shows."  Studios used to offer a simple one at the corner of Hollywood and Sunset, but dropped it in favor of opening around 15 mintues early and letting the crowd ease into the park.
Now the majority of people are crowded into the Hat stage area for the short park opening show with a cast member and Olaf.  Here's a video that I took yesterday:
After the rope drop, the majority of guests are heading straight to Toy Story Midway Mania.  At this point I recommend that you get Fastpass+ for this attraction or be among the very first guest in line.  Arrive at least 45 minutes early for any park opening to reduce waits for several attractions.  Here's the crowd in front of me already, because I don't run.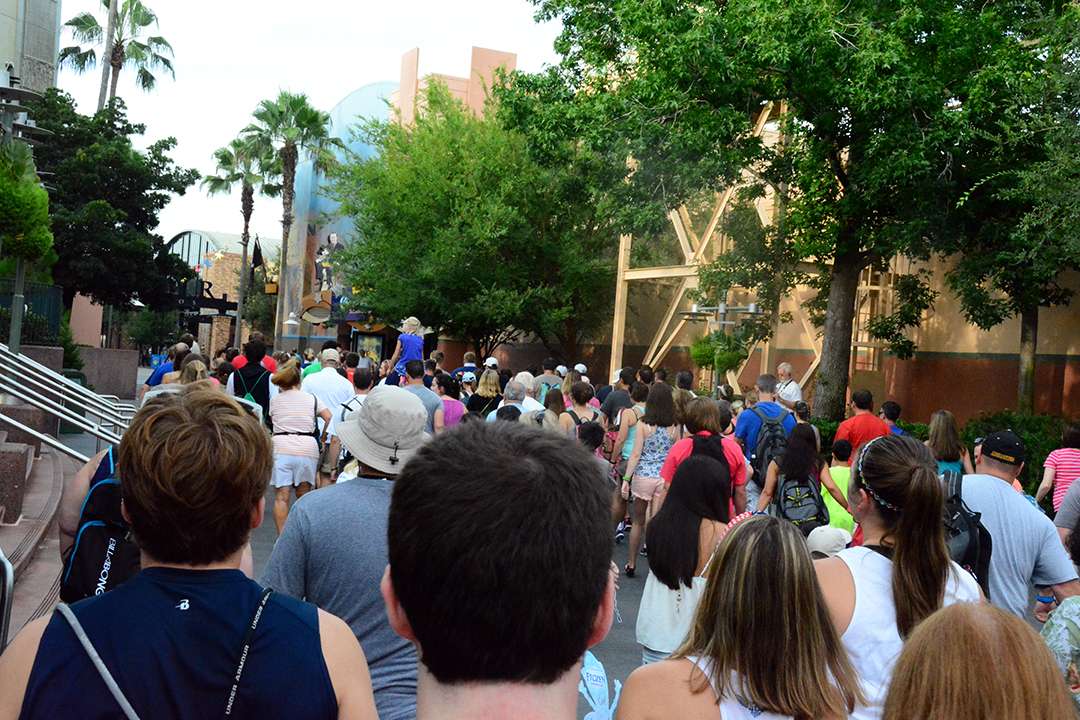 Here's the crowd behind me at the same point.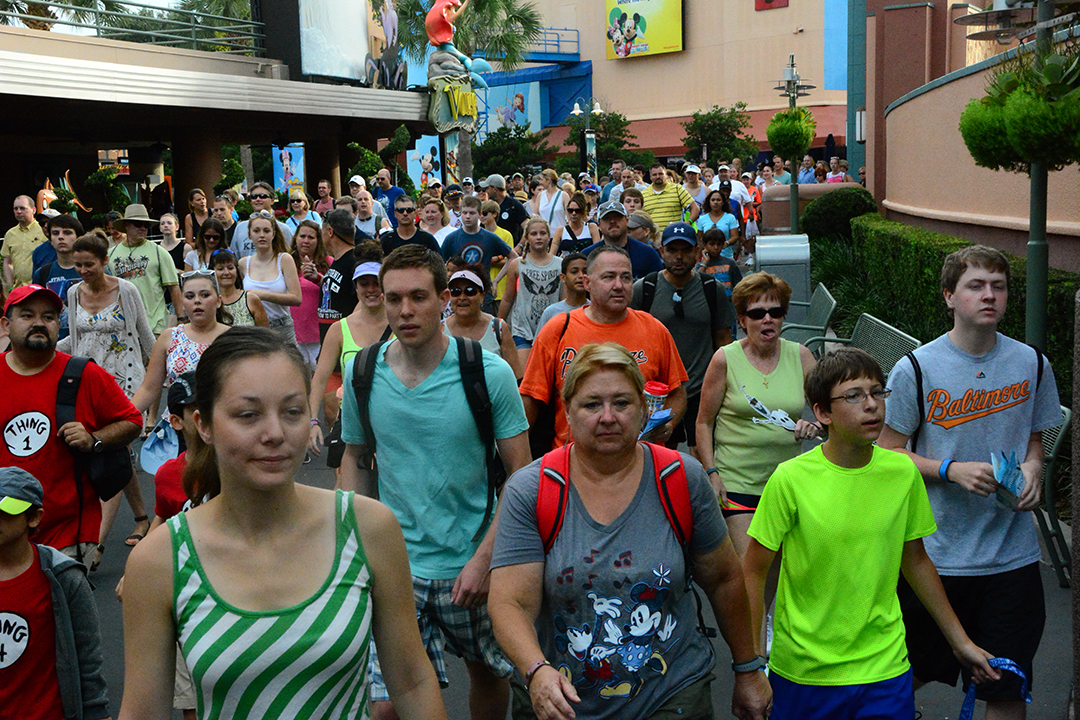 Buzz and Woody were standing out front attempting to gather some people to meet them.  I was first in line.  Do you think a guy with an app called Character Locator would start with Toy Story Midway Mania?
To infinity and beyond.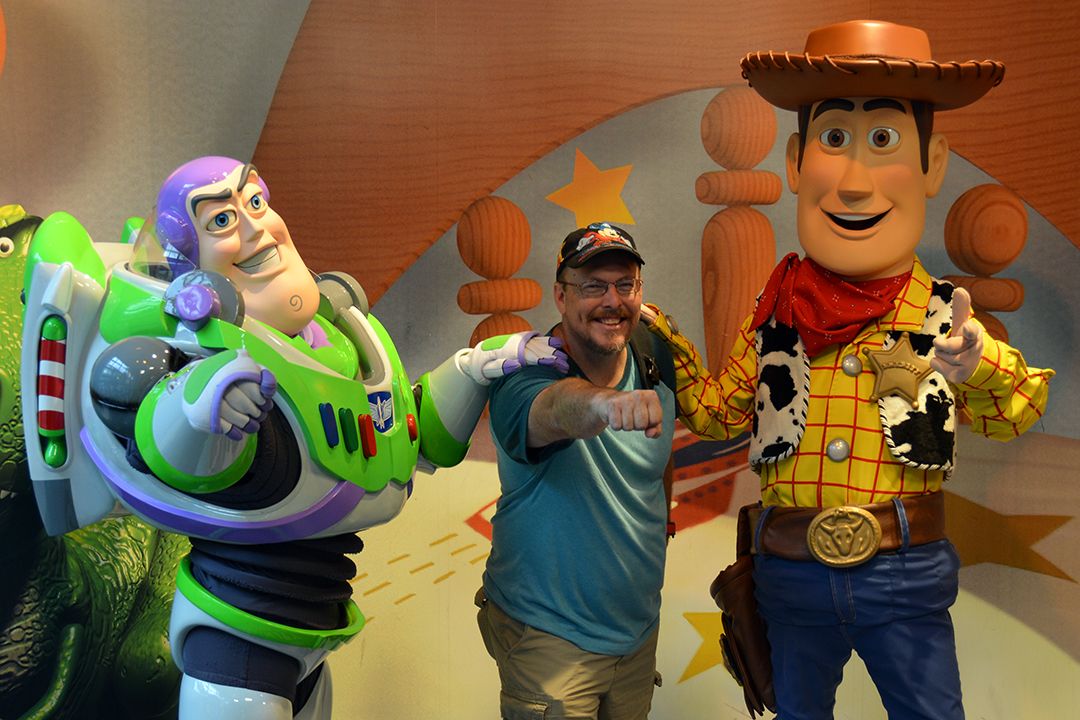 It took me TWO minutes for the meet and greet and this is the chaos that was available for me to join at Toy Story Midway Mania.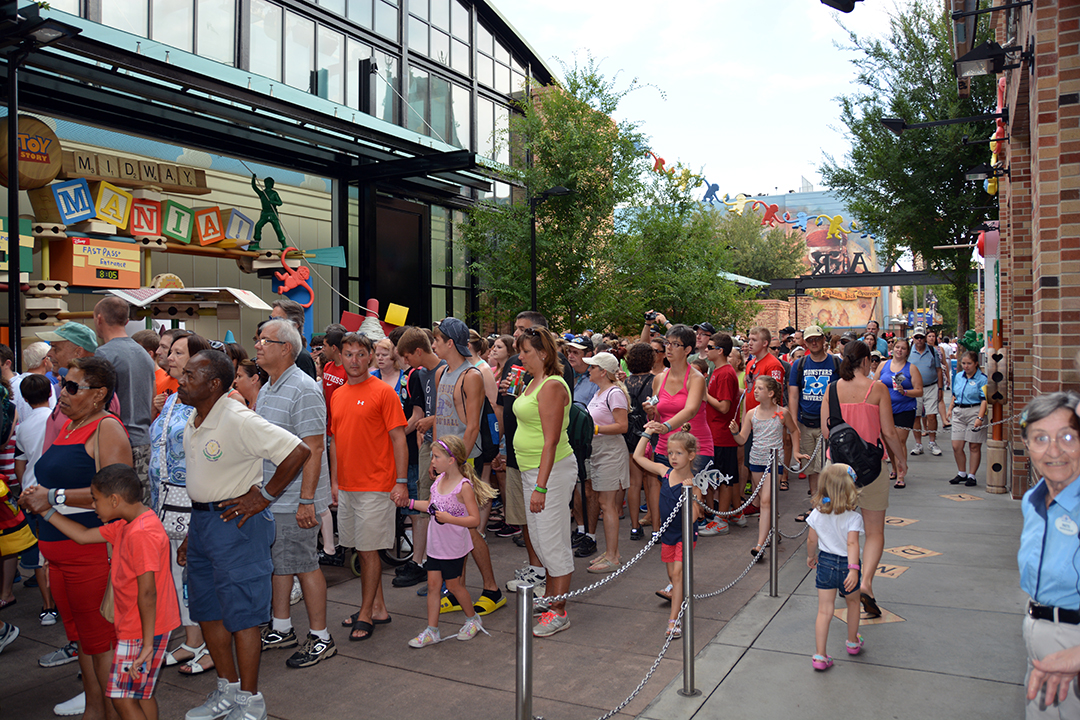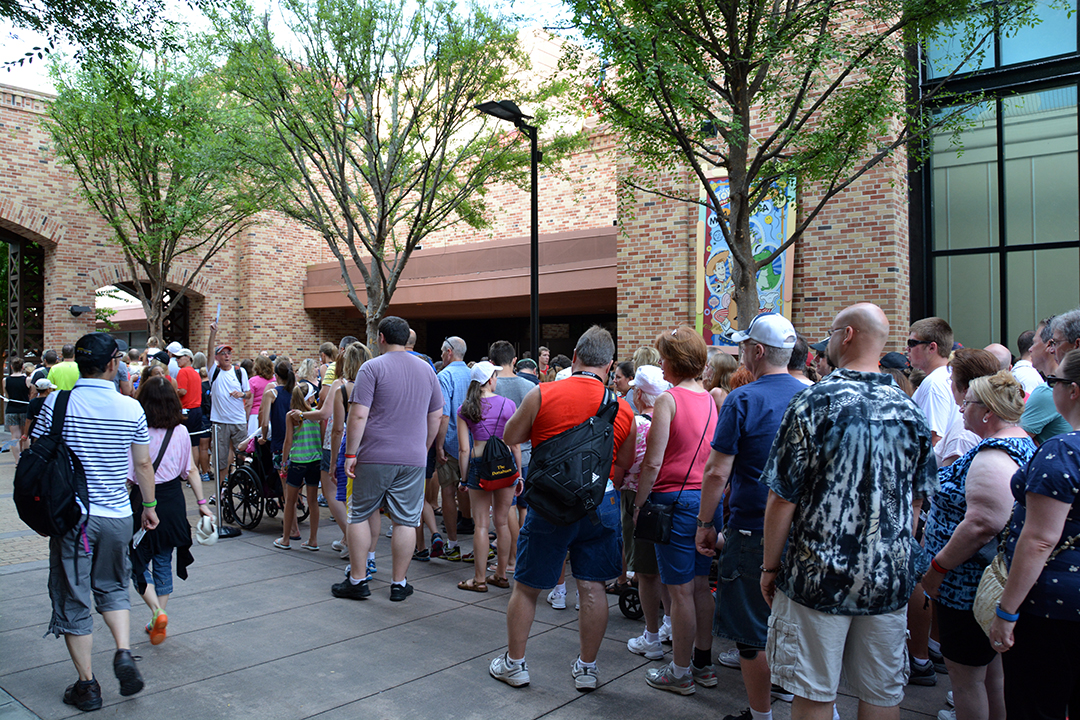 Just don't EVER believe this sign.  The posted waits are never correct here and posted waits near park opening aren't ever right in any park at any time.  They haven't run the red cards through the line yet to check.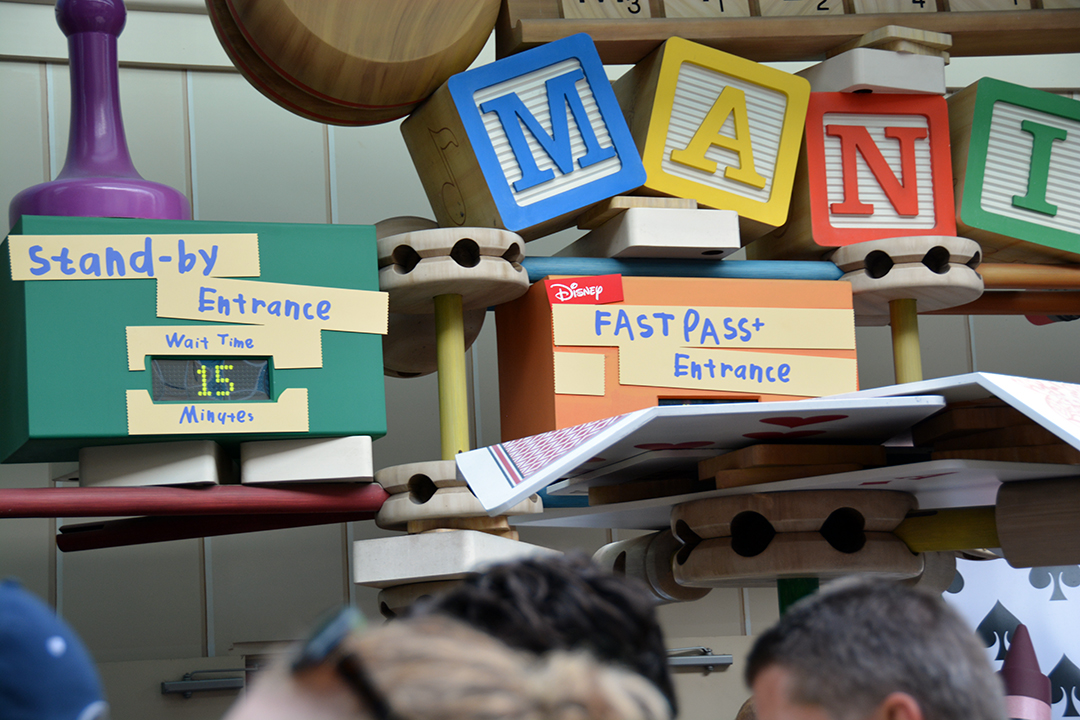 The one advantage you have in a morning Extra Magic Hour over here is that guests cannot use Fastpass+ during the EMH.  I did see a few guests using  DAS card.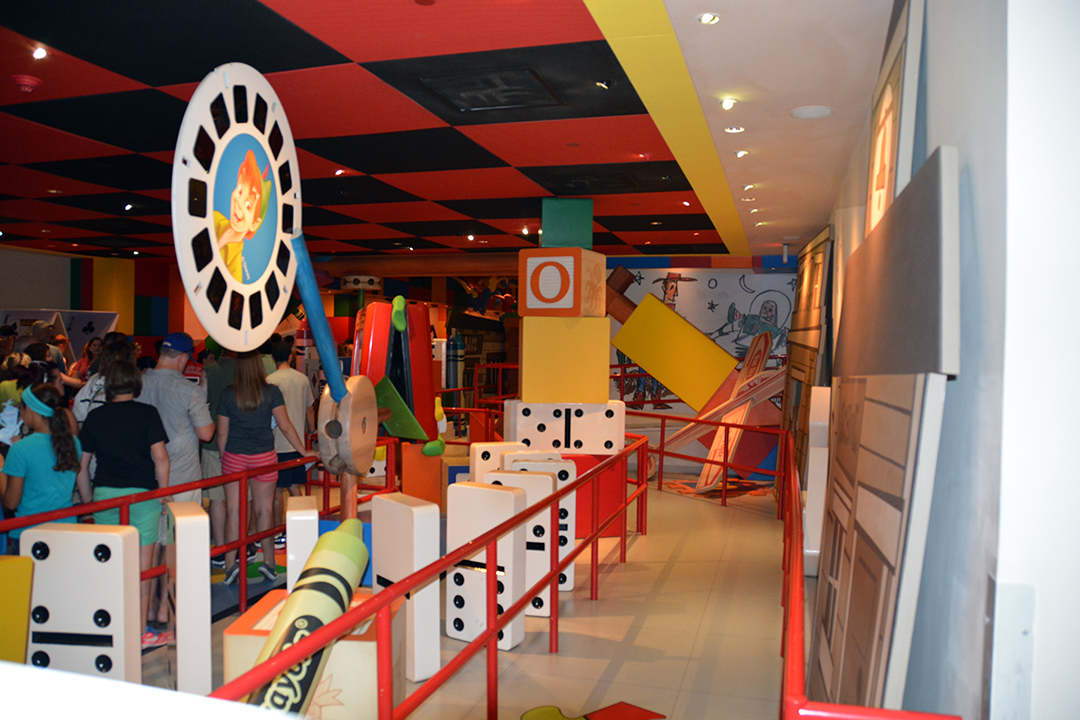 I waited 28 minutes to ride TSMM.  Many of my Facebook friends said that's not bad, but I HATE to wait.  I would use FP+ for this and then use FP+ as 4th option at Rock N Roller Coaster, if I had it to do over.  However, this park is best experienced over TWO days.
The posted wait now for Buzz is now 25 minutes, but it will easily take 35-40 to meet them because the queue is already full.  I do feel that during the Frozen celebration it's important to meet them right away at park opening.  They close at 8pm and the line stays packed all day long.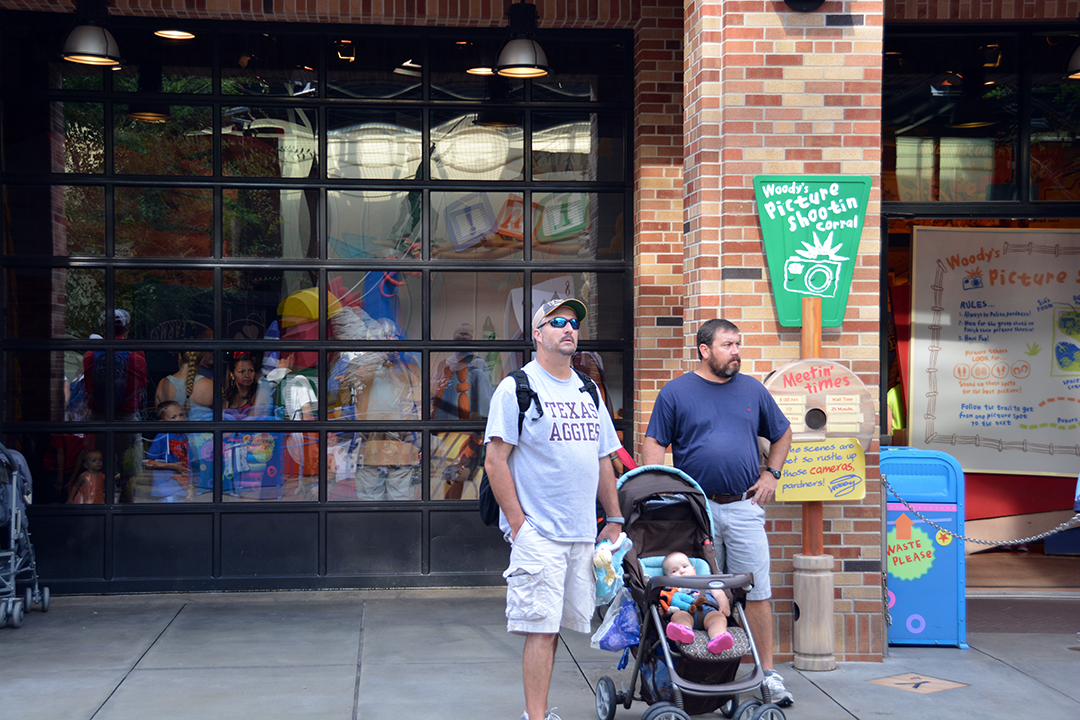 They bumped up the wait time at TSMM, but it isn't correct.  I'd bet those people waited more like 60 because FP+ people started returning in mass at around 9:00am.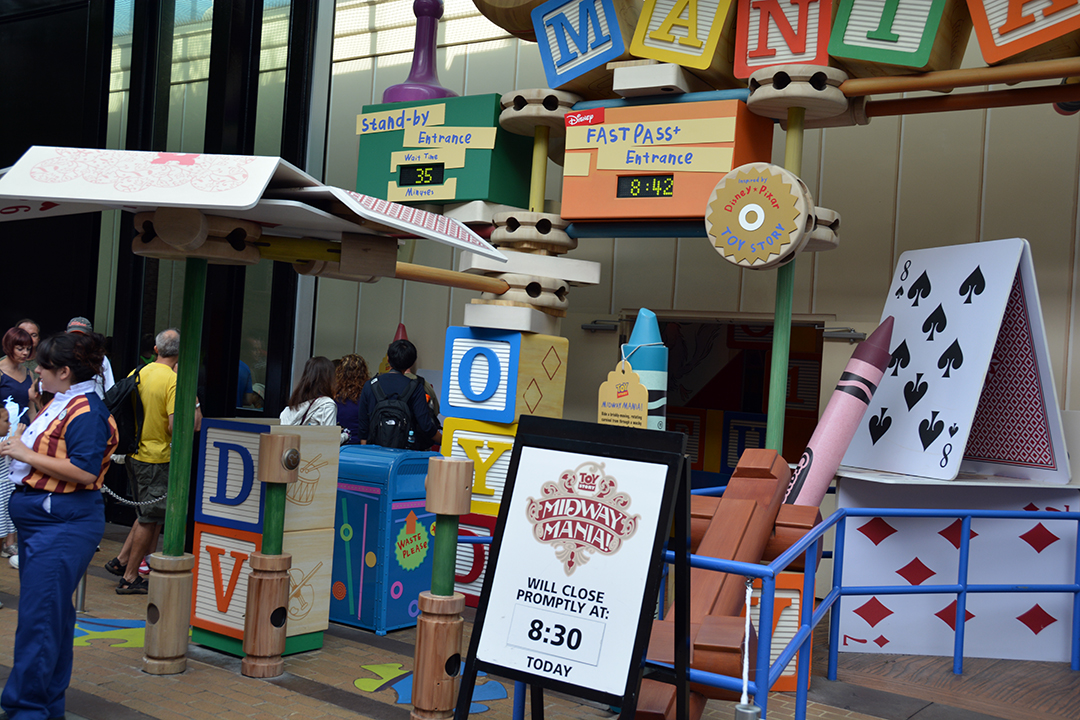 During this Frozen stuff the characters that usually meet at the hat (Chip n Dale, Stitch, Goofy, Pluto, Donald and Daisy) during the morning hours now meet at the Great Movie Ride Courtyard.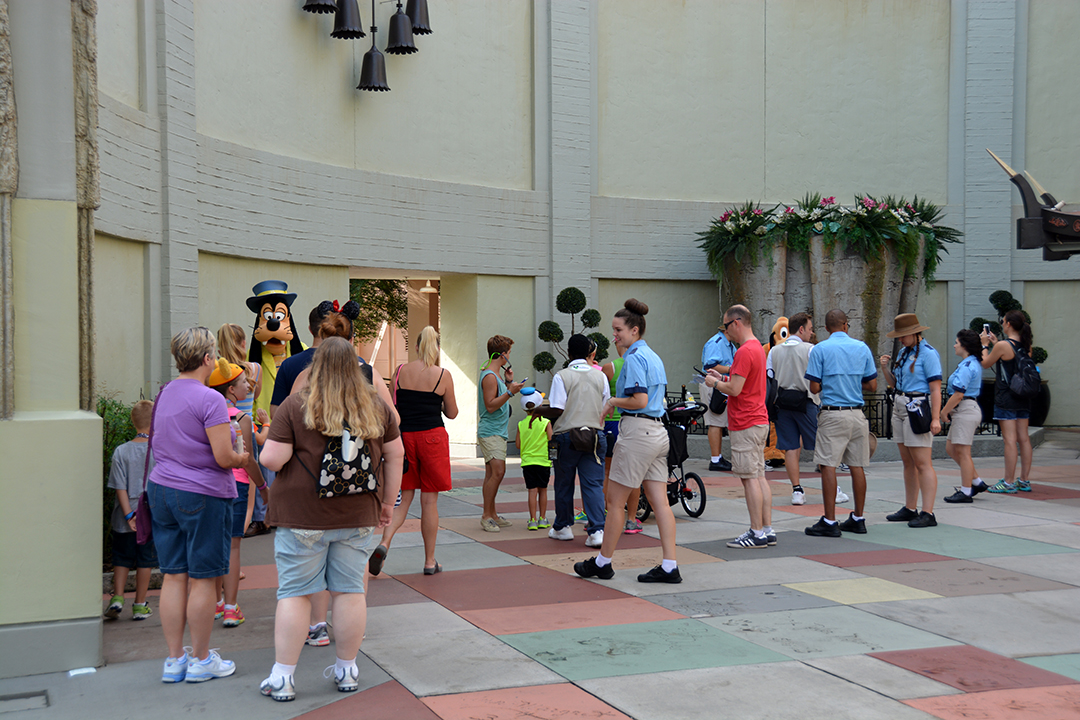 Goofy and Pluto meet at same time, but in different photos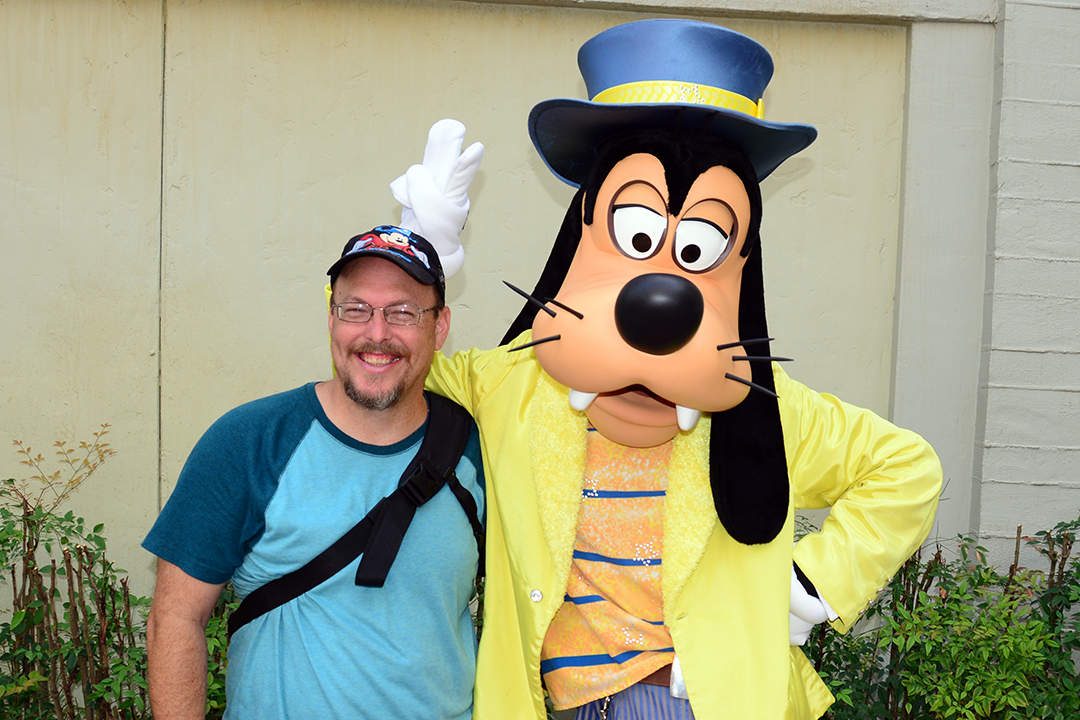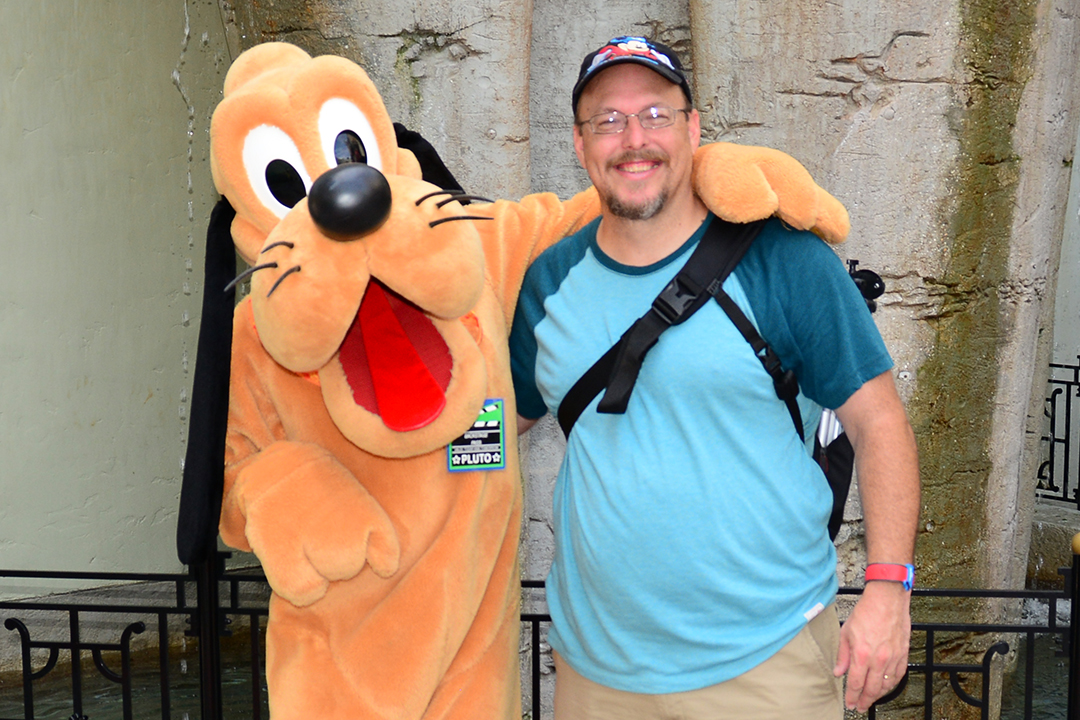 When Donald and Daisy appear they do the same thing with separate photos.  Daisy was upset that she wasn't on my D23 special edition hat and decided to autograph the hat.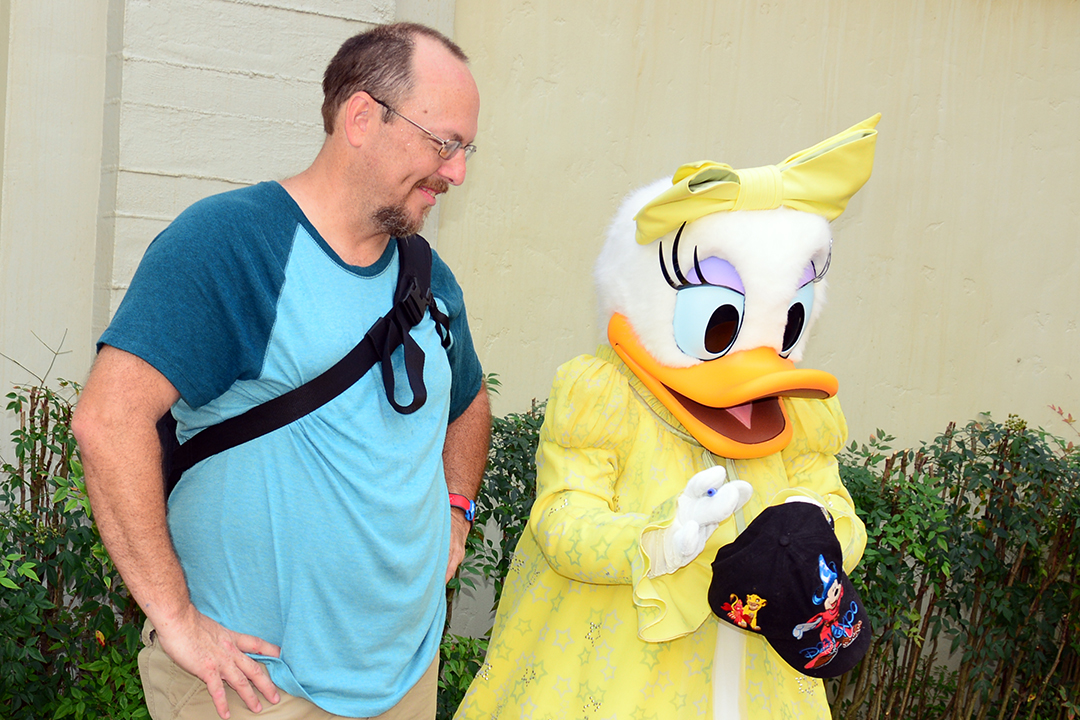 She loves me, she really loves me!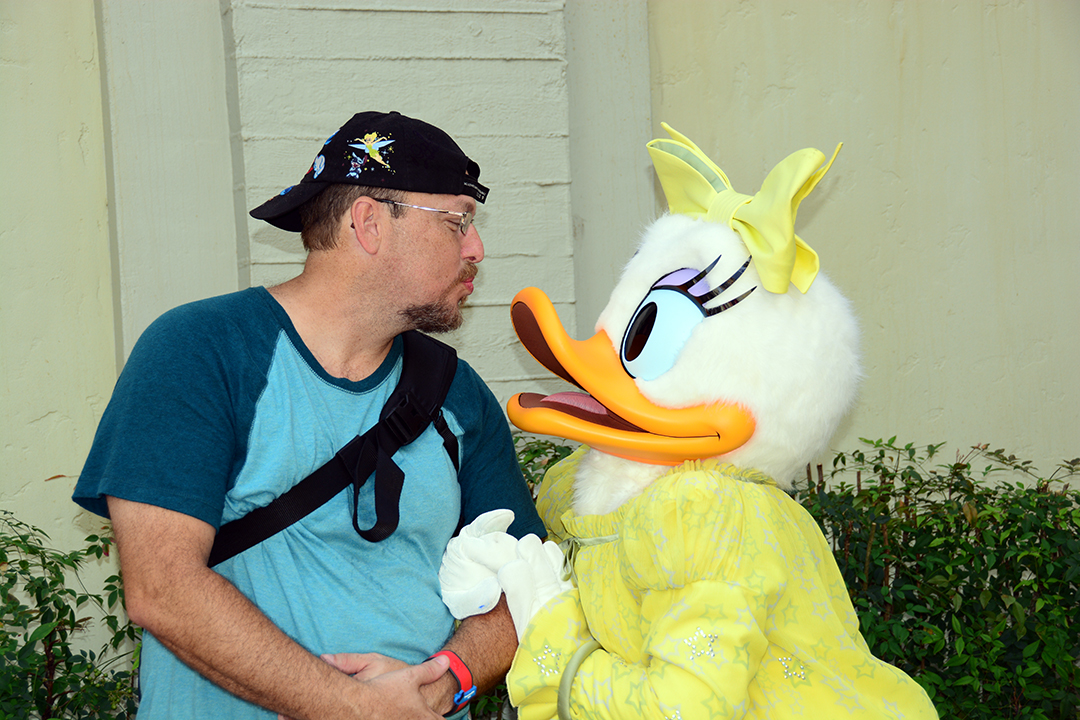 Well, Donald wasn't too happy that Daisy got to sign and wanted to sign the hat too.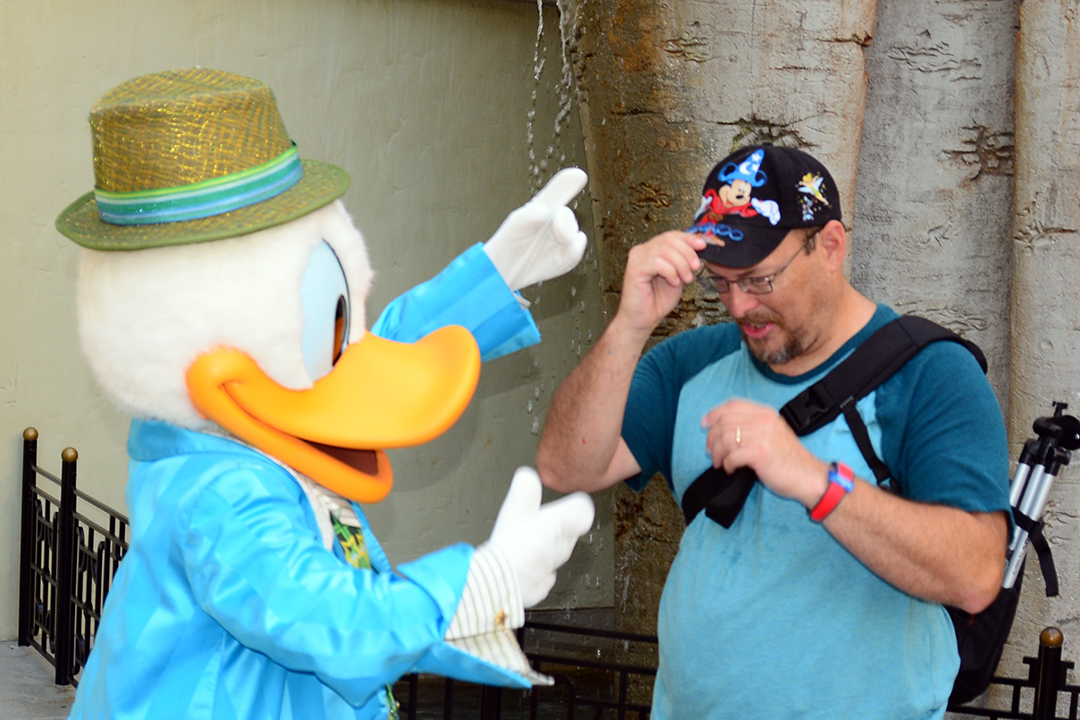 He has an issue with being number 1 all the time.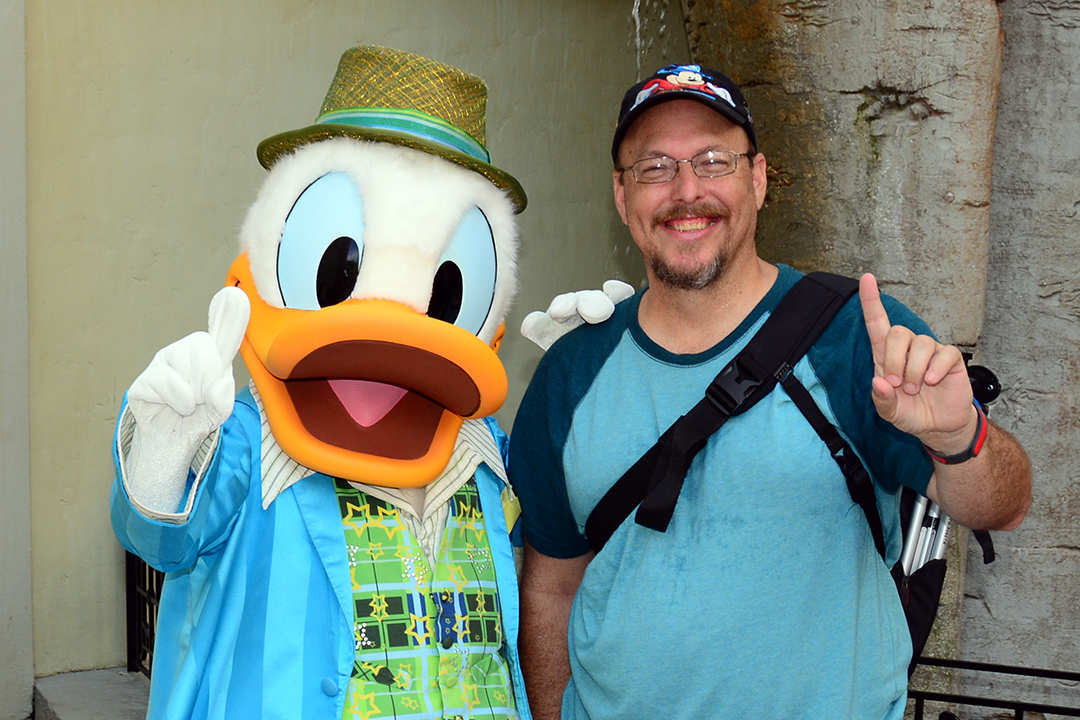 From there I decided to head over to meet Phineas and Ferb.  If I had hung around the Great Movie Ride area a few more minutes, I would have met Chip n Dale and Stitch with little or no wait.  Still had a very brief wait for Phineas and Ferb.
Decided to check on the line to meet Sofia the First.  Most guests were still stuck in the TSMM stand by line, so there was a short wait to see her.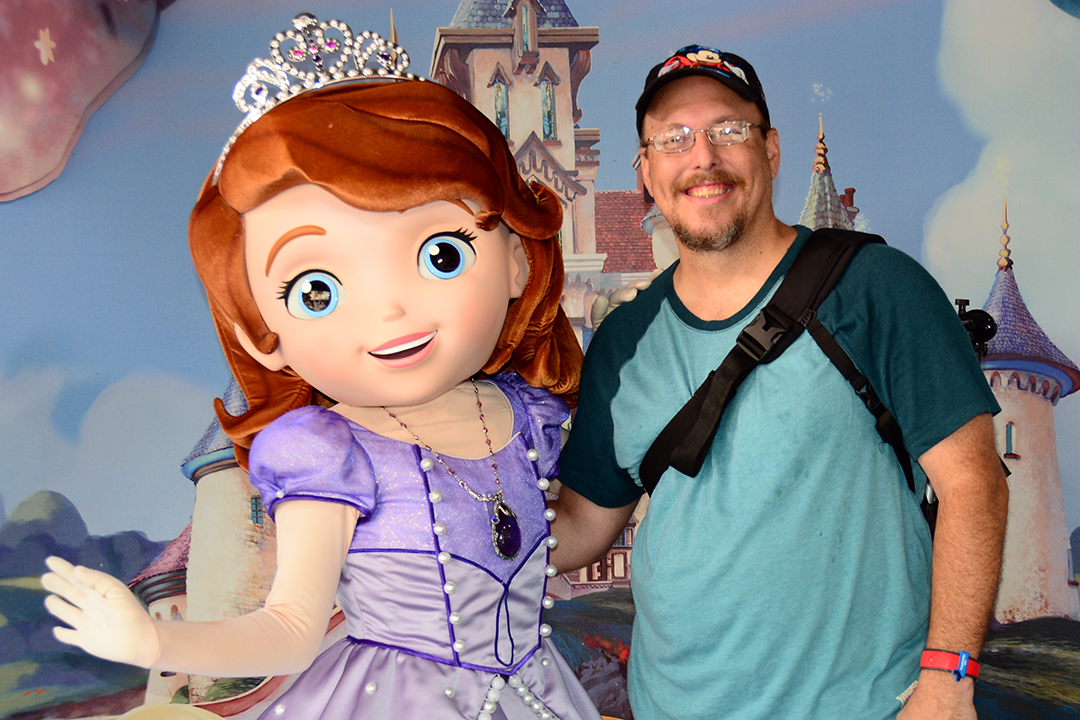 I thought I would just go from meeting Sofia to meeting Jake, but he had a line, so I returned later with no wait.  I decided it was best to arrive a few minutes early to meet Mickey, which was a wise choice.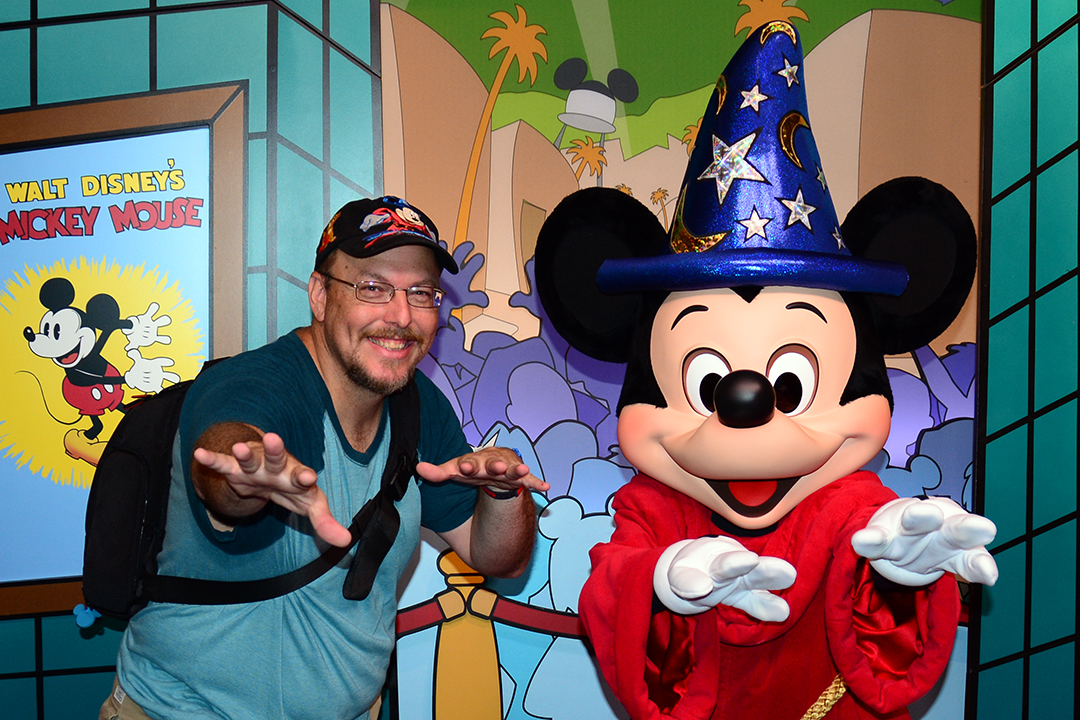 People regularly wait 30 minutes or more to meet Sorcerer Mickey.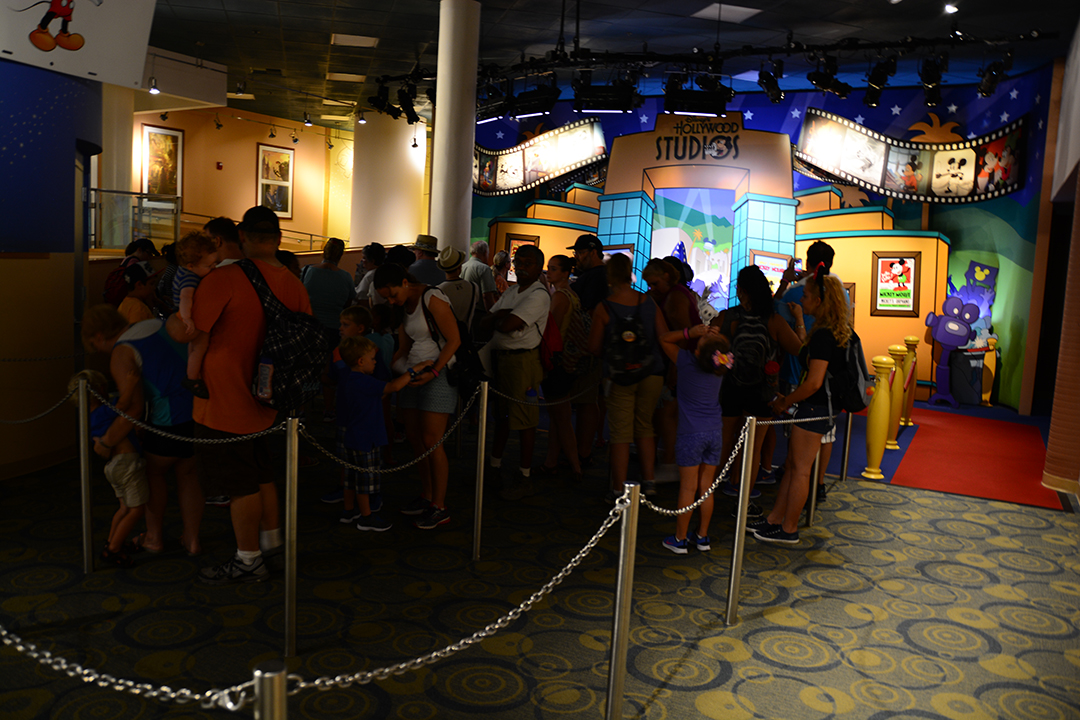 I dropped in to visit Minnie next.  It's funny because I was standing in line with someone following one of my character plans and they didn't even know it was me.  They began to discuss how they would meet Mickey, Minnie and Ralph/Vanellope before heading to the parade.
I recommended, Mickey then Minnie, then parade spot.  I saw them again later and they were happy that I made that suggestion as the parade area filled quickly.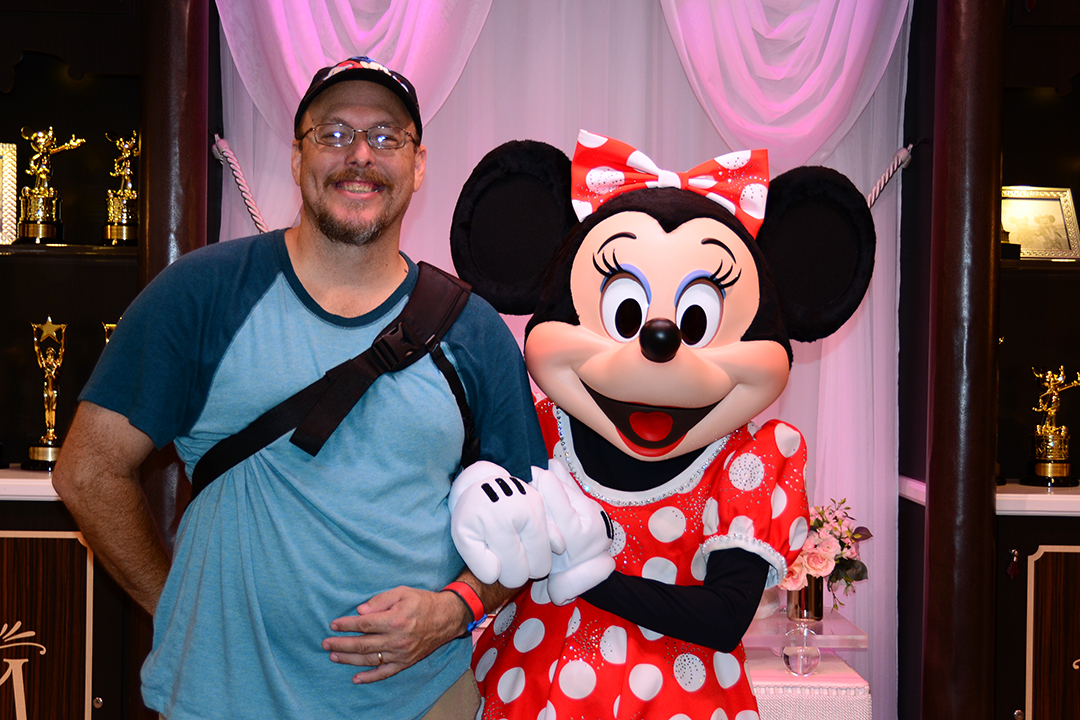 I've seen the Frozen parade from the best viewing areas a couple of times, so today I wanted to investigate the areas from American Idol to Star Tours, so I would hang around to visit Wreck-it Ralph and Vanellope.  According to my sources, they are going to be gone in November2014.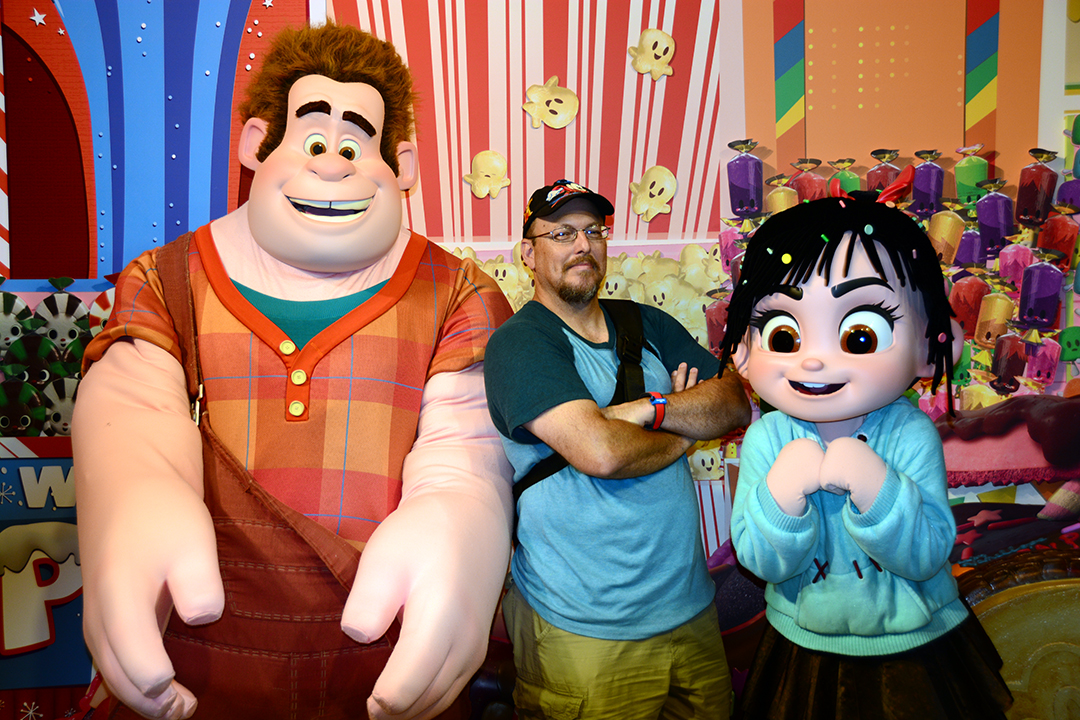 If you look carefully, you'll see some of the same people still in line for Mickey.  Hey, peeps, you're going to miss the parade.  Should have arrived 10 minutes BEFORE Mickey.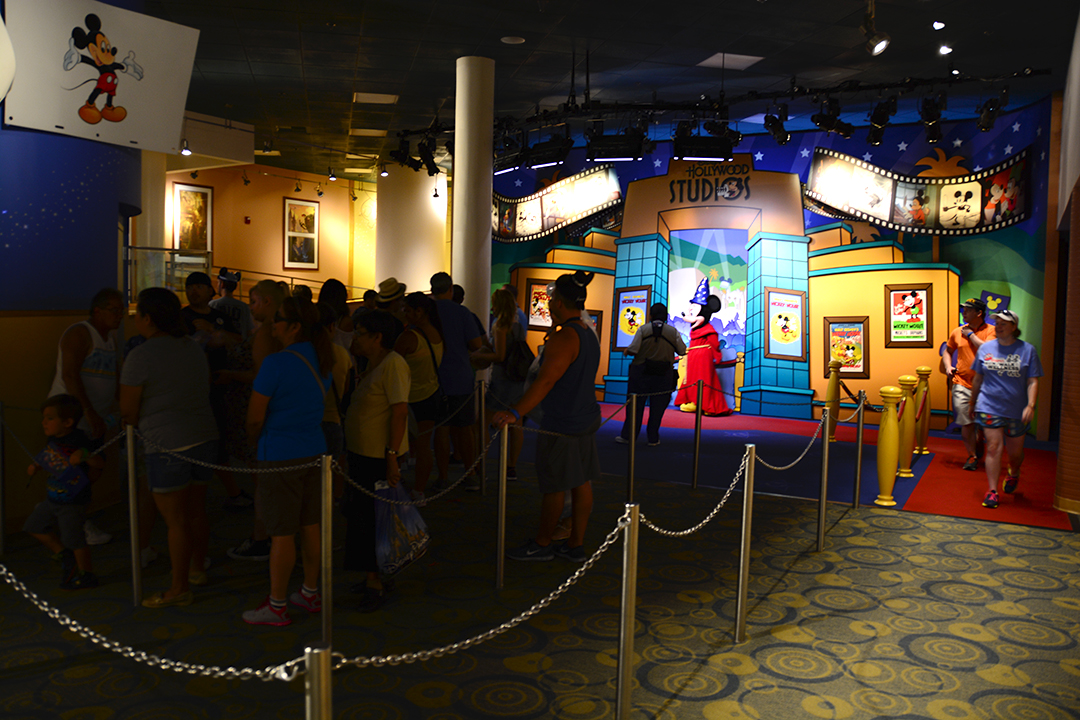 As I came out of the Animation Building, I found Jake with no wait.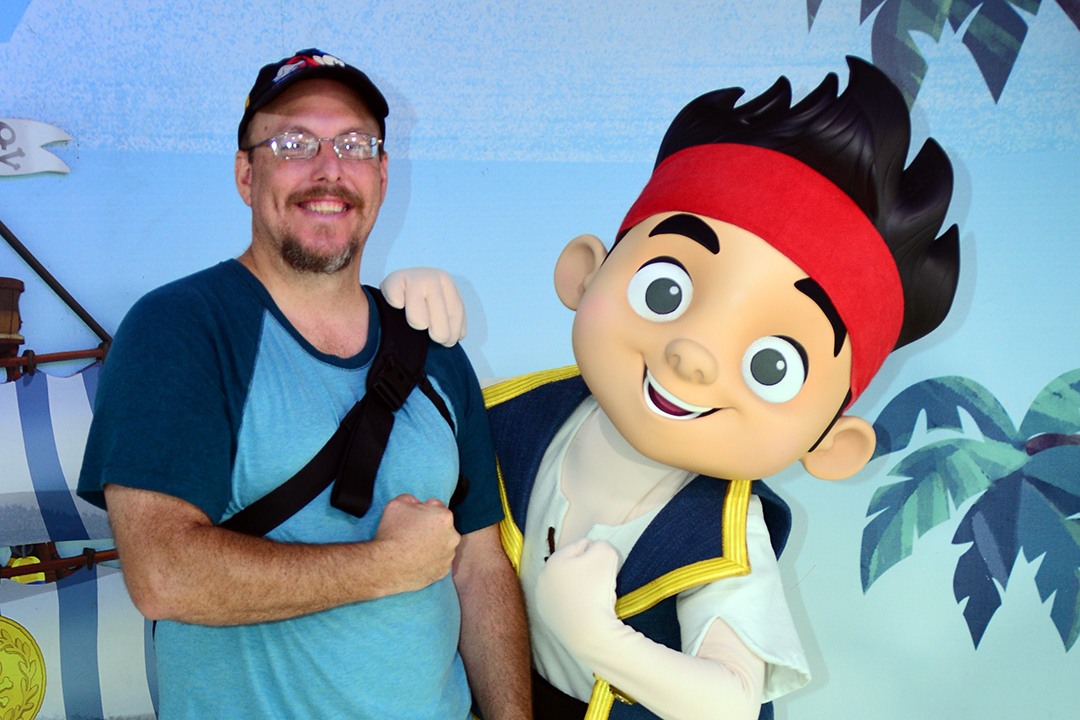 But these people would meet Sofia and miss the parade too.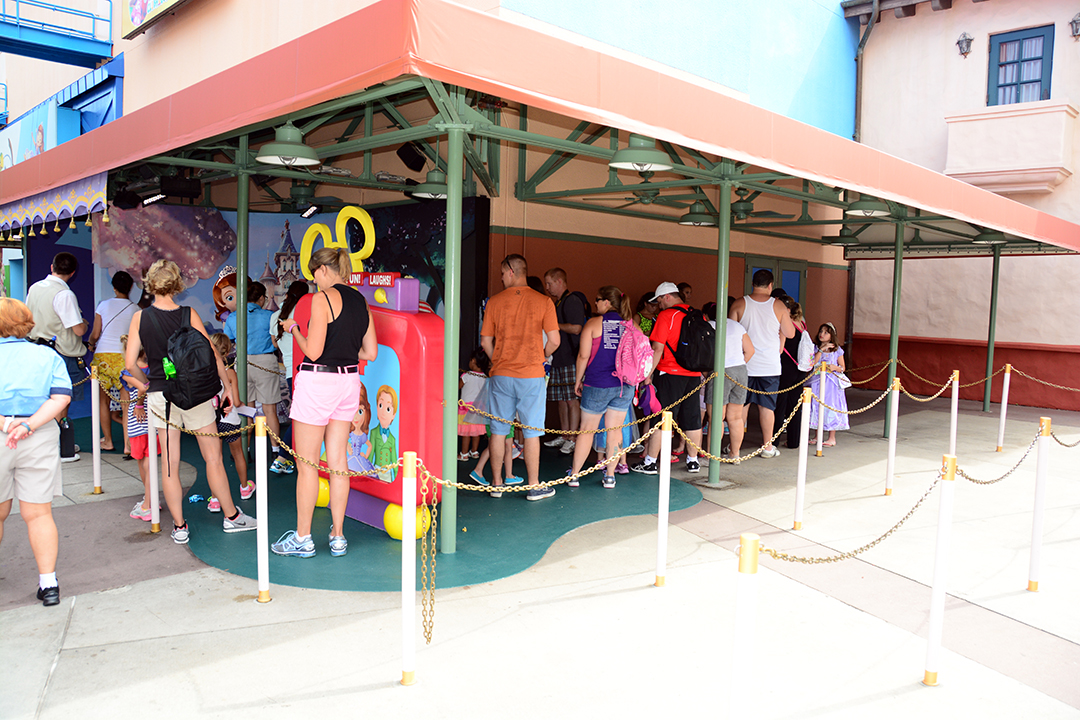 Someone told me that they were given the advice to stand right here and watch the parade and welcome show with Anna and Elsa.  You could stand here if you want, but it's a terrible view of the parade and the show.  Follow the advice I gave in this post. Or you could stare at a tent, it's up to you.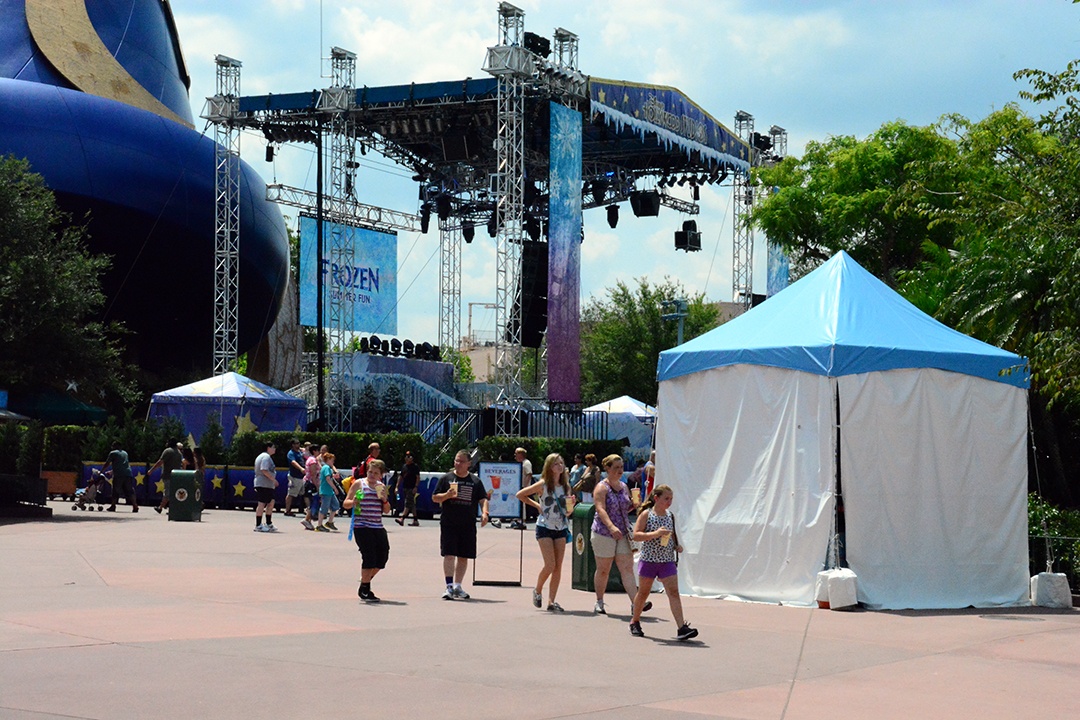 But Kenny couldn't we just stand on the OTHER side of the ugly tent that blocks guests views and sells libations?  NOPE.  Three cast members stood there, chased everyone away and watched the parade and show themselves.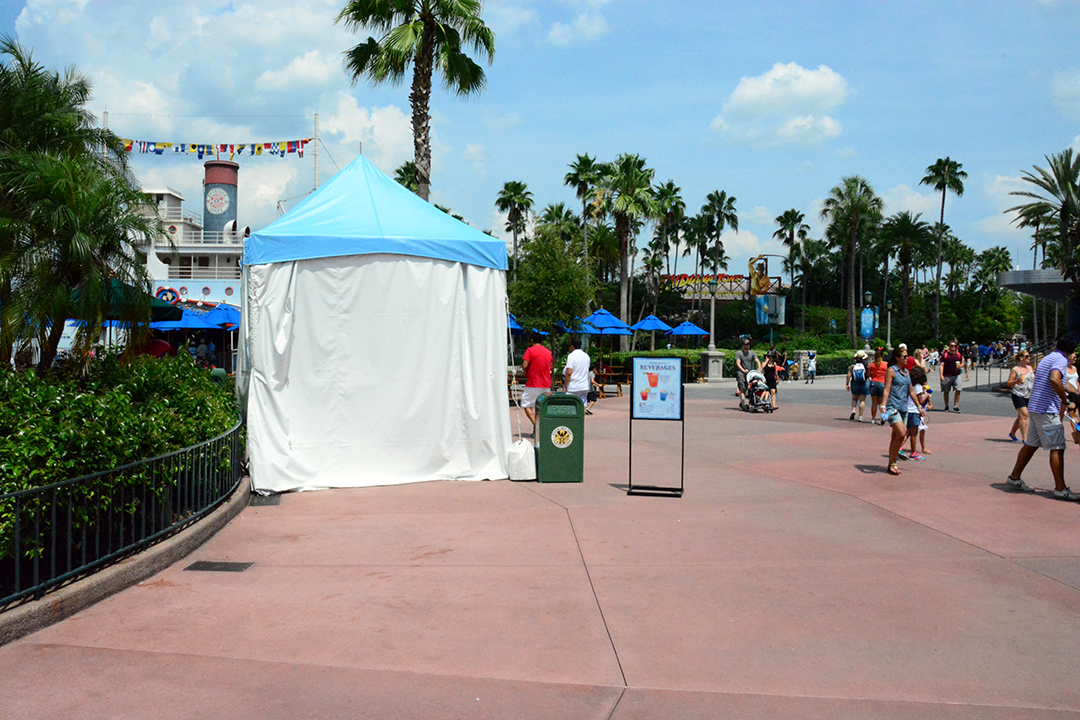 This was their view
Here are the people that sat in that location.  If watching the parade AND the welcome show are important, Follow that link I gave you earlier and do exactly like I said.  It's not hard, but it does require arriving early.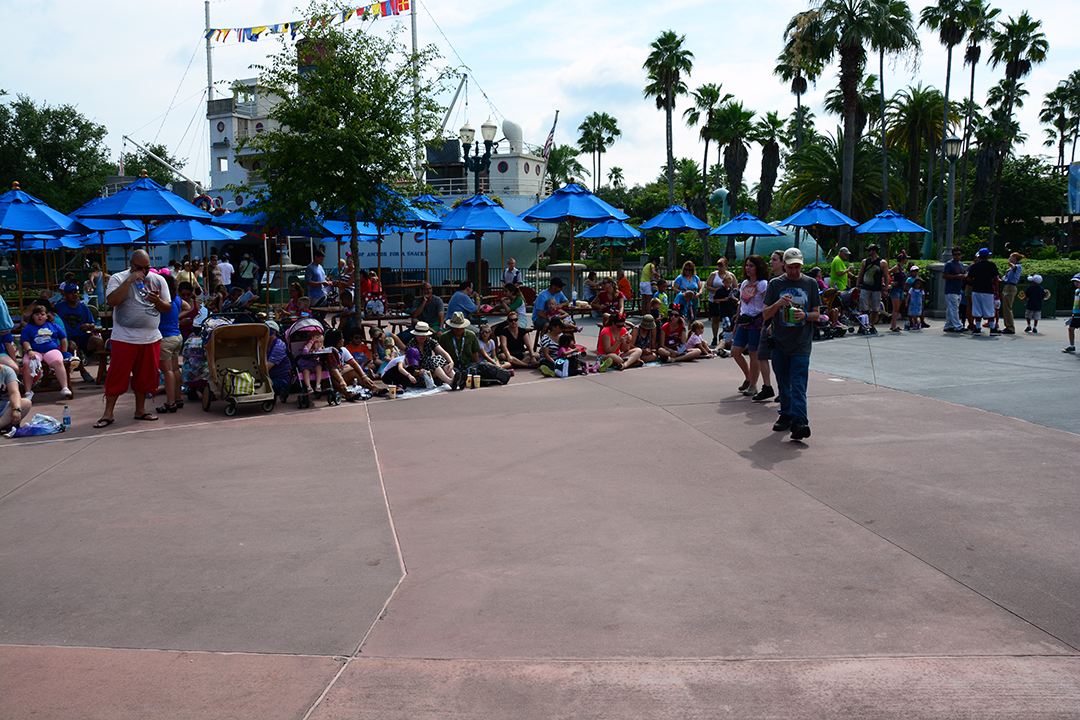 It's 10:46am and those people above are sitting in the blazing sun.  The American Idol steps are shady near the top and side and they are among the last to fill (until I post this at least).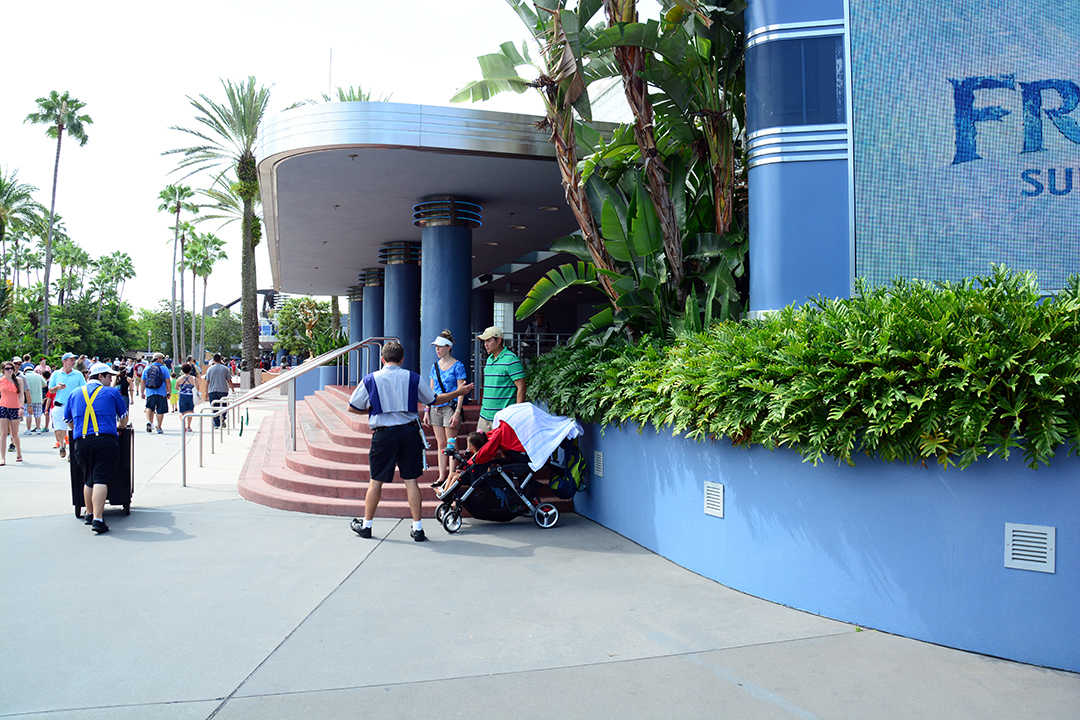 These people are just feet away from the shade.  Maybe they wanted to take 3 billion photos of an empty float?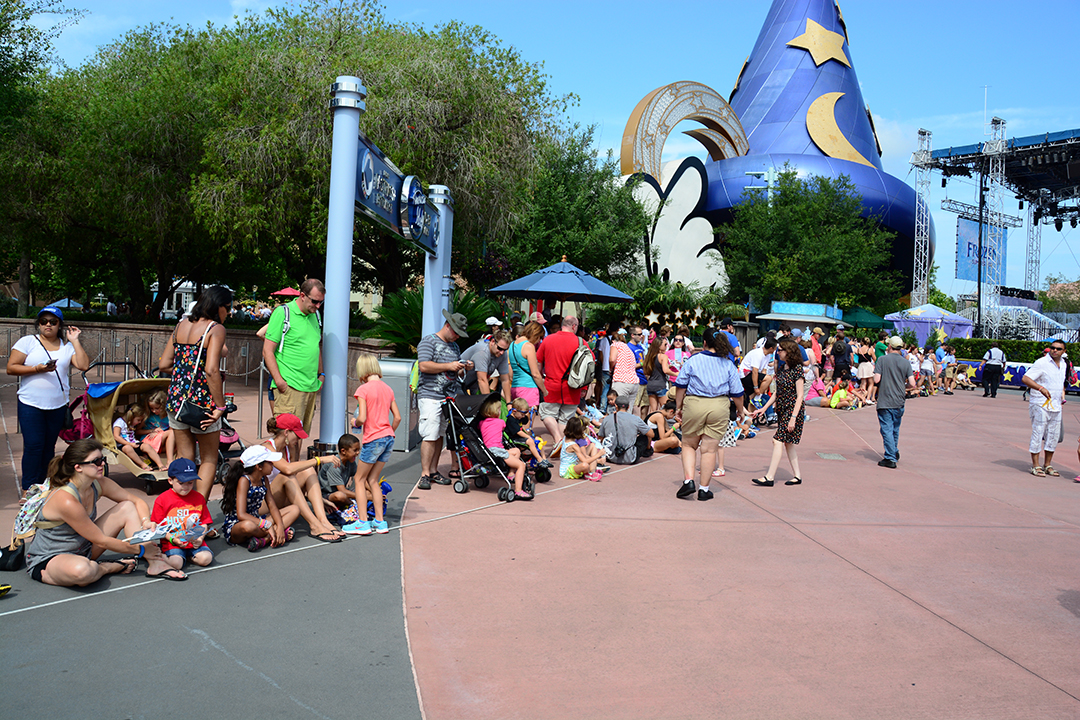 You cannot sit in front of those bushes on the left.  You also aren't allowed to sit on the wall on the right behind the dancing cast member.  Oh, he's pointing?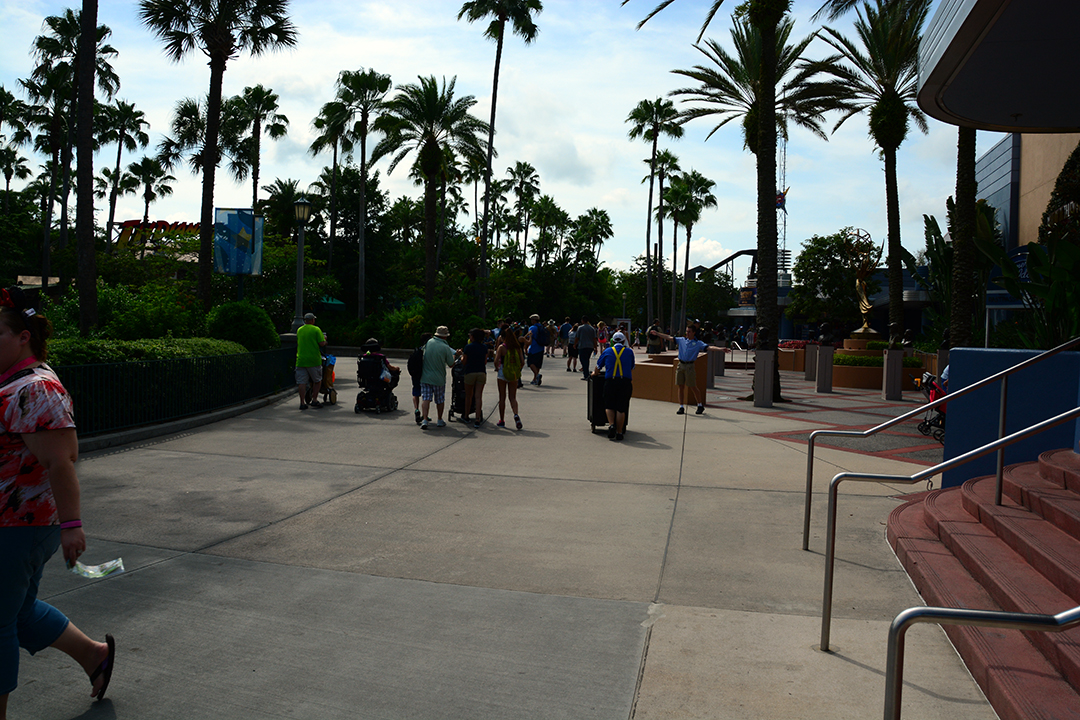 There are benches around the corner to the left.  DON'T sit there.  You'll see the backside of floats.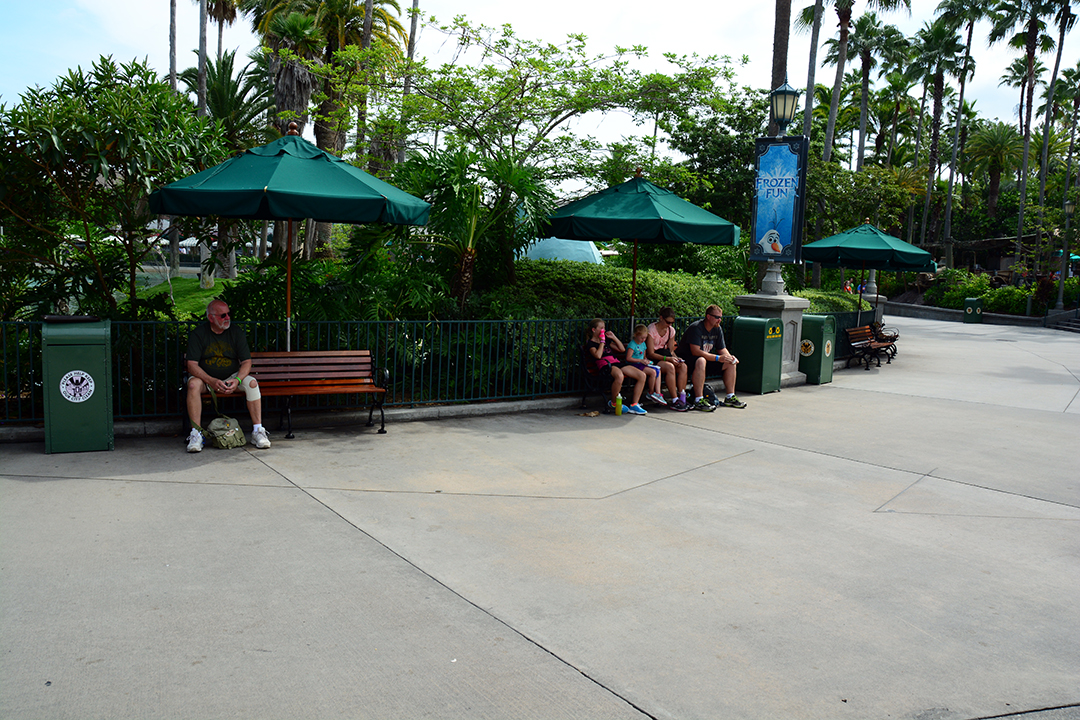 This family chose a pretty nice view.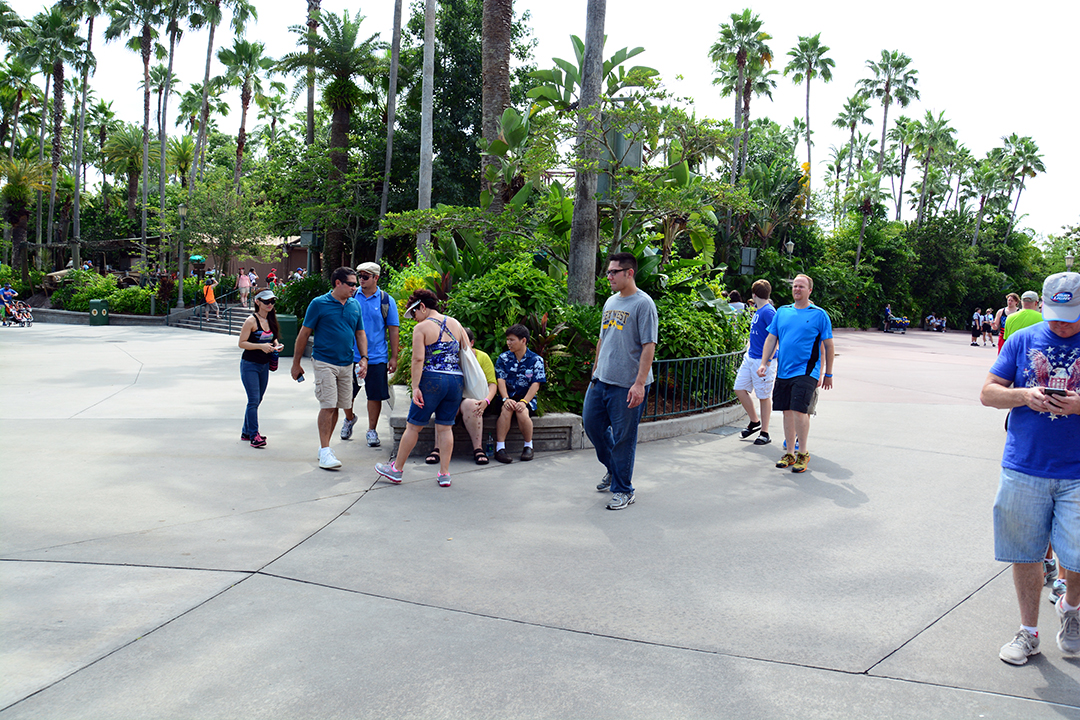 These benches on the left are great if you are only interested in the parade and not the welcome show.  They are shady and comfortable.  Arrive 20 minutes early.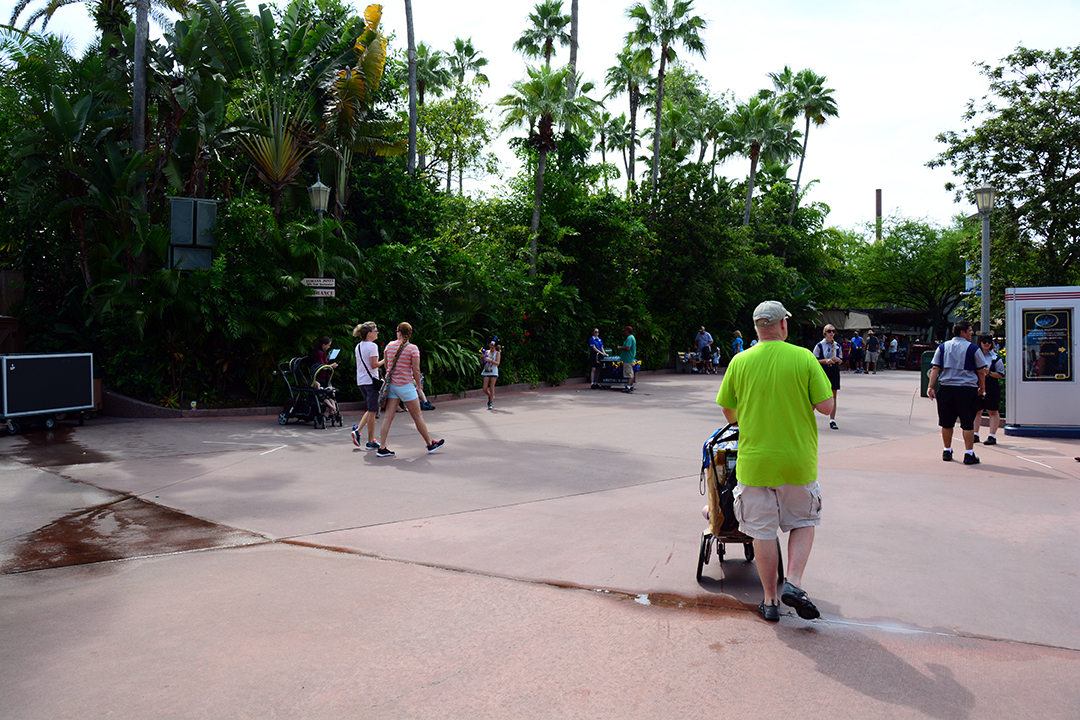 These benches on the right are filling about 12 minutes before the parade.  You can stand beside the benches on each side as well.  If you want better photos of Elsa, stay on this side.  Anna is on the opposite side.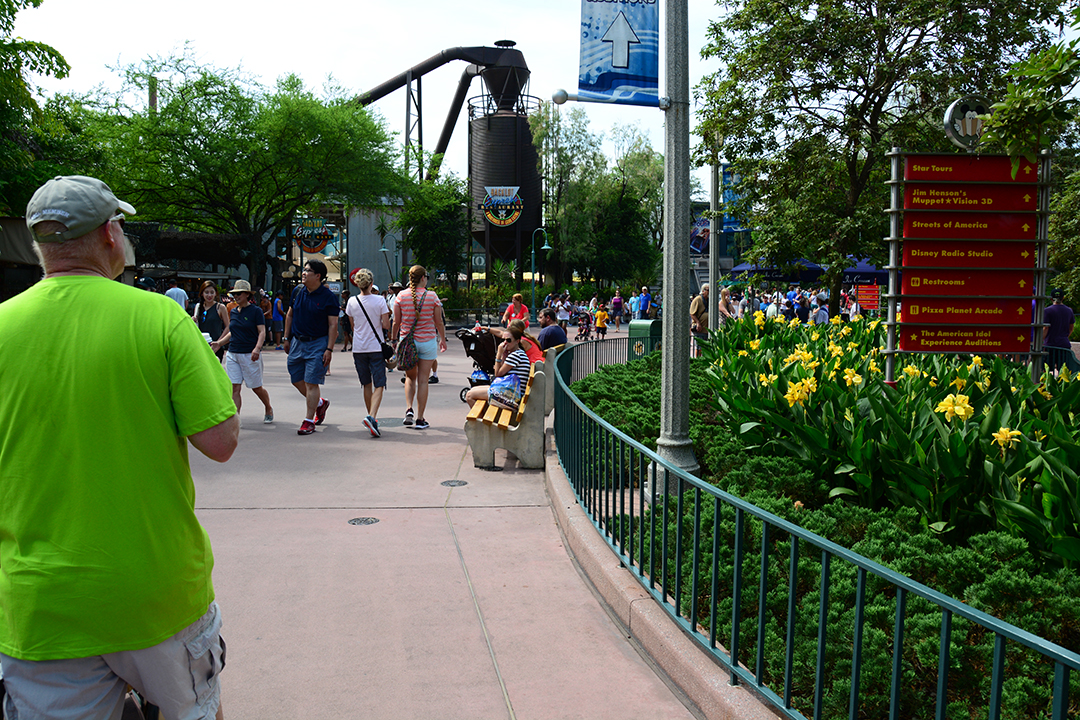 There's some more benches down by Star Tours that are in the shade.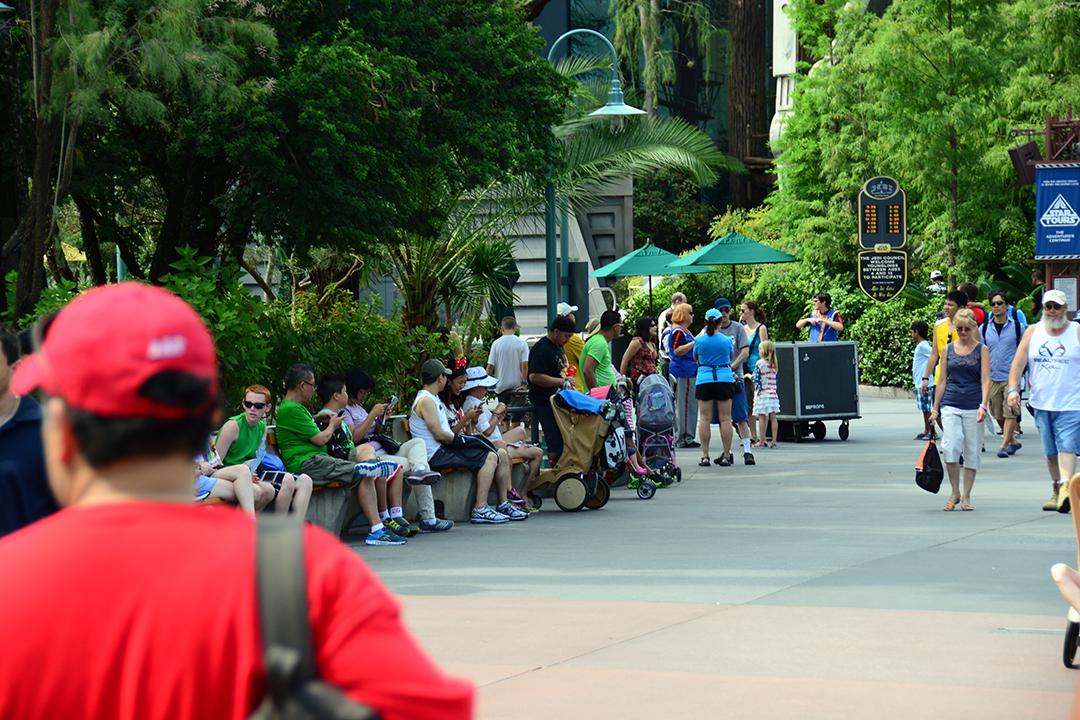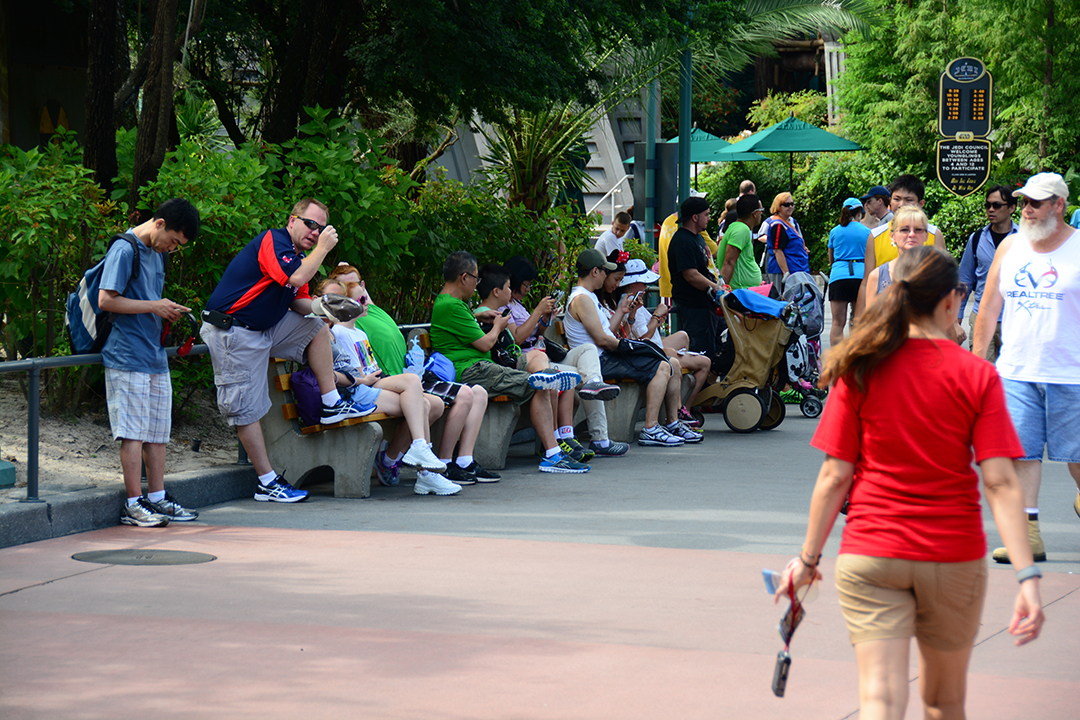 Olaf photo bombed me!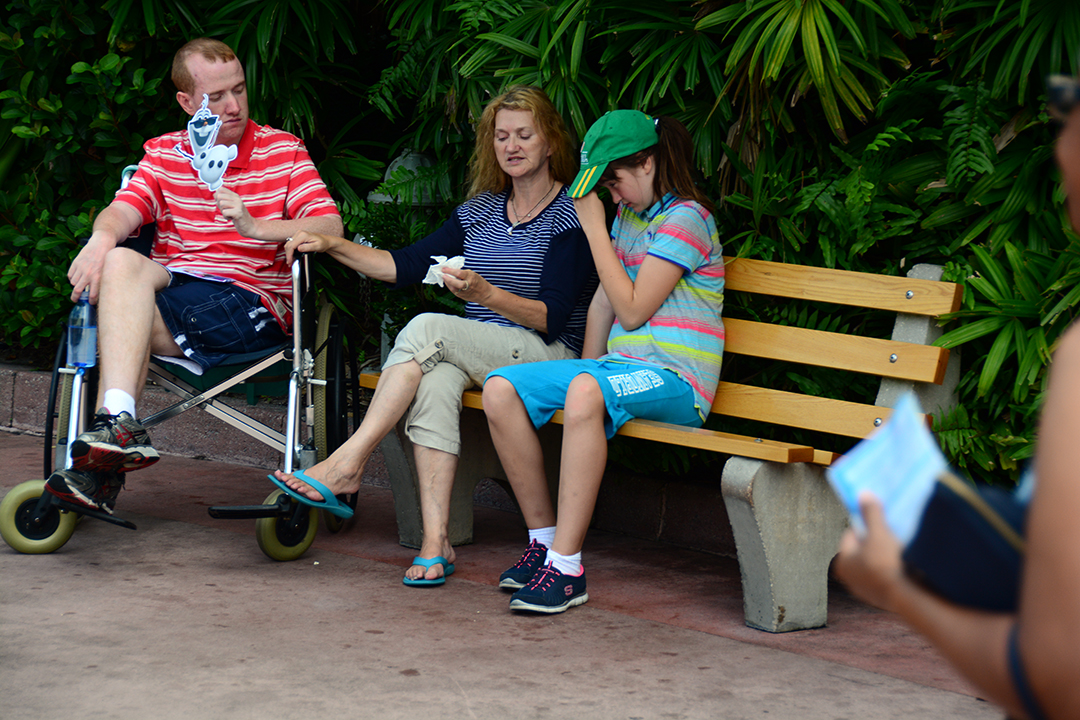 Hey that's the same dude that was in my photo of the wait time for Buzz n Woody.  Stalker?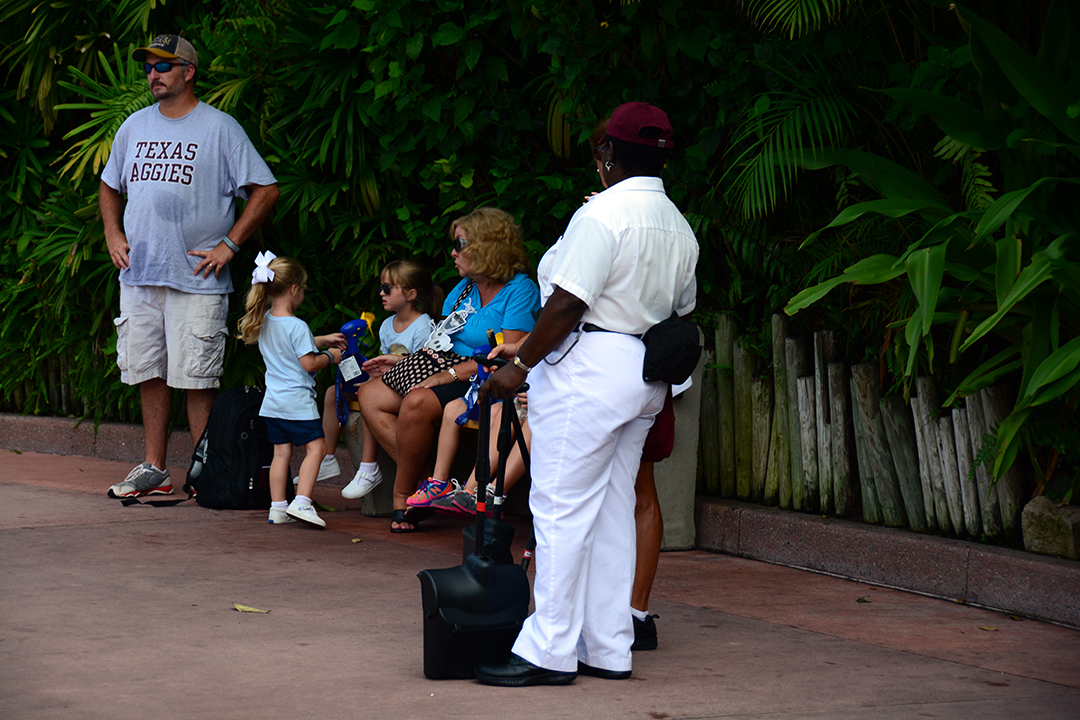 Reminder, the benches under the umbrellas are a terrible view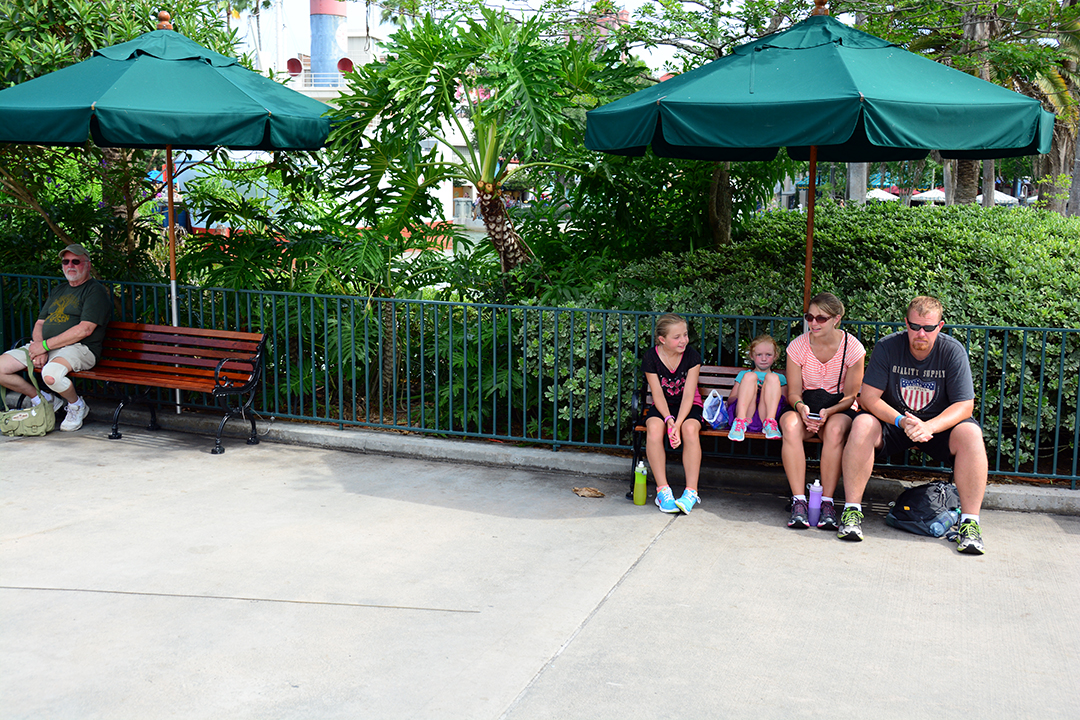 At 10:50am I conceeded and had a seat on the steps.  They block the entire middle still.  Why?  Who knows?  They don't start the first Ameican Idol show until 3:15pm now and it still doesn't fill up.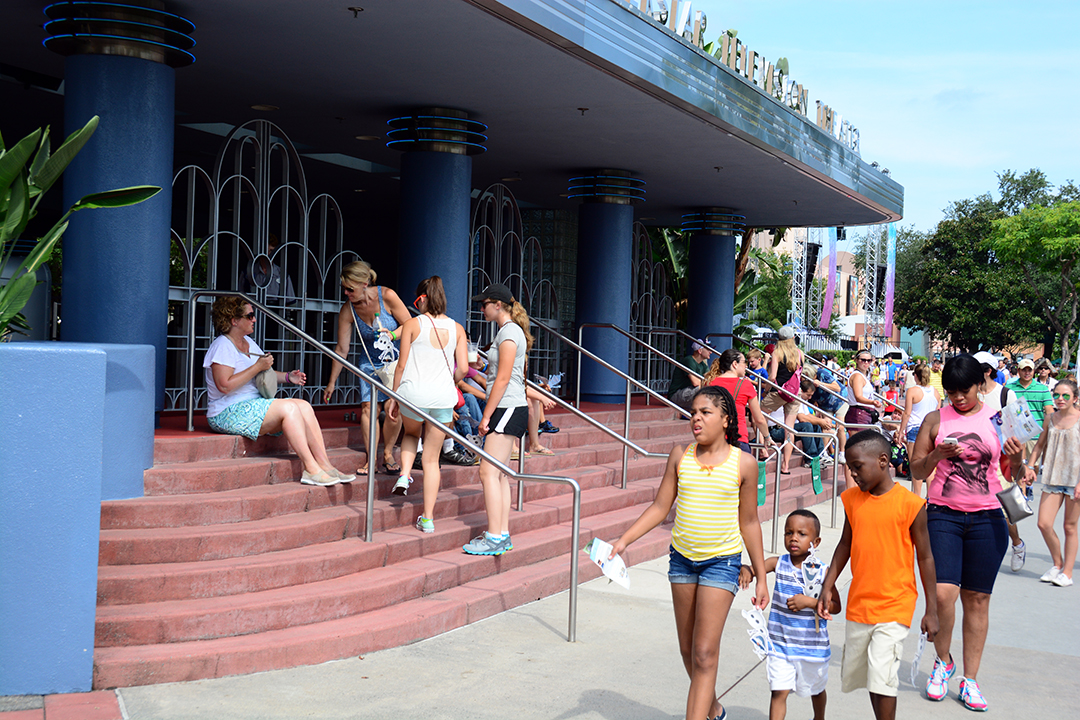 The parade shows up and stops at 10:04am.  It was really awkward.  They first skaters do their thing, they drop off Anna and Elsa and they congest the entire parade into this little area.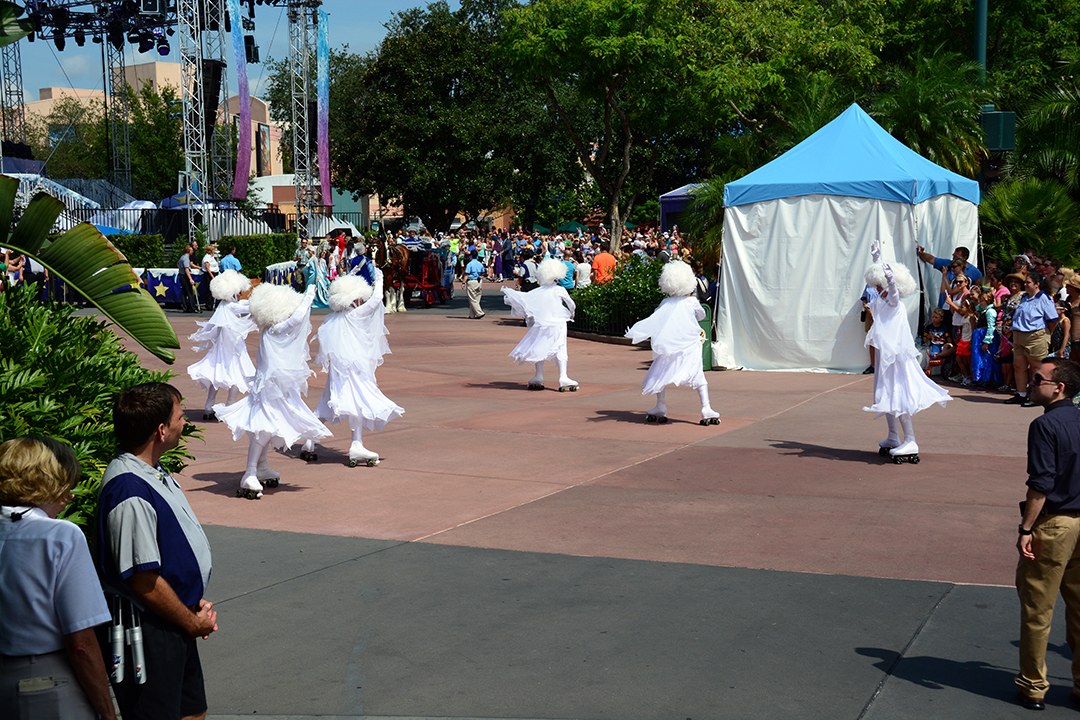 Anna and Elsa leaving the float fo r the little welcome show.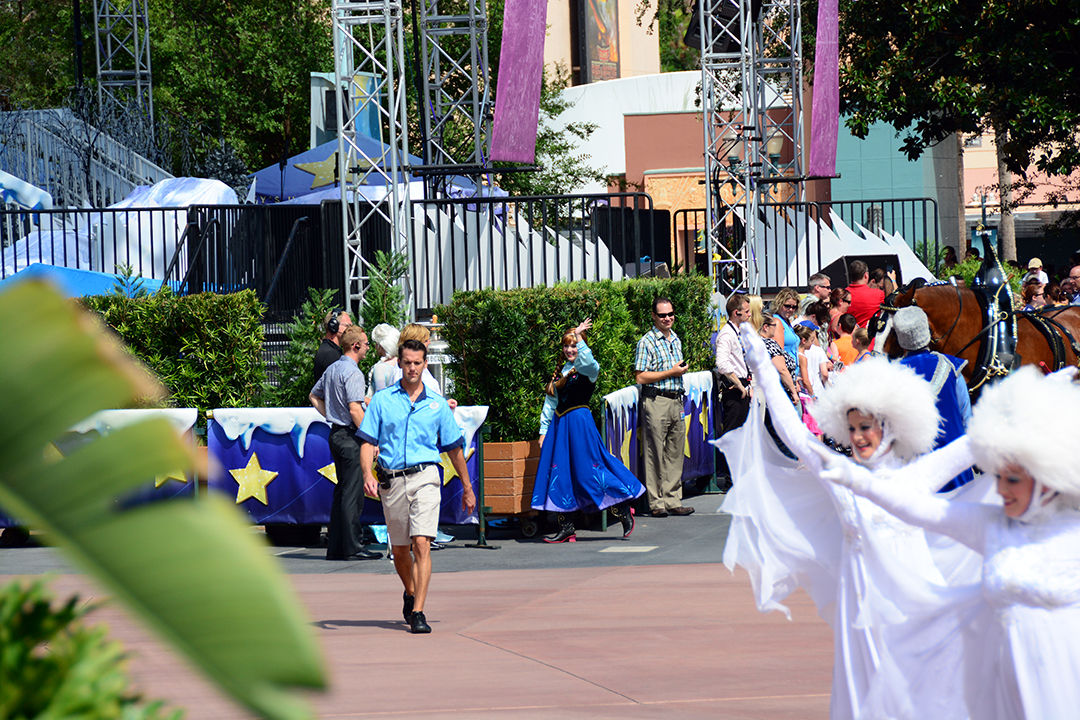 Skaters look happy.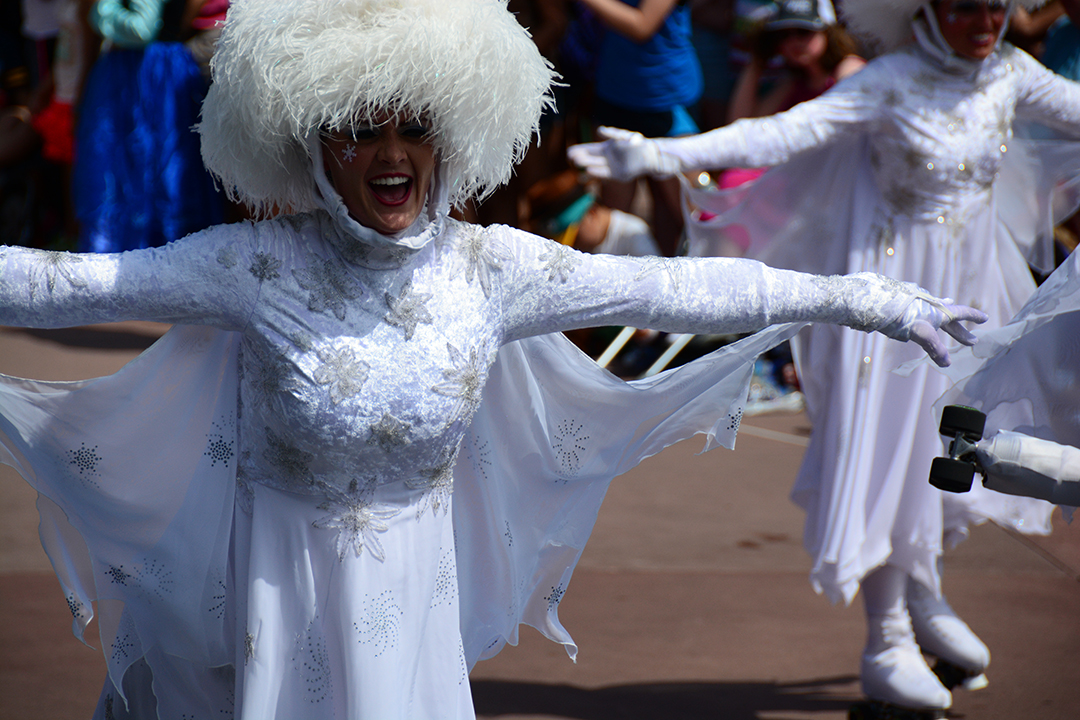 An empty float then rolls up and parks right in front of American Idol. You can get some terrific shots of the horse, if you're into that.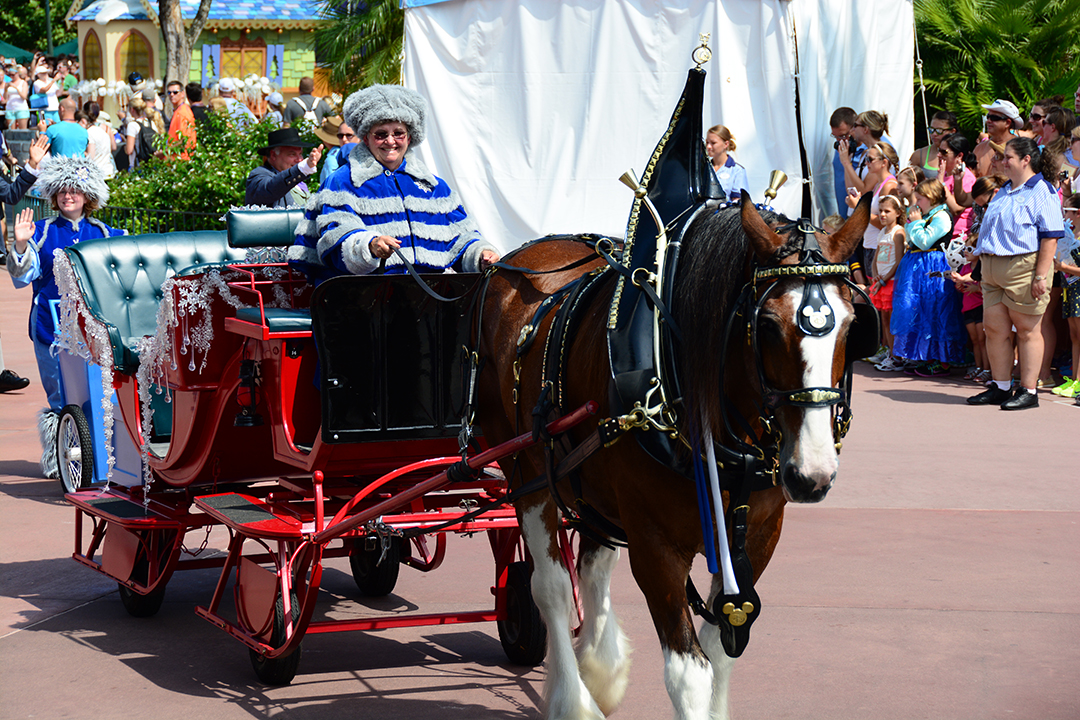 After the little show, Anna and Elsa re-board the float and the parade continues, but the parade portion in this area is really odd.  They take a minute to realign the floats and dancers and get the music in sync.  They should have just done the parade and skipped the Welcome Show thing IMO.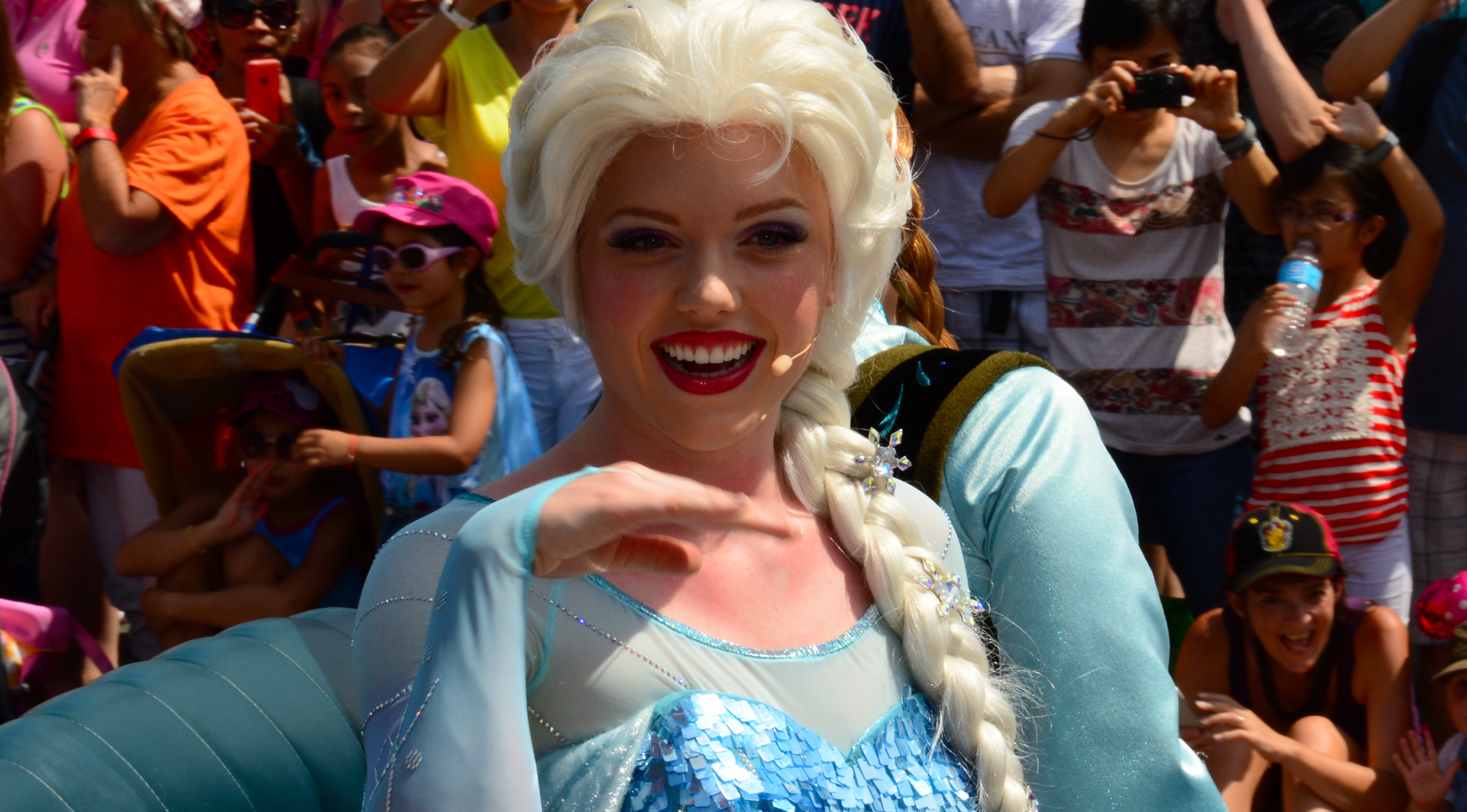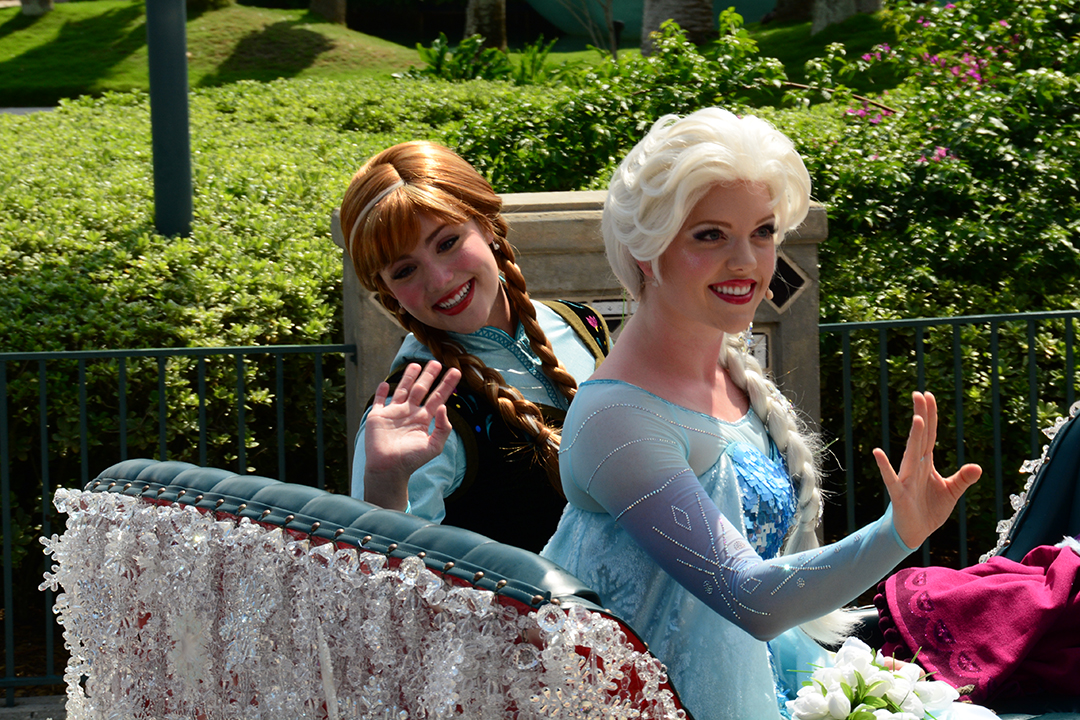 They added these citizens since the last time I watched this parade.
After the parade, I headed over to catch the 11:45am Beauty and the Beast Show.  I was seated on the left hand side and there was plenty of viewing available.
Use Fastpass+ as a 4th or 5th option or you'll also sit over there!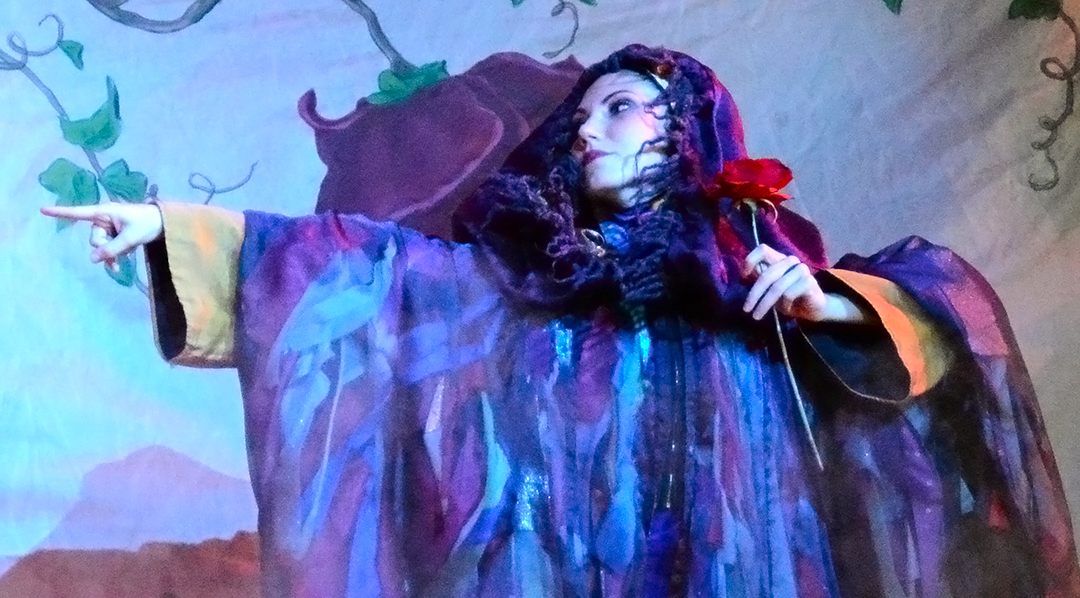 I liked how Belle was caught up in her book,but the villagers were riioting.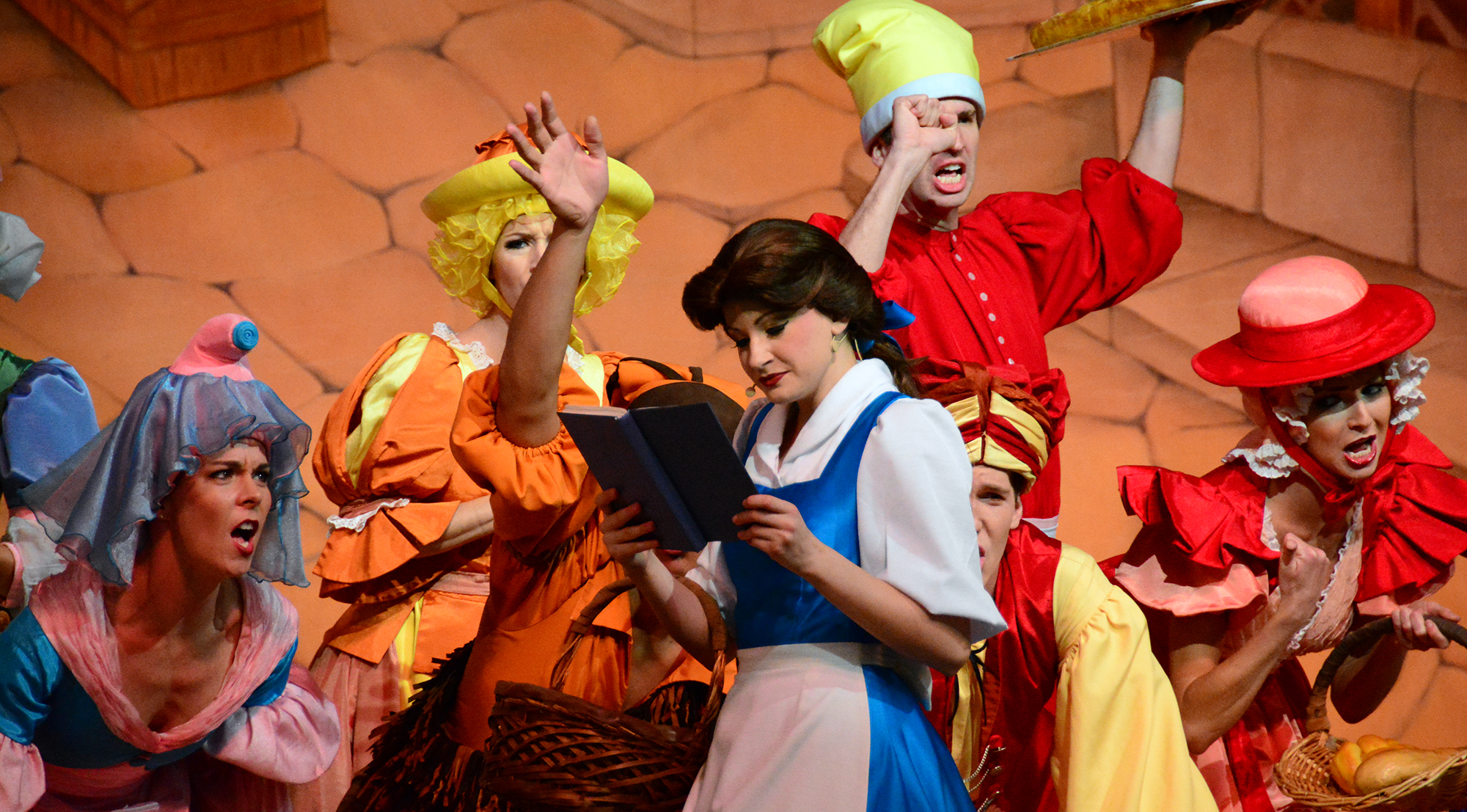 I bet you never noticed that Beast is a smooth operator.  He pulled the classic "yawn and arm around move" on Belle.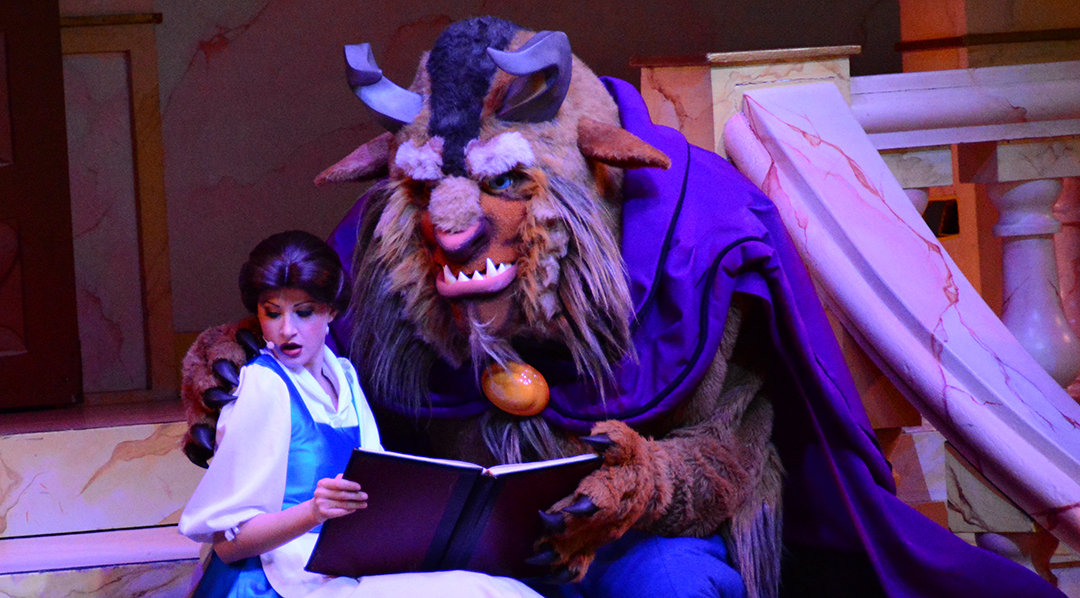 The witch lady was happy that they were getting along.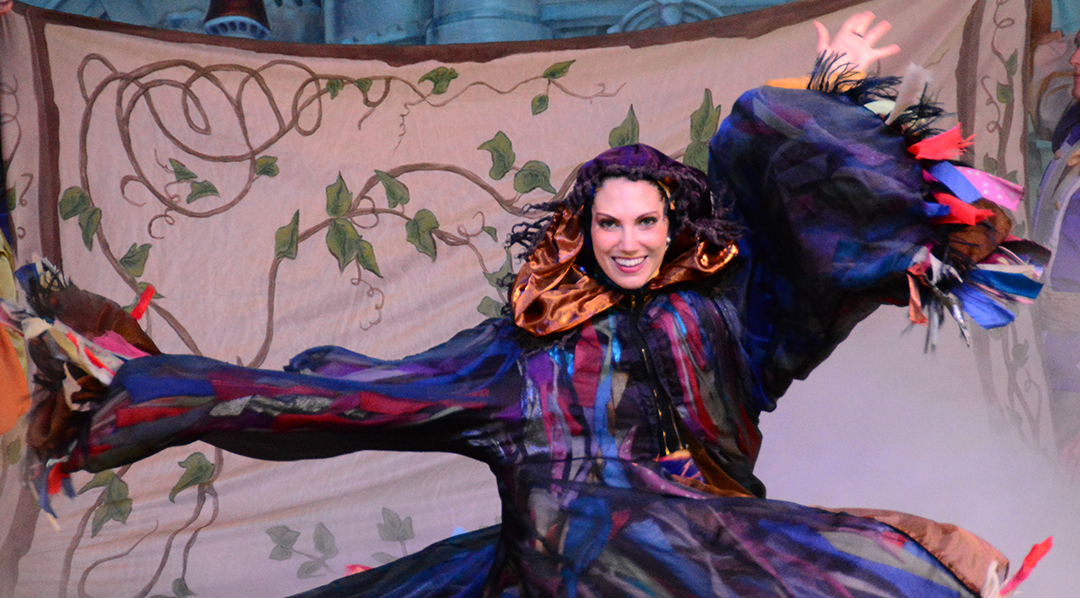 And dancers danced.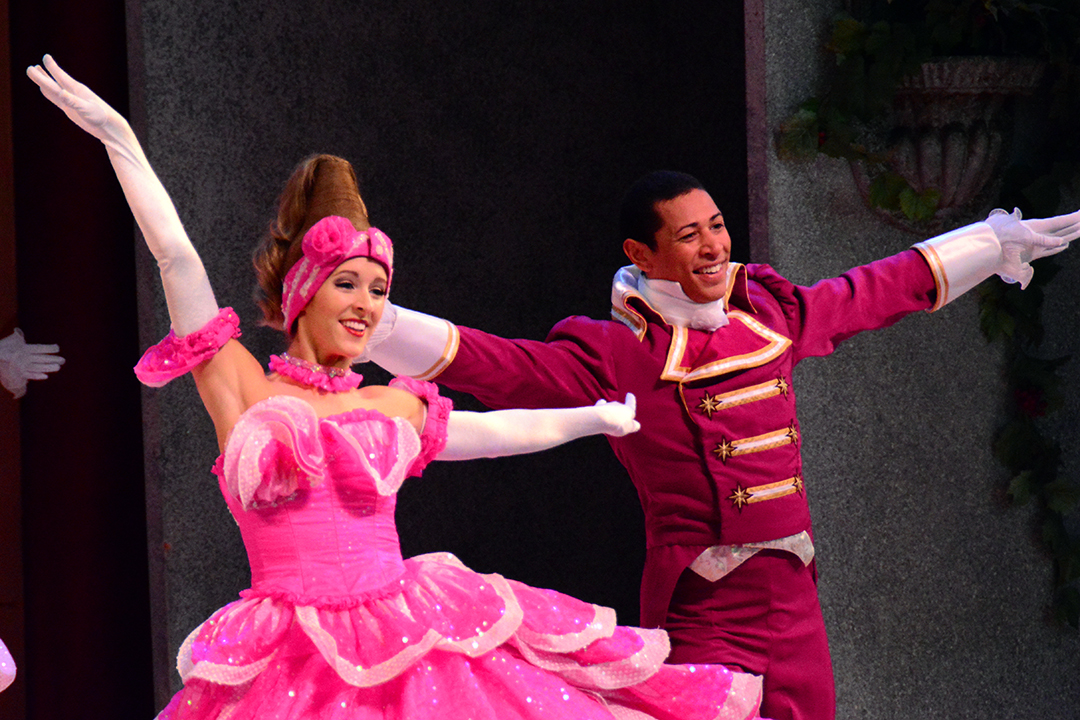 I took a one hour break and ate lunch at Rosie's.
I then used my Fastpass for Tower of Terror to avoid the 45 minute wait and walked right into the Library.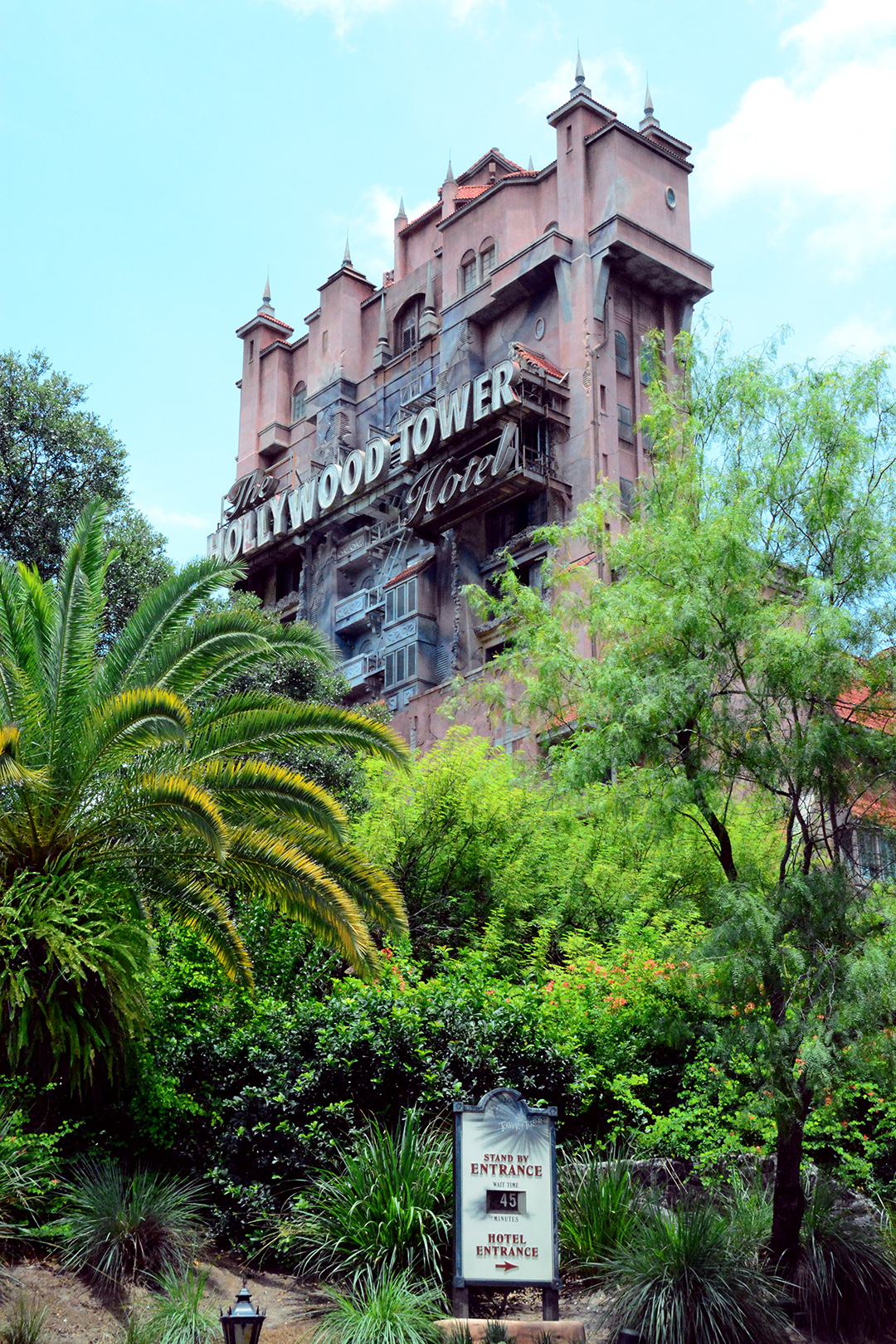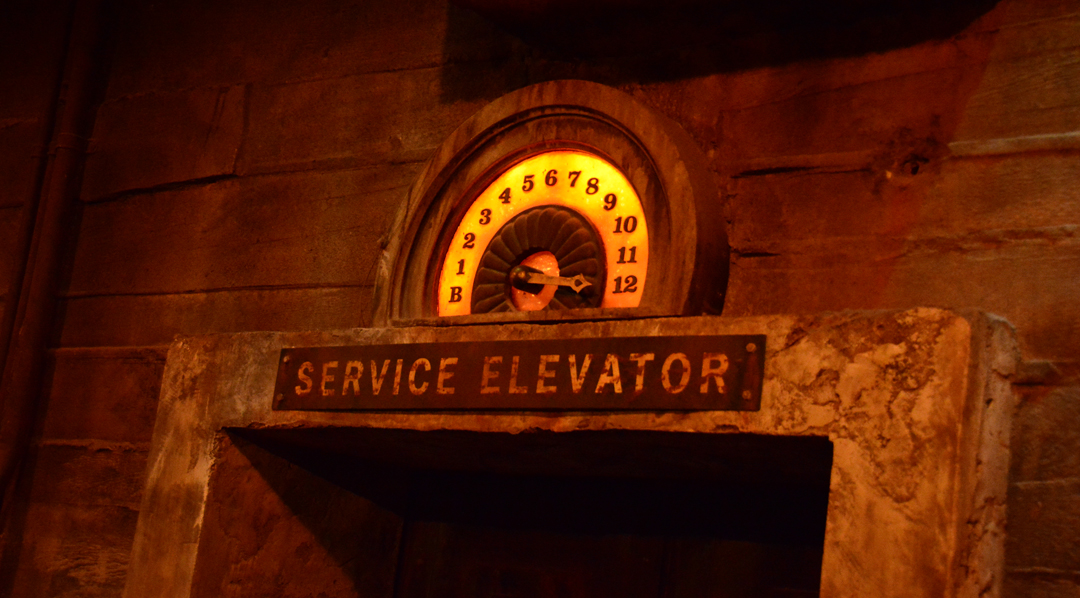 So, I had used my 3 Fastpasses.  The world came to an end right?  Well, I stopped by the Tower of Terror FP+ kiosk and received a FP+ for the Great Movie Ride that was for immediate return.  You couldn't do that under the old system!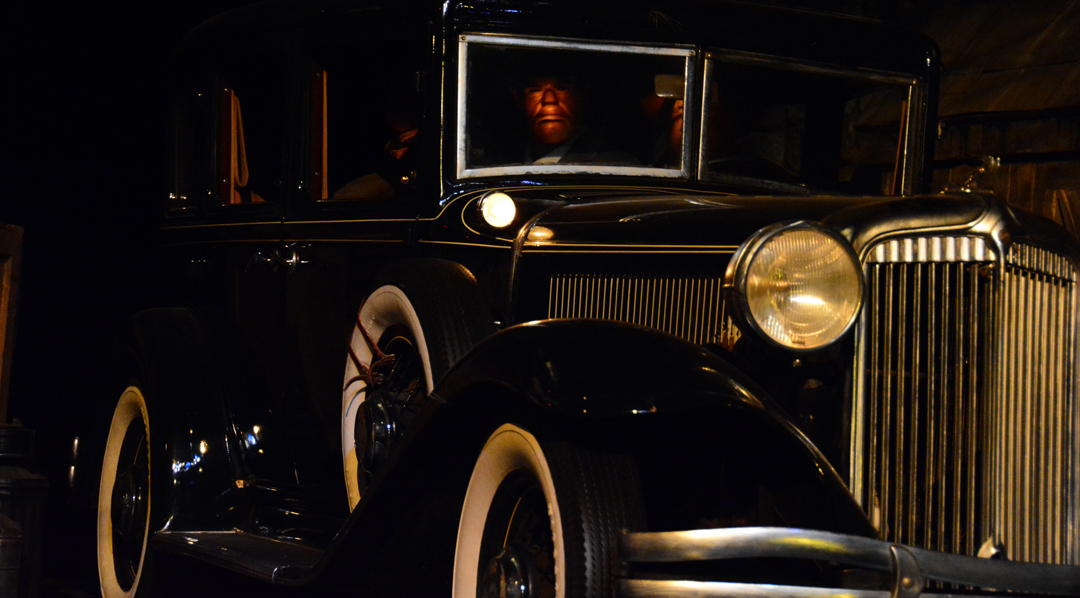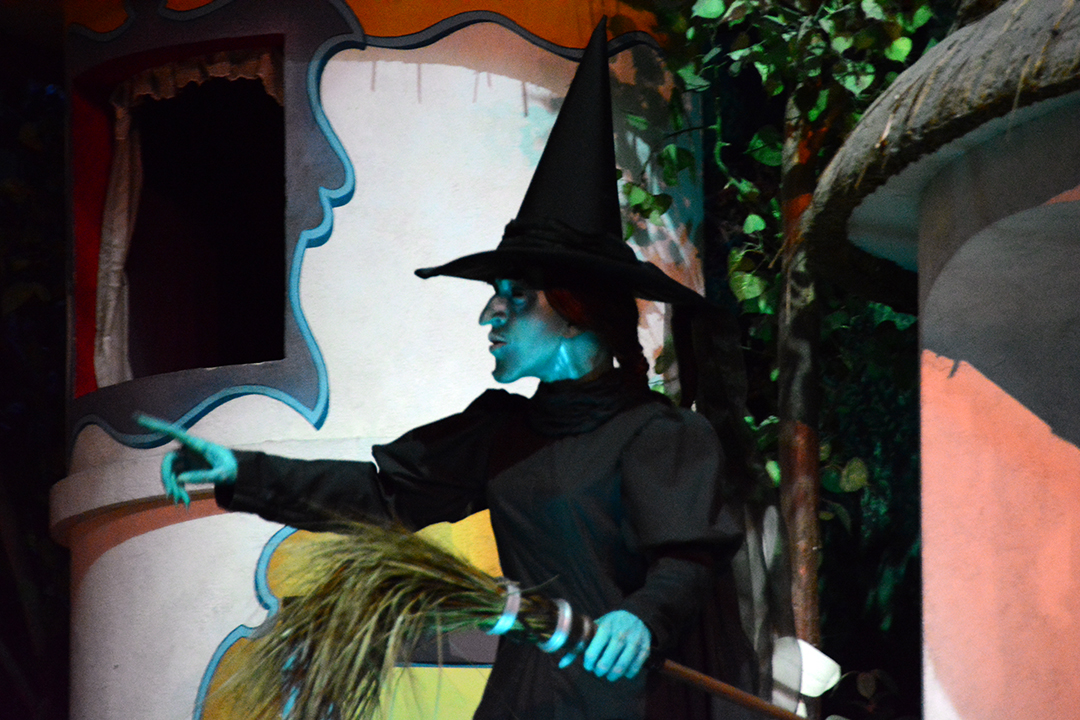 I then acquired a FP+ for Muppet Vision 3D that I would change to Lights, Motors, Action and change again to Fantasmic! with little effort.
I wanted more air conditioning and headed for Disney Jr, but it was broken.  How does a puppet show get broken??? I headed to Walt Disney:  One Man's Dream.  I drew this little sketch.  Do you think it will ever catch on?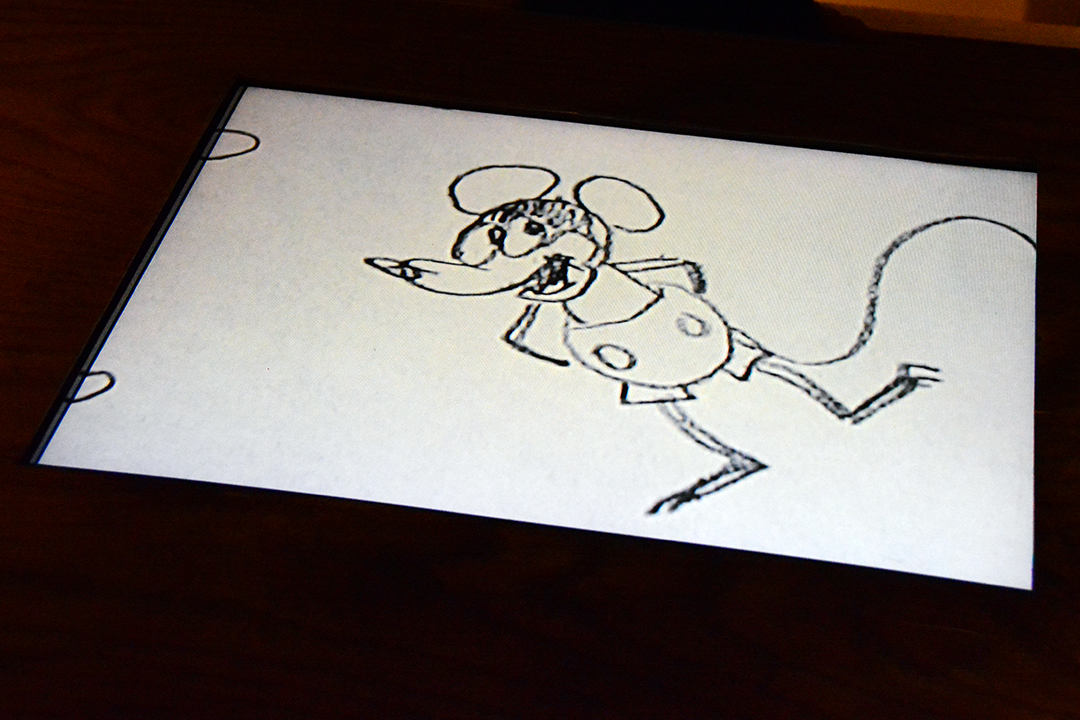 I grew up with Uncle Walt on TV and didn't even know he had passed away already.  Special man.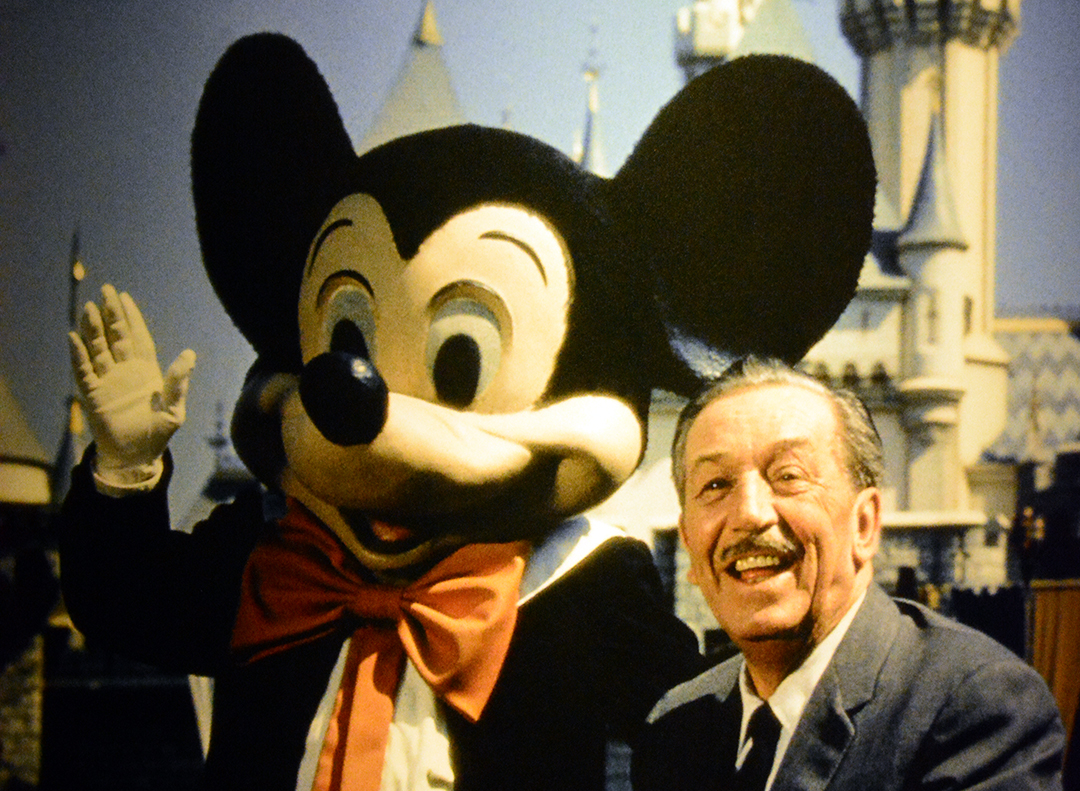 The afternoon character meets return to the area that is dominated by the "Premium package" guests for their afternoon meets.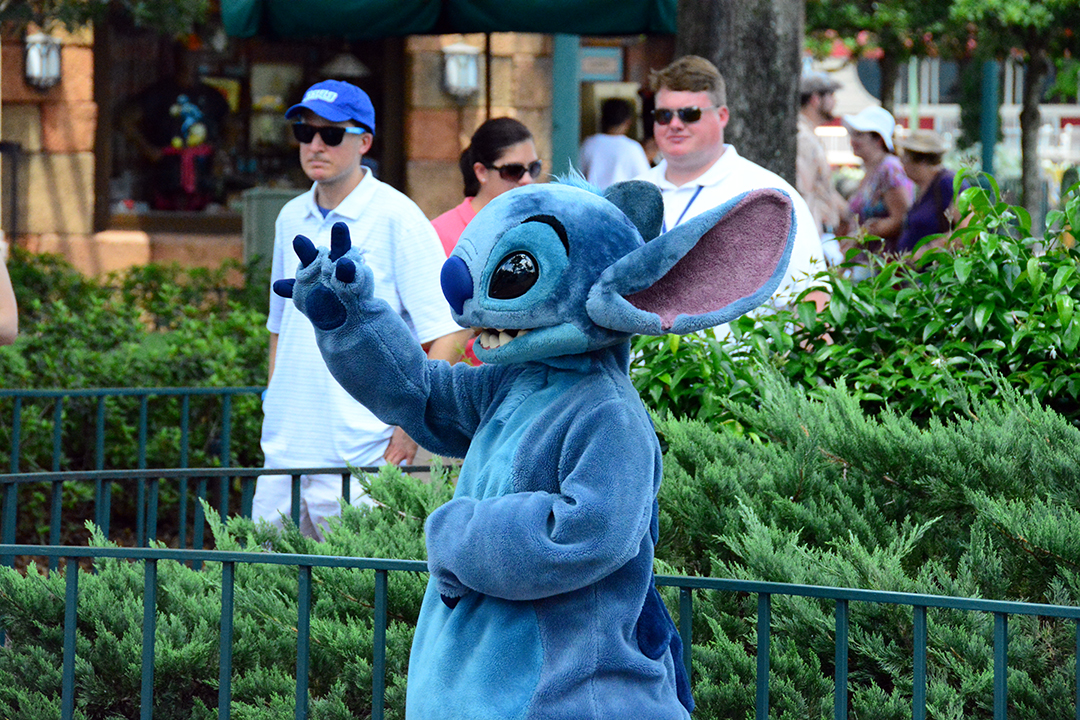 I noticed there was a new Photopass Magic Shot going on beside the ABC Sound Stage and decided to try it out.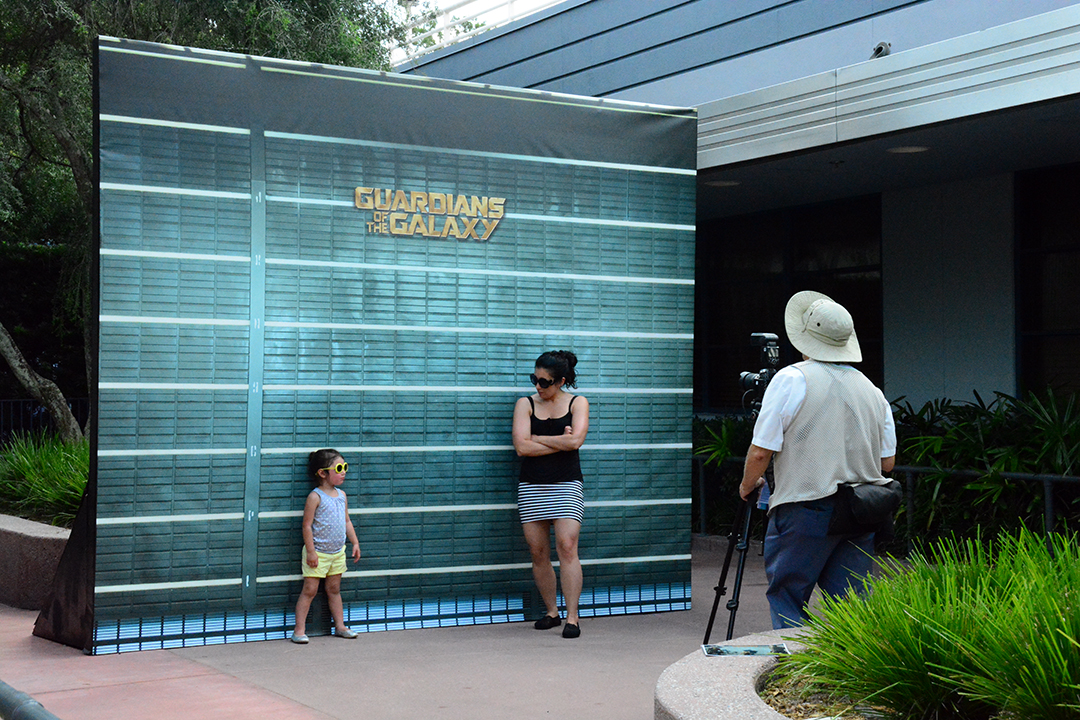 How come I didn't get to be green?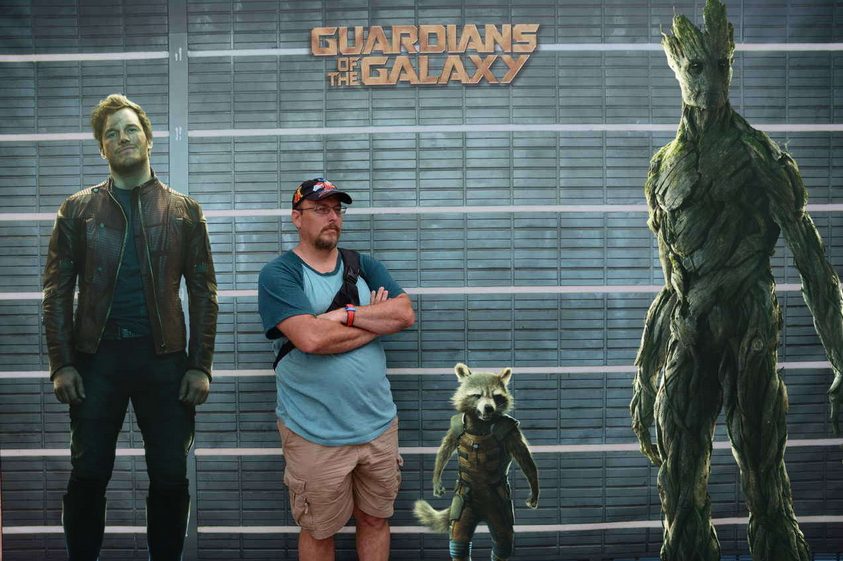 And how did that man become a woman?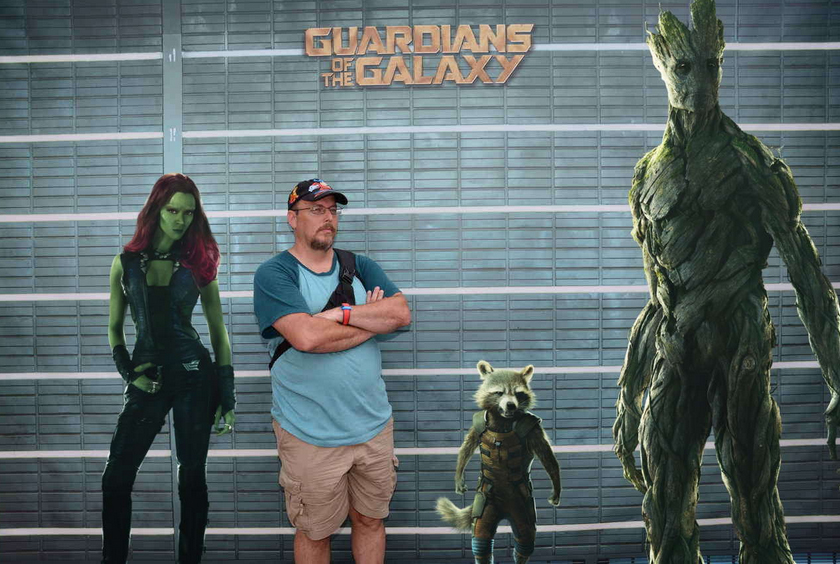 I headed over to Lights, Motors, Action.
We interrupt this boring post with a public service announcement:  It's really hot in Florida in the summer.  Stay hydrated, or this could happen to you!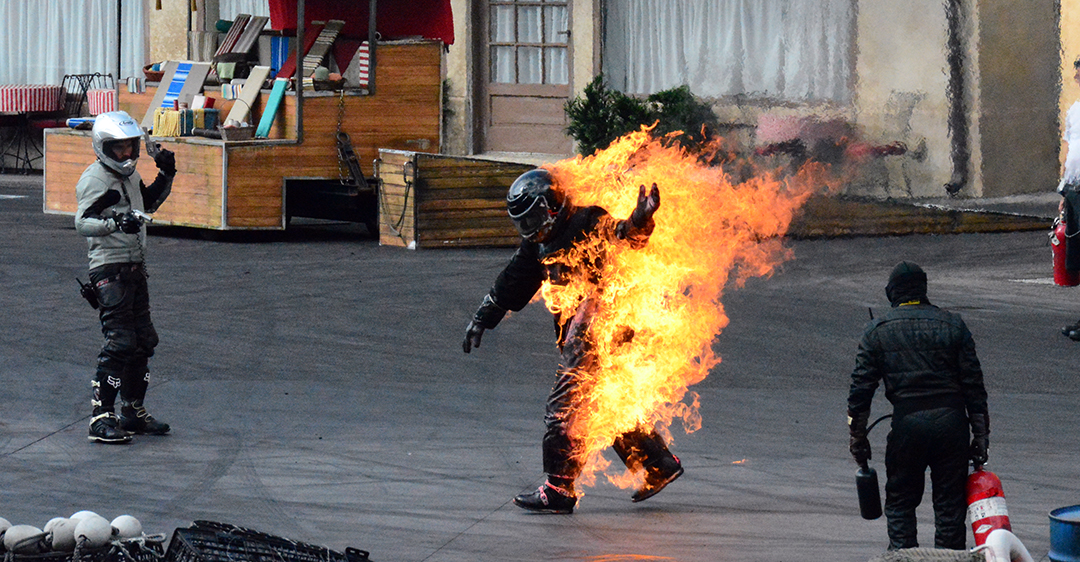 Or your car!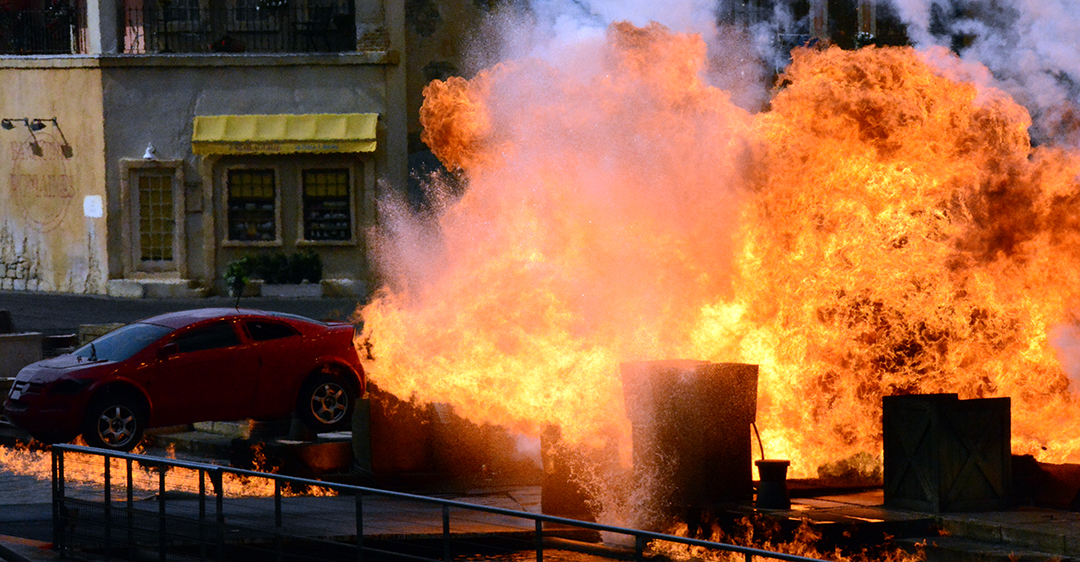 Or your hand!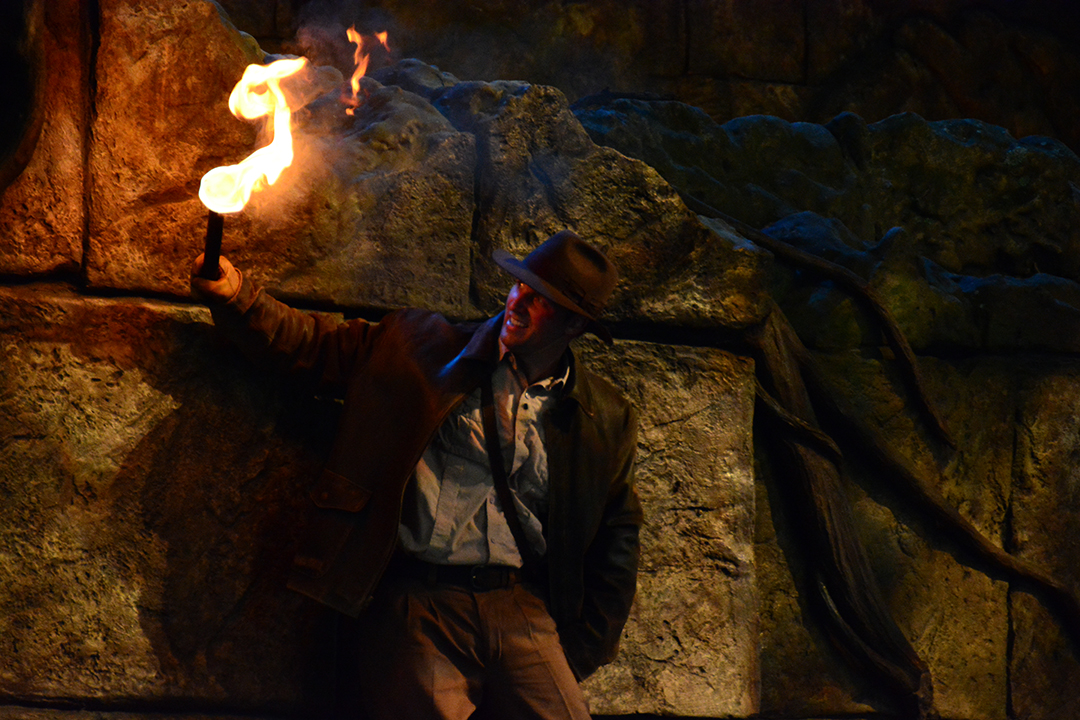 So I moved swiftly over to see the Indiana Jones Stunt Show and was seated left center.  There were still a decent number of seats for the final show of the day despite walking in right as they finished casting the extras.
Add just a touch more sand Indy!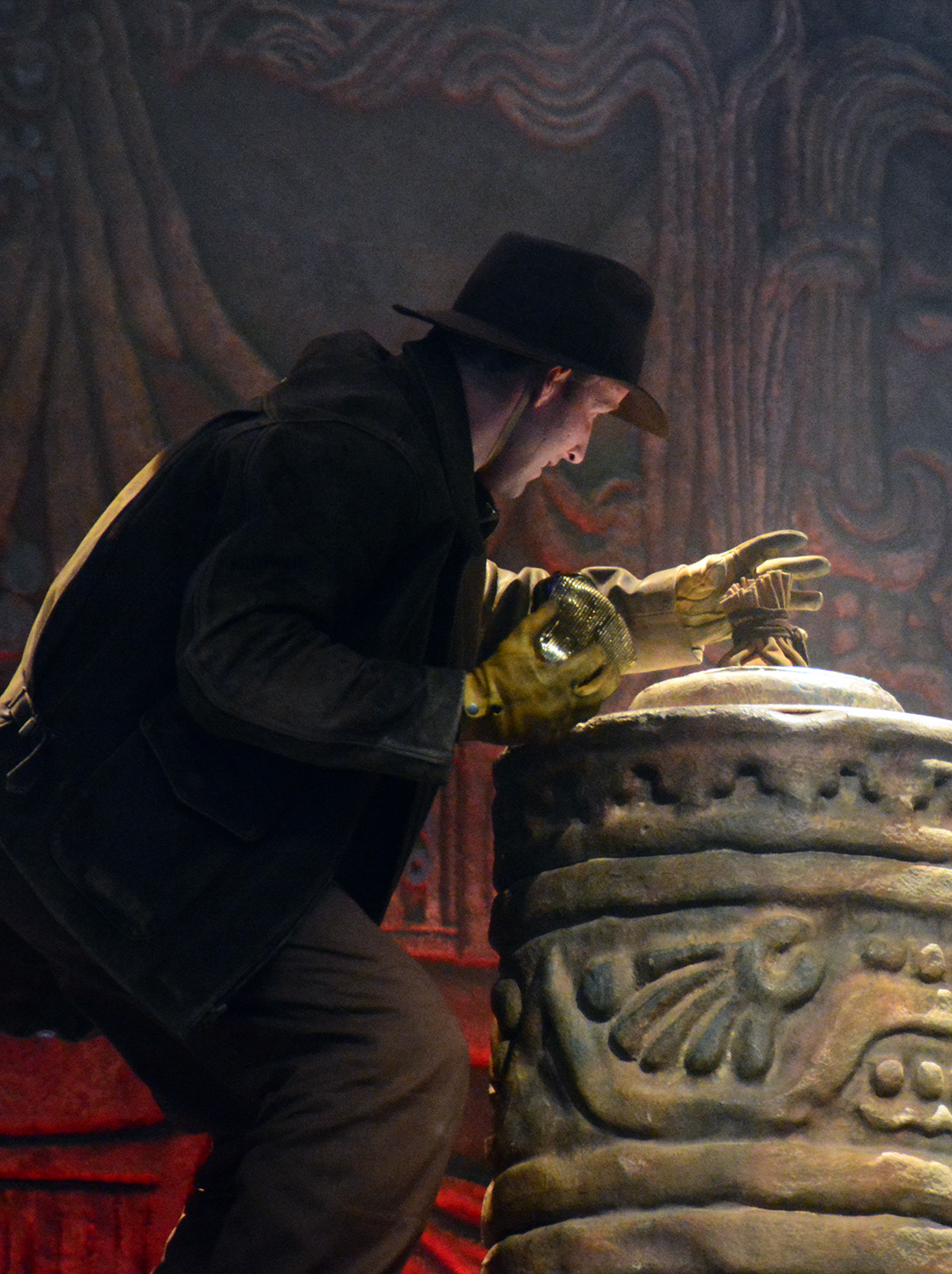 Man, it's hot in Florida in July!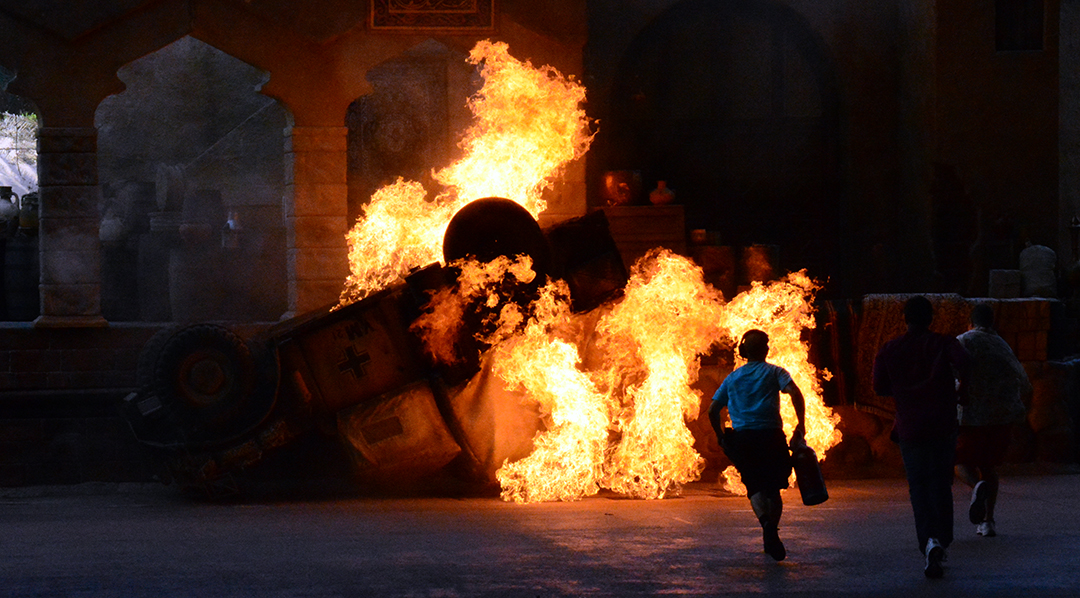 Indy gets all the blogger love, so here's a pic of the pilot and the motorcycle guy.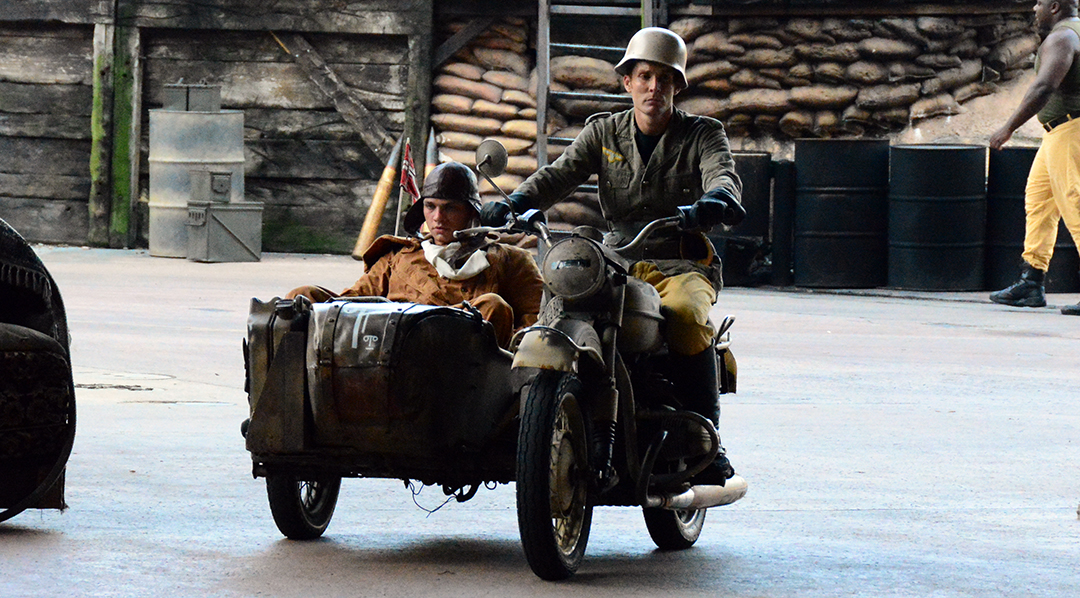 Ooops, you missed!
Great show Chris, umm Indy!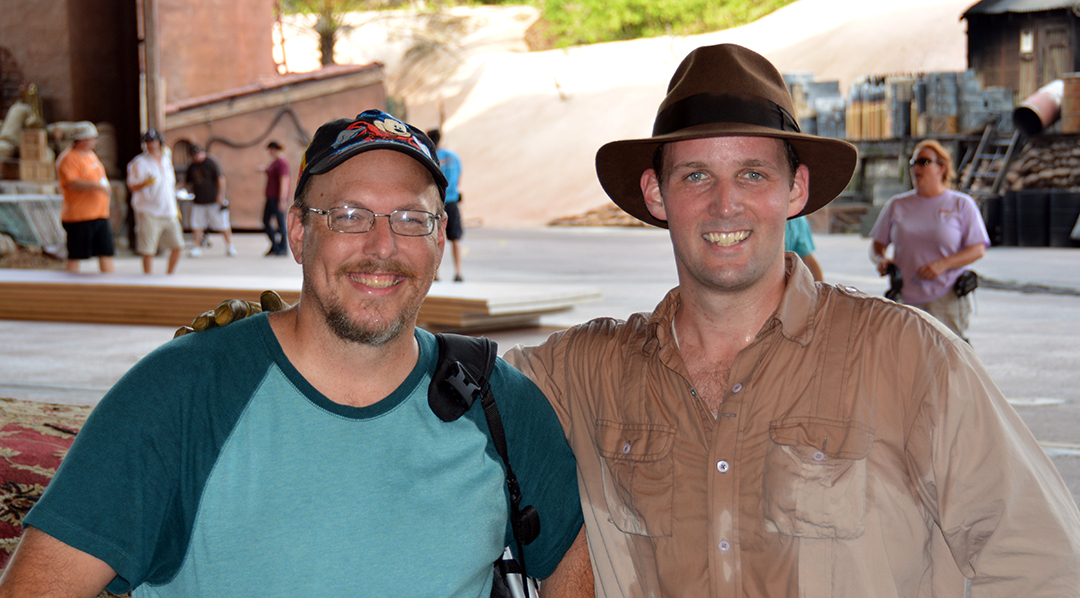 Then finished up my day with a disappointing Character Palooza.  It only featured FOUR characters.  Jafar, Pocahontas, Meeko and Rafiki.  Still had a fun time.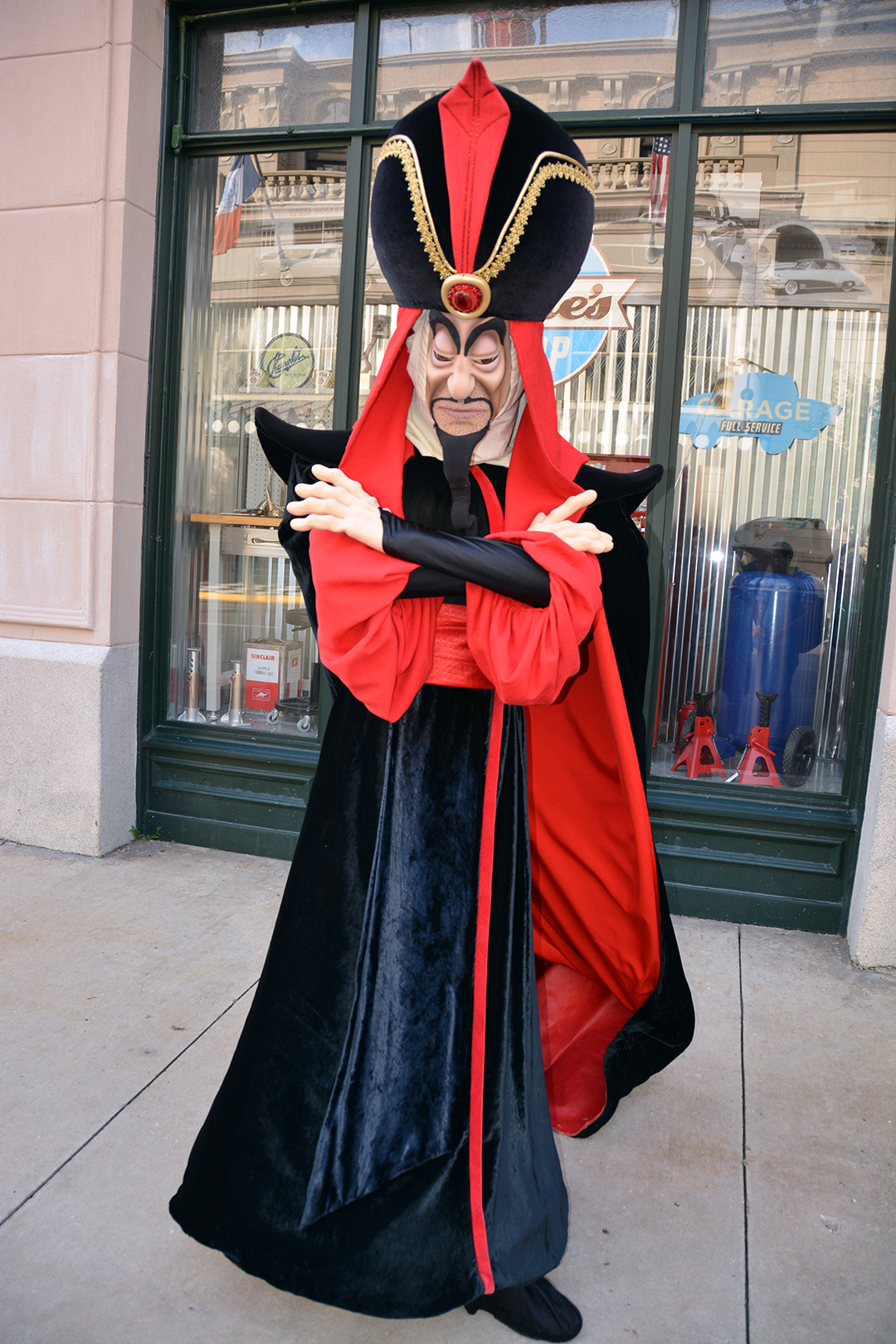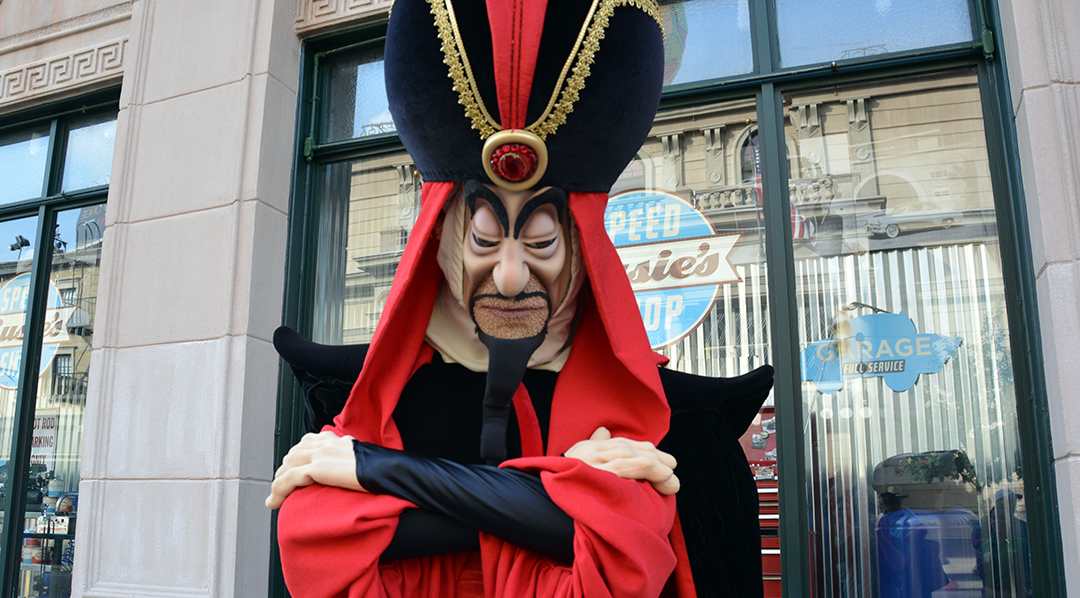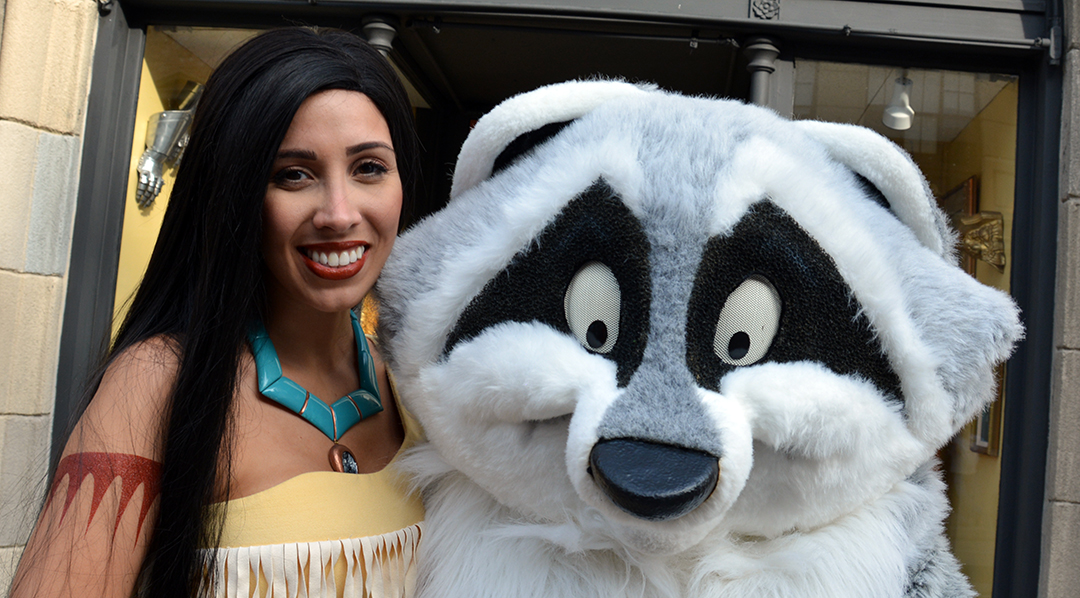 I had the paper return card for the Sing a Long at 7:00pm, but chose to skip and spend some time with a good friend.   I also didn't use my Fantasmic! FP+ that was so easy to acquire.
Here's a parting shot.  It's the Photopass Magic Shot inside the Wandering Oaken's Trading Post next to Toy Story Midway Mania.  One mom said she would take her daughters there instead of Magic Kingdom.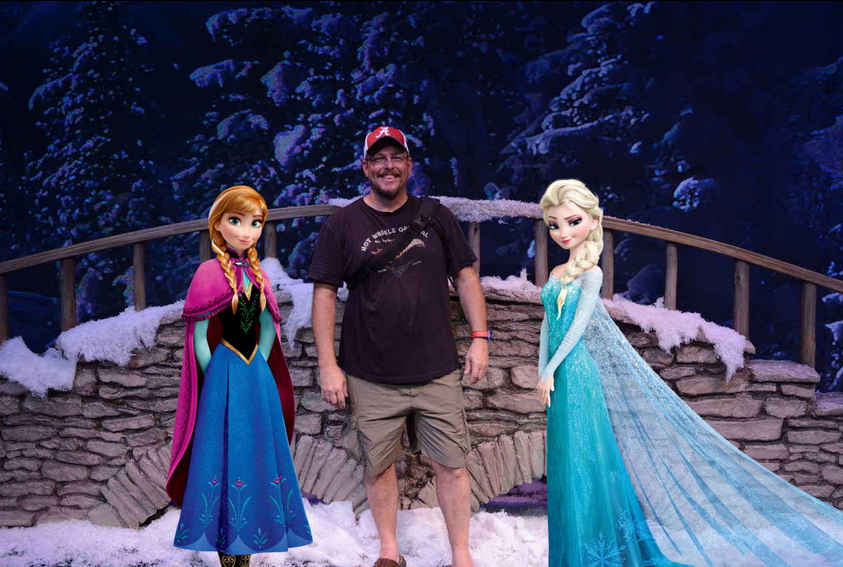 Here's a summary of my 25 attractions without really trying day:
| | | | | |
| --- | --- | --- | --- | --- |
| | | In Queue | On Ride | Off Ride |
| 1 | Meet Buzz n Woody | 8:07 AM | | 8:09 AM |
| 2 | Toy Story Midway Mania | 8:09 AM | 8:37 AM | 8:45 AM |
| 3 | Meet Goofy | 8:48 AM | | 8:50 AM |
| 4 | Meet Pluto | 8:50 AM | | 8:51 AM |
| | Walked about looking around | 8:51 AM | | 9:05 AM |
| 5 | Meet Daisy | 9:05 AM | | 9:08 AM |
| 6 | Meet Donald | 9:08 AM | | 9:12 AM |
| 7 | Star Tours (used FP+) | 9:16 AM | 9:22 AM | 9:29 AM |
| 8 | Meet Phineas & Ferb | 9:31 AM | | 9:38 AM |
| 9 | Meet Sofia the First | 9:46 AM | | 9:51 AM |
| 10 | Meet Sorcerer Mickey | 9:53 AM | | 10:12 AM |
| 11 | Meet Minnie | 10:13 AM | | 10:21 AM |
| 12 | Meet Ralph & Vanellope | 10:23 AM | | 10:39 AM |
| 13 | Meet Jake | 10:41 AM | | 10:43 AM |
| | Checked parade spots from Hat to Star Tours | 10:46 AM | | 10:50 AM |
| 14 | Parade reached American Idol and stopped | 11:04 AM | | |
| | Parade restarted | 11:12 AM | | 11:15 AM |
| 15 | Rock N Roller Coaster (used FP+) | 11:27 AM | 11:35 AM | 11:40 AM |
| 16 | Watched Beauty and the Beast | 11:44 AM | | 12:15 PM |
| | Ate lunch at Rosies | 12:15 PM | | 1:20 PM |
| 17 | Tower of Terror (used FP+) | 1:23 PM | 1:33 PM | 1:42 PM |
| | Acquired Great Movie Ride FP | | | |
| 18 | Great Movie Ride (used FP) | 1:46 PM | 1:51 PM | 2:20 PM |
| 19 | Relaxed at One Man's Dream and watched next show | 2:27 PM | | 3:00 PM |
| | Took short break | 3:00 PM | | 3:10 PM |
| | Stopped by to check on Chip n Dale and Stitch | 3:11 PM | | 3:12 PM |
| 20 | American Idol | 3:14 PM | | 3:45 PM |
| 21 | Muppet Vision 3D | 3:53 PM | 4:04 PM | 4:20 PM |
| 22 | Lights Motors Action | 4:30 PM | | 5:10 PM |
| 23 | Indiana Jones Stunt Show | 5:15 PM | | 5:50 PM |
| 24 | Met Indiana Jones | 5:55 PM | | 5:55 PM |
| 25 | Character Palooza | 6:00 PM | | 6:11 PM |
| | Spent time with a Friend | | | |
| | I had return card for 7:00 PM Sing a long, but skipped | | | |
| | I had FP+ for Fantasmic, but skipped | | | |