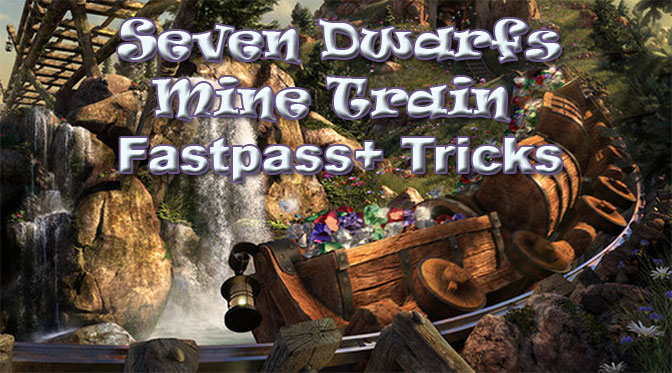 The two biggest questions I've been asked since Anna and Elsa moved to Fantasyland surround the opening of the Seven Dwarfs Mine Train.  We all love to experience new attractions and wish to be among the first regular park guests to ride the new Dwarves Mine Train in the Magic Kingdom at Walt Disney World.
When will Seven Dwarfs Mine Train open?
The 7 Dwarfs Mine Train will officially open on May 28th, 2014, but soft opening previews may happen at any time between now and then with no advance notice and may close shortly after offering a few guests at a time a ride on the Mine Train.
When can I reserve my Fastpass+ for the Seven Dwarfs Mine Train?
The same basic rules of Fastpass+ apply to the 7 Dwarfs Train.  Walt Disney World onsite guests may book FP+ 60 days in advance and Annual Passholders and those with tickets added to the My Disney Experience website may book 30 days in advance.  The first date listed on the site for booking Fastpass+ for the Mine Train is May 28th, 2014.  The first date that the Fastpass+ appears is May 28th and it only appears on the WEB VERSION, not on the APP as of 9:25 am on May 2, 2014

The ride will offer much more capacity than the Anna and Elsa, Ariel, Cinderella/Rapunzel and Mickey Mouse meet and greets and Enchanted Tales with Belle, but will still be very popular.  I expect the stand by wait times to be significant, so book this Fastpass for the 7 Dwarfs Mine Train as quickly as you know what day you'll be at the Magic Kingdom.   The best trick to using Fastpass+ for the Mine Train would book be to book it earlier in the day and allow yourself the flexibility of using the 4th and subsequent FP+ for rides like Space Mountain, Buzz Lightyear, Tomorrowland Speedway, Big Thunder Mountain, Splash Mountain etc..
Will the Dwarfs appear at the Ride?
Nope, only for Mickey's Not So Scary Halloween Party and Mickey's Very Merry Christmas Party
The Seven Dwarfs Mine Train Site is Confusing
There's a countdown on the Disney World website for the Mine Train that is confusing people.  The countdown is currently pointing toward "Training Begins…"  It basically is equal to May 15th.  I'd guess that the site is basically saying that they will add more content to this mini site on May 15th, not that the ride actually opens that date.
When I took the little quiz I was given the name of "Feisty" Dwarf.  Kinda sounds like me too.  The dictionary refers to this as being "Lively, determined, and courageous."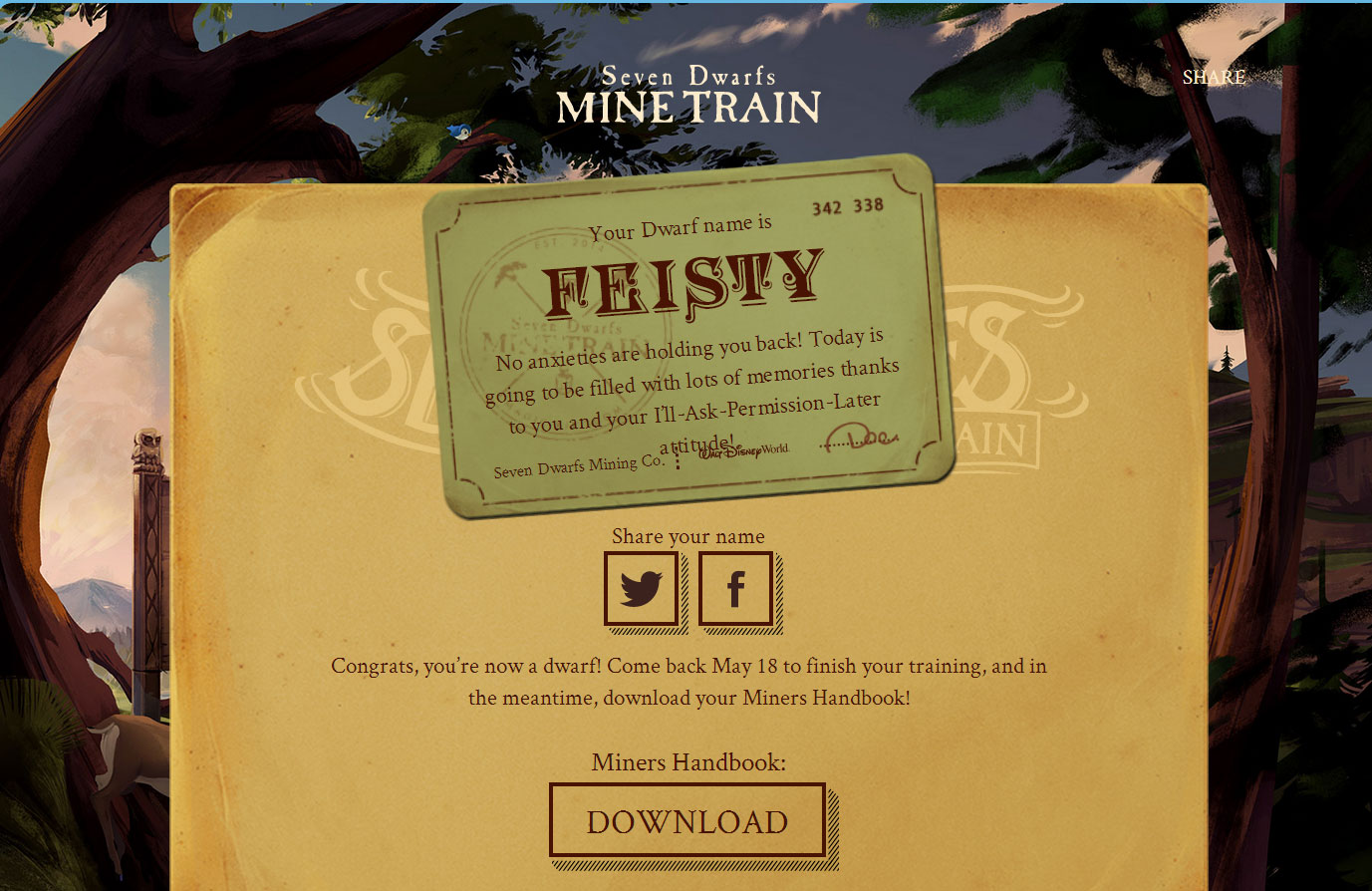 The mini site also contains this "Miners Handbook" as a download in pdf format.
I'll be there on the first official day and hope to catch some previews as well.
Are you looking forward to experiencing this new attraction?