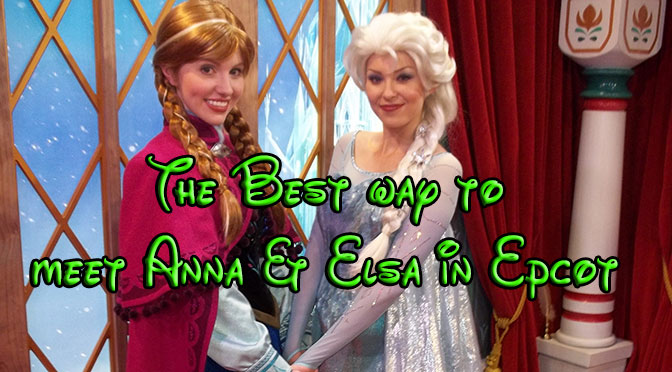 I receive a lot of questions concerning when and where to meet Anna and Elsa from the movie Frozen in Epcot. We know the ladies will be relocating to the Magic Kingdom on April 20th, but what about those who plan to travel to Walt Disney World before April 20th? When should you meet them?
Option 1: Extra Magic Hour Plan
If you have extra Magic Hour privileges, you should use that hour to wait in line for Anna and Elsa and use your FP+ wisely to ride Soarin or Test Track and two other favorites later in the morning. It may seem silly to waste an hour standing in line because the girls don't arrive until 9:00AM, but that will probably be the shortest wait you'll see for them in Epcot. I would arrive at least by 7:30 AM and make a beeline for the Norway Pavilion. The meet is in the Princesse Plass, which is on the left hand side when entering the pavilion.  One person could hold the spot while the others do some rides, if you wish.
Option 2:  Book a breakfast dining reservation at Akershus before park opening.
This one might be pretty difficult at this point in time, but is the most popular way that people have used to save time for this meet.  Many people will book a pre-park opening reservation between 8:00 am and 9:00 am, eat some breakfast, then dart out to get in line.  Some have even booked the breakfast, then skipped it entirely absorbing the $10 per person fee.  The gate Cast Members do check for reservations before entering the park.  This group of people are the reason the wait time is already at 2 or more hours when the first of the rope drop crowd reach Norway these days.
Option 3:  Try the late afternoon.
This one isn't guaranteed to work, but many people have reported success getting in the line after 4:30pm.  Of course that success could still result in 1 1/2 to 2 hour waits, but it's worth a try if you arrive early in the morning and you're quoted a 5 hour or more wait.
When Anna and Elsa move to the Magic Kingdom, my current recommendation will be either go straight there at Rope Drop, especially on an Extra Magic Hour day, or use a Fastpass+ for early in the morning. Perhaps my How to Find Difficult Fastpass+ Reservations could help.  I'll be there the first day and several days after the April 20th move to report the best way to meet them in the Magic Kingdom.
How long did you wait to meet them?  How long would you wait?