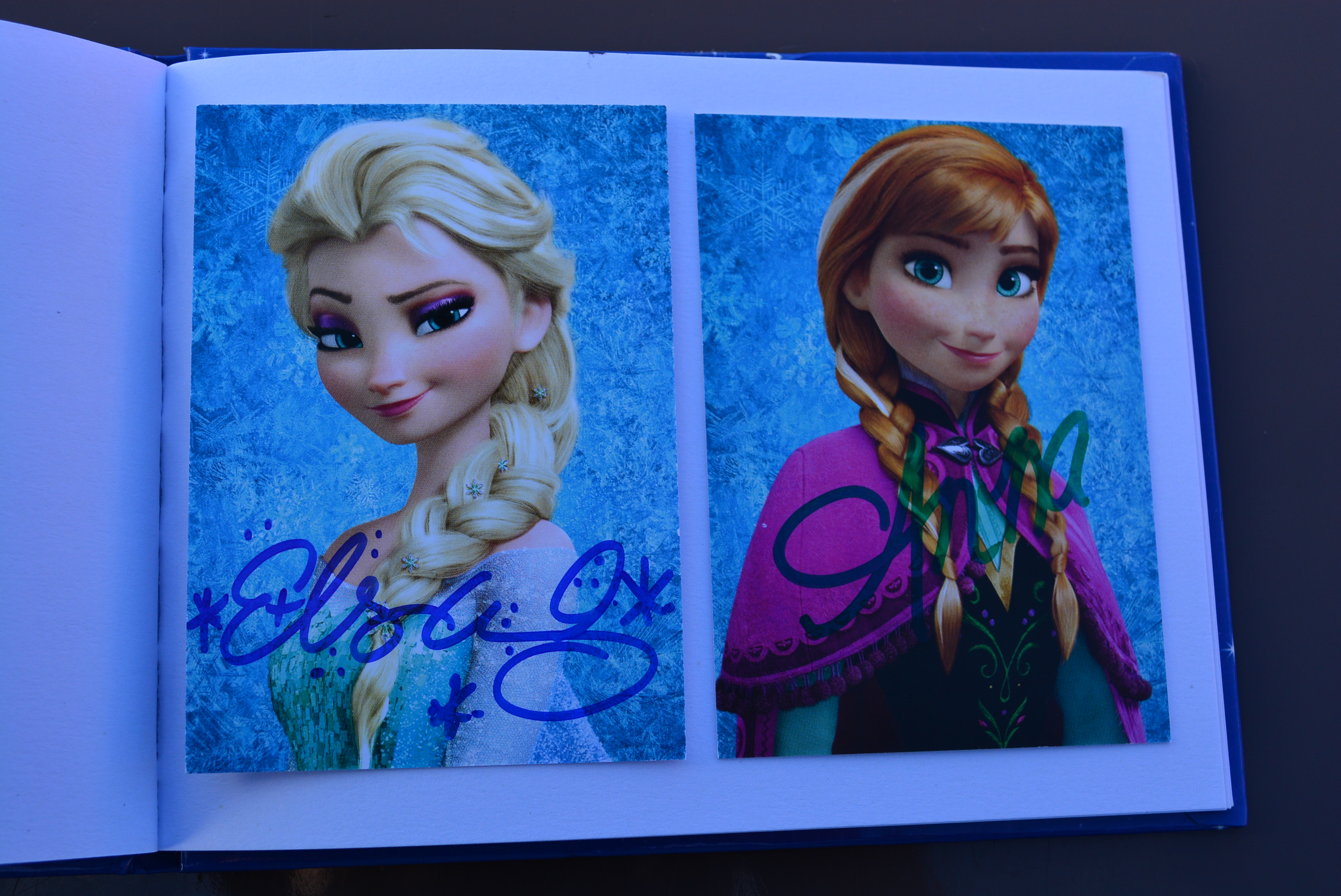 Disney has confirmed the news that Anna and Elsa are moving to the Magic Kingdom's Fairytale Hall on April 20, 2014.  I mentioned that this would be happening a couple days ago and it created a lot of buzz.  Disney is only guaranteeing them until "EARLY EVENING," they will then be replaced by "visiting princesses."  That's an important term, so don't breeze over it without taking note.
When I began this site, I committed myself to sharing my unabashed opinions.  I'm not a media person and don't have media credentials and really don't want them.  I don't want my opinions being influenced by someone feeding me some tarts and giving me access to an attraction that average guests don't have.  I have nothing against those who do, just not my style.  I want to experience the park just like you do and tell you the best way to maneuver the parks.  So here's my opinion on the move that will be happening.
Pluses +
It will offer Fastpass+.  It's a positive thing that some guests will be able to meet the Frozen girls with a much shorter wait.  People are waiting 5 hours or more to meet them in a really tiny room in Epcot.  They have waited in the sun, in the rain and in the cold.  The girls are really important to many Walt Disney World guests.
It will benefit those who are willing to run to the rope drop, especially those using 8:00am EMH.  Currently there are people who are booking the Akershus character breakfast between 8:00 and 9:00 for any size group they can find on any day of their trip and then just skipping the meal or leaving it really quickly.  Those who are skipping the meal are just absorbing the $10 per person fee and seeing it as a service charge for a 1-2 hour wait.  People are already reporting on my Facebook page that they are canceling Akershus reservations from the 20th onward.  At the Magic Kingdom, there are actual ropes that keep guests out of each land after the Magic Kingdom Welcome show before the Cast is ready to open the attractions.  Well, the exception to that rule would be during 8:00am Extra Magic Hour.  I would bet a lot of people will book those early magic hour breakfasts at Crystal Palace and skip them.  I would expect a lot of people to leave their Castle or Crystal Palace breakfast a little early to saunter over to one of the ropes to be prepared for the opening.   I would expect the already busy area in the back of the castle will be log jammed with people scurrying to meet Anna and Elsa.  Disney's response should be to ask for pre-pay at the Crystal Palace as they do for Cinderella Castle.  I'd bet our Fetch Dining Locator will get a lot of traffic for breakfast searches.
Fairytale Hall has increased capacity that the Princesse Plass can't offer.  I don't give away the magic, but the lines do move faster here than they ever would at Epcot.  The wait times should be a little better for regular guests, but more people plan character meets at the Magic Kingdom too.
Minuses –
Fastpass+.  How can Fastpass+ be a minus?  A couple of ways.  One, those who book a FP+ beyond the 9:00-10:00 time frame will likely meet one or two hours just using the FP+.  When the Princes appeared for a single day on Valentine's until early afternoon the line for FP+ return was 1.5 to 2 hours in the afternoon and it was pretty chaotic when they cut off the line.  What time will they stop offering FP+ each day?  Noon?  2:00 PM:  4:00 PM?  I would expect this FP+ to go faster than any Toy Story Mania FP+ has ever gone.  The Magic 8 Ball told me some unscrupulous people could begin a cottage industry offering people a FP+ slot using their wristbands.  I will also state that if you don't get to pre-reserve a FP+ because the hotel guests beat you to it, just check the app or kiosk as soon as the park opens.  A large number of FP+ are opened up each day as the park opens.
Cutting off the line mid-day.  What a DUMB idea!  Sorry, but I just call it like it is.  This is the longest regular wait time in Walt Disney World history because it's really popular.  Rapunzel with Flynn Rider was popular, but never reached this level.  People weren't booking breakfast and skipping to meet them either.  By stopping the line (at what point?) they are hindering hundreds of fans from meeting the girls just in order to save a few hundred dollars per day or to offer them Princesses that meet in Epcot or they could easily spread out in the park somewhere for a 15-20 minute wait.  You would think they learned something from all these poorly executed events like Villains Night, 24 hour days and Valentine's Day at Fairytale Hall.   It puts a LOT of pressure on front line Cast Members to tell people that the line for Anna and Elsa was cut off at 2 or 3 pm.  Then the guests flip out on them and run to guest services to complain.  Disney World – just let the girls meet all day and you'll save yourself a lot of pain.
Removing them entirely from Epcot.  Okay, I get that we aren't supposed to mention that Mickey has the magic to meet in 4 parks in the same day.  But Elsa has magic powers too, so she could swing some special ice path that would allow them to slide back and forth quickly.  If they kept the Epcot location AND offered the Magic Kingdom location, it would keep the lines at each much more manageable.  Some people are upset because the movie is inspired by Norwegian culture, but the girls won't be in Epcot's Norway any more.  I see that as a non-issue to the majority of guests.  Most guests want to meet them with as short of a line as possible.  They could easily add them to Akershus dining and make that a must have reservation again and they could even charge a $1 or $2 more for the benefit.
What will you do to be sure your family meets Anna and Elsa after they move to the Magic Kingdom?  Do you agree that the Frozen ladies should be available from open to close just like Cinderella and Rapunzel?
Are you planning a vacation? Reach out to our trusted travel agency sponsor Authorized Disney Vacation Planner
Mouse Class Travel
!