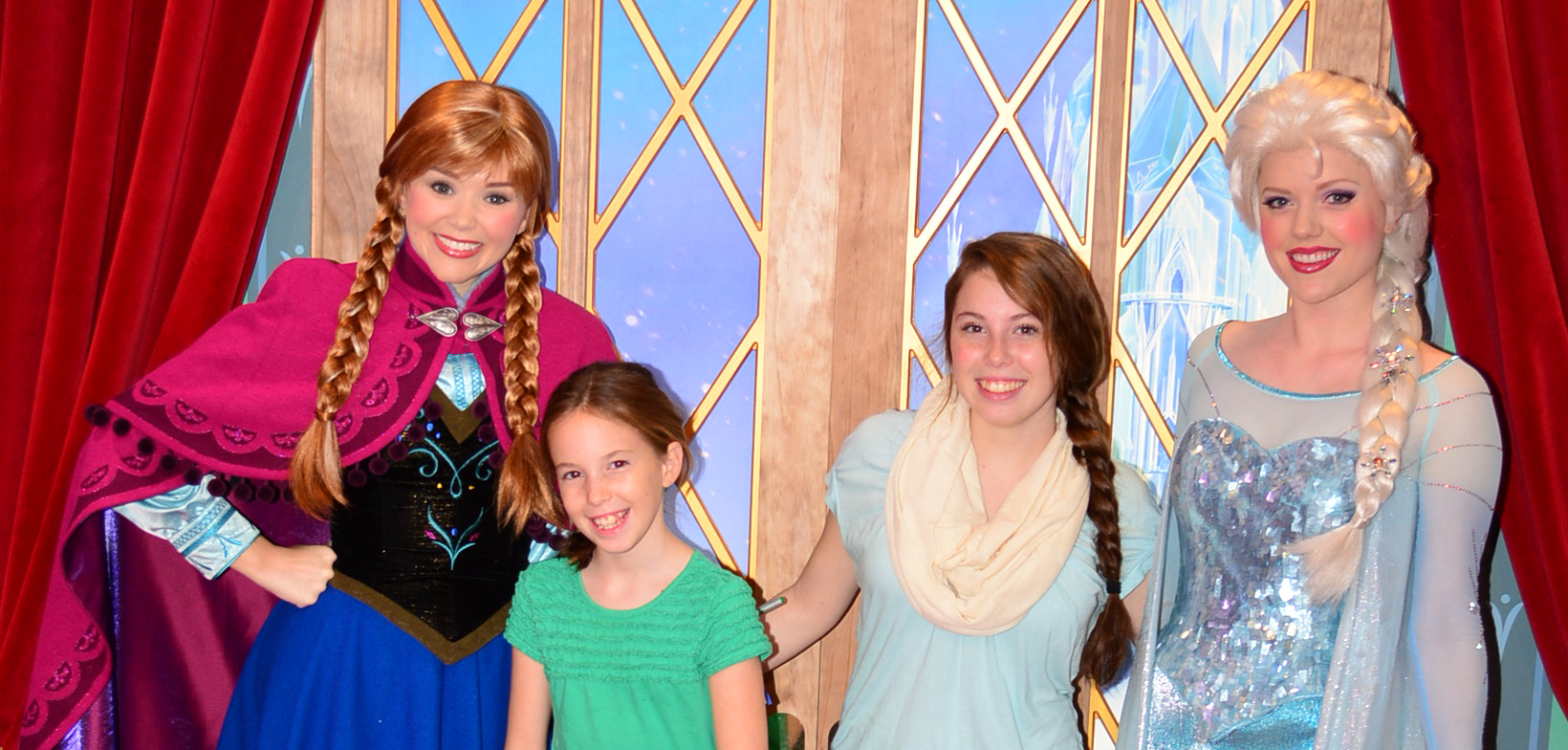 My girls haven't had a chance to meet Anna and Elsa since they began appearing.  My son's basketball games required a lot of our Saturday mornings lately, but they were well worth it!  So, we decided to see if we could meet Anna and Elsa and ride Test Track before heading off to church.
We arrived at the gates at 8:20 am to find this small group of people waiting for the park to open.  Many were there specifically to meet Anna and Elsa, so it would be a foot race :)
Click any pic for super large photo.  Oh speaking of photos.  I'm often asked if someone can use a photo in a memory book.  Go ahead, use them in your memory books if they help!  If you place them on a website, I'd appreciate a mention.  Just don't sell them and we're all cool.  But, why would you sell them???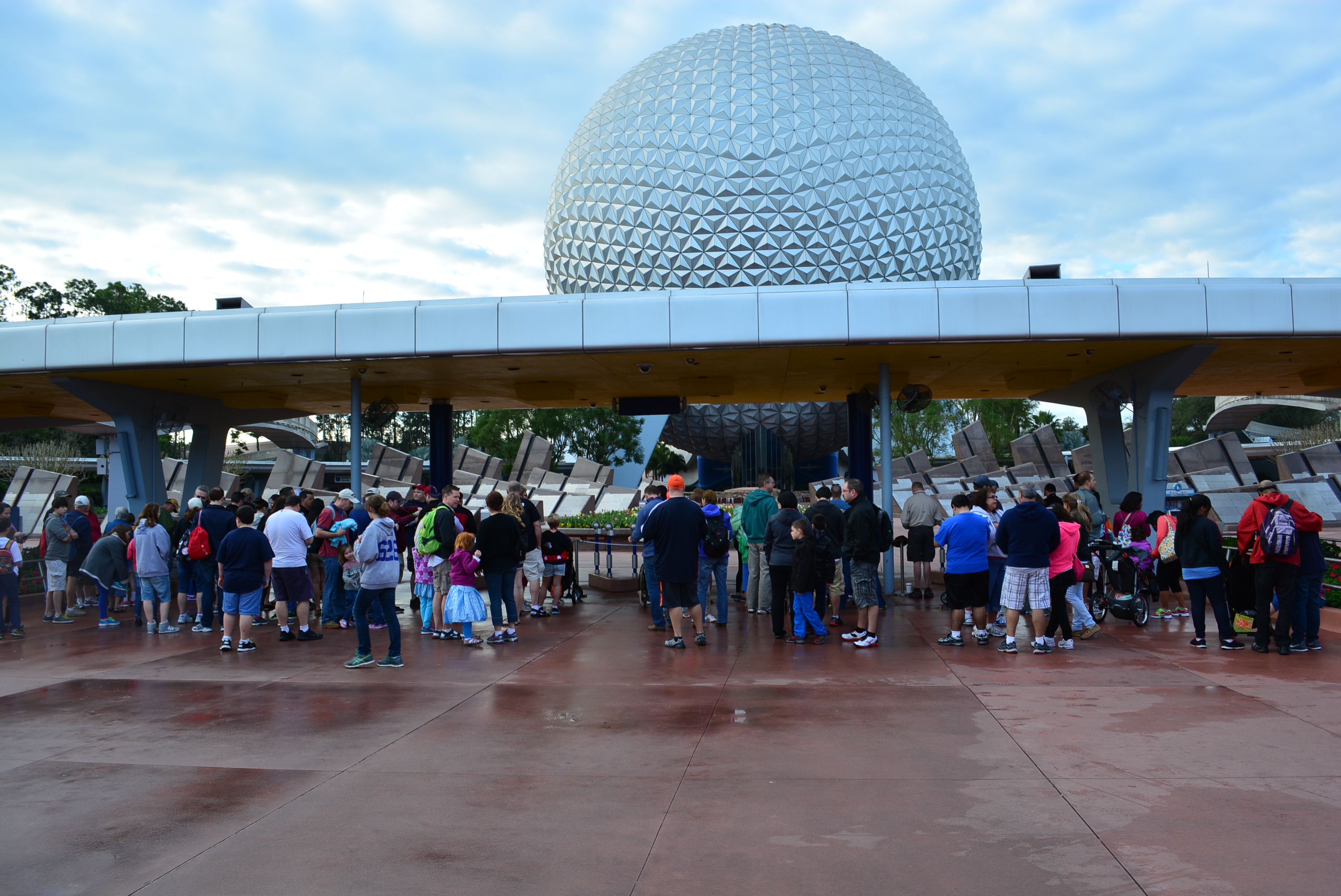 We could have chosen a totally empty tap point on the right of this group, but we wanted a typical guest experience.  We were like family number 5 or 6 on the left hand side.  The Epcot Times Guide knew that Anna and Elsa have changed times this week.  It didn't know when they changed times two weeks ago though.  Disney's app didn't know the times had changed today, but the Character Locator app knew about it.
Here's the lines at 8:30 am in the next two pics…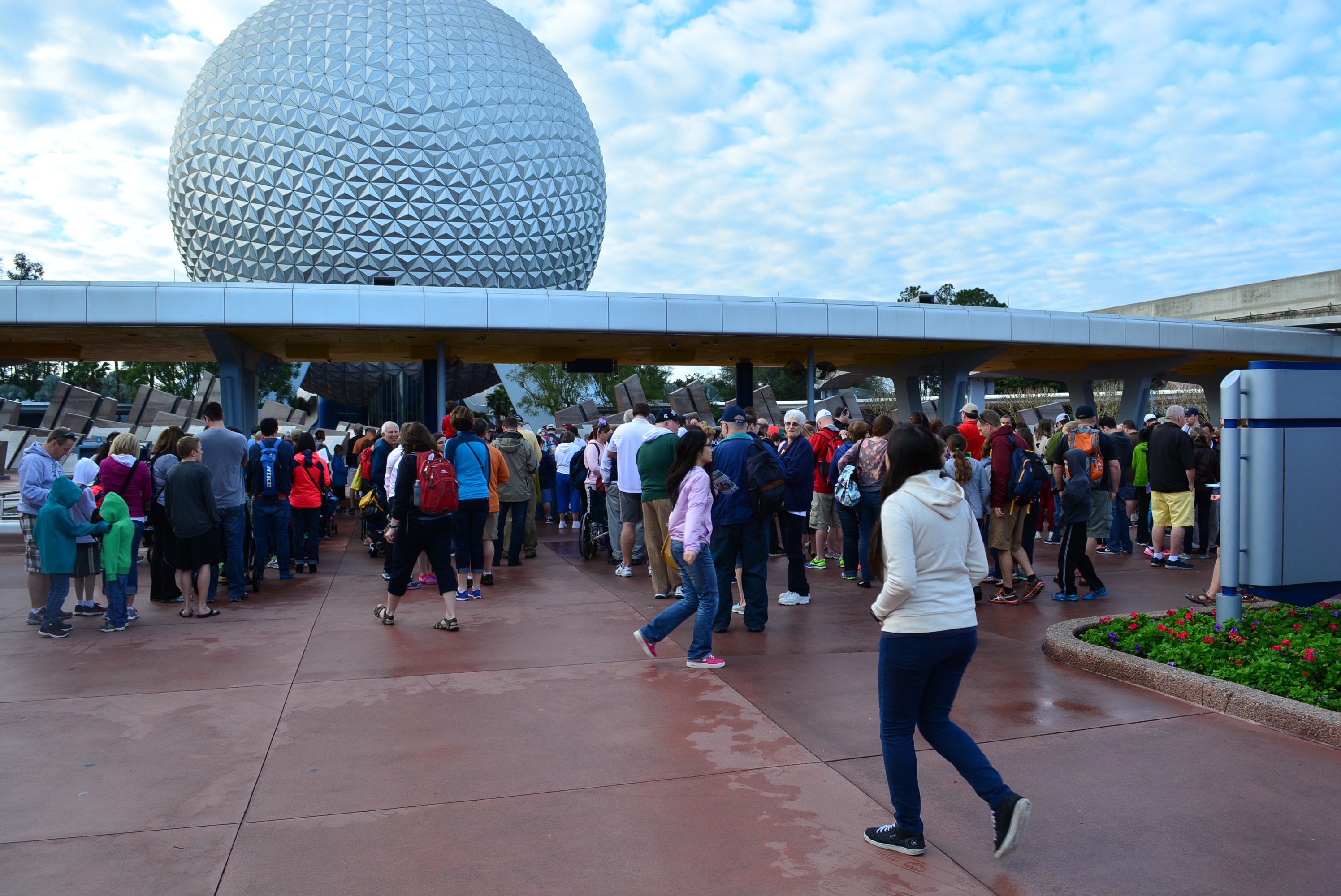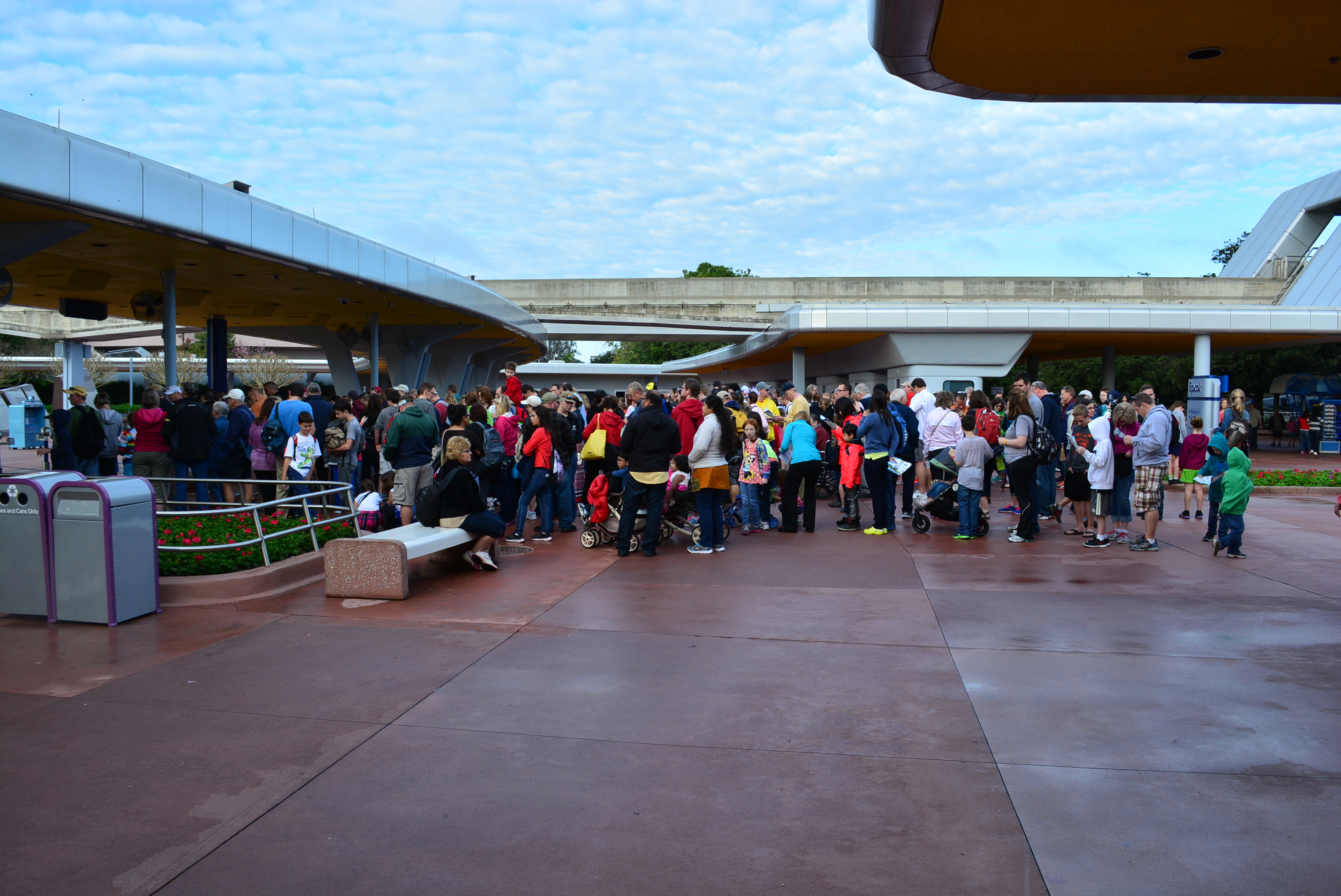 And here's the mass of humanity at 8:45am, shortly before the park opened.  Epcot advertises a 9:00am opening, but often opens 15 minutes or more early to allow the early risers to race to Test Track, Soarin' and the Anna & Elsa meet and greet. (3 photos to remind you to arrive at least 45 minutes early!)  We entered the park at 8:51 am.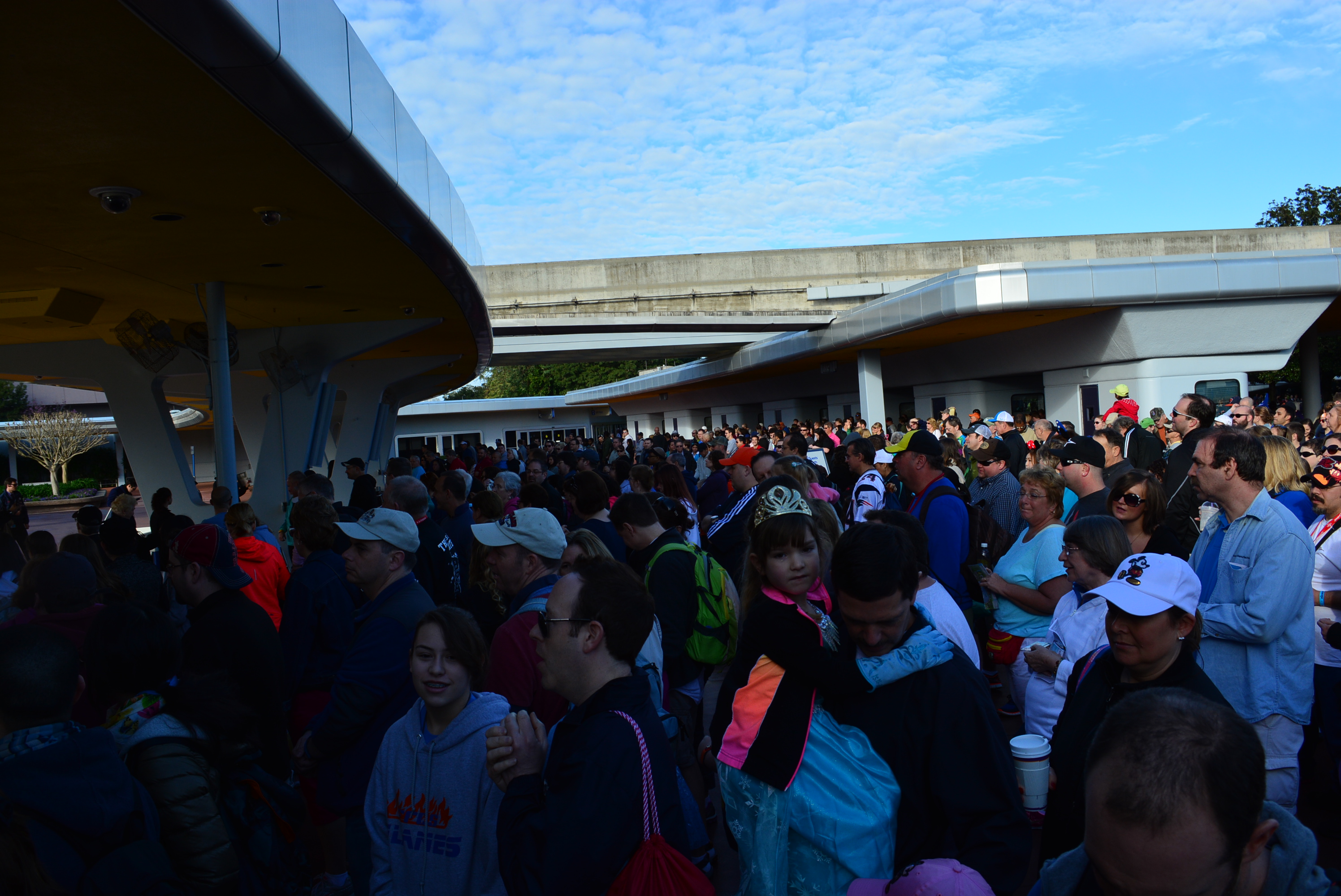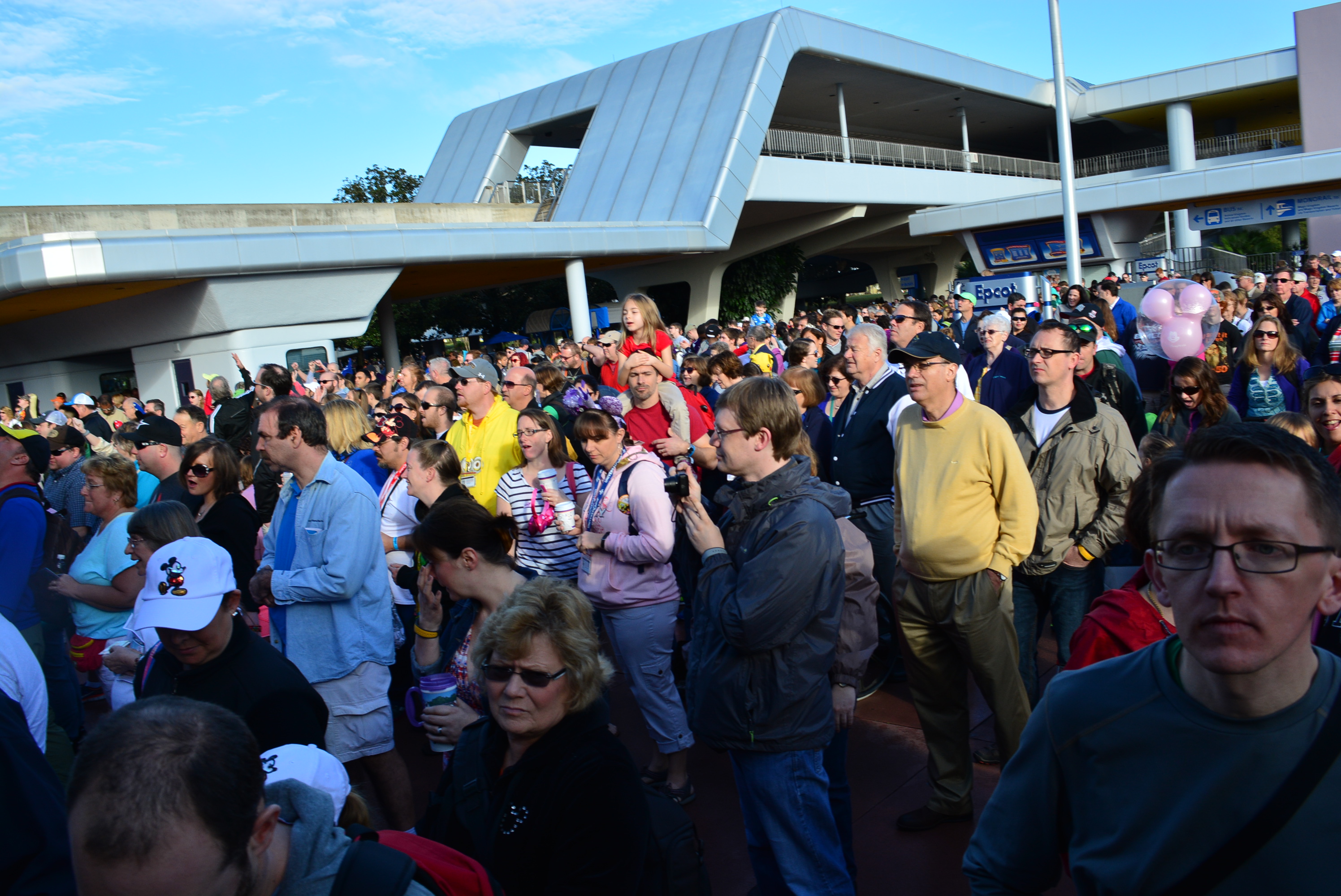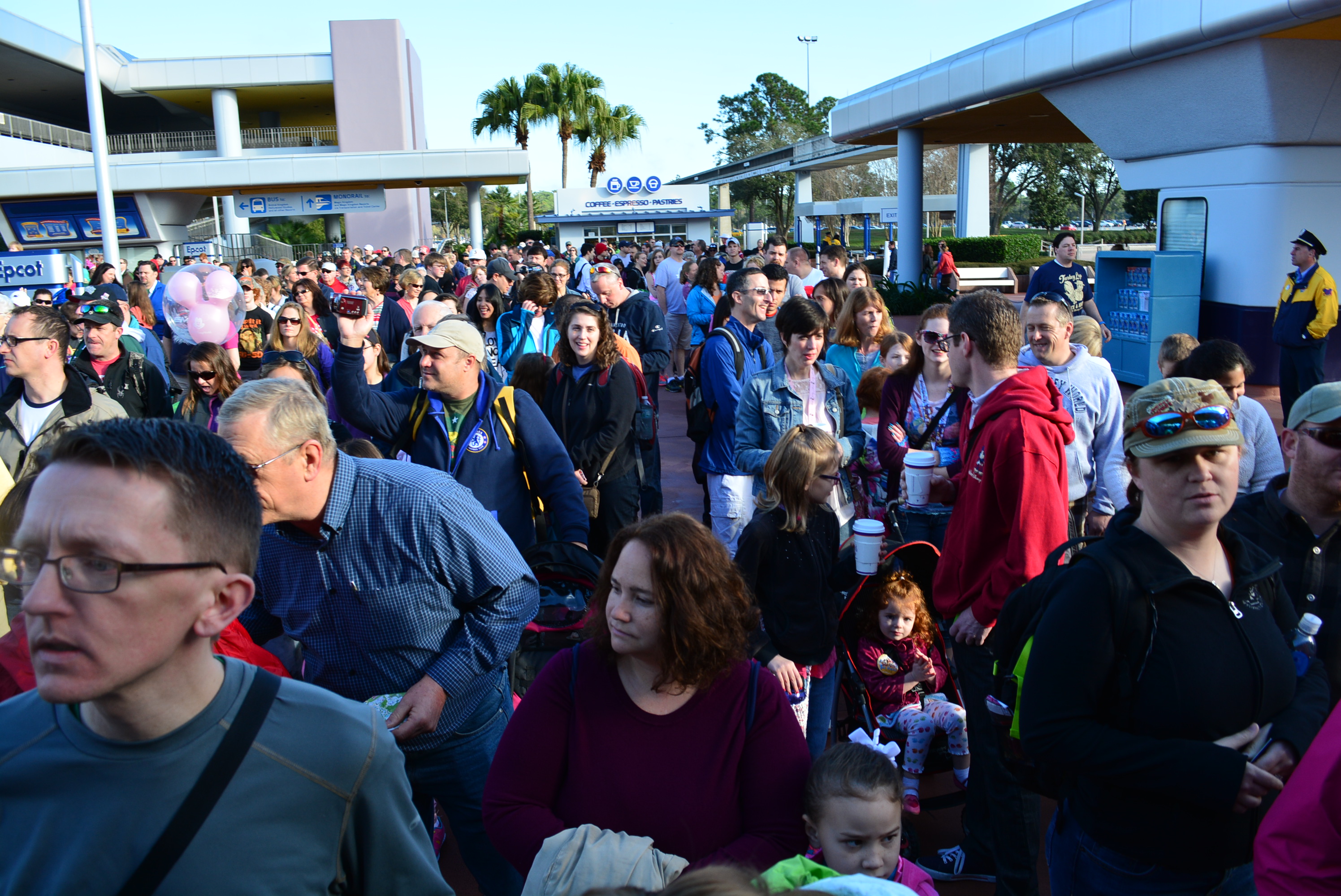 I powerwalked my way back to Norway.  My girls went the path around Test Track and I took the direct route past the fountain and turned left at the lagoon.  They arrived just a tiny bit before me.  We were on the second row of the queue line about 15 feet into the line.  It took me 9 minutes to walk quickly there.  I passed a few people just past the fountain because they were becoming tired.  It's a LONG walk.  I did see people running, but that doesn't help you guys with strollers much.  I would like to ask one thing of you:  Dad's please don't run with little kids on your shoulders!  The walkways are always wet in the mornings and if you slip it would be a terrible accident.   I saw a few doing this and it's very dangerous.  It's 9:00 am.  Oh, you're guaranteed to be beaten into the line by some families that were having breakfast at Akershus or someone who booked a breakfast and skipped it.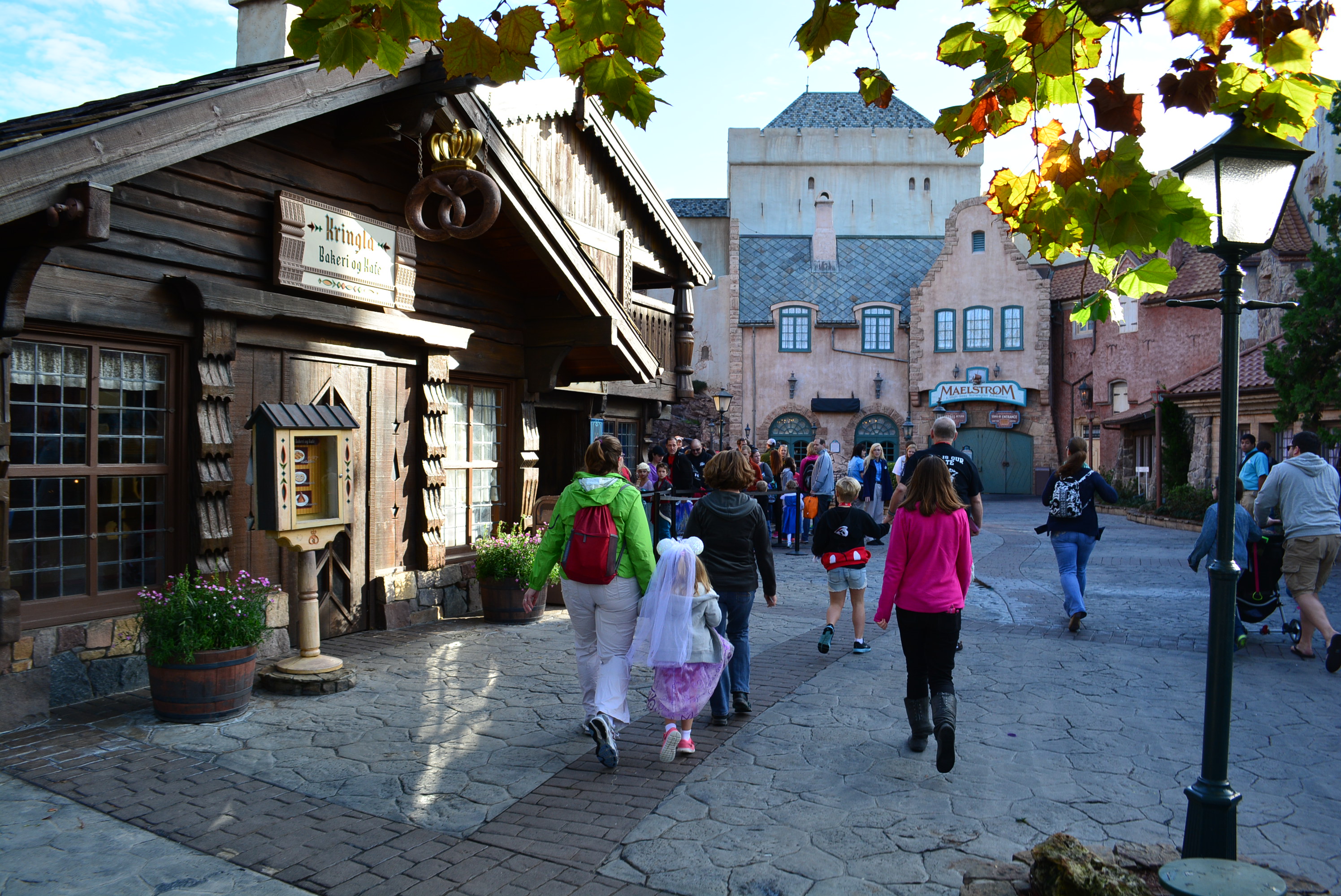 They have these nice pics inside the windows at the Princesse Plass.  In case you're wondering, you enter Norway and the meet and greet is past the Kringla Bakeri on the left.  You'll see the queue line there.
Well, at least the Times Guide and Character Locator app had the times right :)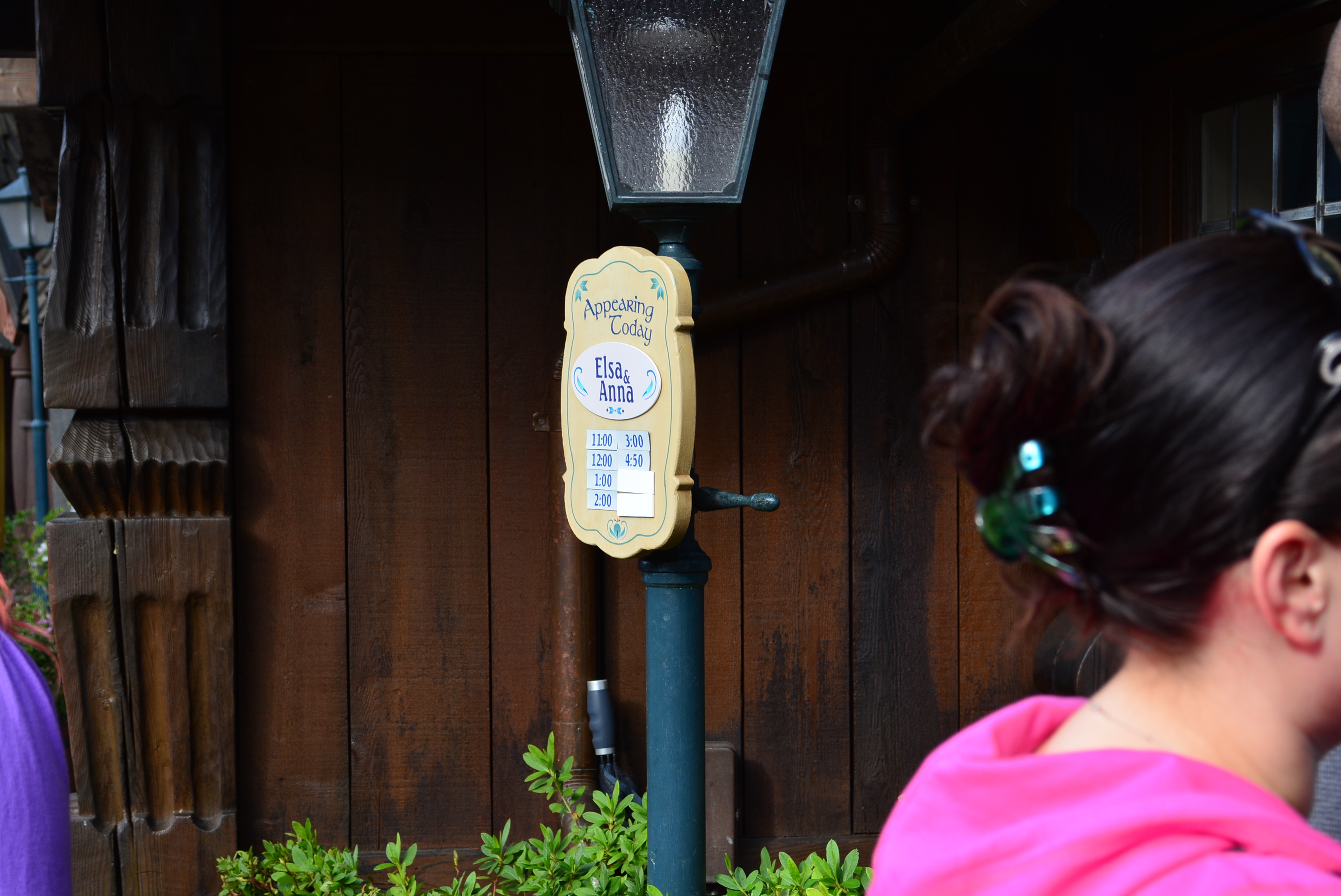 My little girl kept getting Anna and Elsa backwards.  This is Elsa for training purposes.  I can't blame her, she was uber excited to finally meet these characters.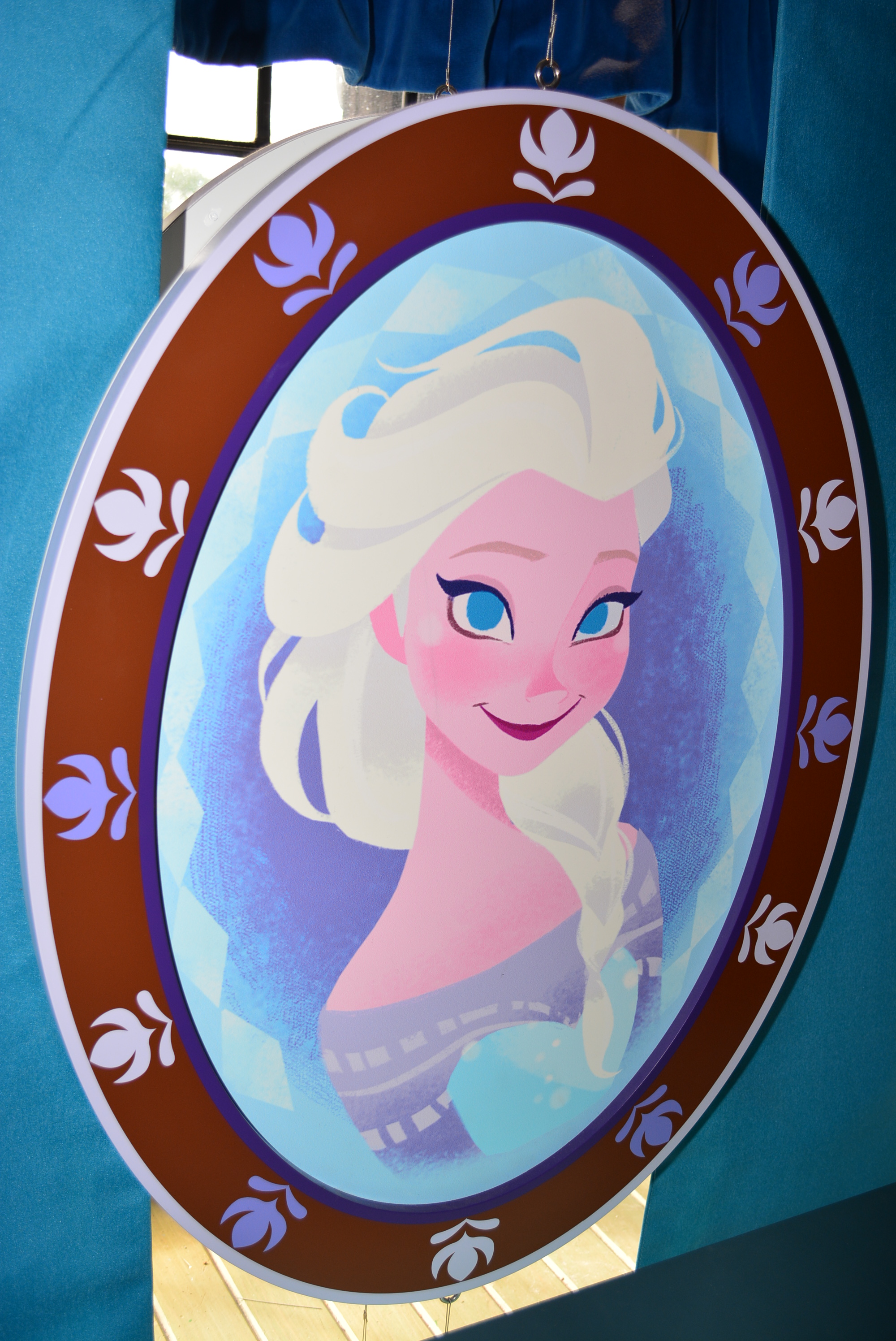 This is such a fun meet and greet.  Anna is really light-hearted and chatty and Elsa is a bit more quiet, yet very kind.  Debbie and Anna chatted about our love for snowmen and showed her our snowman Stitch.  Anna thinks Olaf was visiting the beach today because it was absolutely beautiful weather. Photo taken at 9:42 am.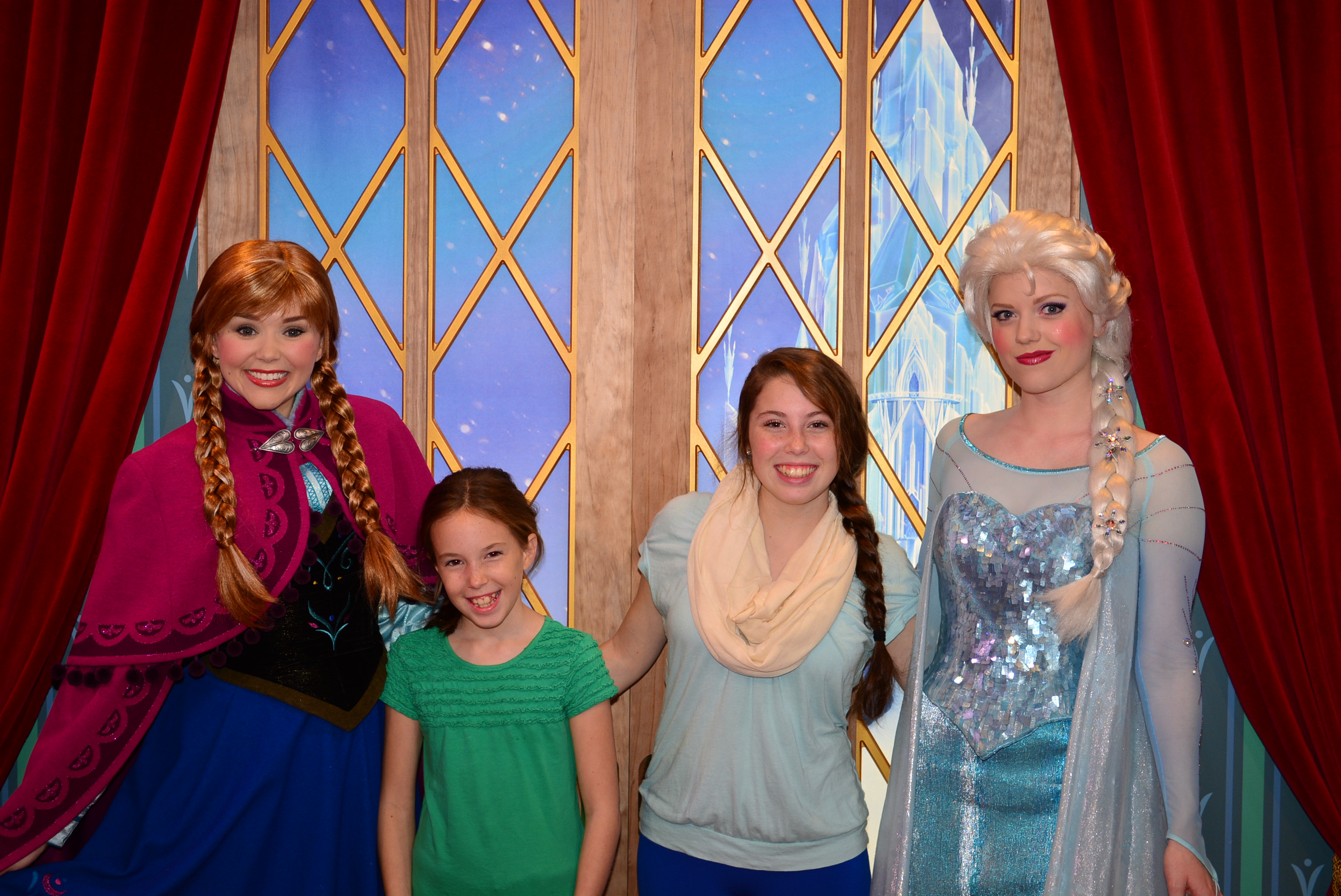 Debbie chose a top that would compliment Anna and Jordyn chose something that works well with Elsa.  When I met them, I just wore my Character Locator shirt.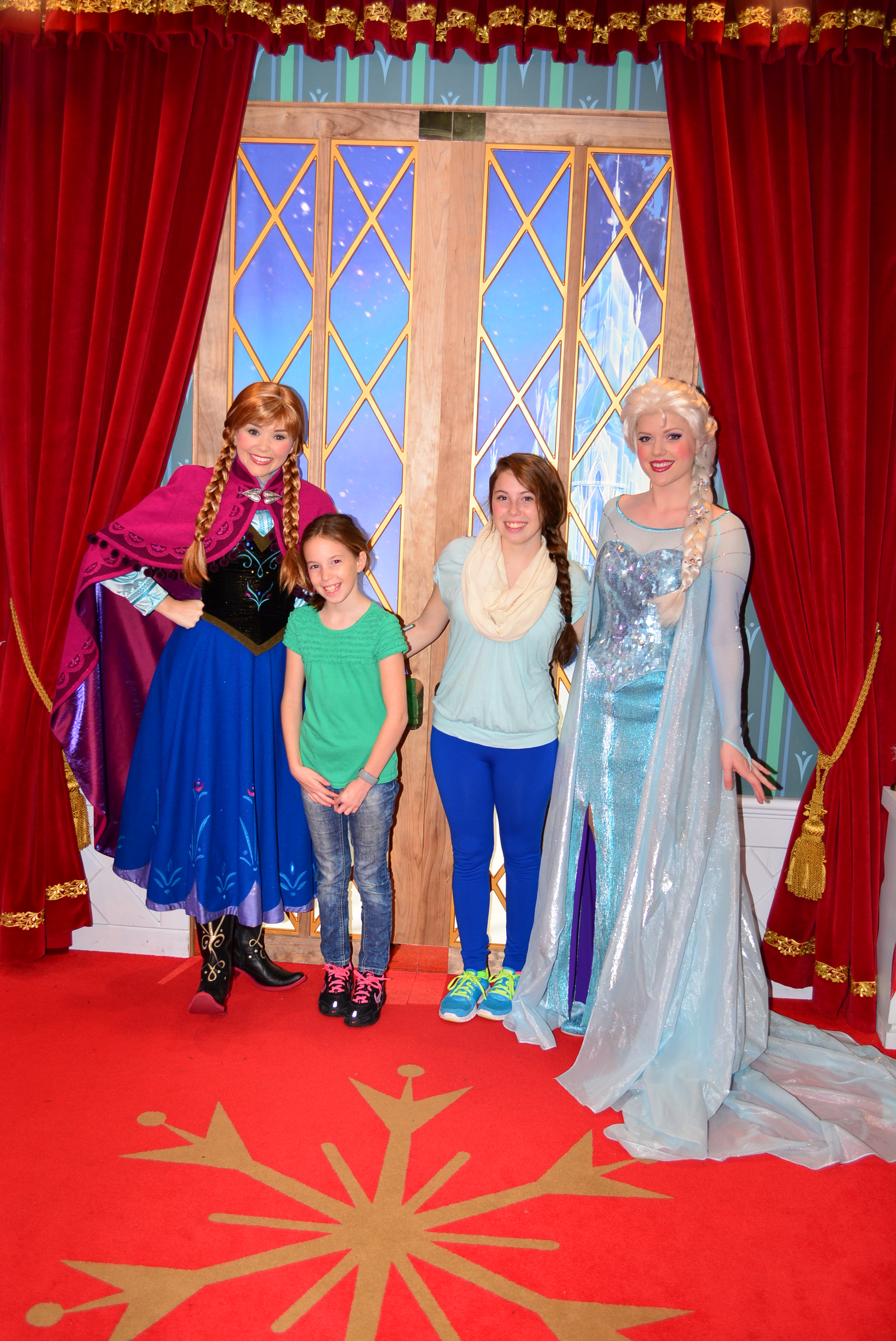 Debbie was given these awesome collector cards as a gift and she decided to bring them along to have Anna and Elsa sign them for her.  Anna would sign in green and Elsa in blue she determined.  Girls and their color coordination!   I could scan them, if you guys wish to have them for your memory books.  Just let me know in the comments, if that is something you'd like.
The ladies also signed her book for her.  I'm a real slacker when it comes to getting character autographs.  That's something my girls always kept up with.  I'm just the awkward looking, stalker-dad waiting alone to meet a character many times.
While people were standing in line to meet the ladies, a kind Disney CM worked the crowd asking if anyone needed any help with Fastpass+ reservations.  Kudos on having this guy out helping the rope drop crowd so they could still book their Test Track or Soarin' (Grrrrr Tier 1) Fastpass.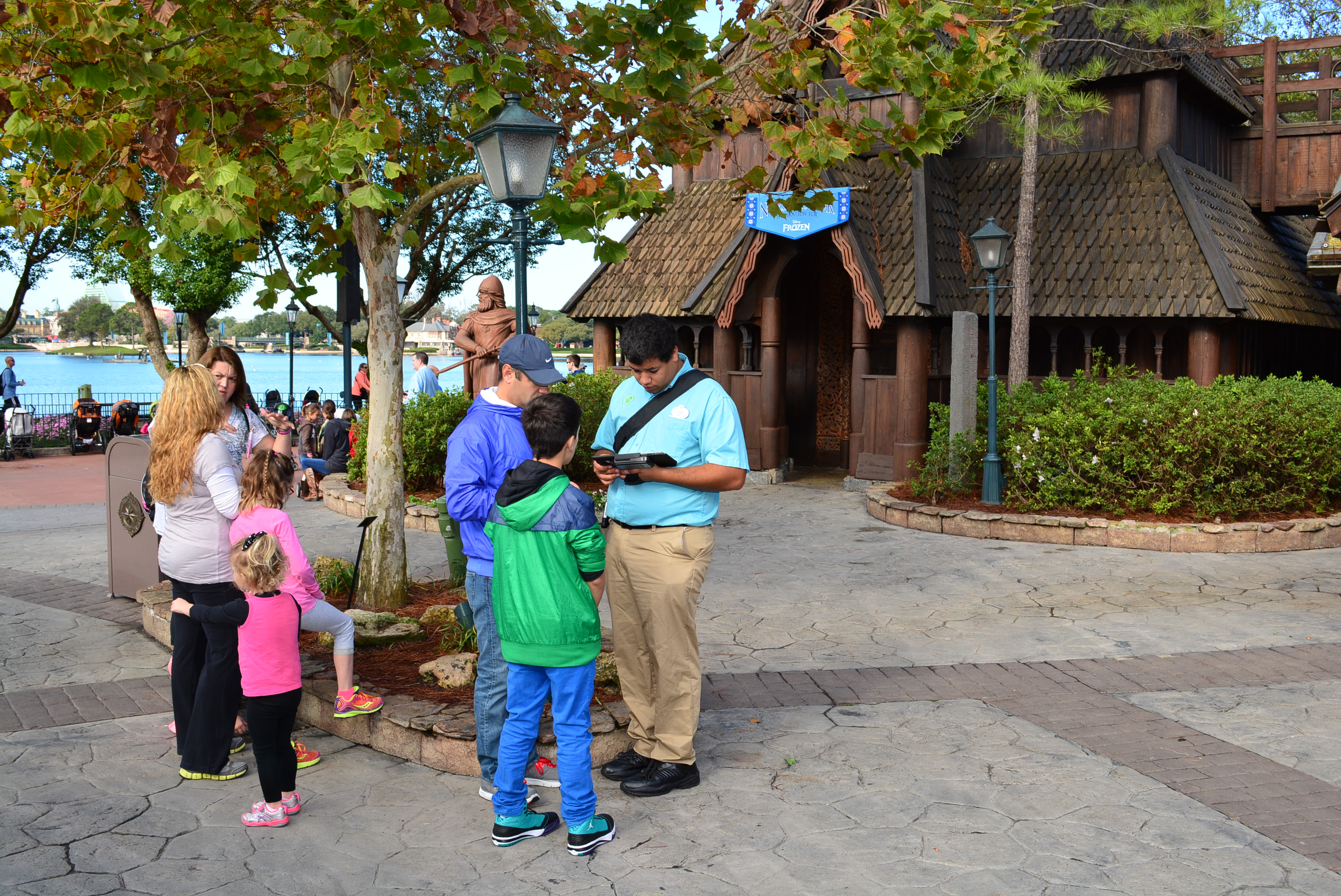 So where's the line at 9:45?  It looks kinda short right?  You don't see anyone in the photo above, so it must be inside the queue.  NOPE!  It snakes behind the Stave Church.  There's a break there in the line for the bathrooms too.  If you arrive anytime after 9:00, you'll need to join the line around Stave Church.  If you see people standing over there, they aren't waiting to see the inside of the church.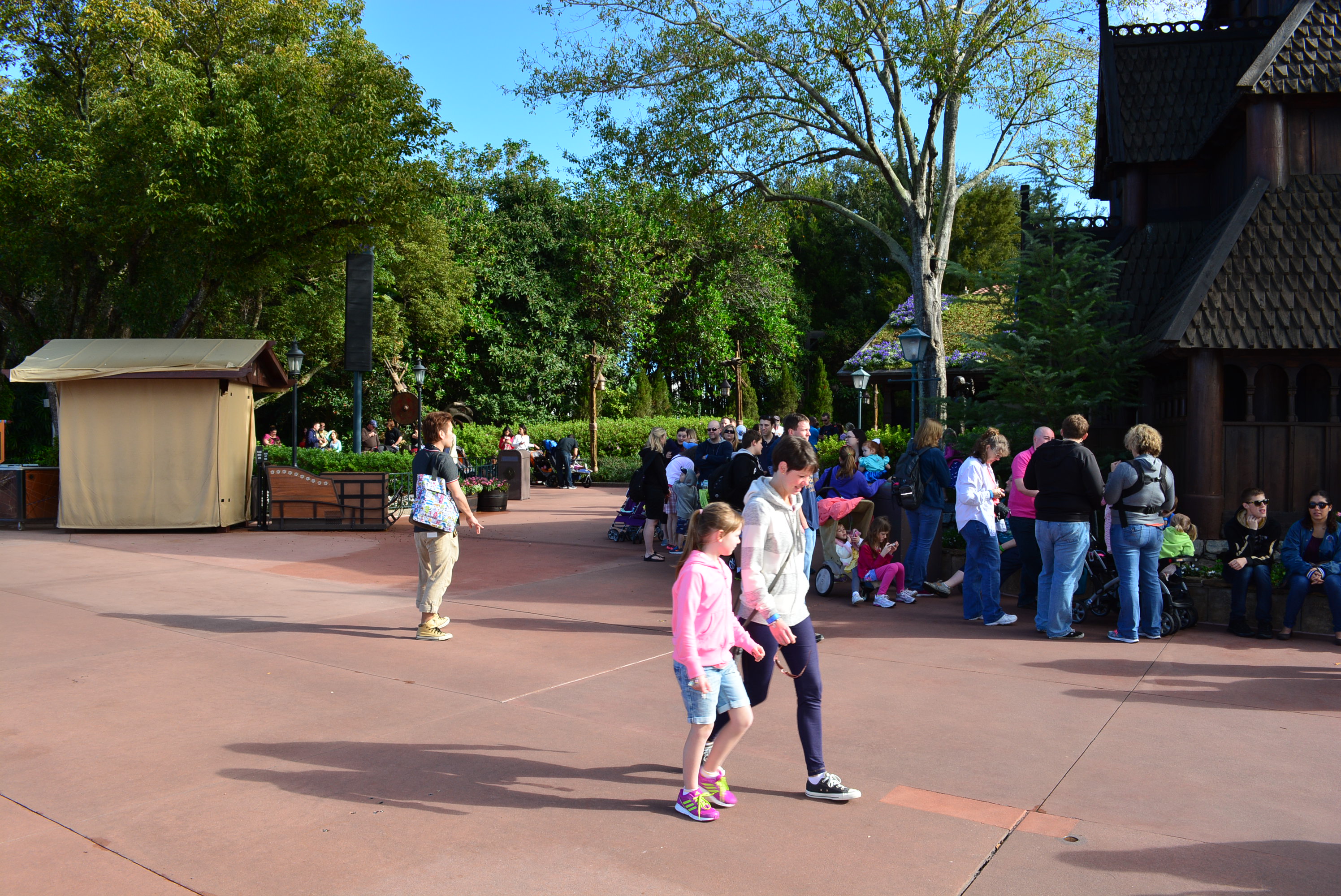 And continues all the way back to the Agent P reservation area!  I believe I wrote a tip a long time ago about arriving early.   ARRIVE EARLY or just come back after lunch.   If you are going to wait 1.5 to 2 hours or more, why not just do that in the afternoon?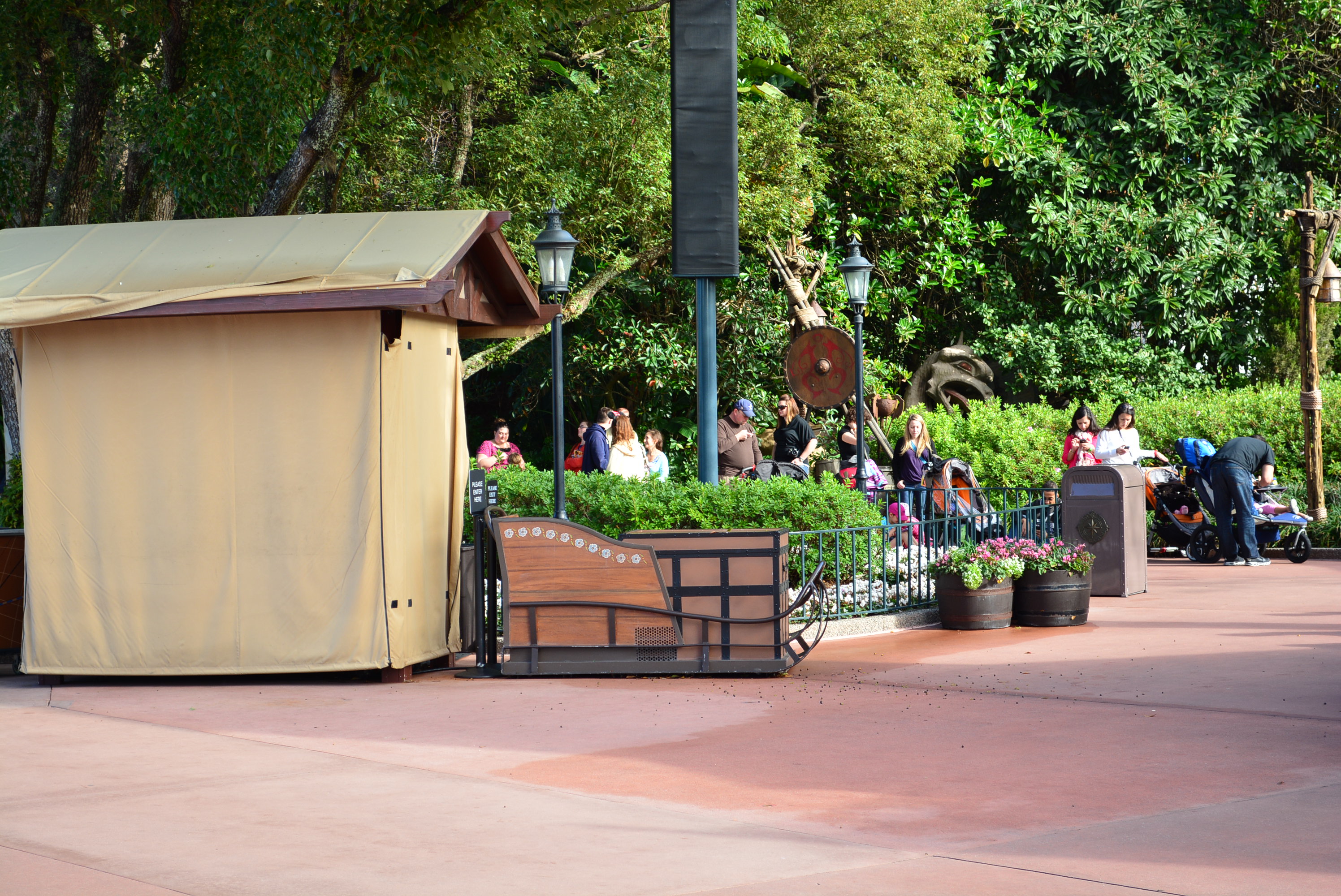 So we arrived at the gates at 8:20am and met the girls at 9:42.  It was a 1 hour and 22 minute commitment all totaled.  Of course, we would have waited those 25 minutes just to head straight to Test Track too.  Speaking of Test Track.  We arrived at 9:53 am to find this line snaking back and forth and all the way back to the logo.  The MDE app said it was a 50 minute wait, but I think it appeared much longer than that.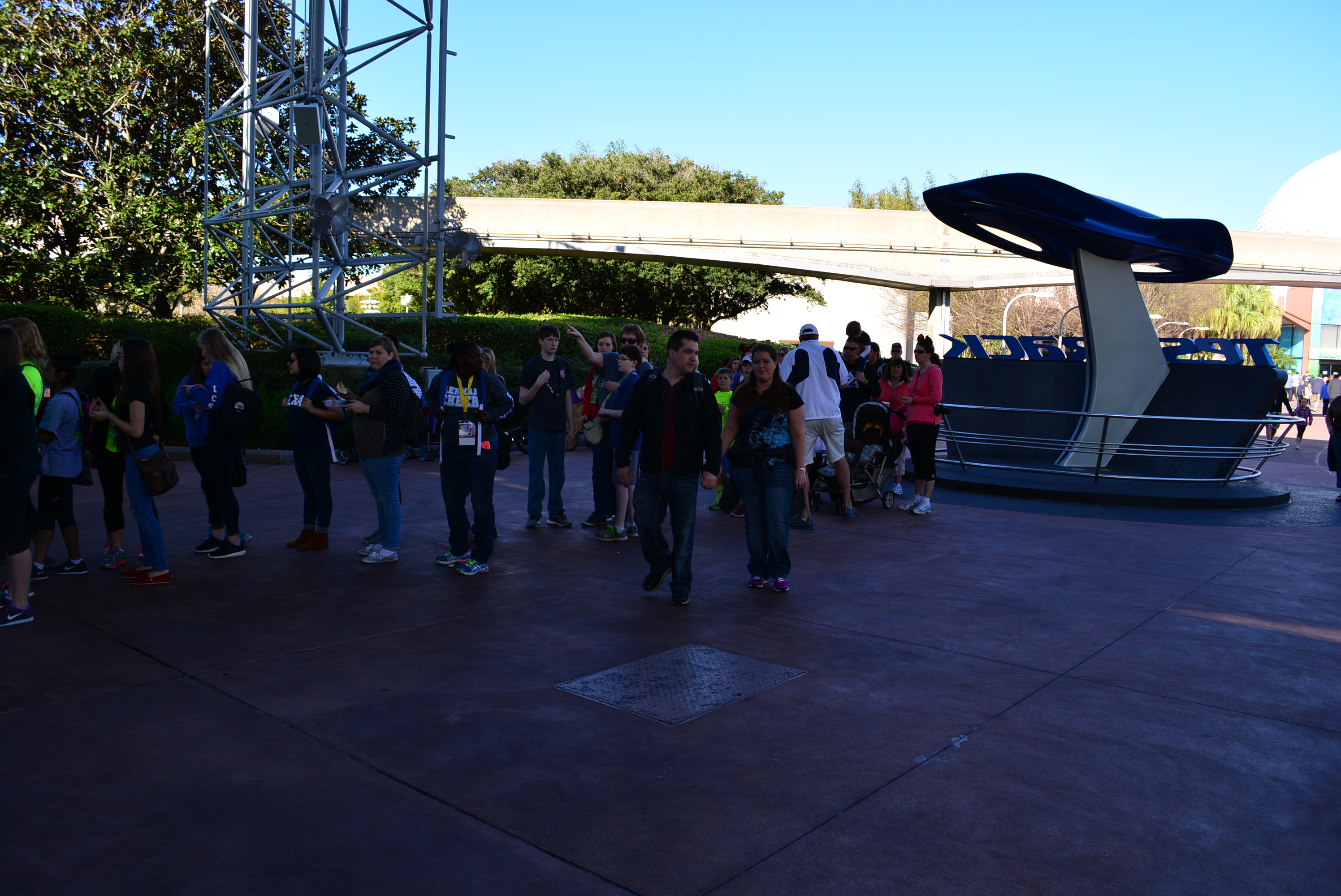 We used a pre-arranged FP+ and entered the queue at 9:55 am.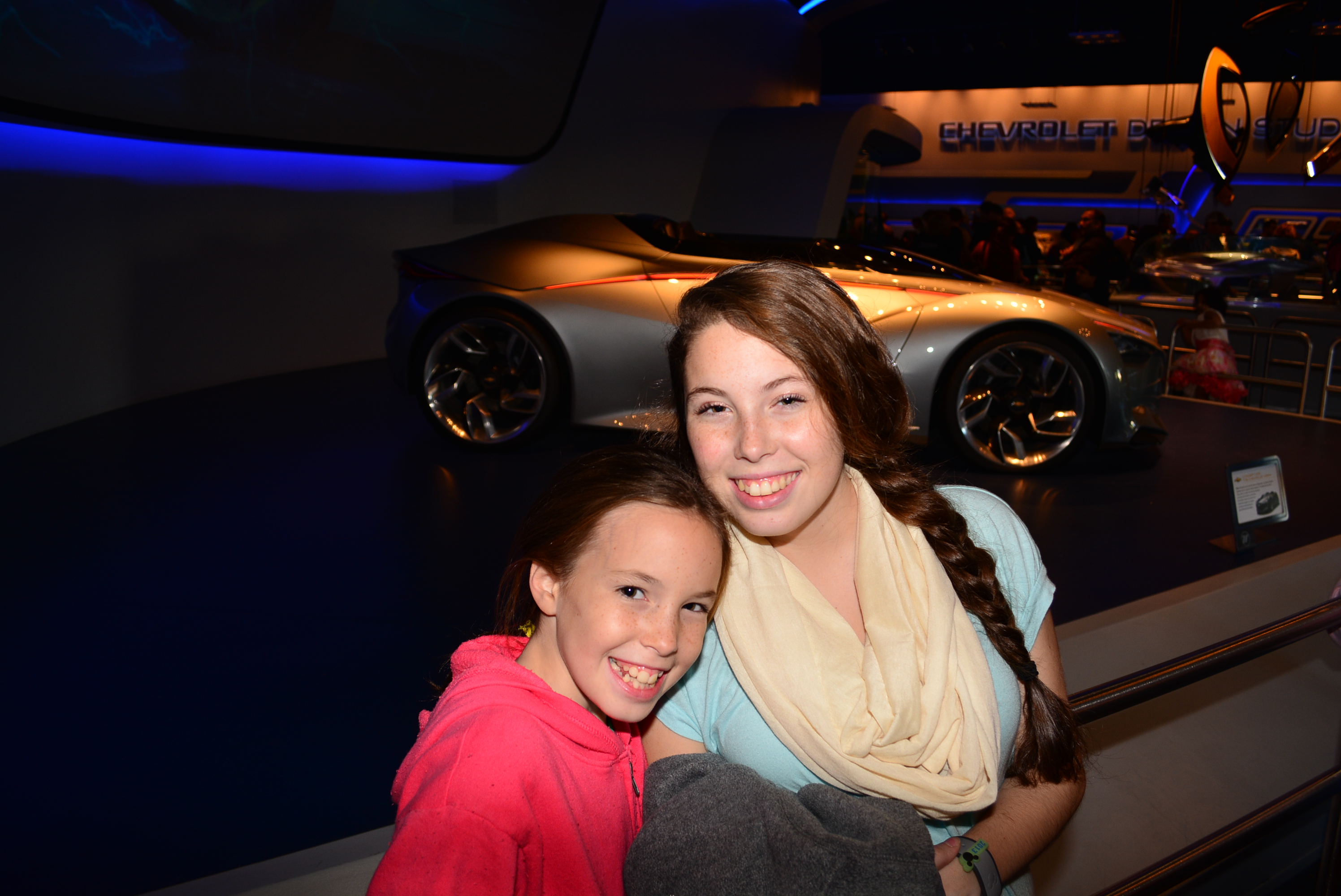 Who cares if the car is efficient?  The car is fast and it looks cool.  And girls created this car.  I'm such a proud daddy.   We completed our car creation at 10:03 am.  The FP+ line moved quickly to get us to this room.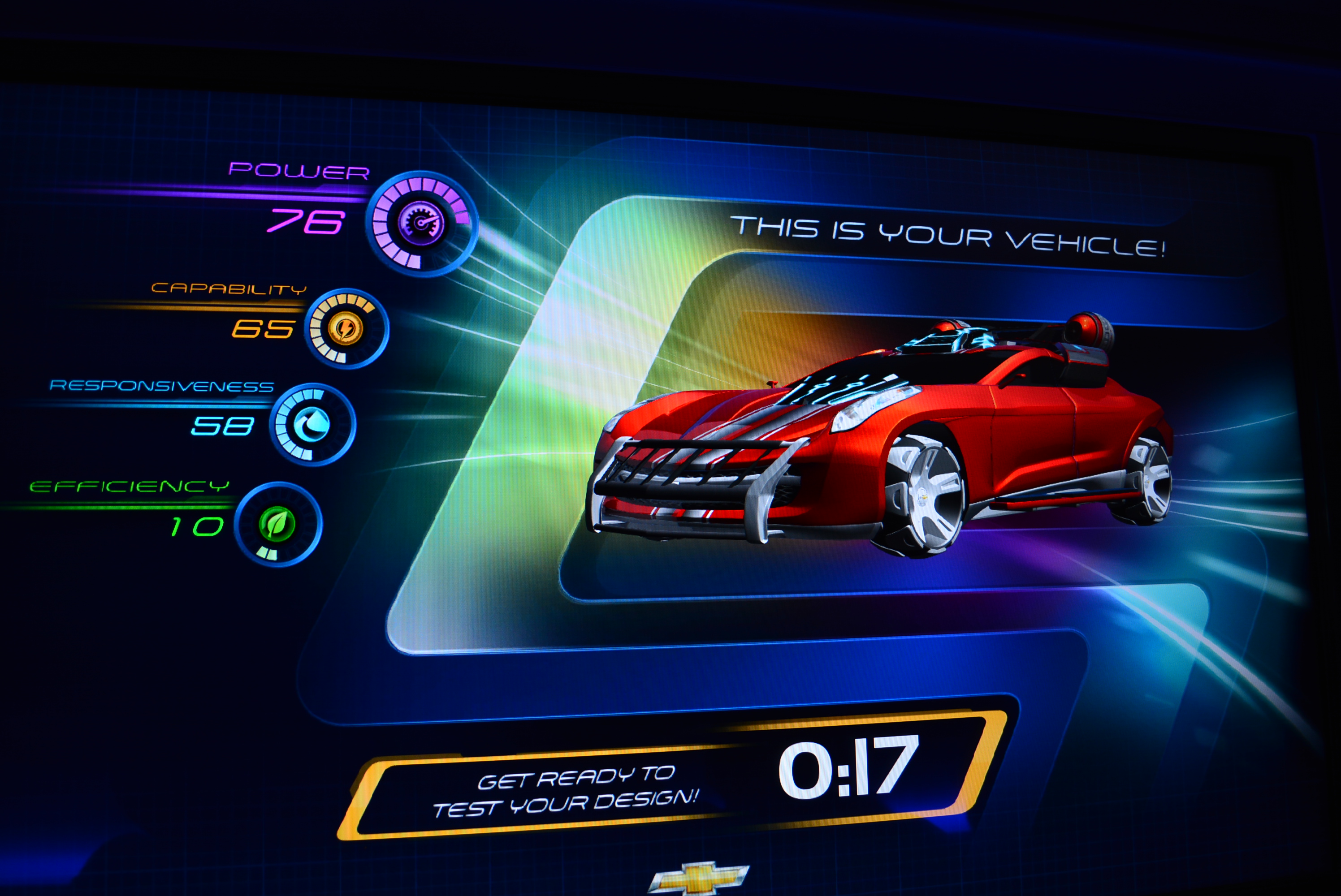 It's 10:15 am and we're about to board our Test Vehicle.  It took 12 minutes to move that short distance.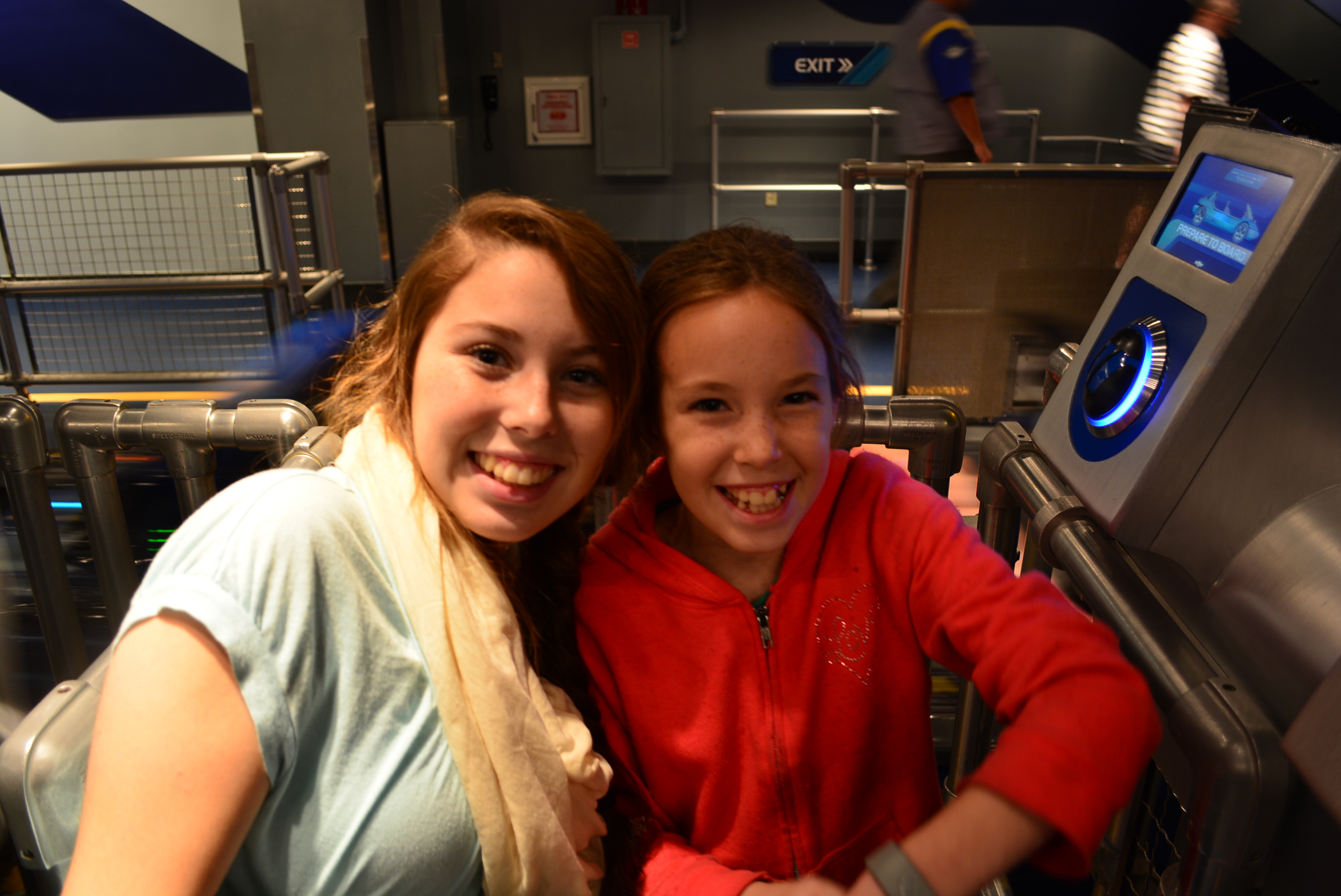 Debbie didn't know they moved the camera during the rehab last year.  It's in the morning sun, so we are all squinty looking. We were off the ride at 10:21 am.   Using FP+ Test Track took us 26 minutes for the entire experience.   When we did our ultimate tour the day after Christmas this attraction took a total of 17 minutes.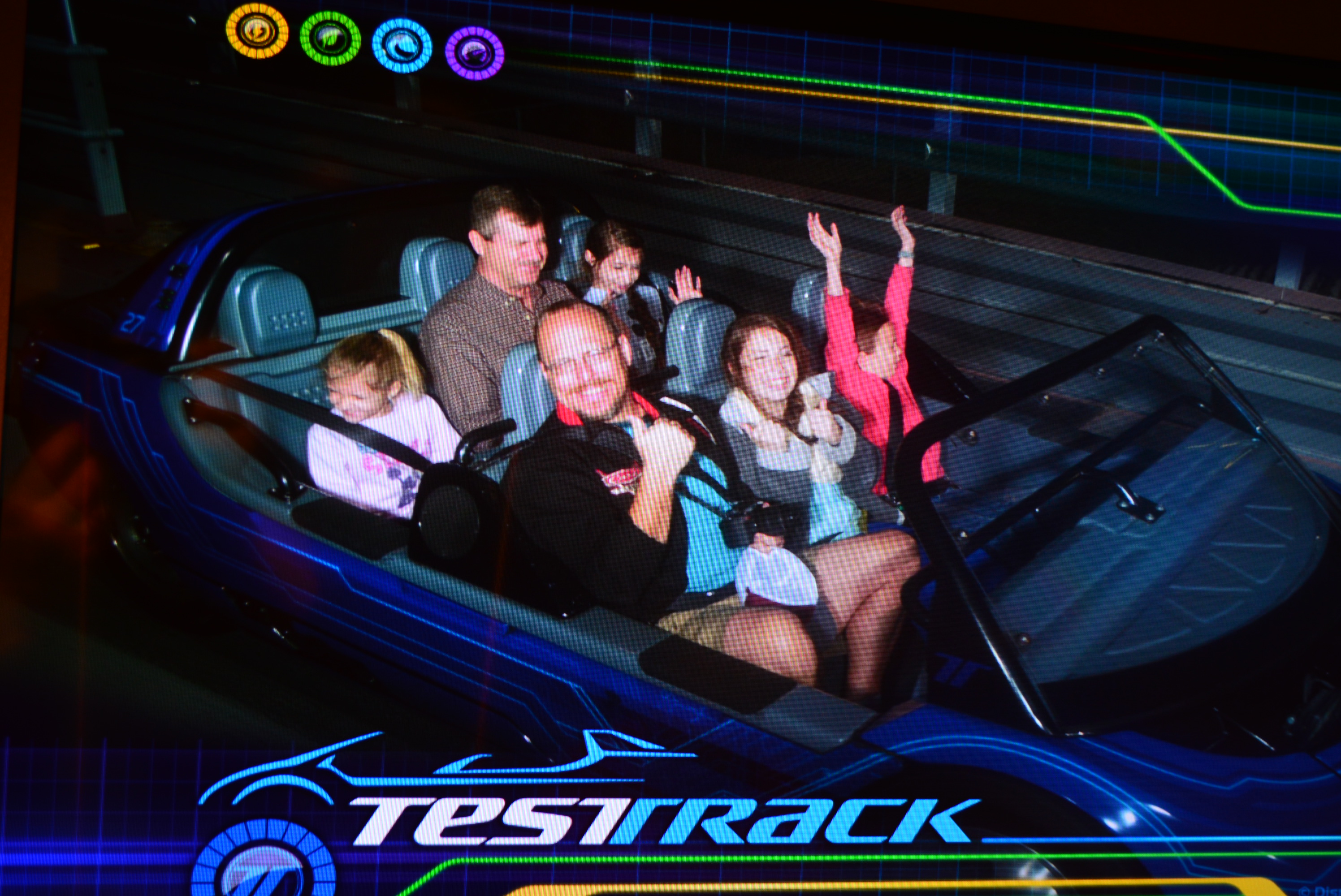 We headed off for church.  Good thing our church offers an 11:15 service.  We were only a couple of minutes late this morning.  Here's a Spaceship Earth photo of the lovely day.  BTW, there were hundreds of lemmings in line for this attraction as they walked into the park.  DON'T DO IT!  Resist the temptation and come back in the afternoon or evening for no wait.