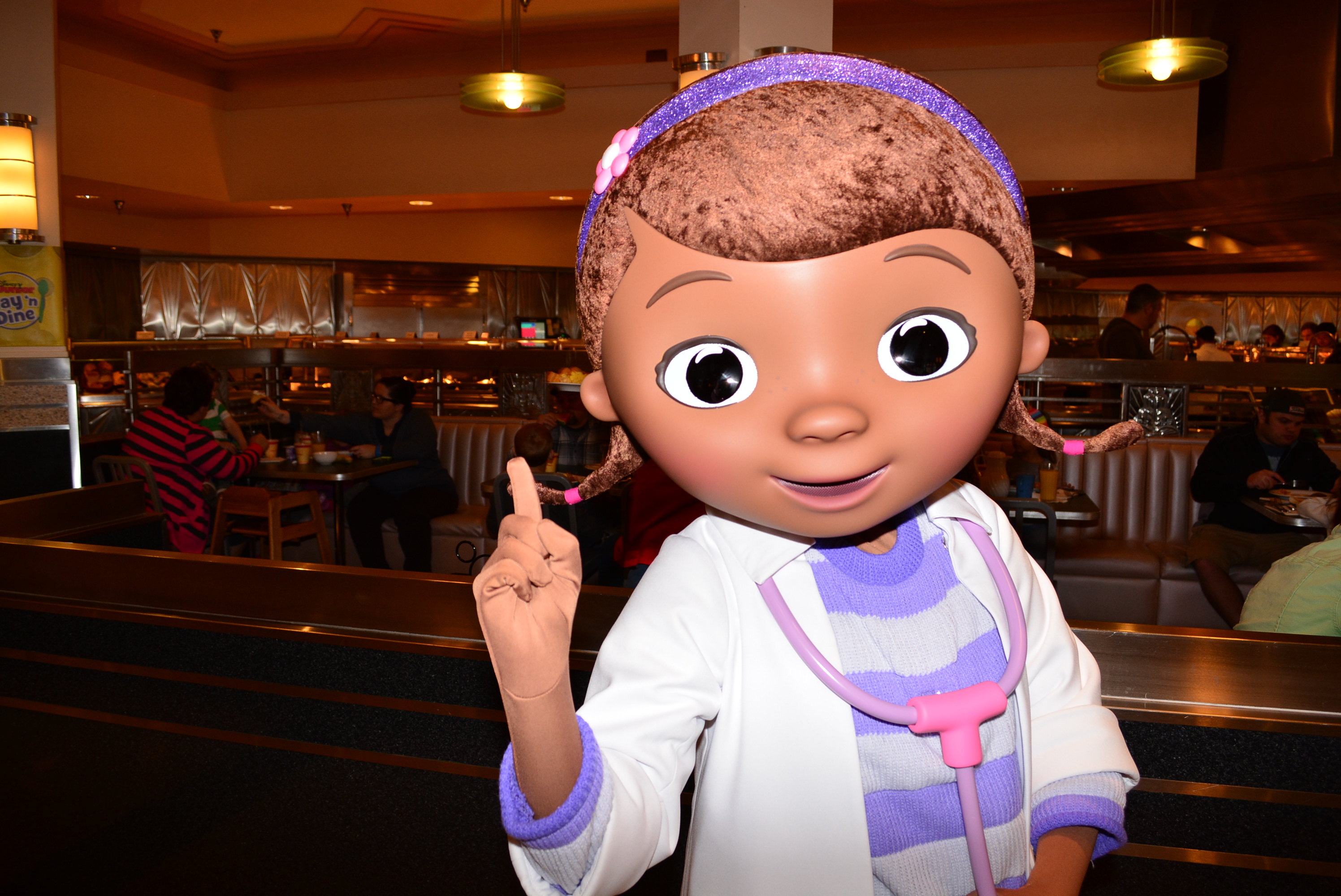 We had the opportunity to be among the first families to meet Doc McStuffins at her new home at Hollywood and Vine today at Disney's Hollywood Studios.  We made an 8:00am breakfast reservation in order to meet her today.  We had a great time meeting Doc McStuffins, Sofia the First, Handy Manny and Jake.  The entire experience took about one and a half hours.  We were waiting on Doc to make her way over to us.  The meal appeared MUCH more popular than it was when Secret Agent Oso and June met there.
I personally think this is a great mixture of characters.  There's two male and two female characters and many little boys like Doc McStuffins.  The characters are willing to spend as much time with your family as you'd like to interact and Doc was uber popular, so don't expect to run in, consume some egg dish and run out in 30 minutes.  I think one to one and a half hours is reasonable for this and any character rotation meal.
HANDY MANNY
We began with meeting Handy Manny.  Not a lot to say.  The guy loves tools, so he and I have a lot in common.  We've seen him a number of times in the past when he offered the in park meet and greet.  I need to get one of those pencils though.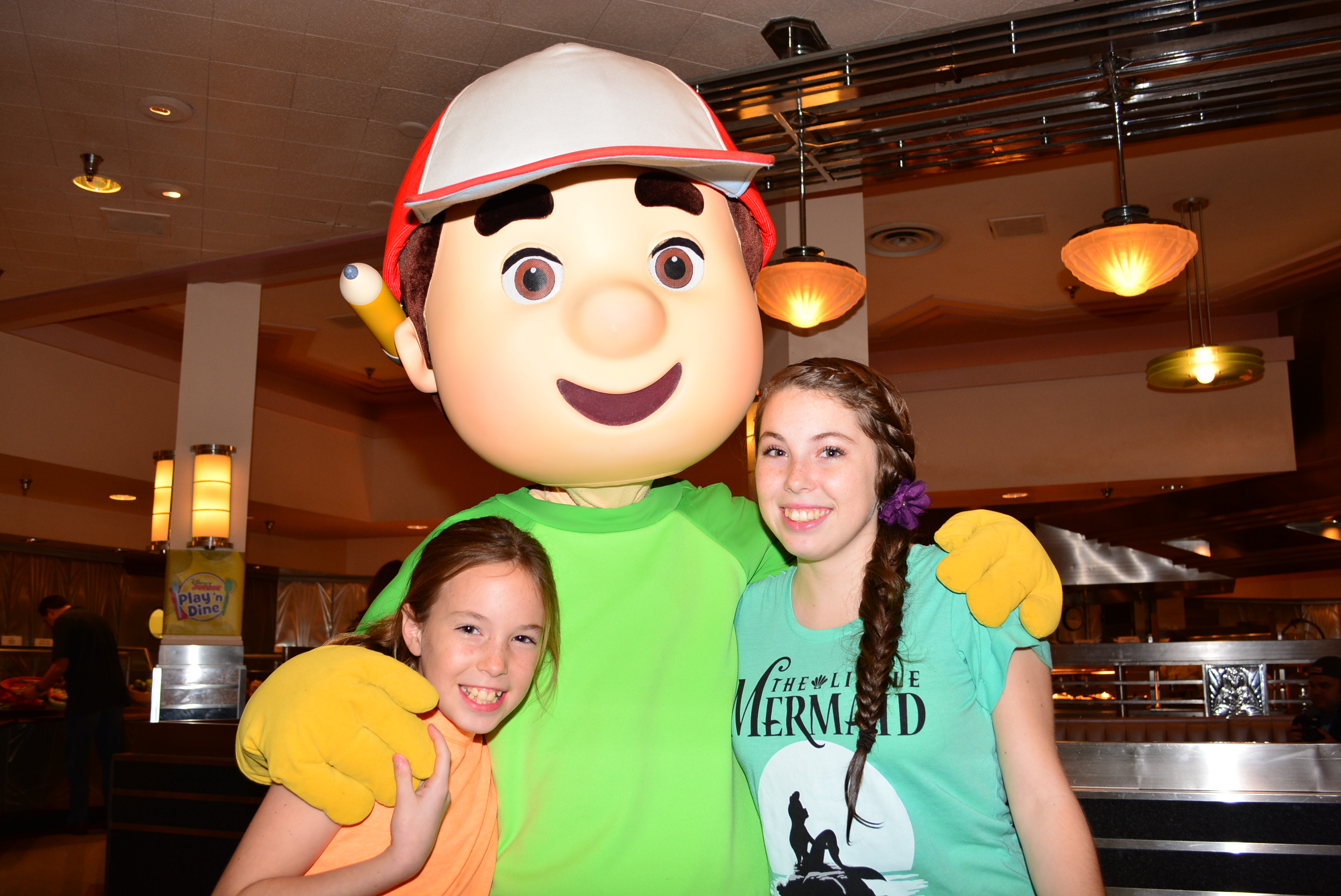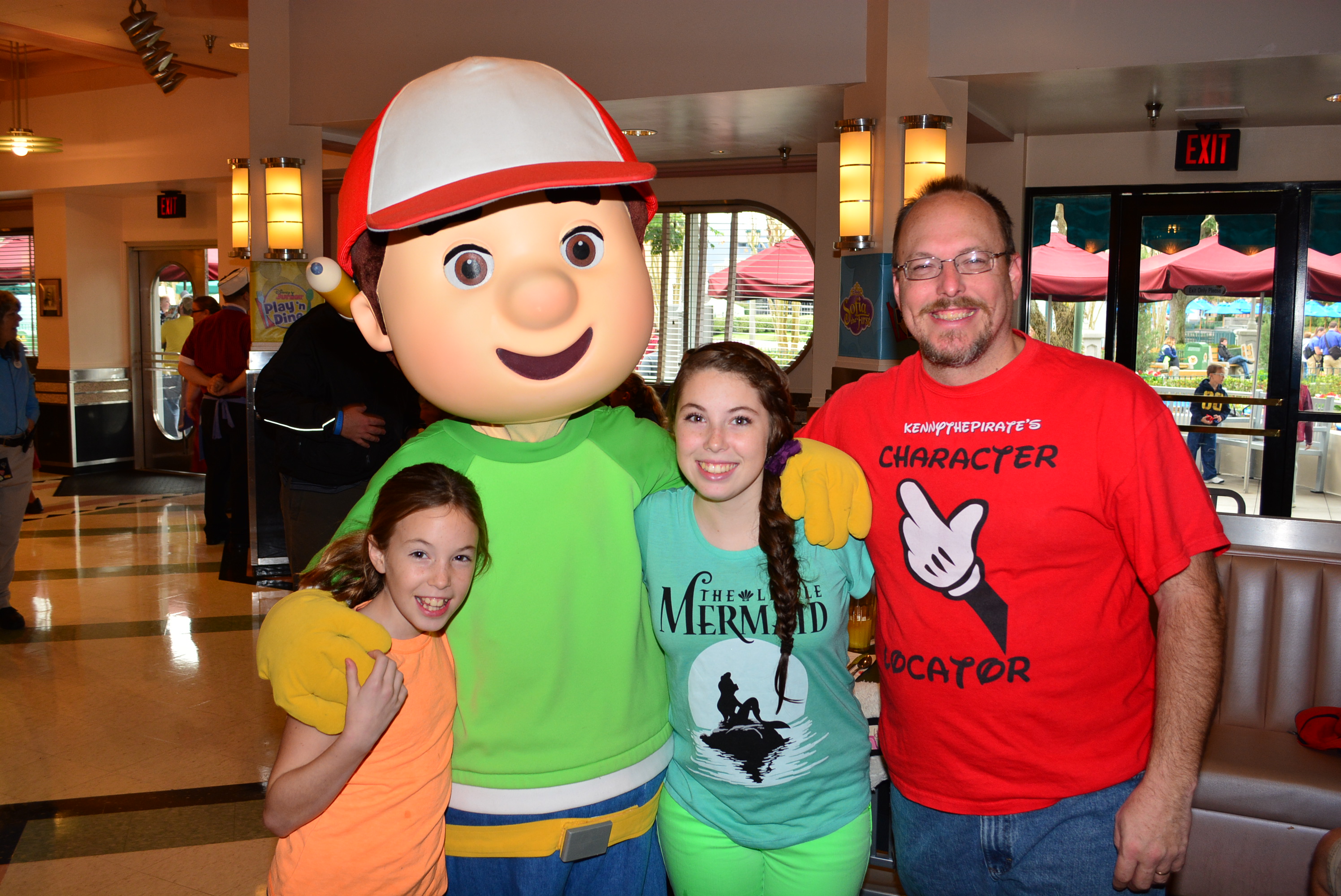 [youtube http://www.youtube.com/watch?v=_pVmNsYjvNs&w=560&h=315]
JAKE
After the song and dance time we hung out with a fellow pirate, who can appreciate all things piratey like extra FP+, character paloozas and trying to locate Darkwing Duck.  They guy knows his treasure!
We also had a chance to participate in the always fun "Talk like a pirate" song interaction time.  They could just play this song all day long and it would be an awesome experience.  Everyone needs to learn some good Arrrs and Ahoys and Avasts.  This song should be mandatory learning in all the high schools across America.  We realized at this point that we were on the wrong side of the room though.  The characters that actually sing these songs were always on the OTHER side of the room, LOL.
[youtube http://www.youtube.com/watch?v=gw0QJC7VBZ8&w=560&h=315]
SOFIA THE FIRST
After another round of singing we met Sofia the First.  We stayed so long we ended up meeting the little princess twice :)  I asked when we'll see Clover and she said he is out in the garden.  We searched the whole park and didn't find him or any other bunny.  I guess bunnies don't exist because I didn't see one.
DOC MCSTUFFINS
Finally, it was time for the grand premier of the doctor that thousands of children hope to become.  I think it's cool that she is a career-minded woman with high goals.  Someone will need to have the ability to repair all the plastic and electronic toys of the future!  It is good to have some positive role models for young people that extend beyond dreaming of being a pirate or princess and she teaches in a fun way.
I think she is ready to attempt to dethrone Donald Duck.
Can you tell my girls were happy to meet Doc McStuffins?  You're probably wondering where my son was all this time?  He wanted to sleep in today after 2 basketball games yesterday and an afternoon and evening in the Animal Kingdom that included a half dozen rides on Expedition Everest, mostly after dark.
I stepped to join the fun.
After we all met together, Doc McStuffins specially asked to take a photo with just me.  How cool is that?  A television star wants to take a photo with a little ole blogger dude!
Yes, Doc McStuffins does autograph.
The song leaders are an integral part of this character meal experience, so I asked if I could take a photo of the two lovely ladies who guide the kids in song and dance.
And they asked the blogger guy to join the photo too!  What is up with that?  Very nice ladies and they did a great job!

RECOMMENDATION:
I recommend that you book a late breakfast or lunch for this character experience, so you don't miss out on the first hour of important park touring.  You could easily ride Toy Story Mania, meet Buzz and Woody and ride the Great Movie Ride.  You could save your FP+ for Rock N Roller Coaster, Tower of Terror and Star Tours and have an simple day in the park.
WHAT ABOUT THE FOOD?
The food was largely your basic breakfast foods of eggs, bacon, sausage, biscuits, cheese grits, mickey waffles, pancakes, tater tots etc.  They had some fritata, a fruit bar and make your own eggs/omelets bar, cereals and desserts.  Lunch is a variety of buffet items that everyone could find something to eat.  Even though they offer lemon filled water out front, it's not a high end meal.  It's a nice meal and a great character experience.
Here's the photos of the food if you like that sort of thing: