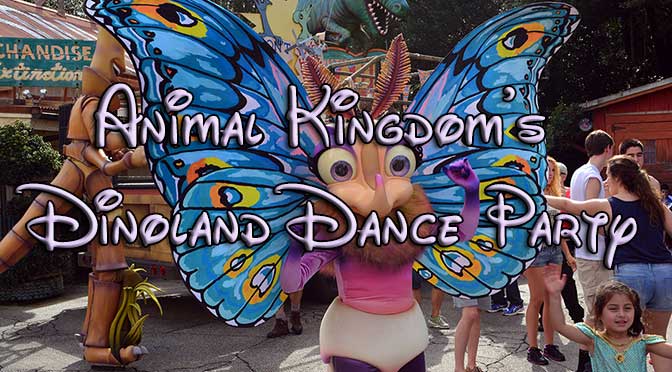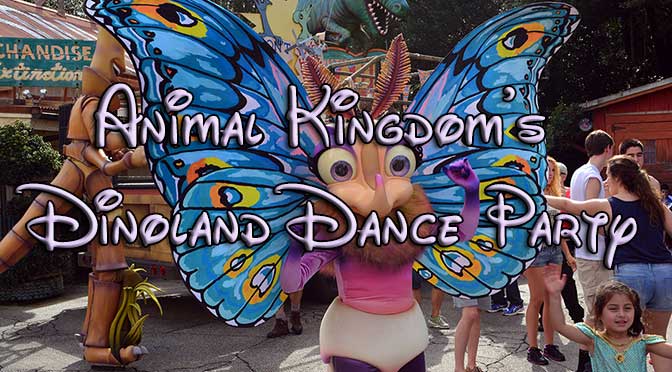 I dropped into Disney's Animal Kingdom today to check out the new Dinoland Dance Party.  It is a totally unpublished entertainment offering that is currently taking place each day at 11:30 and 12:30 3:30 & 5:00pm.   When I asked a couple of executive/manager clothes types, they just gave me the "characters just pop up" answer that is Disneyspeak for "go away blogger guy."  (In the last few weeks this has been in the Times Guide). This dance party is some type of "test" that WDW loves to do these days.  There's like 50 dance parties out there, why not just put it in the Times Guide?  The characters that appear may vary but Slim and Gypsy have been pretty common this week.  The characters appear from the Dinoland gate between Primeval Whirl and the gift shop.
Click any pic for a larger image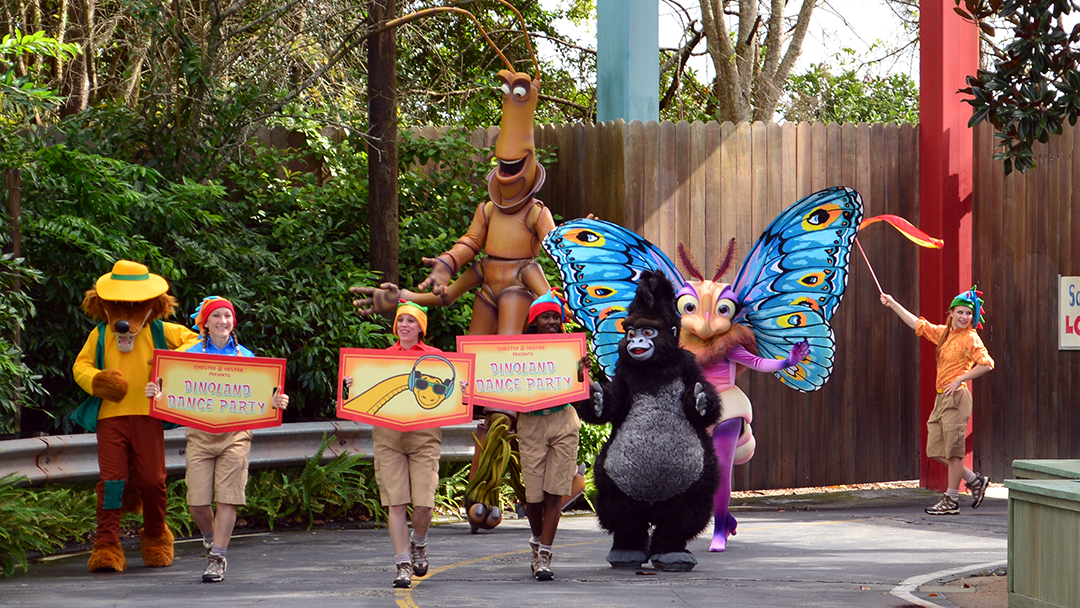 Characters appear randomly on a given day.  Characters you might encounter include:
Atta
Brer Bear
Brer Fox
Brer Rabbit
Chip
Daisy
Dale
Flik
Gypsy Moth
Meeko
Miss Bunny
Mushu
Rafiki
Slim
Terk
Thumper
Timon
Gypsy Moth was kind enough to pose for me for just a second or two before beginning to boogie down with all the little kiddies of high school and college age.  It's the first time I've met Gypsy Moth.  She was out for the Pixar Weekend, but it rained right when we were about to meet her.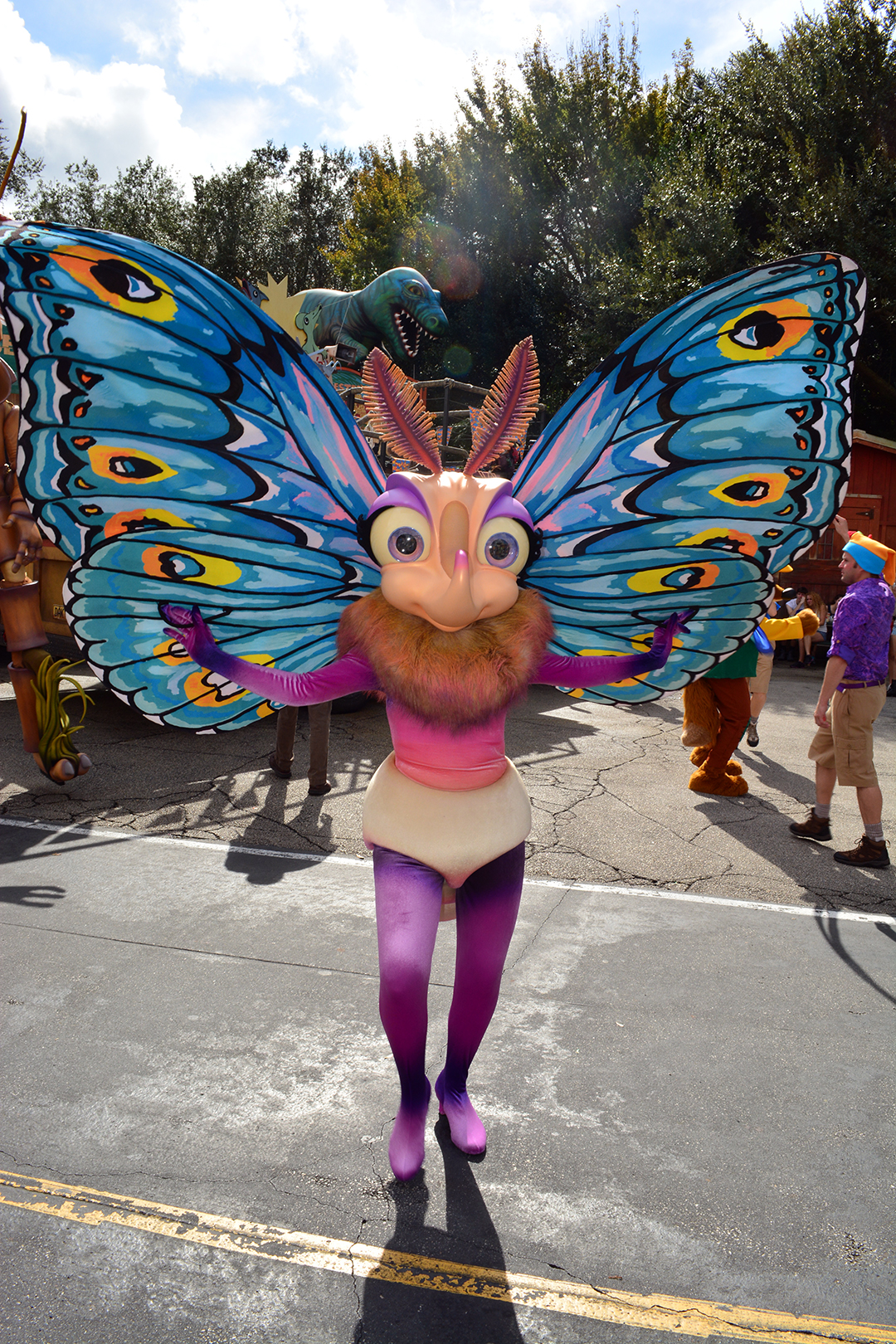 One guest standing nearby told her little girl to go meet "the pretty butterfly thing."  Do these people never watch Disney/Pixar movies before entering the park?  I once heard Thumper referred to as Bugs Bunny.  Uggh!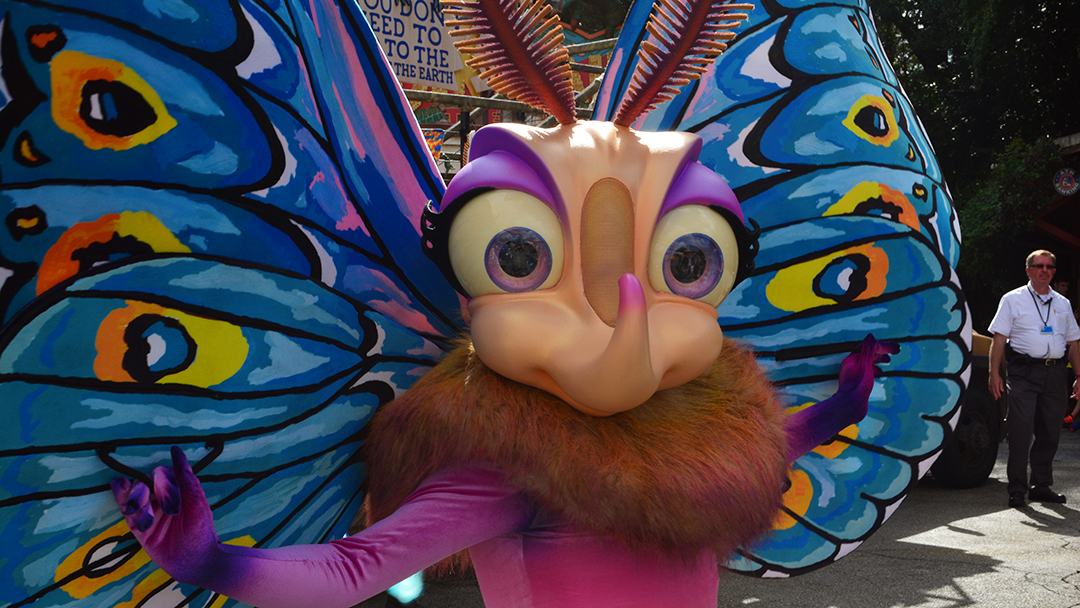 Brer Fox was happy to be out dancing instead of being hidden in a back closet somewhere.  Either that or he was sizing me up for his dinner plate?  I told him I require slow cooking because I'm chunky and full of gristle.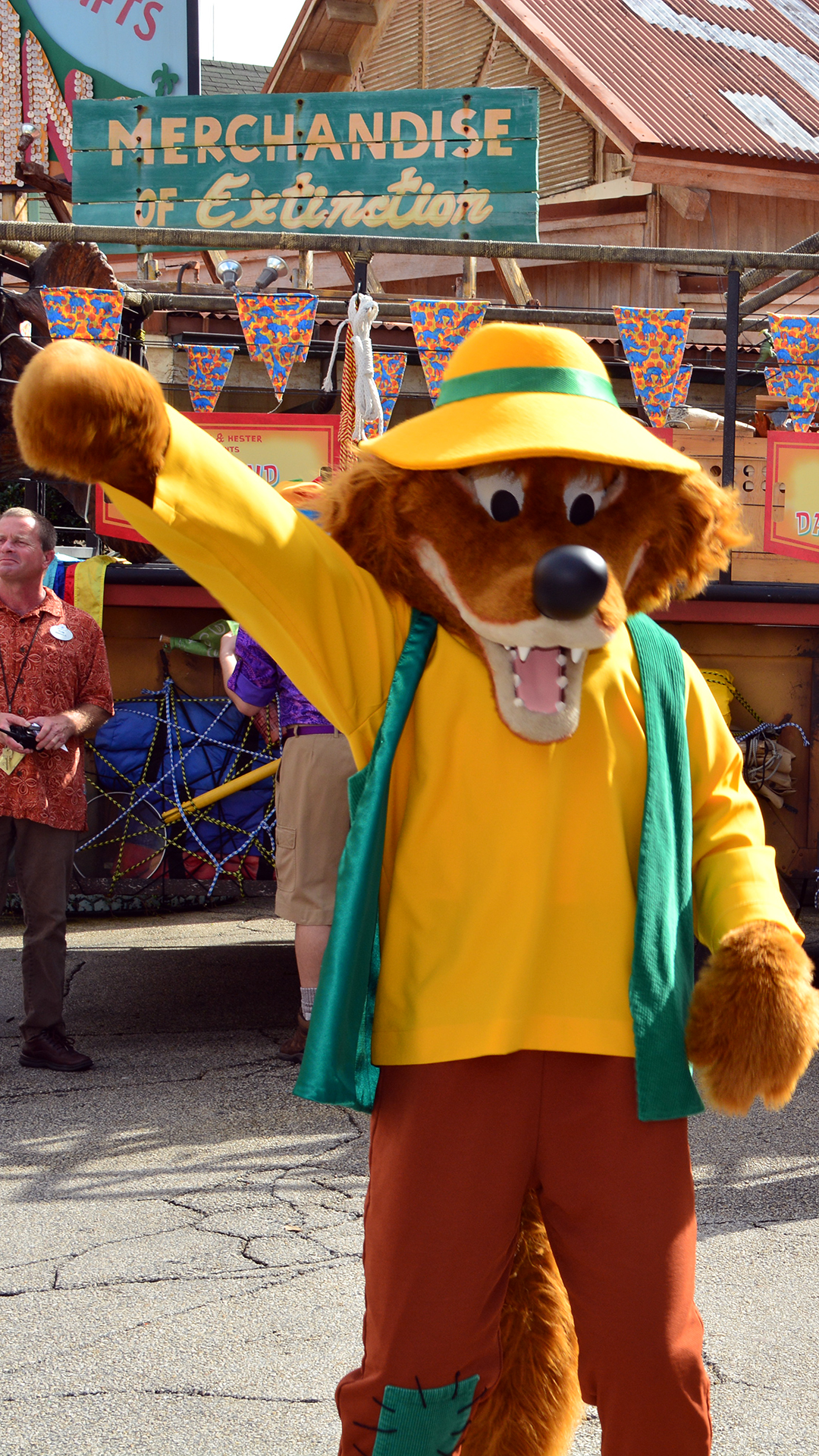 Slim is another uber-rare character in Walt Disney World these days.  I think he was the unofficial dance instructor because he stayed next to the DJ Truck the whole time.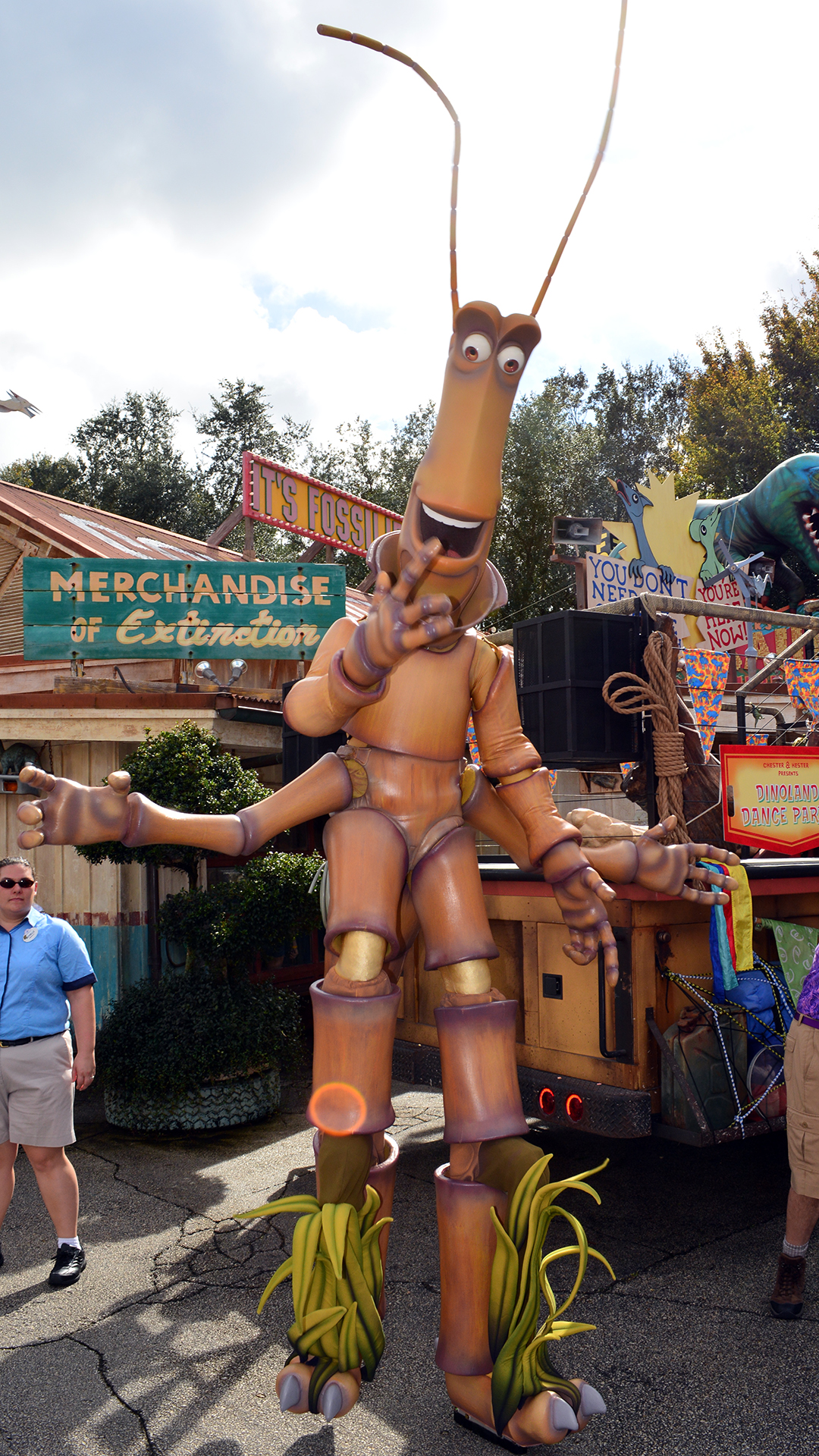 You get extra moves when you have 4 arms!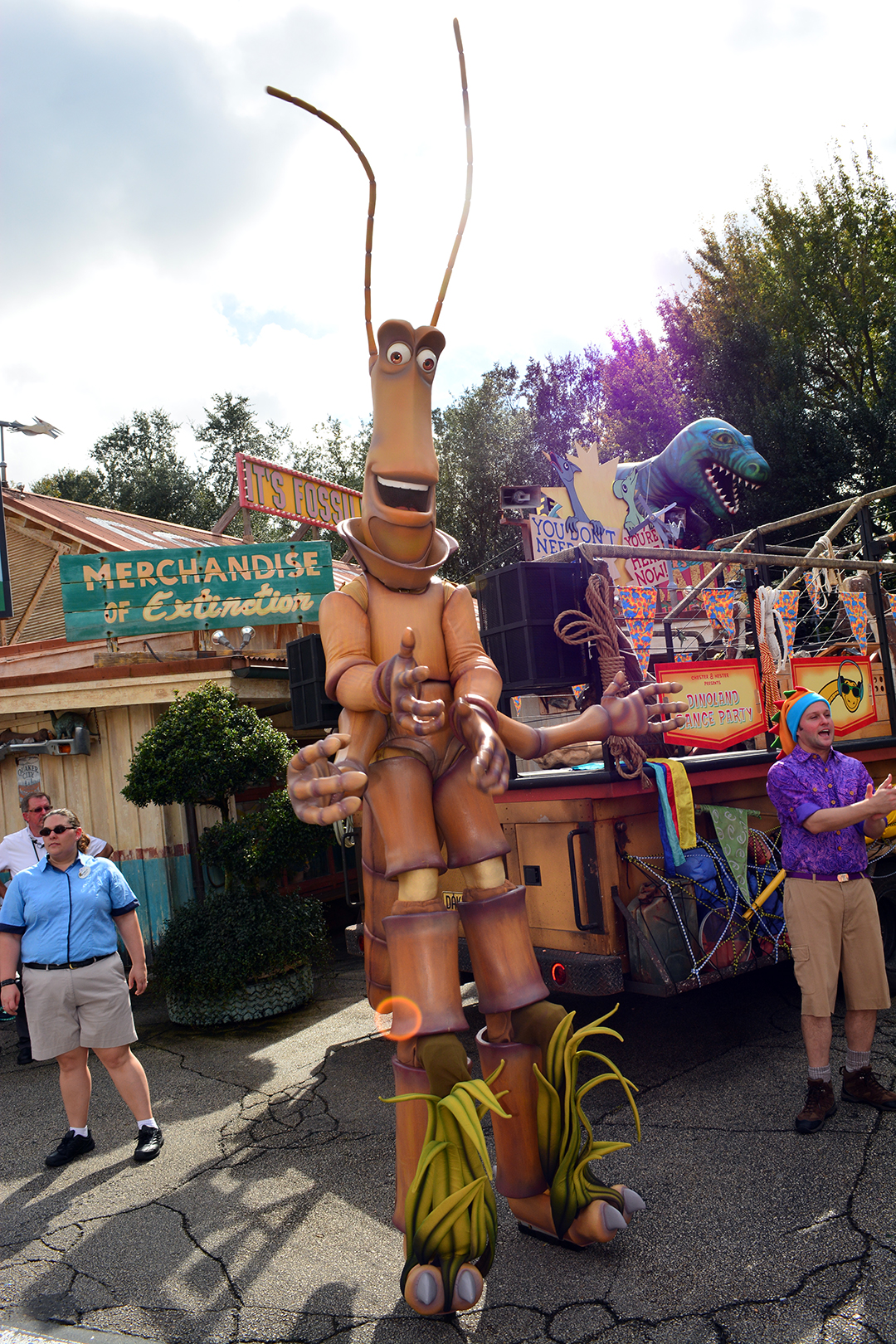 Terk is a huge fan of the YMCA song by the Village People.  Y. M. C. A….it's fun to stay at the YMCA…and shoot basketball and swim for a really high membership fee.  Y.M.C.A…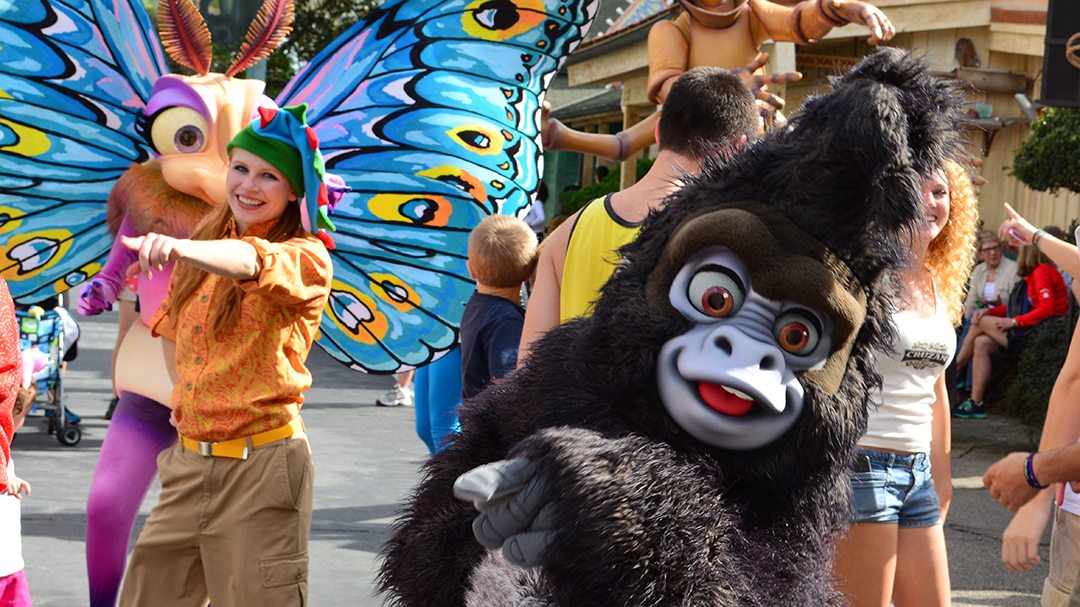 I asked Brer Fox exactly what does a Fox say?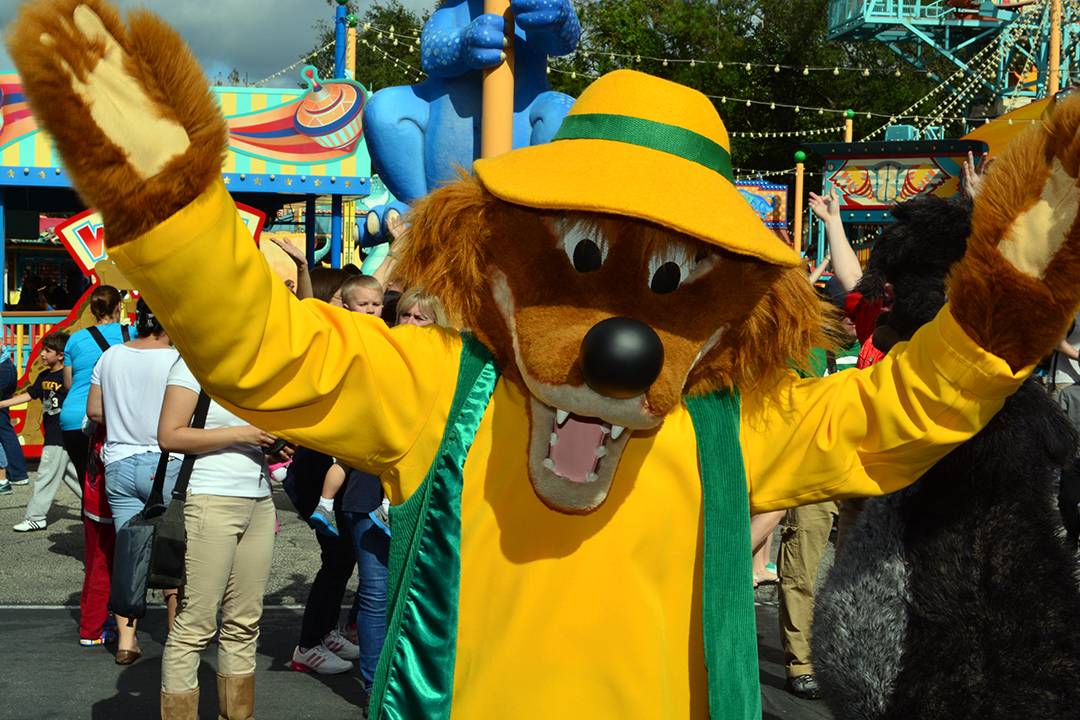 He had to ask around.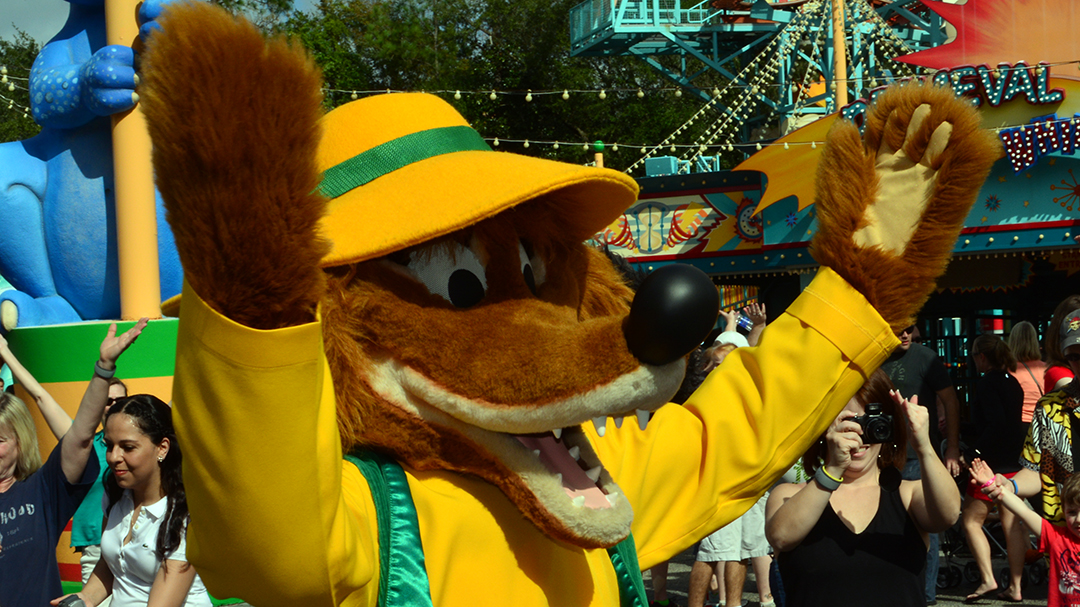 Slim didn't know what a Fox says either.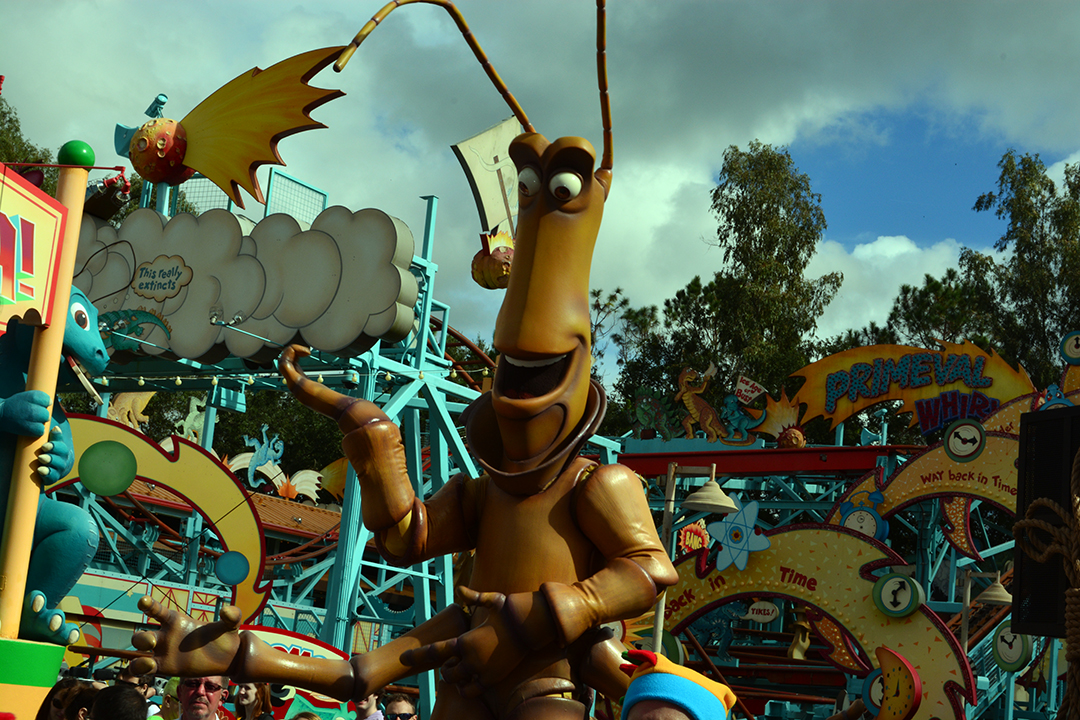 I think this Cast Member knew what the Fox says, but she wouldn't tell me.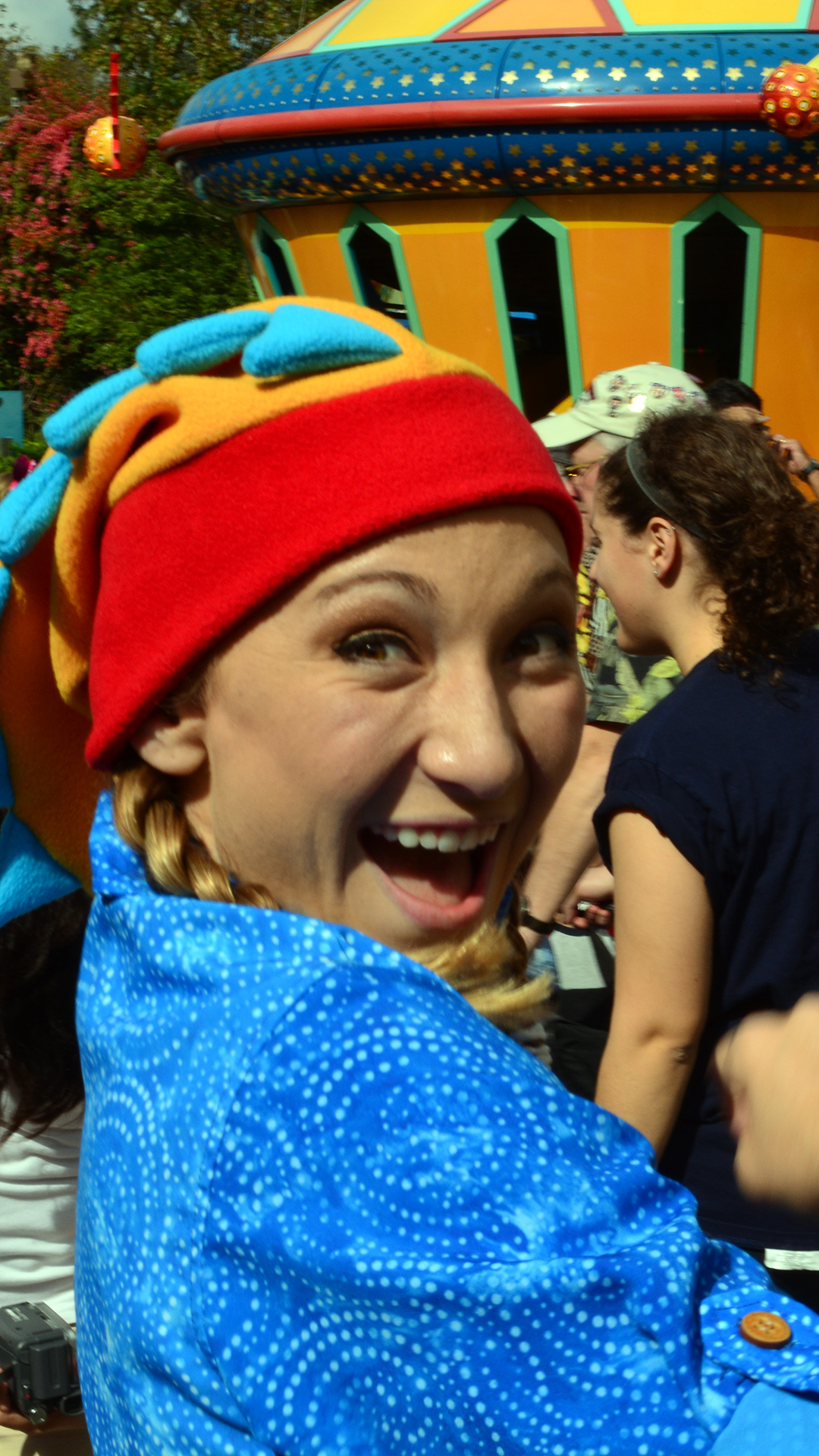 Oh, look a pretty butterfly!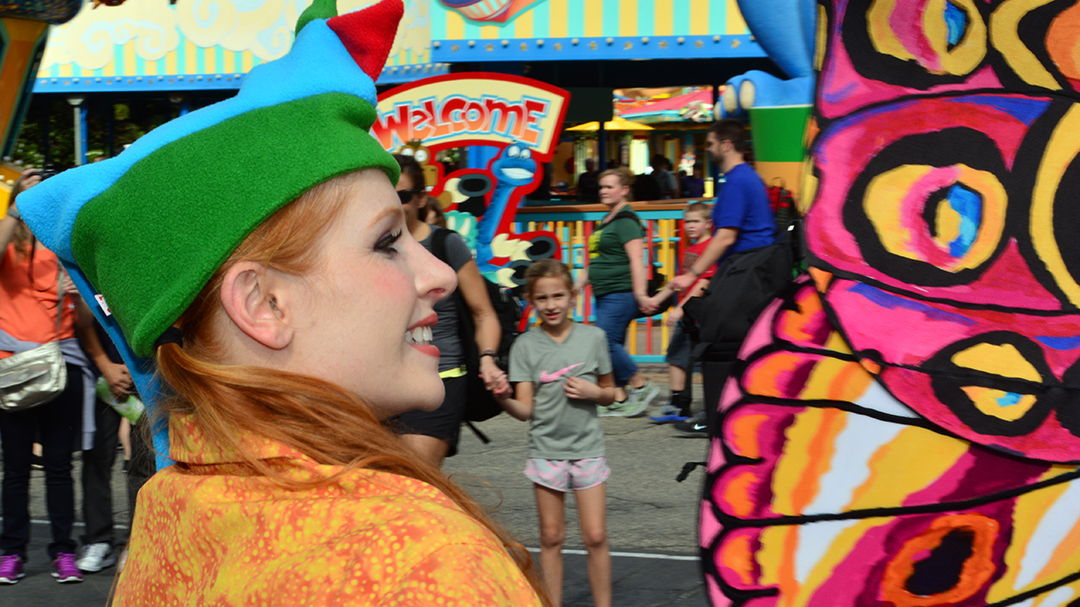 Ding, ding, ding… woof, woof, woof.  That's all I got from Brer Fox.  So frustrating trying to learn what a fox actually says in the middle of a dance party.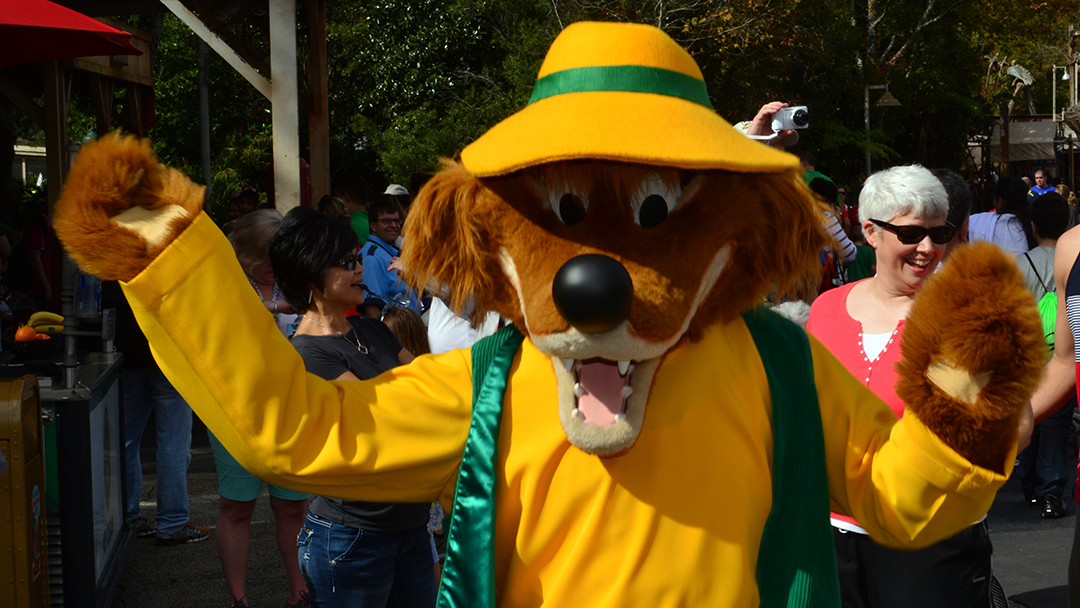 Smooth dance moves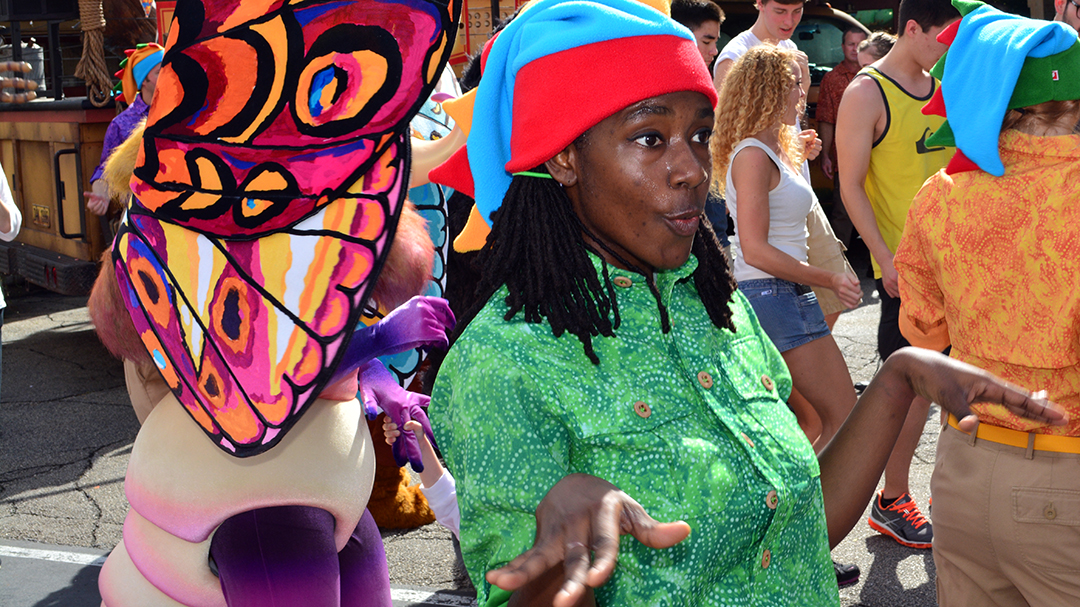 This photo shows where the dance party takes place.  You'll see a truck parked beside a gift shop in Dinoland just past the Goofy and Pluto meet and greet.  The characters dance around while guests stare for the  first 10 minutes or so or until a Disney College Program intern or nearby gift shop employee jumps in for the fun.  If there's no truck parked off to the right or no giant moth with pop music, it might not be happening.
With guests…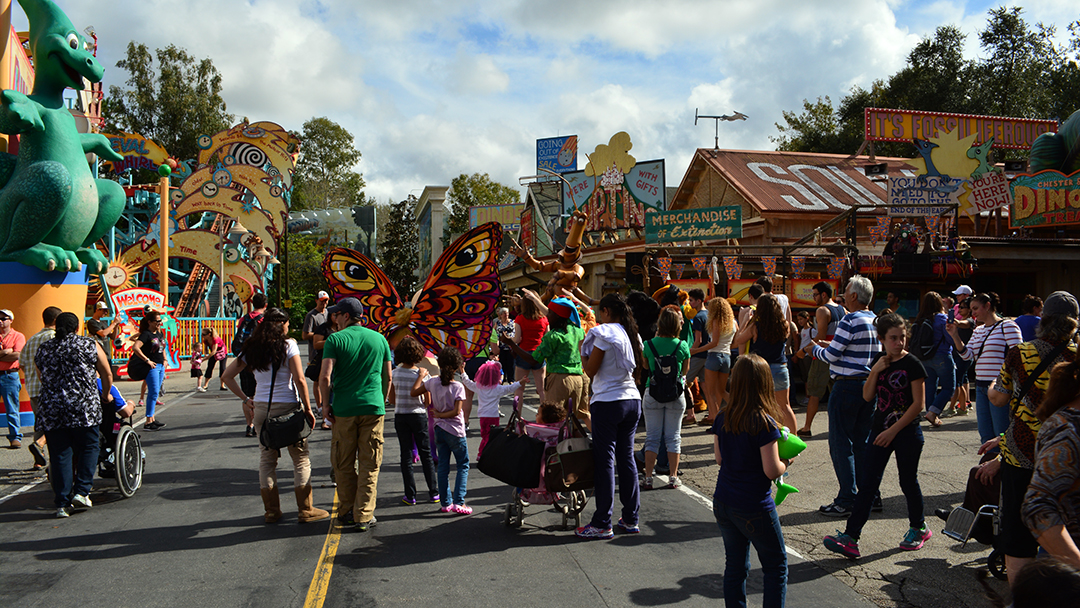 Without guests…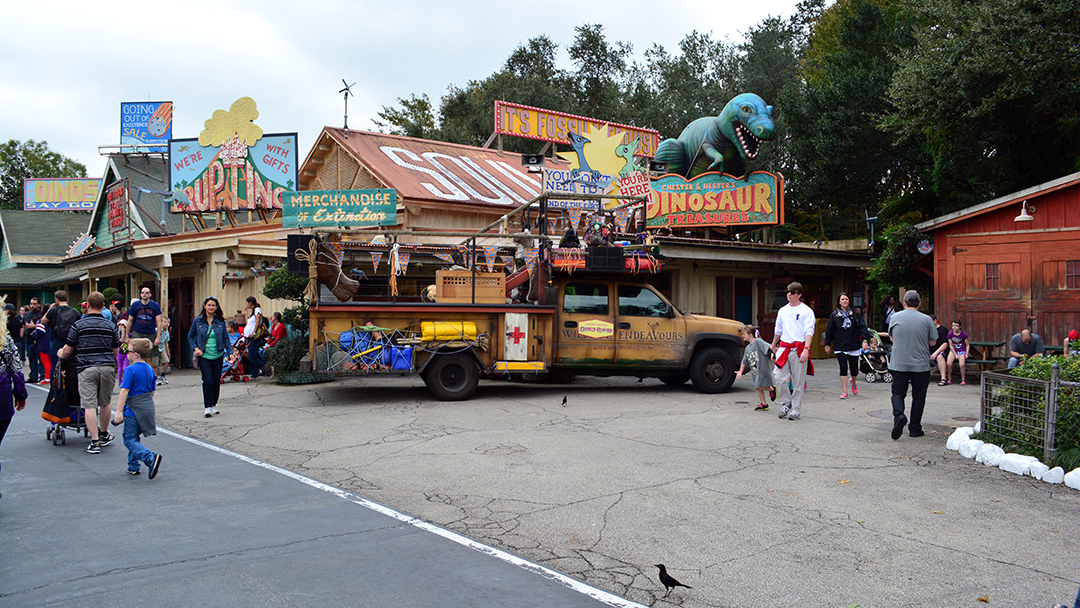 Dance party?  Who said this is a stinking dance party?  I'm posing my little beauties right in front of this butterfly thing for the memory of a lifetime!  Junior, look over here!  Sissy, stop playing with the butterfly thing's wings!  Butterfly lady, look at me!  Uggh….how's a visiting tourist supposed to get a good family shot with all this dancing and prancing to pop music?  At least he wasn't using an iThing for that special moment.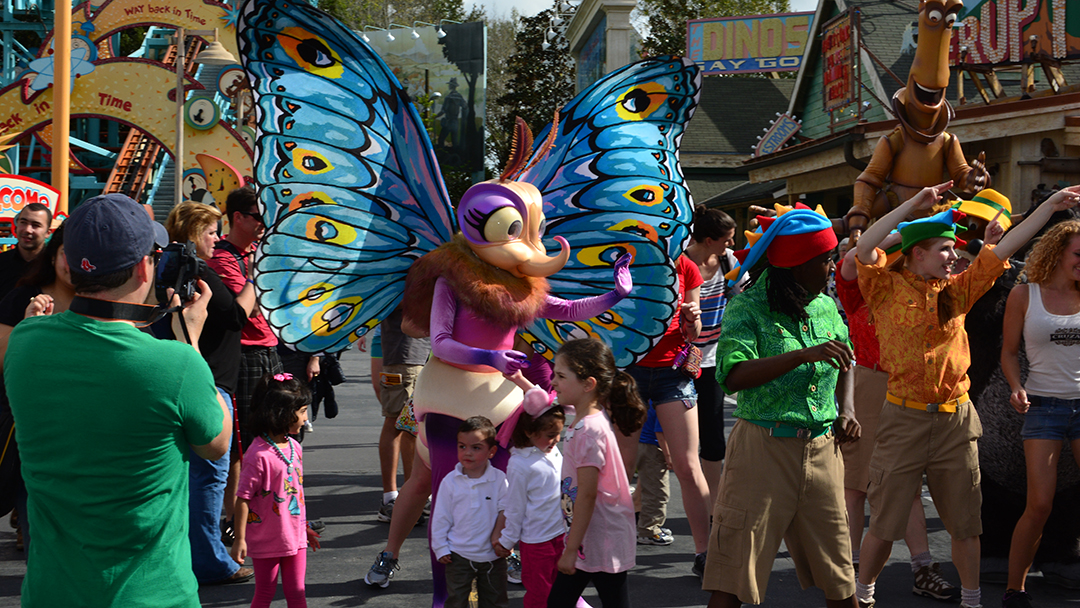 Deep thought from KennythePirate to management…why don't you just play the pop music that you love so dearly in Walt Disney World and let the characters mingle about and take photos with the kids?  Isn't that what all the tourists are trying to do anyway with all the pushing the kid in front of the characters?  It could be Dinoland's version of Character Palooza!  I get people asking me daily about Character Palooza, but no one asks me about dance parties.  As a matter of fact, it's the second most popular post on the blog behind the Interaction Tips.  I'll even go ahead and call it Dinopalooza!
I didn't stick any small children in front of a character with limited vision and large wings to secure this shot!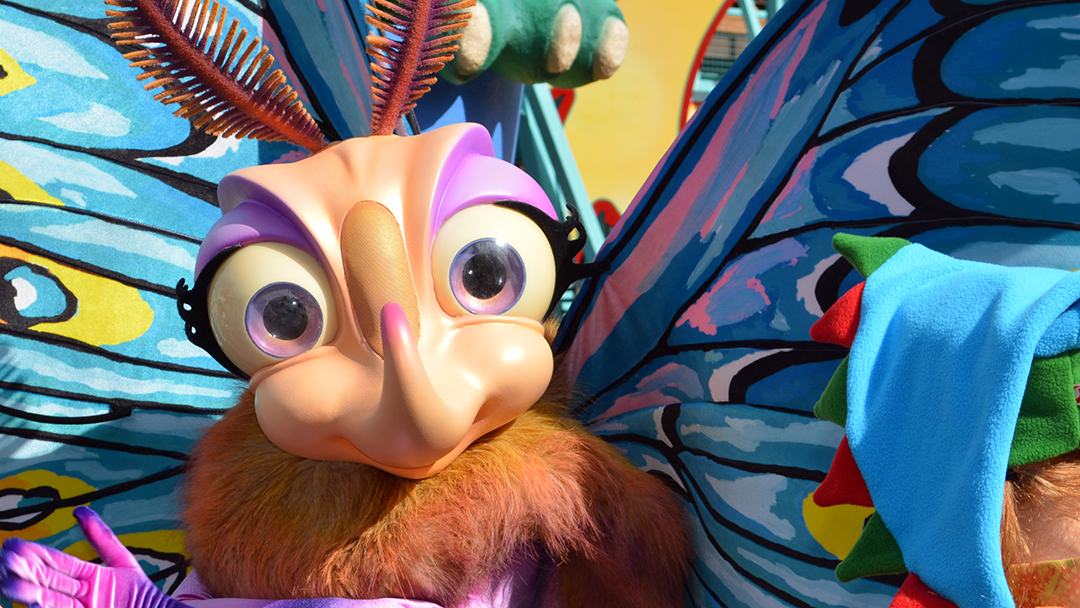 Slim is still clueless on the whole fox thing.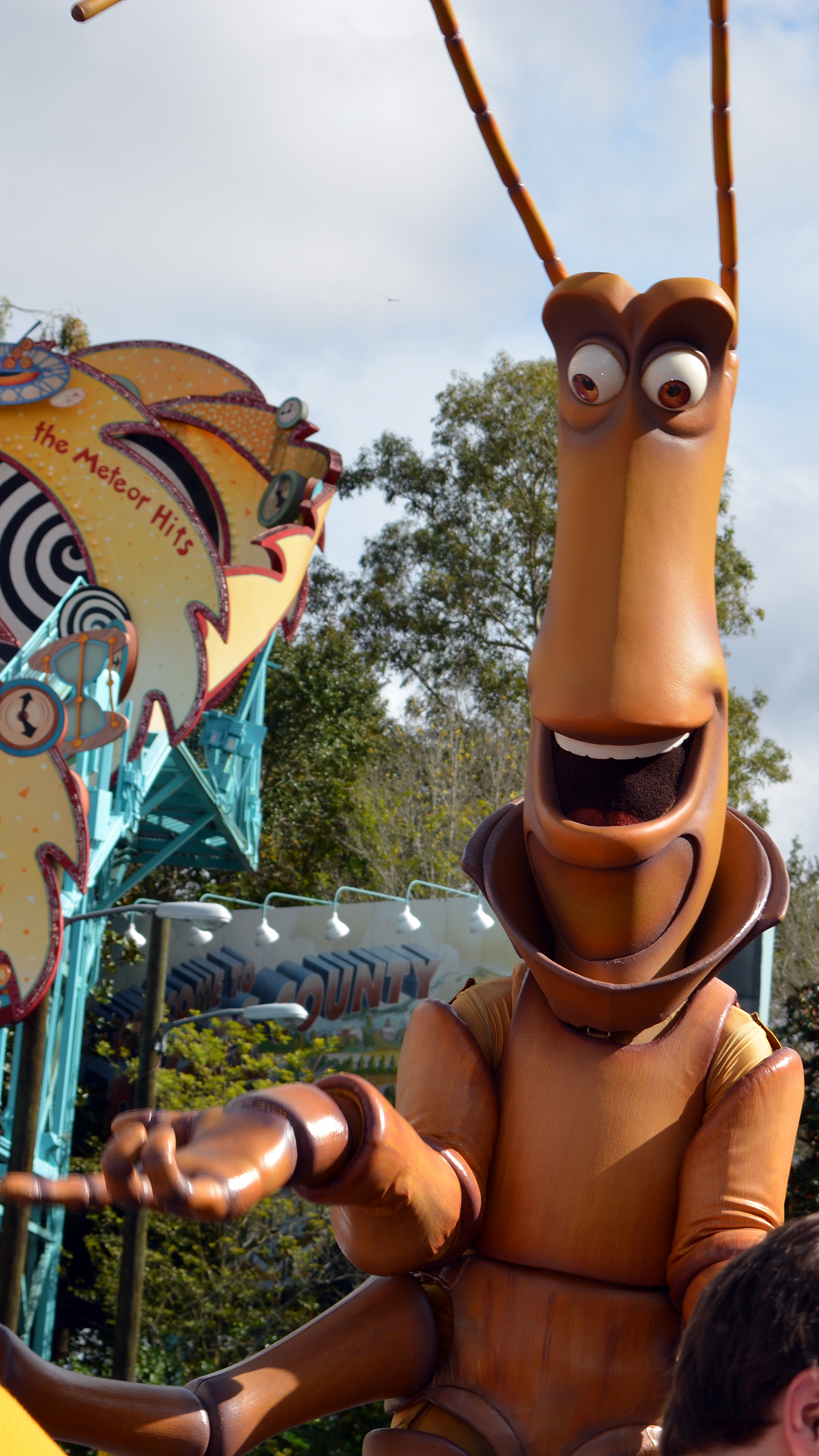 Really, what does a fox say?  Come on guys!  I only have 25 minutes on stage to find out.  Anyone?  What does a fox say?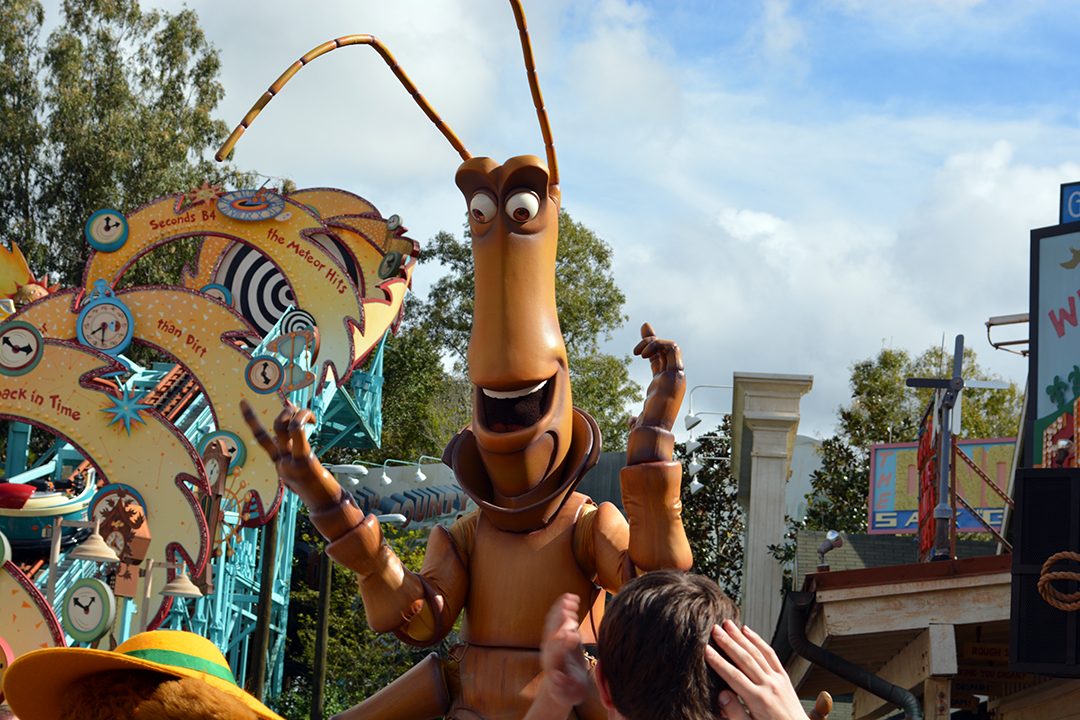 Here's a couple of high quality videos that I shot while I was there.
What are your thoughts?  Would you like to see this as a dance party or another Character Palooza?