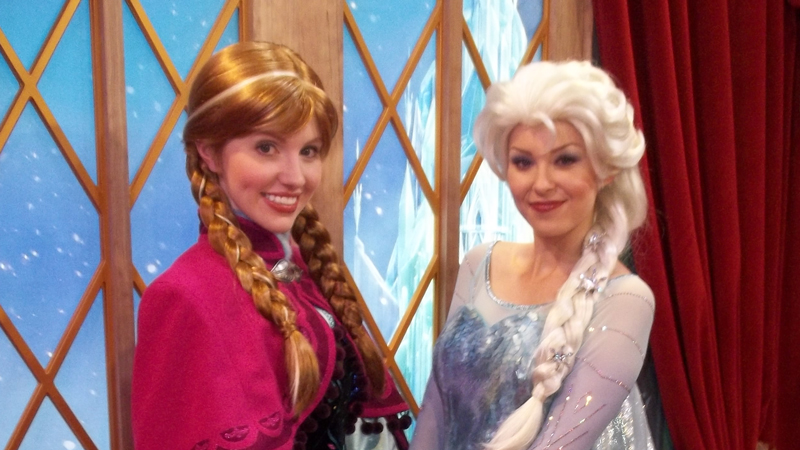 Anna and Elsa from Disney's Frozen have been among the most successful character launches in Disney history.  People began lining up early for them before the movie even released in theaters.  Little girls were already wearing their dresses and lines were between 1 and 2 hours.  Well, it's only become more popular since the movie released.  The wait times for these characters is regularly 2-3 hours or more.  Someone recently said 5 hours, but I wasn't there to confirm.  I can tell you that my kids and I once waited 3.5 hours to meet Rapunzel and Flynn Rider on the 24 hour day in order to complete an Ultimate Tour attempt.
I've recommended that people arrive at the pavilion by 10:00 a.m., but lately it's become a rope drop attraction despite the fact that they don't begin appearing until 11:00 a.m. on most days.  (It's my opinion that Disney should look at beginning at 9:00 a.m. everyday and, if needed, cut the line off earlier in the day.
Well, I've had a lot of people asking if they are going to continue the meet and greet beyond the previously announced date of January 4, 2014.  The answer is YES.  The ladies will continue in exactly the same location in Norway until at least the end of January.  Disney Synergy picked up the tab for the cost.  I've heard that another Disney property will then assume the cost of the meet in the future, so it doesn't count against the entertainment budget.  They are looking at constructing another area and possibly even moving to a full-day schedule to accommodate more fans and sell more merch :)   Rumors of the potential new location have been pointing toward the Magic Kingdom's vacant side of Town Square Theater that the Princesses used to fill.  If they were to stay in Norway, it would require refitting the theater with a meet and greet in the rear area.  The small room they currently use just isn't very viable for a meet and greet, especially a constant flow one.  Disney looked at the Stave Church, before deciding on the current location and didn't see that as a quality option.
Have you met Anna and Elsa?  How long would you wait?