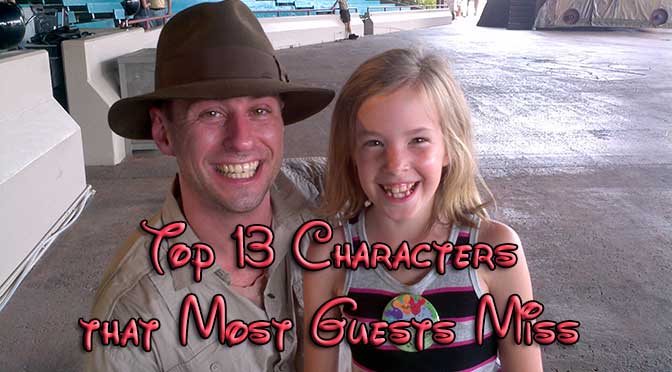 Millions of guests visit Walt Disney World yearly and often pass right by some really great characters.  This list should help you find some that others would miss.
13.  Main Street Citizens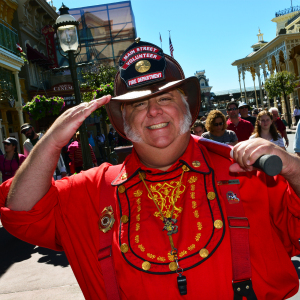 Most people visiting the Magic Kingdom are in a huge hurry to get to Peter Pan's Flight, Enchanted Tales with Belle, Space Mountain, get a Cinnamon Roll at Gaston's Tavern or meet Merida, that they don't even realize that the Main Street Citizens are a part of the experience that is the Magic Kingdom.  The citizens live in a specific point in time in which local politics that included the women's suffrage movement.  No one is a bigger advocate for women's rights than Hildegard Olivia Harding!  You can help put out a fire with Chief Smokey Miller, participate in an impromptu drama with Beatrice Starr, get some great shopping tips from Constance Purchase, help take a vocal lesson from Victoria Trumpetto and hear the Mayor Christopher George Weaver and Councilman Dewey Cheatem's speeches.  Scoop Sanderson even enjoys trading pins with guests.  Don't pass them by, they are a lot of fun.  I list the schedule for this event on the Magic Kingdom Entertainment Schedule which is updated every Saturday night.
12.  Move it, Dance it, Play it Street Party
Move it, Dance it, PLay it as it's affectionately known among cast members is a great way to dance and interact with some of your favorite Disney and Pixar characters .  There's no where else on Walt Disney World property that you can dance with that many different characters while learning to Shake Your Groove Thing and Shake Your Tail Feather.  I list the schedule for this event on the Magic Kingdom Entertainment Schedule which is updated every Saturday night.
11.  Streetmosphere
Like the Citizens of Main Street, most guests pass right by these talented performers on their way to the Tower of Terror, Toy Story Mania or Star Tours and don't get to experience the great comedy show and even better interaction times that one can find.  I located these guys in the Backlot area during Star Wars and we joked around for several minutes.  They typically appear in Hollywood Studios from 10:30am to 6:00pm with a big performance at the Sorcerer's Hat at 10:30am.
10.  Incredibles Super Dance Party
The Incredibles Super Dance Party is the only opportunity to see and dance with Mr and Mrs Incredible and Frozone.  They no longer offer meet and greets, so boogie down with these classic Pixar characters.
9.  Chip n Dale's Campfire Sing-a-long
Here's a quote from my experience at Chip n Dale's Campfire Sing-a-long, "We had met the Chipmunks and tried to turn the Chicken Dance into the chipmunk dance, to no avail I may add.  We then consumed our fat content and sat down to watch a movie."  The Campfire is held nightly (weather permitting) at Fort Wilderness and is FREE to anyone.  You can bring your own smores and hotdogs or buy them there.  It's a fun way to interact with (Dance) Chip n Dale set to more of a country/western feel.  Expect to do the Chicken Dance at least once!
8.  Lilo at Typhoon Lagoon
Many guests aren't aware that some characters offer meet and greets in the Water Parks.  You can meet Goofy at Blizzard Beach and Lilo and Stitch at Typhoon Lagoon.  The only other way to meet Lilo is to book the 'Ohana character breakfast.  Drop in and hang ten!
7.  Divine
Divine is a pleasant distraction in your busy Animal Kingdom tour.  She blends in so well with her environment, that she is really difficult to spot at times.  She can be seen either in the Oasis area near the entrance or near Bradley Falls on the trail from Africa to Asia.  Check the Animal Kingdom Entertainment Schedule to see when an where she's appearing during your vacation week.
6.  Epcot Visa Character Meet
In order to meet Mickey, Minnie, Goofy and/or Pluto at the Epcot Visa Character Meet, you must hold either a Disney Visa credit or debit card.  You'll receive one FREE photopass photo for each card you have in your possession.  The meet area is located inside Innoventions in a pretty non-descript area.  I recommend going later in the afternoon to avoid any wait.  The schedule and location for this meet can be found HERE.

5.  Royal Majesty Makers

The Royal Majesty Makers are a relatively new offering that appears in Fantasyland.  They are a roving comedy troupe that may remind some of the Citizens of Main Street and Streetmosphere, but has a classic royal appeal.  "Led by retired knight Sir Sterling and royal etiquette expert Lady Llewellyn, the Royal Majesty Makers also include squire extraordinaire Tobias and flirtatious lady-in-waiting Bridget. They may be found in the Castle Courtyard, conducting Knight School, delivering invitations to a royal ball, leading royal dances or even playing a game of "Sir Sterling Says."  I list the schedule for this event on the Magic Kingdom Entertainment Schedule which is updated every Saturday night.
4.  Disney Jr. Dance Party (Eliminated in 2016)
The Disney Jr. Dance Party is only available to those with Evening Extra Magic Hours privileges, so it's even more limited than many character experiences.   It takes place at Hollywood Studios in the Disney Jr show building during Evening EMH only.  You'll need to show your room key for entry.    I list the schedule for this event on the Hollywood Studios Entertainment Schedules weekly.   They use strobe lights and theatrical fog which can make for horrible photos from more than a couple feet away.
3.  Frontierland Hoedown
Very few guests know about the Frontierland Hoedown because it isn't listed in any official Disney publication or application.  It provides you with an opportunity to interact with and often meet with some otherwise rare Disney characters like Brer Bear and Brer Rabbit, Clarabelle Cow and Horace Horsecollar and Big Al and Shaker.  It's a short song and dance time followed by a brief meet and greet period.  Staying for meet and greets may vary by season and by character.  I list the schedule for this event on the Magic Kingdom Entertainment Schedule which is updated every Saturday night.
2.  Character Palooza
Character Palooza or "Pop up surprise" as some refer to it is a far better Disney secret than the Disney Vacation Club!  Most guests have no clue it exists, where it is or when it is offered.  I created a committed page to the schedule that will help you know when to visit Character Palooza.  Some of the rare characters that appear include Captain Hook, Mr. Smee, The Queen from Snow White, Queen of Hearts, Geppetto and Pinocchio.  Be sure to schedule this into your next visit!  Disney World has chosen to make this even harder to experience, but there's some details  HERE.
1.  Indiana Jones / Marion Ravenwood
VERY FEW guests realize that Indiana Jones often meets guests for a few moments following many Indiana Jones Epic Stunt Spectacular performances.  I've met Indy a number of times and met Marion Ravenwood only once.  Stay around after the show and head down to the lower right hand (looking at the stage) area of the stage.  Wait until all the other guests have left to eat waffle cones and use their Star Tours Fastpasses and you might get to meet the great archaeologist.  I list the schedule for this event on the Hollywood Studios Entertainment Schedules weekly.
How many of these experiences have you seen or missed?