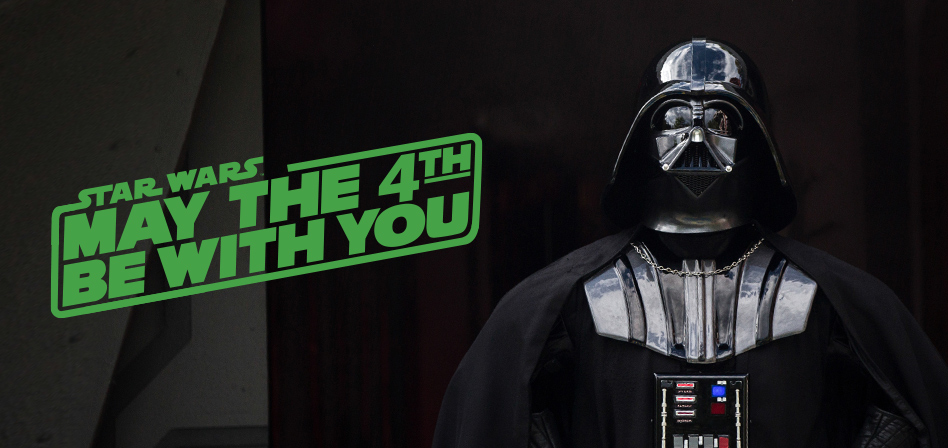 May 4, 2013 
A short time from now, in a galaxy not so far away… Walt Disney World Resort is throwing a party for the greatest saga ever told!
In honor of Star Wars day, Disney's Hollywood Studios will be hosting "May the 4th Be with You!"—a one-of-a-kind Star Wars-themed celebration for both parents and kids alike.
From meeting classic characters to collecting limited-edition merchandise, it's sure to be an unforgettable extravaganza! Only a Sith would miss this magic event.
Entertainment and character experiences are subject to change.
Meet Iconic Characters
Kick the party off in style—experience a close encounter with some of the most popular characters from across the entire Star Wars saga.
Darth Vader, Chewbacca, Boba Fett and many more will be making appearances and posing for pictures, including a few faces you might not expect. Don't let this amazing meet 'n' greet moment pass you by!
Characters will appear from 9:00am to 7:30pm
Join Your Kids as a Jedi
Finally, all you parents can team up alongside your younglings and become fellow Padawans in a special edition of the Jedi Training Academy.
Get ready to throw on a Jedi robe and flip the switch on that lightsaber, because it's up to you and your kids to thwart the Sith and defeat Darth Vader, Darth Maul and the Dark Side of the Force once and for all!
NOTE:  ARRIVE AT THE PARK AT LEAST 45 MINUTES EARLY AND GO STRAIGHT THERE IF YOU WISH TO PARTICIPATE WITH YOUR CHILD!!!
Here's the schedule for this event:
Shows will take place every 30 minutes beginning at 9:00 and the final show is 7:30
Collect Cosmic Merchandise
A cargo hold of magic merchandise awaits collectors of all kinds, including limited-edition pins and special tees made just for the occasion!
With messages like "May the Fourth Be with You" and "Revenge of the Fifth", you can literally wear the hyperspace hilarity on your sleeve. Collect these celebratory pins and tees at Superstar Shop in Disney's Hollywood Studios while supplies last.
Dance the Dark Side Away
Get into the galactic groove, bounce to the Bespin beat and boogie your way over to a Star Wars-themed Dance Party!
Join DJ Lobot as he spins familiar tunes from the Star Wars saga, and then bust a move on the dance floor alongside some fellow fans and a few favorite characters too!
6:00pm to 7:00pm and then 7:45pm to 12:00am.
It is unknown if the characters will actually dance WITH you or merely appear on stage to dance with the DJ
See a Symphony in the Stars
Cap off "May the 4th Be with You" under a sea of stars as a cosmic series of colorful explosions lights up the summer sky.
Come evening time, take a seat on Hollywood Boulevard and settle in for "Symphony in the Stars," a spectacular fireworks display set to close the celebration. Catch all the amazing sights and sounds, the likes of which haven't been seen since the fall of the Empire!
Symphony in the Stars will take place at 9:45pm
Some of the schedule information was gathered from StudiosCentral.com