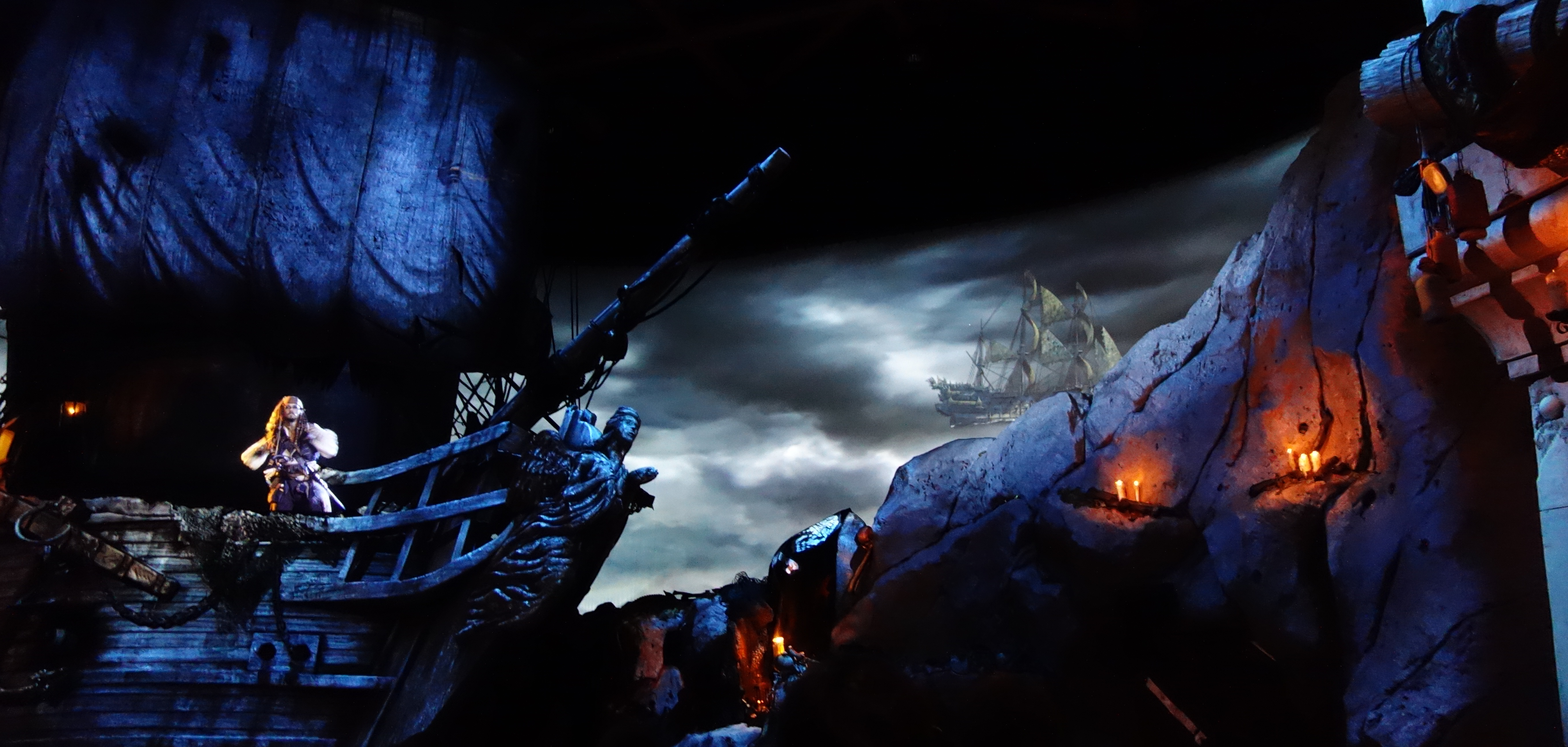 On our recent trip to Walt Disney World we decided it wouldn't be very piratey of us not to check out the all-new Legend of Captain Jack Sparrow experience.  Honesty, I didn't expect much because it was replacing the Chronicles of Narnia attraction that was nothing more than a giant rock and some movie clips.  We only watched that Narnia show a couple of times on Ultimate Tours when it was required.  I just didn't see the need to watch clips from the movie that I didn't find all that good.  So, we entered the Captain Jack experience thinking that we would be underwhelmed by re-used clips of movies that I actually like.

The wait was only about 17 minutes, because we were in line for the second group to enter.  We entered the first room and found it VERY bare.  The focal point of the room is the talking skull, which is a great nod to the old talking skeleton from the Pirates of the Caribbean attraction.  We were still wondering if this attraction would be as boring as Narnia.
(Click on images for larger view)
The pre-show involving the talking skeleton is quite brief.  It only took about 2 minutes for his short spiel.  After the spiel, the large wooden doors open to the big room that used to display that astounding rock.  Well, what you find beyond the doors is FAR better than the rock.  It's a fully-detailed pirate experience with a ship, treasure and that talking skull follows us into the room.
The skull warns us that dangerous things may come our way and then the skeletons appear.  The skeleton pirates are one of my favorite parts of the original film.  I loved how the moonlight exposed their curse.
The skull informs us that the only way to stop a skeleton crew is to possess a skeleton key, so I began searching for said key.
I couldn't find the skeleton key but a small child did.  I didn't even notice he had found it.  I just saw a kid in a little roped off area.  You'll see the key presentation on the far back left of the room, if you are looking for that part.  We're told to say, "Send those bones to Davy Jones."  Of course, we're theme park guests, so about 17% of those in the room actually said it, but it was enough to send the bones packing.
The skull tells us we are pretty good for landlubbers but feels the need to throw another challenge our way.  Doesn't this skull know we're novice pirates and less that 1/5 of us are even participating?  He then throws the Flying Dutchman and Davy Jones our way.   I'm just hoping the crew doesn't break out in a rendition of "Daydream believer."
The skull lied to us!  He said we were going to hear the greatest 2 hits of the Monkees, but now he's calling a giant squid to come and eat us?  What did we do to this man with no flesh wearing a bandana?  Davy Jones doesn't really sound like a Monkee or the guy from the Pirates movies, but I guess it costs too much to get Johnny Depp and squid man.
Skull man tell us to roar back at the squid.  Only about 4 people chose to roar.  Yes, I was one, but my daughter gave more of a meow.  Evidently the feeble roars of a select handful of vacationers was significant enough to cause the squid that is larger than our room to leave.  (Roar! Roar!  Cat licks paw and rubs above ear.)  We've tackled two of this facial pirate's challenges, so he sees the need to throw a third our way.  He calls Ariel to come tempt us.
Sing!  Sing! Ah, ah, ah..ah, ah, ah!  Plug your ears or you'll fall prey to the dinglehopper.  Her singing creates a flood and mermaids come swimming along.  The skull gives us the advice, "Don't listen to her!"  I'm not sure that plays as well in real relationships though.
The "strange, inexplicably talking skull in the sky"  informs us that the only way to get rid of her is to stomp.  Wait, who said we wanted her to leave.  She actually sings better than the American Idol trials.  The disembodied cranium then tells us we did a good job and tells us we might make good pirates after all.
The Flying Dutchman then returns and he calls for "All hands on deck."  We'll definitely need to increase the audience participation level!  We are encouraged to raise our "ruddy fist in the air and say ARRRR!" People like to sound piratey, so more people help out.  Finally, we get to see the star of the show at about 7:00 minutes into the 13 minute presentation.
Jack gives us a few good jokes about Squid Man, Captain Calimari and "Fire at will"
We win!  Jack commends the talking skull for training us well in only about 5 minutes time.  He tells us, "Come back in 8 minutes and we'll do it all over again, ay?"  We're then given the pirate's oath.  Raise your right hands…all who want to be a pirate say 'aye'!"  We sing a quick version of "Yo ho!" and we sail away.
So, despite my best attempts to put Joey Gladstone out of business, I really enjoyed this show.  It's well themed, makes for some great low-light, non-flash photos, has some action and lots of humor.  I think it fits the intention of an 8 minute exposure to Disney pirating and the kids leaving really enjoyed themselves.  I will actually return to see this again, but where did that rock go?
Are you planning a vacation? Reach out to our trusted travel agency sponsor Authorized Disney Vacation Planner
Mouse Class Travel
!