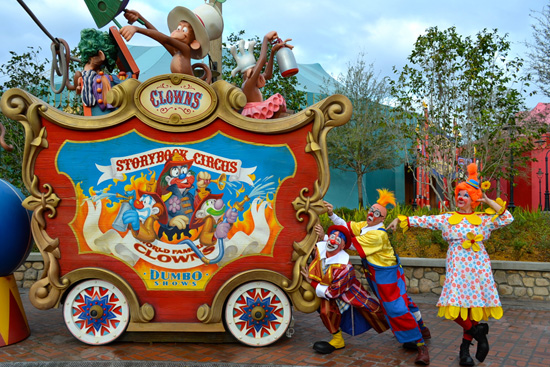 Update 12/4 – The Giggle Gang made their debut today.  You'll find them on the left hand side of the entry as you enter Storybook Circus.  Reports are that guests have really enjoyed their shows.   Times are publicly released at this time, but I'll find them for you soon ;)
The Storybook Circus Giggle Gang are set to make their debut in Storybook Circus this week at the Magic Kingdom with the Grand Opening of New Fantasyland.  Walt Disney would be proud!  He loved circuses and clowns.  He even tried a couple of times to successfully incorporate a circus into Disneyland.  The new Giggle Gang are intended to be a whacky troupe for the purposes of laughter.
The leader of the Giggle Gang is Chuckles Buffoon McMonkeyshine III who will, "keep his audience enthralled with amazing feats of thrills, chills and hilarity."  His sidekicks are Whinny Horselaugh and Snort.  The clowns will be accompanied by the Silly Saxtet which is a new Saxophone group that really is the Fantasyland Saxophone players in a new costumes and location.
Several members of the Giggle Gang were actually trained by the reknowned Ringling Bros. and Barnum & Bailey Clown College.