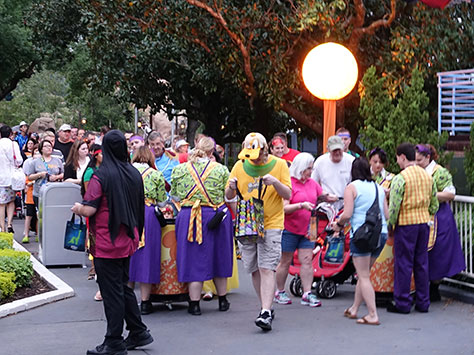 Mickey's Not So Scary Halloween Party Guide links:
Mickey's Not So Scary Halloween Party Candy Trails
Updated 8/24/2017
I recommend waiting until late in the night to gather candy for a few reasons:
 Who wants to carry 5-10 pounds of chocolate around while walking 3 miles?  Not me.
 Cast Members are often more generous later in the party.  I filled my bag last year in ONE stop at 11:00pm.  Of course, I had a backpack so I refilled it later.
 Don't waste your good character meet times standing in line for candy.  Early in the party the lines may take up to 5 minutes to go through.  Late in the party, you'll walk right in.
If you are traveling by air to Orlando, bring an extra suitcase just for your candy bounty.  The lower storage area of a stroller makes an excellent candy stash area or bring along a backpack.  Most of the parties are quite hot, so the chocolate items may melt, causing little Junior to be coated in milk chocolatey goodness.
The trail at Splash Mountain is a great places to get lots of candy.  I don't visit the "trail" at the Liberty Square Riverboat because it only has one distribution can for such a long walk.  Pinocchio's Village Haus gives out chewy Werthers, yummy!
Allergy issues?
See a Cast Member or visit one of the Allergy Friendly locations to receive a TEAL treat bag.  When you use this bag to trick or treat, you'll be given TEAL TOKENS which you can redeem at any of the Allergy Friendly centers for special treats.
Trick or Treat Locations
Adventureland
Enchanted Tiki Room
Jungle Cruise
Pirates of the Caribbean
Fantasyland
Pete's Silly Sideshow
Mickey's Philharmagic
Pinocchio Village Haus
Frontierland
Splash Mountain
Tom Sawyer Island Landing
Liberty Square
Heritage House (Allergy Friendly)
Liberty Square Riverboat
Main Street U.S.A.
Town Square Theater (Allergy Friendly)
Tomorrowland
Carousel of Progress
Space Mountain