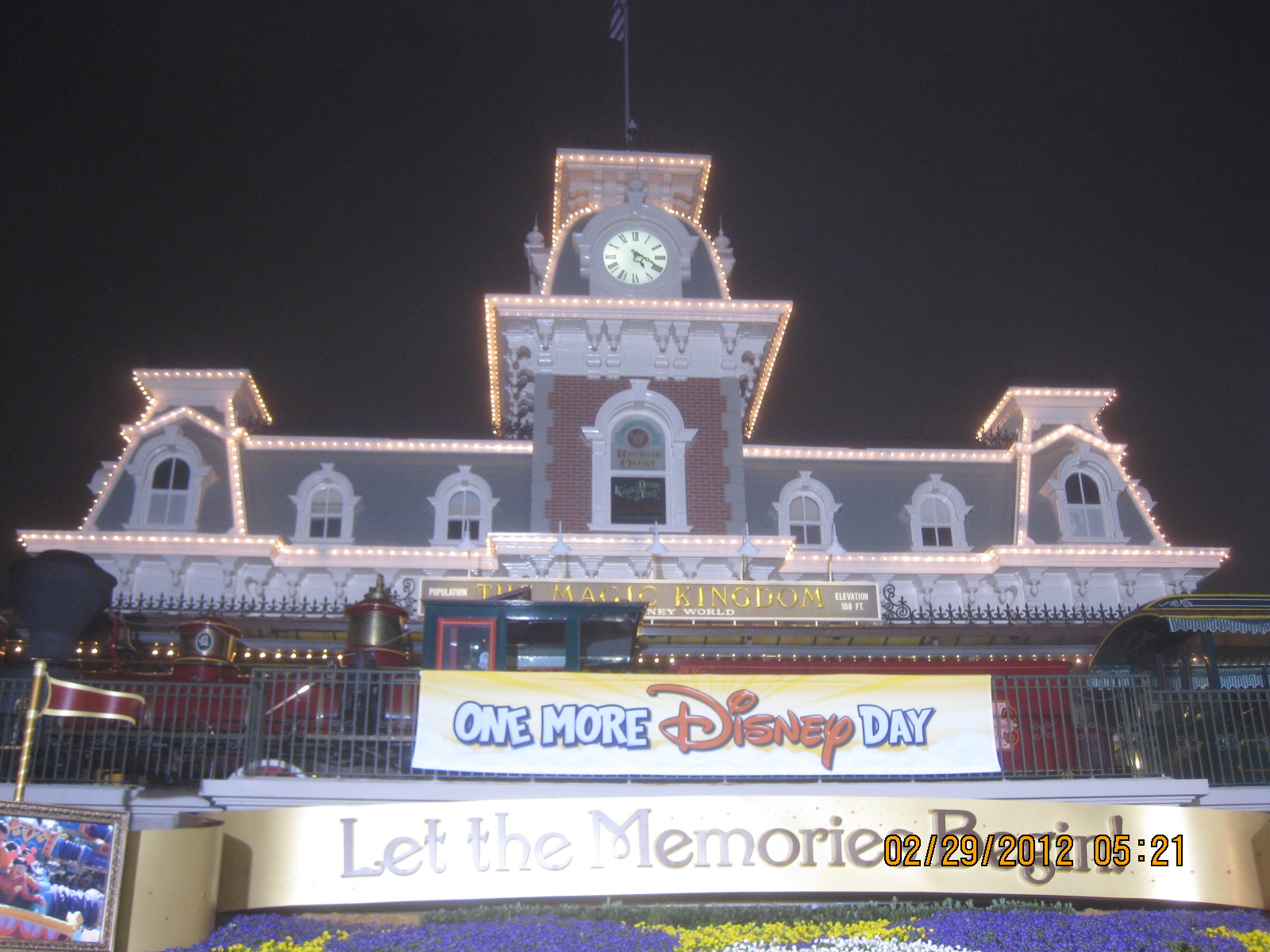 My kids, DS 13 & DD 14, and I decided to take on the Ultimate Ultimate Challenge. Our goal for the day was simple: Experience every operating ride, show, parade, fireworks and character meet possible according to www.touringplans.com/ultimate rules. It appeared that there would be at least 88 attractions available that day. Our former personal best was 75. Here's a couple of key things we had to do:What is it like to spend more than 24 hours at the Magic Kingdom in one operational day? Exhausting. Fun. Exhausting. Challenging. Exhausting. Thrilling.
1. Document all data including time in queue, on ride, out of queue, fastpass distribution and wait time. We did this using an app that my brother created for the express purpose of tracking this data.
2. Take a photo with our entire group experiencing each attraction and character greet. If you can't get everyone in one photo, it's okay to take more than one. I've added those photos below. We actually took more than 250 to document our day, but don't want to bore you with them all.
OUR DAY
We awoke at 4 am to get ready to drive to the Ticket and Transportation Center. We had reserved our free mouse ear hats and wanted to be there before 5:15 am to pick them up. We had our reservation scanned and they placed an orange armband on each of us. We boarded the monorail and made it to the Magic Kingdom to find that there were already a few thousand people there before 5:00 am. Fortunately, the line for those with reserved ears was empty. The place already had an air of excitement. There were bright lights, tv cameras, Mickey in his PJs and Citizens of Main Street mingling in the crowd.
We chose a spot that we could fully view the Magic Kingdom Welcome show. Shortly after settling in, David, the Ultimate tour guru for touringplans, stopped by to say hello and wish us well. He asked our plans for the day. I told him it's a new beast, so we'll look for Main Street Vehicles, meet characters and ride the slow loaders first, then take the day as it came. Our hope was to do a lot of the Sorcerers of the Magic Kingdom early in the day, but the lines were 8 to 12 deep most of the day, meaning we would have to invest 16-24 minutes in line per window at that rate. We completed Cruella while doing some other Main St. stuff and decided to wait until after midnight for others.
We ran in to meet the Princesses first, so we wouldn't have to use a Fastpass that was tied to the system. We picked up FP for Mickey for later and ran up Main St. to meet the firetruck on its return from the Castle to Main Street. We met Pluto, Daisy and Mary Poppins before boarding the Double Decker bus. It's the first time I have ever ridden that vehicle. My kids and I were excited. We met a few other Ultimate Tourists on those two vehicles. One seemed to just be doing it for fun as I didn't see her taking the necessary photos.
We ran to meet Aladdin and Donald before meeting Tiana.  Tiana was excited that we were all dressed as frogs. She said we must have done that just for her and gave my DS a huge hug. She told us to come back and see Naveen later, that he would love our Team Kermit shirts. We figured it was a good time to knock out those slow loading attractions and hustled to Astro Orbiter. We saw Chip n Dale out while riding and met them and then Stitch. The Tomorrowland Speedway was next followed by Mad Tea Party and Many Adventures of Winnie the Pooh. I figured we'd get Pooh out of the way because even with FP we might wait 15-20 minutes later.
We rode Snow White's Scary Adventures and It's a Small World before riding the Haunted Mansion. We love reciting the spiel in the stretching room while guests wonder if we live there. The Frontierland Shooting Gallery would be attraction number 20 and it was only 9:00 am. We were well on our way to our goal! We took our picture with the Castle Mural and rode Prince Charming Carousel. I guess they changed the name to that in order to attract more boys? We then met the Tremaine family, who are usually fond of my DS, but they don't care for frogs as they are afraid of warts!
We figured that the Swiss Family Treehouse wouldn't be popular that early and we were correct, so we journeyed through the tree snapping our photo at its tallest point. We took a Magic Carpet ride around Agrabah before driving Shrunken Neds Jr Jungle Boats. We were then stopped by some official looking people with name badges. They were a part of the WDW Social Media Team and wanted a photo for Facebook. We had to fill out 3 forms and pose for a photo as quickly as possible. We sauntered over to Tomorrowland to get Push's autograph and met another Ultimate Tourist. His Pluto was on top of the trash can in one shot. Push was careful not to sign with fingers in the way.
We were on our way to Main Street to meet Winnie the Pooh, experience the Main St. Trolley Party and meet Pinocchio. We were going to catch the Glassblower, but he was just setting up his tools at 10:40 and we didn't think it was right to count that as he wasn't actually blowing glass yet. We watched the Main St. Saxophone Four perform with the Citizens of Main St. and waited until they were finished to get Mayor Weaver's autograph and photo. He is such a kind man. I'll definitely vote for him in the coming elections! We watched the Dapper Dans sing before jaunting to Fantasyland. (Are you seeing the number of miles adding up here?)
We met Alice and the White Rabbit who encouraged us to leap together and it made a great photo. We realized at 11:30 that the lines for characters were unusually long because a lot of people were not only Ultimate touring, but doing their own version of "Meet every character." It was then back to Town Square to catch the final Trolley ride of the day. It was noon and we had completed 37 attractions in 6 hours! We then completed our Cruella De Vil Sorcerers of the Magic Kingdom mission that we worked on in between other things on Main St. Off we go to Fantasyland to catch the Fantasyland Woodwind Society. One guy forgot who they were and called themselves the Fantasyland Saxophone Four :) It was off to Liberty Square to hear the Main St. Philharmonic. It's kind of strange seeing a marching band in Liberty Square, but it counts for a bonus point!
We met Peter Pan in Adventureland before greeting Snow White in Town Square and meeting the Big Cheese. I asked Minnie why there was no ring and Mickey quickly shushed me saying it was too expensive. Evidently he is investing heavily in his Magic Kingdom these days. All morning we had been checking to see if the Fairy Godmother might meet in a different location than the Tremaines to no avail. Oh well, we're here already so let's meet her. She doesn't count in the official total, but still counts to us.  It's 1:30 and we've accomplished 43 official attractions in 7.5 hours (plus FG).
Knowing that the Liberty Square Riverboat departs every 30 minutes worked to our benefit, as we made our way quickly to the loading dock and made it aboard for a little quiet rest time. We make it a tradition to take our photo of the Native American scene for my family heritage is partially  Cherokee. It was then time for Tom Sawyer Island that it's 3 requirements of shoot a gun, enter a cave and cross a barrel bridge. We took it at a slower pace as it was really hot and we stopped to refill our Brita bottle. We used to carry a crazy amount of water in our backpack, but chose to fill it with dried fruit, nuts and meat instead which really helped. We had some little lemonade and power drink packets that we added to the water. Choo Choo! Let's take a grand circle tour of the Magic Kingdom beginning and ending in Frontierland.
In order to make it to meet Buzz Lightyear before
3pm, we had to run ALL THE WAY across the park. It's over a half mile from Splash to Buzz and it was hot outside. Why do I keep doing these things I asked myself while jogging.  (Please note that we did not bump into or detour any guests throughout the 24 hours.) We had MANY people cheering for Team Kermit. We made it and there were only a couple of families in front of us.   Later, when our Team Kermit photo was posted on the WDW Facebook  a Cast Member would recognize us from that meet and greet.
We walked against the Celebrate Parade then crossed the street to head to Captain Jack's Pirate Tutorial.  Jack was his usual witty self and the guests really enjoyed the small scale show.  We arrived 9 minutes prior to Woody and Jesse's next set only to find a pretty long line.   We ended up spending 30 minutes on this one meet.  Next we had to wait until a Banjo Brother could repair his string before beginning their set.  They brought DD 14 on stage with them in front of Country Bears to twirl a rope and crack jokes about the frog shirt.  It was a nice moment for her.  We jumped in line for the Tiki Room before I realized that we needed to meet Goofy before heading back to Main St for the Flag Retreat, so the Tiki Room had to wait.
After the moving Flag Retreat we headed up the street to try a second time to catch the Casey's Corner Pianist.  We then headed to the castle to catch Dream Along with Mickey.  It was a nice 5 minutes of great interplanetary lounge music with Sonny Eclipse before running back to catch the floats arriving in the hub for the Move It, Shake It, Celebrate It parade.  We enjoyed dancing in the streets with the characters.  One of the dancers commented, "You sir are a muppet of a man," which made us all smile.  We stayed until the floats left the hub.  It's 6:00 pm.  We've just completed 57 attractions in 12 hours!
We used our Fastpasses that we acquired earlier for Jungle Cruise and Splash Mountain.  The Jungle Cruise skipper was really struggling to get laughs because his comedic timing was a bit quick and blew a few punch lines.  We tried to cheer him on when we realized it was going south.  When we made it Country Bear Jamboree, they were opening the doors to the next show, so we darted on in.  We then journeyed to Fantasyland to use our Peter Pan Fastpass and experience one of my favorite WDW shows:  Mickey's Donald's Philharmagic!  We were hoping the attraction would conclude in time for us to make the first Magic, Memories and You show, but we were a little late, so we had to catch it later.  We grabbed a Mickey Premium Bar and waited for Wishes on Main St.  It went from light crowds early, to busy, to absolutely insane at the time of Wishes.  We were literally shuffle stepping all the way past the Plaza Restaurant.   They opened the backstage exit for the 7 people who wanted to leave after the fireworks.
After it took us 8 minutes to get from the Casey's Corner area to Tomorrowland we had to endure another chili dog smell.  This time from Stitch burping it in our face.  We hoped to use our Fastpass for Space Mountain, but EVERYONE was using Fastpass for Space.  Maybe this is why they just changed the return policy?  We saw a 20 minute line to board Peoplemover, so we chose the Carousel of Progress.  It was the rowdiest crowd I've ever experienced in that attraction with all the AP holders and College Program CMs.  It was actually pretty fun.  We used our Buzz Fastpass before heading back to Adventureland to escape the crowds.  Laugh Floor was reporting 40 minute waits at that point.
We took in the Tiki Room and Pirates of the Caribbean before heading to meet Tink.  We waited 20 minutes and met Tink, just Tink.  There were no other Fairies in the room.  I guess the pixie dust was used up during the fireworks.  We couldn't find anything useful for our 21 minute break before MM&Y, so we waited and ate our chipmunk food.  We hoped that taking in the Hall of Presidents would clear up Tomorrowland a bit, so Hail to the Chief it is!
We took in the Peoplemover with only a 5 minute wait before walking down Main St to watch the Main St Electrical Parade.  The Space Mountain Fastpass line had cleared up, so we escaped to the stars.  Upon our return to Earth we chose to battle it out in mini hoops in the Arcade.  I had the highest score J.  We just barely missed the Laugh Floor show, so we had to wait it out in the second pre-show area.  It was the funniest off script  show I've ever experienced!  It was now time to Dance the Night Away at the Castle.  Well, dance 5 minutes away for us.  It was fun.  The area was jam packed with revelry and dancing and fun.  The MISICI floats were parked there and the dj was on top of one of the floats.
It was 1:30 am.  We had experienced 77 attractions.  It was a new personal best for us.  We still had to meet Rapunzel before the park closed in order to meet the Ultimate core attractions requirements.  I told the kids we should go ask the CM what would be a good time to get in line.  I was thinking he would say 3:00 am or 3:30 am because it was set to close at 5:30 am. At 1:30 am the CM told us he was about to close the line!  What!!!  4 hours left and they are about to close the line???  We had hoped to catch the Frontierland Hoedown and complete the remaining Sorcerers missions before closing, but that appeared in jeopardy.  We took his advice and joined the line for Rapunzel (and Flynn – we now dislike Flynn a lot).  It's 1:35 am and we wouldn't leave the line until 5:00 am.  I have NEVER waited 3.5 hours in a theme park for ANYTHING and hope that I never will again!
We missed the remaining Frontierland Hoedown but were able to finish out the day with 3 more Sorcerers missions and we enjoyed the Kiss Goodnight with some great friends.  It was pretty funny because so many people were lying on blankets in the hub it looked like they were enjoying the beach.  We made our way down Main St at about 6:20 am and noticed the Princesses were saying goodbye on the Train Station.  We completed 82 different attractions (plus Fairy Godmother) in 24 hours.  I had one sore on my heel that I covered with moleskin about 12 hours in.  We ate zero actual "meals" while snacking on squirrel food all day.  Who knows how many gallons of water were filtered through our Brita bottles.  We enjoyed a Mickey Premium Bar and memories with my wonderful children that will last forever!
Enjoy our photos!