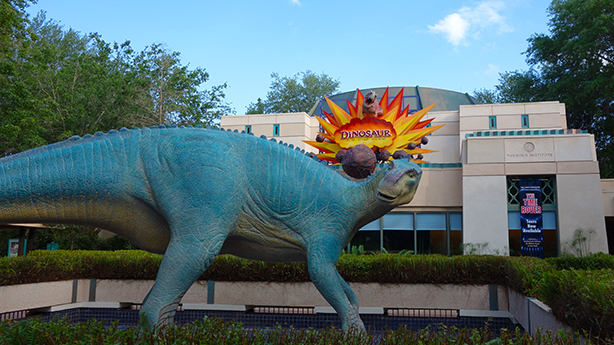 Dinosaur is an indoor attraction that uses an Enhanced Motion Vehicle jeep to take you back to the late Cretaceous period in order to retrieve a Dinosaur before all known life forms are destroyed by a meteor attack. This attraction is a lot of fun, but is VERY shaky and can be very scary for small children.
The ride was originally titled "Countdown to Extinction." The ride vehicles still bear the cTx name. This attraction uses the Ehanced Motion Vehicle that Disney created and uses for the Indiana Jones Adventure in Disneyland.
Ride early, late or use Fastpass+
Location:
Dinoland
Attraction Length:
10 minutes including the pre-show
Fastpass+:
YES
Accessibility:
Must Transfer from Wheelchair/ECV, Assistive Listening, Language Translation Services, Video Captioning
After the pre-show a Cast Member will escort you to the elevator area. You'll be required to transfer from your wheelchair/ECV into the ride vehicle. This attraction can be daunting for those with ambulatory issues.
Minimum Height:
40″
Warnings:
This attraction may be frightening for children
For safety, you should be in good health and free from high blood pressure, heart, back or neck problems, motion sickness, or other conditions that could be aggravated by this adventure. Expectant mothers should not ride.
Ride Photo:
YES, added to Photopass
Ride Video:
NONE
Maximum Speed:
5 mph. Doesn't move excessively fast, but it's very shaky and jerky.
Seating:
4 individual seats per row with seat belts for each. 12 riders per vehicle.
Weight and Size Issues:
Seats might be a bit tight for larger guests and leg room may feel limiting for taller guests.
Rider Switch:
YES
Small children who are unable to ride or frightened to ride may enjoy Triceratop Spin, Primeval Whirl or character meets
Extra Magic Hours:
Morning
Opening date:
April 22, 1998