Epcot has so much to see and do! Be sure not to miss this underrated attraction, especially if you have kids.
The Seas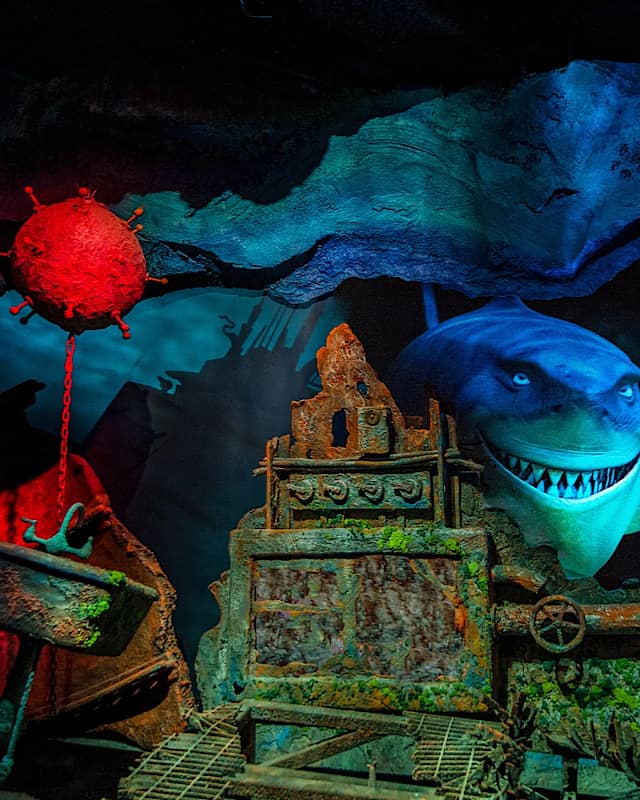 Epcot certainly has a lot going on. Between Future World, which is currently under heavy construction, and World Showcase, it can feel like two entirely different parks. And, with the maze of construction that is currently rerouting Guests, it can be easy to miss things. However, one attraction you do not want to miss is hiding in The Seas.
Actually, The Seas in World Nature has quite a few elements that could be awarded "hidden gem" status. This pavilion is not just about The Seas with Nemo and Friends. While the ride is delightful, it is easily the weakest element in the entire pavilion.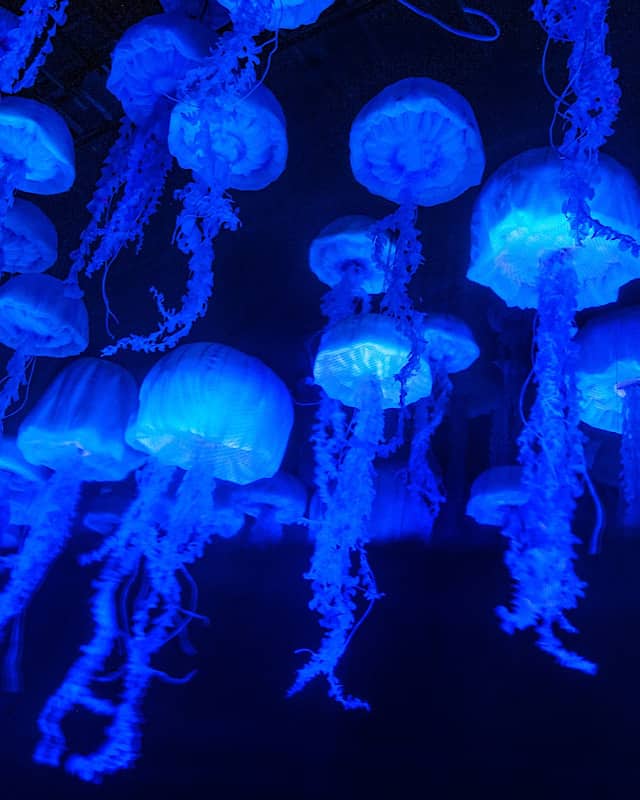 As you exit the ride, instead of exiting directly through the gift shop and heading off to another ride, you should definitely make time to visit all that awaits you. If you are using Genie+ or DAS, an excellent strategy is to schedule an attraction with a lengthier wait after you ride Nemo. This way you have time to explore while you wait. Once you leave the Seas and head elsewhere, you probably will not want to walk all the way back, so enjoy it while you are there.
In fact, you should probably make time to visit The Seas even if you do NOT intend to ride The Seas with Nemo and Friends. It is convenient to both Spaceship Earth and The Land, so plan a stop there among visits to the neighboring attractions.
The Aquarium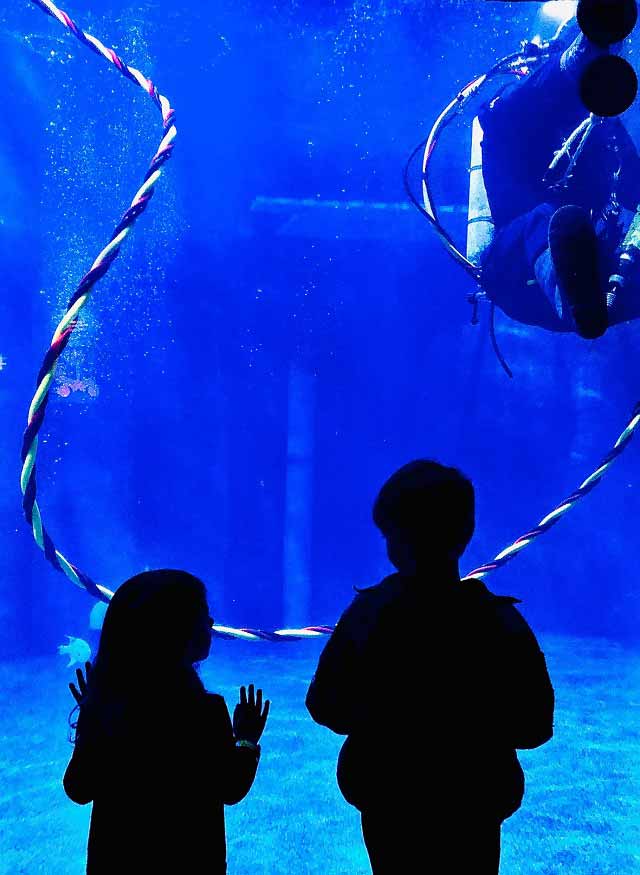 Many people do not realize that Epcot has a lovely aquarium. This watery world is home to thousands of aquatic creatures including fish of all kinds, snails, sharks, sea turtles, and dolphins.
The aquarium has two levels, so be sure to take the escalator and head upstairs to explore.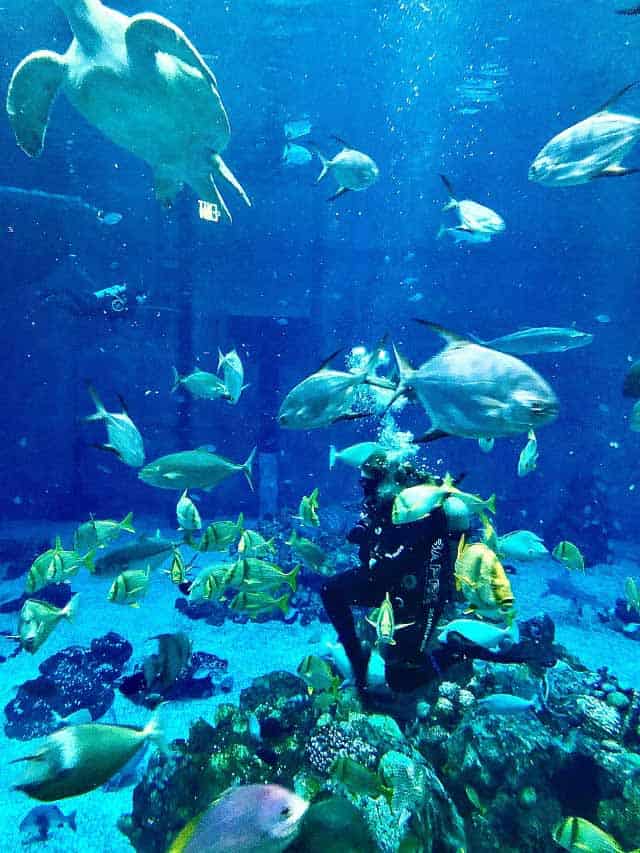 It is one of the most peaceful places in Walt Disney World and a great place to go to escape the elements because it is both dimly lit and air-conditioned. Plus, there is something tranquil about the sea. My family and I could easily spend hours there enjoying the sealife and looking for the occasional hidden Mickey. Sometimes the Mouse himself even swims by in his scuba gear!
Bruce's Shark World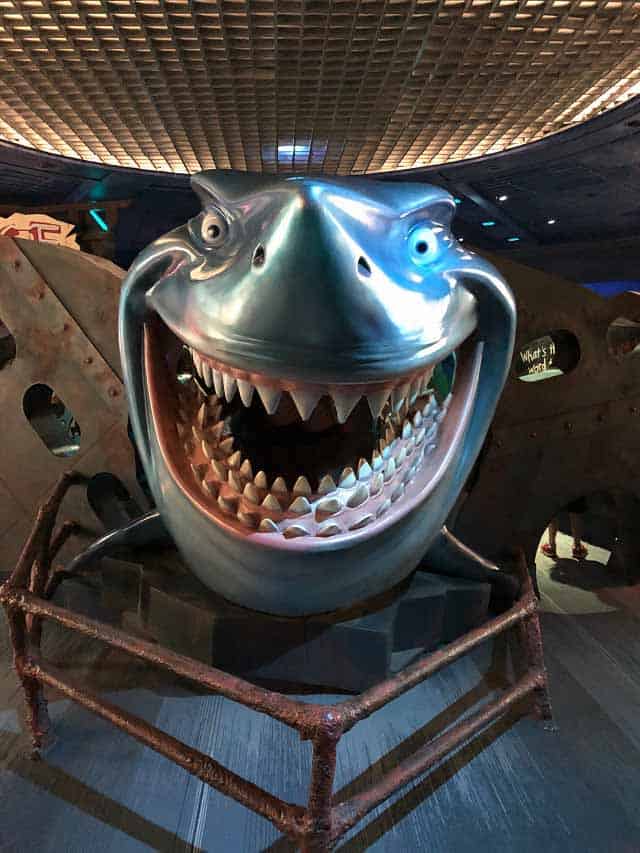 There is also a fun play area for kids to discover called Bruce's Shark World. Children can enjoy games associated with marine life. They can play hide and seek and peer through periscopes. They can even climb into a shark and peek out of its mouth for a cute photo op. Don't worry! Bruce knows kids are friends, not food.
Turtle Talk with Crush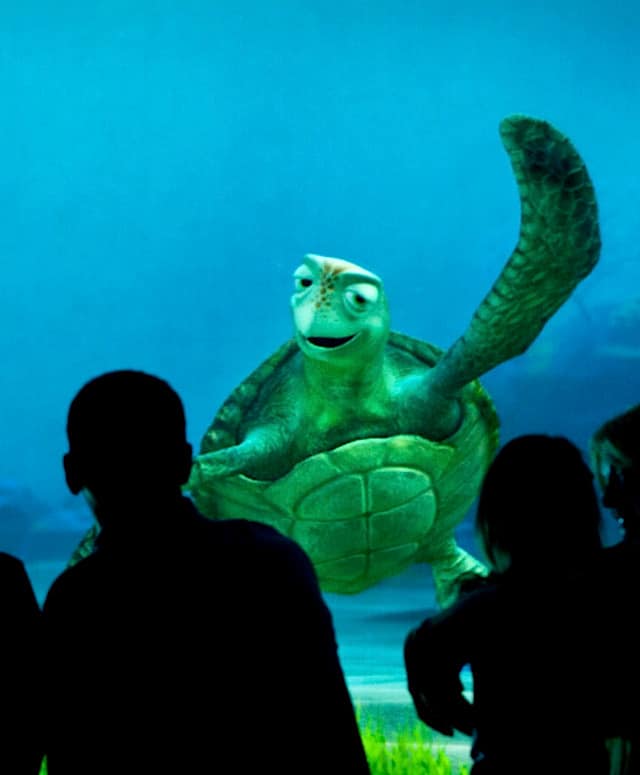 The pavilion also houses what is one of Epcot's most underrated attractions: Turtle Talk with Crush! This adorable kid-friendly show is an unexpected delight featuring innovative interactive technology that allows the audience to interact with Crush, the sea turtle from Finding Nemo. If you have children, you will love seeing them enjoy the show.
Typically, shows run every 15 minutes. If you arrive early, there are fish, stingrays, and jellyfish to enjoy. There are also Cast Members available to teach you and the kids about the marine life you will find there.
Seating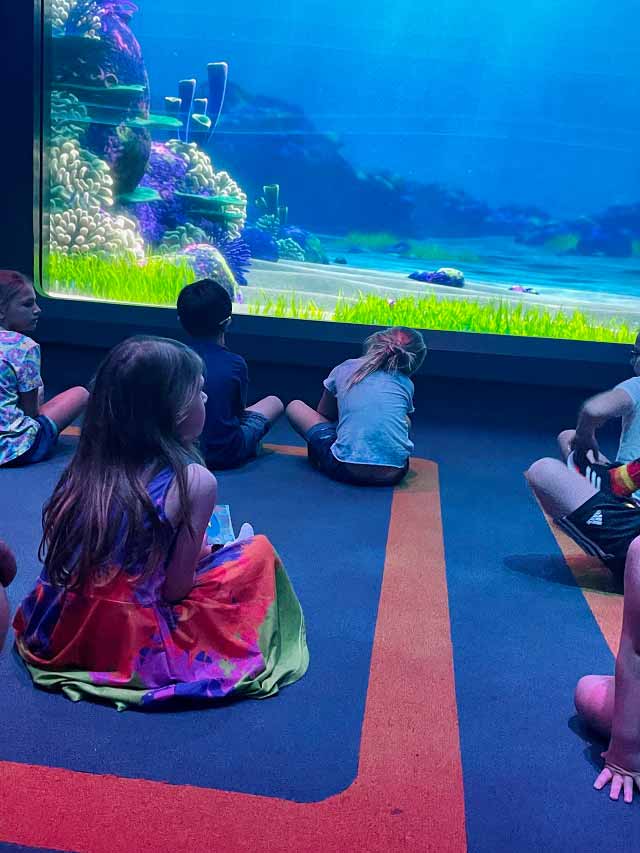 Once you are let into the theatre, you will notice that there is seating on the floor in front of the screen. Children can head to the floor space down front if they want to volunteer to be a part of the show or if they simply wish to have a closer viewing spot.
Parents and children who do not wish to sit in the front can fill in the space on benches. Pirate tip: Try to be at the head of the line so that you can grab a bench in the front of the theatre if you want to stay closer to your children.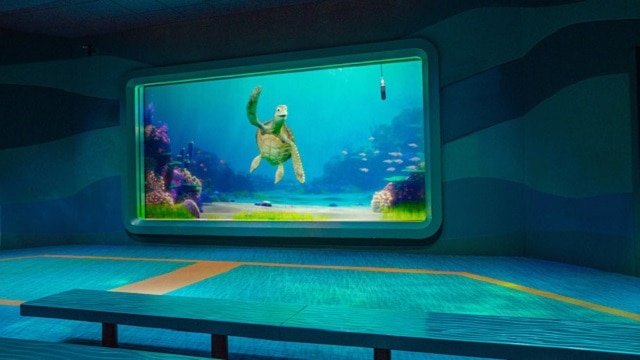 This might be important if you have children who want to participate but who are feeling a little anxious about going to the carpet space in the front without you. On the other hand, your child may not mind the separation, in which case, any ole bench will give you a decent view of the show.
Pirate tip for parents/guardians: try to grab a bench in the front of the theatre if you want to stay closer to your children.
Sweet Technology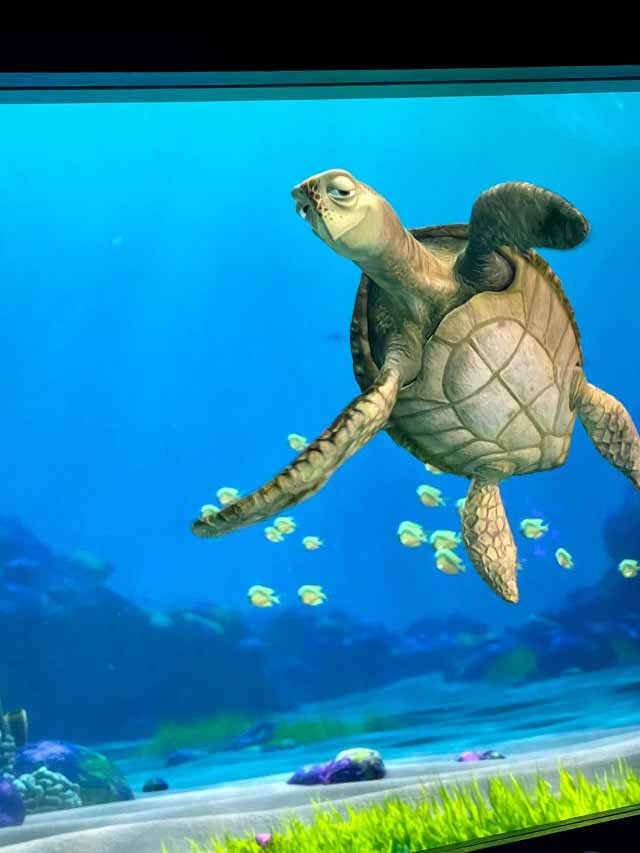 If you have ever gone to see Monsters Laugh Floor over in Magic Kingdom, then you are already familiar with the technology utilized in this show. If not, you are in for a treat! Turtle Talk with Crush allows the audience to interact with Crush while he is on screen. He provides unique answers and responses to audience members' questions and comments.
Crush likes to call on children in the audience to help him learn about the human world. He also provides a little time for a question and answers session where he allows children to ask him questions about the turtle world. Often the interaction is filled with hilarious dialogue. But, it can also offer sweet moments.
My ordinarily shy child was delighted when Crush called on her to ask him a question. She asked him if all turtles eat the same things, and he answered. Then it was his turn to ask the questions. You can see the interaction above.
Overall Impressions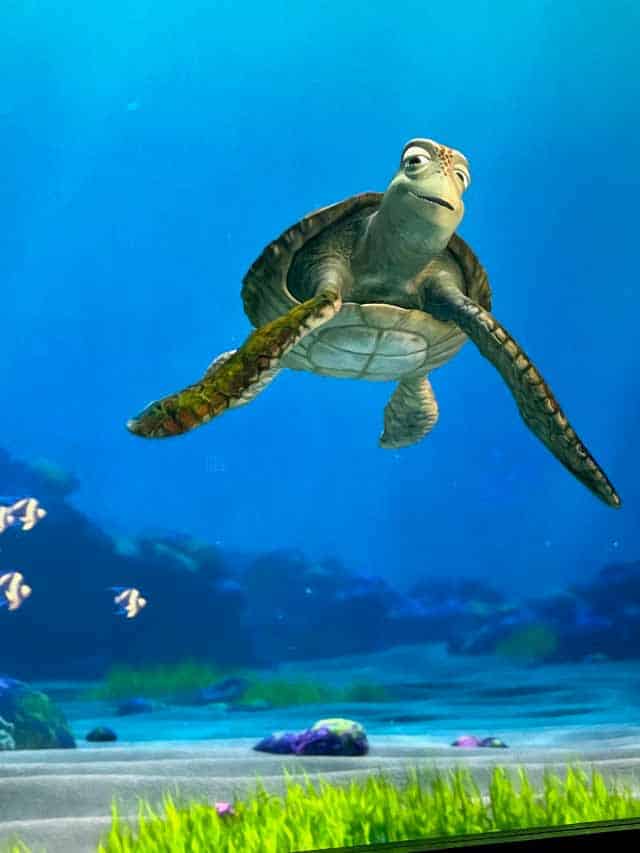 I found the show delightful and entertaining. In fact, I can't believe I waited so long to check it out. I also love that this show is different every time you see it. It has the same characters, but the audience's interactions with Crush keep each experience unique.
This is a show the entire family can enjoy. Not only is it fun, but it is a refreshing break from the elements and the crowds outdoors. Be sure to add it to your must-do list if you or anyone in your travel party enjoys light-hearted fun.
Have you been to see Turtle Talk with Crush in The Seas? Did you enjoy the show? Please, let us know in the comments or join our friendly crew to continue the conversation on Facebook.

Are you planning a vacation? Reach out to our trusted travel agency sponsor Authorized Disney Vacation Planner
Mouse Class Travel
!