Do you want your beautiful princess or brave knight to be dressed up for the day? Can you imagine anything more perfect than your children walking around the Magic Kingdom like royalty? Make sure you book this Enchanting Extra for a one-of-a-kind royal experience!
Bibbidi Bobbidi Boutique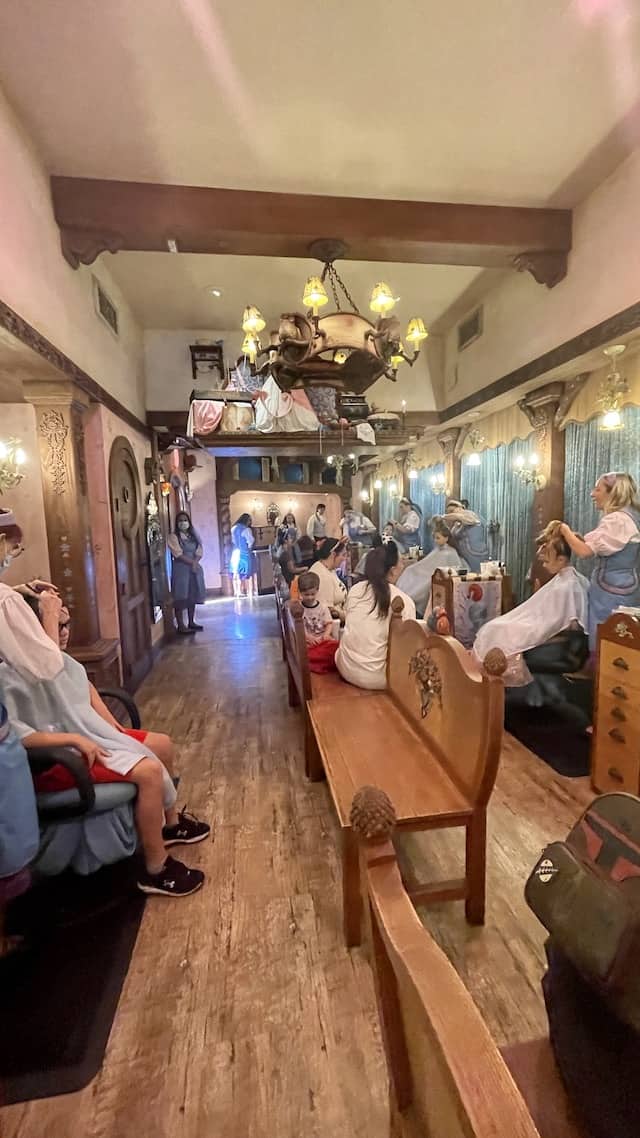 The Bibbidi Bobbidi Boutique is the quintessential royal experience for all the princes and princesses in the land! Children ages 3-12 can receive makeovers by Fairy Godmother Apprentices. Your experience includes a hair styling, makeup application, nail polish application, costumes, and pixie dust.
The boutique is a very sought-after experience especially when you consider the fact that it has been closed for over two years! Booking opens up 60 days in advance, and planning for it farther out into your trip gives you a better chance of securing a reservation. For example, you have a better chance of getting a reservation 8 days into your trip vs 2 or 3 days into your vacation.
This experience has always been one of my favorite Enchanting Extras to book during our Disney vacations! It really does make your little one feel like a beautiful princess or a brave knight. I recently took all 4 of my kids to Disneyland, and this was the first (and last) time all 4 are able to do it at the same time.
Package types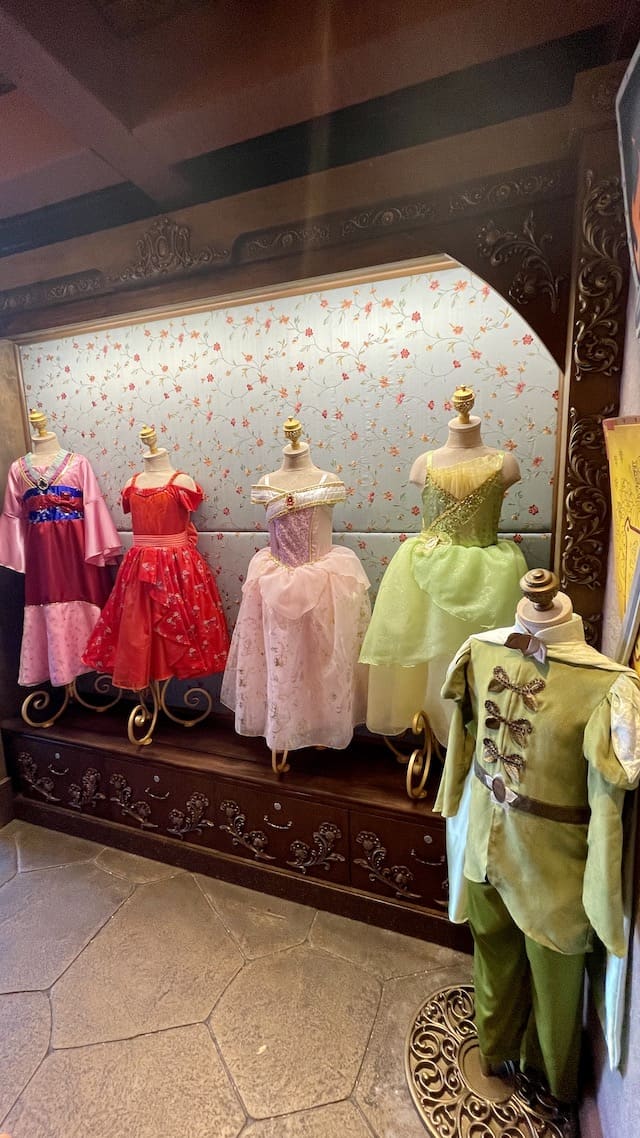 There are several types of packages for princess and knight makeovers. They include:
Carriage package (starting at $100): hairstyling, make up and face gems, nail polish, boutique bag and t-shirt, and royal sash
Courtyard package (starting at $150): everything in the Carriage package plus tut and boutique headband
Castle package (starting at $200): everything in the Carriage package plus Disney princess costume, princess wand and crown accessories, and printed photo package
Deluxe Castle package (starting at $230: everything in the Carriage package plus deluxe Disney princess costume, boxed jewelry set, and printed photo package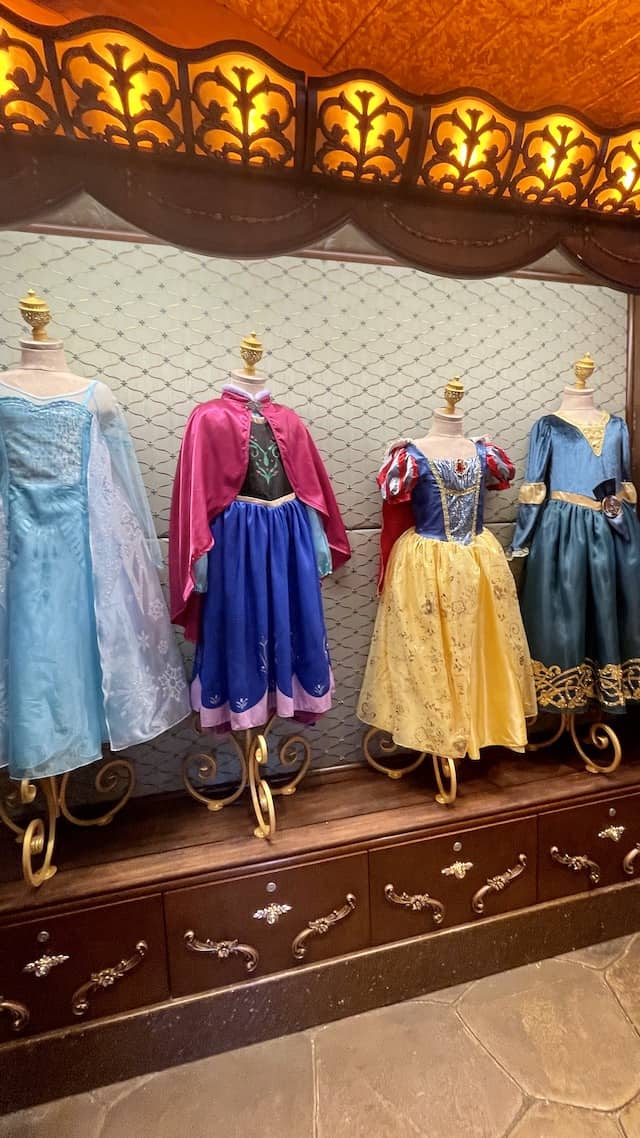 Frozen Crown package ($120): choice of Anna or Elsa hairstyle, make up and face gems, nail polish, princess sash and bag, and Olaf plush
Frozen package (starting at $180): everything in Frozen crown package plus choice of Anna or Elsa costume
Princess Signature Dress Collection (starting at $450): hairstyling, make up and face gems, nail polish, Disney princess gown made of heirloom quality fabrics and intricate design details, high quality crystal tiara with box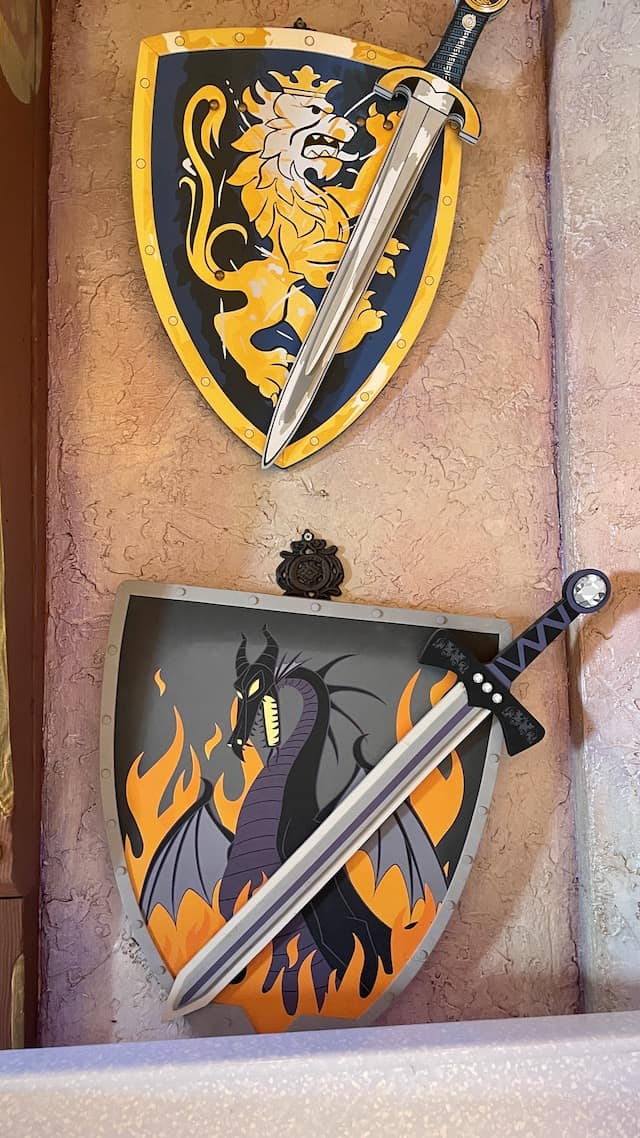 Royal knight package (starting at $20): hairstyle with gel and pixie dust, sword and shield
Deluxe knight package (starting at $80): everything included in Royal knight package plus prince costume
The above prices do not include tax or any applicable discounts that may be available. You also do not have to choose your package or pay when you book. You will select your package during your session.
It is also very helpful to come to the appointment with clean, brushed hair and no nail polish.
Checking in and choosing packages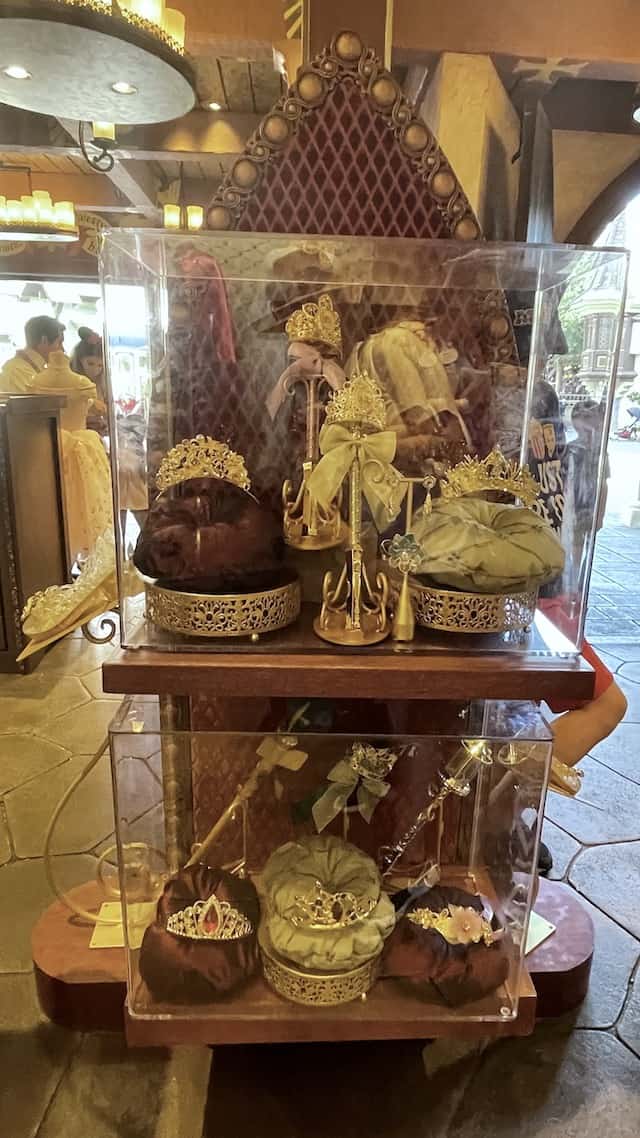 Since I had all 4 kids (2 boys and 2 girls), I was able to experience 4 separate packages to share with you all. Let's break down our morning at Disneyland's Boutique. My family has also experienced the boutique at Disney World. However, I noticed very few differences in the process or overall experience.
First, I had three appointments at 9:00 am and one at 9:10 am. We arrived just a few minutes before our first appointment and immediately noticed all of the beautiful gowns and accessories! There is a lot to take in (and more than I could fit in these photos). It may be helpful for you to talk with your child ahead of time to see what they are interested in. Or, at the very least arrive several minutes early so you have time to browse everything before your appointment begins.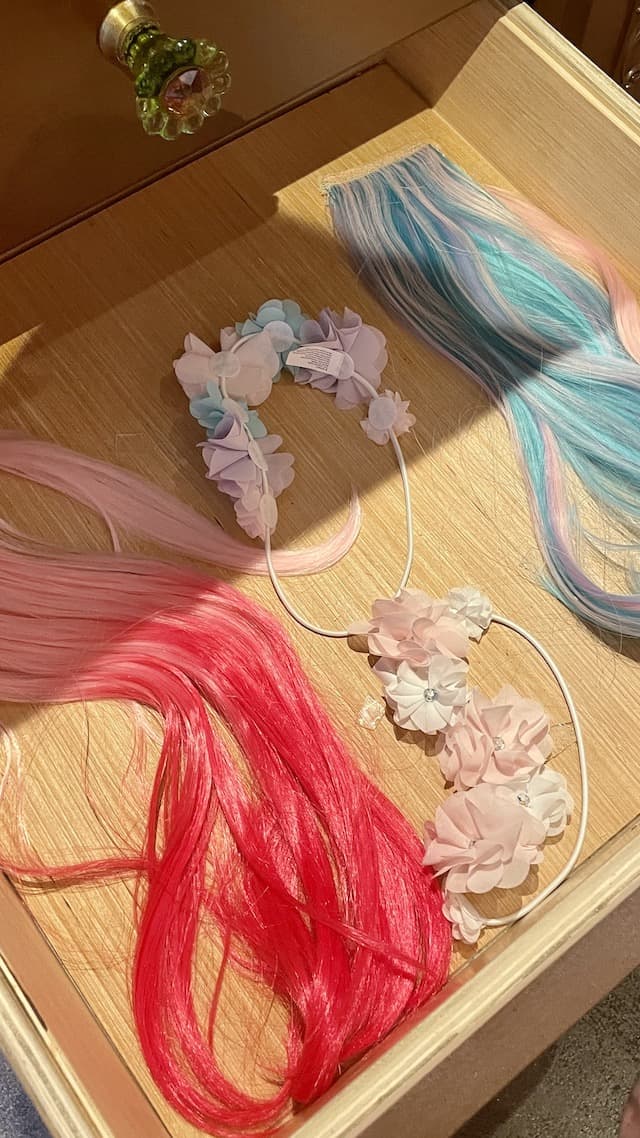 We met with an Apprentice to start picking out all of the accessories and costumes we wanted. My boys had no trouble deciding what they wanted. My oldest (12) did not even want to do this to begin with (ha!), so we got the basic knight package for $20. No need to pick out a costume – just the shield! My other son (5) did want a costume, but there are not very many to choose from. He chose the Prince Charming costume and the other shield design.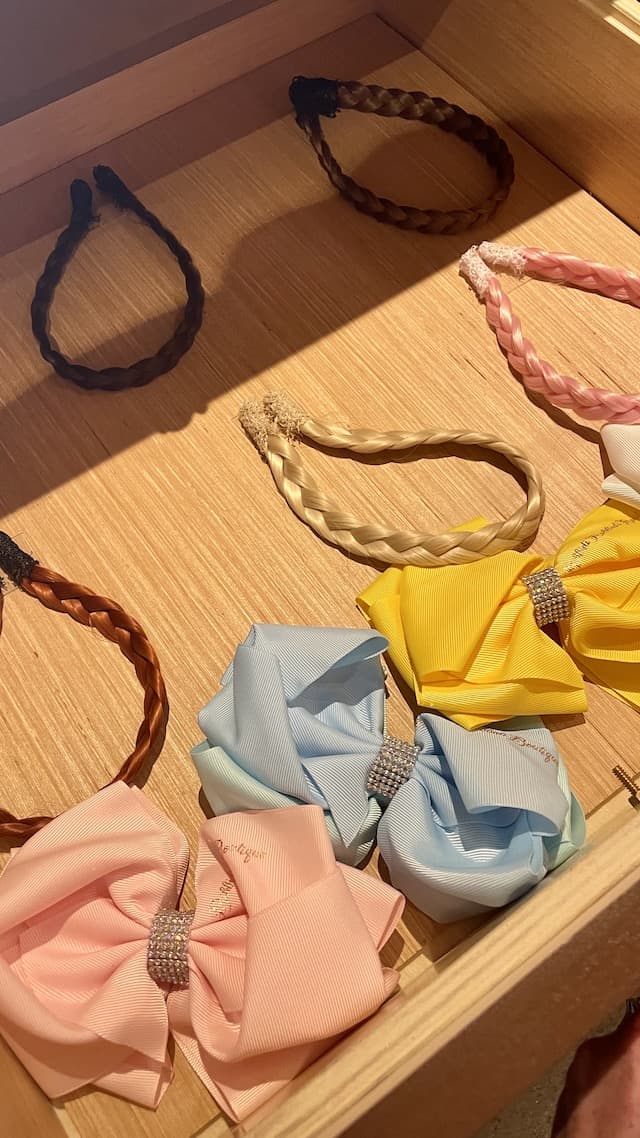 My girls definitely had a bit harder time deciding. My 11 year old also was not very interested in participating, and she definitely did not want any crazy hair styles or accessories. She decided on the Frozen package because it included two small braids. The 7 year old wanted the Anna costume but did not want the Anna hairstyle so she chose the Castle package with the Anna costume. She had her choice of hairpiece and crown.
Changing into costumes and makeover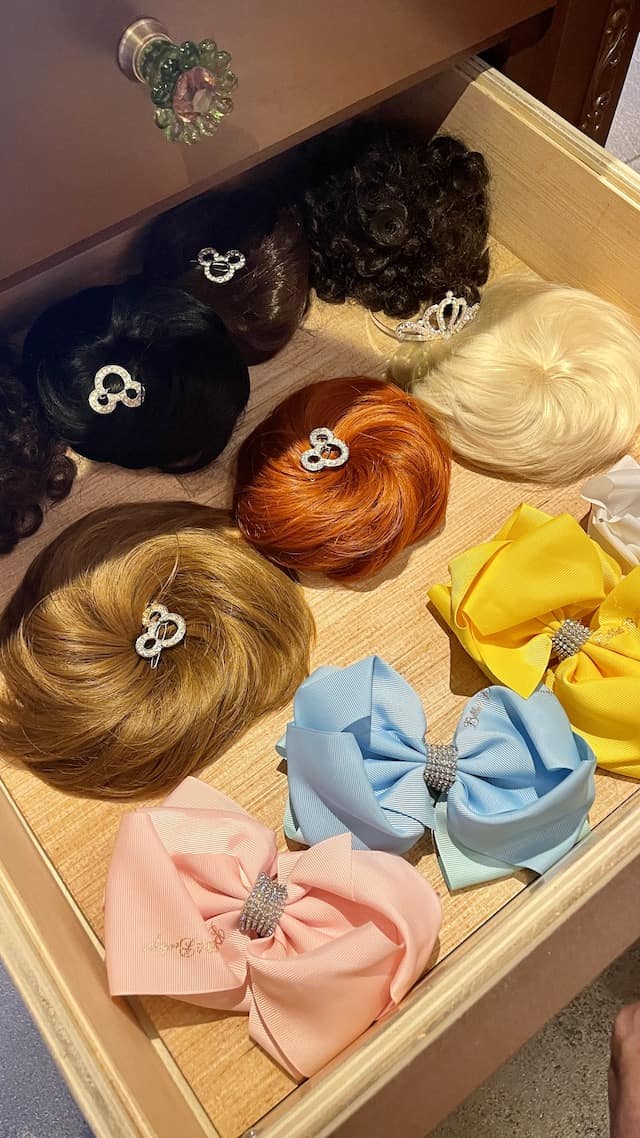 Once we had everything picked out, I paid for all packages and we were told to wait for our names to be called. After about 10 minutes, an Apprentice led us to another building nearby where the makeovers actually took place. By this time it was already 9:30 and I knew my carefully detailed morning plans would be quickly derailed.
Pirate tip: Disney says the experience will take 30-60 minutes, but if you have multiple kids or are having trouble deciding on pieces, definitely plan for an hour.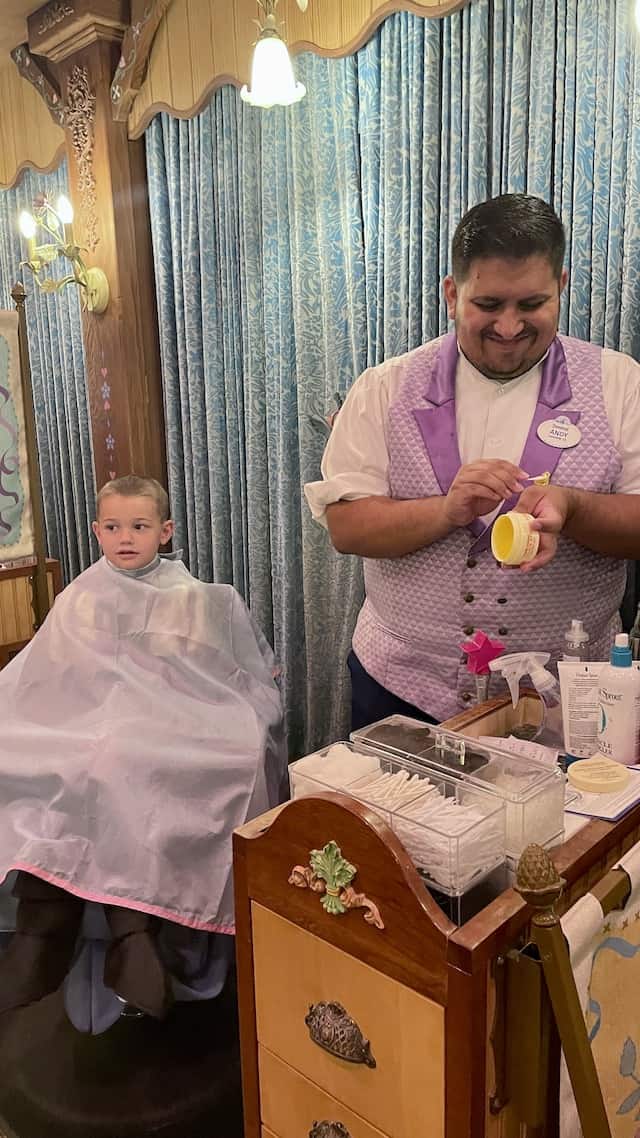 My two children who had costumes changed, and then the Apprentice led us to the salon. They seated all 4 kids next to each other, and all Apprentices got to work right away. My oldest son did not even want pixie dust, so he just received a little hair gel and his sword. My other son was next to be finished. He received the hair styling and pixie dust.
Obviously, princess makeovers take a bit longer due to all the elements in the packages. Thankfully, a second Apprentice helped each of my girls with their make up and nail polish while they were having their hair done. We started the actual makeovers at 9:40 am and all were completed by 10:05 am.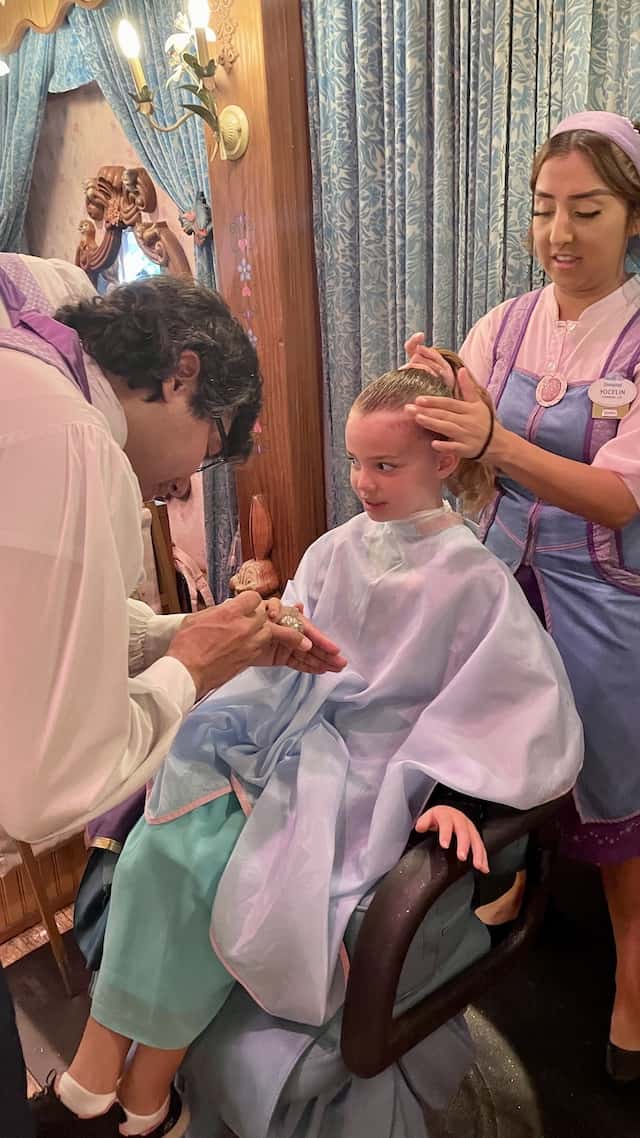 The "finale" of the makeover is a really cute reveal where the Apprentice has the child say "Bibbidi Bobbidi Boo" and the curtain is pulled away to reveal the magical mirror. Then, the Apprentice has the child pose for some photos, and finally the birds close the curtains and the makeover is complete.
Photo package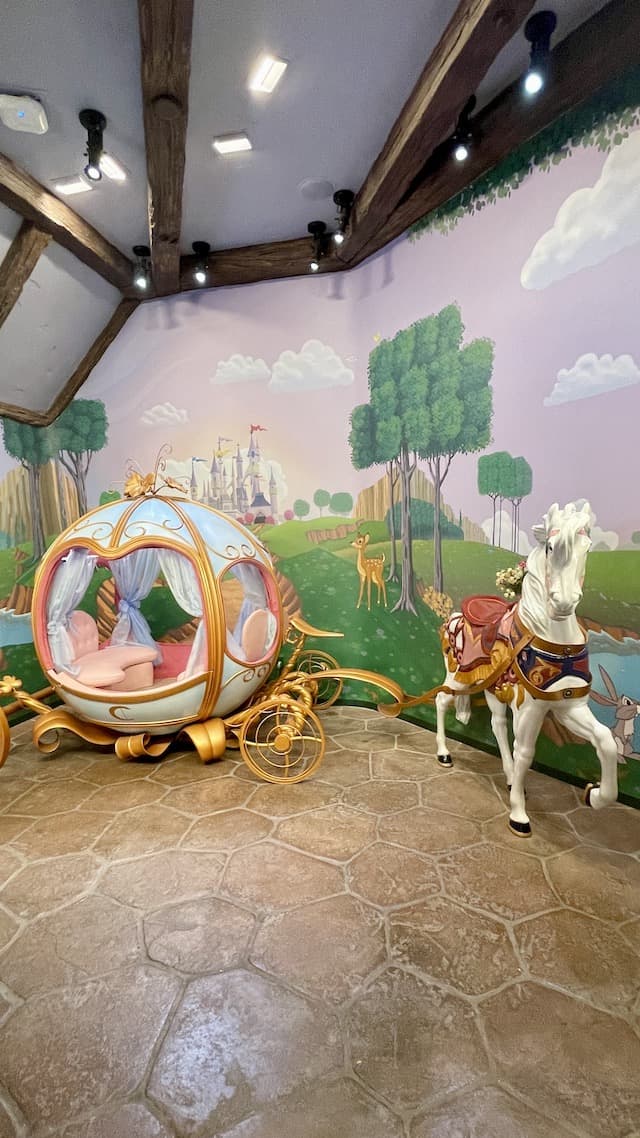 Our Castle package included a printed photo package, so we made our way over to the portrait studio to have some photos done. They were nice enough to let us include our son who had a costume, but do note they would not let him pose for his own individual photos. We waited for about 10-15 minutes, and the Cast Member spent about 10 minutes with my kids at different "stations" in the studio.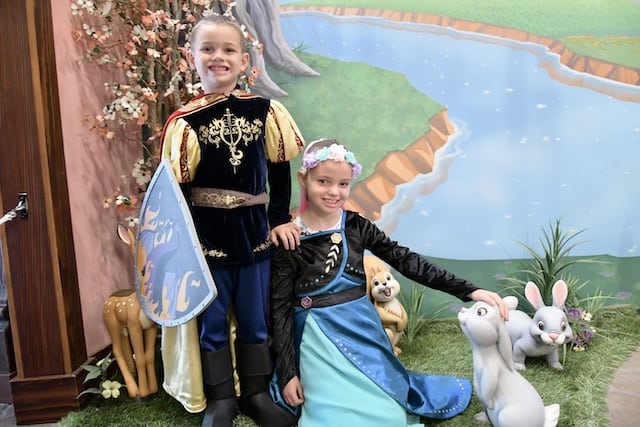 Afterwards, we received a printed photo along with all the digital images in our PhotoPass downloads. Definitely plan to purchase PhotoPass or Genie+ so you have your photos. There were no photographers in the boutique, however. I really hope they bring back more photographers to help capture the process.
Final Thoughts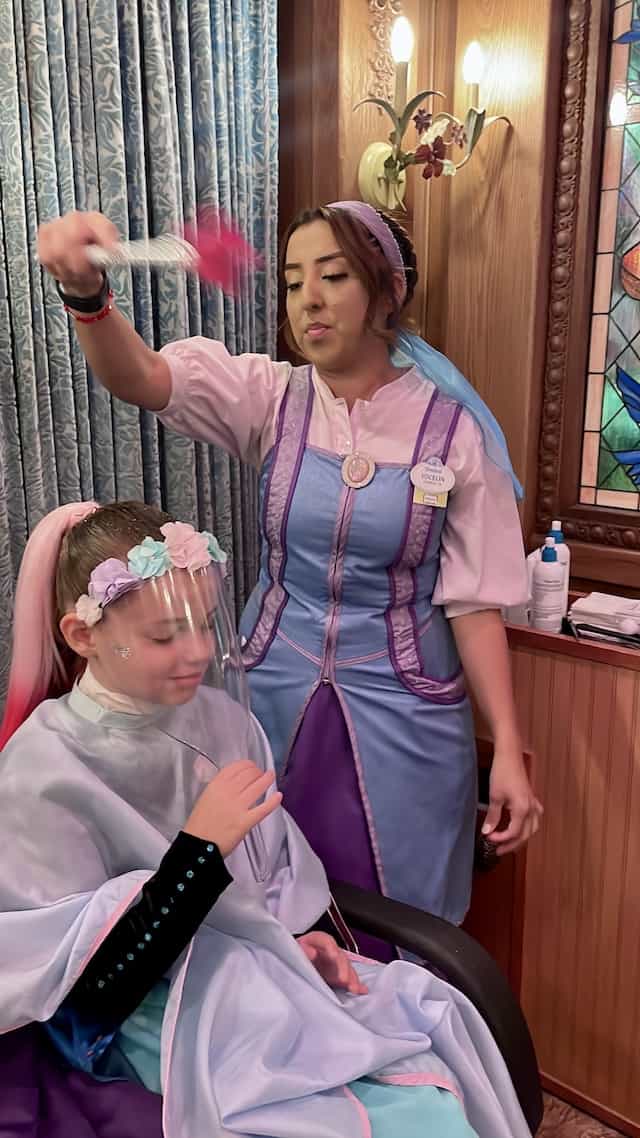 We were completely finished with this entire process by 10:30 am – 1.5 hours after we arrived. I imagine having less children would make the process go faster, but with my big family we are used to taking a bit longer for everything. Hopefully this rundown of our experience will help you plan for yours! If you do not have a printed photo in your package and you know exactly what you want, you can probably get in and out in 45 minutes.
I do want to share that the most chaotic part of the entire process was checking in and choosing the elements of your package. We had to pick out costumes (and there were a lot of gowns), head pieces, pony tail extensions, a crown, and wand. Hopefully the photos in this post can be shared with your child ahead of time so you both know what to expect!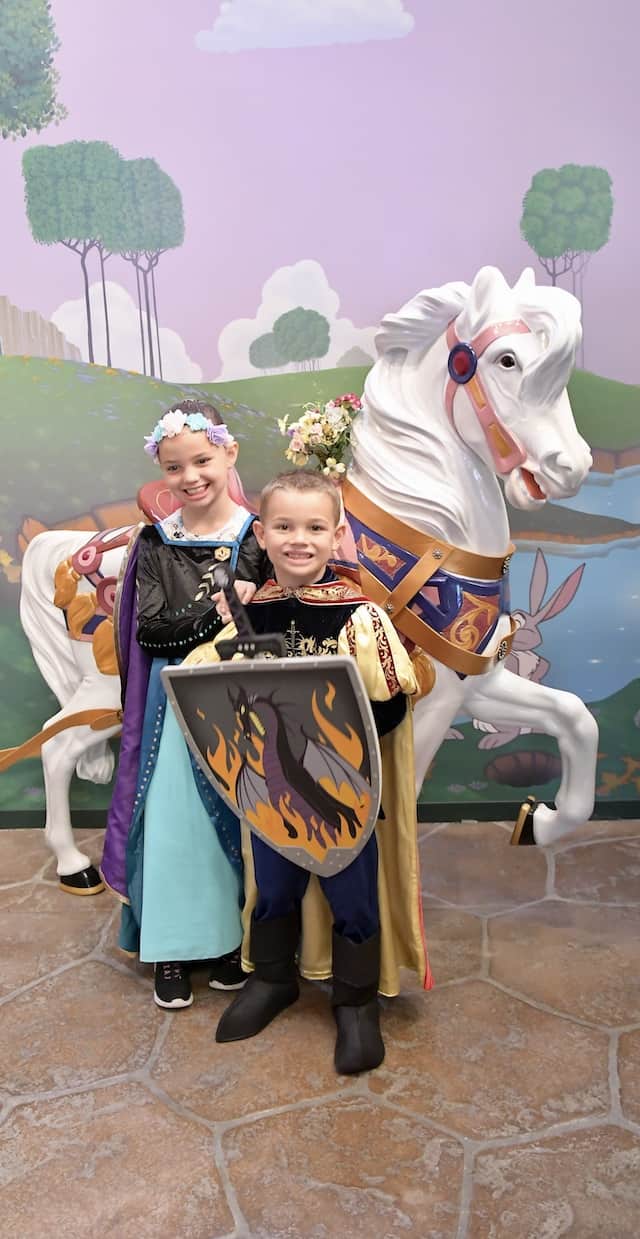 It is also worth noting again that my two older kids were not really interested in the experience at all. I basically forced them into doing it because *memories* but the boutique is definitely geared towards younger children. My 5 year old son and 7 year old daughter loved everything about this experience! This was basically a final hurrah for the boutique, so I wanted to have all my children involved.
Please ask questions in the comments below! I would love to answer them and share more to help you plan for your boutique experience!