Which is better: Holland America or Disney Cruise Line?
Sailing With Disney Cruise Line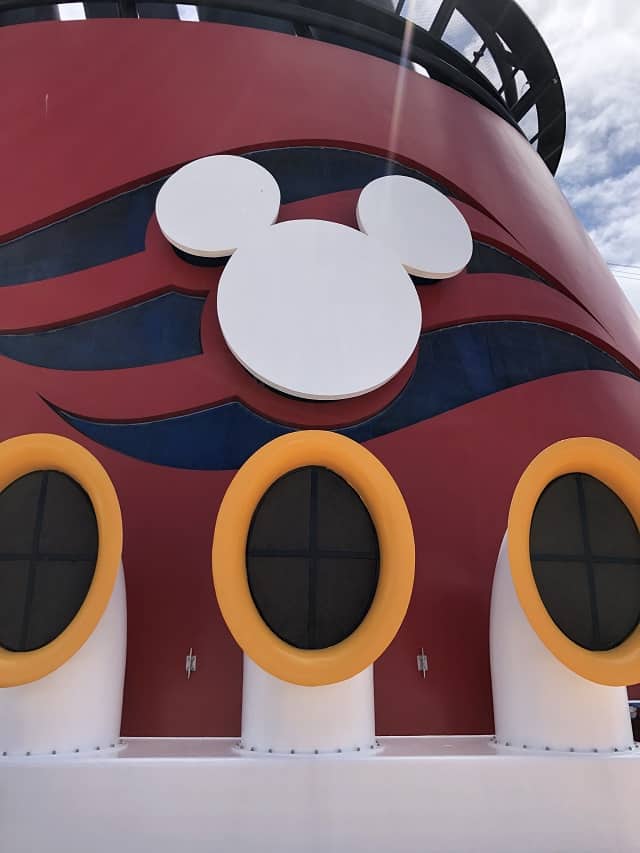 After multiple sailings on the high seas with Mickey, I (Marisol) sailed to Alaska on another cruise line. Shh… just don't tell Mickey and his friends. Our family of four first sailed with Disney Cruise Line in 2015, when we sailed from Port Canaveral on the Disney Fantasy to the Caribbean. At that time, our children were 6 and 4. This is the ideal age, in my opinion, for a cruise aboard with Mickey and friends.
There is truly something magical about arriving at Port Canaveral and seeing one of the Disney ships. Stepping aboard the ship is a feeling that one can never forget. The characters, cast members, décor, food, activities, are what makes DCL a wonderful cruise line to sail with.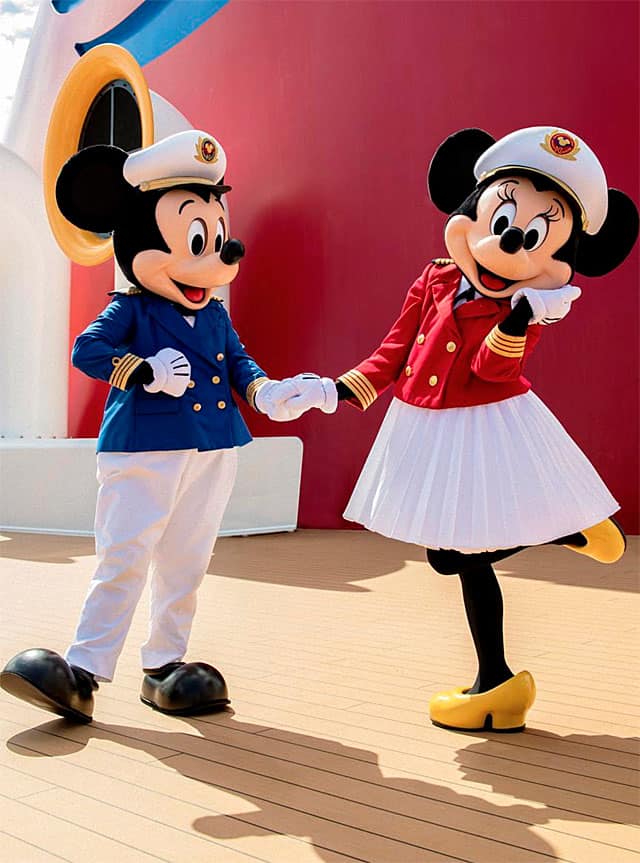 Seven years later, we are Platinum Castaway Members, and the thought of sailing with our children on another cruise line has been brought up in conversation. Last summer while on vacation we began to brainstorm ideas for our 2022 family reunion. I brought up the idea of cruising to Alaska. The rest of our family members had been to Alaska, in fact, while sailing on Disney Cruise Line.
We talked about pricing and itineraries and in the end decided to sail aboard Holland America's Eurodam in June 2022. The cruise began and ended in Seattle and visited Juneau, Glacier Bay, Icy Point Strait, Sitka, Ketchikan and Victoria, Canada. I'll admit, I did want to sail on DCL, but I also really liked the idea of having a couple hour flight to Seattle for the beginning and ending of the sailing. It is not too much travel time compared to flying to Vancouver where the Disney Wonder sails from during the Alaskan season.
Of course, with my love of sailing on DCL, I knew that I would be making comparisons throughout the seven-day voyage, and that I did!
Initial Comparisons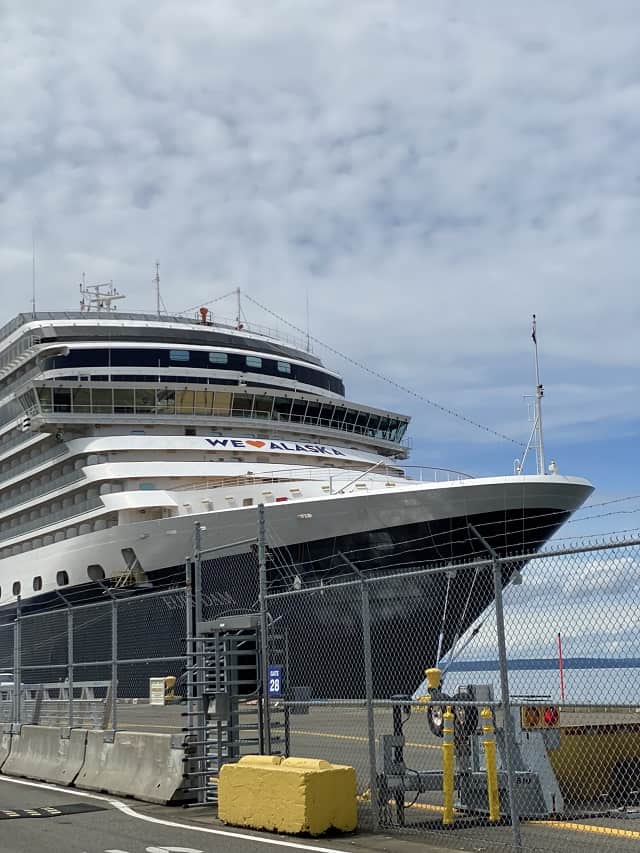 I do have to mention that boarding the Eurodam took a total of 20 minutes from the moment we arrived at the port to stepping onboard. It also helped because our family pre-tested 48 hours before arriving to the port. Disney has also changed pre-testing policies. I also completed all the pre-boarding requirements so when we arrived at the port in Seattle, I simply showed them our documents on the app from my phone. This is what allowed the boarding process to go swiftly with no problems.
However, the second that we stepped on the ship, the first comparison I made was that the crew member simply scanned our ship card and we were onboard. It is not the typical fanfare that guests receive when they step aboard any Disney Cruise ship. There were no introducing guests by family name, and the area we entered directly led guests to the stairwell and the elevators. No grand atrium entrance or anything to that effect.
We then proceeded to our cabin where I made the second comparison of the trip. Hot diggity dog was the room small in comparison to Disney Cruise Line rooms! There was hardly any storage for our belongings, and there was the one small bathroom that included a shower, toilet, and sink. We are used to DCL's split bathrooms.
The other thing we noted were the two twin size beds that were separated by a nightstand. We had the option to have the room attendant push our beds together, but my husband and I would have been so cramped together in two small twin beds. The couch was a pull out, and what really shocked us was that right above the two separated twin beds was a pull-down bunk bed. We had quite the tight quarters for the seven-day voyage.
In terms of the food, it was very hit and miss. There were days that I felt like the food was good in terms of quality, however, quantity is where the mark was missed. For example, when my husband ordered a turkey sandwich, it was made to order with one tiny slice of turkey. Another time, I had asked for chicken on my salad, and they provided me with three small pieces. When I asked them for more servings, they asked me if I was sure.
This happened on several occasions to our entire family and guests that were line with us. At one of the specialty dinners, my husband ordered an offering that was at additional cost, and even when he asked for it, the waiter asked him multiple times if he was sure and provided him the cost of the item and then again asking if he was sure he wanted the item. We found this to be quite strange.
Pros of Sailing on Holland America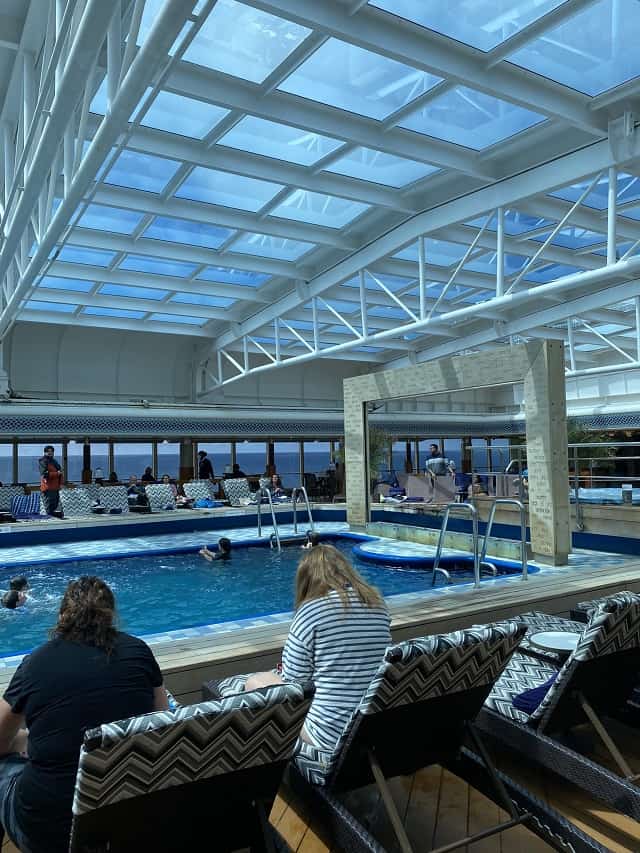 There are pros to sailing on a cruise line other than Disney. For example, the cruise that we sailed on cost $5,000 for a family of four in a verandah room. It included free internet, free specialty dining, $100 onboard credit, drink package, and 50% off one excursion. The packet was for both my husband and me. Our kids also sailed at $75 a person plus port fees. This is not a bad price when you break it down and see all that was included in the price.
Now, take the same trip for a family of four, the same week, verandah cabin on the Disney Cruise and the price comes to $12,000. It does not include free Wi-Fi, drink package, excursion discount, specialty dining or onboard credit. It does, however, include free soft drinks, coffee and tea for all guests. It's easy to see that the price difference is the biggest pro of sailing to Alaska on a non Disney cruise line .
The drink package that we received consisted of 15 drinks a day. It included specialty coffees, sodas, and alcoholic drinks that cost $11 or less. Drink gratuities were also covered as part of the drink package. This saved us so much money compared to Disney Cruise Line where this is a cost that begins to add up especially for a seven day sailing.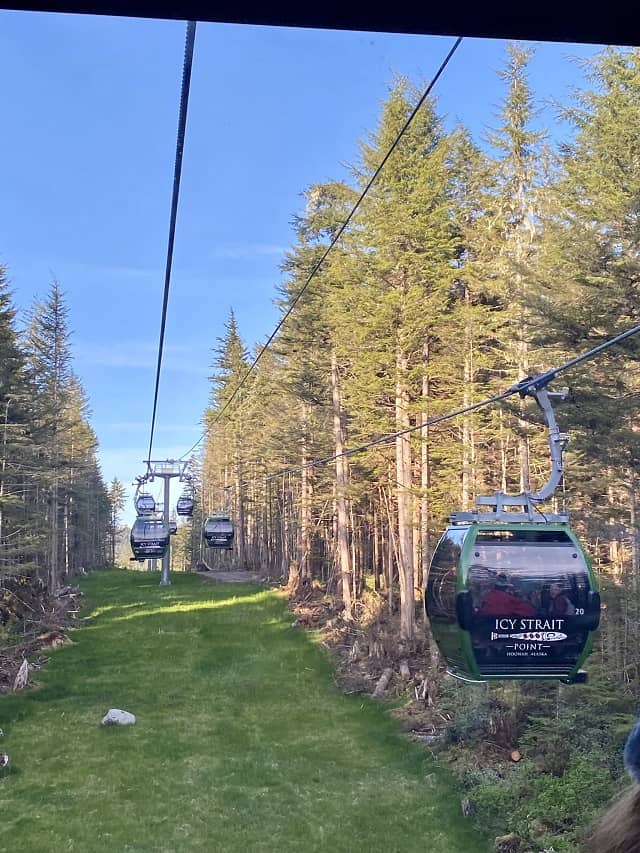 In terms of port calls, Disney Cruise Line does not visit Sitka, Alaska. One DCL itinerary does visit Icy Strait Point, Alaska. Another does not but rather visits Skagway, Alaska. The Eurodam itinerary does not visit Skagway. I'm so thankful that we visited Sitka as this was the family favorite port of the trip. We loved it so much that even my husband did a Zillow search on housing prices. We would love to be able to spend a full week in this beautiful location that is home to Sitka's National Park which is a rainforest. I highly recommend visiting!
Another aspect that I enjoyed about sailing on Holland America is that I truly felt as if I was able to relax and enjoy myself on the cruise. Much of our time was spent at our two designated tables that our family members sat at throughout the voyage. One was inside the buffet restaurant and the other overlooked to the scenery outside. We spent so much time hanging out with family, chatting, and enjoying each other's company whereas when we sail on Disney, I feel as though I am always rushing to the next activity or character meet and greet. Often, I feel drained by the end of a sea day, where I never felt drained on this trip.
The activities that we attended daily were various trivia sessions. We had our routine of going to dinner and then spending the evening watching the different sets from the dueling piano acts. I also enjoyed that they had a priest onboard that practiced daily Mass. I attended Mass two different afternoons before going to dinner. Other activities onboard were classically trained musicians and dancers that performed on the main state.
Cons of Sailing Holland America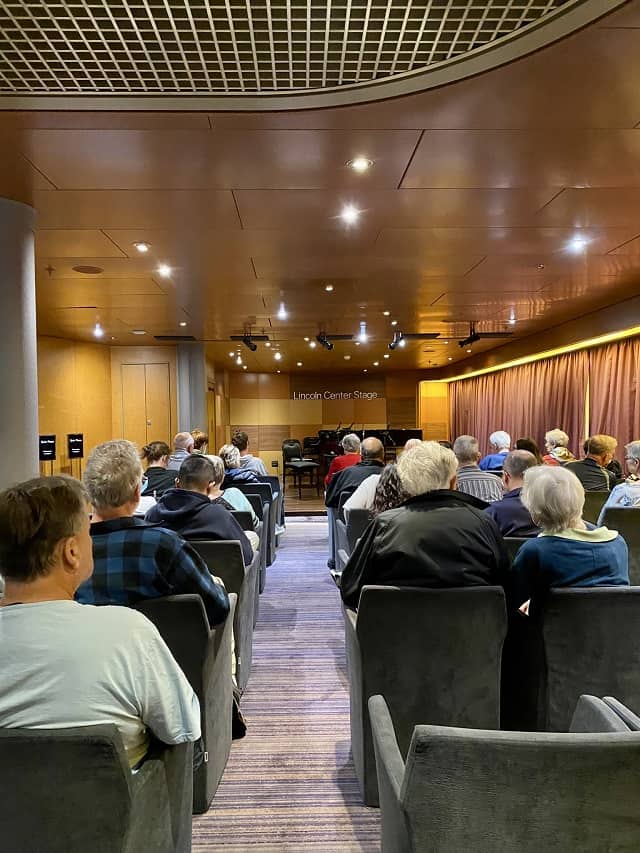 The obvious con of sailing on Holland America was the size of the room and its lack of storage for personal belongings as noted prior. We constantly felt cramped while being in the room. Another huge con was the lack of feeling for family entertainment and activities. Although the ship did have a kids club onboard it is in no way, shape, or form comparable to the amazing kid clubs of Disney Cruise Line. The activities throughout the day were also geared more towards adults than kids and families.
DCL caters to families, whereas Holland did not. In fact, 83% of Holland America guests are over the age of 65. If I had to guess how many kids were on our sailing, I would estimate around 75. During our sailing, we had two medical emergencies, with one of the guests airlifted by the Coast Guard to the nearest hospital. It was a horrible occurrence.
My husband and I also felt that the main dining room was not as efficient as it could be.  The number of times that our drinks were refilled took quite a while as did the arrival of our food.  There was a lot of down time waiting for food and drinks. On Disney Cruise Line there is quite a timed routine in terms of getting food and drinks to guests as well as the interaction of the Cast Member with guests each night in the dining room. 
Which Do We Prefer? Holland or DCL?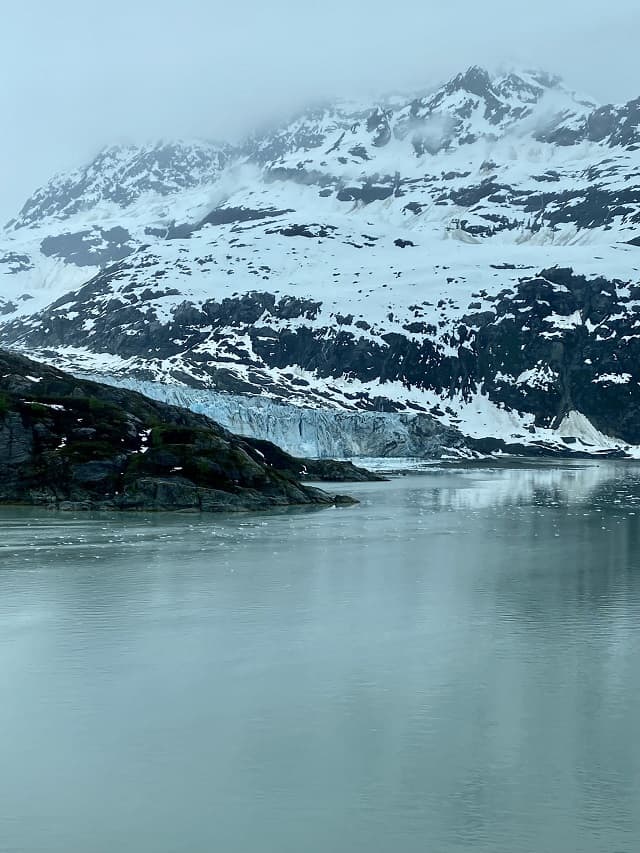 Will I ever sail again on another cruise line other than Disney?  I think we will if we take a trip with extended family members. Had we sailed on this cruise without extended family and just the four of us, our experience would have been completely different especially for our kids.  When I asked them their opinion, they noted that they would have been bored with just the two of them.  They loved how they were able to hang out with cousins and family members throughout our cruise to Alaska.  However, they would have preferred to sail on Disney had it only been the four of us. They love the activities and kid clubs offered on DCL.
There's a reason why Disney Cruise Line gives all the tingles of good feelings. The Cast Members in the theme parks and on cruises plays a vital role in the guest experience. Personally, I can't wait to sail again on Disney Cruise Line but wouldn't mind the price and added extras on another cruise line while traveling with extended family! Regardless on which cruise line to sail on, an Alaskan itinerary is not to be missed!
Have you ever sailed on a cruise line other than Disney Cruise Line? What are your pro's and con's of sailing on different cruise lines? Let us know in the comments on Facebook and in our Facebook group.

Are you planning a vacation? Reach out to our trusted travel agency sponsor Authorized Disney Vacation Planner
Mouse Class Travel
!