There are two different types of park guests. There are those that rope drop and stay in the parks until closing. And, those that take breaks in between park visits and/or decide to arrive to the parks later in the day. Let's take a look at advantages and disadvantages of both. Which one are you?
My Experience As a Guest Over the Years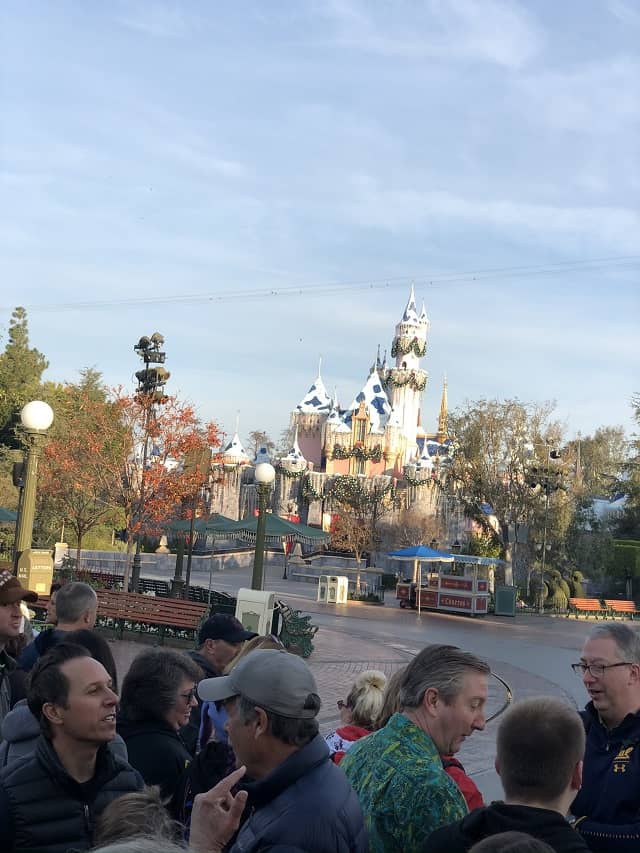 Born and raised in California with a 2 hour and fifteen minute drive (with no traffic) to Disneyland, the importance of arriving at rope drop was very important to my (Marisol) family. Usually, we only spent that one day in the park. I vividly remember the long days when we did not leave the park until it closed and arrived back home in the wee hours of the next morning!
When we first visited Walt Disney World in 2015, we followed the same routine of arriving when the park first opened and leaving when the park closed. Because it was our first trip, we wanted to see and do as much that we possibly could. However, I noticed quite the difference when we were Annual Passholders at Disneyland and Disney World. There were days that we rope dropped, but we drove home after dinnertime. Other days we stayed at a hotel, rope dropped, and then took a break later in the day to return to the parks in the evening.
There are many different ways that a guest can enjoy a visit to the Disney parks. Whether staying all day or taking breaks, I realize that every guest will have a different experience based on preferences and circumstances.
Rope Drop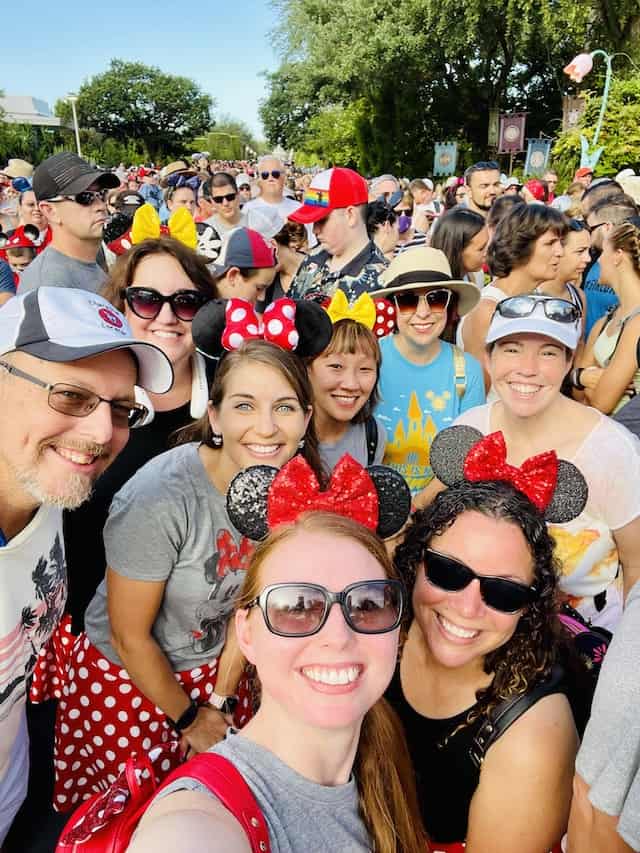 "Rope drop" is a Disney term referencing the time when a theme park, or part of a theme park, opens for the day. When a guest rope drops a park prior to opening, they will encounter Security and other Cast Members who won't allow guests to proceed any further into the park. Sometimes Cast Members will use a rope to block the path that will later be dropped once the park officially opens.
Once the park opens, guests will have to decide where to head first. For example, at Disneyland and Hollywood Studios, many guests now head to Star Wars: Galaxy's Edge. Personally, we head to Mine Train at Magic Kingdom, Flight of Passage at Animal Kingdom, Mickey and Minnie's Runaway at Hollywood Studios, and Frozen Ever After at Epcot.
At the Disneyland Resort, we head over to Space Mountain and either Radiator Springs or Web Slingers at California Adventure.
There's something to be said about guests who can wake up even before the sun comes up and are excited to do so knowing that in a short period of time they will be enjoying a Disney park. This person is me. My brothers, to this day, remember how I would wake them up at 4:30 am on a Saturday morning so that we could get dressed and be on the road.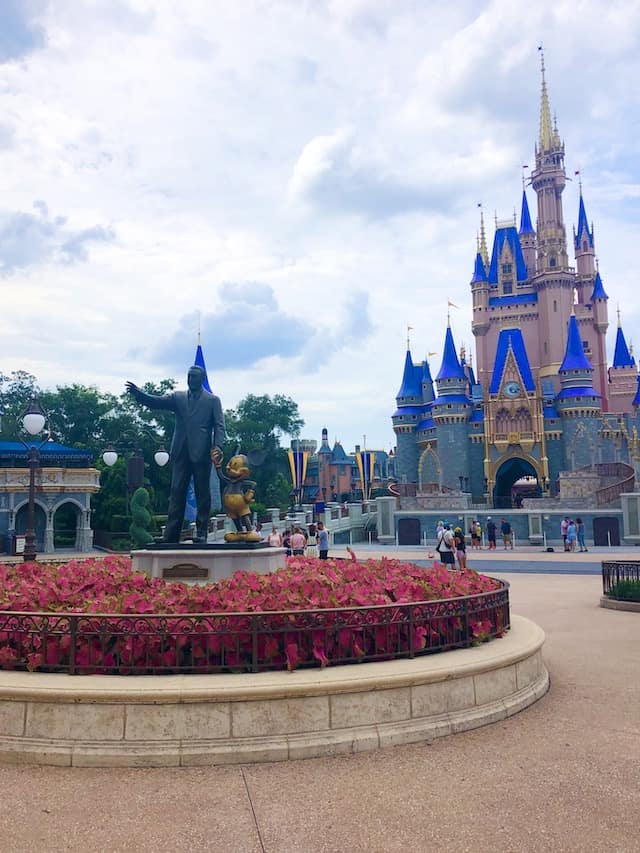 There's a different, yet similar, experience when a guest is waking up in a hotel room getting ready to go to a Disney park. I, again, am that person. I'm the first one out of bed brushing teeth and starting my coffee. Meanwhile my husband and two kids are off in Neverland dreaming. Every few minutes I am kind and ask them politely to start getting ready. By the fifth time, I may or may not take on the role of Maleficent.
For the longest time, my husband did not understand why we "had to" be at rope drop at the parks. It really was not until one visit when he had discovered that rope dropping meant being able to ride a lot of attractions early in the morning with little to no wait. This then gave him the opportunity to go back to the hotel to relax before joining us again in the evening. He now enjoys rope dropping the parks. He understood the assignment.
In my opinion, rope dropping is essential to enjoying an efficient day at a Disney park. This is especially true if you will either be park hopping later in the day or unable to spend the entire day at the park.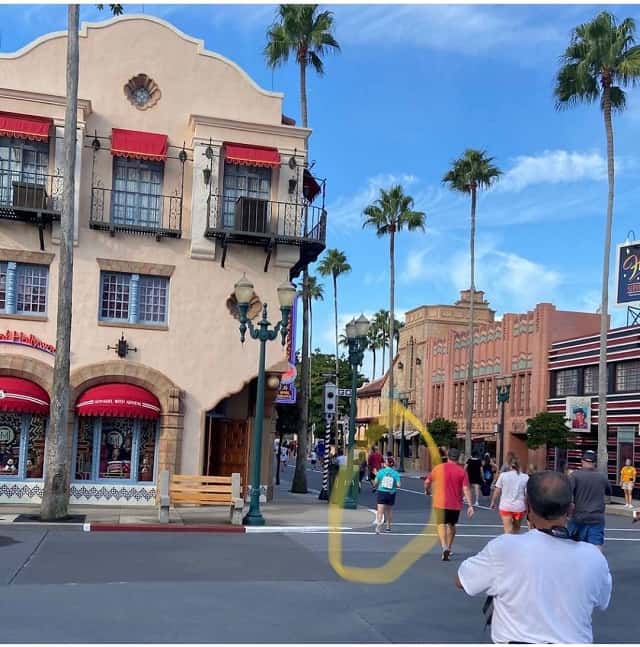 Which brings me to my next point: one of the best advantages of rope dropping is being able to ride many attractions early in the morning before the crowds begin to infiltrate. The turnstiles usually admit guests before park opening so this places guests at an advantage.
For example, over the summer before Genie+, we rope dropped at Hollywood Studios and by 11:00 am we had ridden Mickey and Minnie's Runaway, Star Wars Rise of the Resistance (we obtained an early boarding group via virtual queue), Slinky Dog, Toy Story Mania, Rock 'n' Roller Coaster and Tower of Terror.
By 11:30 am, my husband was back at Pop Century while the kids and I continued at Hollywood Studios until we met up at Animal Kingdom at 2:00 pm.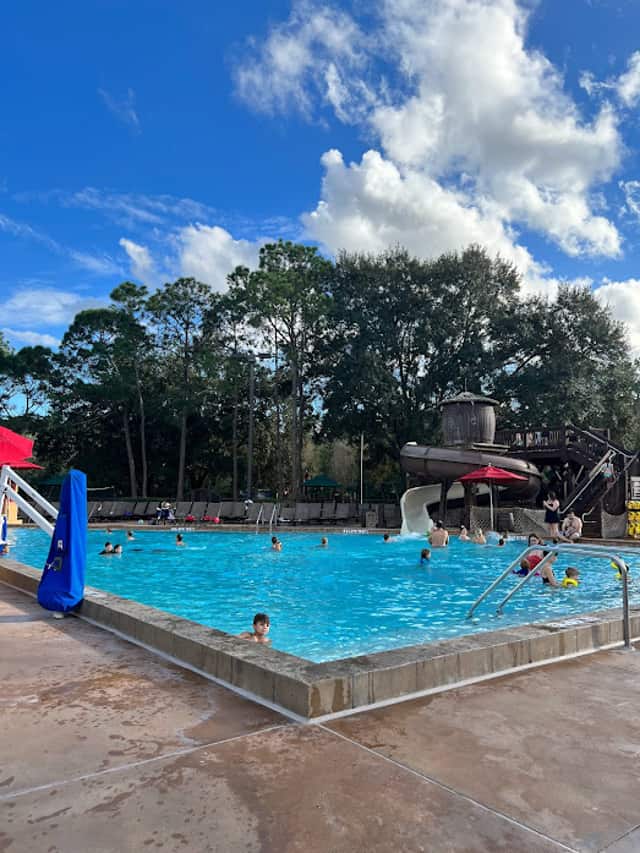 My husband is not the type of person to spend the entire day at the park. He enjoys taking a break and going back to the resort while we are at Disney World. Oftentimes, our youngest will head back with him and they will enjoy the pool at the resort.
The advantage of rope dropping provides the ability to taking a break before heading back to the park or not having to go back to a park at all. I find that I take breaks at resorts more in the humid summer days at Disney World when I feel like I'm going to have a heat stroke. I have also found myself enjoying a break in our room to only miss a torrential downpour.
At Disneyland, the only break that I usually take is sitting inside a restaurant or sitting on a bench while giving my legs a rest from walking and enjoying a cold beverage. Even if we are staying at a hotel, I never head back to the room but rather sit a bit longer in the parks as a break.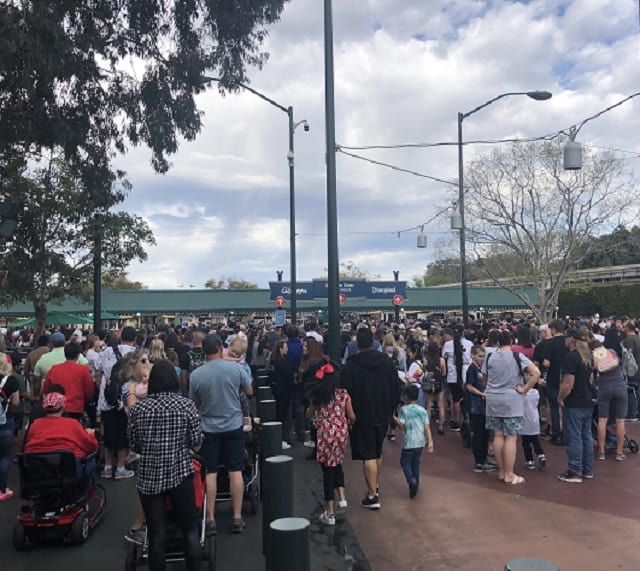 Arriving early to a park also means more crowds, which lead to long lines and long wait times waiting to enter the parks. However, once the park opens and crowds disperse to all parts of the park, guests no longer feel crowded.
Security can be excruciating at Disneyland because security Cast Members inspect belongings. Disneyland has yet to adapt the metal detectors that Walt Disney World utilizes. Disneyland is also much more compact in size at the entrance than Walt Disney World. Its crowd flow at the gate entrance is much worse as lines form down to the entrance gate to California Adventure.
Arriving Later In the Day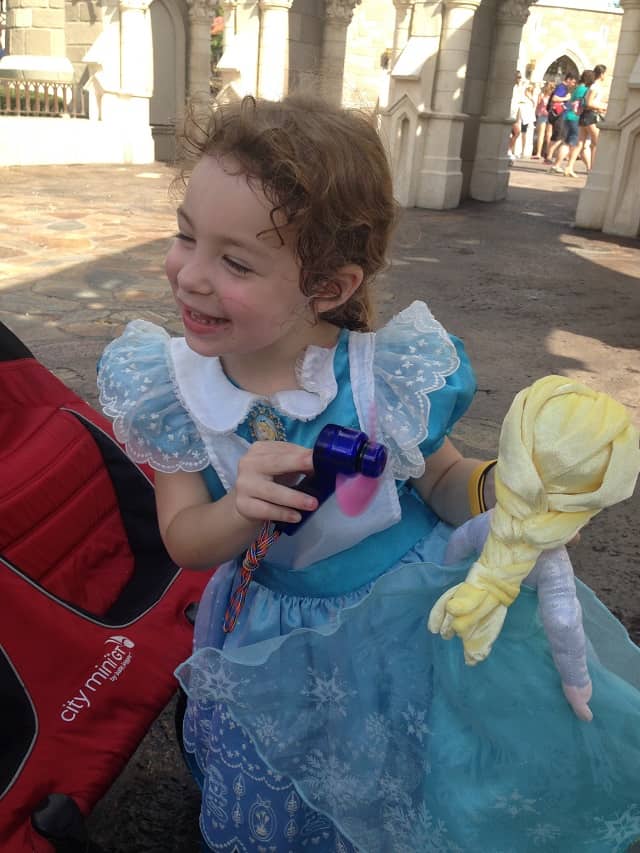 Looking back at my experience of arriving at Disney parks, I have never arrived later than an hour after the park has opened. We recently had a friend over for dinner, and we were talking about him joining us at Disneyland. However, as soon as he heard that we rope drop, he joked that he would meet us later in the day because he prefers to sleep in and take his time getting to the parks. When I asked him about having to stand in long lines, he said, "that's part of the experience."
Arriving later does provide the advantage of being able to take your time in the morning before heading out. If guests plan to arrive later in the day, they can sleep in and enjoy the pools (which will be less crowded in the morning). There is also the opportunity of enjoying a leisurely character breakfast before heading into the parks.
The peak months of summer in Florida are brutal in terms of the heat and humidity. Therefore, by going into the park later in the evening, the temperature is more enjoyable than being at the parks during heat peak hours!
Advantages of Staying Until Closing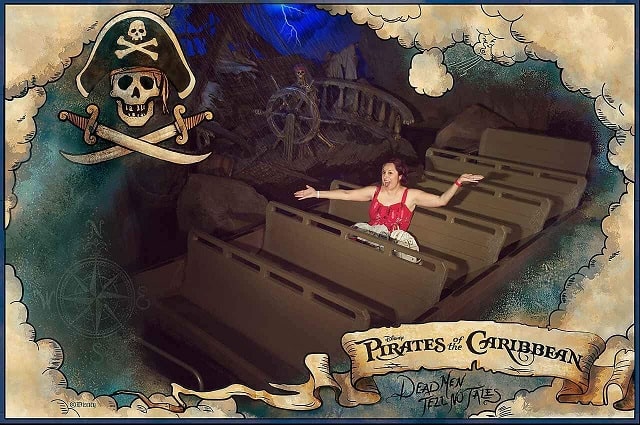 Whether a guest is rope dropping or visiting the park later in the day, one of the advantages of staying until closing is that as long as a guest is in line for an attraction, they will be guaranteed to ride. I remember running like I was in a marathon to Pirates and arriving one minute before closing. The bonus perk was riding all by myself in the boat!
Riding attractions at night and in the dark is another family favorite of ours. We enjoy a thrill ride on Big Thunder Mountain Railroad. We also enjoy riding the Tomorrowland Transit Authority PeopleMover during the fireworks. It is a beautiful and magical experience.
Staying until closing is another advantage. It provides an opportunity to take amazing photos of the park with not many other people around. Main Street remains open an additional hour after closing, making it a great time to go shopping with minimal crowds. Even leaving the park itself is less chaotic and can be a quieter experience.
Making the decision of rope dropping, staying all day in the parks, and taking breaks to arriving later in the day will ultimately be the guest's decision. It may even change trip to trip. So, which type of guest are you? Let us know in the comments or join our crew to continue the conversation on Facebook.