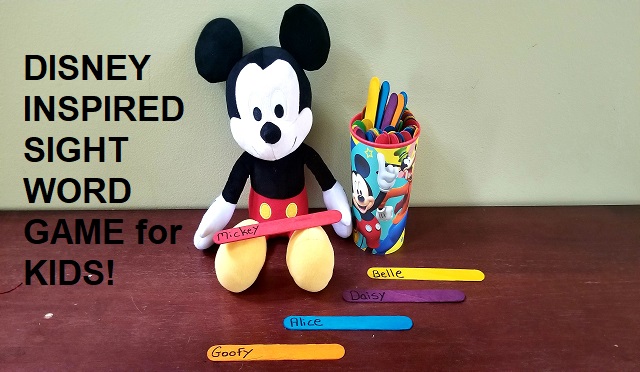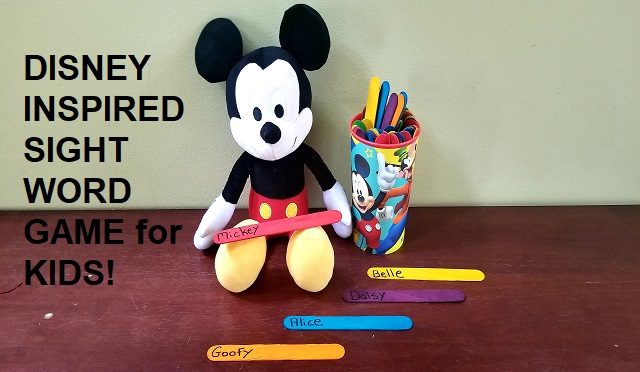 Make learning at home fun by adding a Disney twist complete with a villainous takeover! Do you have elementary-aged children who are learning to read? They will enjoy this fun game that uses just a few everyday household items to help with learning to read and memorize words/sight words while still having a bit of Disney magic.
Before playing you'll need a little bit of prep time. The good news is your kids are able to help with most of it! Some supplies you may already have, or be able to round up from around the house. Otherwise, you may need to add the supplies to your next grocery store run.
It will also be helpful to have a list of sight words your child needs to improve on and a list of Disney characters. I recommend the Master Character list on Character Locator!
Supplies for the Disney Sight Word Game:
A Disney themed cup or just any fun cup you have
Popsicle sticks (if no popsicle sticks then cut up strips of paper)
Sharpie or markers
Stickers (not necessary to play the game–just fun)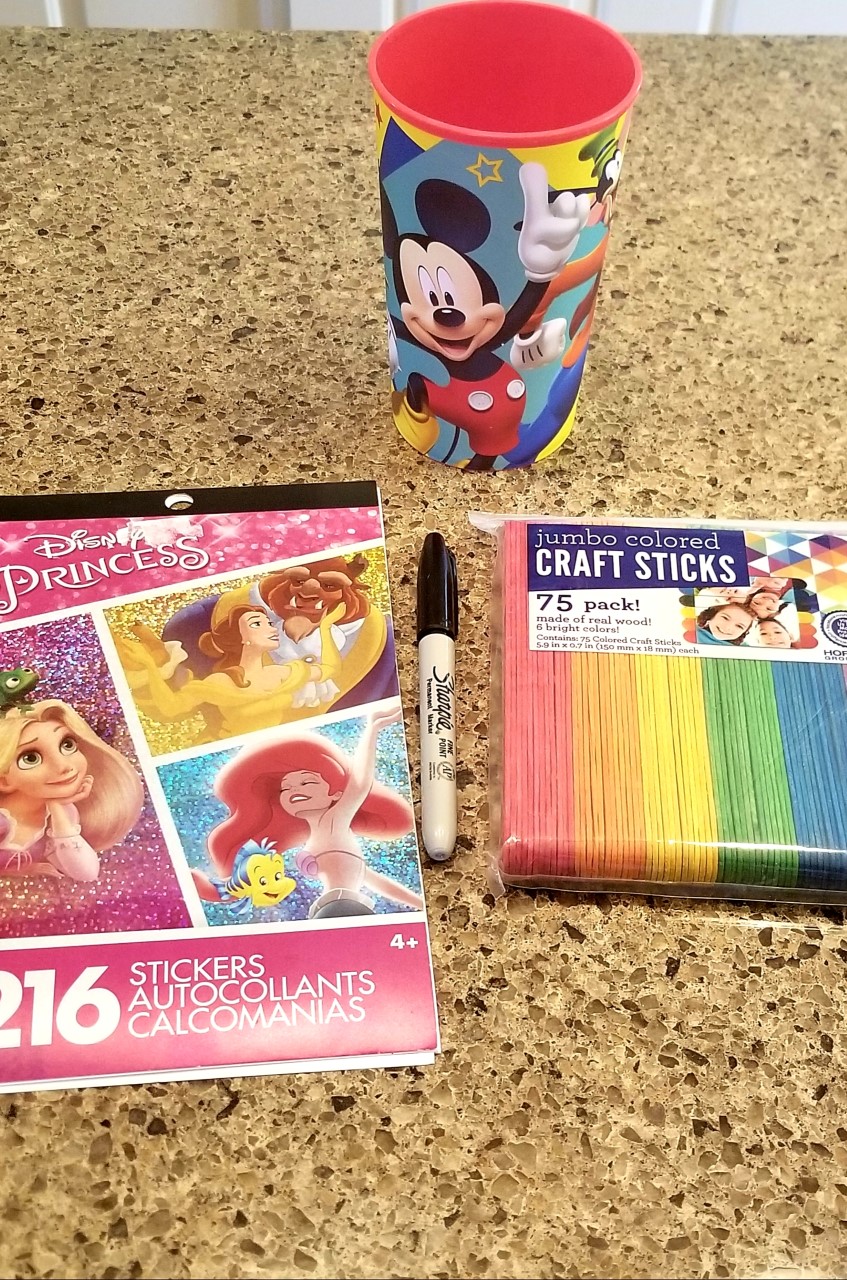 Steps for Assembling the Game:
Start by clearing off a large workspace such as your kitchen table or counter. Set out your cup, popsicle sticks (or cut up paper), and Sharpie/markers.
Next, have your sight words and Disney character lists ready.
You or your kids can then start writing words/names at the end of each popsicle stick. We chose to just go this time with all Disney character names, but if you are incorporating sight words just alternate between one Disney character and one sight word.
Once finished, place all your sticks with the names/words going down into your cup. Shuffle them the best you can.
We went in alphabetical order straight from the Character Locator Master Character list.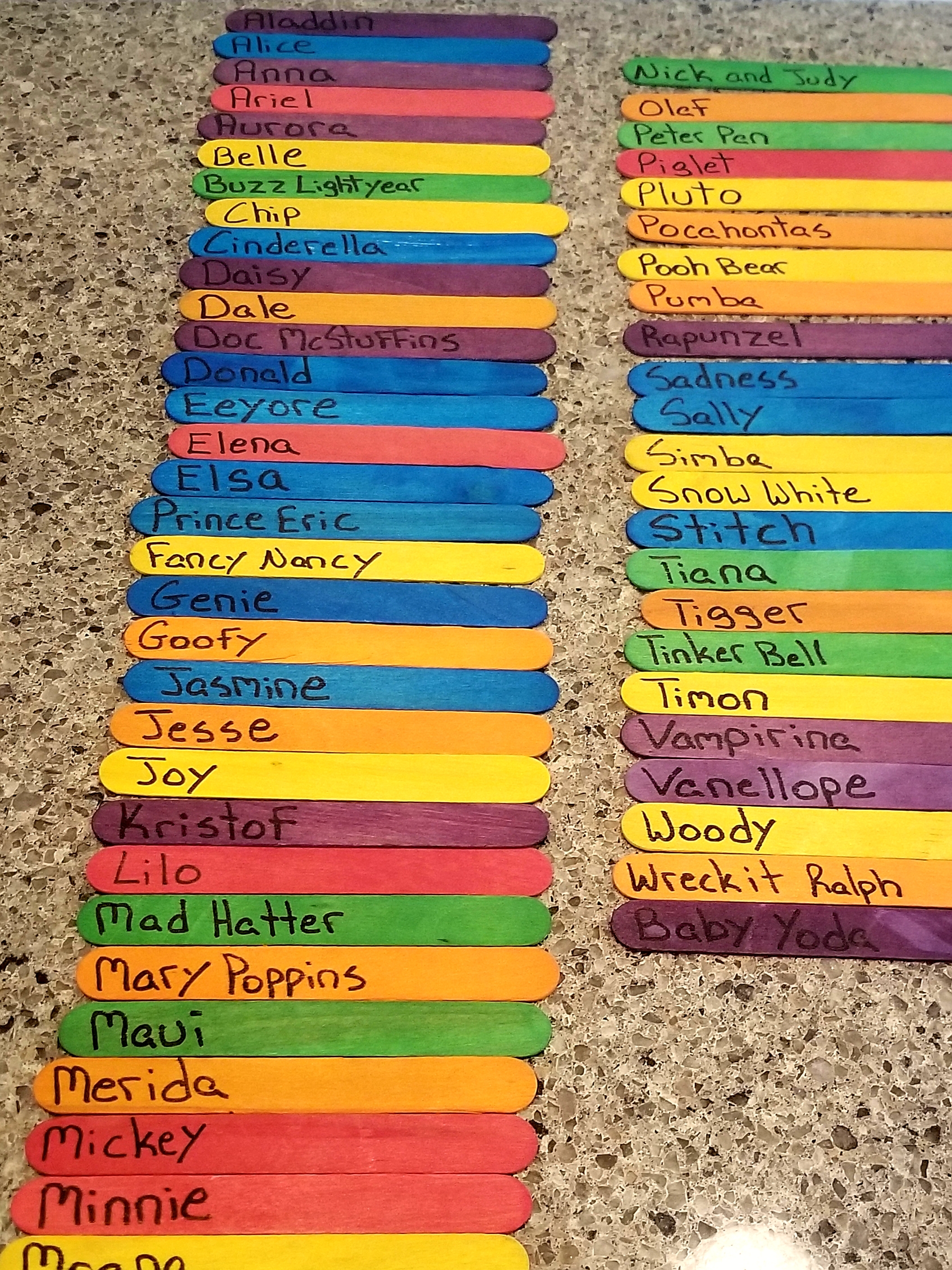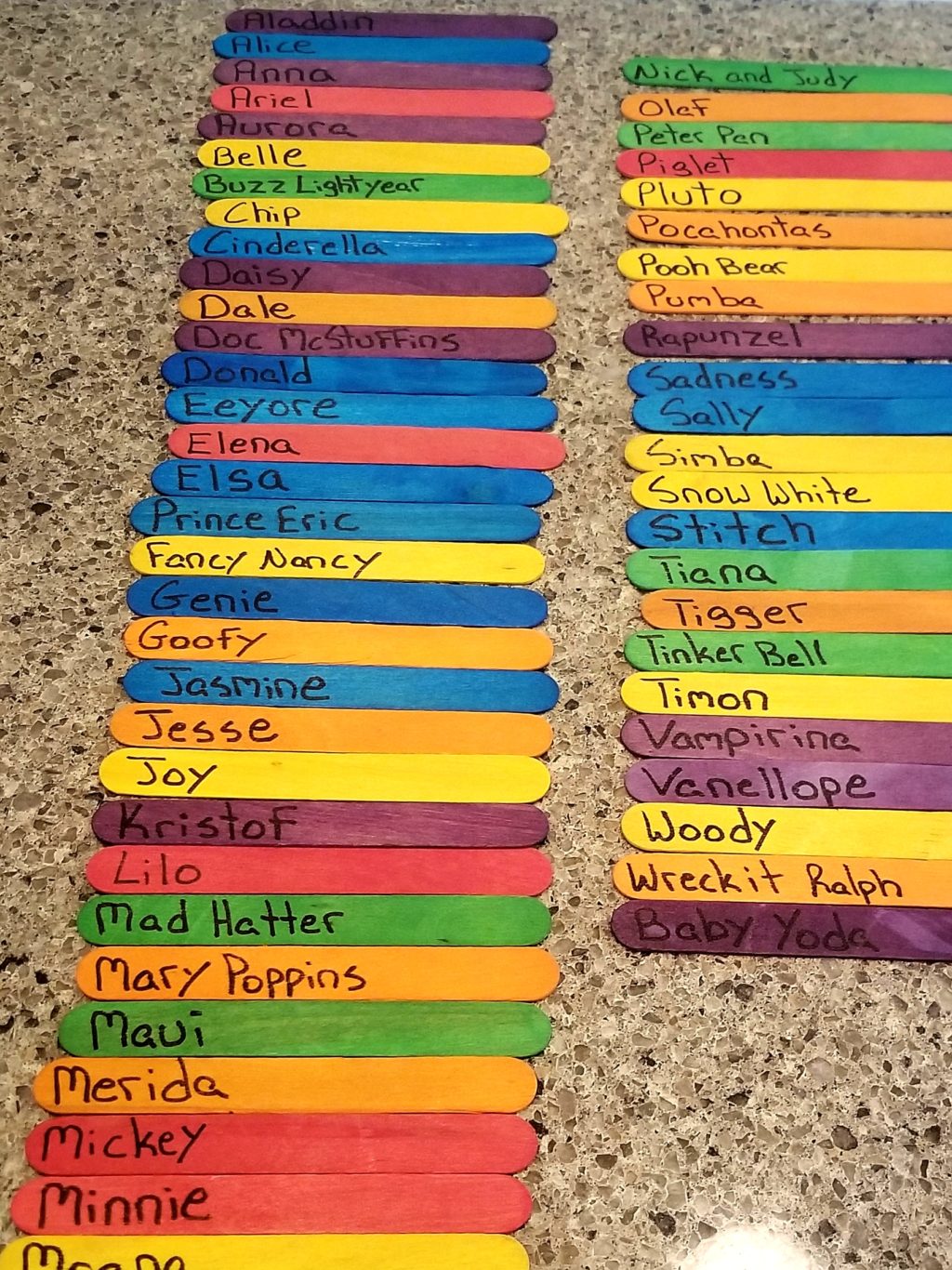 Do not forget to include the villains! They are important in this game! Also, my 7yr old helped so no judging if these are not in perfect alphabetical order!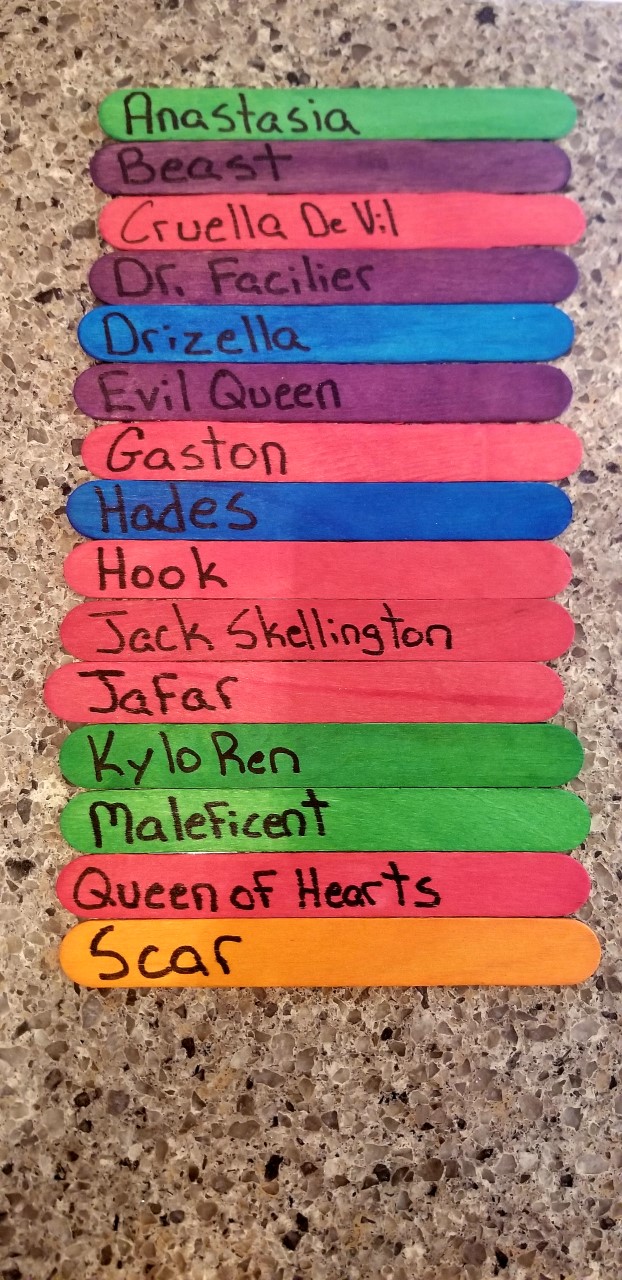 How to Play:
Let's play! The idea of the game is to take turns drawing sticks and reading the name/word aloud correctly until you reach a set number. We like to start at 5 then work our way up by 5 more and so on for each round we play.
If a player reads their stick incorrectly they must put it back and lose that turn. If a player draws a stick with a villain's name such as "Maleficent," they then lose that round and must put all their sticks back. Be sure to shuffle the cup!
The player that reaches the set number of sticks first is the winner! Use stickers, candy, or whatever you have on hand for rewards! If a player didn't win but read all their words correctly give them one sticker. Winners get two stickers! Just have fun with it and make it your own!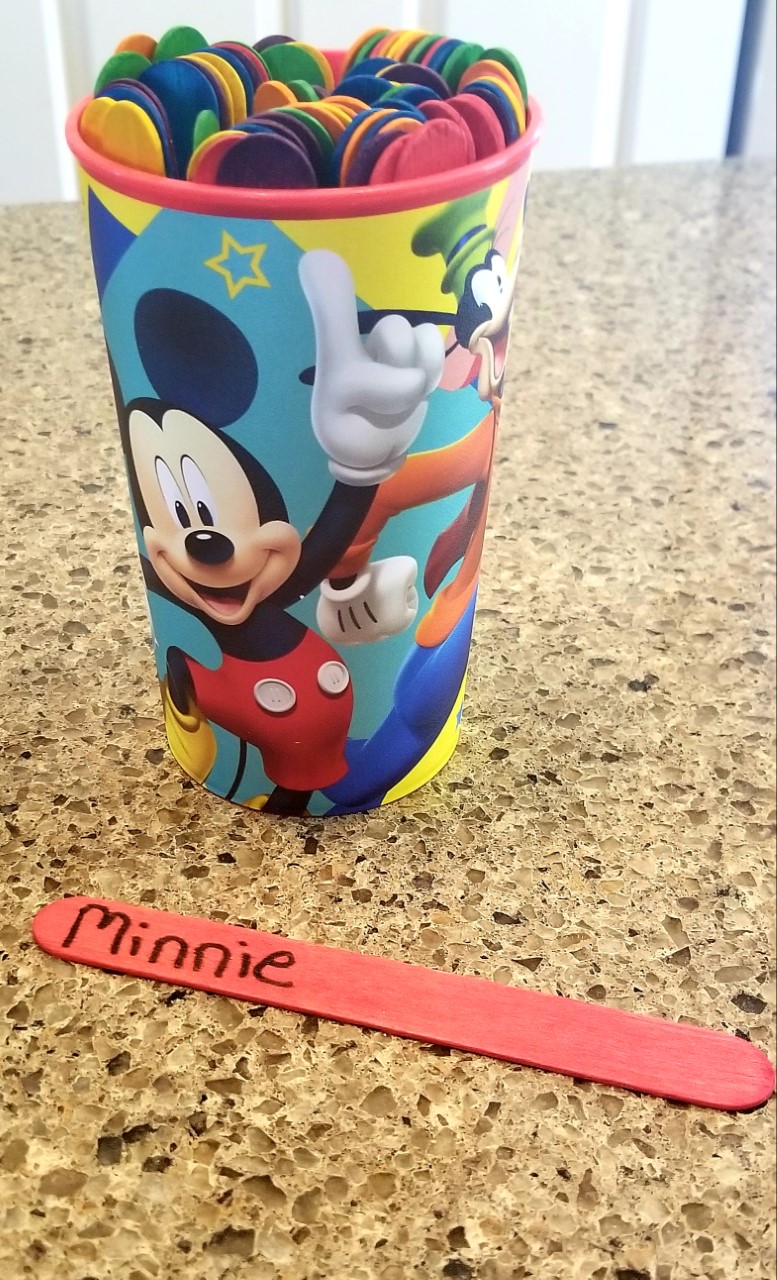 Learning with the Disney Sight Word Game:
Kids are learning quite a bit while prepping and playing this game.
During prep, your child may be using an electronic device to look up sight words and Disney characters. While writing down the sight words and characters onto the sticks you can ask that they put everything in alphabetical order (as shown in my photo above).
Next, while playing, kids are using counting and math skills to keep track of turns and points while also sounding out, reading, and memorizing words.
Patience and good sportsmanship are also teachable moments throughout this game.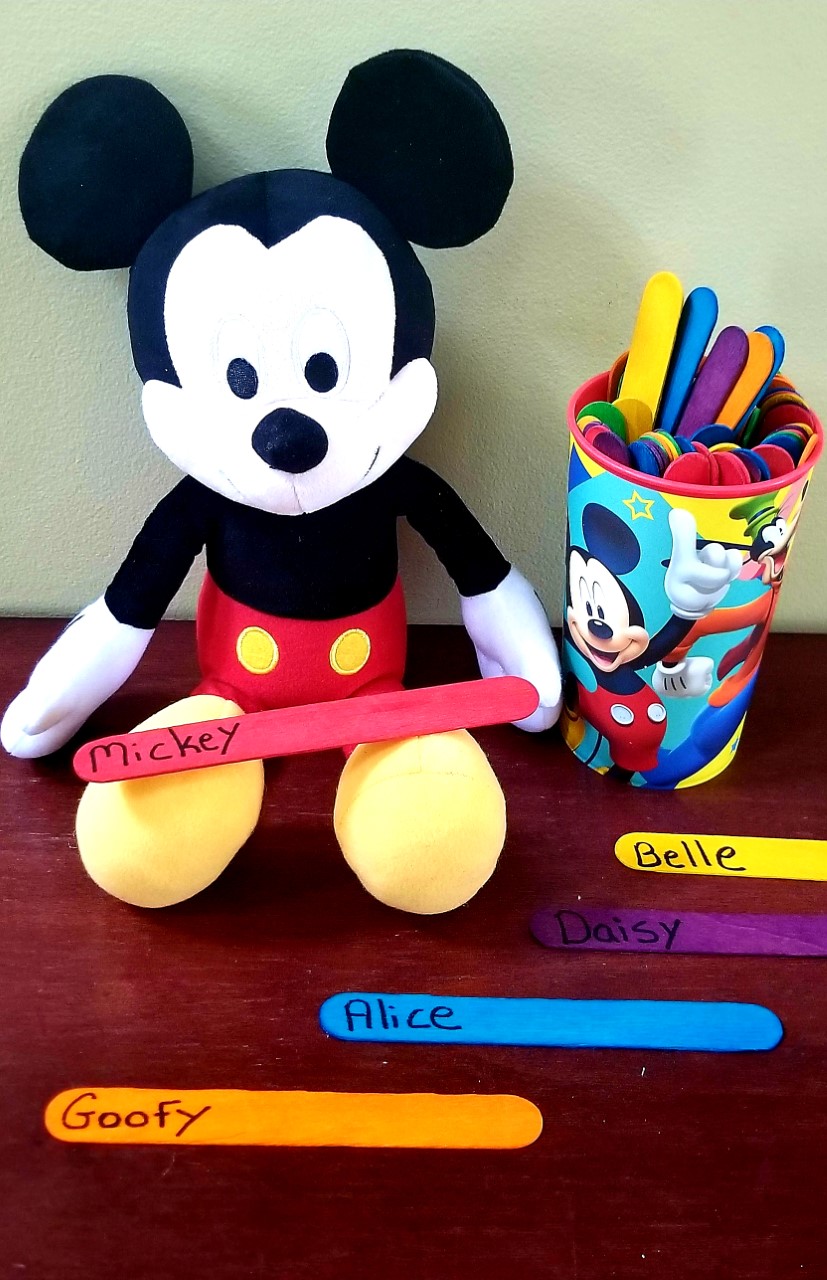 I really hope everyone enjoys this game as much as my family does! We have a couple of different versions that we alternate playing.
Like I said, take this and make it your own based on what your family enjoys and what your children need. Make it easier or harder depending on your age group. There is no right or wrong! Just have fun!
Will you be trying this game? Do you have any fun learning games you play at home with your kids that you'd like to share? We'd love to hear your ideas on the Facebook page!
Amanda Wesche