If you are anything like me, you can feel the "Disney Blues" setting in before you even leave the Walt Disney property. Basin White is a great souvenir destination where you can bring home a bit of Disney magic for both yourself and others.
What is Basin White?
Basin White is a shop that offers chemical-free bath and skincare items. You can find bath bombs, specialty soaps, sugar scrubs, and even sugar soufflés at Basin White.
Basin White Locations
You can visit Basin White at 2 different locations while visiting Walt Disney World: on the second floor of the Grand Floridian Resort & Spa and also at Disney Springs. Both locations are bright, inviting, and they smell AMAZING.
In my opinion, the Disney Springs location is the optimal shopping experience because it is larger and houses more inventory.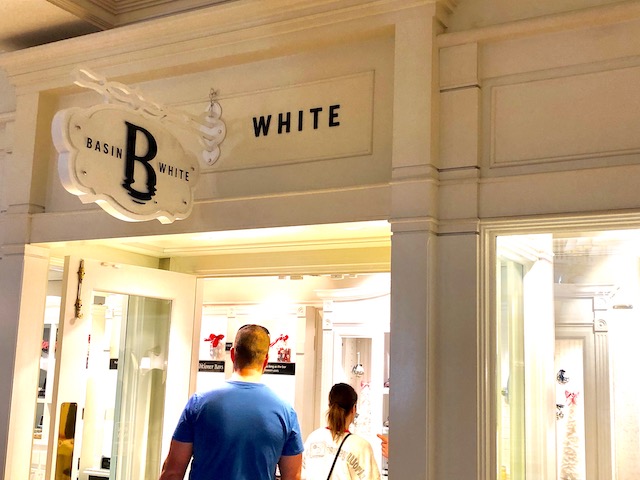 Bath Salts
One of my favorite items from Basin White is the bath salts. You are welcome to fill a tube with a variety of different fragrant salts. These are available for $5.99 each tube. You can also purchase 6 tubes for $29.99, which also includes a plastic carrying case.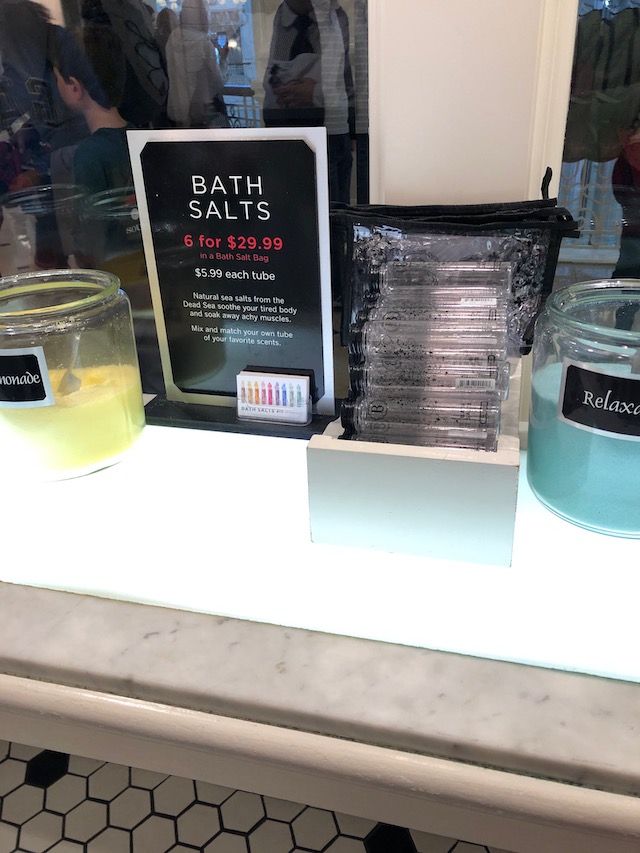 it is amazing how much these small tubes can hold and the salts are wonderful in the bath. They create a wonderful scent and are very moisturizing. My very favorite scent is "Wishes." In my opinion, it reminds me of the sweet fragrance of Flight of Passage. I shared this with another shopper and after smelling "Wishes" she filled up a whole tube of that scent alone.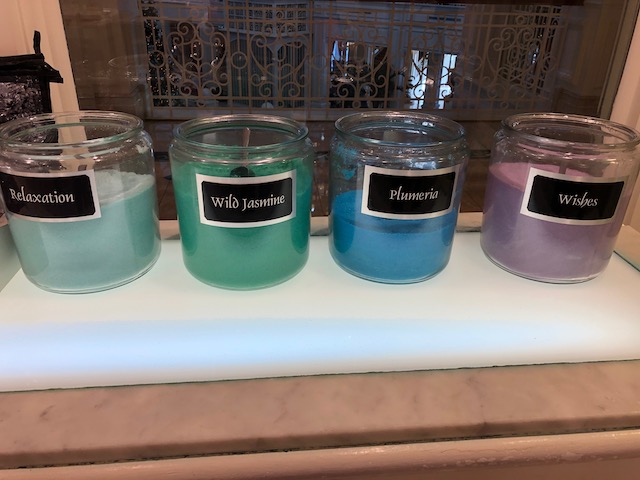 Candles
Who doesn't enjoy a candle as a souvenir, especially one that will remind you of Walt Disney World? Guests are welcome to create their own candle with the scented wax colors. You can create a candle for $14.99 each or 2 for $24.99.
Bath Bombs
Bath Bombs are very popular and can be found everywhere, but only Basin White offers the "Mickey" bath bomb that is filled with Mickey confetti. Fragrances offered include Fresh Strawberry, Plumeria Blossoms, Sandalwood/Freesia/Champagne, Electric Lemonade, and Pineapple Papaya.
The bath bombs are a large and even come printed with a Mickey head.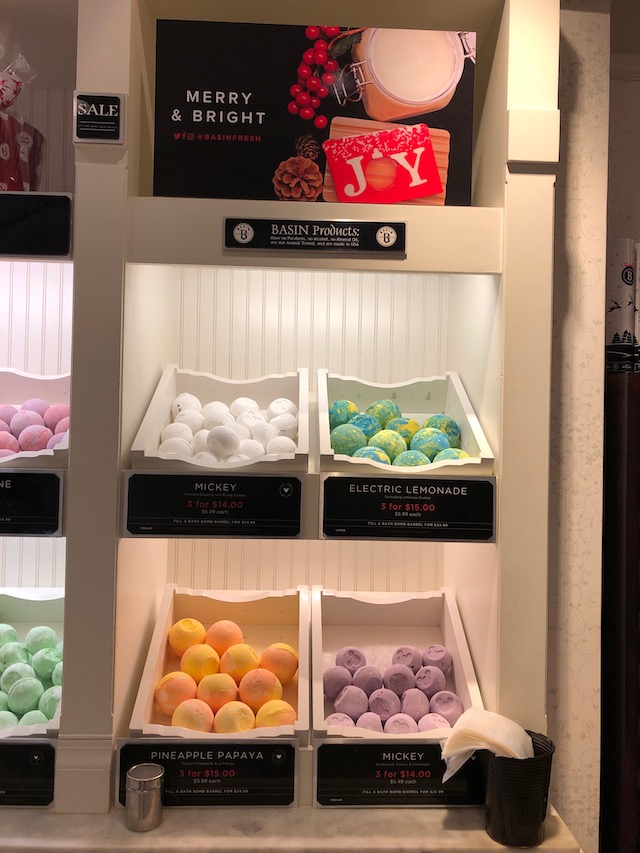 The "Mickey"bath bombs release Mickey sugar confetti once placed in the bath. Since the confetti is made of sugar then they dissolve after some time in your warm bath to eliminate clean-up.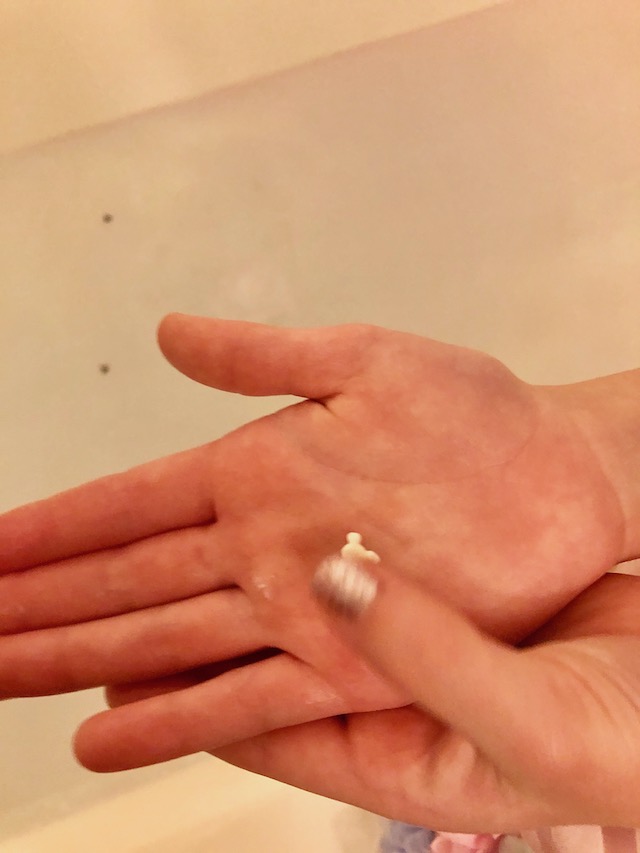 Prices for Bath Bombs are $5.49 each, 3 for $14, or you may fill a barrel with a variety of bath bombs for $24.99. The lids are available at the time of purchase and the lid must be able to fit on the tube in order to be able to purchase for this price. Bath marbles are not included in this special.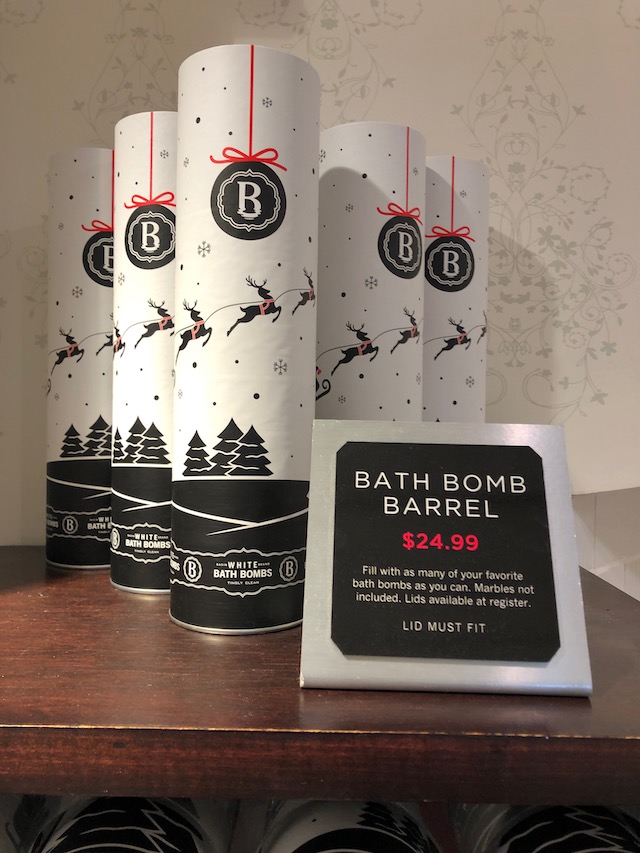 Bath Marbles
Small bath bombs called "Bath Marbles" are also available for purchase. These are great to allow you to create your own specially scented bath by using a few different scents in the same bath. They may also be used individually for a small bath treat to extend your souvenir buck.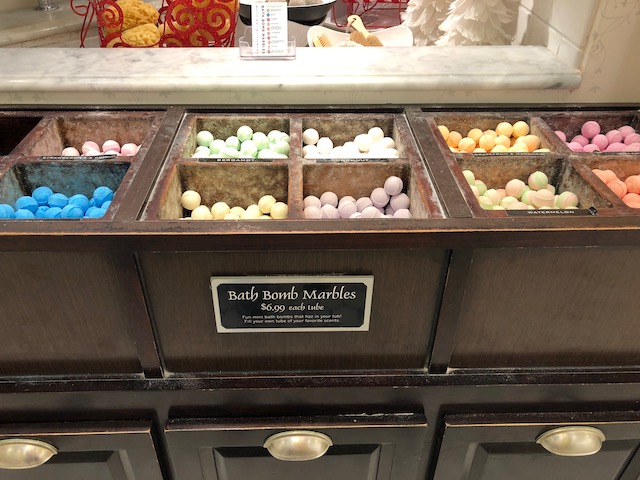 Shower Bombs
Do you know someone who prefers showers rather than baths? There are a variety of shower bombs that can be enjoyed simply by placing on the floor of the shower.
Note: these can be enjoyed even longer if not placed in direct contact with the water stream. Shower bombs are $4.99 each or 3 for $12.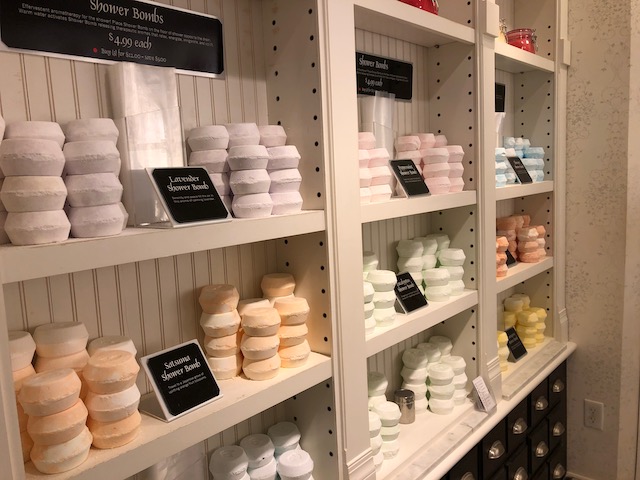 Sugar Souffle
Luxurious is the best word to describe sugar soufflé. It is wonderfully scented and will leave your skin soft and moisturized. It is a rather small jar for $19.99, but a little does go a long way.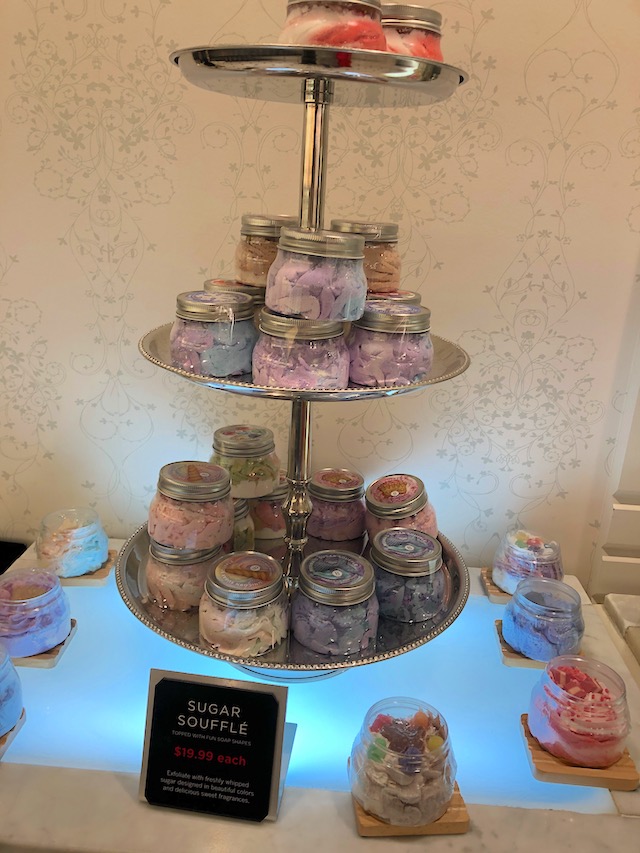 Body Scrubs
A small dime-sized amount of this body scrub helps to moisture and soften skin. To me, the price was a little high for this scrub, but many others were purchasing jars of them. There are dual sinks in the store that allow you to try both the Body scrubs and sugar soufflé'.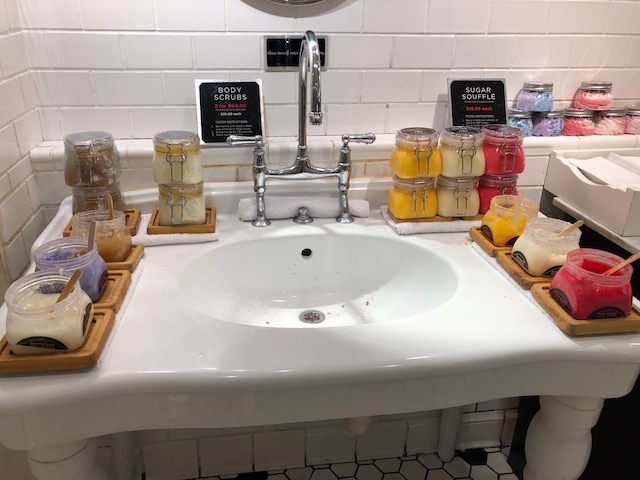 Specialty Soaps
One of the most fun items in the shop has to be the variety of specialty soaps. These make wonderful gifts for others, but in my opinion, they are more for decoration than for practical use.
The soaps do not lather quite as well as other specialty soaps. These are priced at $5.99 a pound. Each bar is wrapped individually and priced according to its weight.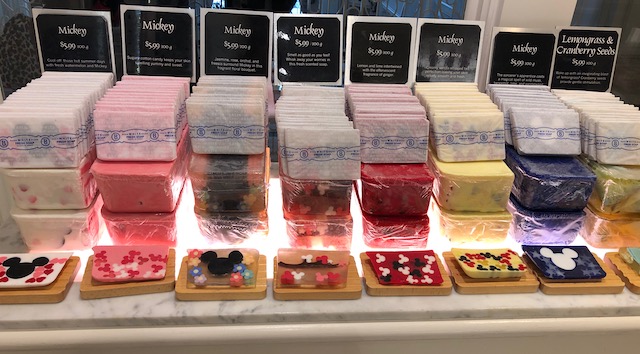 You can find out more about the Basin White products at https://basin.com.
These would make wonderful, practical souvenirs that can be enjoyed by others or for you to keep as well to remember your magical vacation. Have you had an opportunity to visit one of the Disney Basin White locations? Which item do you think you will bring home after your next Disney vacation? Let us know on Kenny the Pirate's facebook page.