Everyone in the Disney fandom has been talking about the release of Disney+ yesterday. 10 million fans (and counting) have signed up for the service. And some of the content that we know and love comes with a content warning for "outdated cultural depictions".
Users logging into Disney+ to stream favorite animated films from their childhood quickly took notice of the content warnings found in the descriptions of some films. To be clear, the content warnings are not limited to the "outdated cultural depictions", but also mention things such as tobacco use, that cautious parents may want to note.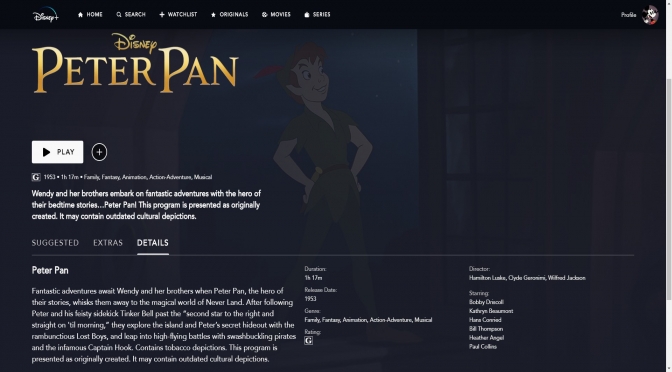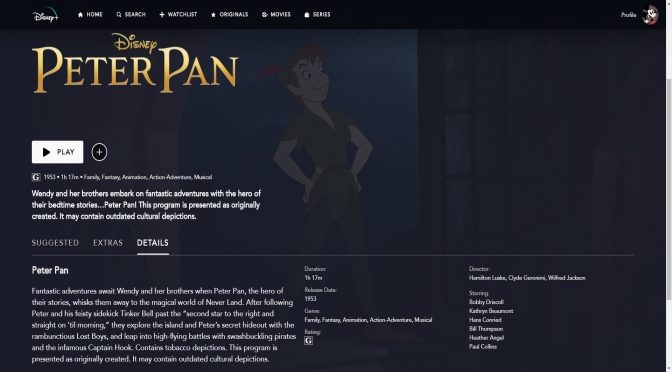 Peter Pan, Dumbo, and Lady and the Tramp are some of the Disney classics that carry such warnings. I can appreciate the effort to balance the desire to present the film "as it was originally created" with the need to point out some of the cringe-worthy cultural depictions.
Some users have noted that the content warning is a bit delicate, given that the depictions in these films are not just "outdated", but also incorrect and offensive to those depicted. Twitter users pointed out that Warner Brothers displays a much stronger message before their racially insensitive content:
No plug forthcoming. Let's be clear, Disney did harm. A lot. The only question is how to best address this. If the consensus from those directly harmed is that we need stronger wording you will receive no argument from me. Many have referenced the WB. Here is that wording. pic.twitter.com/X9aGjXv97o

— Evan (@324_B21) November 12, 2019
As a parent, I welcome this opportunity to explain to my child (age 9) how widespread sentiments about race have evolved (and continue to evolve). I also find the historical context behind some of the depictions interesting and like to give a little historical background with my explanations!
For instance, Thailand (formerly Siam) was not seen very favorably in post-war America due to the nation joining the Axis Powers and declaring war on the Us and Great Britain at the end of World War II. So, while a culturally insensitive depiction of the Siamese cats may have been seen as o.k. by producers in 1955, it's a scene that hasn't aged well in 2019.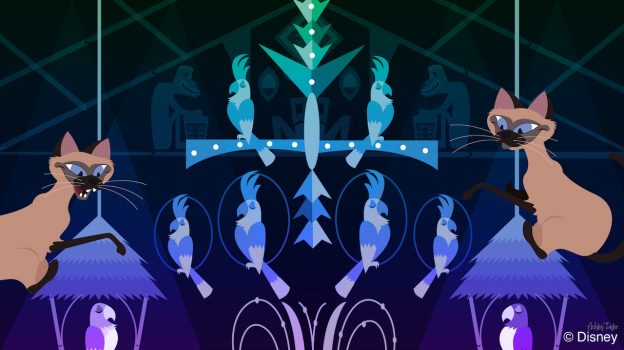 I feel that the warnings are a step in the right direction, but that they could certainly be more candid. The company could take some responsibility for the role they played in perpetuating these stereotypes.
I'd prefer that if the warning is going to be there, that it would be closer to the Warner Brothers version. But, it seems that true to their usual form, Disney is trying to toe the line and keep everyone happy.
What do you think? Did you notice the warnings? Should they change the wording to reflect these concerns?
-Rebecca W Davis