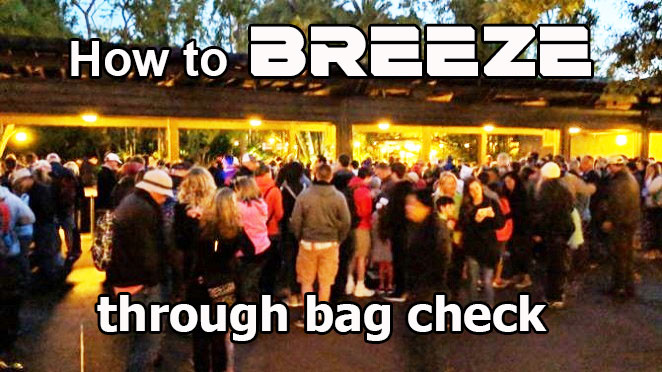 It's common knowledge that the fastest way to get through Disney bag check, is to have no bag. What do you do if you have to have a bag? Here are five tips to help you get through the bag check line faster.
[the_ad id="41782″]
You arrive to the park with your family. Everyone  is excited to start their day except the bag check line is longer than you ever imagined. How do you get through this line as quickly as possible? You always feel like whichever line you choose is the wrong one. Here are five helpful tips to get you into the park faster.
[the_ad id='41523′]
Pick a bag with the fewest zippers.
Disney security has to check every pocket in your bag. If you have a bag that has fifteen pockets then they will check all fifteen pockets. Try to bring a bag with two to three compartments max, so that they can look through your bag quickly and efficiently. To keep your things organized brings me to tip number two.
Use clear gallon storage bags to organize your items.
Security can see all the items without taking everything out of your bag. Security will remove things and place them on the table. If all your things are on the table then you are left scrambling to get your loose items back into your bag and move on. You can organize your bags into snacks, extra clothes, and diapers and wipes for the kids. Now that your items are all in clear plastic bags just grab the bags, and place back into your park bag.
Pick the bag check on the ends.
Traditionally the security guards work from one side and then the other. These security guards on the ends tend to only work from one side of their table. So even though their lines may appear longer, they move more quickly.
Have all your bags on the table and no longer attached to you.
This includes cross-body purses. Security will not begin to look in your bags if it is still somehow attached to you. They will also check under all strollers and any stroller organizers.
Have all compartments to the bag open and accessible to security.
They tell you this in line, but most people don't open every compartment. More time is taken up by Disney Security having to open each and every compartment to your bag. If you have every compartment open then security knows where to look and can move more efficiently.
What have you done to make Disney bag check easier for you and your family? Do you find these tips helpful? Comment to let me know!
-Heather Alosa
Are you planning a vacation? Reach out to our trusted travel agency sponsor Authorized Disney Vacation Planner
Mouse Class Travel
!