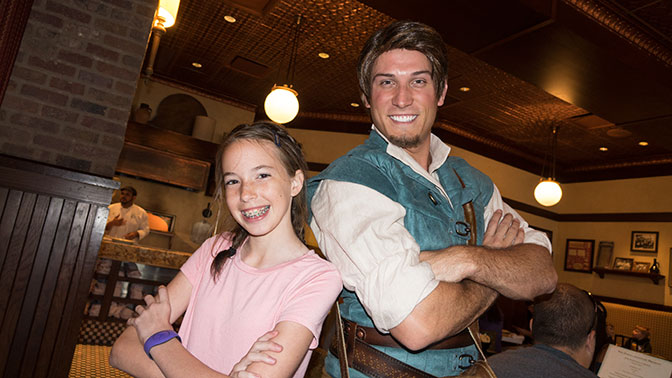 Bon Voyage Adventure Breakfast
The Bon Voyage Adventurer's Breakfast is the latest Walt Disney World Character Dining experience.  It takes place at Trattoria al Forno along the Boardwalk area between Epcot and Hollywood Studios.  Here's all the details you'll need to know about Bon Voyage Adventurer's Breakfast before deciding to add this meal to your plans.
Location
The restaurant is located right beside the main entrance to Disney's Boardwalk Resort.  It is closer to Epcot than Hollywood Studios.  If you are coming from Epcot, just walk over from the International Gateway.  If you are coming from Hollywood Studios, take the boat or walk 10 minutes or so.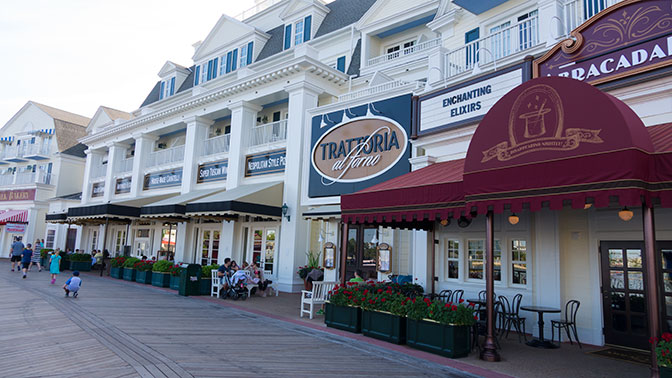 It is located next to the Abracadabar and near the ESPN club.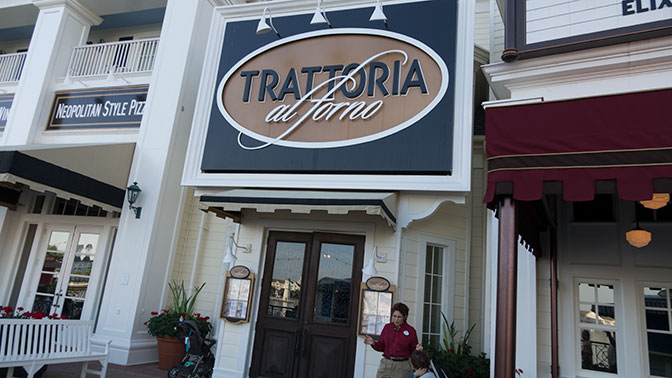 It offers a beautiful view, but those taking part in the character breakfast are seated indoors.  I did notice that they accepted walk ups for breakfast with no characters, but seated them outdoors.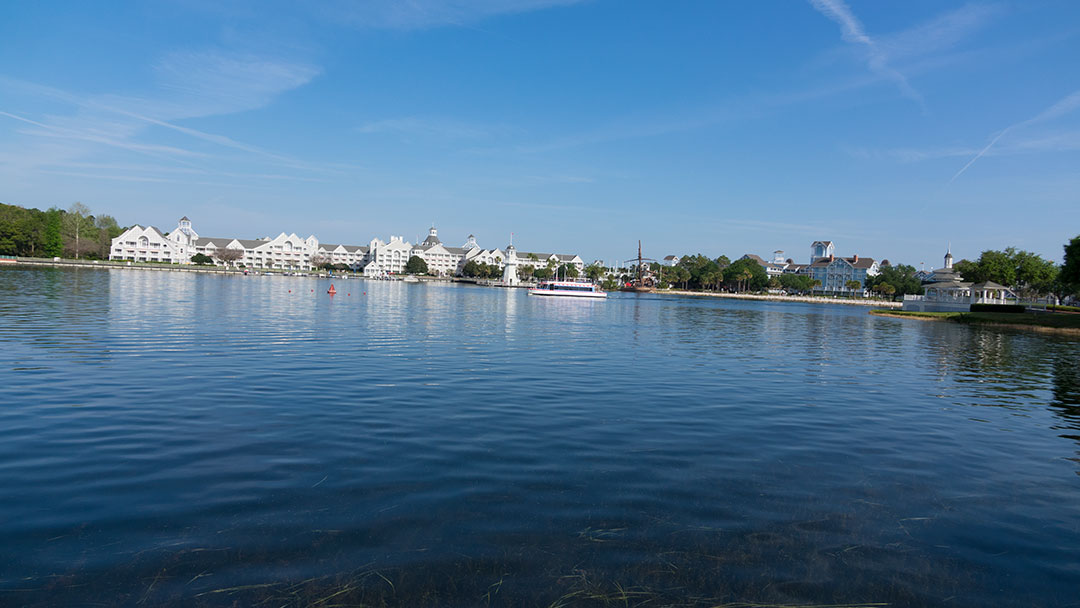 Getting to Trattoria al Forno from other Disney World Resorts
That's the tricky part.  There is no direct bus from any resort to the Boardwalk, so you'll either need to go to Epcot or Hollywood Studios and transfer as mentioned above or take a taxi or use Uber.  If your meal is before the parks open, you won't be able to travel to Epcot because you'll need to walk through that park.  You could take a bus to Hollywood Studios and walk over, just allow an extra 10-15 minutes for the walk.
I recommend using a taxi or Uber as it is super simple.  If you are driving your own vehicle, you are allowed to park at the Boardwalk with a valid dining reservation.  Valet is offered at an extra cost.
Check-in process
The check-in is very simple.  You arrive, give them your name and they check their system and give you an estimated wait time.  We waited about 10-15 minutes on the first day for an 8:50am breakfast reservation.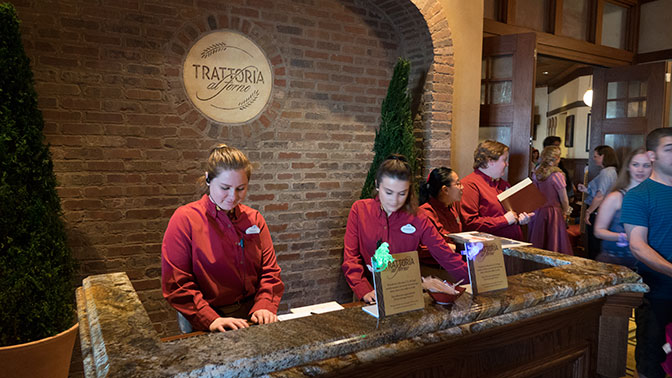 If you haven't already picked up your Princess or glowy gear, they sell some stuff in the lobby area.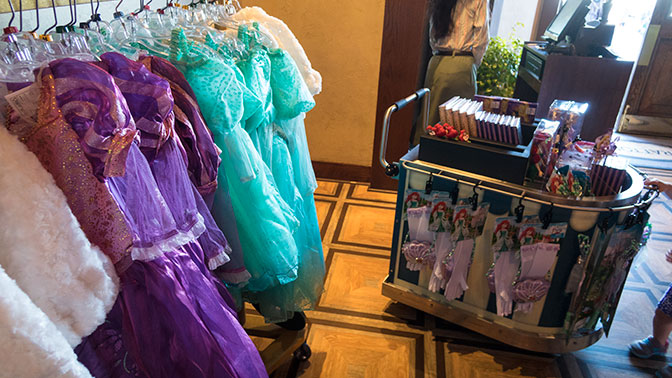 Menu
Before listing out the menu, I'll mention that because all food is prepared fresh, you can request special order changes and they will accommodate all allergy issues.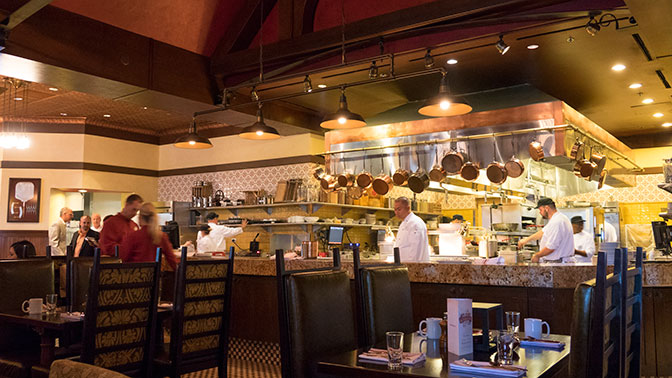 My daughter is considered adult for the purposes of dining.  She requested the stack of pancakes with a side of scrambled eggs.  The eggs were provided at no additional cost for her.  I requested scrambled eggs, rather than egg torte and was accommodated with no issues.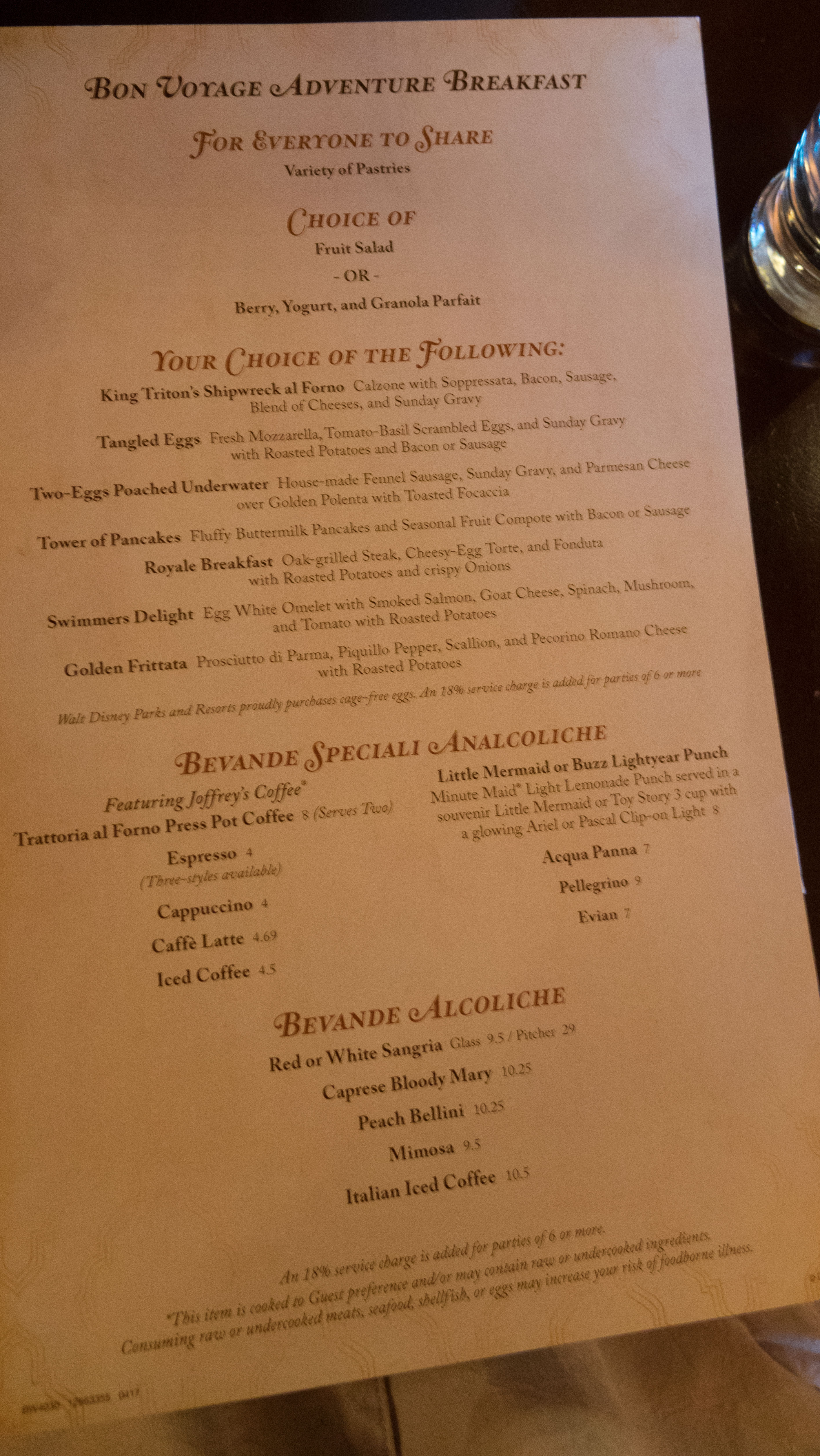 Adult Choices
"Shipwreck al Forno"
Calzone with scrambled Eggs, Soppressata, Bacon, Sausage,
Blend of Cheeses and Sunday Gravy
"Golden Frittata"
Prosciutto di Parma, Piquillo Peppers, Green Onion,
Pecorino Romano and Roasted Potatoes
"Tangled Eggs"
Tomato & Basil Scrambled Eggs,
Fresh Mozzarella, Sunday Gravy and Roasted Potatoes
"Two Eggs Poached Under Water"
House-made Fennel sausage, Parmesan, and Sunday Gravy
over Golden Polenta and Toasted Ciabatta
"Tower of Pancakes"
Seasonal Buttermilk Pancakes with Bacon or Sausage
"Royal Breakfast"
Oak-Grilled Steak, Cheesy Egg Torte, Asparagus,
Crispy Onions and Roasted Potatoes
"Swimmers di 'light'"
Smoked Salmon Egg White Omelet with Spinach, Mushrooms,
Tomatoes, Goat Cheese and Roasted potatoes
Kids Meals
"Little Royal Breakfast"
Grilled Steak, Scrambled Egg substitute and fresh fruit
"Little Swimmers Delight"
Egg White Omelet with spinach and tomatoes.  Served with potatoes
"Flounders Flapjacks"
with bacon or sausage and fresh fruit
"Mickey Waffle"
with bacon or sausage and fresh fruit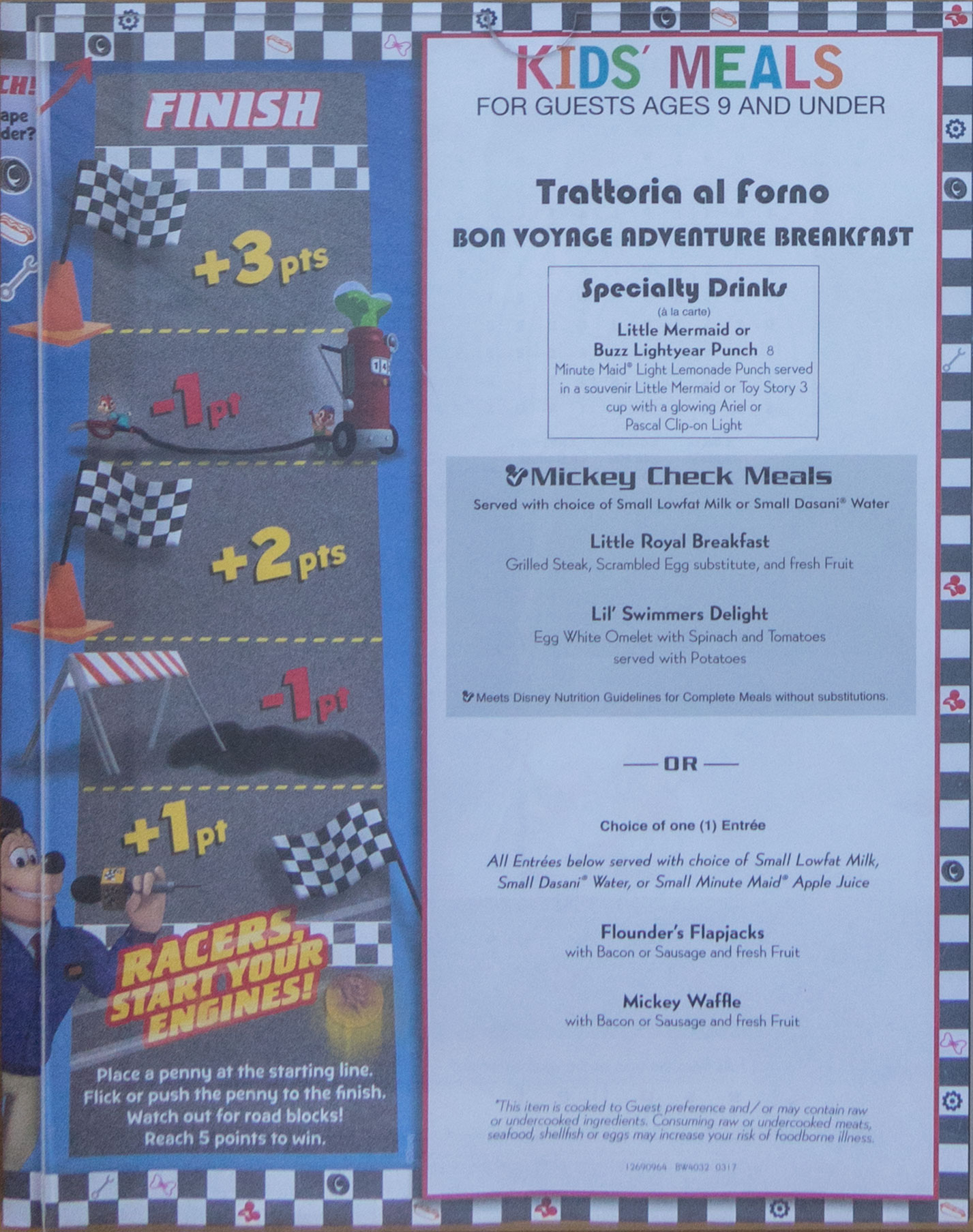 The Food
The food was more than generously served and delicious.  We began with a choice of fresh fruit cup or yogurt parfait.  We each opted for the fruit cup.  The sparkly crown is an edible cookie, but the sword is plastic.  It was fun to stab our fruit and consume the fruit, made it feel piratey.  We even had a sword fight.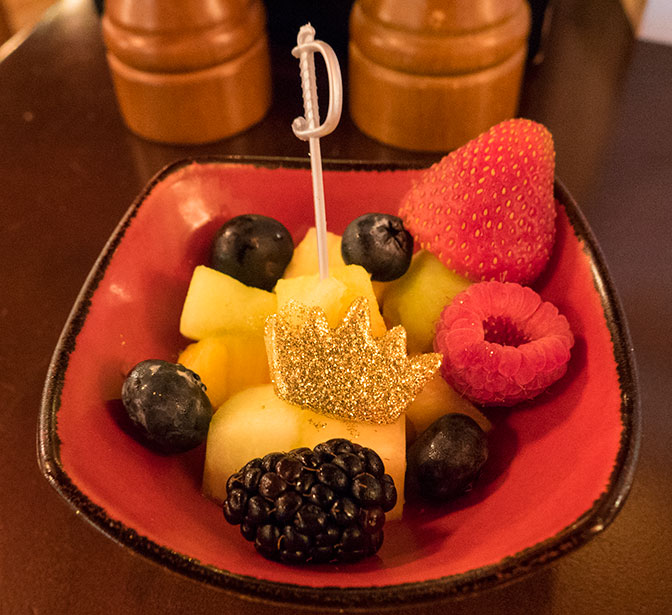 Each table is presented with a variety of tasty pastry items.  The Rapunzel star and Ariel's cherry turnover were the stars.  Our server asked if we wanted more during our meal and we both opted for an extra Rapunzel star.  It's so pretty you'll wish you could take it home and frame it.  It was quite flaky too.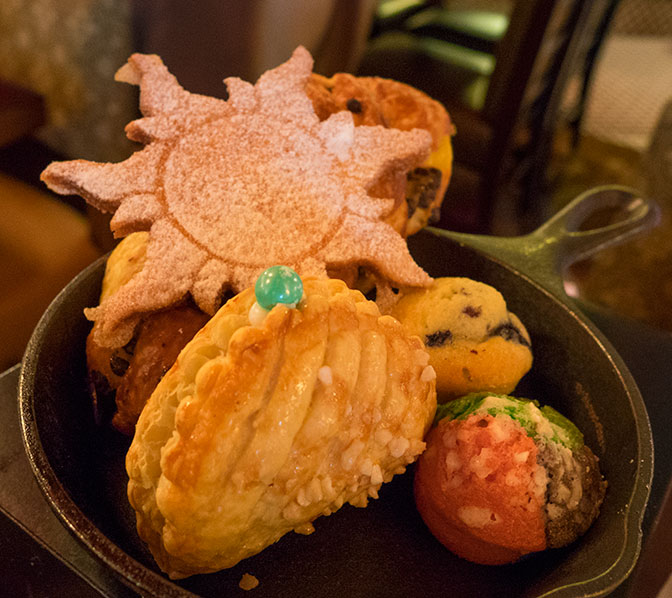 I ordered the steak n eggs which comes with breakfast potatoes and onion straws.  I requested the steak medium and it was prepared exactly as requested.  It had good flavor.  It would have like a bit of a crust on it, but it was good.  The scrambled eggs I requested were served with the cheese sauce.  I'm not usually a fan of cheese on my eggs, but they were very tasty.  The potatoes had great flavor and the onion straws were crispy.  I didn't eat many of the onion straws as I didn't want to pay the price all morning.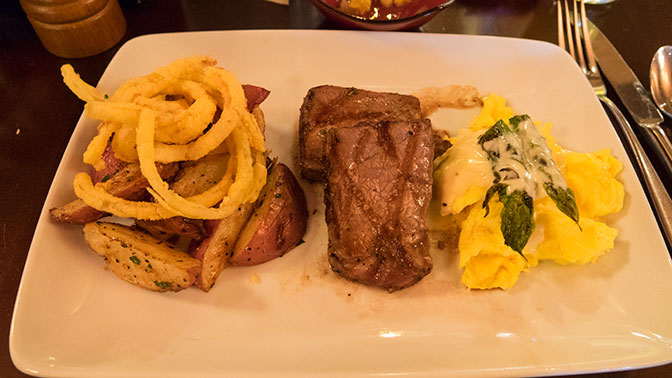 Debbie ordered Rapunzel's Tower of Pancakes.  I like how they put the star on top with the powdered sugar.  It comes with your choice of bacon or sausage.  She requested a side of eggs and they were provided at no additional charge.  Orange juice flowed freely through the meal.  Other drink options are available.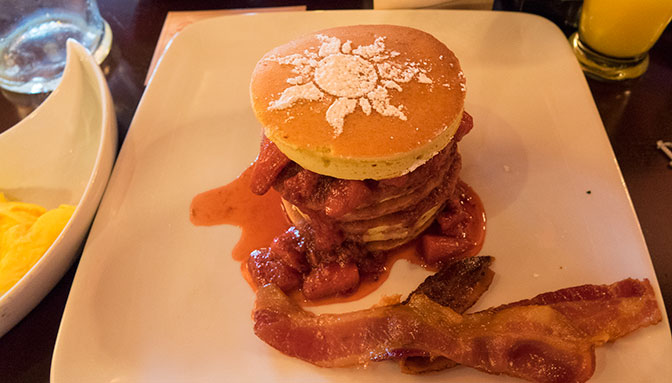 If you enjoy little Disney trinkets, they now offer a Pascal drink clip on.  You can order it separately or with the kids drinks.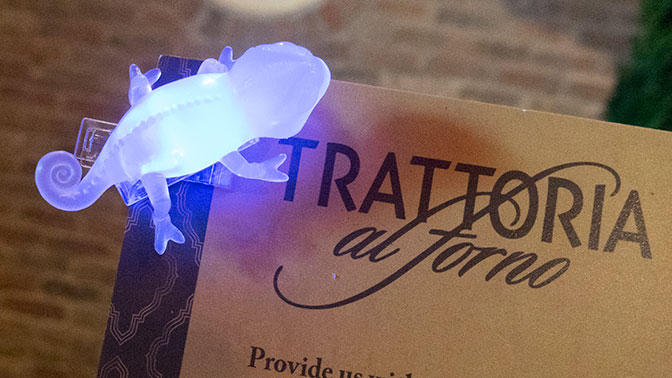 The Experience
In an attempt to "plus" the character dining experience, they offer you a few fun things to keep the kids engaged throughout the meal.  You begin with your "Bon Voyage Adventure Journal" which asks a few questions about your plans for your Disney World vacation.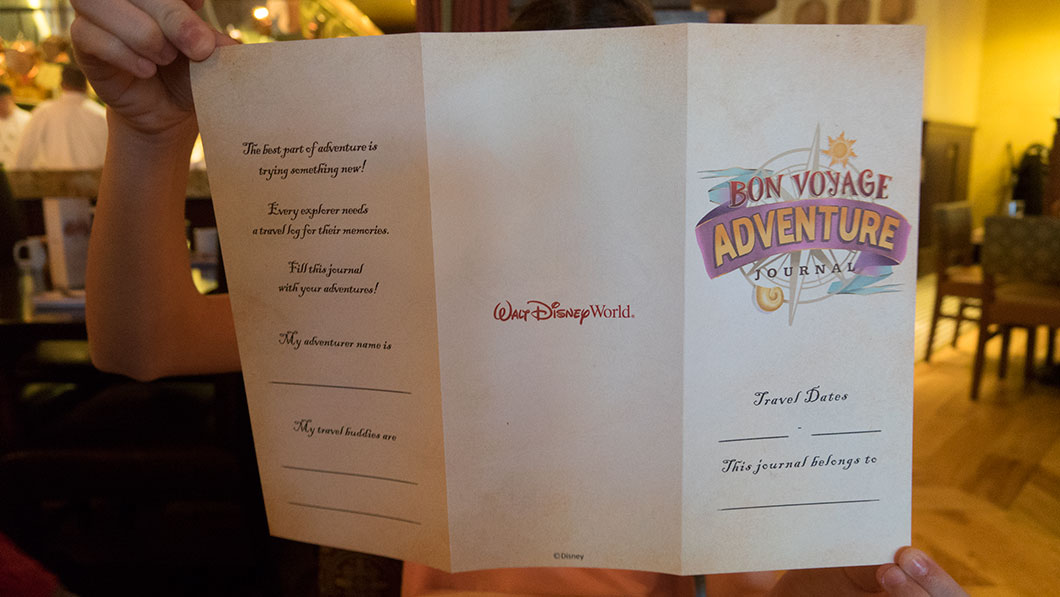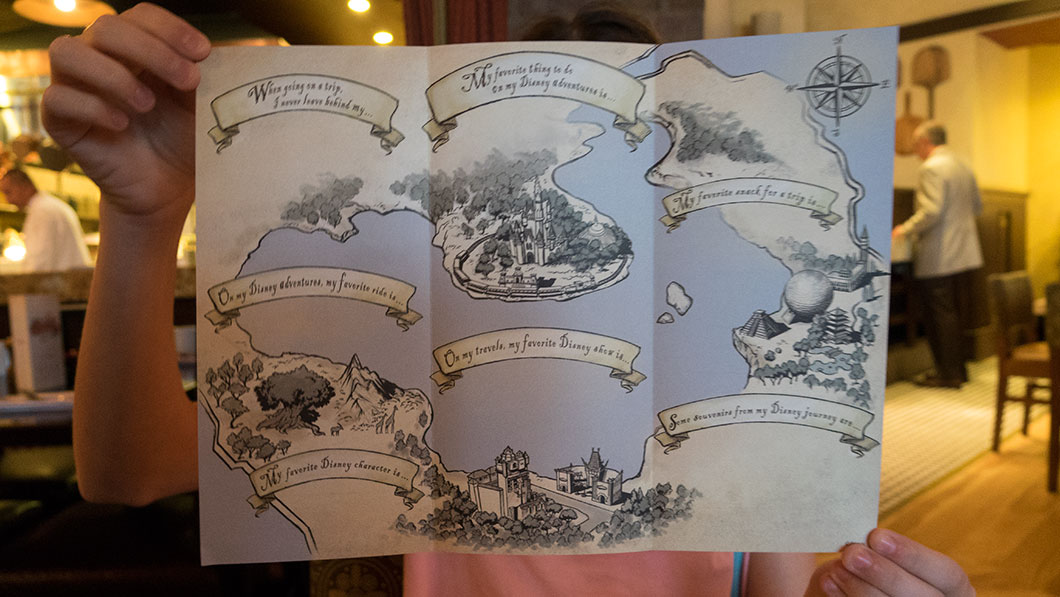 Each table is provided with a pre-signed card that represents each character, but the characters do also sign autograph books or items at your request.  They ask that you have those ready to cut down on time fumbling around for them.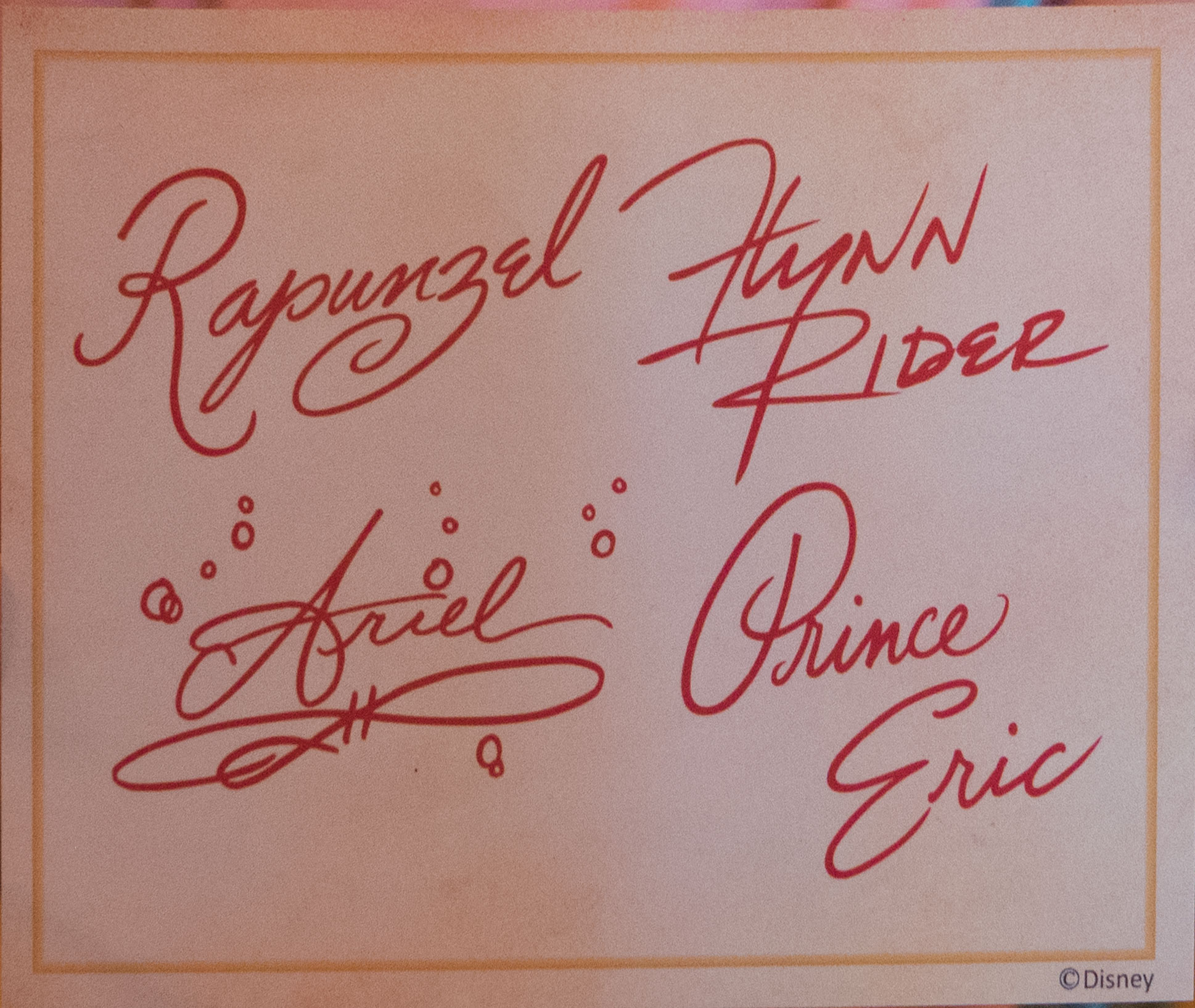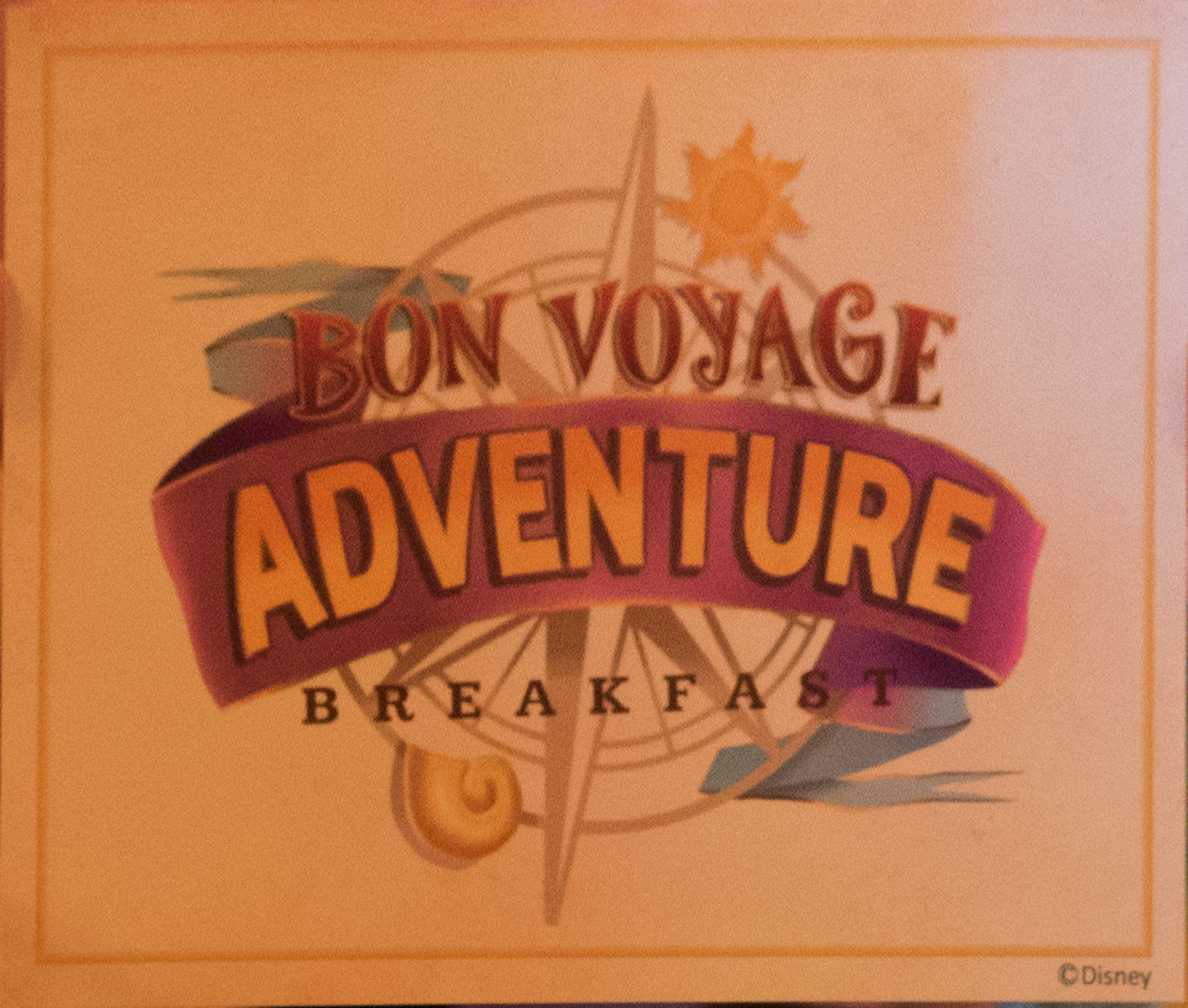 Flynn Rider is the first character to appear.  He presents you with this little card that says "My Dream."  It is intended to spur an interaction moment with Rapunzel when she arrives next.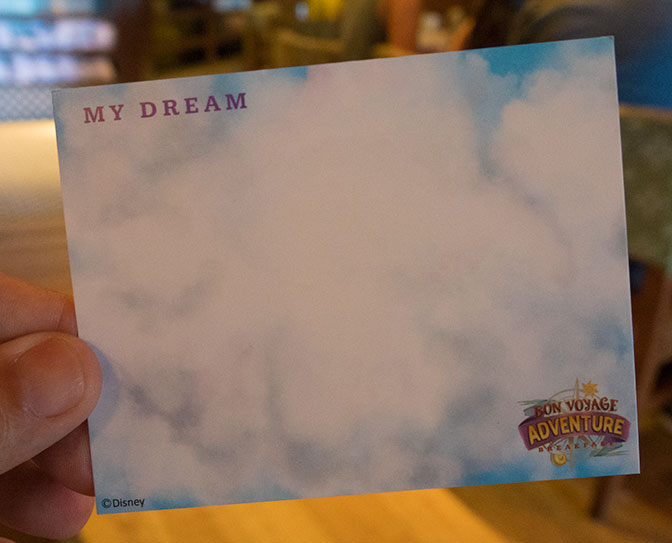 The Characters
The meal assures you that you'll meet Flynn Rider, Rapunzel, Prince Eric and Ariel.  Many guests were expecting the characters to appear as couples, but they mingle in an individual manner.  Each one comes to your table, so there is no primary photo or couples photo.  There is no Photopass or character attendants, so have your own camera ready.  You can ask a server to assist or make friends with the table beside you and exchange.
In addition to the table to table meet and greets, they offer a fun little parade around the restaurant where they encourage the guests to use their napkins to create their favorite sea animal.  They also do a celebration time for birthdays and such.  We were celebrating Debbie making straight A's even while taking Algebra in the 7th grade!
Flynn Rider is the real hero for most on this morning.  He was fun and very interactive.  Debbie enjoyed chatting with him.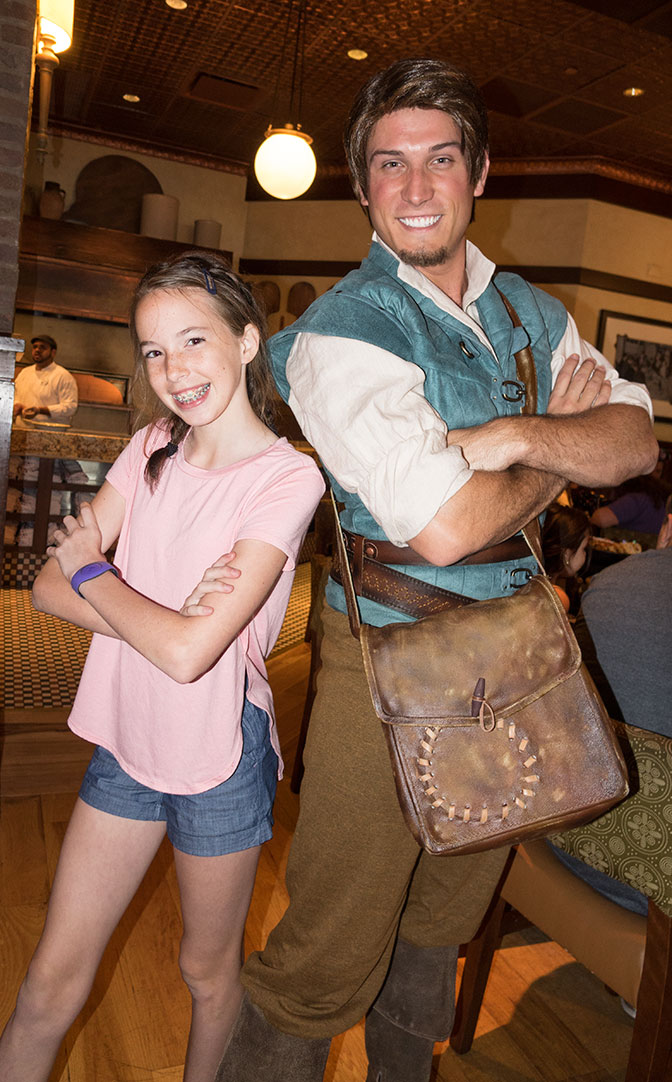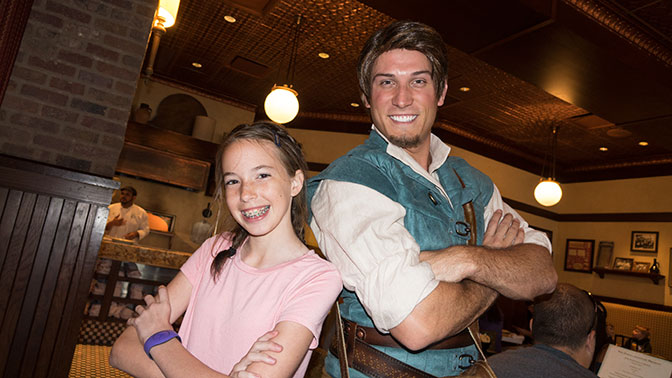 She asked if he had the crown with him.  He assured her that all he was carrying was Rapunzel's sparkly paint brushes for her spontaneous artwork.  Wink, wink.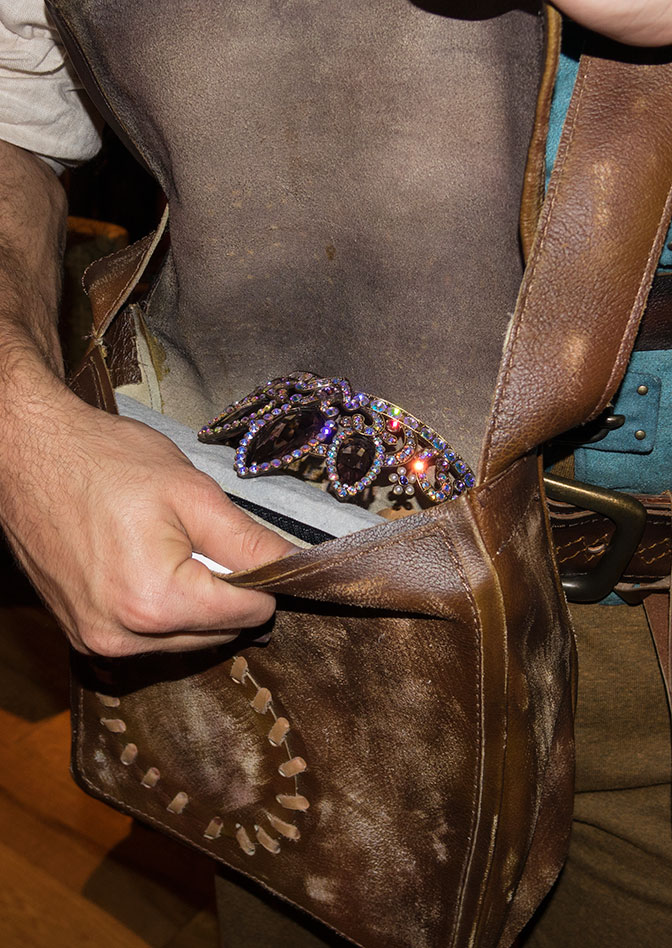 Rapunzel was her usual perky self.  She was very pleased with Debbie's dream.  While we waited the couple of minutes between the two we discussed her dream.  Initially, Debbie was going to say "Travel the world."  She surprised us both when she said, "To help others in need."  I sure love my kids and their big hearts!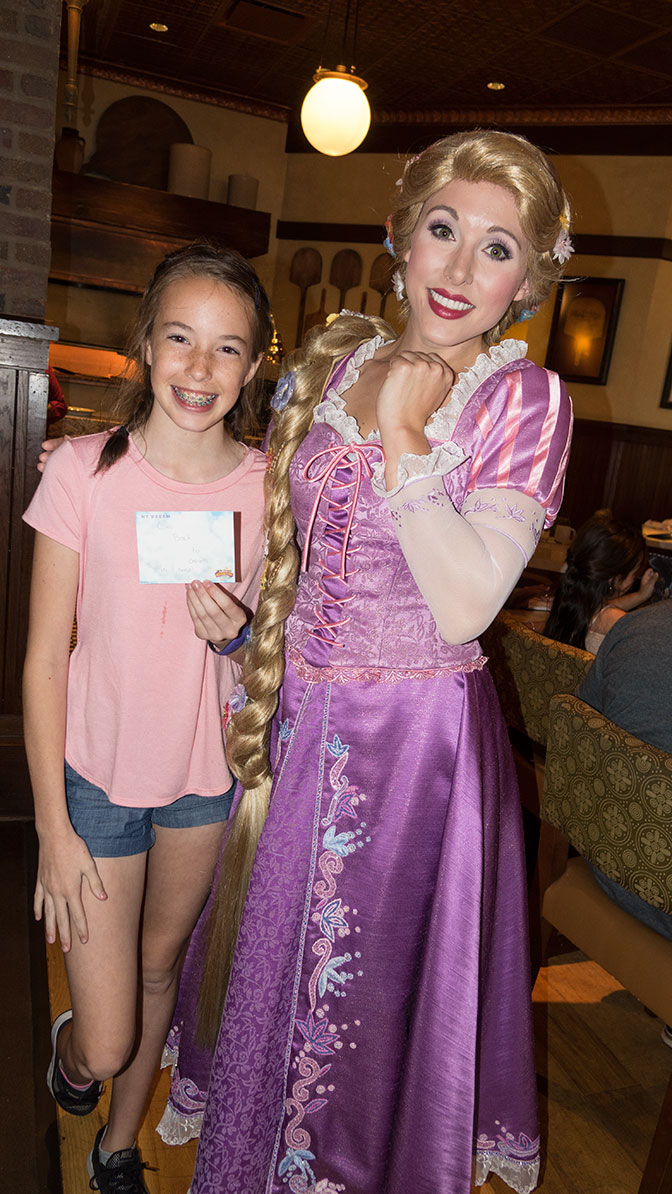 Prince Eric was the next to stop by.  He encouraged Debbie to flip over her Dream card and draw her favorite sea animal, so she could discuss it with Ariel.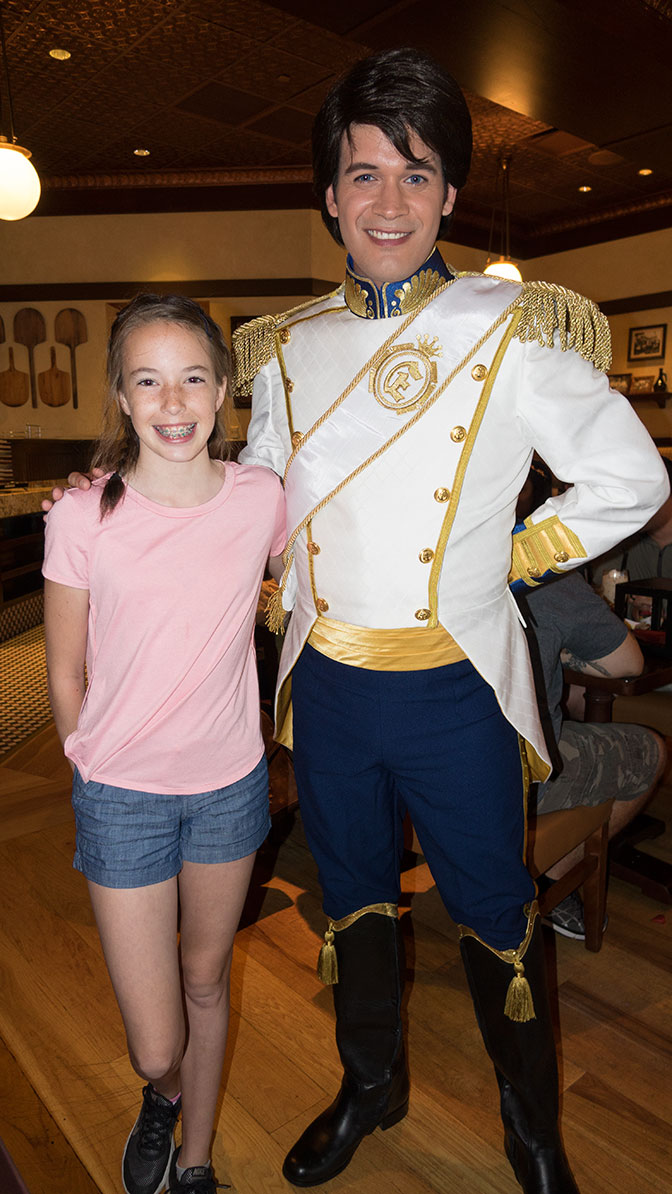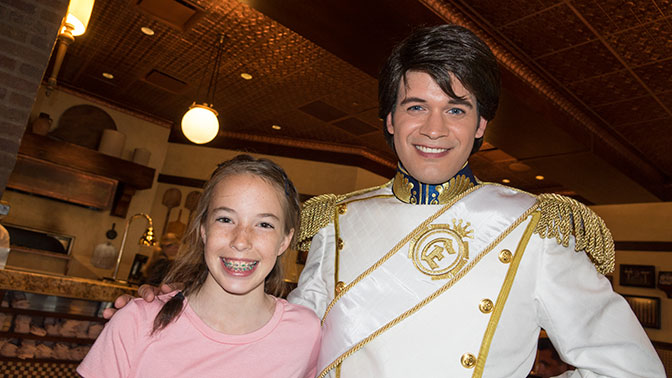 Ariel was so close behind that Debbie only had the time to write the word Dolphin.  I always joked with my kids that I wanted a dolphin in my backyard.  When we visited my in-laws who live on the panhandle coastline, we saw dolphins from their back deck.  At least someone got dolphins in the backyard.  I just have a small tree.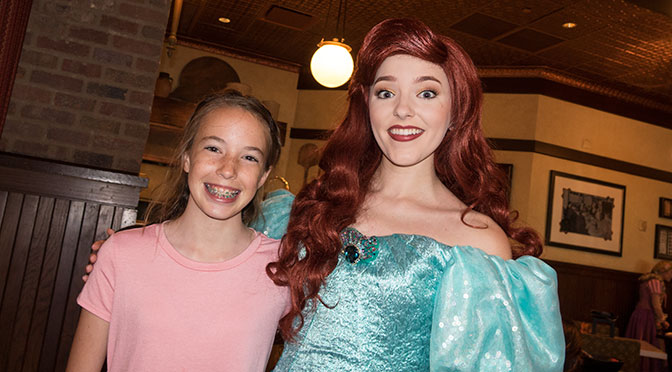 Ariel asked if she had any gadgets or gizmos.  Debbie said they gave her a Dinglehopper, but told her to use it to eat eggs and pancakes.  Ariel said, "Oh dear, no.  It's always used to keep your hair looking beautiful."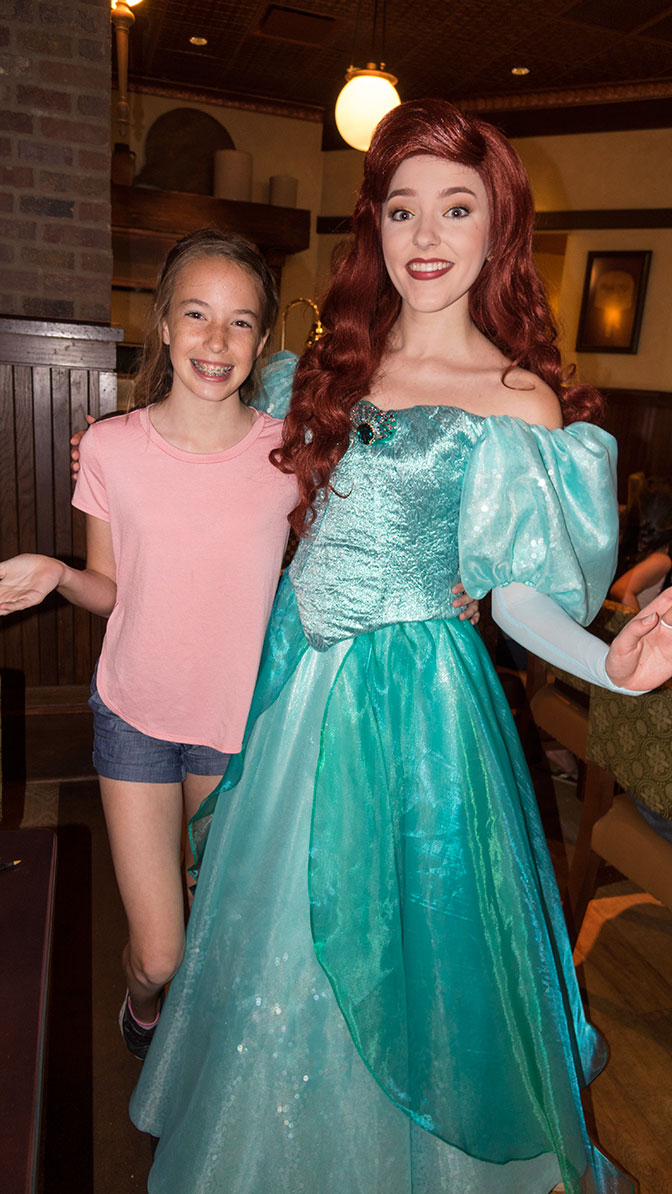 The Service
Sklyar was our server and she was a rock star.  She stopped by frequently to freshen our drinks and to ask if we wanted anything else.  She brought us extra pastry items and offered us a to-go cup.  We opted for ice water.  She was very engaging with Debbie and even bragged about her accomplishment to other Cast who stopped by to congratulate Debbie.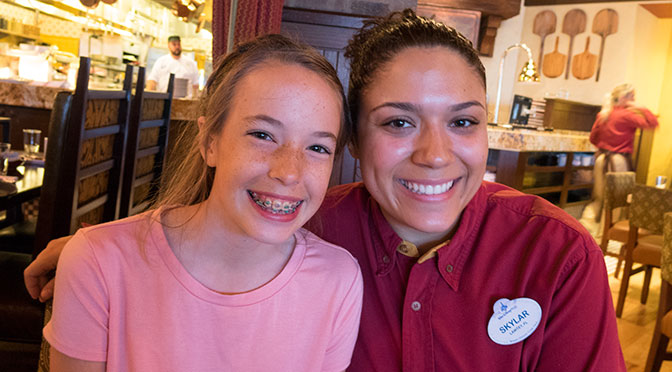 I recommend this meal for those looking for a quality, freshly-prepared breakfast and great interaction with these characters.  Flynn Rider and Prince Eric are usually not easy to find in Walt Disney World.
The cost is said to be $34 per adult and $20 per child and you can use the Disney Dining Plan. It's a couple dollars more than most character breakfasts, but cheaper than Akershus, Chef Mickey's and Cinderella's Royal Table It will be a ONE credit meal per person ages 3 and up!   You can call 407-WDW-DINE or book online HERE.
You can use Tables in Wonderland for discount and free valet.  I was informed that Disney Visa and Annual Passholders can receive a discount, but when we checked in the restaurant told us no, so I supposed you should ask your server.
If you have any questions, feel free to ask and do feel free to share this post on Facebook and Pinterest below!