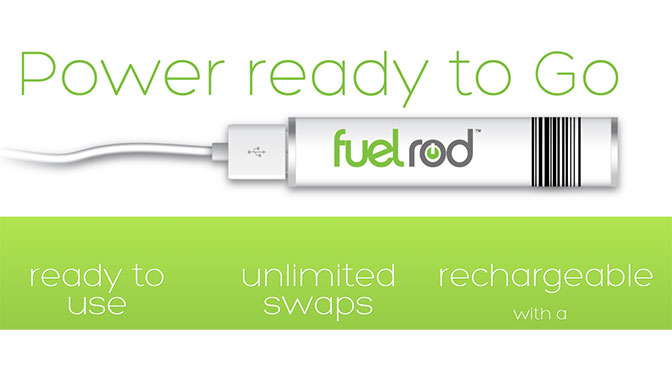 When using applications like Character Locator and My Disney Experience in Walt Disney World, you're going to go through a lot of battery.  I usually kill my cell phone in just a few hours by taking and uploading photos and updating Fastpass+.  You need extra battery power, FuelRod is one option you may want to look at.
Updated June 25, 2017
About FuelRods
FuelRods are the first reusable, portable charging system that allows you to fuel (charge) your mobile device on the go, and then recharge or swap for a fresh one.
With the swipe of a credit card you will get a portable charging unit capable of delivering up to 8 hours of additional talk time on the average smart phone, or nearly 4 additional hours of usage on the most demanding of tablets.
The FuelRod is the latest technology in portable charging technology with the highest energy density on the market. Recharge it yourself, swap it for a fully fueled unit at low to no cost, or simply return it. FuelRod is the ideal energy solution for today's mobile lifestyle.
Ready to Use FuelRod™ with your smart phone or tablet. For just $20 (it's $30 to purchase one at Walt Disney World.  You can order in advance for the $20 plus $5 shipping fee online though. ), get a portable charging unit capable of delivering up to 8 hours of talk time on your smart phone or nearly 4 hours of usage on your tablet. Android or Apple… The adapters are in the kit and they are yours to keep.
Unlimited Swaps FREE for a fresh FuelRod™ as often as you need. It's simple! Find a FuelRod SwapBox. Insert your empty FuelRod. Out pops afresh, fully charged FuelRod and you can go on about your business. It is that easy. And best of all no empty FuelRods in a landfill.
Each FuelRod Includes:
Adapters for both Android and Apple devices that are yours to keep, at no additional charge.
The ability to be refueled (recharged) in any standard wall outlet.
The ability to be swapped (traded) for a fully fueled unit at no additional cost at any FuelRod SwapBox.
Pros and Cons:
Pros:
It's easily replaceable at a large (growing) number of locations on Walt Disney World property.  After the simple purchase process, you just press the "Swap" button on the screen and drop in the used battery.  It will spit out a new one in seconds and you're on your way.
It's small.  I carry it in my pocket with my cord extending to my phone.
I don't have to ever plug it in for charging.  You can, if you wish, but why do it when you can just stop and drop.
Cons:
The cord they provide is a little short for my needs.  I like a little longer cord for flexibility.
Doesn't last very long.  I use a Samsung S7 Edge which requires a great deal of battery and it may last 1.5-2 hours for my heavy usage.  I keep it connected to keep my phone at 100% and when it dies, I just trade it out when it's convenient.
Can feel pretty warm with continued usage.  If I keep it connected to my phone while constantly using my phone, it causes the battery to become fairly warm.
I've used FuelRod extensively, especially on Challenge Tour days like #WDW47 and they work well for me during these days.  I'll just take a few seconds to switch it out a couple of times during the day and I'll always have a fresh battery.  It's not designed to be a monster battery like an Anker that you could easily acquire from Amazon (look, I'm the only blogger not selling you Amazon stuff, or FuelRod with affiliate links).  It's designed to be easily and quickly swapped for another battery and it does that job well.
I realize that I'm trading convenience for capacity, but I also don't like having batteries charging all over my room at night. If I'm traveling, finding available charging spots can be a pain or I have to bring a multi-power strip.   I also use this to charge my Sony camera in the parks, so I don't have to keep those plugged in as well.
Walt Disney World Locations
Magic Kingdom:
Frontierland – Pecos Bill's
Main Street – Curtain Call Collectibles
Storybook Circus – Big Top Souvenirs
Tomorrowland – 

Cosmic Ray's Starlight Cafe

Tomorrowland – Tomorrowland Light and Power Co (Space Mountain Gift Shop)
Epcot
Future World – Camera Center
International Gateway – World Traveler
World Showcase Entry – Disney Traders
Hollywood Studios
Hollywood Boulevard – Celebrity 5 & 10
Muppets Courtyard – PizzeRizzo
Sunset Boulevard – Rock Around the Shop (Rock n Roller Coaster Gift Shop)
Animal Kingdom
Discovery Island – Island Mercantile
Disney Springs
Marketplace – Disney Photo Imaging
Westside – DisneyQuest

Sundries
Typhoon Lagoon
ESPN Wide World of Sports
ESPN Clubhouse Shop
HP Field-House

Sports Grill
Resort Hotels
All Star Music
Animal Kingdom Lodge
Art of Animation Resort
Boardwalk Resort
Contemporary Resort
Polynesian Village Resort
Pop Century Resort (Coming soon)
Port Orleans Resort – French Quarter
Port Orleans Resort – Riverside
This information will be linked on my Walt Disney World tab on the main menu.  If you need an updated list of locations, you'll find it there.
Disneyland Locations
Disneyland Park
Critter Country – Pooh's Corner
Fantasyland – it's a small world Gift Shop
Frontierland – Paymaster at Entrance
Main Street – Lockers
Tomorrowland – Starcade
California Adventure
Buena Vista Street – Kingswell Camera Shop
Cars Land – Ramone's
Hollywood Land – Gone Hollywood Shop
Paradise Pier – Treasures in Paradise Gift Shop
Downtown Disney and Hotels
Disneyland Hotel – Lobby
ESPN Zone – Lobby
Grand Californian Hotel – Lobby
Paradise Pier Hotel – Lobby