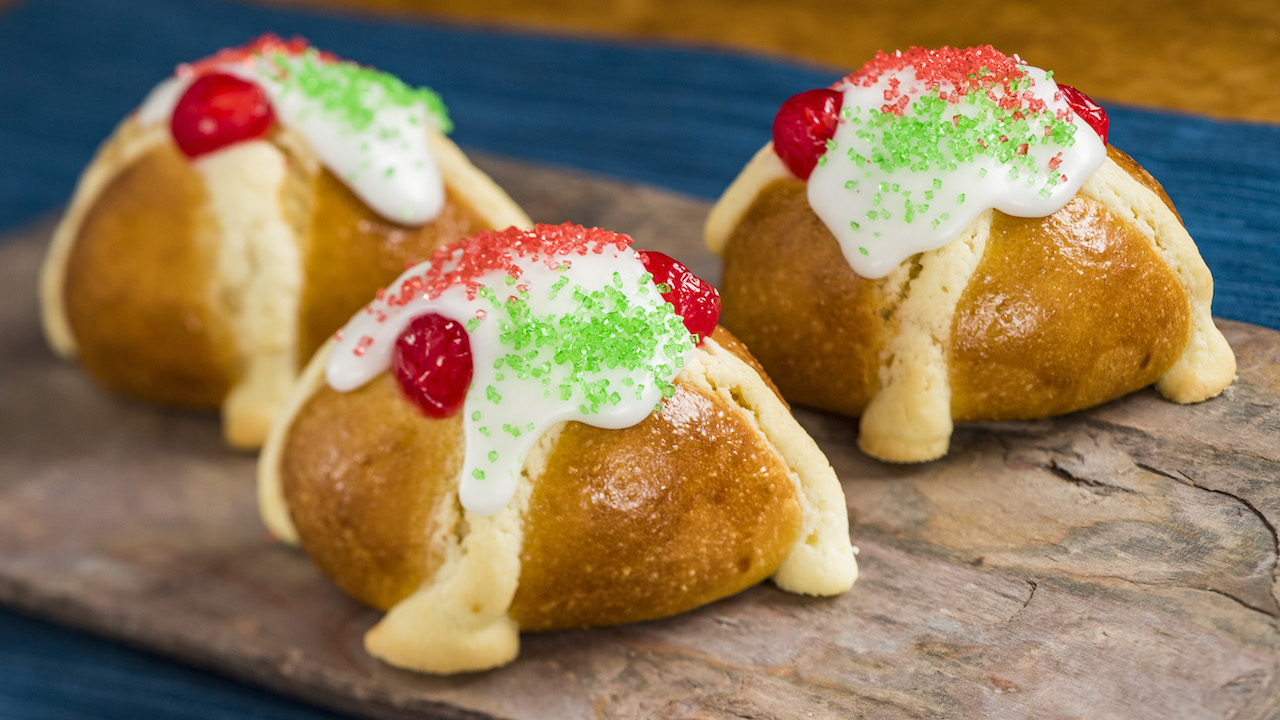 Epcot is set to offer "Seasonal Tastes" during Holidays Around the World from November 25 through December 30.  Several special booths will be set up that allow you to sample festive dishes from around the wold!
Epcot has done a terrific job expanding from the Food and Wine Festival into a full featured dining experience with the Flower and Garden Festival, it's now venturing more into the Christmas season favorites.  This sounds like a fun addition to me.  I'll run straight for the chocolate pecan tart as pecan pie is my favorite!  I've to sample many others as well.
Stop at Prost! in Germany for an artisan cheese plate or sauerbraten with red cabbage and spätzle. Drinks include alcoholic ciders, Williams Punch (hot), Caramel Kiss featuring Werther's Caramel and glüwein (house-made hot spiced wine).
American Holiday Table in the American Adventure Pavilion is serving Slow-roasted turkey with stuffing, mashed potatoes and cranberry sauce. And seared pork tenderloin with green bean casserole, roasted sweet potato wedges and a Champagne demi-glace. Drinks include Shipyard Eggnog White Porter Aged on Bourbon, Firenog (eggnog with Fireball Whisky), Great American Wine Company Red Blend and Chardonnay, hot chocolate, eggnog and Cocoa Candy Cane (hot chocolate with peppermint Schnapps).
Head to the Alpine Haus between Morocco and France for duck confit, dumplings and roasted Brussels sprouts with a fig reduction; cheese fondue in a bread bowl with fresh steamed vegetables, and sachertorte, a chocolate cake with apricot jam and dark chocolate glaze.. Drinks include Frozen Winter Spice Hot Chocolate featuring Twinings of London Tea (alcoholic and non-alcoholic version available) Weingut Stadt Krems Gruner Vetliner White Wine and Heinrich Red Blend.
Seasonal Southern Delights near World Showcase Plaza is offering hoppin' john (black-eyed peas, ham hocks and kale with rice and cornbread crumbles); blackened catfish with white cheddar grits with okra, tomato and onion stew, and chocolate pecan tart. Drinks include Frozen S'Mores and Central 28 beers.
Feast of the Three Kings Feast near World Showcase Plaza pays homage to Three Kings Day, widely celebrated in Spain, Latin America and the Caribbean. Look for a shredded beef tamale with avocado crema; roasted pork with mashed yucca and pickled green bananas, and Three Kings Bread (top image). Drinks will include a Coquito (coconut milk) and Coquito with rum floater.
Hot and cold drinks will be offered all around World Showcase, as well as holidays sweets such as the Mickey Santa Hat cupcake at Fountain View restaurant, chocolate honey baklava in Morocco, panettone (Italian Christmas cake) in Italy, gingerbread ice cream and buche de Noel au chocolat(Christmas cake shaped like a log) in France, pai cha (Beijing-style fried dough twist with sesame) in China and guava tamales in Mexico.
Do you look forward to trying some of these dishes?  Which ones sound best to you?