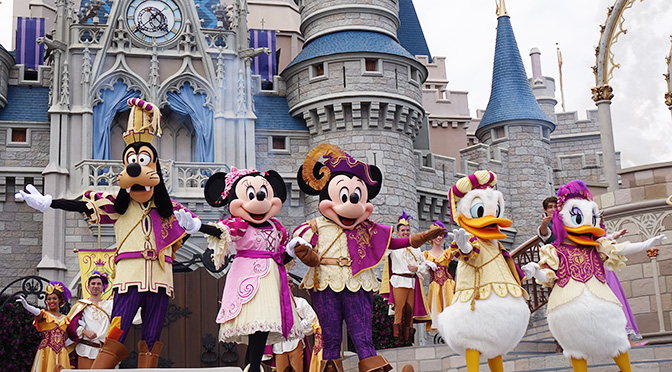 Mickey's Royal Friendship Faire is the newest daily celebration at the Cinderella Castle forecourt stage.  Here's my thoughts on the show with some great photos and video.
Mickey's Royal Friendship Faire is a rollicking good time of familiar songs from some of your favorite recent Disney movies.  You'll see characters from the Princess and the Frog, Tangled and Frozen.  The costumes are beautifully designed and the music is like a catchy earwig that you won't be able to shake, but there is a couple of things that seem a little out of place.
The basis of the story is that Mickey, Minnie, Daisy, Donald and Goofy are celebrating and throwing a great Renaissance Faire style party and they are inviting various heroes to join them.  They want it to be a day of music and celebrating.  Aren't the costumes kewt?  I should dress like Mickey for Halloween.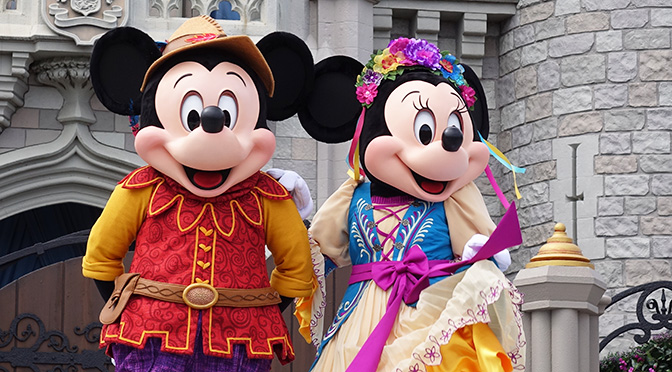 The Friendship Faire begins with some down home soulful jazz presented by none other than Princess Tiana and Prince Naveen.  When I posted photos of Tiana's costume on my Facebook Page on day 1, some people didn't seem to care for it.  I love the classic Flapper style dress with the nuances that remind us of the lilly pad, great music and of course her time as a frog.  They are  the guests of Goofy and are visiting us from the land of "the Bewitching Bayou."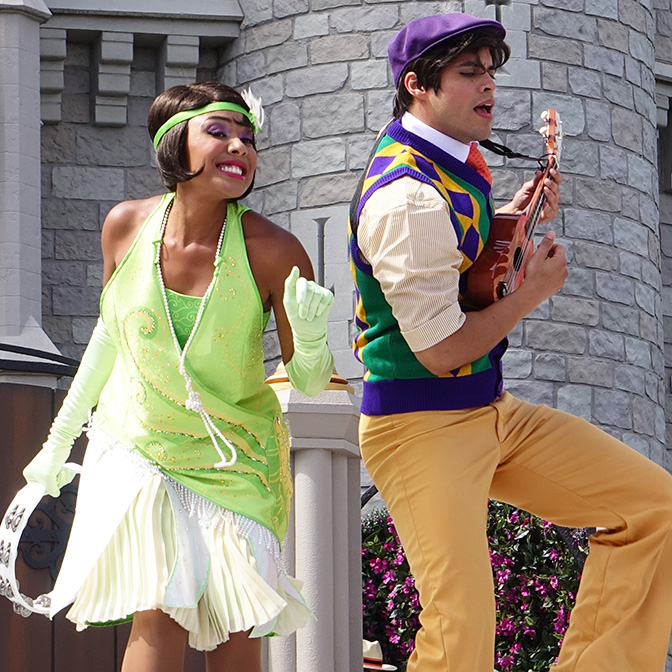 I really enjoyed the segment with Tiana and Naveen and the music is great fun, but not having Louis is a big miss.  He was supposed to be a part of the show, but was eliminated at the last moment due to the alligator incident at the Grand Floridian.  Disney has steadily removed more gator and croc references lately, including eliminating the croc motions in Disney Jr – Live on Stage in favor of clapping.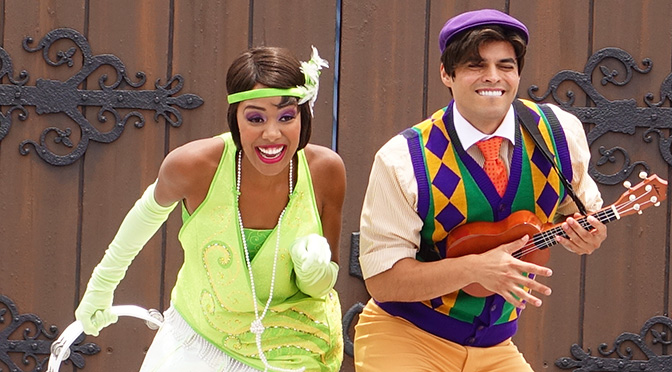 Goofy didn't feel he'd be any good at tap dancing or playing the ukelele.  Tiana encourages him to "Dig a little deeper."  The show will be very consistent with pre-recorded music, but I really like the emotion that a live singer brings to a show like Gaston in Beauty and the Beast, Ariel in Voyage of the Little Mermaid and the Festival of the Lion King.  Once Ariel brought our entire family to tears with her vocalization.
On a happy note, Goofy does learn how to dance without tangling himself in wires or falling on other dancers.  It would have been great fun though :)  He's always more coordinated in Walt Disney World than his acting style.  I suppose it's like watching Lucille Ball vs I Love Lucy.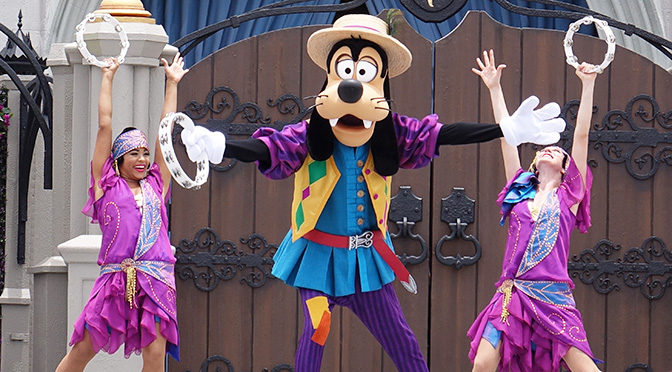 Donald wants us to meet some of his friends, so he invites the guests from "the Enchanted Woodlands."  His guests are the Vikings from the Snuggly Duckling.  These guys really steal the show, especially Hookhand.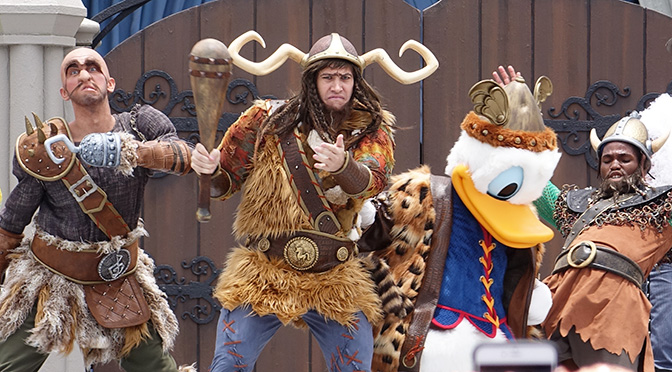 Daisy is a little upset that he brought along these "ruffians."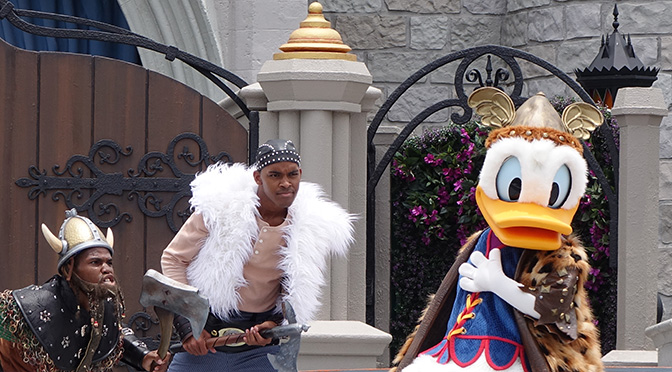 Rapunzel reminds us that they may look a little rough around the edges, but they aren't that bad.  Flynn tells us they "grow on your after a while, kind of like a fungus."  The song, "I've Got a Dream" is a fun song choice, but I really love hearing "I See the Light."  I'll accept the fun song that's presented as it does set a festive tone.
Smolder anyone?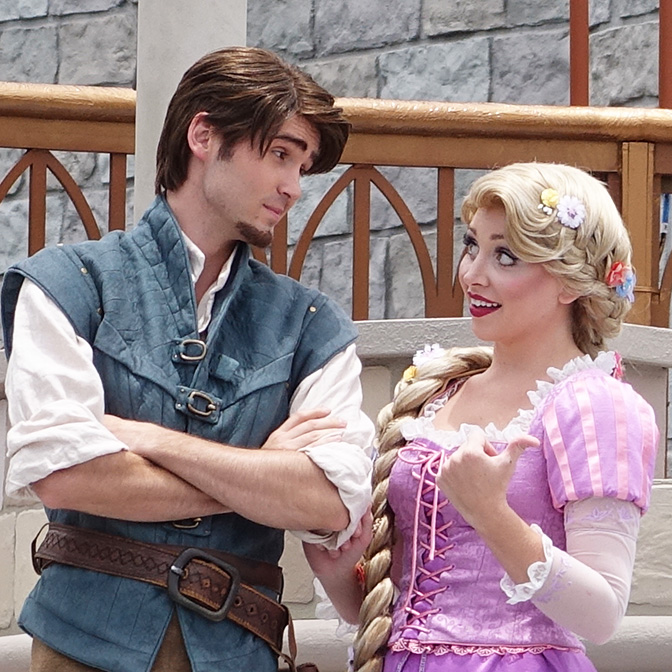 Say cheese!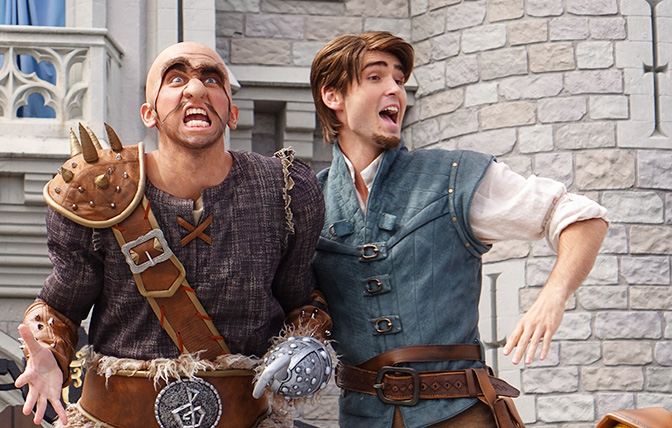 I told you Hookhand was a real star.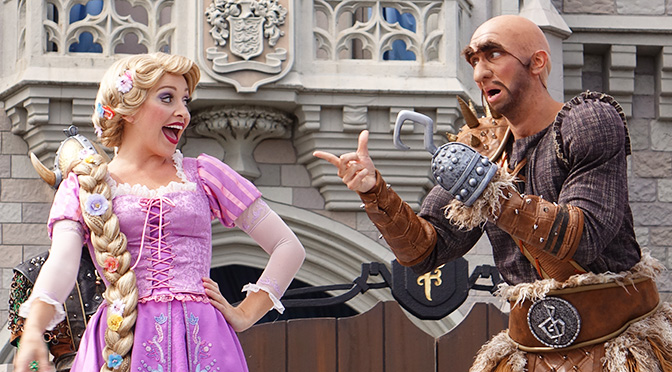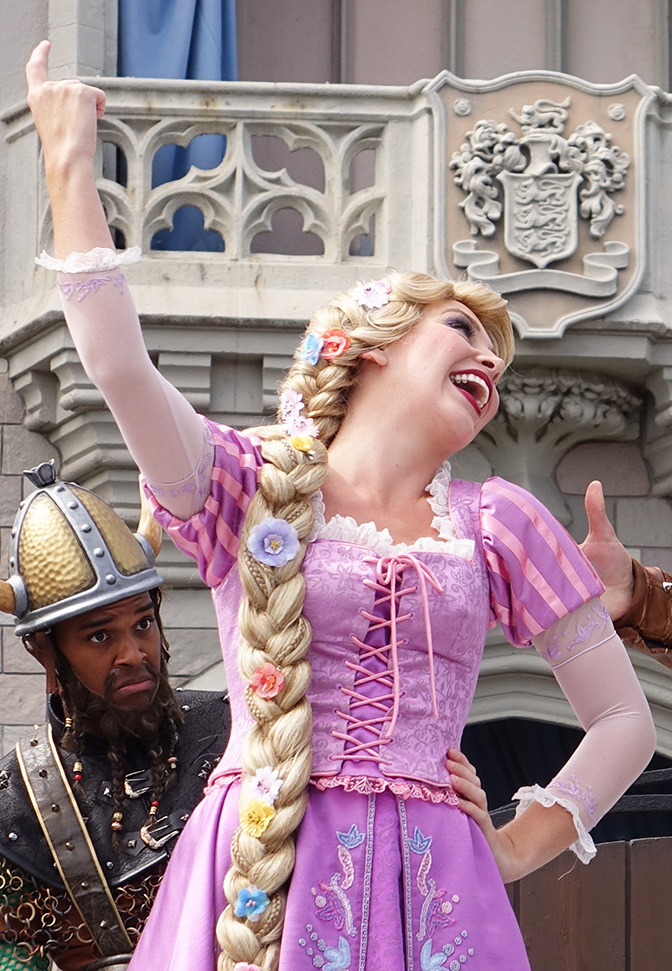 A little something could be done for the hairline though?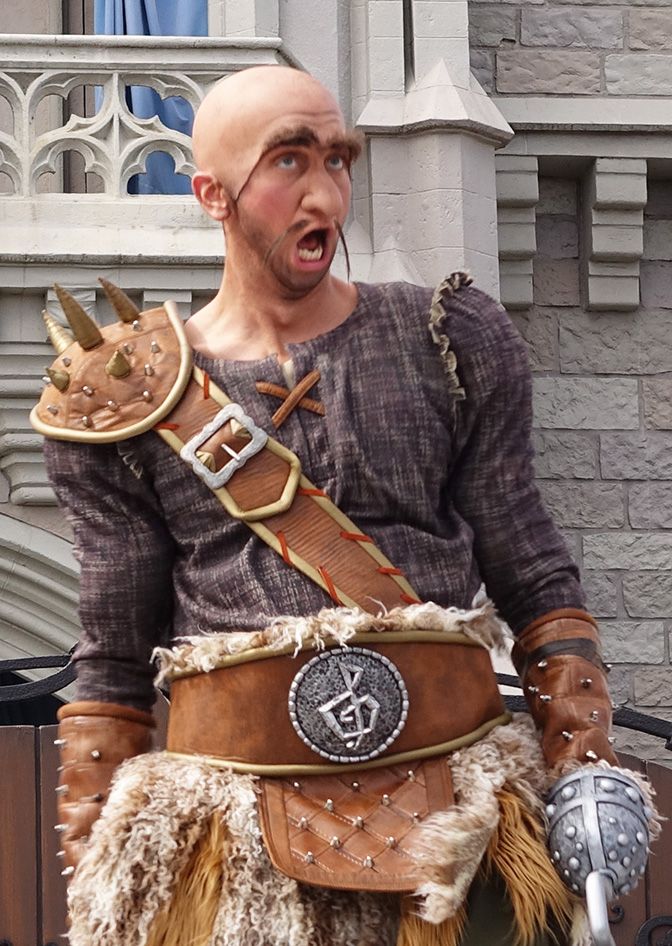 Put your right hand in and shake it all about!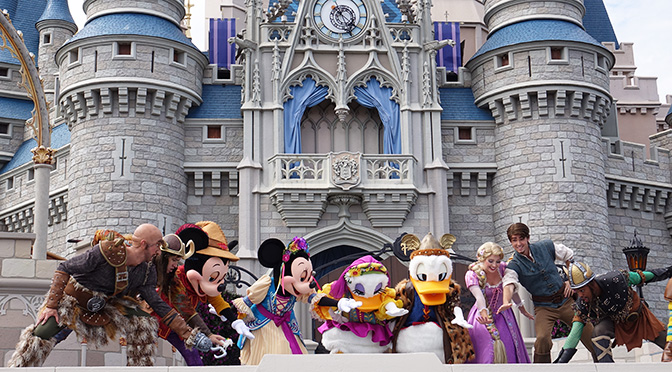 The final characters are guests of Mickey himself as a treat for Minnie.  Minnie evidently has always wanted to meet the ones from the "Mystic Mountains."  I guess she didn't drop into Hollywood Studios last year?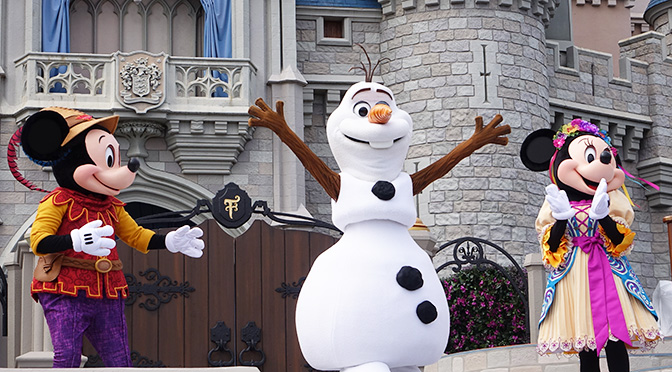 Yup, you guessed it.  Frozen.  I like the movie and predicted it would become "this generation's Lion King or Beauty and the Beast" when I first saw it, but it does seem like we get served a regular dose of freezing in Walt Disney World over the last 2 years.  I hear similar things about Star Wars in Hollywood Studios this year though.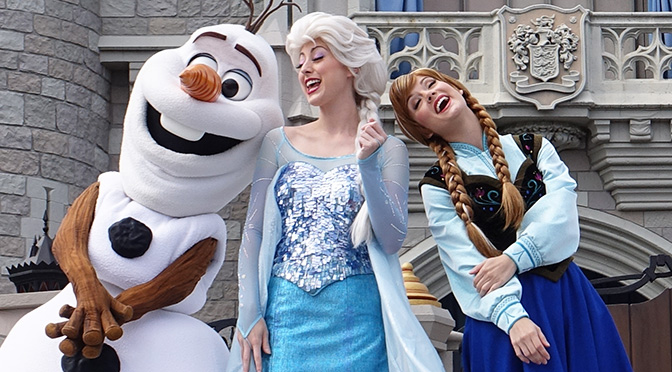 The first two segments surprised guests by presenting some characters and songs that we hadn't expected, but this one is very predictable.  The first two segments are full scale show portions with lots of singing and dancing by numerous characters and dancers.  This segment is basically Elsa singing "Let It Go" while Minnie watches longingly and the other characters just sort of stand around the stage staring.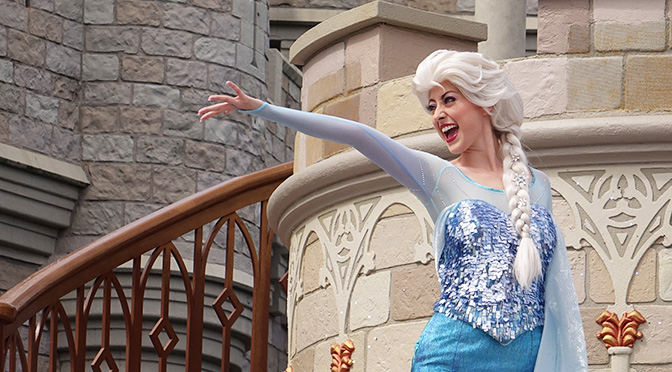 It's  a pretty large stage for one primary performer to fill with CO2 blasts and bubbles.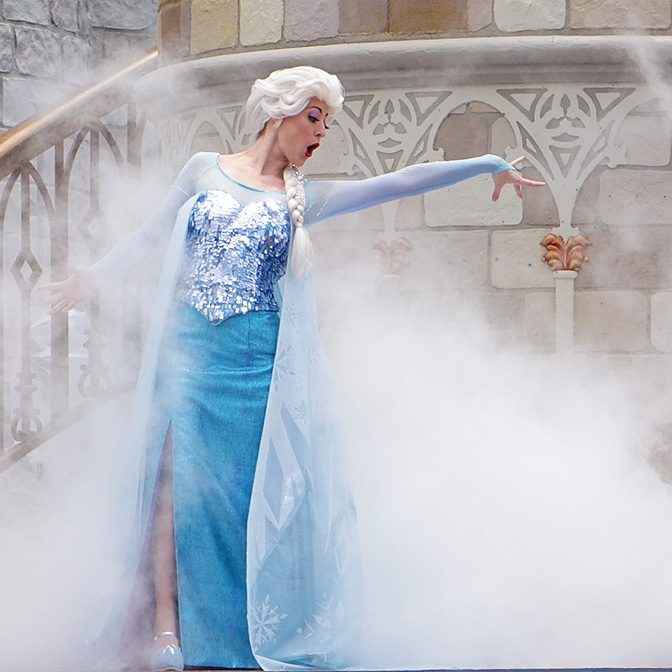 At least Minnie was excited to see Frozen.  I wish the third segment was filled with some other characters and songs we don't see often or at least let this be the celebration of Anna singing one of her fun songs.  Who doesn't want to share a sandwich?  The movie was largely great because of Anna's personality anyway.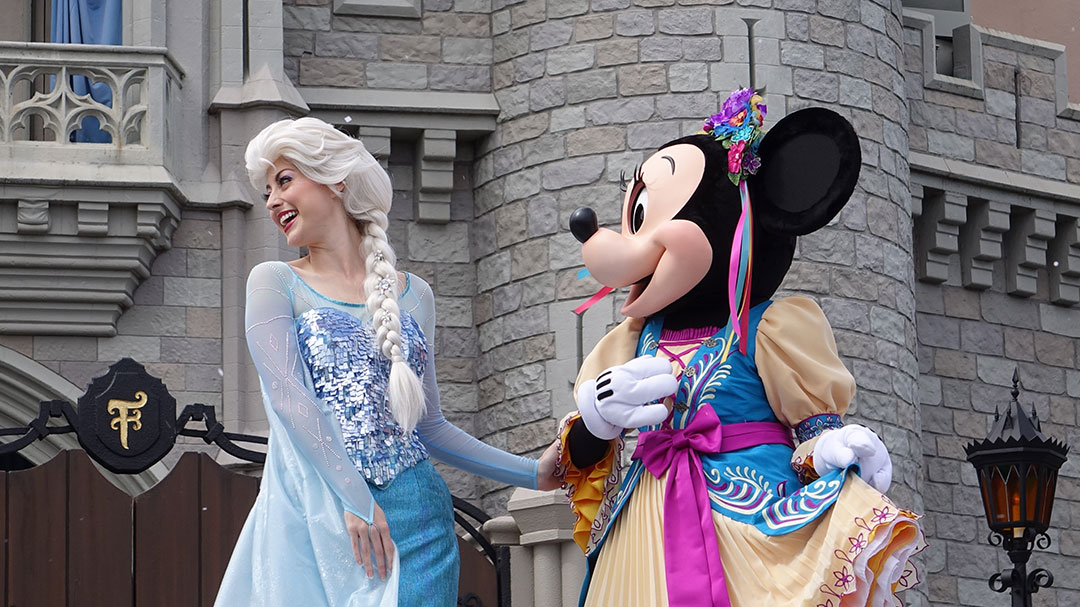 We wrap up the show with a 6 minute "Royal Grand Dance."  It extends the show to 22 1/2 minutes total and is basically just presenting the same characters in another dance and slows down the festive atmosphere a bit with the pacing of the "royal" music.
Princess Tiana and Princess Naveen dance first.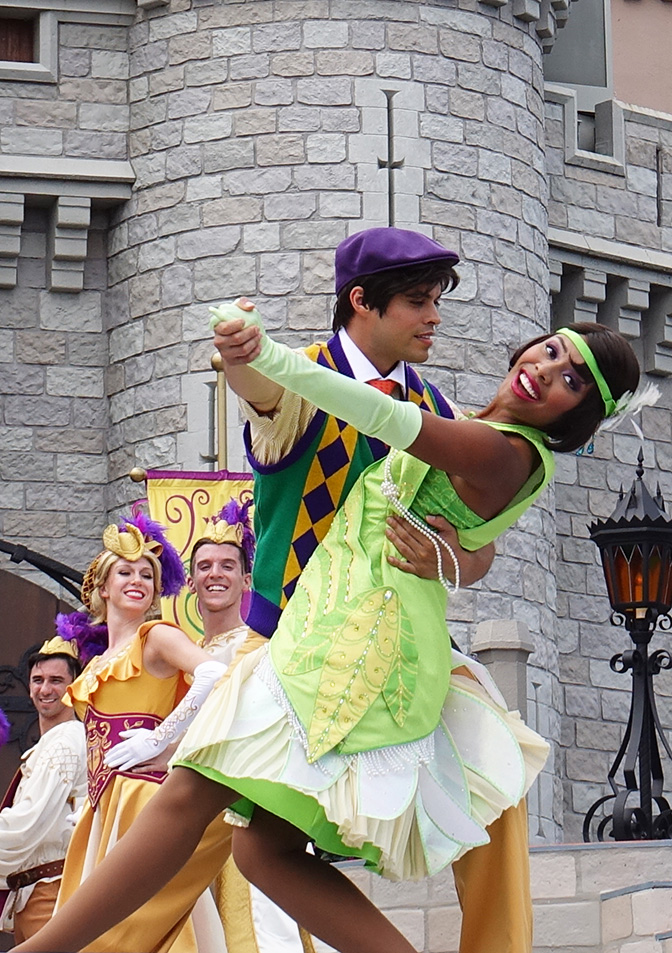 The Tangled gang dance next.

We learn that Olaf has been Knighted!  He's now to be referred to as "Sir Olaf."  A simple curtsy will be required from now on at the meet and greet.  Bow before the snowman!  Bow!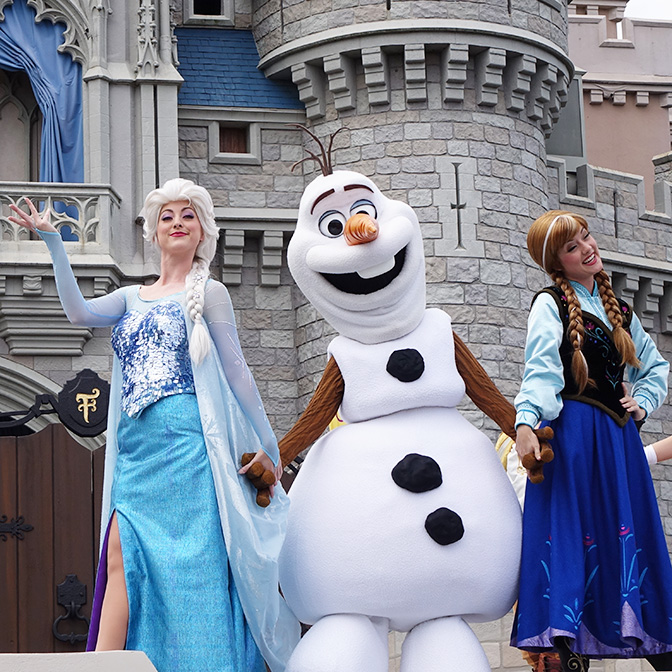 The show ends with Mickey and the gang in some more festive new costuming.  The ending feels a lot like "Cinderellabration."  It's cute and fun to see people dancing about, but after standing 20 minutes pre-show and 20 more during, your feet hurt.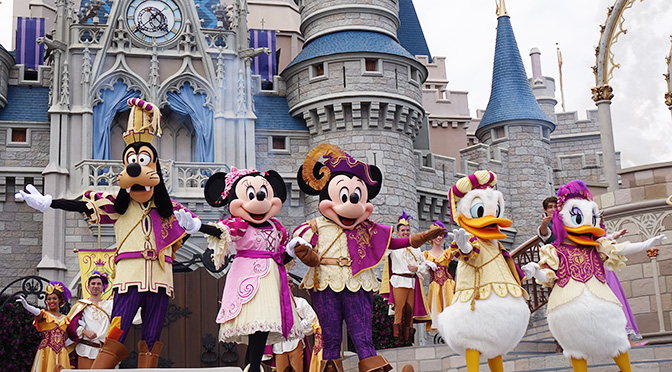 Overall I'd give the show a B.  It would be an A if they had a different third act and presented some live singing.  It's a fun show and your kids will love it.  Arrive 20 minutes early to get a spot so you don't have to hold your child on your shoulders.  My video below is filmed from front and center.
Be sure to subscribe to my YouTube too!