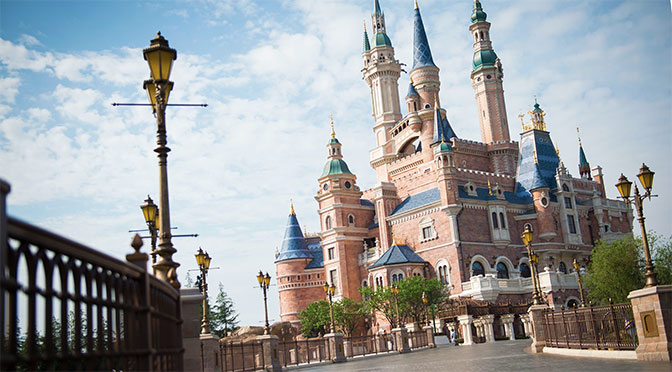 Disney will feature a large-scale Grand Opening for the Shanghai Disney Resort and guests around the world will be able to enjoy on their internet connected devices.  Disney promises to bring an "authentically Disney and distinctly Chinese celebration.
The celebration will bring to life classic Disney stories and characters in a music-filled television special that will hosted  by Sofia Carson (Disney Channel Descendants, Adventures in Babysitting.
The Grand opening will be presented live on Thursday, June 16 from 8:00-8:30pm ET on the Disney Channel.  The official title is "Grand Opening Celebration of Shanghai Disney Resort."
Disney – "Bob Iger, Chairman and Chief Executive Officer of The Walt Disney Company, will be joined by nearly 3,000 distinguished guests, celebrities and government officials at the largest, tallest and most interactive castle at the heart of any Disney Park, The Enchanted Storybook Castle. The occasion showcases creativity, choreography, acrobatics, costumes and technology in grand scale, with dazzling lights, Disney music, pageantry, special effects and fireworks. The one and only Mickey Mouse will join in the enchanting celebration.
World-renowned pianist Lang Lang will perform a custom arrangement of the musical sensation "Let It Go" (Disney's Frozen) and China's television and movie superstar Sun Li will take center stage. Each is a Shanghai Disney Resort Honorary Ambassador.
The historic event includes the debut of an original song, "Ignite the Dreamer Within," written especially for the grand opening of Shanghai Disneyland. Acclaimed composer and conductor Tan Dun, widely known for his stirring scores for the films "Crouching Tiger, Hidden Dragon" and "Hero," will lead the Shanghai Symphony with an original composition of the new song, celebrating the occasion's poetic message. Additional featured music includes "Once Upon a Dream," "Heigh Ho" and "Some Day My Prince will Come."