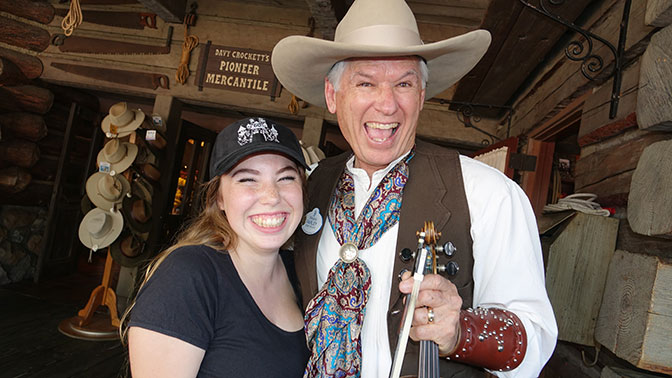 When one travels to a Disney Park only once every so often, that person is sure to make a list of attractions they really want to see.  It might include favorite characters, special shows or parades and of course the fireworks shows.
I recently took Jordyn with me to Disneyland.  It was the first time in a couple of years that she had been able to enjoy Disneyland Resort.  I asked her to use my testing site at Character Locator to make a list of attractions she wanted to experience.  Of course you'd expect HyperSpace Mountain, Oswald the Lucky Rabbit, Nick Wilde and Judy Hopps and the classic Fantasyland rides that we don't have in Orlando.  But she included a fiddle player, why?
Jordyn played violin in her high school orchestra, so stringed instruments have a special place in her heart.  We had hoped to see Farley on her previous visit, but we couldn't locate him.  He was a pretty tough one to find.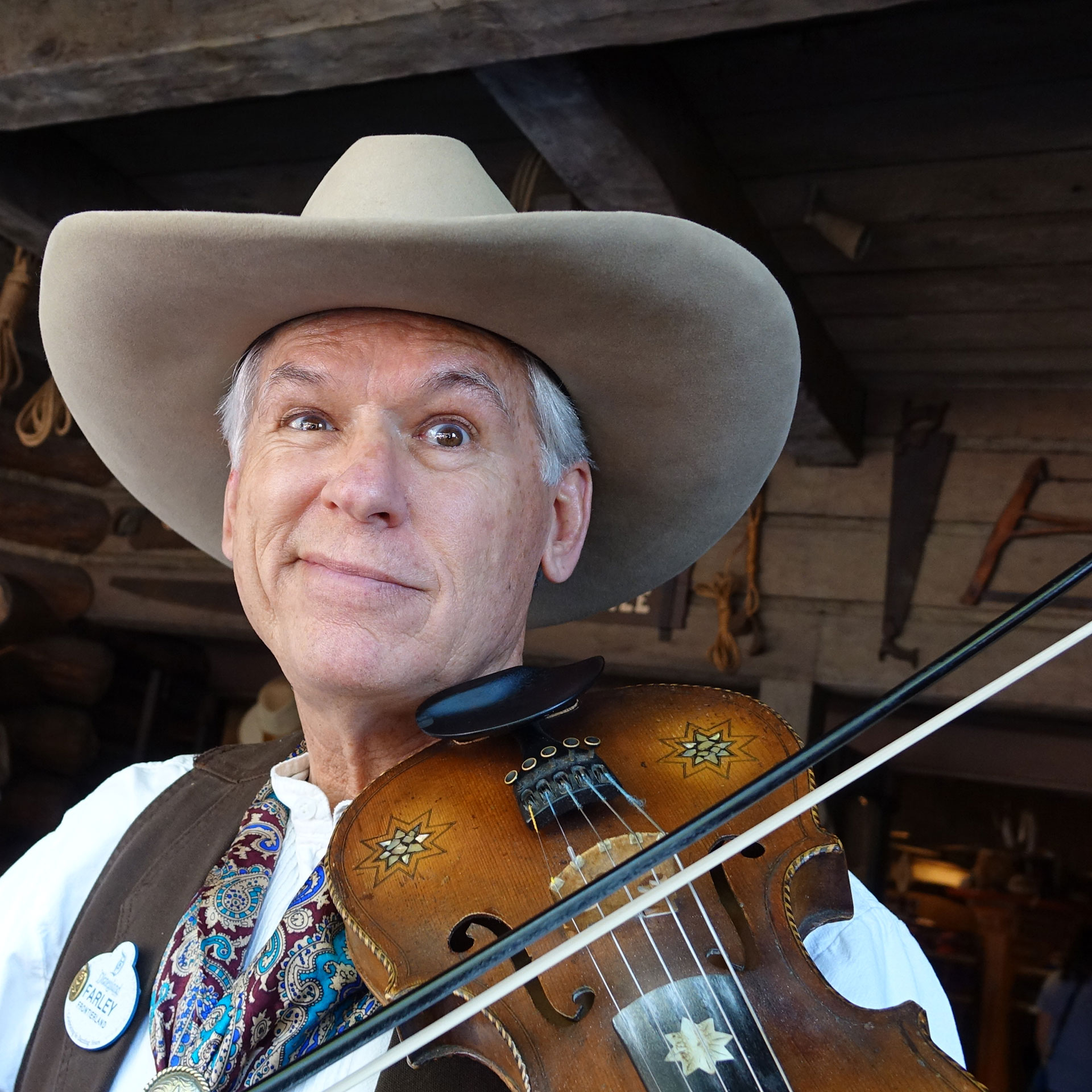 On this trip I tried all the typical resources to find Farley's schedule, but couldn't track the famous fiddler anywhere.  Some were even telling me he had retired when Big Thunder Ranch closed.  We even tried Guest Services and Ask Otto, but no one could tell us where or when he would appear.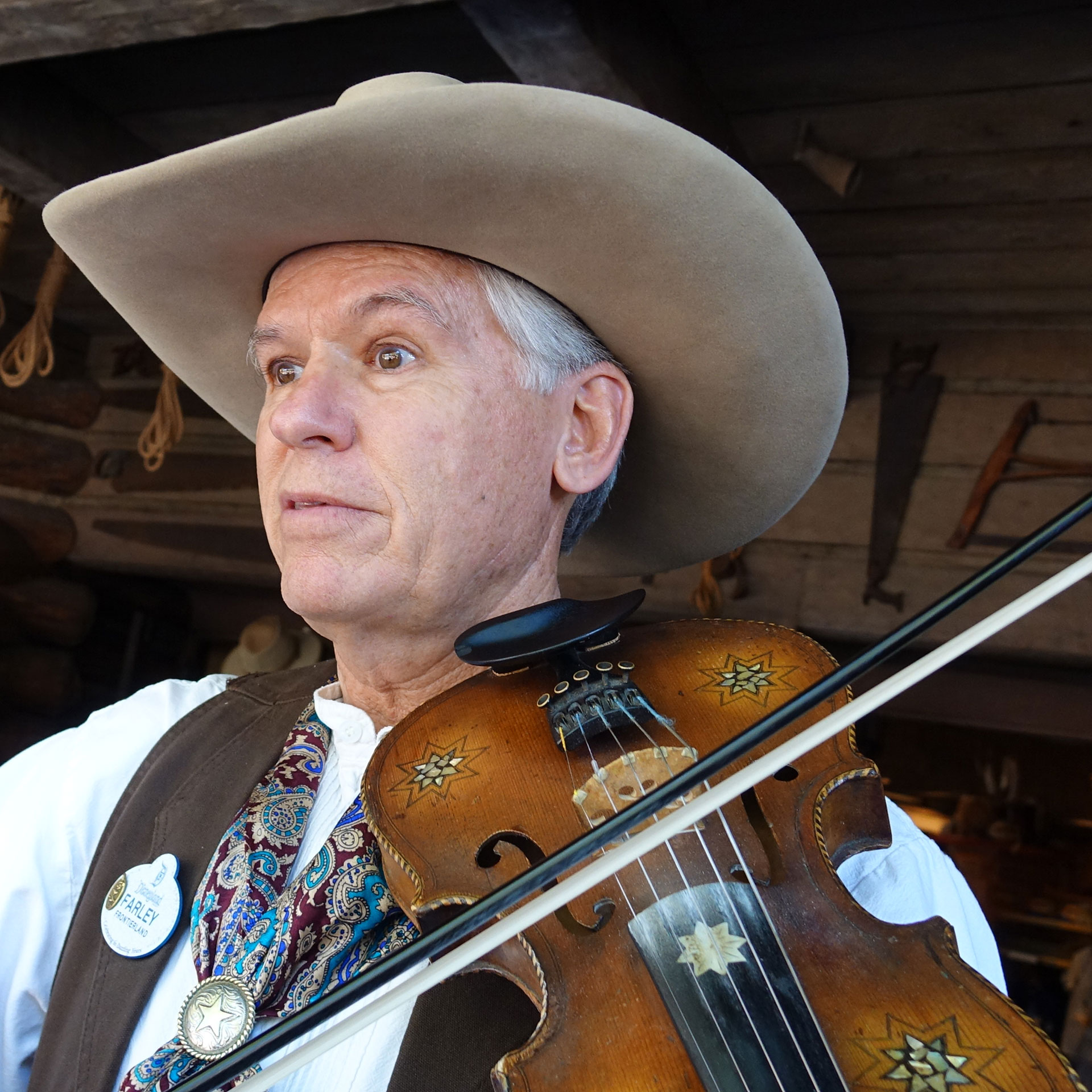 We had just completed watching the Laughing Stock Co. and heard the distinctive fiddle sound.  It was Farley!  He was playing on the porch of Davy Crockett's Pioneer Mercantile in Frontierland.  We were only able to catch the last minute or so of one set.
Farley gave us a time to come back, but our Fastpass for Indiana Jones took much longer than it usually would, so we again returned late in his set.  He then told me we had to be back by 5pm or we'd miss out.
We figured we'd just enjoy Farley's immense talent, but when they discussed how Jordyn had played Violin, it peaked his interest and he began showing her how Violin and Fiddle playing differ.  He then called her over to play a bit.  She was astounded that Farley let her play his instrument.  This first video is basically Farley playing with her holding the Fiddle.  The next one is more of a lesson.
In this video Farley spends about 3 minutes trying to help her pick up on the nuances of Fiddle playing while she is extremely nervous and happy rolled into one.
This isn't something that had been set up or anything because I had a blog.  Farley didn't know me or that I had any type of blog (newspaper?).  He is just a super nice person who wants to bring a bit of happiness to park guests.

The smiles Jordyn had while attempting to play were such total joy and she couldn't stop talking about the experience for the next 2 days.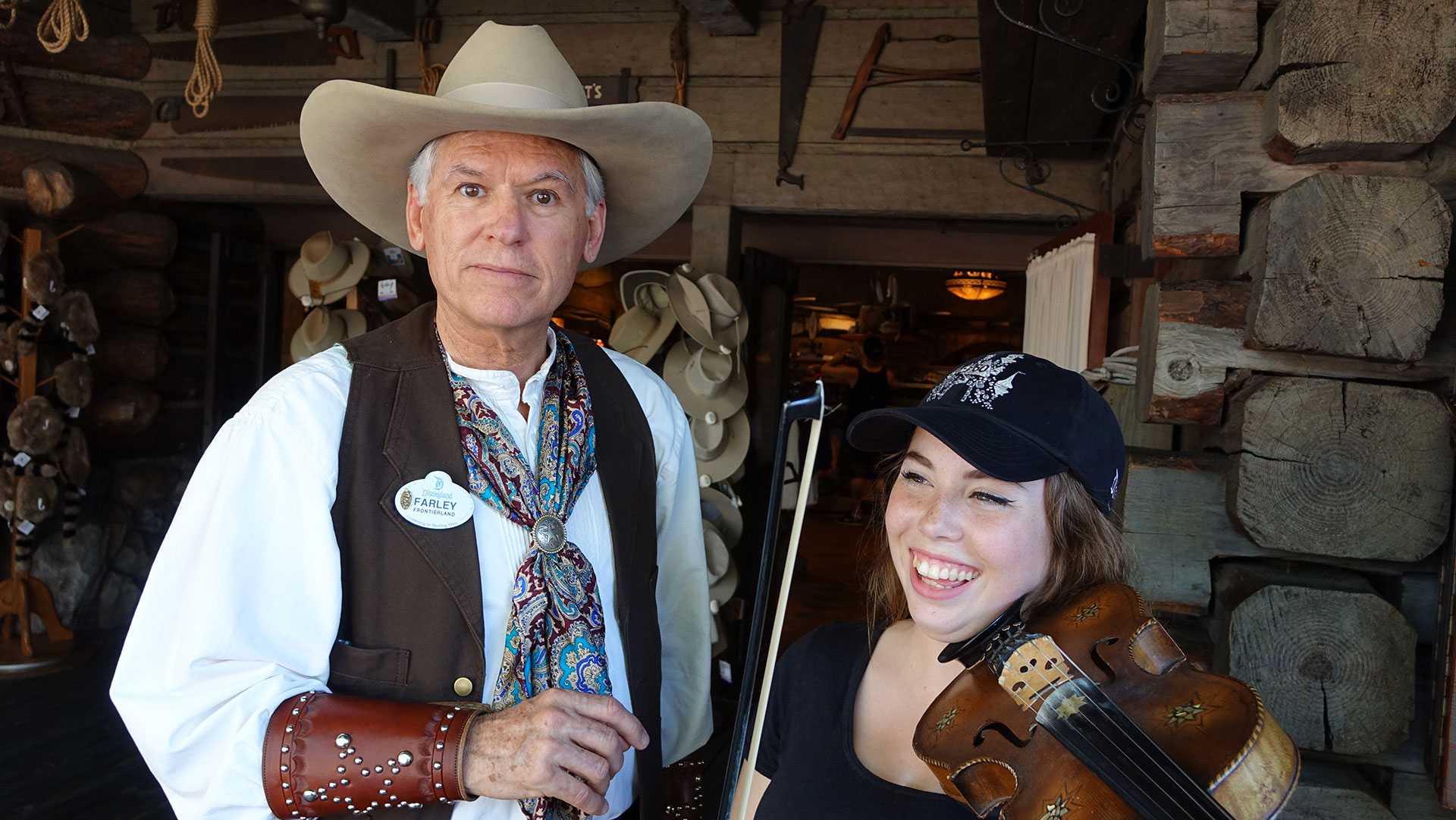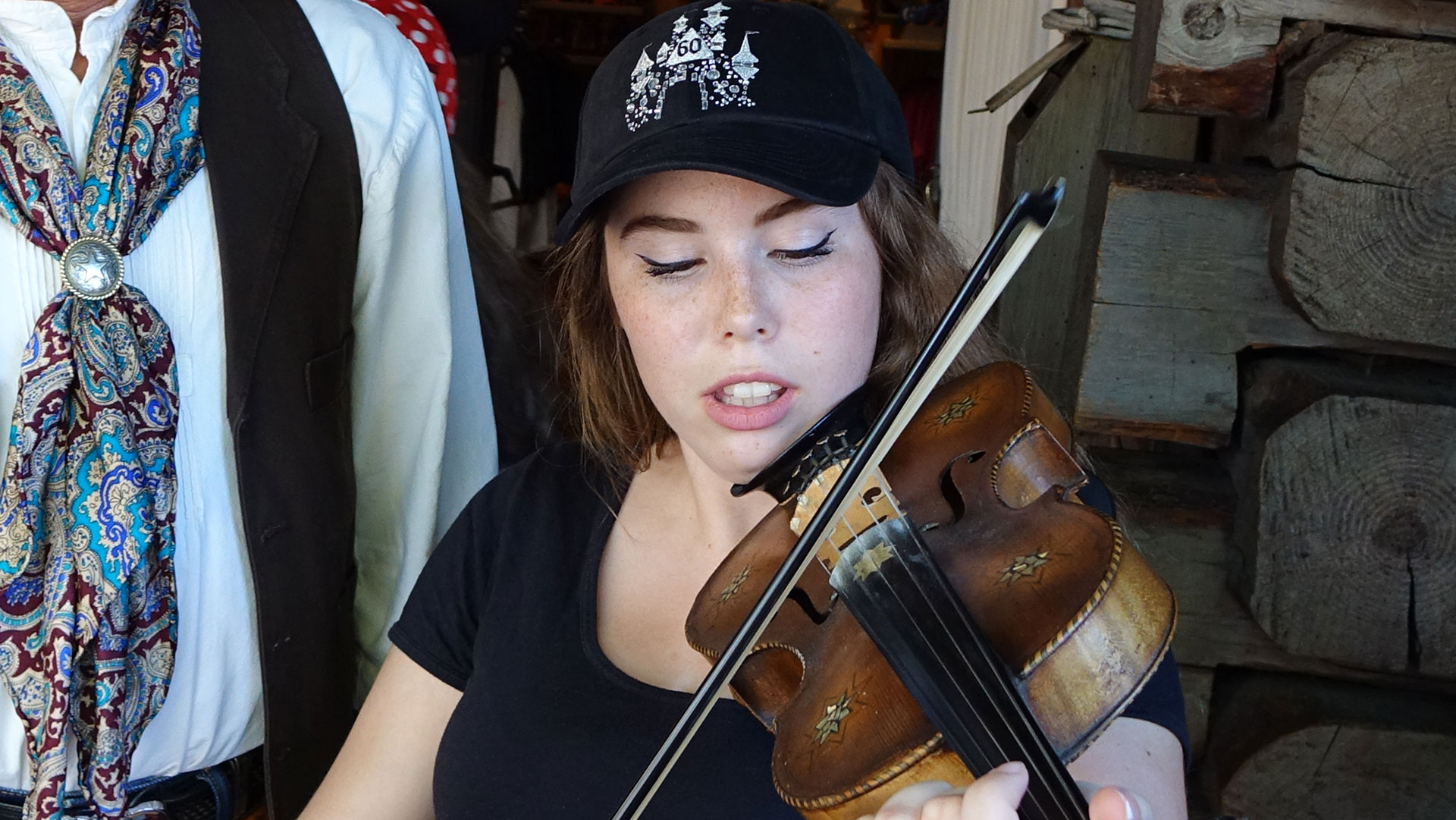 If you get to visit Disneyland, don't spend all your time running from ride to ride or character to character.  Slow down a bit and engage with the various entertainers and you might have a magical moment like this as well.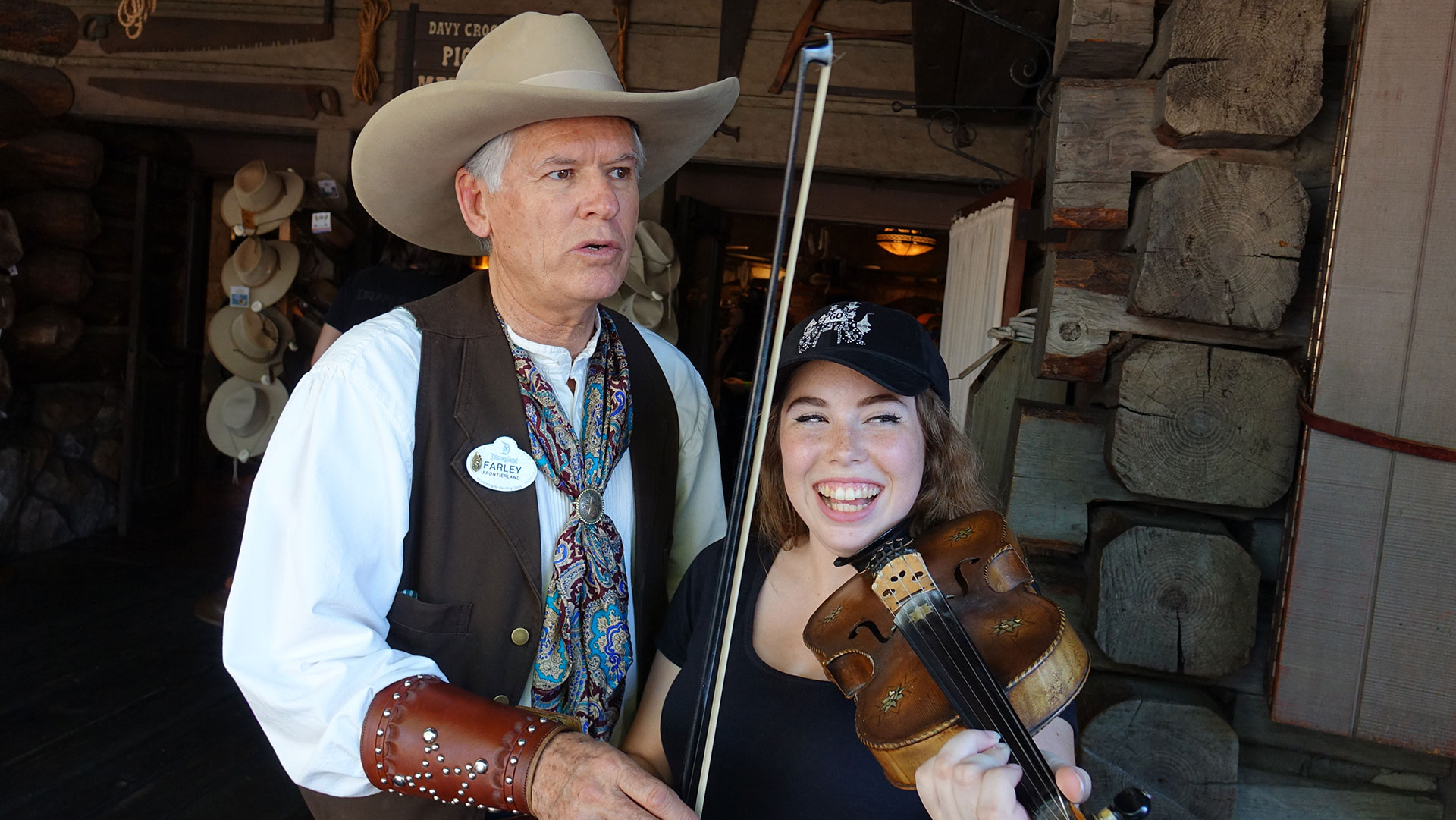 Oh, by the way, Farley told me that his schedule is usually found on something that has to do with a book of faces.  He isn't sure why they put his schedule on the book of faces, but it might help you if you are looking for this talented, funny and caring gentleman who brings a little joy to park guests.
Are you planning a vacation? Reach out to our trusted travel agency sponsor Authorized Disney Vacation Planner
Mouse Class Travel
!