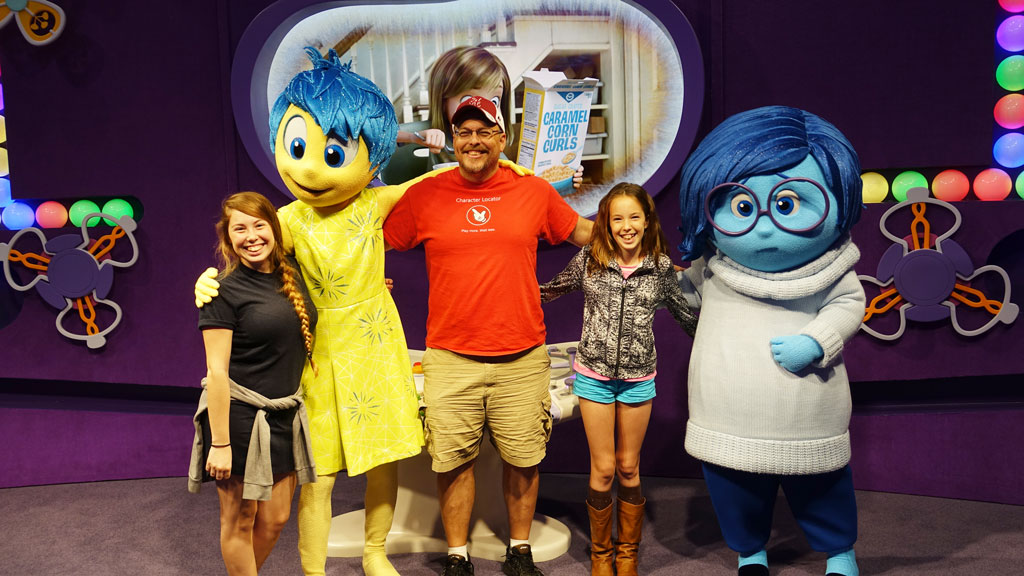 Joy and Sadness recently moved into Epcot's Innoventions West.  Disney accidentally created a great deal of confusion by saying that Baymax and Inside Out characters were in "Epcot Character Spot."  Reality is that only Mickey, Minnie and Goofy are in Epcot Character Spot and Baymax as well as Joy and Sadness are in Innoventions West.  I'll display some photos and commentary and summarize some details at the end of the post for you.
As you enter the sprawling queue line, you'll find tons of memories have already been made.  Walls are covered in a type of carpet with these special memories images overlayed.
Our favorite part of the simple queue is the fact that Sadness went through and made all the lowest level memories blue, as she did in the movie Inside Out.
As you enter Headquarters, the actual meet and greet room, you'll see actual glowing memory spheres that change colors.
Behind the characters is a screen from Riley's various memories.  It changes as the meet and greet continues.  Nice touch.
Joy and Sadness stand right in front of the control panel to meet guests.
Uh oh, Sadness is touching the memories again.
You'll find Riley's various memory islands on the wall opposite the characters in the same room.
Sadness just makes you want to hug her, right?
Joy is really peppy and excited to meet everyone.
Do the characters sign autographs?
Yes, both Joy and Sadness are willing to sign your memory books.
Is there a Disney photographer present?
Yes, a Disney photographer will take your photo and Disney character attendants are also present to assist you.
Does this meet and greet offer Fastpass+?
No, it is a stand by queue only.
Do they share the same line as Baymax?
No, Baymax has his own queue line within the building
Where's it located?
You'll find it inside Innoventions West, but you can ONLY enter the queue from the breezeway.  Head past Spaceship Earth and turn right in the breezeway.  You'll see Epcot Character Spot on the left and Baymax and Joy/Sadness on the right.  Joy and Sadness queue inside the building is on the right and Baymax is on the left.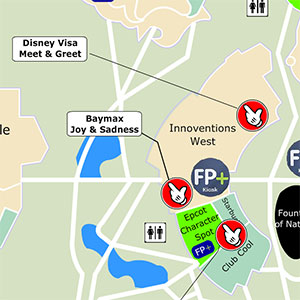 How long is the normal wait during the day?
Guests average from 45 to 90 minute waits during the day.
Is there schedule included on Character Locator?
Yes.  It is also included in my Epcot touring plans
When is the best time to meet Joy and Sadness?
I would arrive at Epcot 45-60 minutes early and head straight here when the park opens, so you can use your touring time for other attractions.  We followed this plan and had no problem meeting Baymax with no wait as well before heading to test track for a Single Rider line with no wait there.  Near a regular closing time and Late Extra Magic Hours are also great times to drop in for a visit.
If you have additional questions, feel free to leave them here or post on my Facebook post.  Are you excited to meet Joy and Sadness?
Subscribe to Blog via Email