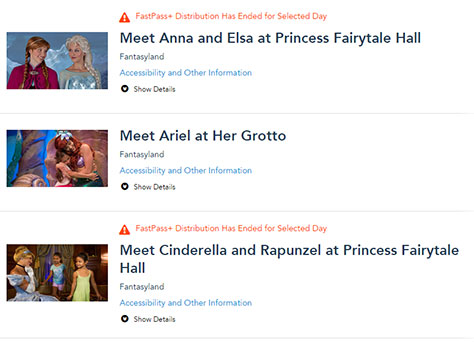 Disney World's Fastpass+ system is an ever evolving one.  Some things get added, some things get removed.  Some parks have "Tiers," while others don't.  An upcoming change to Fastpass+ will affect some popular meet and greets and future attractions.
Beginning May 27, 2016 both the Anna & Elsa meet and greet and the Meet Cinderella and Rapunzel meet at the Magic Kingdom cease to offer FP+ as selections.  What does this mean?  I believe it means that Disney World is targeting May 27, 2016 as the date that Anna and Elsa could move to Epcot's new Royal Summerhus meet area.
Some believe Princess Fairytale Hall will likely go back to offering meets with Cinderella, Rapunzel, Snow White and Aurora in some combination.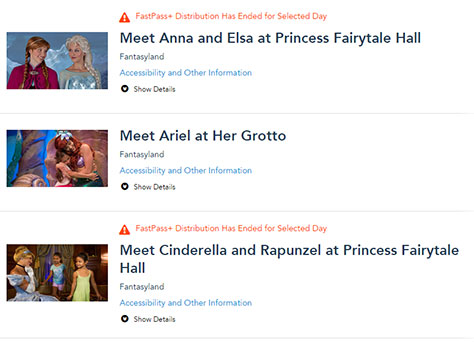 Another change that takes place on May 27, 2016 is moving Mission: Space back to Tier 2 status.  Mission: Space was Tier 2 before Soarin' went down for refurbishment, adding a third screen.  One friend has told me that Epcot is actually considering re-opening Soarin' with the old film in late May, then switching it over to the new Soarin' over the World when Shanghai Disney opens in mid-June.  Disney World and Disneyland likely won't begin showing Soarin' Over the World until Shanghai presents it first.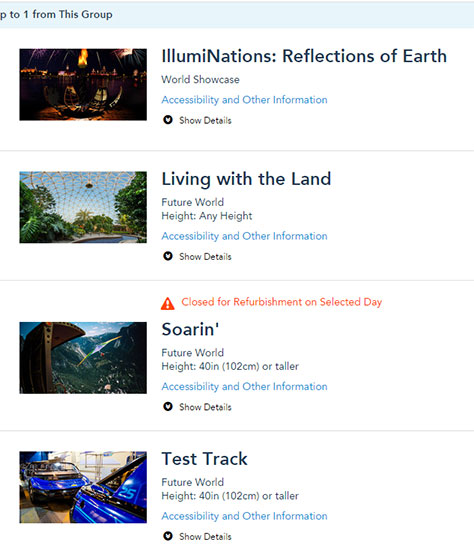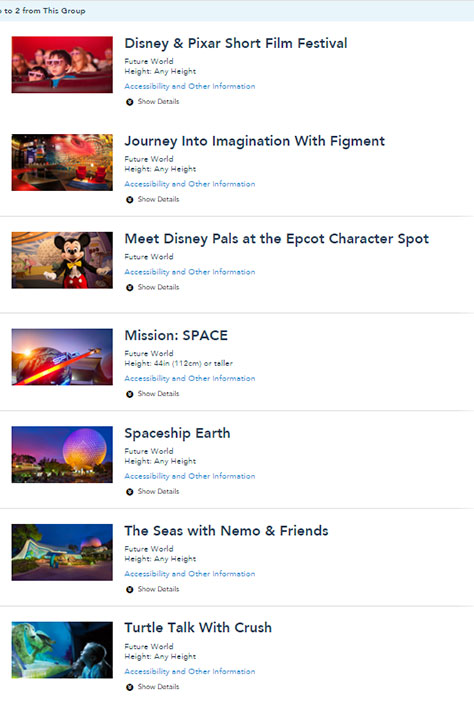 I expect NORWAY to open with the park.  Disney World has to know how insanely popular these attractions will be and open them with the park.  Creating 2 hour lines before the attractions open would be creating a disaster of Guest Services complaints.
I also expect the Anna/Elsa meet in Epcot and the new Frozen Ever After ride at Epcot to become Tier 1 FP+ attractions, which means you'll either need to wait in some long lines, stay until closing or visit Epcot 2 times on your visit.  Here's how I would plan my FP+, if these attractions join Tier 1.
Day one:
Tier 1:  Meet Anna/Elsa and try to book early
Tier 2: Spaceship Earth & Meet Mickey
Day two:
tier 1: Soarin'
tier 2: Journey & Seas
On day one I would arrive before park open day one and head straight for Frozen Ever After ride and use FP+ for Anna/Elsa then spend some time walking about. Day one would be a good time to use my Princess touring plan on Character Locator from 11am onward.
On day two I would arrive before park opening and head straight for Test Track, then Mission: Space.  I would plan my Soarin' FP+ for 10:00am range.
You'll either wait in longer lines for Joy & Sadness and Baymax (separate lines and NO Fastpass+) or you'll meet them near the end of the day.  All this is just a scenario at this point, but I'll make sure my Character Locator Touring Plans accommodate all the best attractions.  It does appear that Epcot will move back to a 2 day park with Magic Kingdom being 2 or 3 days, Hollywood Studios and Animal Kingdom will be single day parks.