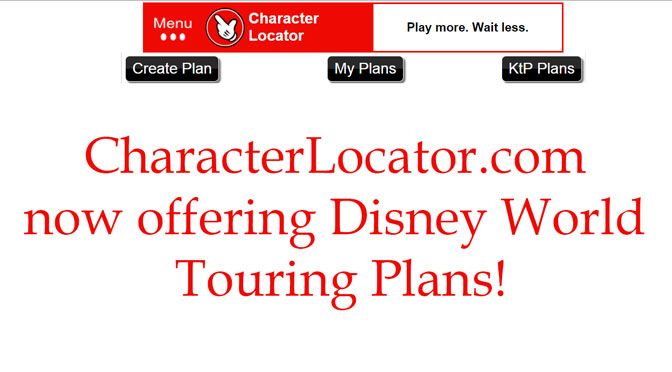 For the last few months, my brother and I have been hard at work building the best possible Touring Plans feature for Disney World trips we could dream up.  We wanted to be the first to include character meet and greets, shows, rides and dining.  We want to make your prep for WDW as easy as possible, especially if it's your first visit.  We are excited to announce the feature has now been released for Character Locator!  Let me take a few minutes to walk you through it's amazing features.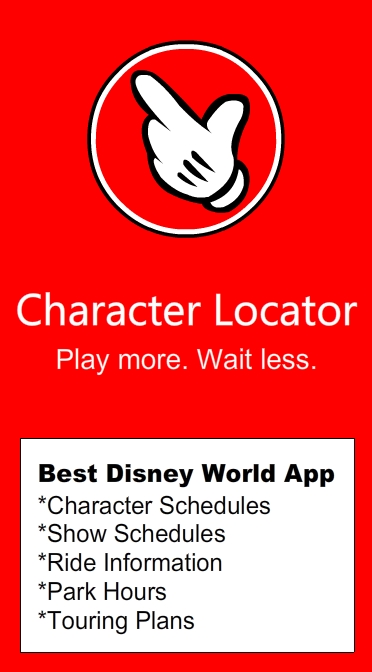 Let's start by looking at what you see if you are not logged in or subscribed to the best Disney planning site within 3 planets of the sun.
Preview some KtP created plans
You can see a full list of currently available plans.  Click on a few and see what you discover.  You'll find that they are more detailed than any touringplans you'll find out there and very easily customizable!  At the time of this article, there are nearly 50 plans already created.  I'm still creating more and will soon offer Blizzard Beach and Typhoon Lagoon plans as well as incorporating my Crowd Calendars more fully and lots of other fun things.
I clicked on the Magic Kingdom Characters ONLY plan.  You'll see an outline for meeting all the wonderful characters in this park.  And, if you click "Show Details," you'll find the character's photo, map (clickable to full size now), full schedule and interaction tips with a single touch.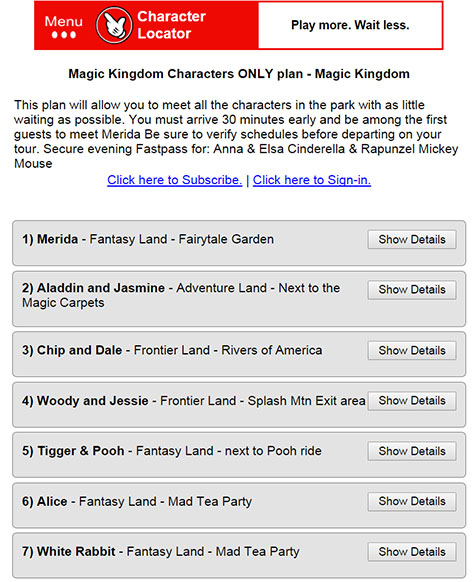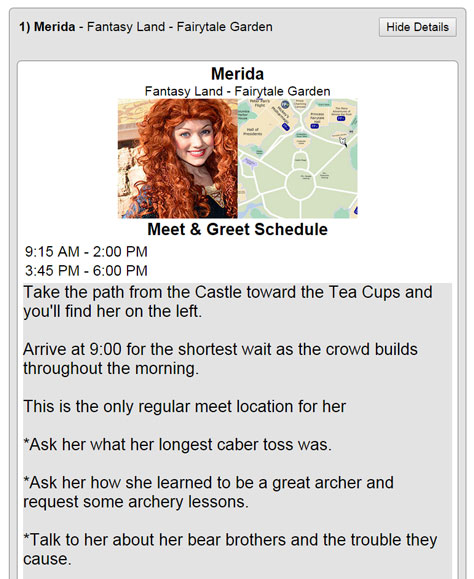 Drag-n-Drop Touring Plan creator
If you have an active subscription, you can even use our powerful Disney World touring plan creator.  Just give your tour plan a name, choose your park and date.  You can add any special notes here, but each attraction has a notes area as well.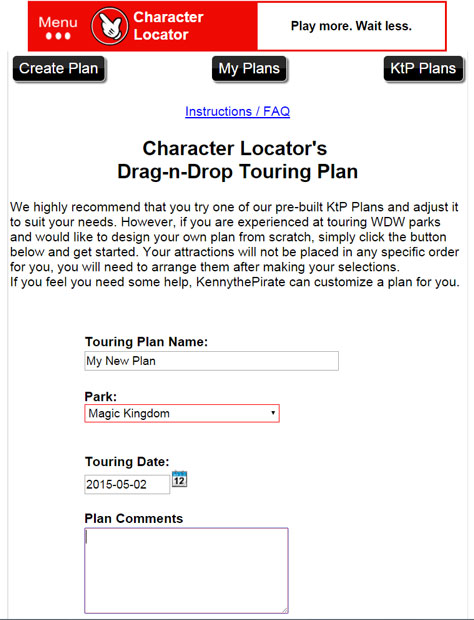 Next, you can select all your favorite characters from each park for your plans.  If you click on a blue link, you'll find all their data before deciding if it's a character you'd like to meet.  Best part.  The expandable links work for characters, shows, rides and dining!  Just click the plus to add it to your plan or minus to remove it.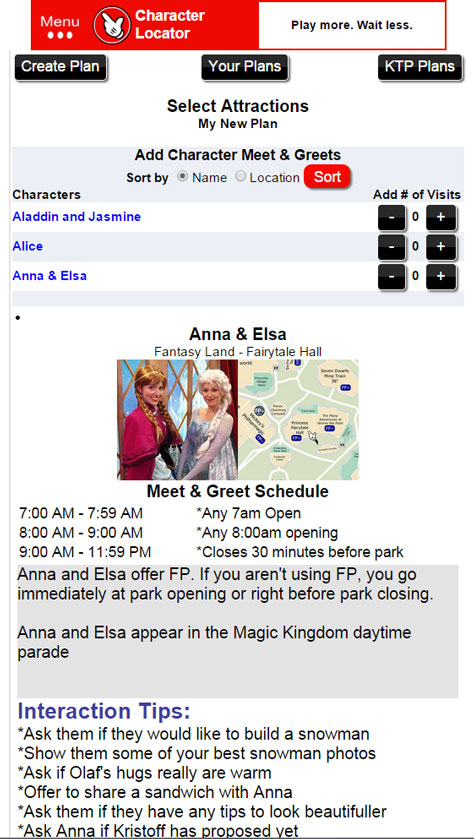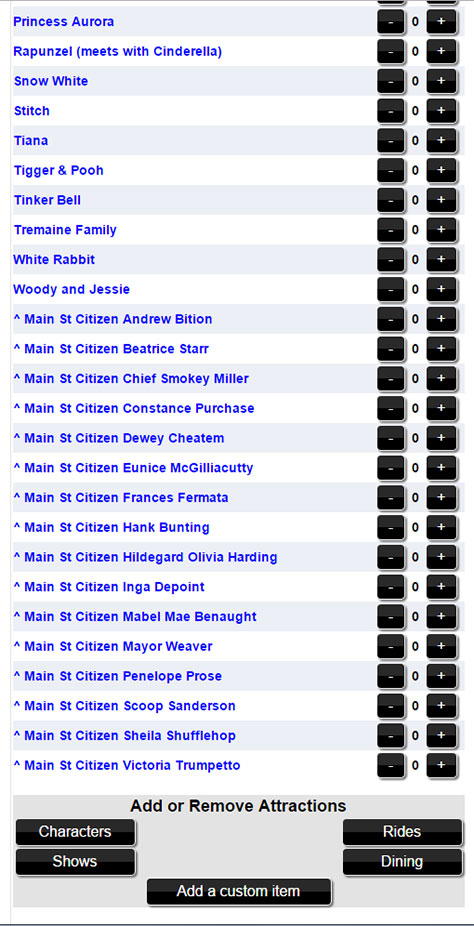 After clicking upon the "Shows" button, you'll see something that looks like this.  Again, click on the title for a preview.  Use the plus and minus to add or remove.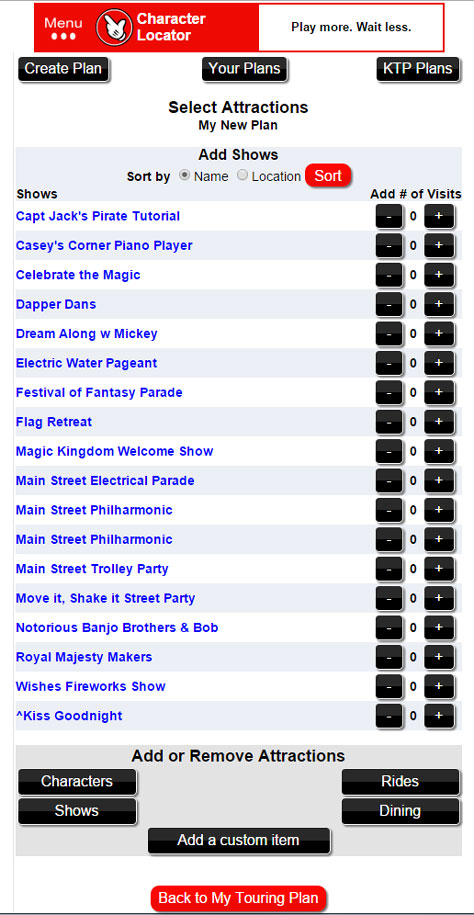 Then choose your rides in the same manner.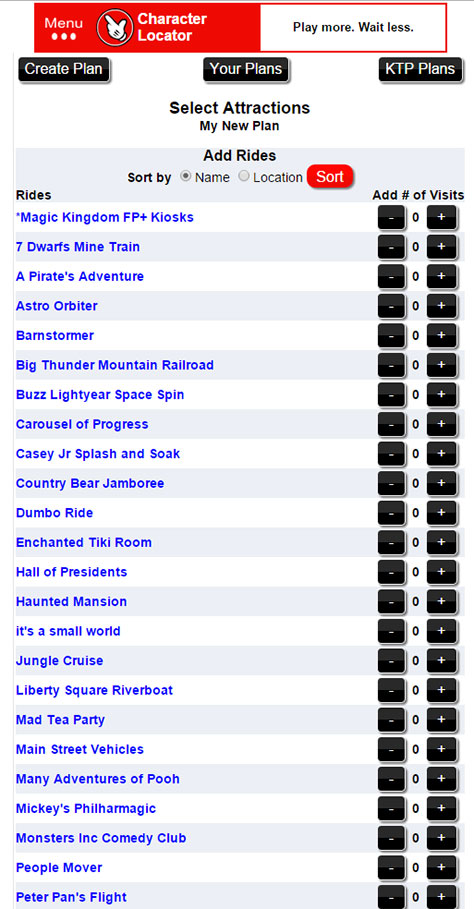 Choose any meals you're interested in or any snack locations you might wish to visit.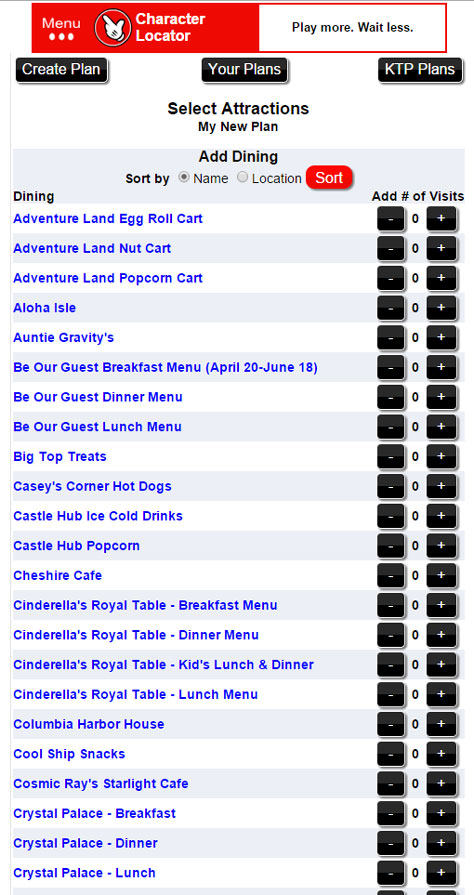 If there is any small detail that we missed, you can add it with with the "Add a custom item."  Don't use this to add an attraction, we've done that work for you.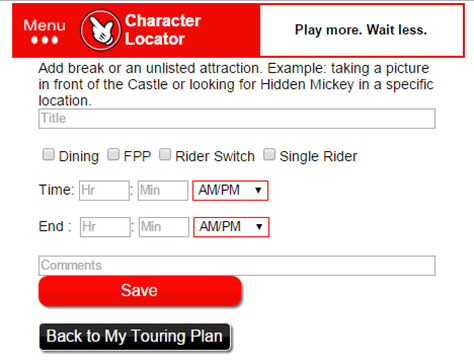 EDIT MODE
After choosing your attractions, you'll move into what we call the EDIT MODE.  It's where you can drag things and drop them where you like.  You can use the "Notes" button on the top right to add your Fastass time, dining time, plan to use rider switch or single rider.  For your dining, add that Advanced Dining Reservation number for easy access.  I've already added FP+ for Anna and Elsa and I'm adding it for Big Thunder Mountain below. If you click "Show Tips" you can see that same full info you saw by clicking the blue links in the build mode.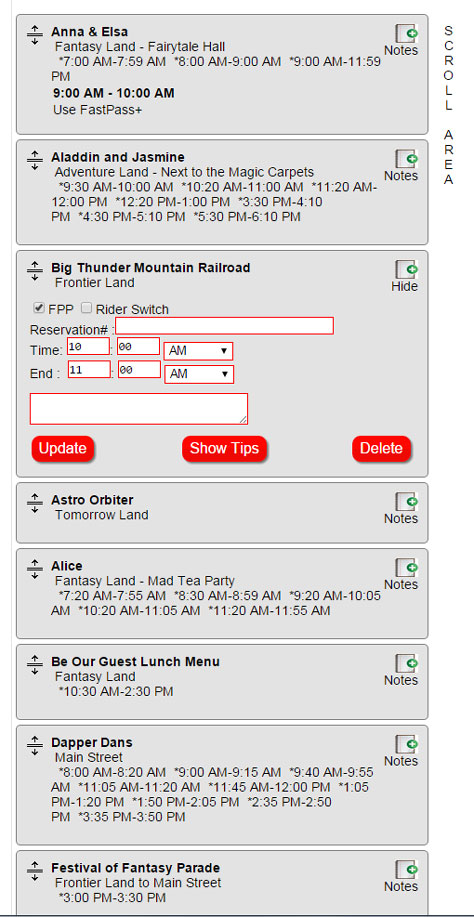 VIEW MODE
After you've arranged things the way you like, you can now view your plan.  You'll see the park name, plan name, date you've chosen and park hours at the top.
Below you'll see the same type of presentation I showed you with the KtP plans above with the "Show Details" button.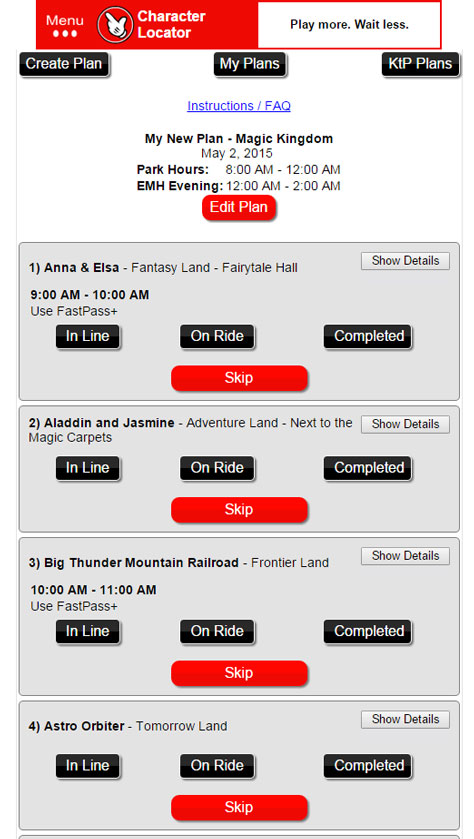 We've also included the ability to easily time your wait for any attraction by just clicking "In Line," "On Ride" and "Completed."  You aren't required to use any button, but Completed will move the item from the top of the list to your Completed attractions at the bottom and also records it in your History.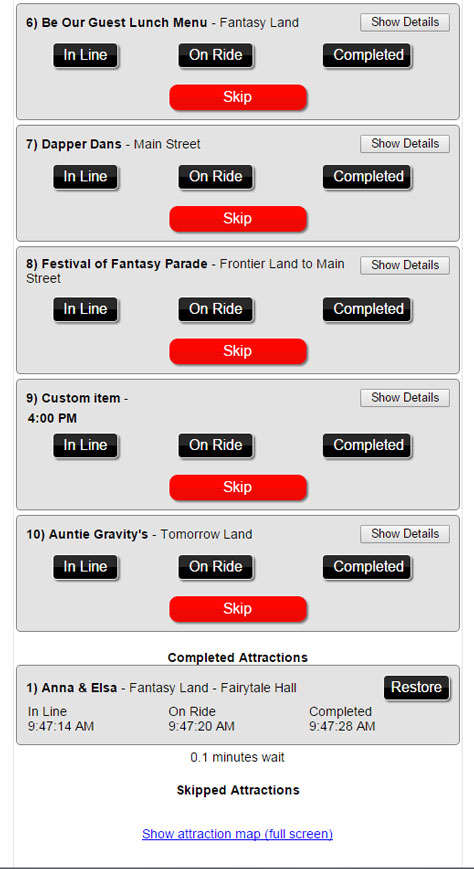 Another awesome feature is the ability to scroll to the bottom of the page and preview your attractions on my custom designed map.  You'll see your choices in numerical order that matches your plan.  If you change the order, it adjusts them map too.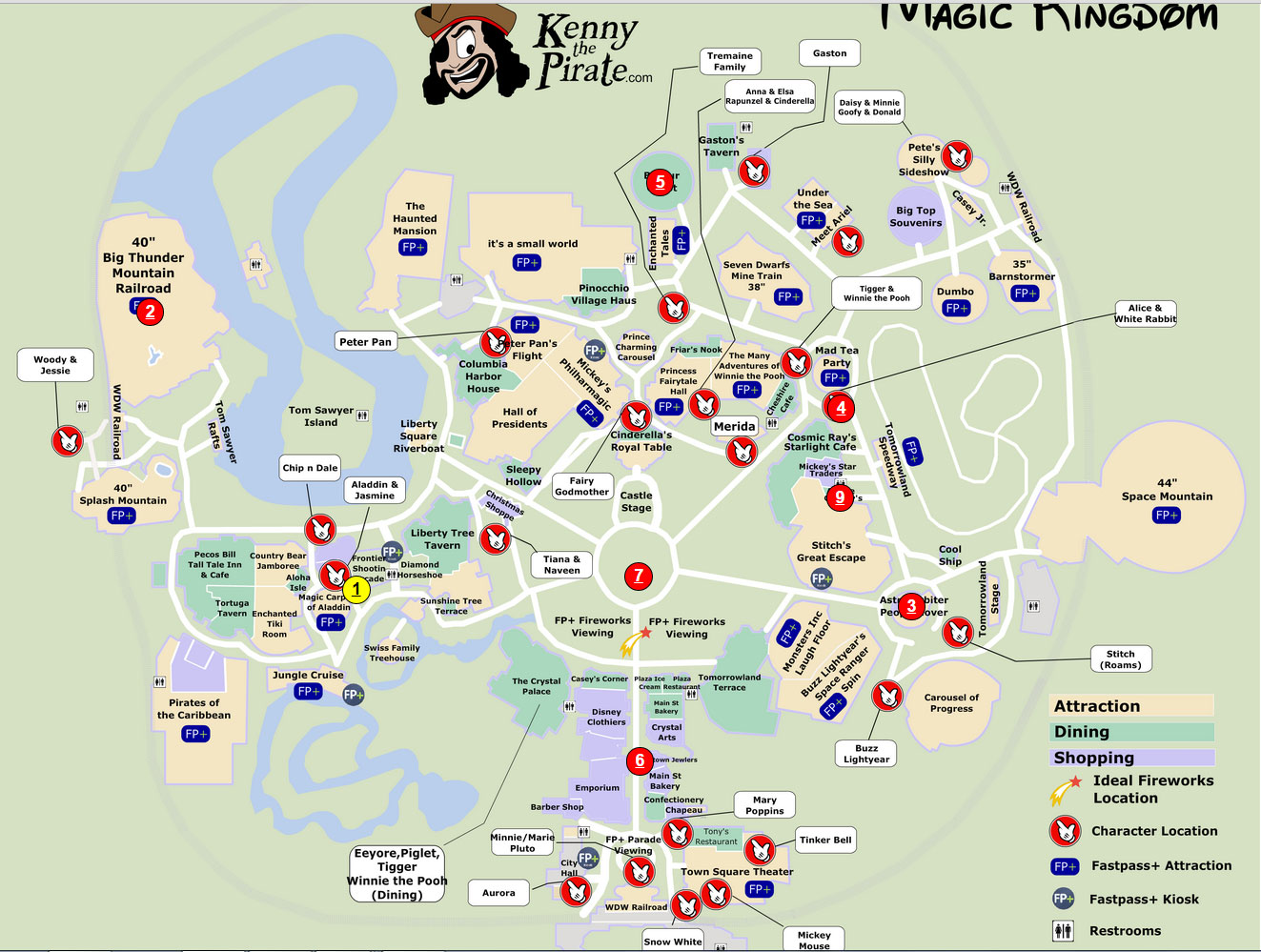 I think you'll find that Character Locator is the best investment for your Disney World vacation and it costs less than an order of Chicken Nuggets.
If you have any questions, post them below and don't forget to share with your friends!