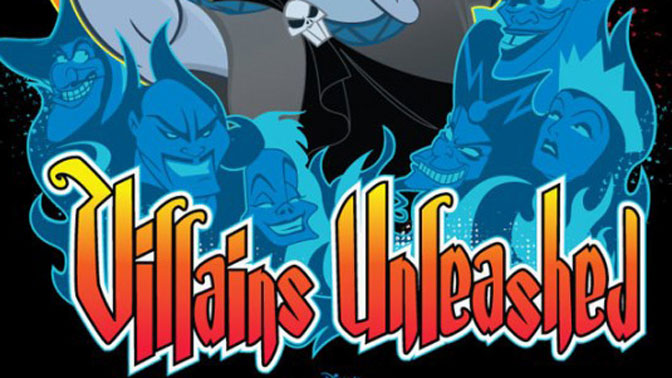 Villains Unleashed is looking like it is going to turn out to be one of the best character events Disney World has ever offered.  There are many characters that are either really rare or have never met at Disney World.  I know I'm excited about the night!
The event begins offically at 8:00pm, but guests will be allowed to enter using their special event ticket at 5:00pm.  If you are already in the park after 5:00pm, you can visit the Indiana Jones Stunt Show area or Soundstage One that currently houses Wandering Oaken's Trading Post.  Here's some of what you might expect at the special hard ticket party.
NOTE:  I won't be creating any special touring plans for the event because everyone will have a different desire to meet different characters.  I'll be offering a special post-fun meet up at the Sorcerer's Hat at 1:00am.  I'll be in the area earlier I'm sure as well.
The characters will NOT be signing autographs.  Instead, you'll be given cards that have their signatures imprinted upon them.
Character Meet and Greets
Animation Courtyard
Maleficient – 8:30pm to 11:30pm
Star Lord & Gamora  – unconfirmed if they will be dancing with guests  "Guardians of the Galaxy" Awesome Mix Tape Dance Party – Disney Jr  8:30pm to 12:45am
Echo Lake – Indiana Jones Stunt Show area
Banzai, Shenzi & Ed
Brer Bear and Brer Fox
Hades Hangout – Dance Party
Hades & Megara – on stage ONLY
Big Bad Wolf
Captain Hook
Governor Ratcliffe
Mr Smee
Queen of Hearts
The Legend of Captain Jack Sparrow
Barbossa – 8:30pm to 11:30pm
MuppetVision 3D Store
Star Tours area
Fixed Locations
Boba Fett – Near Backlot Express
Darth Maul – Star Tours area
Darth Vader – Star Tours stage
Emperor Palpatine and Royal Guards – Outside Sci-Fi Drive In Theater
Roaming Characters
Asajj Ventress
Aurra Sing
Gamorrean Guard
Greedo
Jango Fett
Jawas
Stormtroopers
Tusken Raiders
Zam Wesell
Streets of America
Fixed Location Meets
Bowler Hat Guy 
Captain Gantu & Dr Hamsterviel 
Cruella de Vil 
Dr Facilier
Jafar
Shan Yu
Snow White's Queen
Roaming Characters
Anastasia, Drizella & Lady Tremaine
Foulfellow
Gaston
Gideon
Judge Claude Frollo
Prince John
Sherrif of Nottingham
Stromboli
Sunset Boulevard
Attractions
Muppet Vision 3D
Rock 'n' Roller Coaster
Star Tours
The Great Movie Ride – closes at 11:15pm
Toy Story Mania – closes at 11:30pm
Twilight Zone Tower of Terror
Voyage of the Little Mermaid
Entertainment
Villains Unleashed Welcome – Sorcerer Hat Stage
8:00pm
Hades Hangout – Sorcerer Hat Stage
8pm to 1am
Oogie Boogie's Freaky Funhouse Show – Beauty and the Beast Theater
8:30pm, 9:30pm, 10:30pm and 11:30pm
"Guardians of the Galaxy" Awesome Mix Tape Dance Party – Disney Jr
8:00pm to 12:45am
Fantasmic! with special pre-show – 10:00pm show time, pre show starts at 9:35pm.
Villainy in the Sky Fireworks – 12:45am
Food and Drink
Club Evil – Hollywood Brown Derby
Merchandise
Studio Prop Shop  – accross from Honey I shrunk the Audience Playground and various locations in the park
Parking Information for Villains Unleashed
Guests attending Villains Unleashed will need to use the Main Entrance off World Drive to park for the event. The satellite parking entrance to Disney's Hollywood Studios on Buena Vista Drive will be closed to all incoming traffic beginning at 3:00 PM. Roadway signage will be in place to direct Guests to the Main Entrance.