Top Ten Things Every Guest Should Experience at Walt Disney World
10.  Visit Walt Disney:  One Man's Dream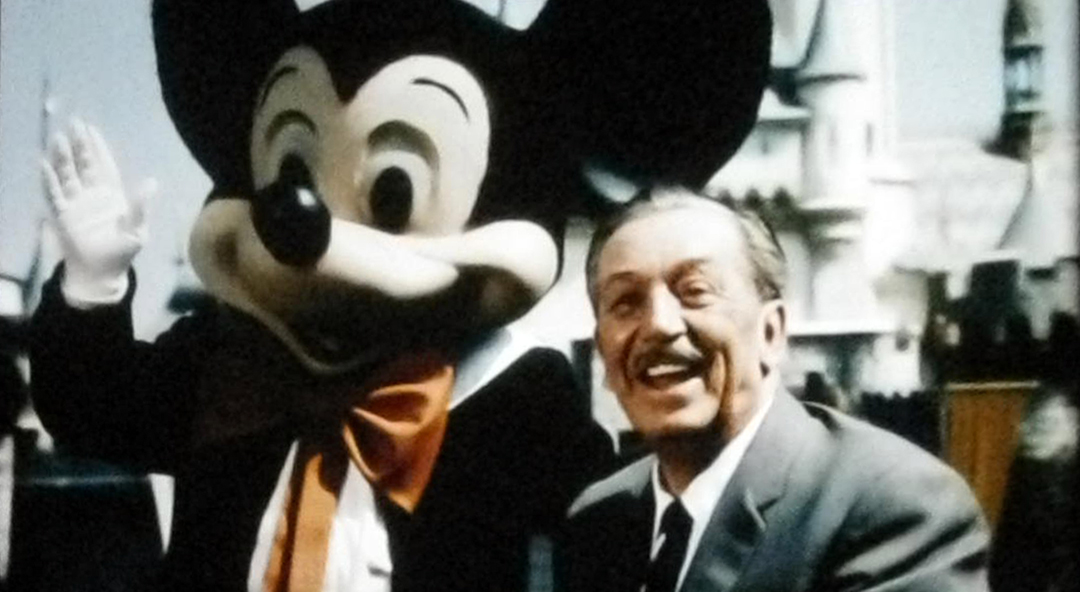 Okay, this may seem like a really silly choice.  However, many guests walk right by this great attraction that tells the history of Walt Disney and the Disney corporation.  It has great classic items like Walt's office, his first foray into audio-animatronics and the multi-plane camera.  If you skip this attraction, you probably don't understand the heart behind Walt Disney World.
I spoke with a friend the other day who has visited Disney parks many times and had never seen this attraction because the family thought it would be a boring waste of time.  It's interesting history and it's air-conditioned!  Do it in the afternoon.
9.  Rent a water craft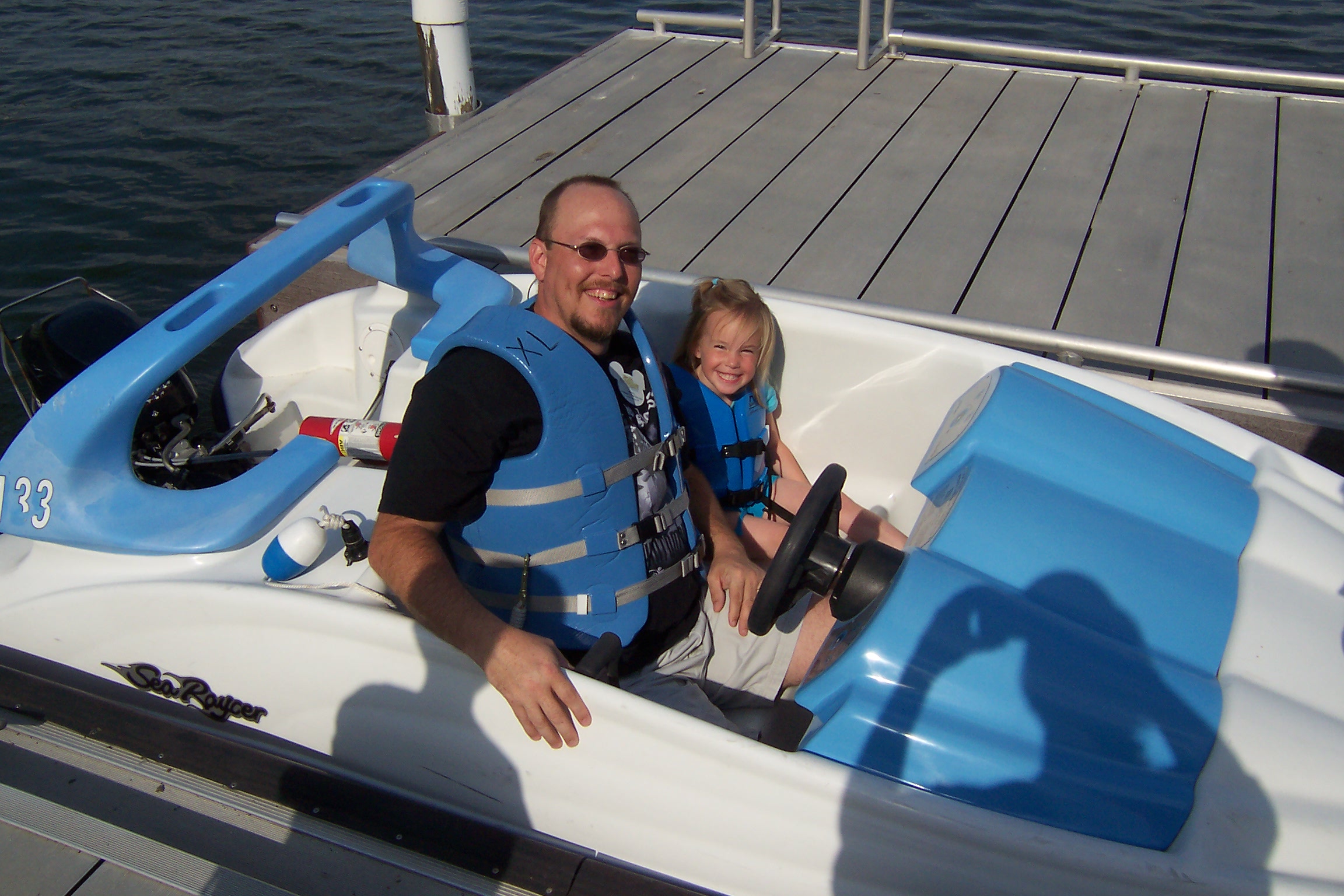 One of the favorite memories of my kids is the time we rented a Sea Raycer and boated around the Seven Seas Lagoon.  We splurged for an hour rental and I drove each of my children around for 20 minutes each.  They loved the view of the Magic Kingdom from the center of the Seven Seas Lagoon and getting a far off glimpse of the old River Country area.  Boats can also be rented from the Downtown Disney area and Epcot resorts area.
Boston Whaler Mantauk 17′ – up to 6 guests.  Drivers must be 18 or older. These boats are restricted to the waterway from which they are rented.  Cost is $47.93 for 30 minutes.
Canoe or Kayak – available at the inlets of Fort Wilderness
Pontoon Boats Sun Tracker 21′ – up to 10 guests.  Drivers must be 18 or older. These boats are restricted to the waterway from which they are rented. Cost is $47.93 for 30 minutes.
Sailboats.  A 13-foot catamaran is available at Disney's Polynesian Resort.
Sea Raycer – up to 2 guests.  It's like a little mini-boat and very maneuverable.  Drivers must be 12 years of age and up and at least 5 feet tall; younger Guests may ride as passengers. The maximum combined weight permitted for a Sea Raycer by Sea Ray® is 320 pounds.  Cost is $34.08 for 30 minutes
The Contemporary Resort also offers Sammy Duvall's Watersports that includes:
Parasail
| | |
| --- | --- |
| Regular Flights: | Deluxe Flights: |
| 450ft. | 600ft. |
| 8-10 min ride | 10-12 min ride |
| $95 +tax per single | $130 +tax per single |
| $170 +tax per tandem (2 people together) | $195 +tax per tandem |
Flight schedules:
*7 days a week weather permitting.
*Summer season flights depart every half hour between 9am and 4:30 pm. March 15th- September 14th.
*Winter season flights depart every half hour between 10am and 4:30 pm. September 15th- March 14th.
Personal Watercraft
| | |
| --- | --- |
| PWC Tour: | PWC Rentals: |
| 1 hr – $135 + tax per PWC(Reservations only) | ½ hr – $80 + tax per PWC(Walk-up only) |
| | 1 hr – $135 + tax per PWC(Reservations) |
PWC Tours are available at 9am (Summer) and 10am (Winter) only.
PWC rentals are available from 10am-4pm (Summer) and 11am-4pm(Winter).
Water Skiing, Wakeboarding  and Tubing Trips
½ hr trips $85 + tax (Walk-up only)
1 hr trips $165 + tax (Reservations suggested)
Premium trip: $185/ includes pick up and drop off for Bay Lake Resorts.
*Each boat carries up to 5 guests
Hours:
Summer (March 15th- September 14th): 9:00 AM to 5:00 PM with our last trip departing at 4:00 PM.
Winter (September 15th-March 14th): 10:00 AM to 5:00 PM with our last trip departing at 4:00 PM.
8.  See the Kiss Goodnight show
In order to see this simple "See you real soon" show, you'll need to stick around the Magic Kingdom until the park fully closes.   Around or shortly after closing the castle will change light colors and an audio spiel will play to end your magical day.  If you're visiting on a day with long hours, you'll want to take a mid-day break!
7.  Take a Disney World tour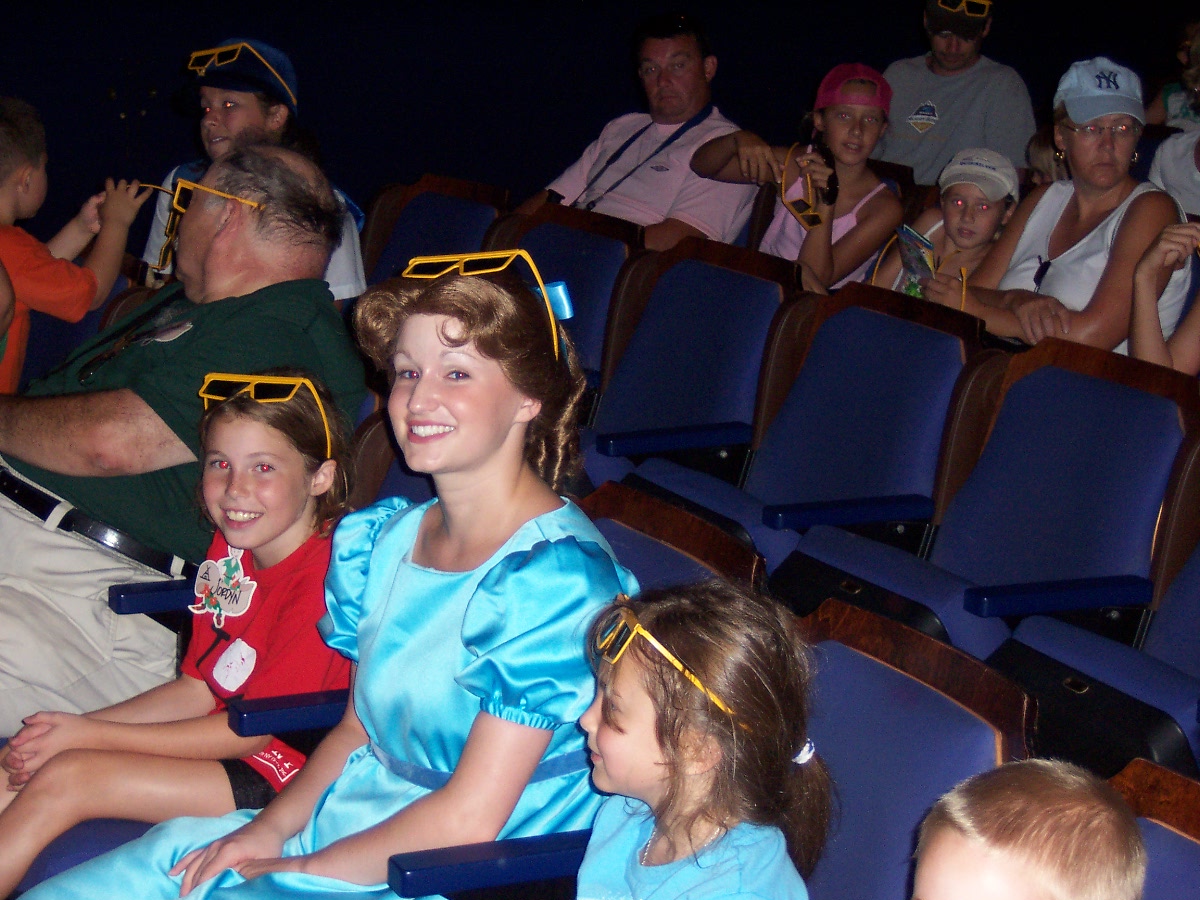 If you have small children, you'll want to look into the Family Magic Tour of the Magic Kingdom and the Behind the Seeds Tour in Epcot's Land pavilion.  We've done each of these experiences and they were great fun for little ones.  We journeyed through the Magic Kingdom with our guide and even got to watch Mickey's Philharmagic with Peter Pan and Wendy.  My little girl and I took in the Behind the Seeds tour and saw how they grow plants in a variety of environments.  She enjoyed the fresh, cold cucumber at the end of the tour.  We have also taken part in the Seas Aqua Tour with my older two children.  It was a behind the scenes tour of the aquariums in Epcot.
Here's a listing of some of  the tours that Walt Disney World offers:
Backstage Magic
Backstage Safari
Behind the Seeds
Dophins in Depth
Family Magic Tour
Holiday D-Lights Tour
Keys to the Kingdom
The Magic Behind our Steam Trains
Yuletide Fantasy
Epcot Divequest
UnDiscovered Future World
Marceline to Magic Kingdom
Wild Africa Trek
Wild by Design
6.  Attempt a family challenge
You could create your own challenge like doing everything in Walt Disney World that has a Western Theme, riding all the roller coasters in one day or riding a certain number of rides across 4 parks in a single day.
Some of the challenges that we have taken on include owning every Ultimate Touring Hall of Fame record for Ultimate Tours, meeting 71 character meets with 68 of them in different costumes and 60 total unique characters in a single day.  My brother and I once attempted every moving attraction in Walt Disney World in a single day (during the old paper Fastpass period).
Plan out your challenge well and have fun!
5.  Drive laps in a Richard Petty driving school car or exotic car  (now extinct)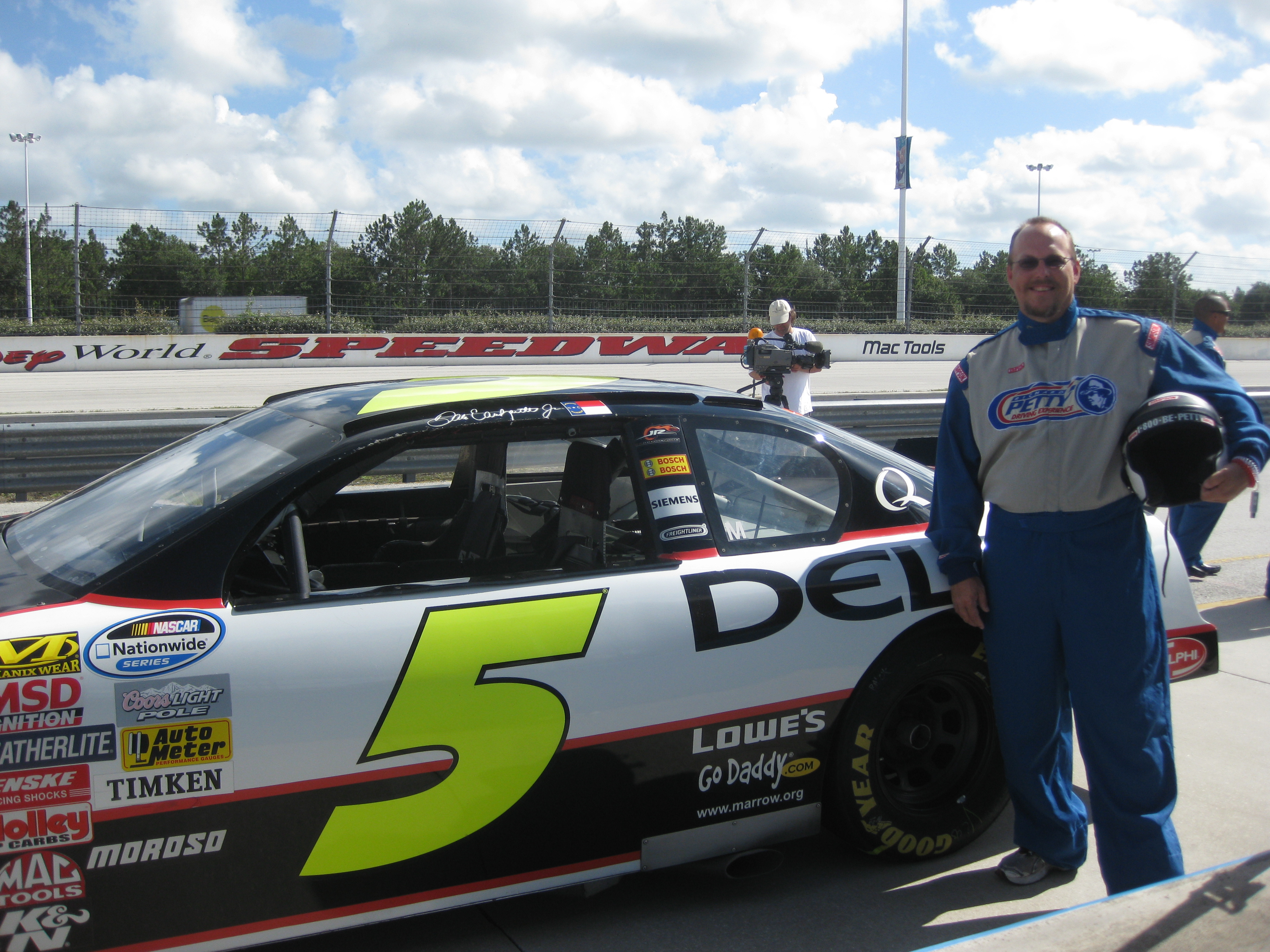 My son entered me in a contest to drive an actual Nascar style race car at the Richard Petty Experience in Disney World.  It's located at the end of the Magic Kingdom's parking lot.  It was a LOT of fun.  I paid to do the ride along first and that was more of a thrill that driving the car because you are not in control and the driver is allowed to go much faster.  They now offer Junior Ride Alongs for children, which is sure to be a blast for them.
4.  Visit a Disney Water Park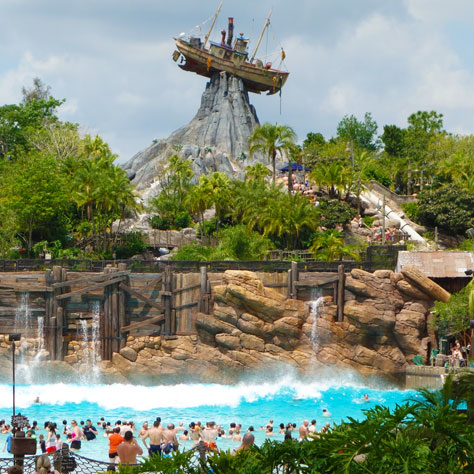 Many guests come and enjoy the 4 main theme parks and totally miss out on the extravagantly themed water parks.  I believe we visited 3 or 4 times before we added that Water Parks and More feature to our tickets.  Then we realized what we had missed out on.  Typhoon Lagoon is my favorite place to relax and enjoy an afternoon.  I could float around the lazy river for hours and the Crush n Gusher is my favorite water ride.  Blizzard Beach is great for both thrill enthusiasts and young children.  Young kids LOVE Tike's Peak water play area.  You could score an annual pass to the water parks for less than the cost of 2 days as well!
3.  Enjoy a Kitchen Sink at Beaches and Cream
This gastronomic delight involves putting every type of ice cream (we request no coffee ice cream), every type of candy bar and all kinds of calorie increasing, waist line busting goodies into one giant bowl that is shaped like a kitchen sink. You'll likely need 5 or more people to finish this thing off and don't even attempt it if you plan to eat a delicious burger and fries.
Sissy's can order all types of sundaes, malts and shakes as well.
2.  Watch the Hoop Dee Doo Musical Review
Did you know that this is the longest running show at a single location in stage history?  That's the case because it's downright fun!  There's a great, fun show that lends toward the hokey side and a full, all-you-care-to-eat meal with beverages and libations for the adults.  Be sure to leave room for the strawberry shortcake and get involved in the fun!
I do miss the old song though.
1.  Take in a Character Meal

Hey, I wouldn't be a character-centric blog without telling you to go have some fun with characters, right?  A character meal can save you a lot of time and planning to meet some of your favorite characters and in some cases allow you to visit with characters that don't appear anywhere else in Walt Disney World.  Have your camera ready and use my app to interact with those characters while they are there!  If you're using the Disney Dining Plan, most meals are only one credit too.
Which attractions have you done?  Which ones would you like to try?