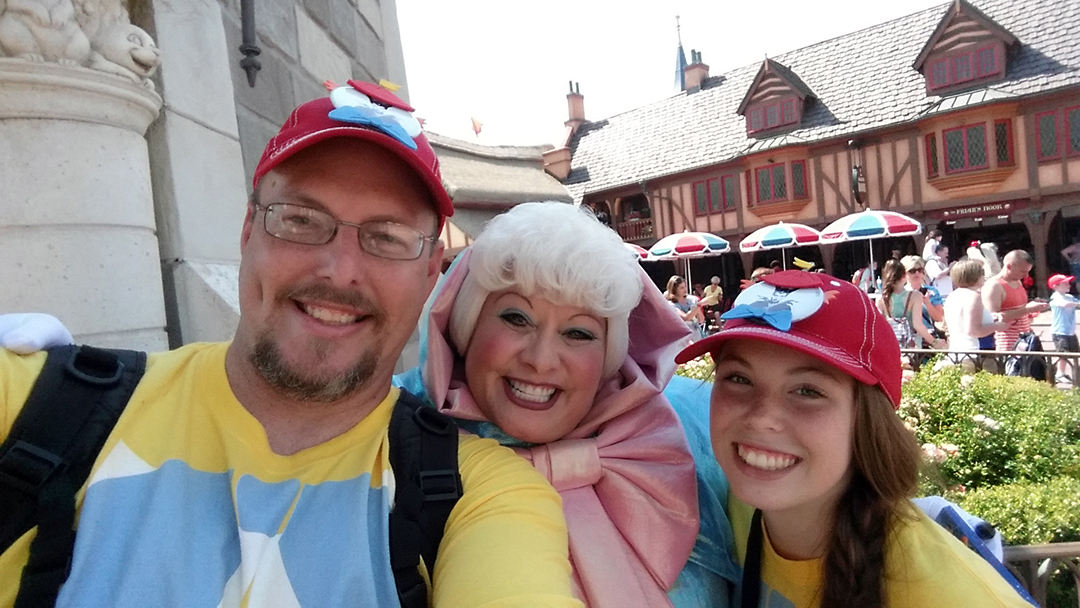 KennythePirate's Ultimate Magic Kingdom Experience on the Rock Your Disney Side 24 hour day.
Update:  Our record has been officially recognized by touringplans.com.  They judged that it only counted as 98 because they didn't have advance knowledge of the Flag Raising and the Closing ceremonies.  The closing ceremony was officially called the "Kiss Goodnight," but whatevs.  We know we accomplished our goal and obliterated our former record in extreme heat.  Follow along…
"The Quest for 100"
Pain.  Panic. Excruciating. Exhilarating. Thrilling.  Deflating.  These are a few of the words that describe attempting an Ultimate Tour.  An Ultimate Tour is an attempt to participate in every major attraction in a park in a single day.  One can also earn "bonus" points by meeting additional characters and viewing more of the minor performance acts.
We began our day at 4:00am on May 23, 2014 with the goal of completing 100 attractions as defined by Touringplans.com Ultimate Touring rules.  We would have 24 hours to try to squeeze them all in.  In 2012 we had made an attempt that resulted in 82 total attractions and a Hall of Fame record for completed tours.  We had to endure a 3.5 hour wait for Rapunzel and Flynn to make it complete.
We arrived at the Transportation and Ticket Center at 5:00am and found a long line of people awaiting the first Express monorails.  We opted to take the Ferry and actually beat the first monorail just slightly.  Disney had the Mickey floral area decked out to celebrate the Rock Your Disney Side theme.  Mickey, Minnie and Donald made quick media appearances, but didn't meet any guests.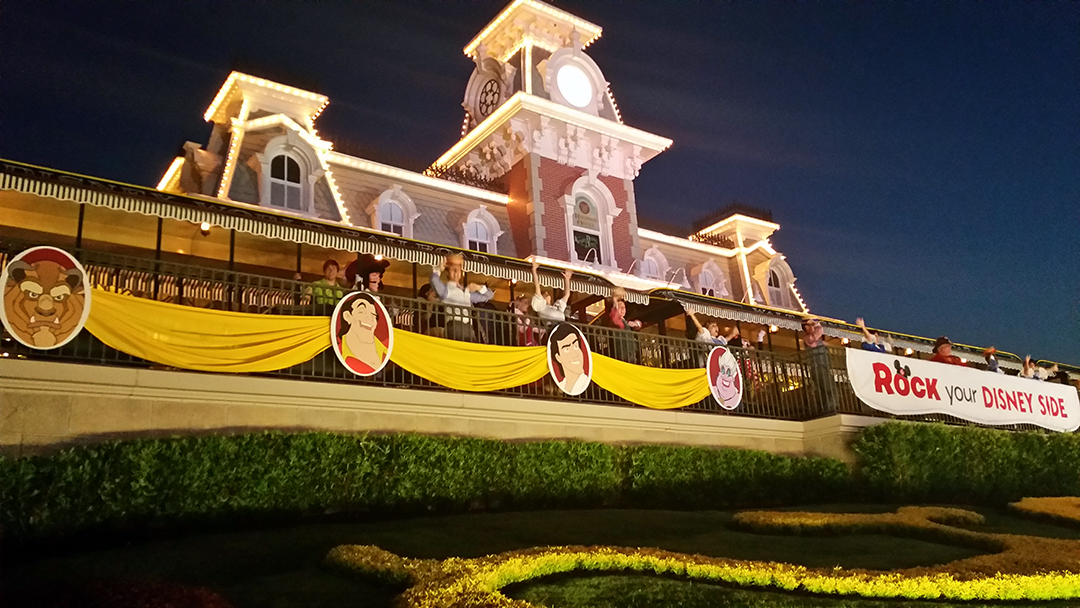 We had chosen to Rock Our Disney Side by dressing as Tweedles.  I designed the shirt and ordered it up, my daughter and I each purchased red shorts and matching red hats.   A friend of ours made us some super cool Tweedles buttons.  Cast members and characters enjoyed our costumes throughout the day.  Our day officially began at 5:50am  with the special Magic Kingdom Welcome Show that included some villains on the train.   The rules require a person to be able to view the show in a place that one can see the characters.
1. Magic Kingdom Welcome Show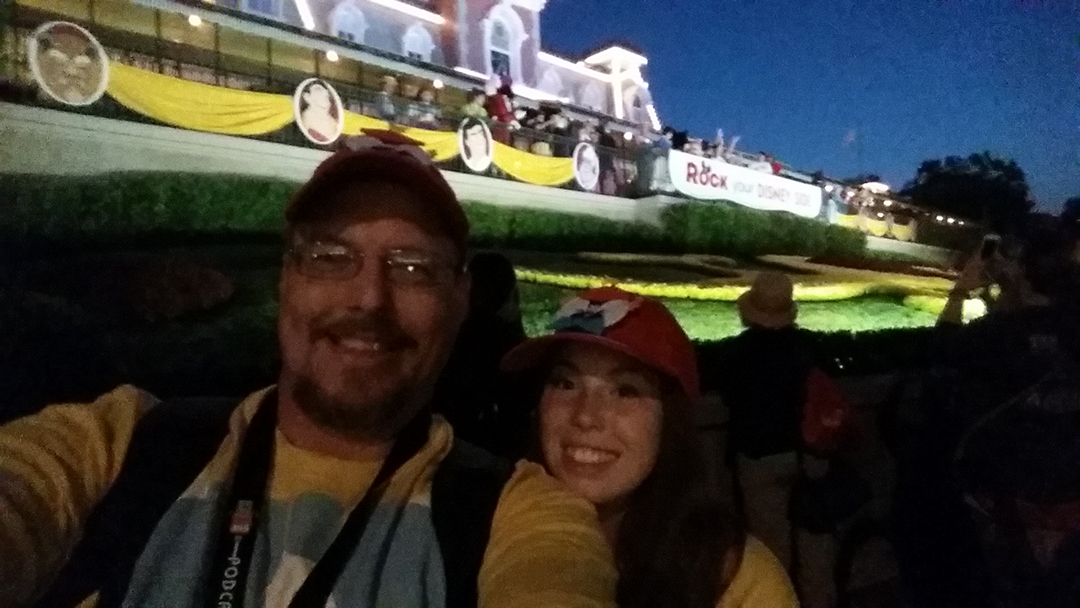 One of the requirements is to pick up a copy of the Times Guide for the day.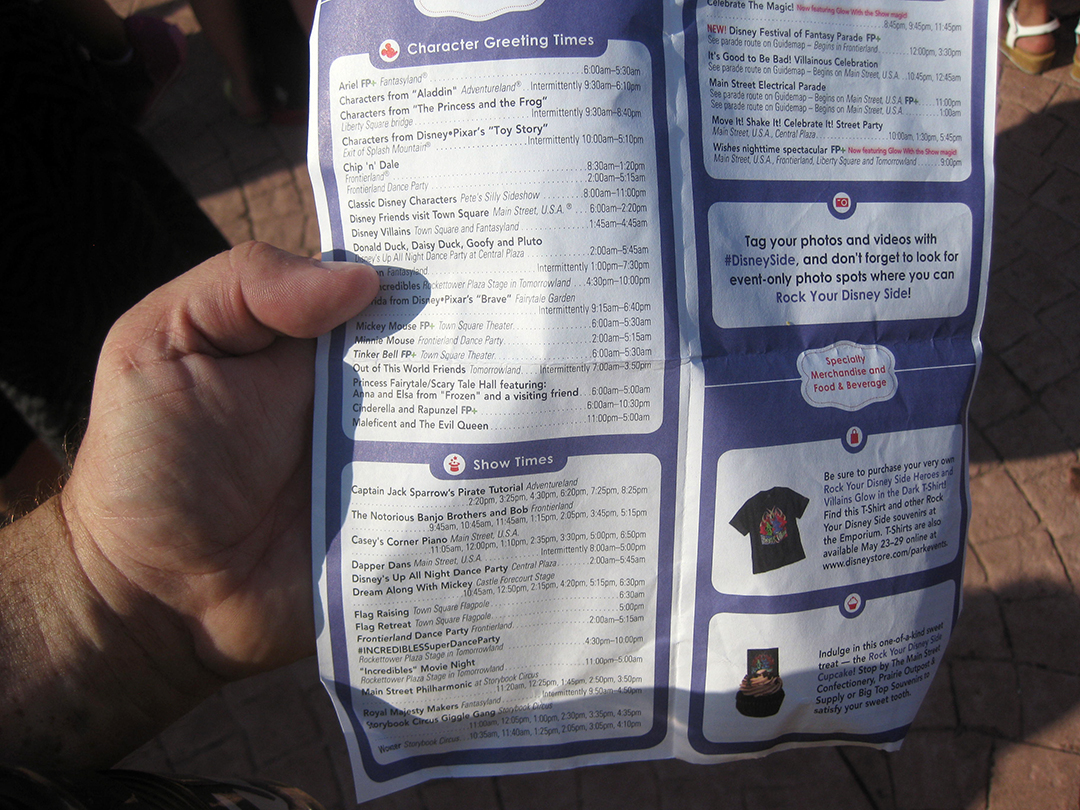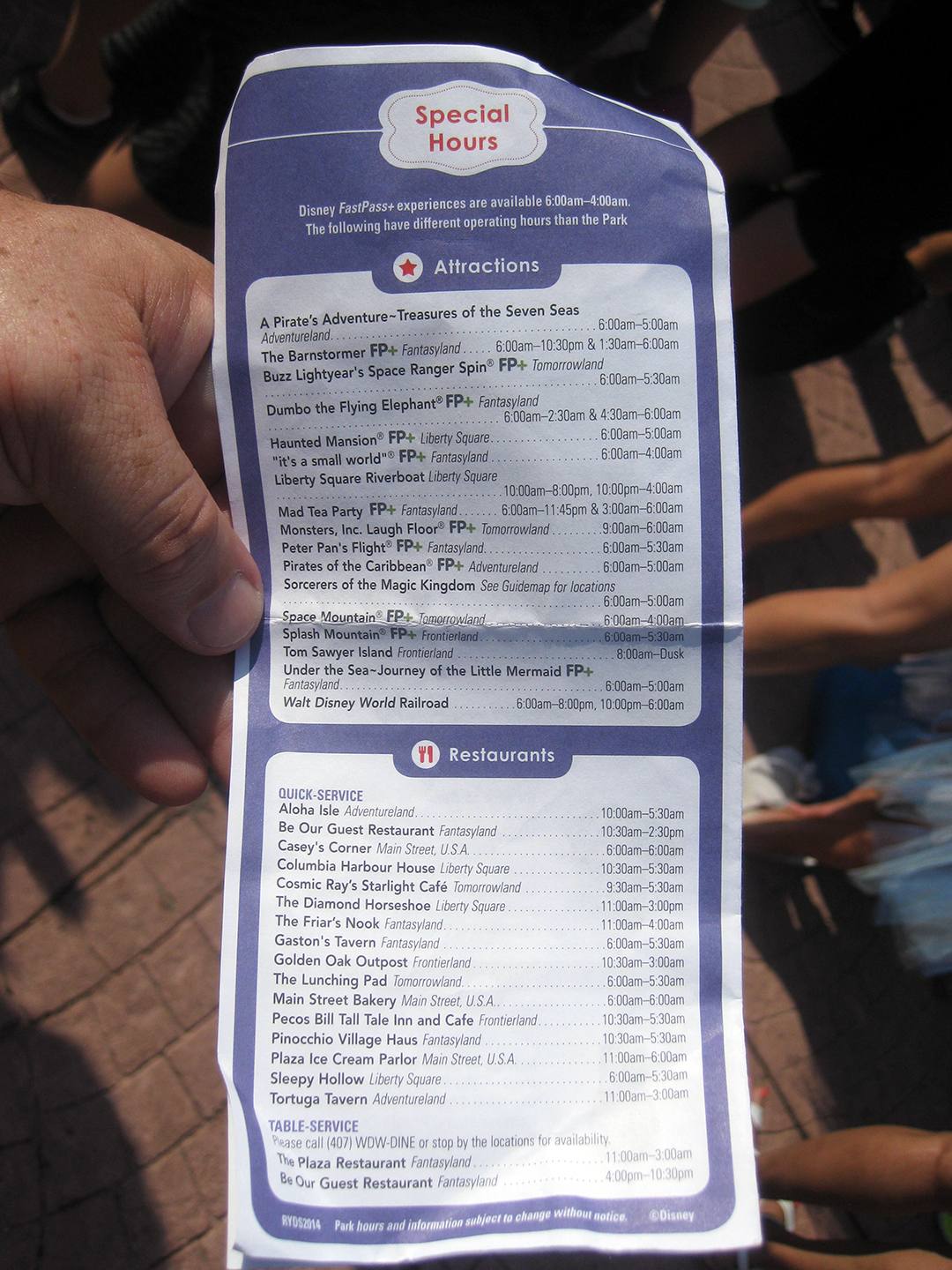 So, that Times Guide states that the characters in Town Square would appear beginning when?  Yup it says 6:00am, so we darted to the left side of the flag pole, fully expecting it to be Minnie.  Minnie usually appears in the early morning before handing over the left side to Marie.  We stood there for a moment before a Cast Member informed us they wouldn't start until 6:45am.  Uggh!  We quickly adapted from step TWO in my detailed plan.
2.  Meet Tinker Bell in Town Square Theater
Part of doing any Ultimate Tour and honestly, any tour in Disney World, is to adapt and change when the conditions around you change.  We darted over to meet the always vivacious Tinker Bell in her new Town Square Theater.  She was excited to here that we had a goal of 100 attractions in a day and tried to count them all up.

She was kind enough to sign our autograph book.  I think we've filled like 10 or 15 of these doing ultimate tours over the years.  When Jordyn opened the book, we realized it was the exact same book that my brother and I had used 4 years earlier when we attempted to break the record back then.  We would have held that record, but the tour was incomplete due to Philharmagic closing unexpectedly.  I guess that fueled the addiction and we raised our personal best to 71, then 72, then 75 (only time that EVERY attraction that was available was experienced in a single day), then 82 for the Magic Kingdom on the first 24 hour day.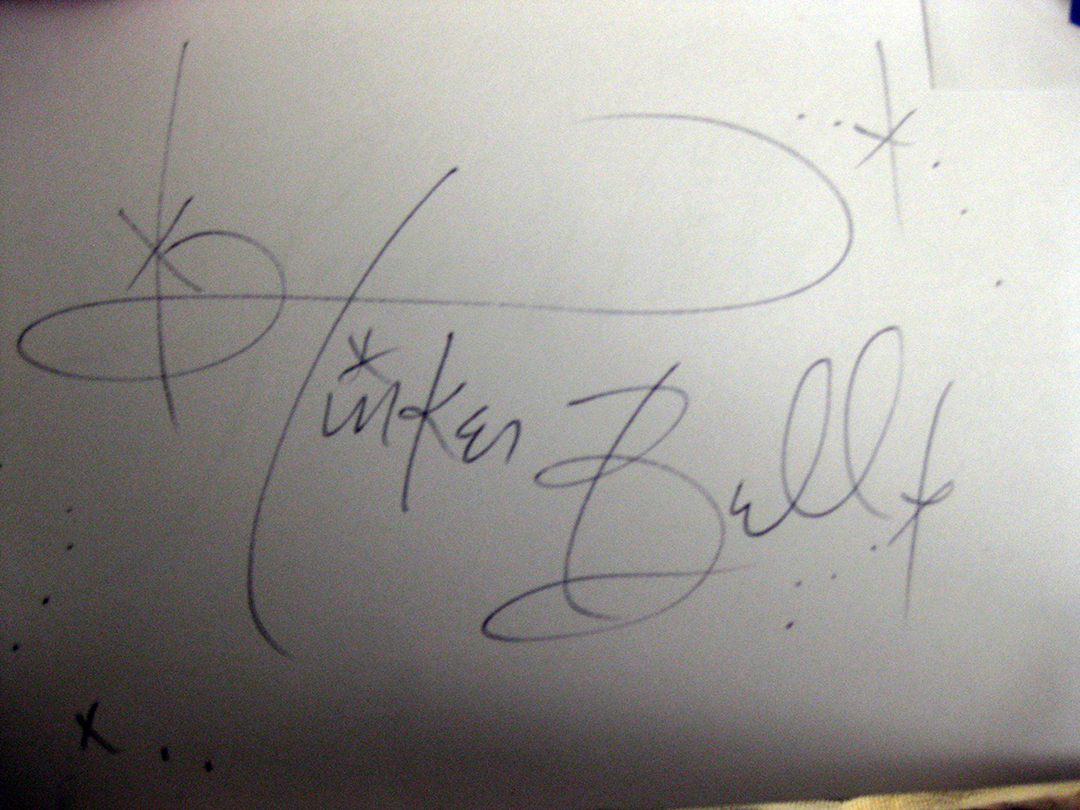 Quick photo op in the queue for Tink :)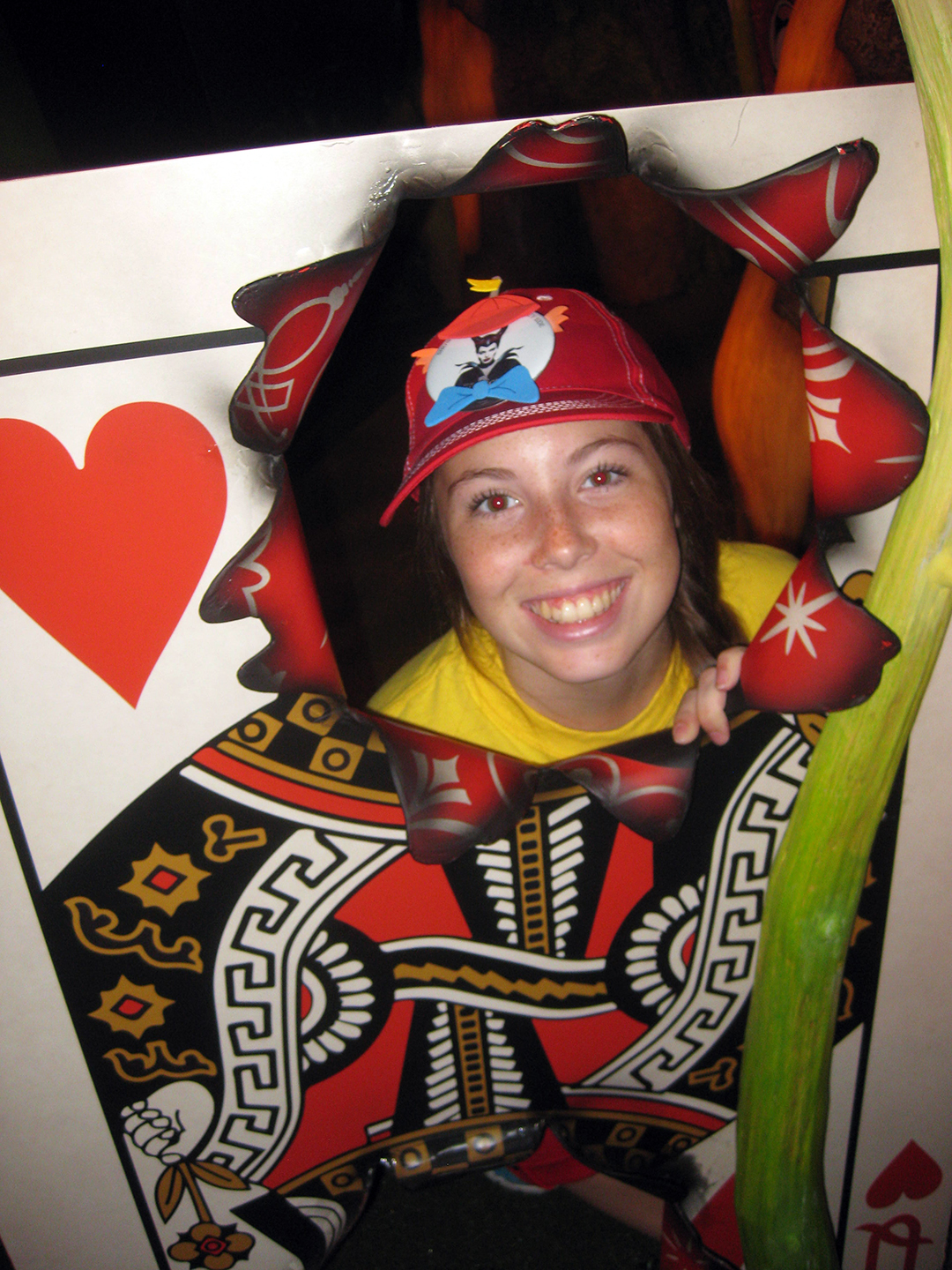 3. Snow White in Town Square
We were going to meet Mickey, but after waiting 5 minutes in the same exact spot, we bailed.  We saw Snow White roaming Town Square and asked her for and autograph and selfie.  She was very accommodating and said she was just about to head over beside City Hall for a few minutes.

I then thought, "What if people think I just snapped a picture with some cosplay person?"  Some of the costumes that people made were spot on for Disney costumes including a guy dressed like the Fairy Godmother.  I called him the Fairy Godfather.  His costume looked like it came from wardrobe though.  So, I decided it would be best to snap this photo of Snow White with her attendants.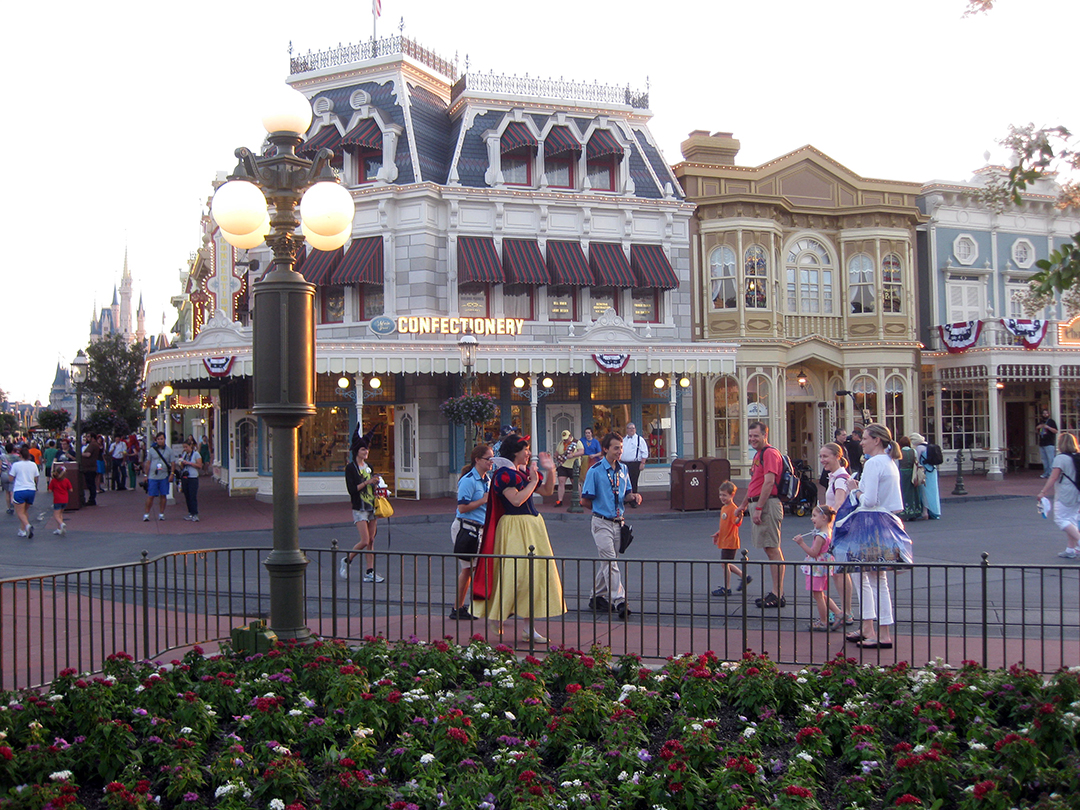 4. Magic Kingdom Flag Raising
At 6:30am the Magic Kingdom offered a special Flag Raising ceremony.  I've never seen anything like this before, but it was in the Times Guide for the day, so we stopped to take part in it.  The daily Flag Retreat is a requirement, and if it rains out that once daily Flag Retreat or other element like a parade, you're automatically placed on the incomplete list.  We don't know if the ultimate judge will count this or not, even though it was in the Times Guide for the day.

5. Pinocchio – Town Square flag pole left
It's 6:35am and Pinocchio appeared on the left side of the flag pole.  What a great treat to see him and it made sense to have him out in the morning  and add Stromboli later. 5 things done even though we were scrambling around to figure out what to do.

6. Pluto – Town Square flag pole right
We darted around to the opposite side of the flag pole in the other queue to meet Pluto.  He was excited to see us this early in the morning.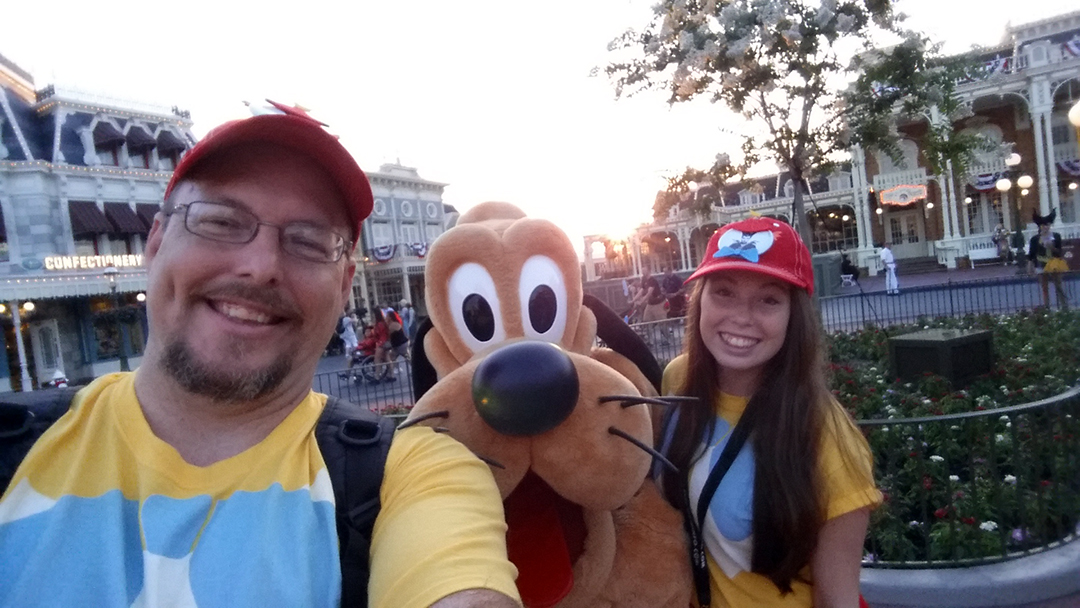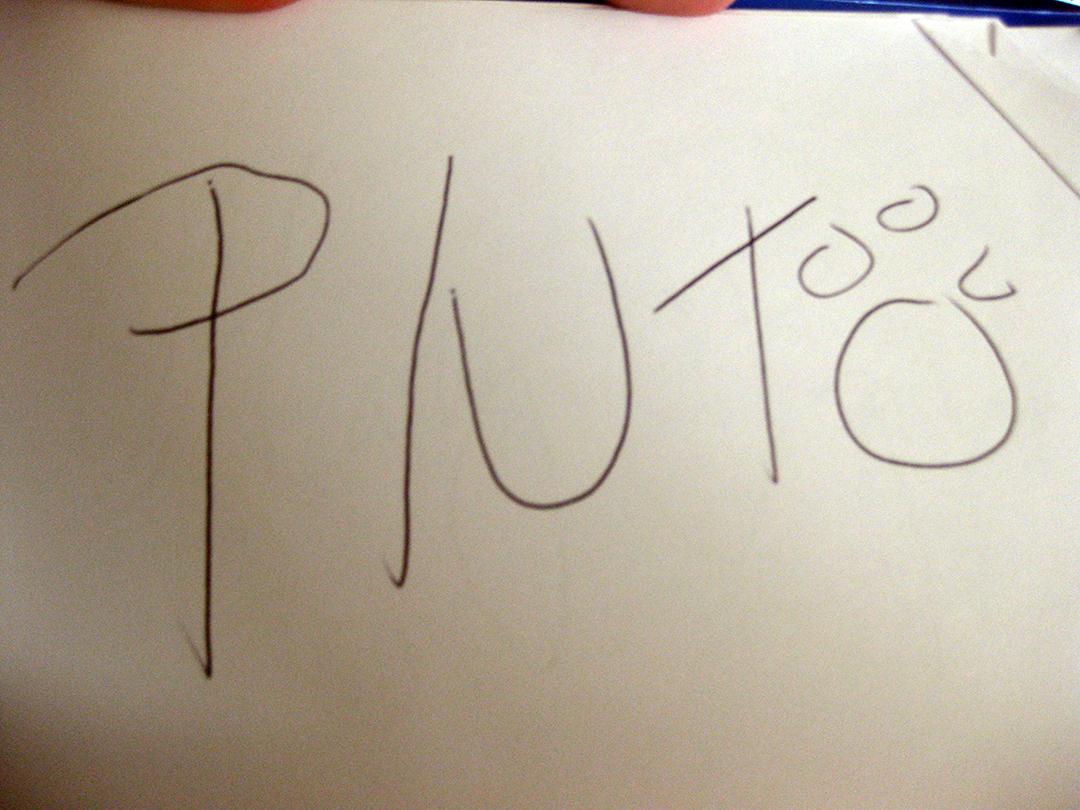 7. Mary Poppins – Curtain Call
We noticed a few people standing around the exit area to Town Square Theater and though a character may be meeting over there.  Sure enough, it was Mary Poppins.  She had wisely staked out this spot for this disturbingly hot day.  Forecasts were calling for temps in the high 90's, which isn't seasonal for May.  Mary signed our books and we chatted for a moment before we noticed that they had finally begun bringing out the Main Street Vehicles.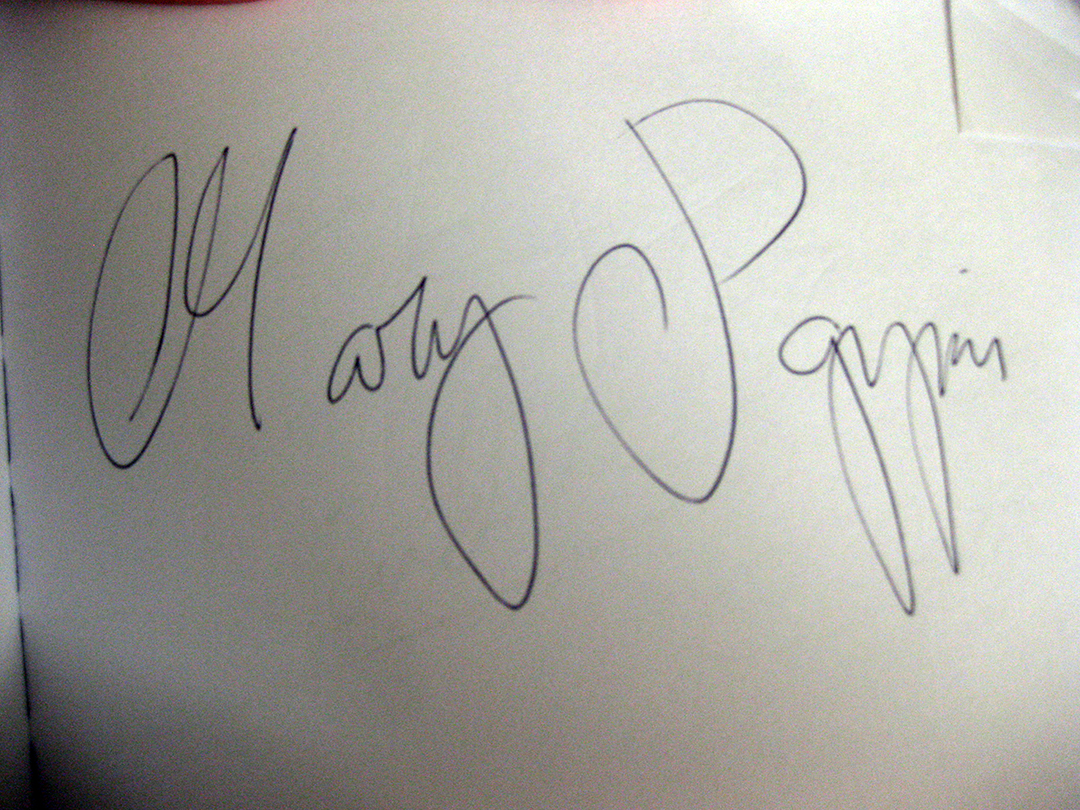 8. Main Street Trolley Show
We caught part of the Main Street Trolley Show by the emporium and followed it down to the last stop for the final full segment.  You always have to catch this in two segments to get it all in for the required 5 minutes because one segment is too short.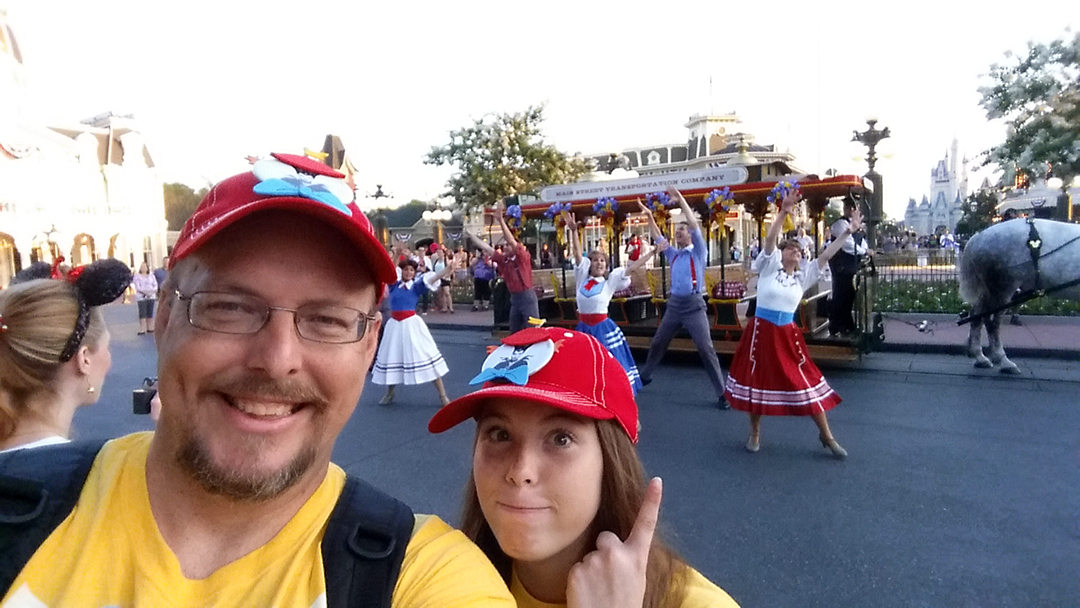 9. Main Street Vehicle – Red Horseless Carriage
We saw the red Main Street Vehicle horseless carriage off to the left and asked to board.  We are on our way to the castle!  An ultimate tour requires riding at least one of these vehicles and many who attempt an ultimate either quit or get placed on the incomplete list because the vehicles run very limited hours.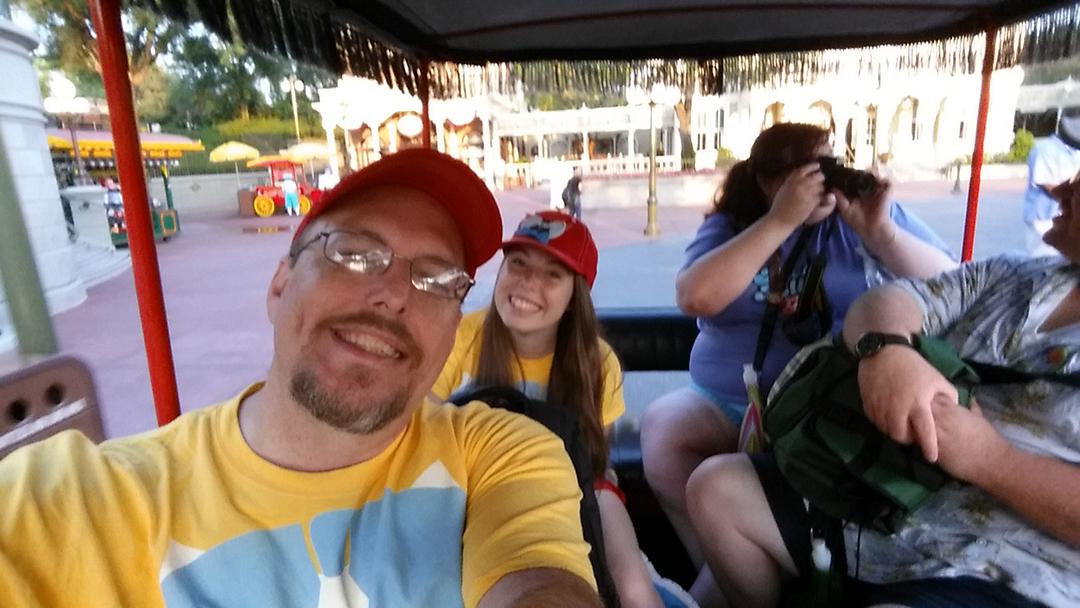 10. Main Street Vehicle – Trolley
After taking the red car up the street, we waited at the castle to ride the Trolley back down the street to Town Square.  Was the guy behind us also doing an ultimate tour?  Not to many people ride from the Castle to main street at 7:15am!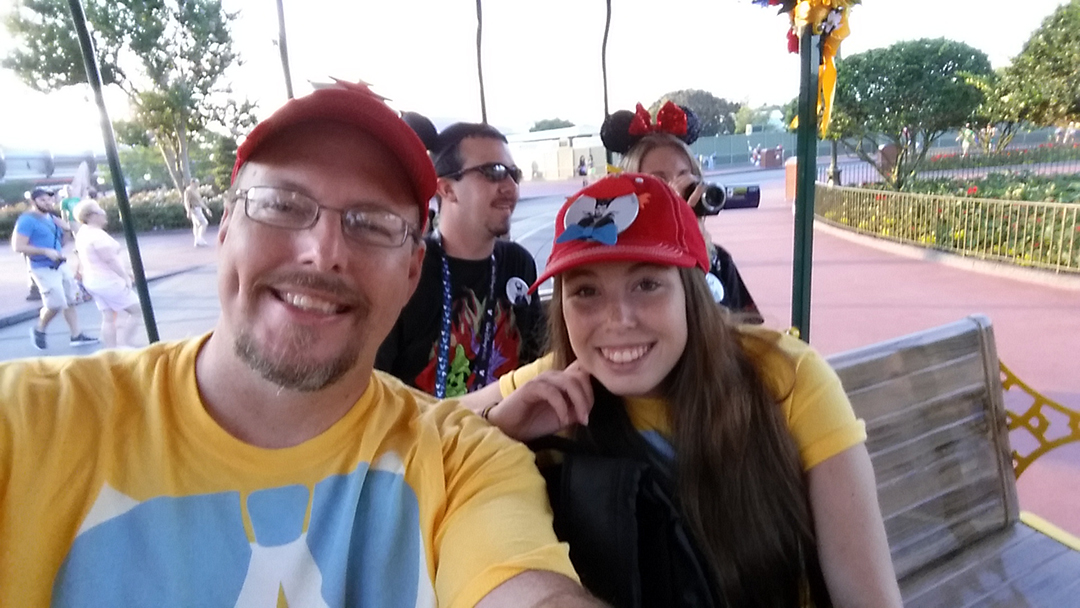 11.  Main Street Vehicle – Blue car
Arriving in Town Square we found a BLUE car and hopped aboard for a ride back to the Castle.  This would put us going in other directions right?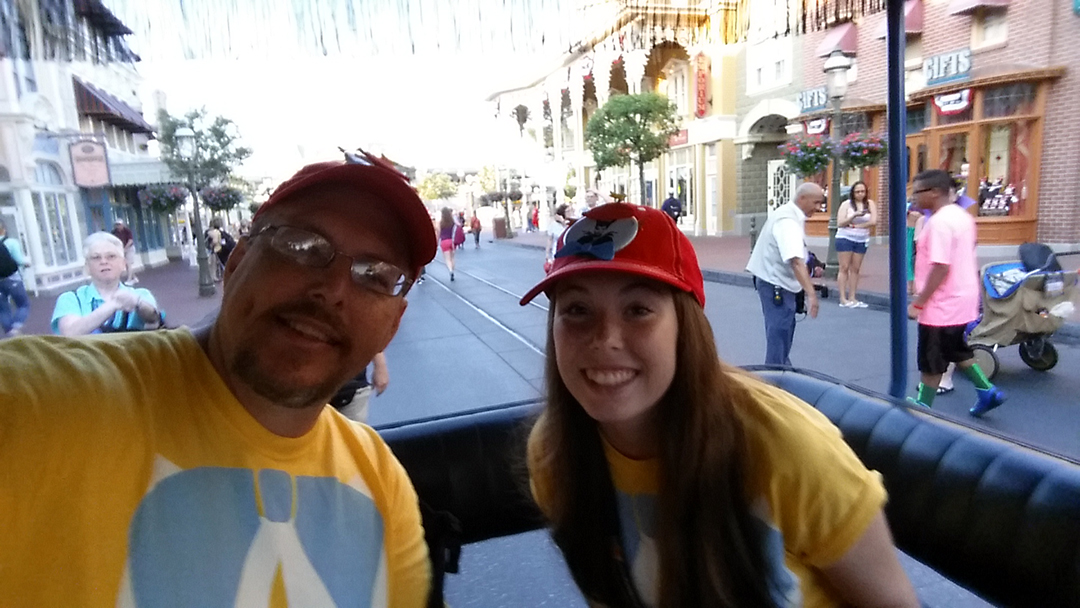 12. Main Street Vehicle – Double Decker Bus
Nope!  We waited a few minutes so we could ride the Double Decker Bus back to Town Square for the second trip down the street.  We just spent 17 minutes riding up and down the streets while others were running off to meet Anna and Elsa, preview the Seven Dwarfs Mine Train or ride Peter Pan's Flight.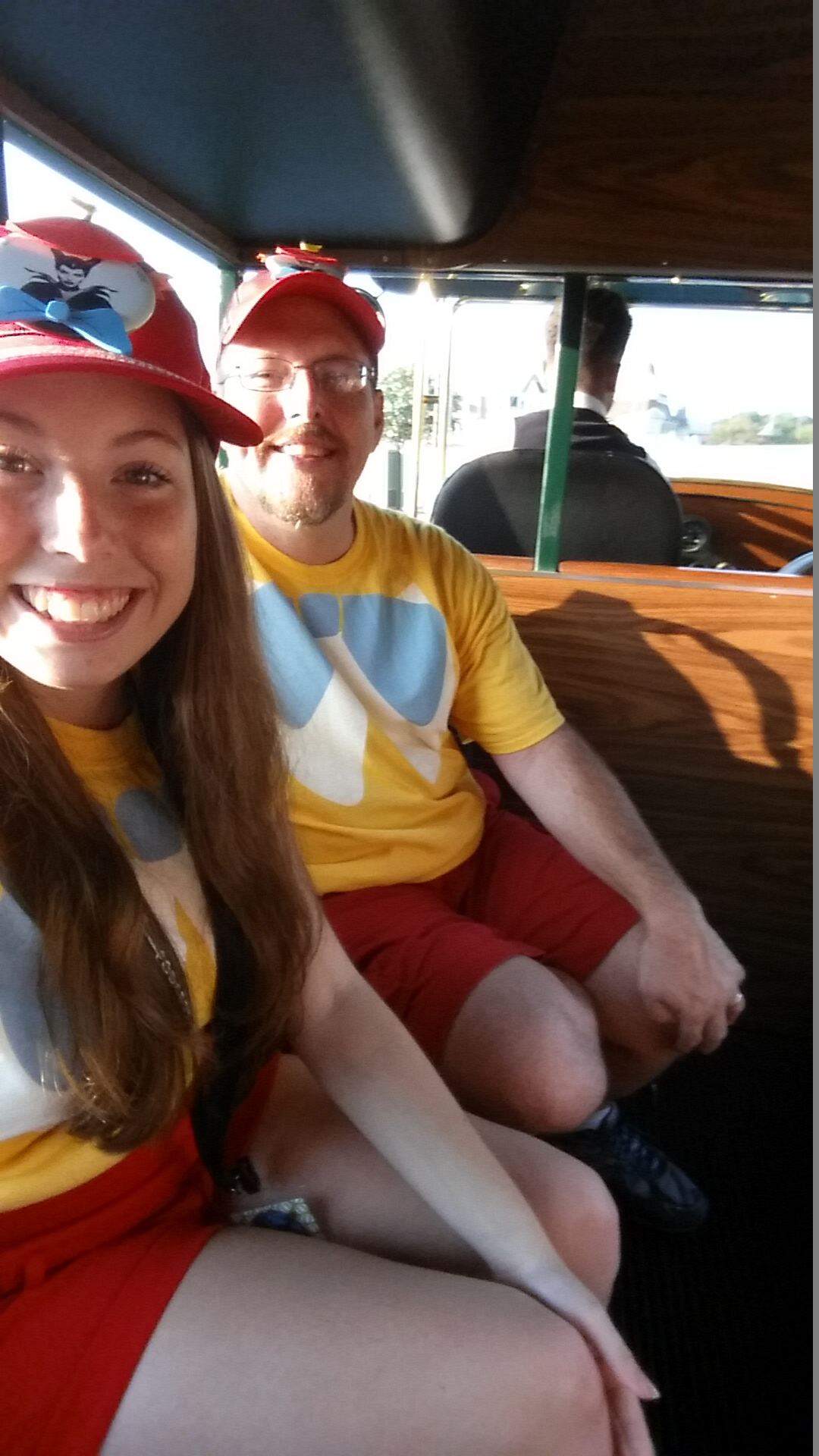 13. Cinderella Castle Mural
Some of the requirements of this type of tour are pretty simple, but could easily be forgotten.  One of them is to snap a photo with the Castle Murals.  At this time we talked about how ultimate tours invented the Selfie.  Somebody should give Len Testa credit for the Selfie, right?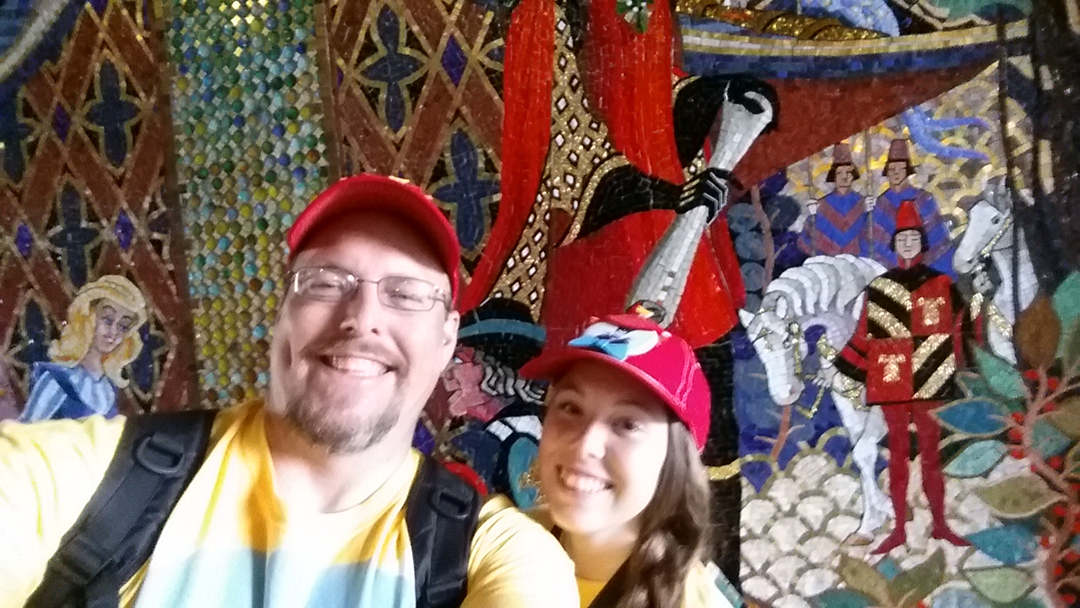 14. Meet Cinderella in Fairytale Hall
We had a Fastpass+ to meet Cinderella/Rapunzel.  The tour only requires that you meet one of the characters at Fairytale Hall and get an autograph (if the character signs or stamps), you can choose to skip the other one in the same queue.  We chose to meet Cindy, then skip out quickly.  We're probably the only ones in America to skip over Rapunzel.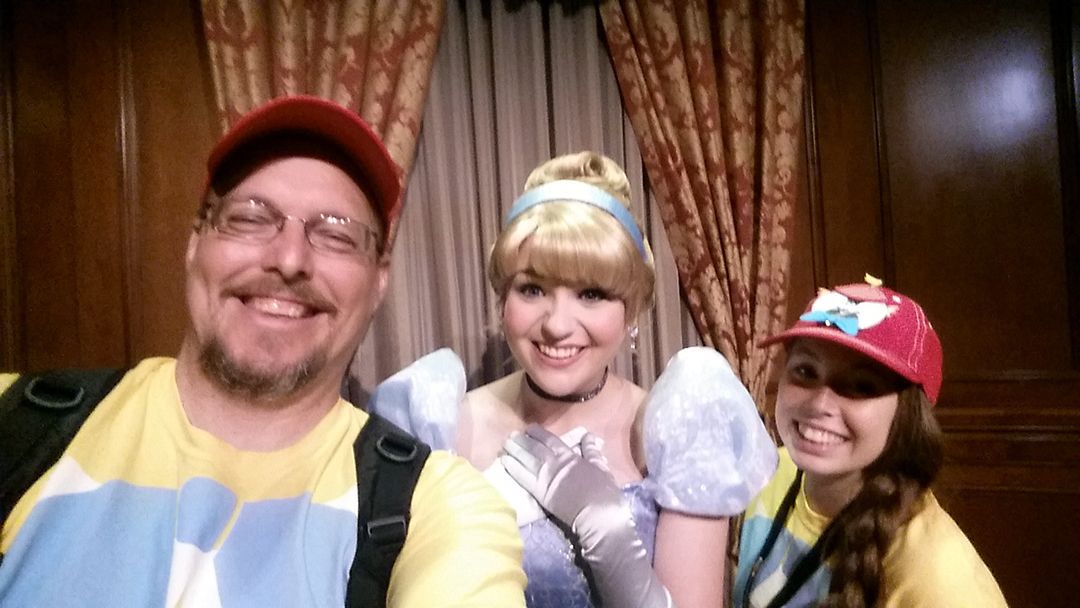 Shouldn't the E be capitalized?  Isn't her actual name Ella who had to clean the cinders or fireplace?  I bet you never thought about how closely tied together Cinder Ella and Bert actually are.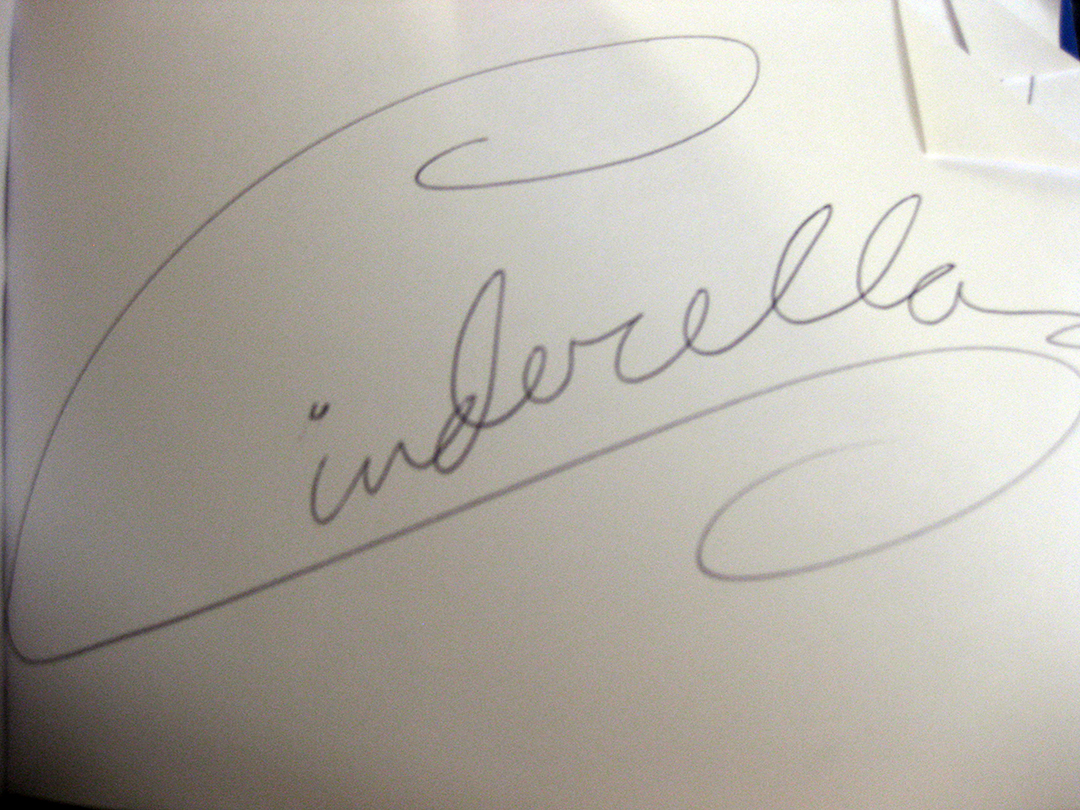 15. Meet Ariel in Ariel's Grotto
The lines for Ariel grow pretty quickly in the morning, so we swam over to meet up with her.  Here's our shelfie.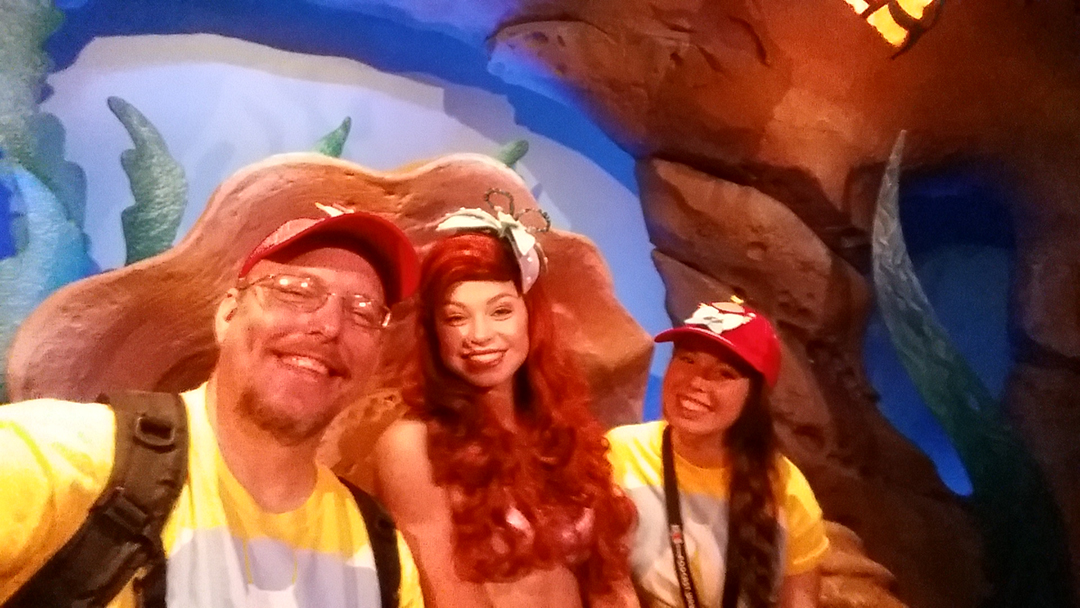 Bubbles!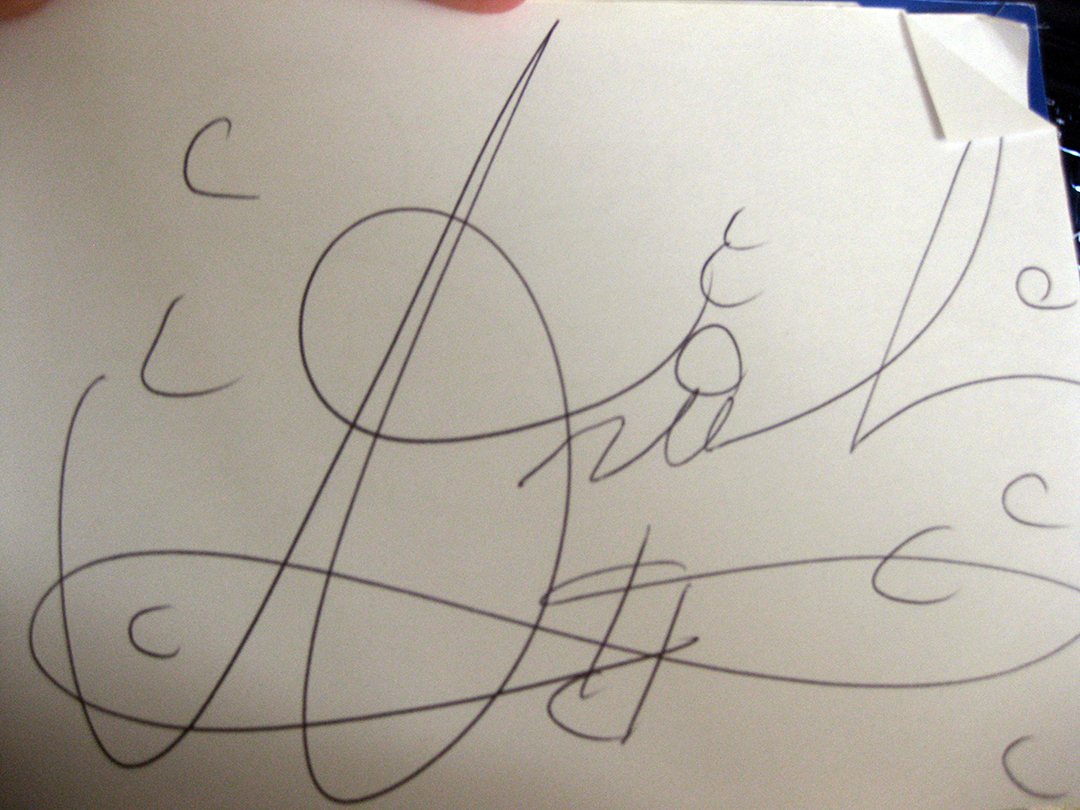 16. Under the Sea: Journey of the Little Mermaid
I'm not sure how we held our breath long enough to meet her and ride her ride, but we made it without passing out.  This is the largest clam shell packaging in the world.  By 8:00am we had accomplished 16 attractions already.  Most guests won't experience this many things in a full day.  They also won't ride 4 vehicles back and forth, up and down the street.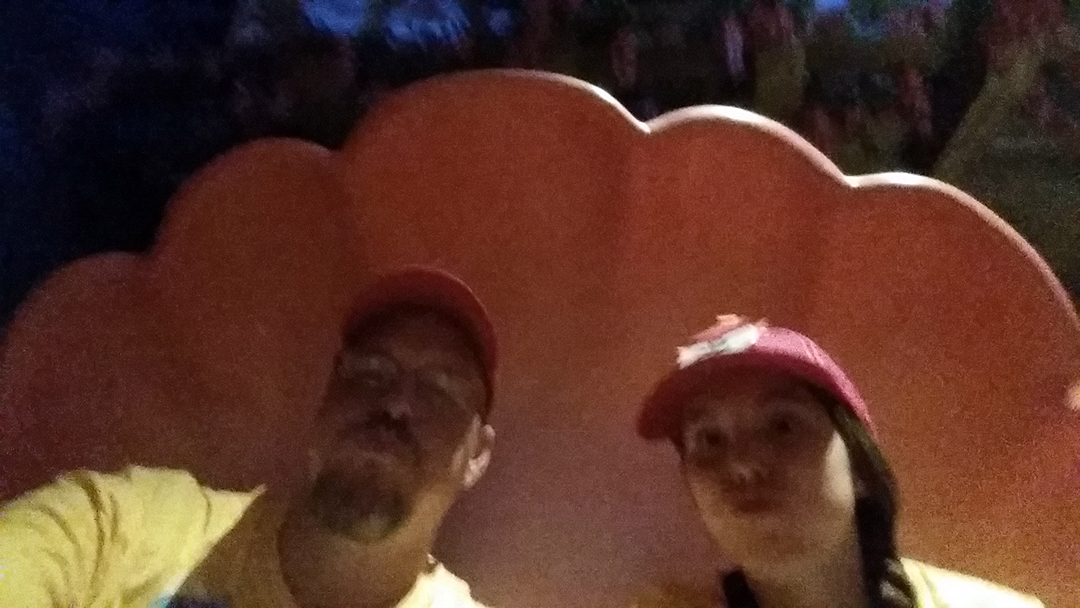 17. Pete's Silly Sideshow – Daisy Duck
From there we hustled over to Pete's Silly Sideshow.  We were a few minutes behind because we wanted to be there when it opened.  We ended up waiting 5 minutes to meet Daisy.  Still not bad at all.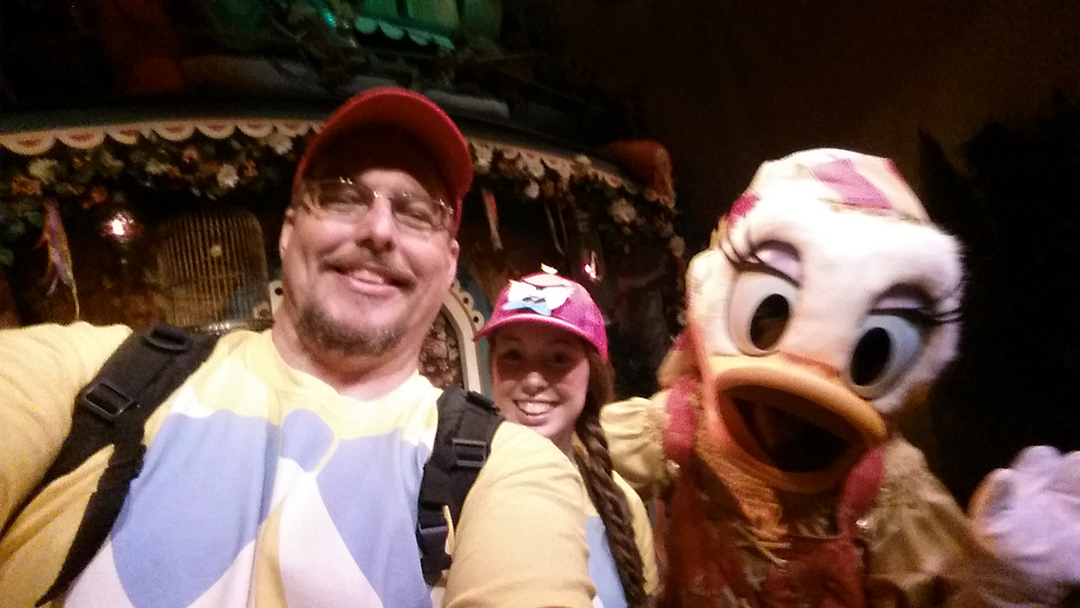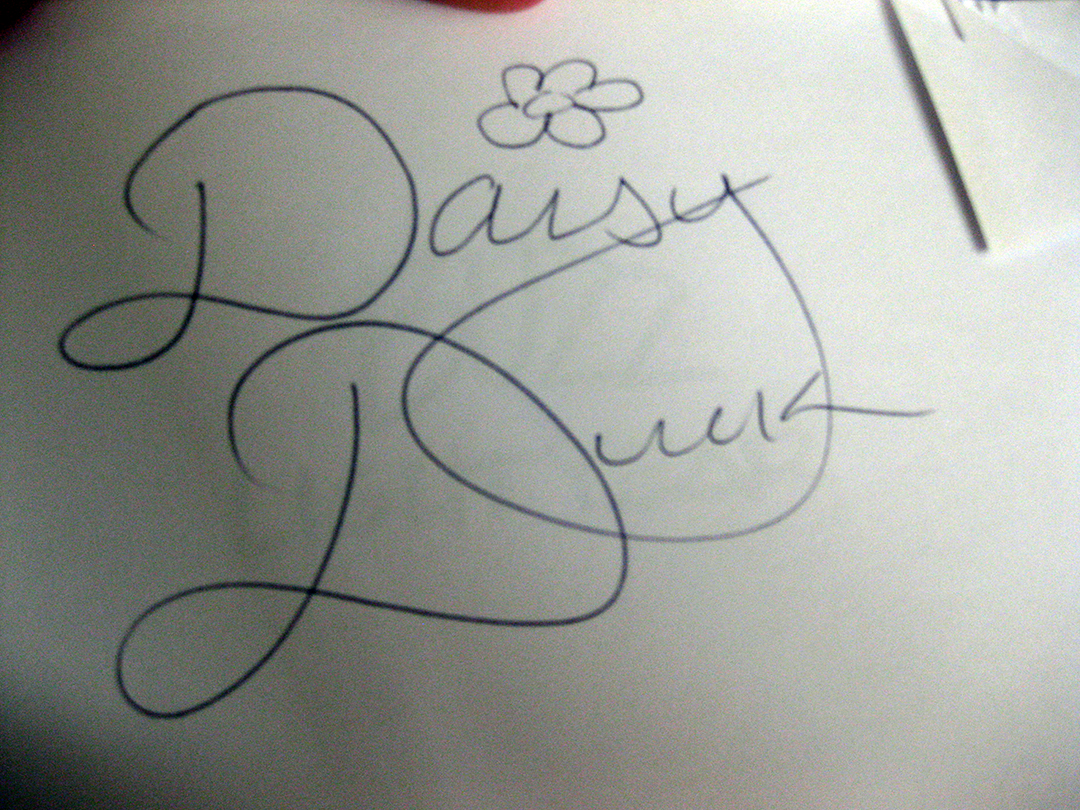 18. Pete's Silly Sideshow – Goofy & Donald
Sorry Minnie, we were in a big hurry, so we skipped ya.  We then went to the other side of the line to meet Goofy.  We aren't required by rule to do so, but it's a bonus point that we wanted and Goofy is my favorite classic character.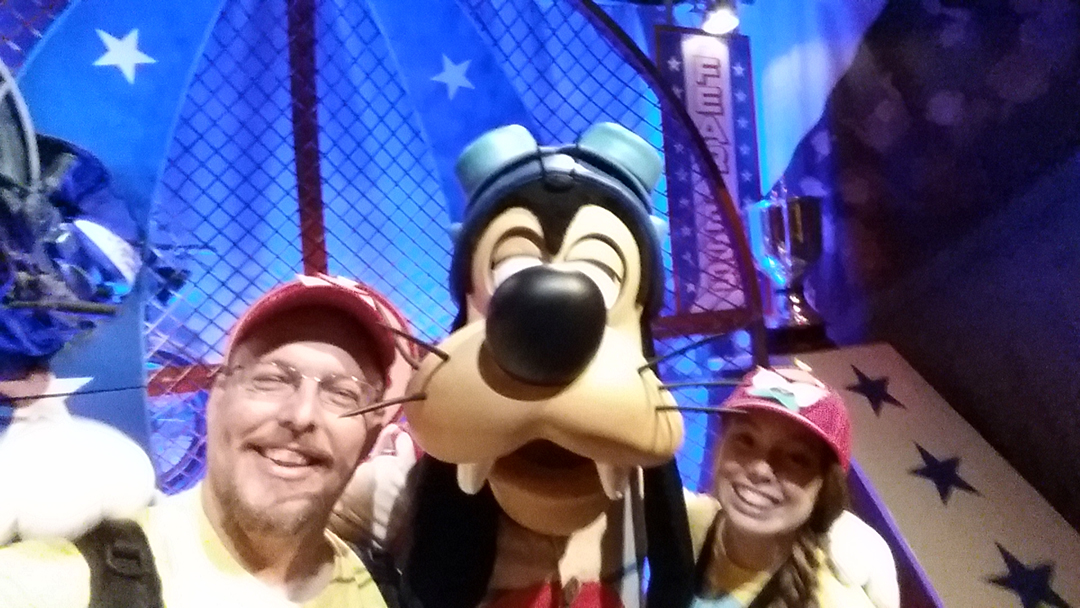 A quick selfie with Donald doesn't add a point, but does add a memory!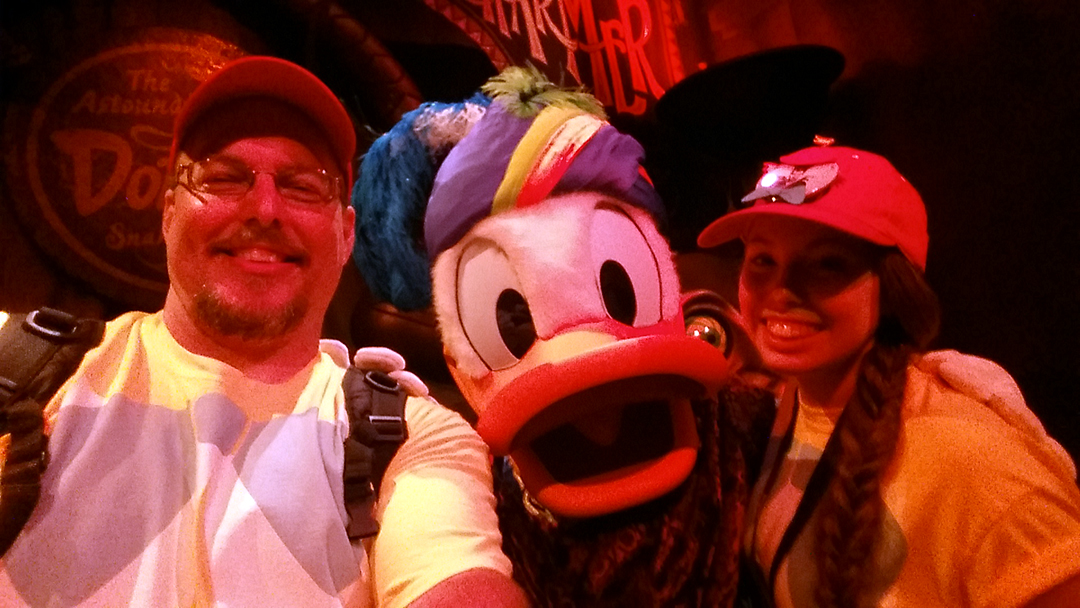 19. Peter Pan's Flight
Sorry for the blurry photo.  We then headed over to use our Peter Pan's Flight FP+  If you know how to use FP+, it can be a very beneficial system.  If you don't, you'll stand in longer lines at a lot of rides that never had waits.  Off to Neverland!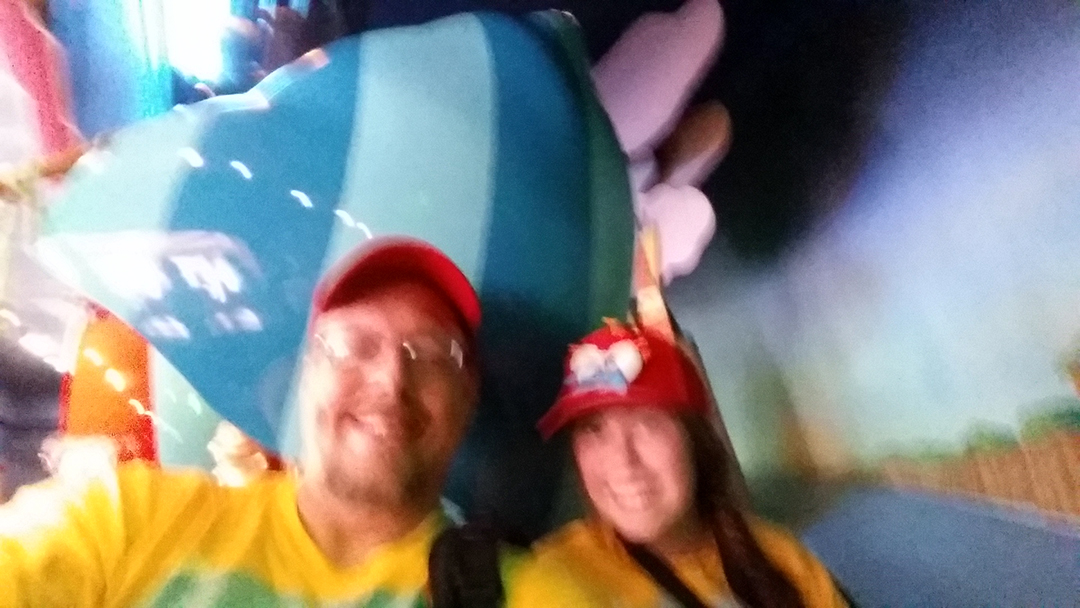 20. The Many Adventures of Winnie the Pooh
Next we made our way to the Pooh ride.  The posted wait at The Many Adventures of Winnie the Pooh was 5 minutes.  We waited 6.  I want a refund!  False advertising!  Just kidding, relax.
21. Meet Merida at Fairytale Garden
We knew that Merida would be popular and her meet didn't begin until 9:15am.  We entered the line at 8:50am and had to wait 40 minutes to meet her.  Those a little behind us were cut for the first meet and waited even longer!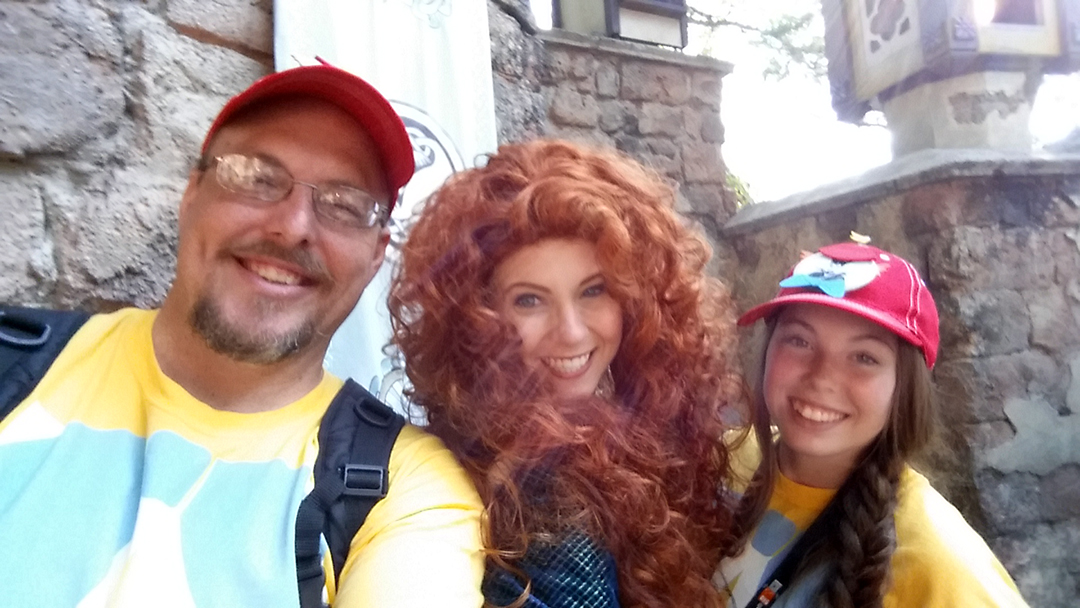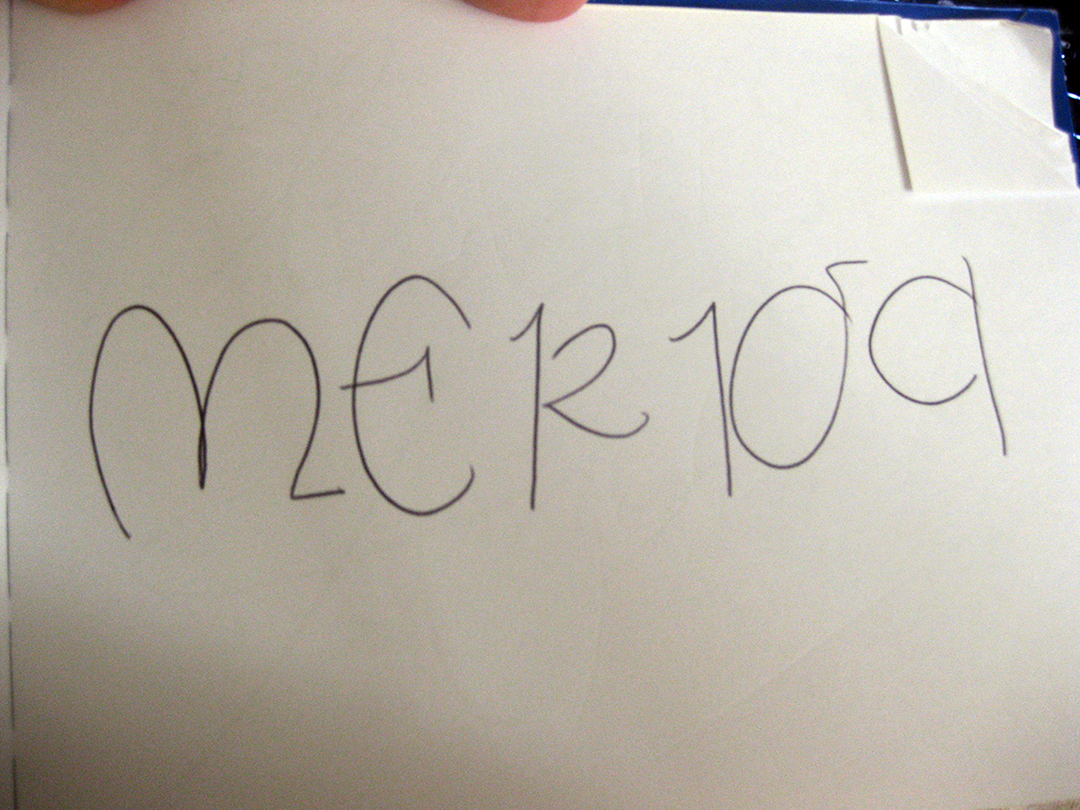 22.  Meet Anna and Elsa at Fairytale Hall
At this point we were observing much longer than normal character lines.  There were a large number of people who wanted to meet every character in the park and more who were dressed as their favorite character and wanted a photo with them.  We scrapped our plans to meet Aladdin/Jasmine and Tiana.  We thought we might get to meet their villains instead later.  We used our FP+ that we schedule to meet Anna & Elsa instead.  Anna was spot on and very perky and fun.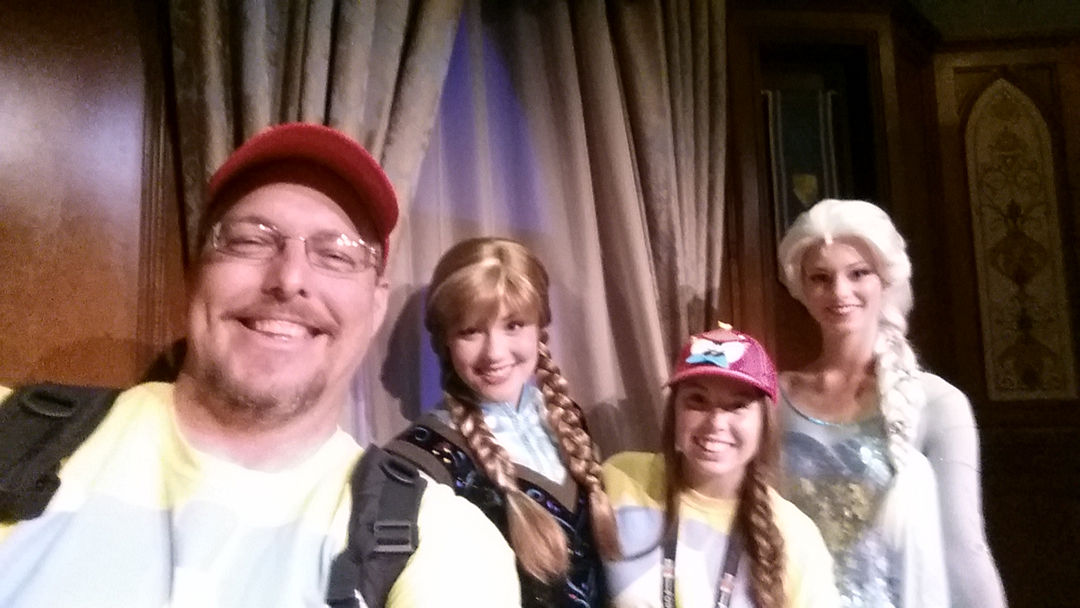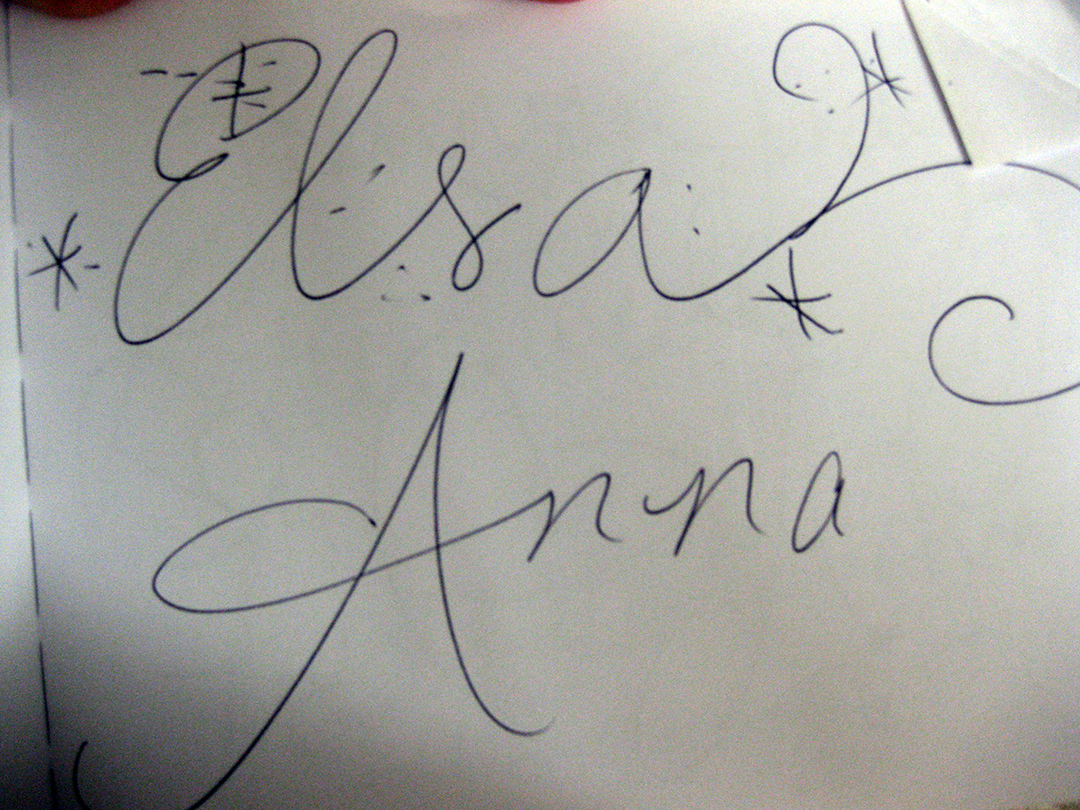 23. Dumbo the Flying Elephant
We hustled all the way back to Storybook Circus to ride Dumbo.  We wanted to get some things out of the way early so we didn't have to deal with lines later and still allow a little time to meet some villains.  After riding we haunted over and set up a 4th fp+ for Barnstormer.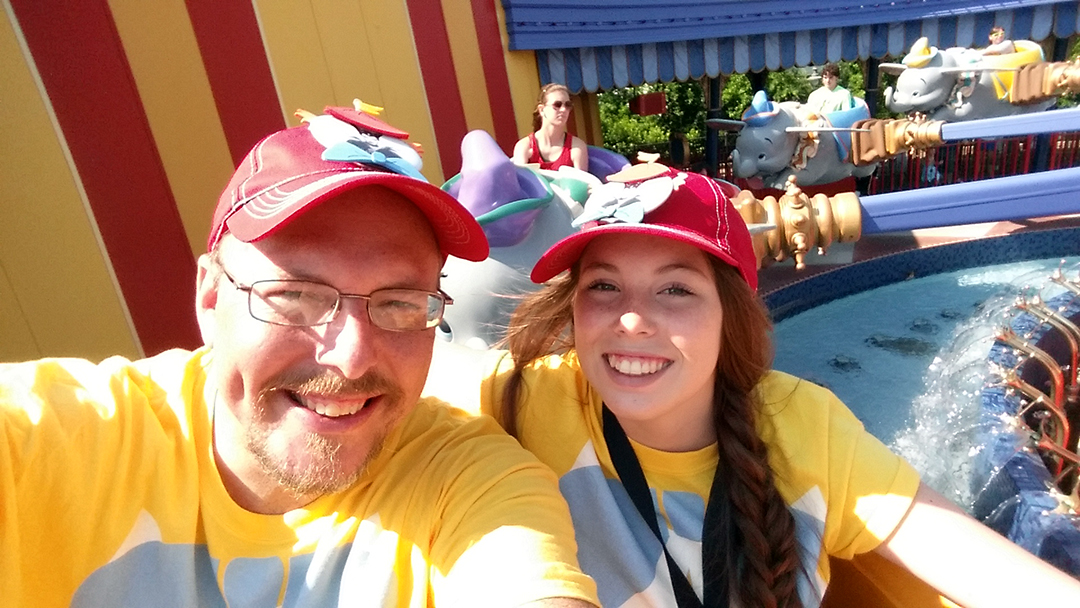 24. Fairy Godmother at the new castle wall.
We found the Fairy Godmother by the new castle wall and waited  a short time to meet her.  She is one of the nicest people you'll ever meet.  I'd like her to adopt me as her grandson.  She's so sweet, if you squeeze her, honey would run out.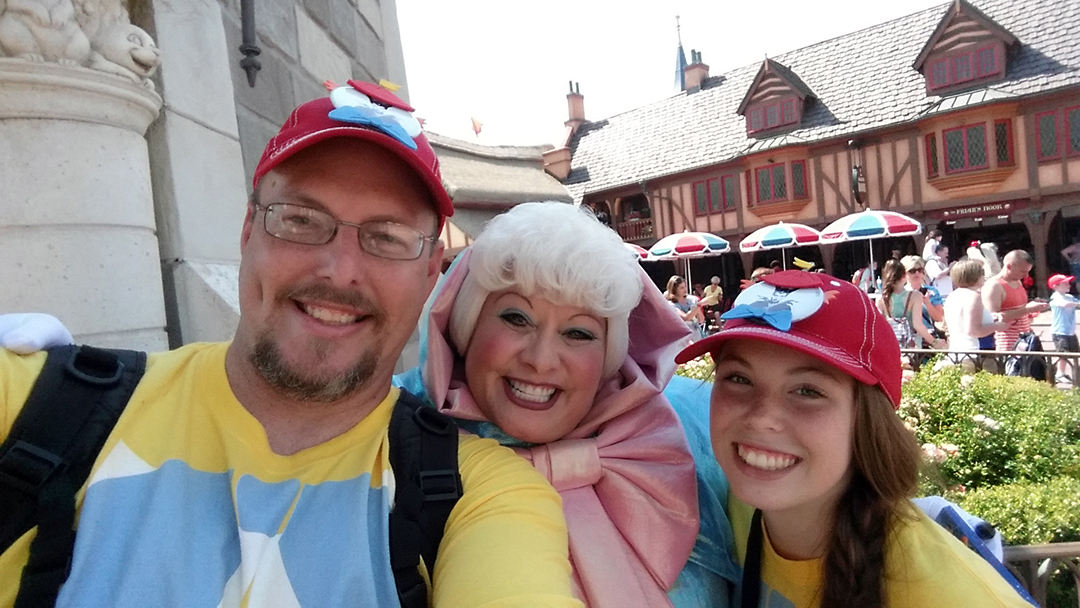 She even personalized her autograph for our book and made sure how to spell Jordyn's name.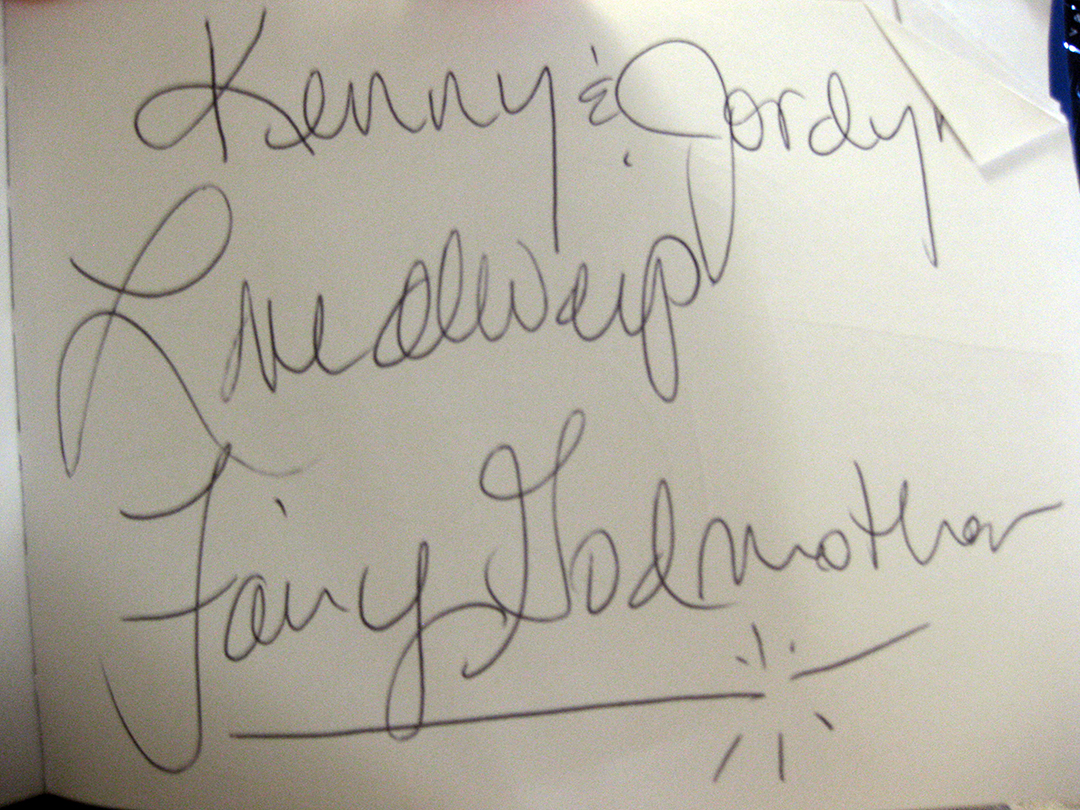 25. Meet Tigger, Pooh and Piglet next to their ride
The sign out front of Tigger and Pooh's meet and greet area said they would appear at 10:45 this day, so we thought we'd arrive 10 minutes early.  We found that a line had already begun to form and realized it was going to be a long day of lines for characters.  We ended up waiting 21 minutes but we were treated to Piglet joining the gang, so it was worth the wait.  Is this a cool selfie or what?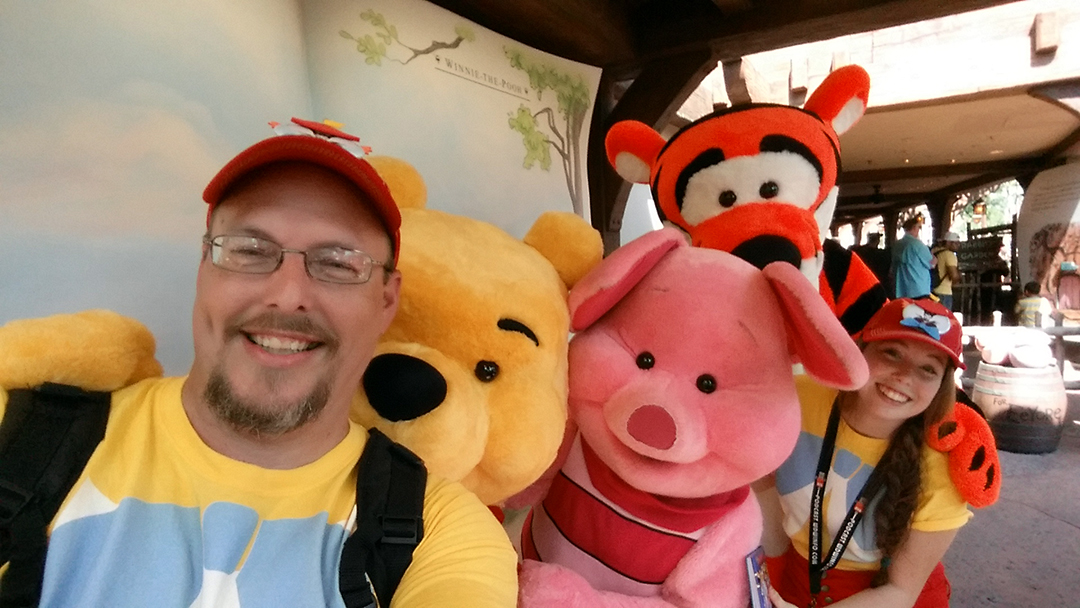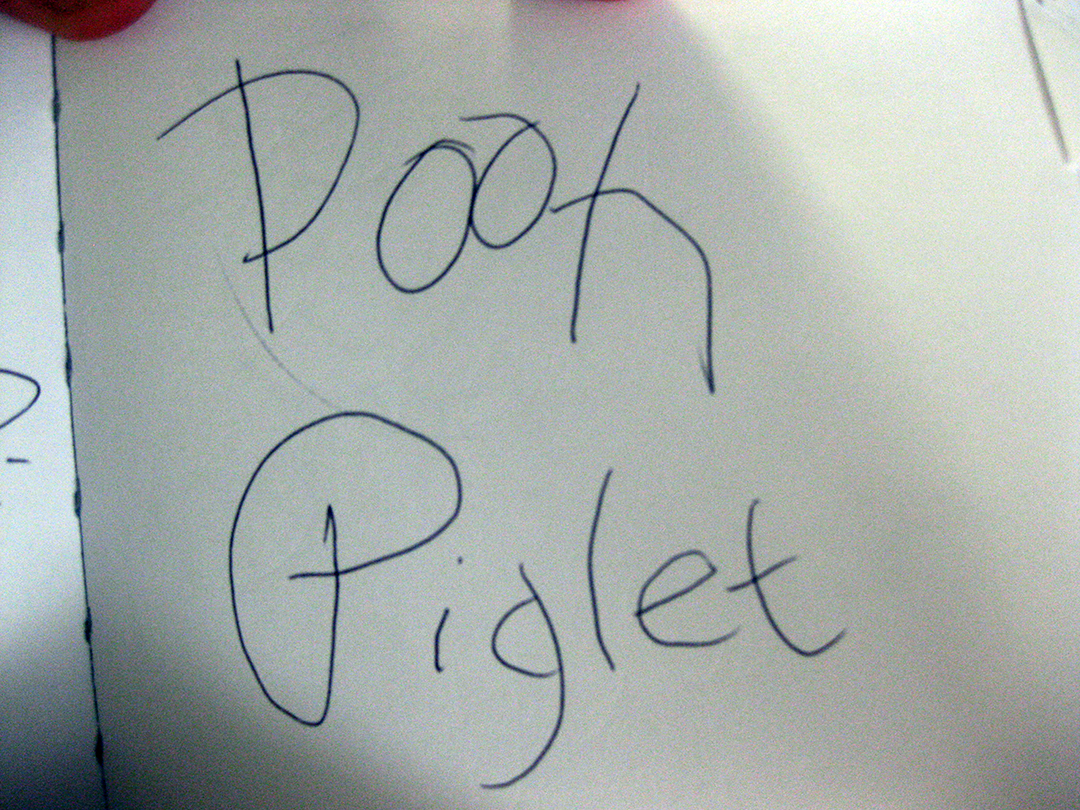 26. Storybook Circus Giggle Gang
The zig-zagging continues with all the character schedules being changed on the fly today.   We head back to Storybook Circus to see the Giggle Gang.   Team Snort!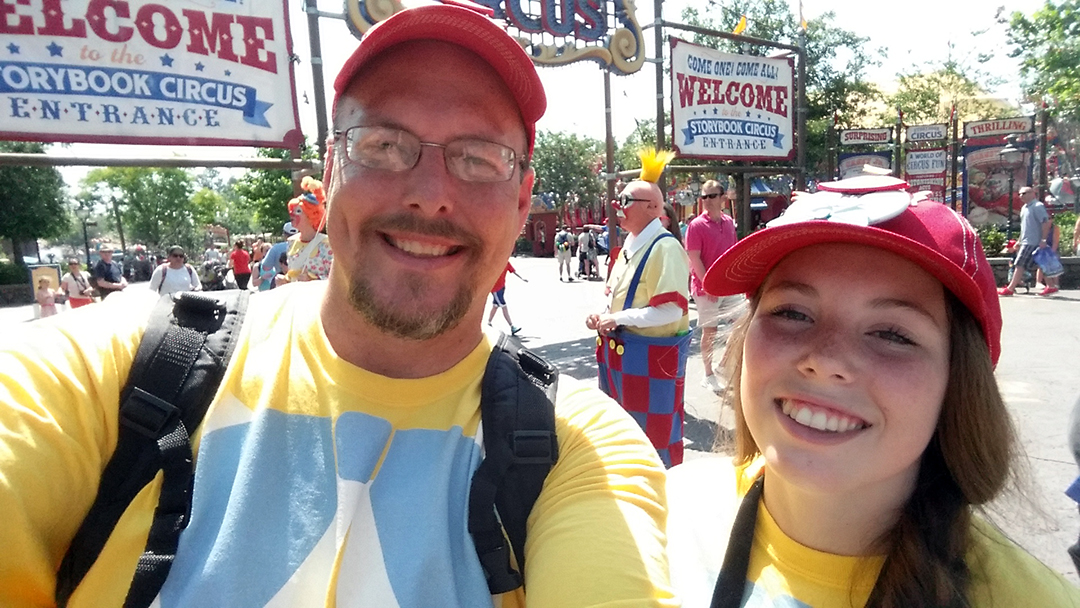 27. The Barnstormer.
We used our FP+ for The Barnstormer, but didn't really need it.  I should have just used the app to change the FP+ to something else.  At around 11:00 the posted wait was 15 minutes, but there wasn't hardly anyone in line still.  The mornings of these 24 hour days are always so great and I think 3/4 of the people were either in line for the Seven Dwarfs Mine Train preview or Anna and Elsa.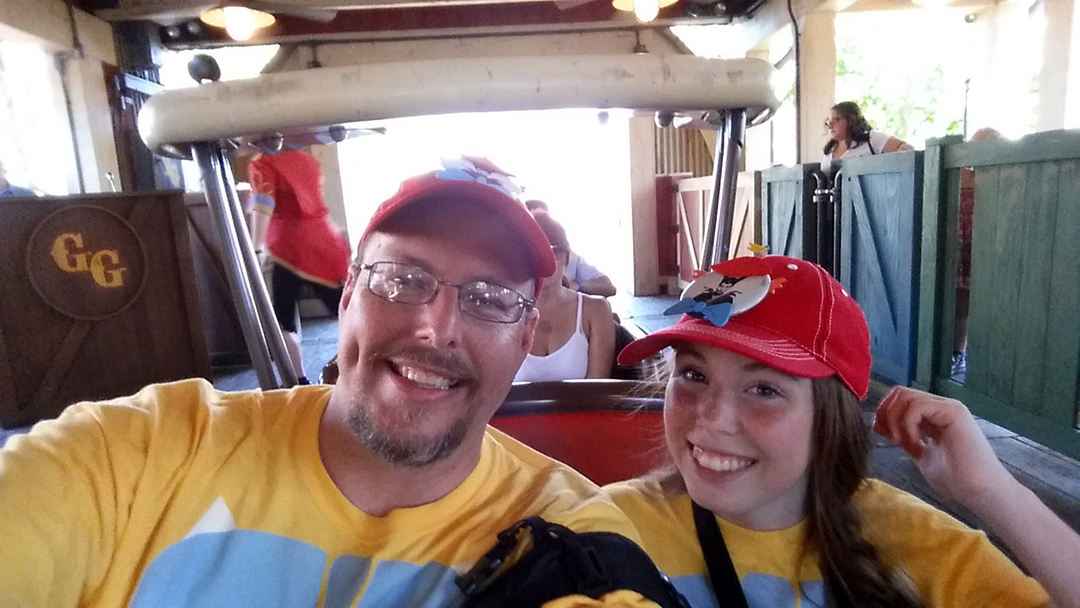 28.  Casey Jr Splash 'N' Soak
Here's our photo of the Casey Jr splash zone thing that little kids soak them self down in to cool off.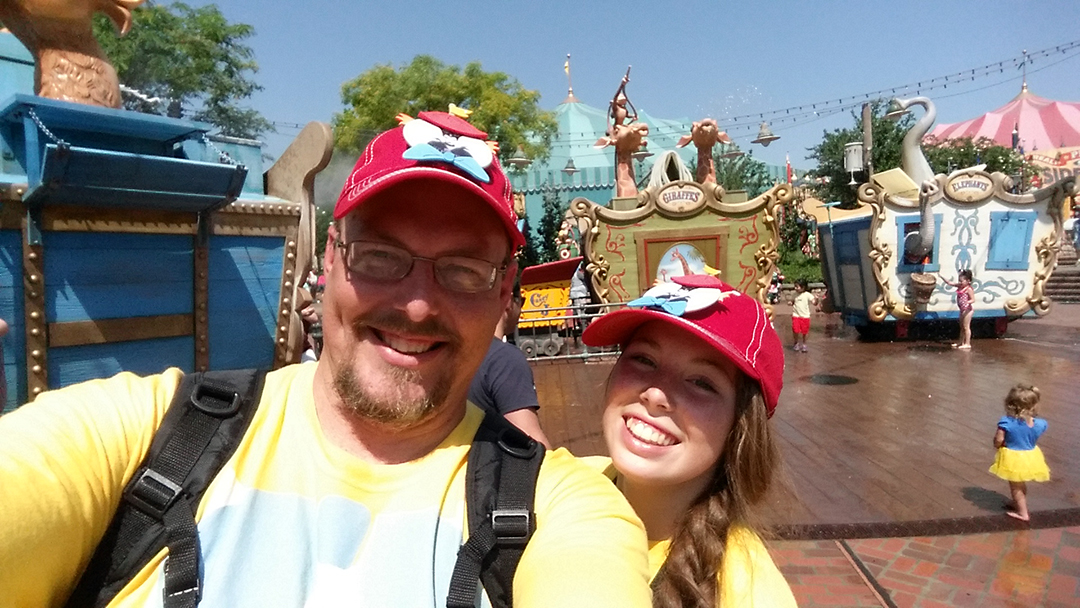 29. Mad Tea Party
It's 11:20am and I have to endure the Mad Tea Party's incessant spinning.  Whoa!  I'm soooo dizzy!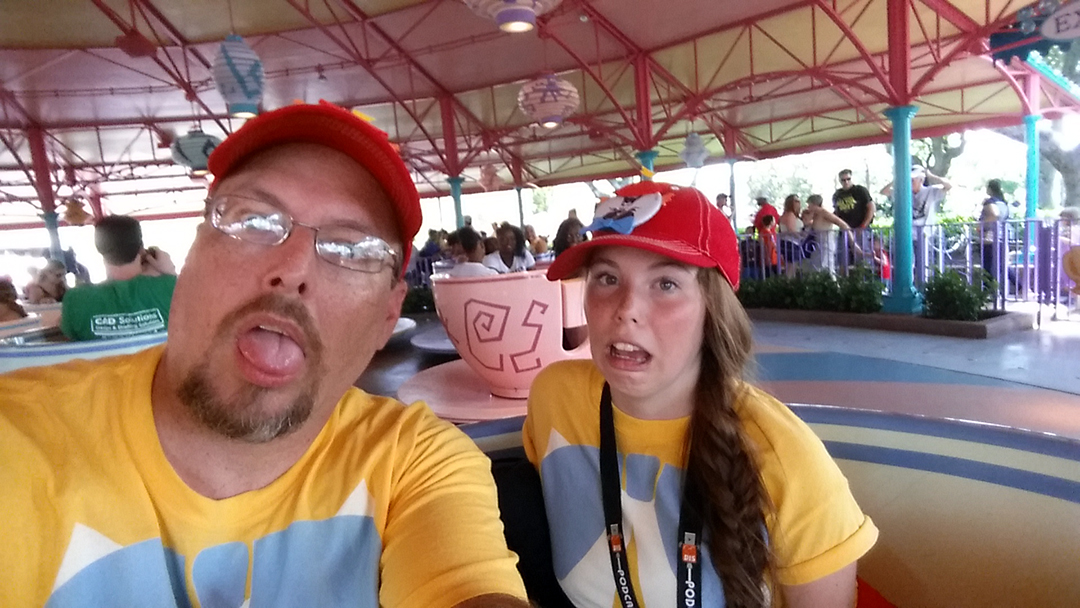 30. Main Street Philharmonic
From the Tea Cups over to Storybook again so we can view the Main Street Philharmonic.  Am I missing something, or don't they belong on say… MAIN STREET?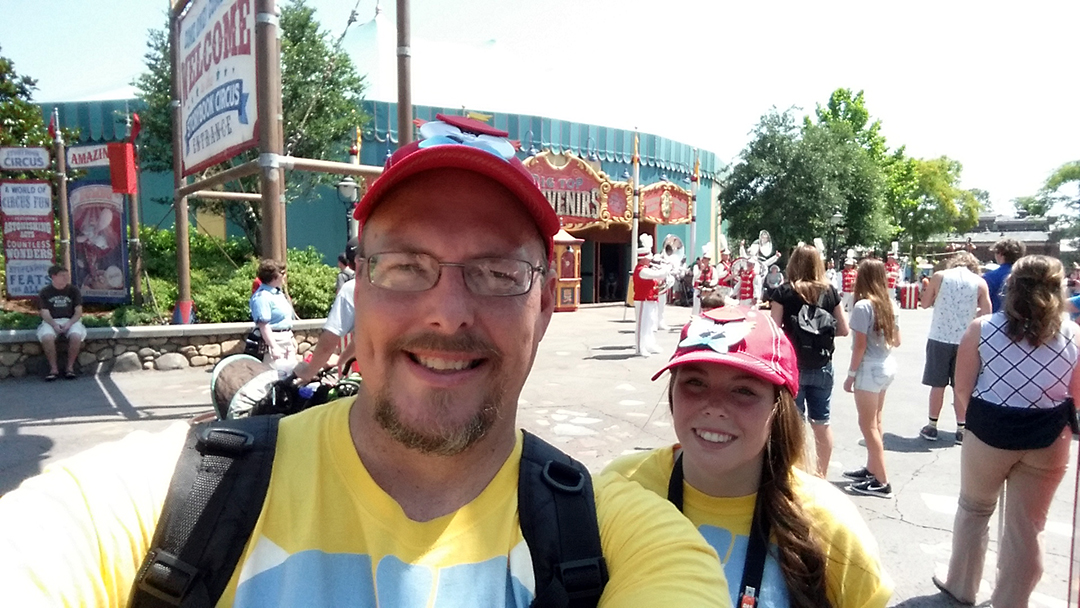 31. Royal Majesty Makers
We zigged over to catch the Royal Majesty Makers.  We tried to view them earlier, but they didn't have a posted schedule for the day.  I asked one of the musicians what time they would return and he told me.  They were doing a little Sword in the Stone ceremony with a little girl, then interacting with some guests.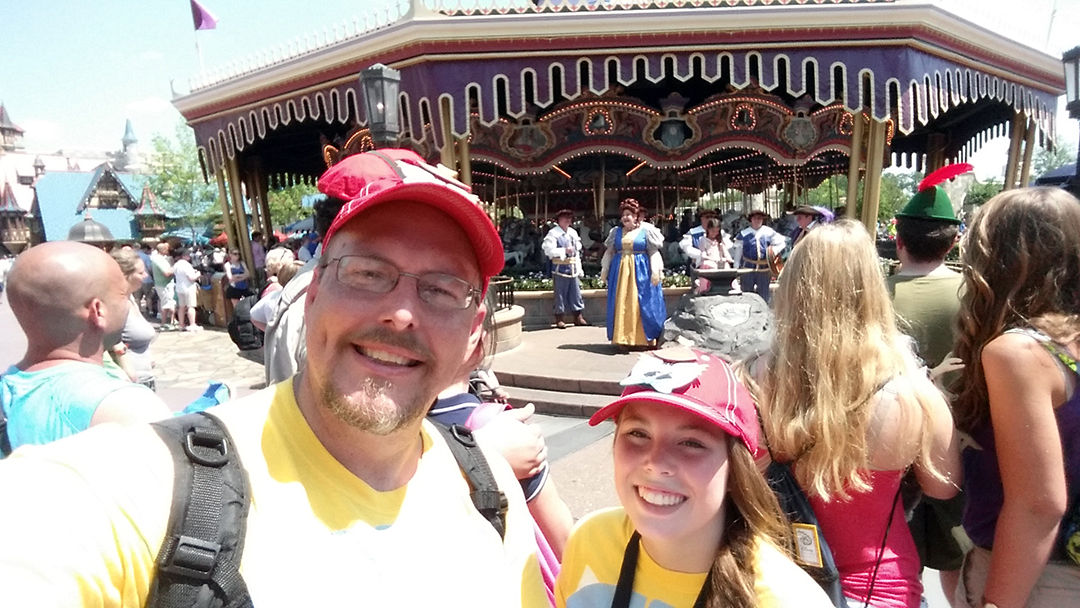 Selfie with Lady Llewellyn from the Royal Majesty Makers.  It isn't an additional bonus, just a fun thing to do.  She isn't allowed to even sign books either.  Female Main Street Citizens don't sign either.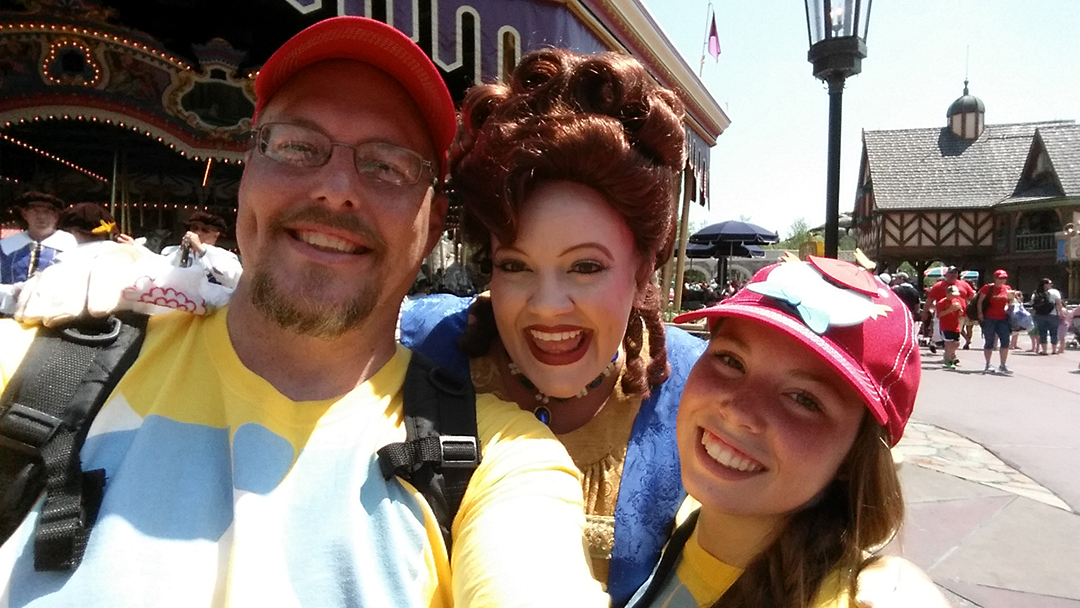 Here's the rest of the gang!  I like that they offer the Royal Majesty Makers, but I miss the Fantasyland Woodwind Society and Main Street Saxophone Four because they played Disney tunes.  The woodwind guys appear in mornings with Royal Majesty Makers and afternoons with the Storybook Circus Giggle Gang.   The one actor on the left kinda reminds me of Mike Wazowski.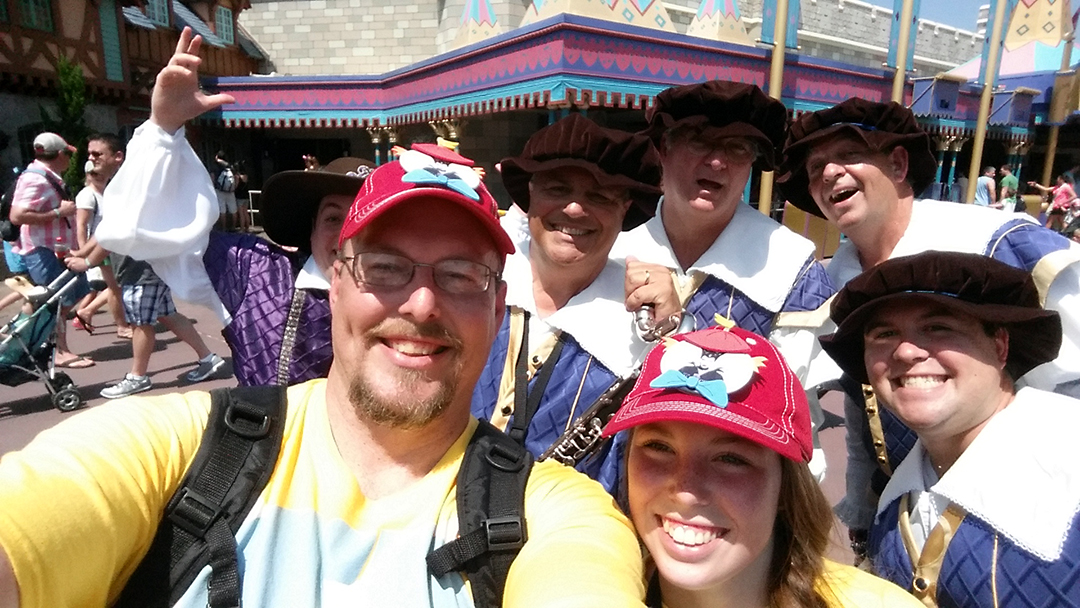 32. Wowzer the Storybook Circus Clown
Then we zagged back over to Storybook Circus to catch Wowzers balancing act.  I enjoy the little show.  It's like a small, free version of Cirque du Soleil.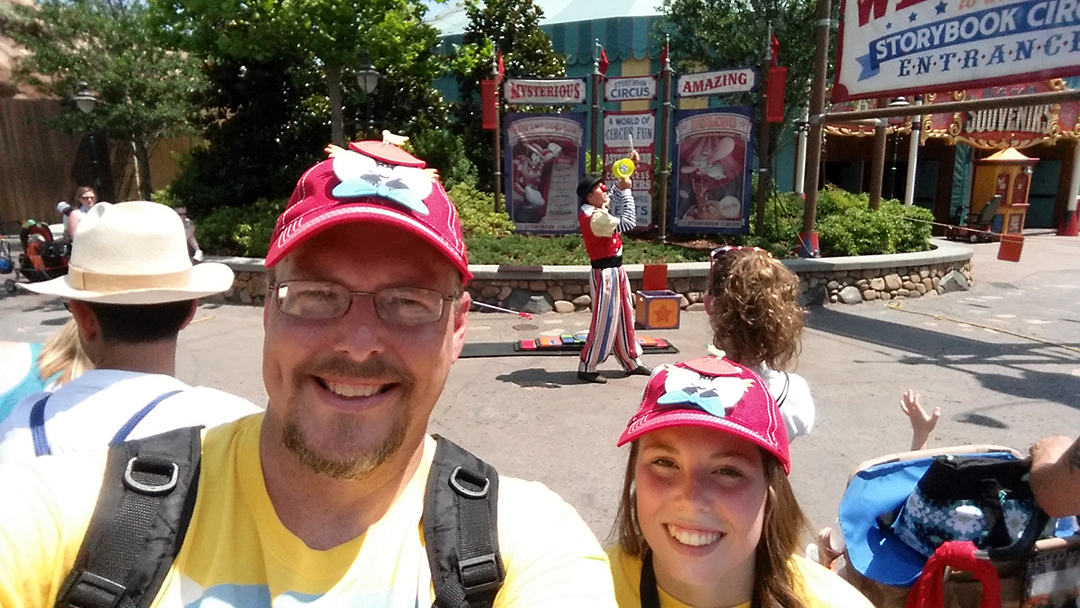 33. Dapper Dans on Main Street
From there we headed down to catch the Dapper Dans on Main Street.  The classic barbershop quartet performs music, song and comedy along the street throughout the morning and early afternoon.  Be sure to catch them on your next trip.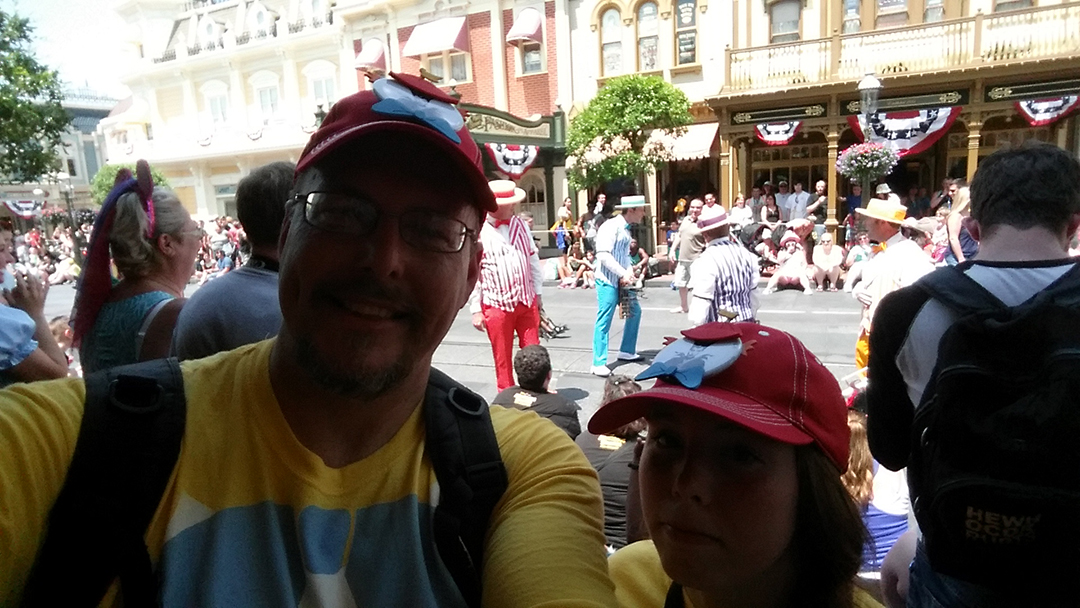 34. Citizens of Main Street
The pre-parade family of the day car is about to come down Main Street, so Mayor Weaver advised us to take the photo quickly, so we don't get run over.  I think I have his autograph like 5 times from all the Ultimate Tours because those suffragettes can't sign.
35. The Glassblower in the Crystal Shop
At 12:00 we were on attraction 35 which was watching the Glassblower on Main Street.  These guys are really talented.  There's two places inside the Crystal Shop to view them doing their work.  On is in the back making the larger items and another is in the front doing small works.  This guy was working on a Cinder Ella slipper.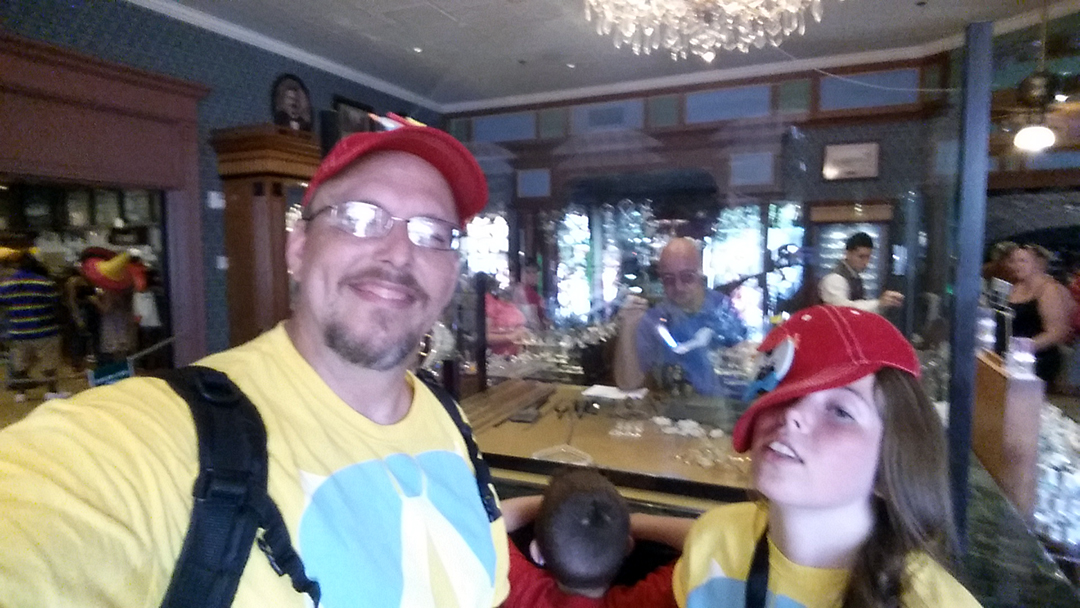 In 6 hours we had completed 35 attractions already.  That's almost 6 per hour.  If we could have maintained that pace we would have reached out goal in a little over 17 hours.
Here's our second post in the series