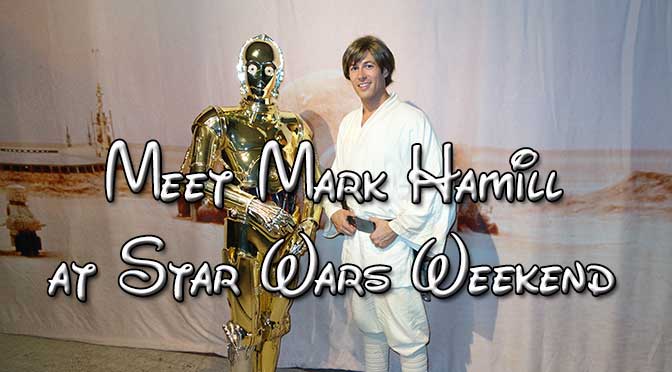 From the Disney Parks Blog:
"For the first time in event history, Mark Hamill, the actor who brought Luke Skywalker to the silver screen in the Star Wars saga, will appear at Star Wars Weekends. Hamill will be one of the celebrity guests for Weekend IV, June 6-8, 2014. Fans can see him in the daily "Legends of the Force" Star Wars-themed motorcade and in a featured talk show.

Hamill's appearances will most likely be a very popular gathering place for members of the Empire and the Rebellion, so be sure to arrive early.

"He will not be participating in autograph sessions. Instead, we have created some experiences with Mark that will allow more guests to see and hear from him during his time in Weekend IV.""
If you are content with taking a photo of him in the parade, line up at least 1 hour to 1.5 hours early for a good photo spot in the shade.
I'll be updating my Star Wars Weekends event information in coming days as more information is available, so bookmark that mini-site.  It's always located under EVENTS on the top of the site.