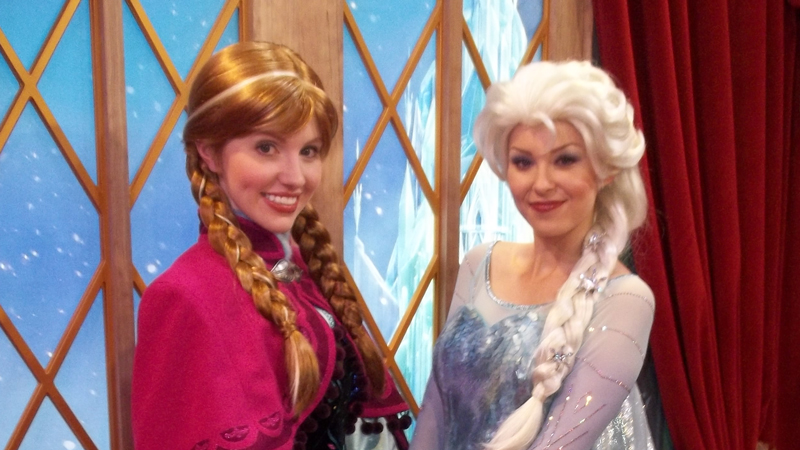 UPDATE:  They have moved to another Test Schedule that is from 9:00am to 6:00pm which means I recommend going at PARK OPENING!
Anna and Elsa have been a HUGE hit at Walt Disney World.  They had lines forming to meet them before they even began meet and greets.  Hey, they even had people searching for them during training meets.  The lines for Anna and Elsa averaged 3 to 5 hours on many days at Epcot and many fans were extremely frustrated.  The Disney Blog had announced that the girls would be leaving in late January, which scared a number of guests as well.
Well, the lovely ladies from Arendelle continue to meet in Epcot and will for quite some time.  Disney is even working toward building them a better meet and greet location somewhere.  They hope to keep them in Norway.
I used to recommend that you go straight there at park opening and wait two hours, because it was the shortest you would wait.  Because Epcot has added more time to their schedule (even though the Epcot Times Guide and MDE App don't realize) I now recommend that you visit in the late afternoon or early evening.  The ladies are now meeting from 11:00 am to 9:00 pm with short breaks.  (They often take a longer break from 8:00-8:30 pm).
Don't waste your good touring time for attractions like Test Track and Soarin to head over here.  Go to those attractions and meet the other characters in the park, then come over in the afternoon.  I'll be writing touring plans that include this information very soon.
Here's the information on their location.
Do you think my advice is sound or the ramblings of a crazy pirate?