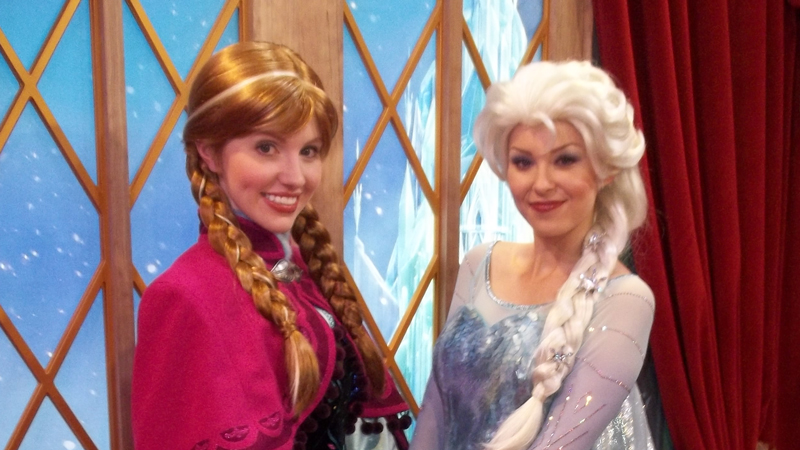 Are Anna and Elsa from the movie Frozen going to stick around Epcot after January 31?  This has become the most popular question on my blog, Facebook and Twitter feeds and emails.
Guests want Disney to confirm that the girls will be extended beyond the last date that was given.  Well, I have it on VERY GOOD authority that Anna and Elsa aren't going to leave anytime soon.  Walt Disney World is looking into ways to expand the meet and greets capability that would allow the ladies to meet more of their adoring fans.  There's no need to sweat whether or not they will stick around.  THEY AREN'T LEAVING Walt Disney World anytime soon.
Now, with that stated, you should understand just how popular this meet and greet has become.  It is the the "Frozen Foot Race" to see who can arrive in Norway at the Princess Plass first.  Lines can easily grow to between 3 and 5 hours each day.  People wait in the sun, they wait in the cold and they wait in the rain.  Guests want to meet these characters in the worst kind of way.  If you want to meet them, you need to either send a person to hold your spot at rope drop, wait in a really long line or perhaps attempt stopping by later in the day.
Dear Disney World,
Please look at allowing these characters to begin meeting at 9:15 am daily just like Merida does in the Magic Kingdom.  Rapunzel used to have this type of crazy line when meeting with Flynn and their meet and greet began later in the day.  You could easily accommodate more guests and allow the ones who arrive early to have a better overall experience at Epcot and even meet more of the characters they love.
Thanks,
KtP