UPDATE:  December 13, 2013  I've been told by a number of people that Disney has patched this issue, bu the patch just created a new issue where the app is MUCH less responsive and often locks up when someone is trying to make a change to their choices.
UPDATE:  December 9, 2013  Two different iPhone users are reporting that Disney has finally fixed this issue on iPhone.  I'll report soon on the status of Android phones.
I've debated for several weeks whether or not I should post this information.  I've successfully used these tips on many days in the park to test it out and make sure it works every time.  It doesn't really benefit me personally because I'm local and can ride these attractions any time I want.
A little background first.  My brother and I have designed a few apps over the last couple of years.  They started out pretty rudimentary and have gotten better as we've gone along.  I won't use this post to advertise them with links, so I'm not seen as a barker.  My role has always been to design the app and create and maintain the data while my brother does all the nerdy, techie stuff that makes it work.  After we get it completed we take the apps through Alpha and Beta testing.  I'm usually the Alpha tester.  It's my job to see if I can break the app and make sure it functions like we designed it to do.  I usually find hundreds of issues early on before sending it to willing Beta testers to see what they find.
Disney has poured a LOT of money into it's new MyMagic+ and Fastpass+ systems (I can't wait until the stupid + is done.  It requires too many Shift key entries).  It's been estimated that they have spent a BILLION dollars on all kinds of improvements whether internal or on the user end.  They have been Beta testing FP+ for months in different phases and bringing different resorts online slowly, then tweaking the options available such as the tiered system now in use at Epcot and FP+ only stays at Disney World hotels.  Their Beta testers are often off duty Cast Members.
I joined the FP+ system long after others in bloggerdom and wanted to see what it was really capable of, not just use it as it's prescribed.  Disney wants it to only allow 3 Fastpass+ per day per person and they are even restricting that further with silly "Tiers" that guests have to choose ONE really good ride and TWO not so good ones.  So, I designated myself as Disney's unofficial and unpaid Gamma tester (Alpha, Beta, Gamma..).  After learning how to join the system with a room only stay (not Pop Century at the time of the article) and learning to use the FP+ that was available, I wanted to begin testing to see what it COULD do.  I wanted to see if I could crack it, break it, spill chili dog on it etc…  So that leads me to this post.
I visited Epcot, Animal Kingdom and Hollywood Studios and was able to use the FP+ for 6 or more attractions in one day each time and decided it was time to test the biggest beast.  No, not Be Our Guest Dinner Reservations, I decided to take on the Magic Kingdom and its 20 or more Fastpass+ options and see how many times I could use ONE Magic Band, ONE account and ONE phone to use FP+ much more than the 3 prescribed  times in ONE DAY.  Who needs Paper Fastpasses when one person can do everything in ONE DAY with Fastpass+?
Here's how the day turned out:
I took part in 26 different attractions at the Magic Kingdom today.  For TWENTY of them I used one My Disney Experience account linked to my Annual Pass for FP+.  It should have provided me with only THREE FP+.
Astro Orbitor – no FP
Buzz Lightyear – no FP
Space Mountain – FP+
Tomorrowland Speedway  – FP+
Mad Tea Party – FP+
Many Adventures of Winnie the Pooh  – FP+
Peter Pan's Flight  – FP+  (Restroom break)
Under the Sea: Journey of the Little Mermaid  – FP+
Meet Ariel  – FP+  (Had a snack)
Dumbo  – FP+
Barnstormer – FP+
Philharmagic – no FP
Rapunzel  – FP+
Cinderella  – FP+
Prince Charming Carousel  – no FP
it's a small world  – FP+
Haunted Mansion  – FP+  (Ate lunch.  My friends joined me to test this system on their iphones)
Splash Mountain  – FP+
Big Thunder Mountain  – FP+
Pirates of the Caribbean  – FP+
Jingle Cruise (used a friend's paper FP, but could have used FP+)
Magic Carpets of Aladdin  – FP+
Repeated Peter Pan's Flight  – FP+
Enchanted Tales with Belle  – FP+
Peoplemover  – no FP
Monster's Inc Laugh Floor – no FP
Attractions I didn't attempt include Stitch's Great Escape, Carousel of Progress, Hall of Presidents, Liberty Square Riverboat, Tom Sawyer's Island, Country Bear Jamboree, Tiki Room and Magic Words with Mickey.  I could have done any or all of these if I so desired.  I walked at a very leisurely pace and enjoyed some time with friends as well.
I left the park at 5:00 after watching the Flag Retreat due to another commitment.
The point of listing the number and attractions is to demonstrate that it was repeatable.
This is how it's done:
The images are from My Disney Experience online and the Android version of  the app with photos that you can enlarge at your choosing (long detailed post to ensue)…
Step ONE – Choose your 3 attractions that the My Disney Experience purports to limit you to.  I noticed today on the web version of My Disney Experience that you can supposedly "Prioritize" your selections.  Guess what, it didn't work.  "Best Match" was merely ONE attraction and Option B had the options backward.  What more can we expect?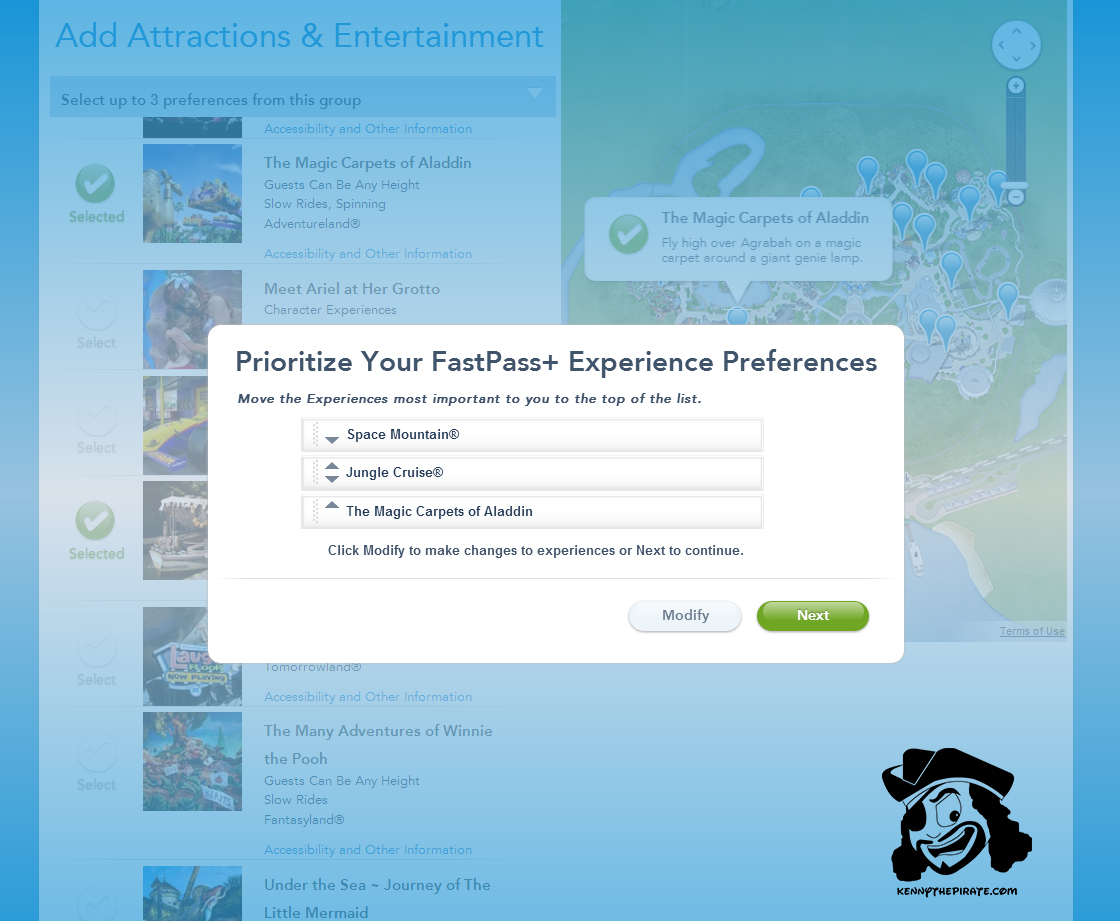 You'll need to choose TWO attractions that you are willing to do as late as possible in the day, plan to skip or plan to walk into like Monster's Inc Laugh Floor and Mickey's Philharmagic.  You really don't need these Fastpasses at all.  We'll accomplish the ENTIRE day with ONE Fastpass+ being reused of sorts at the Magic Kingdom and Animal Kingdom currently.  HOWEVER, if one wishes to use two FP+, then work with the third it works just as well.  If you're planning at a time that offers Tiered Fastpass for parks, just move your Tier 2 Fastpasses to as late as possible.  You can then do all the Tier 1 attractions using your Tier 1 FP+ over and over provided that more than one Tier 1 is available.  Toy Story Midway Mania can be a bit of a pain to book around for example.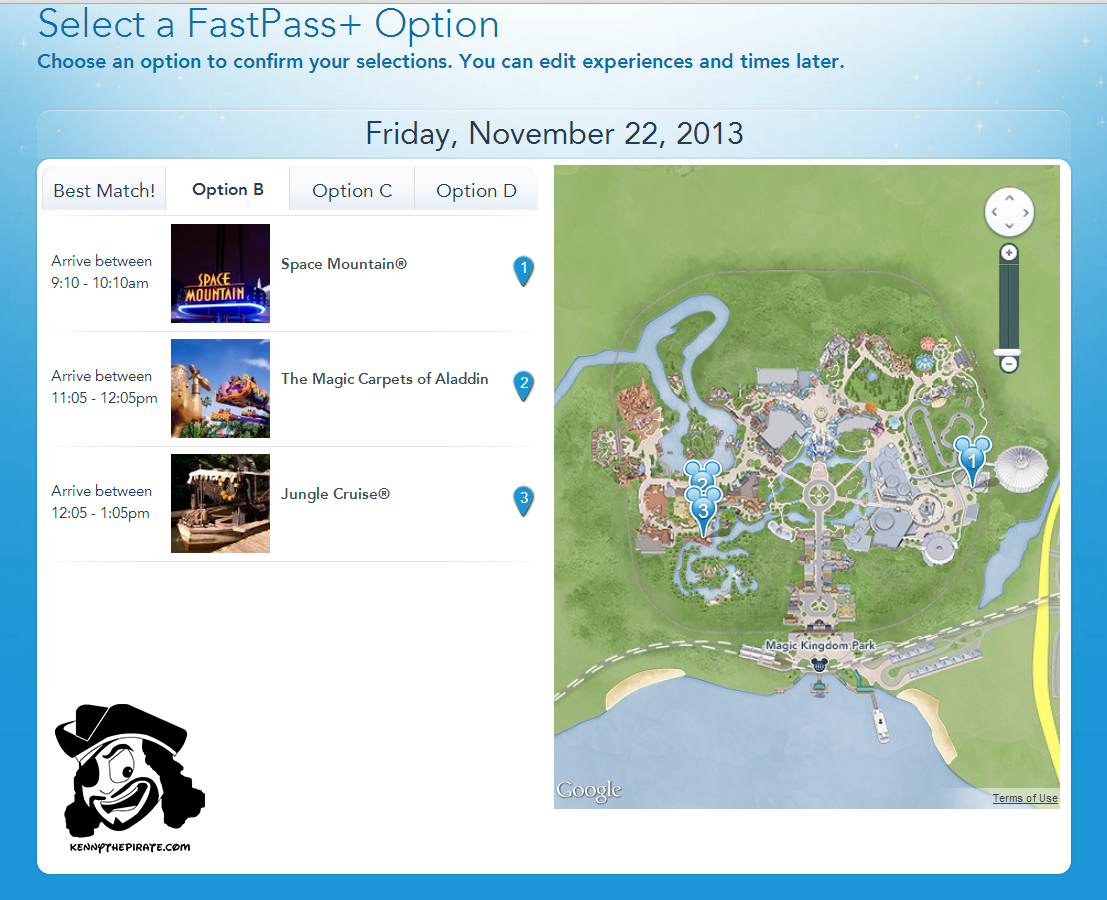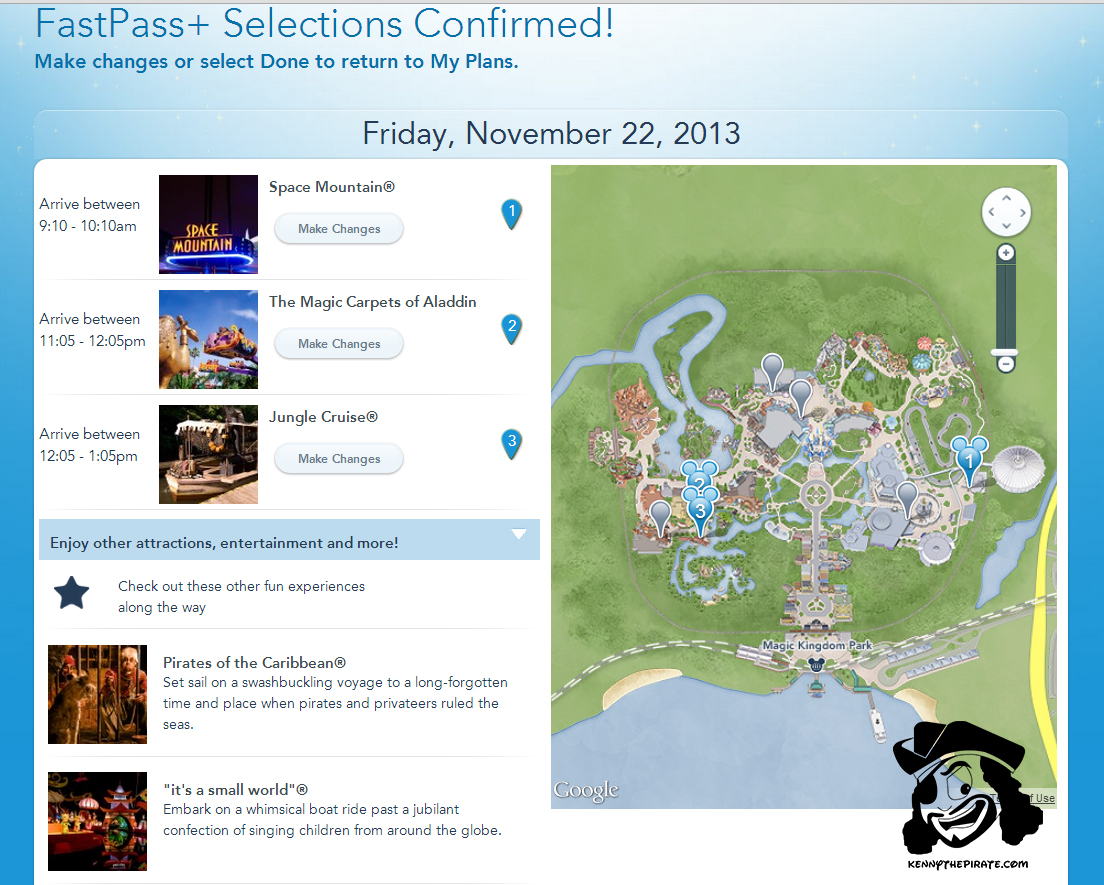 Step TWO:  Move the two attractions that you plan to save for AS LATE AS POSSIBLE in the day or don't plan to partake.  If you plan to Park Hop, as I'll explain later, you'll want the bottom two attractions to be things you don't really intend to do or things you can just walk in.
Click "Change the Time"
Click "Select" next to the name(s) you wish to change.
Click "Next"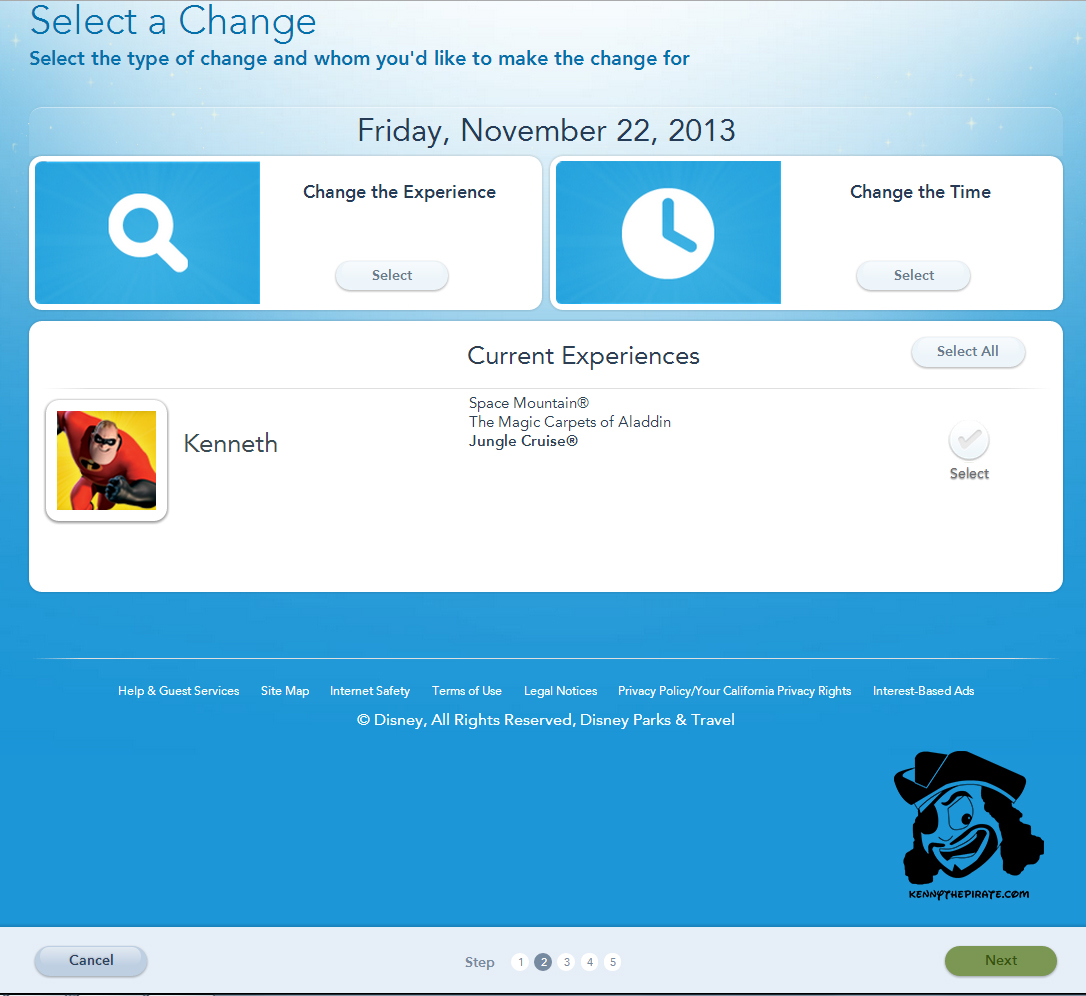 Now choose THE LATEST TIME POSSIBLE.  In the scenario, I'm working with Jungle Cruise.  I want to move it from 12:05 to 6:00pm.  It may seem silly to do this, but it's very important!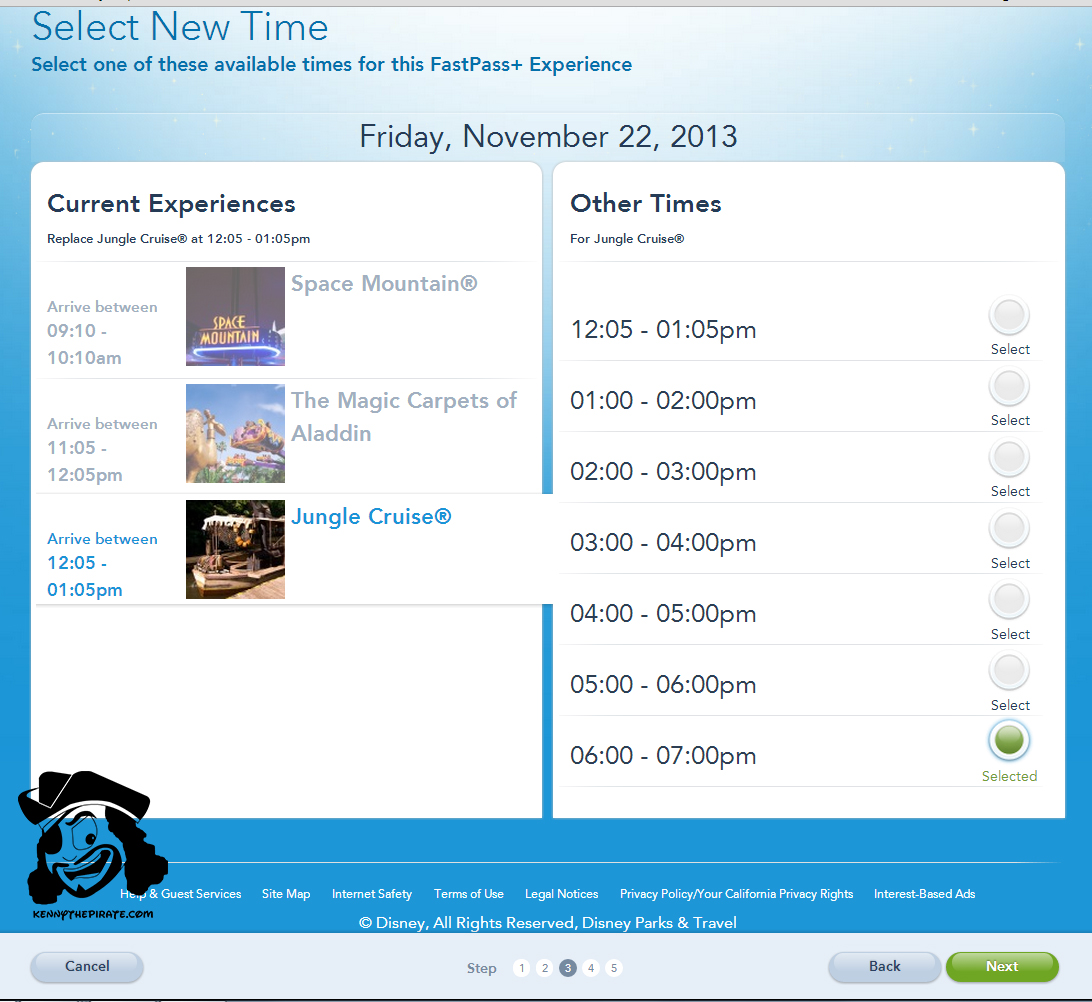 As you can see, I've changed to the desired time, so I'll click "Done."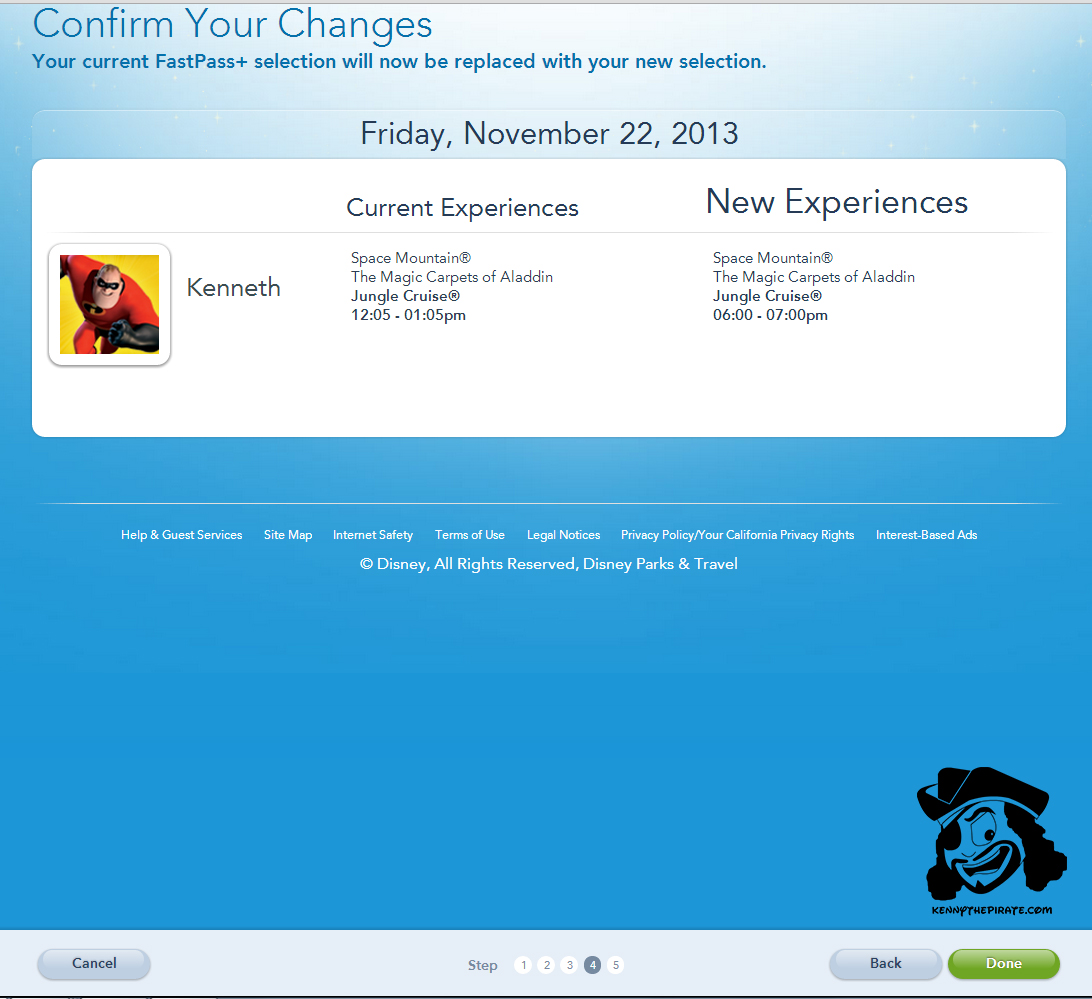 I've now confirmed that Jungle Cruise is for 6:00 pm.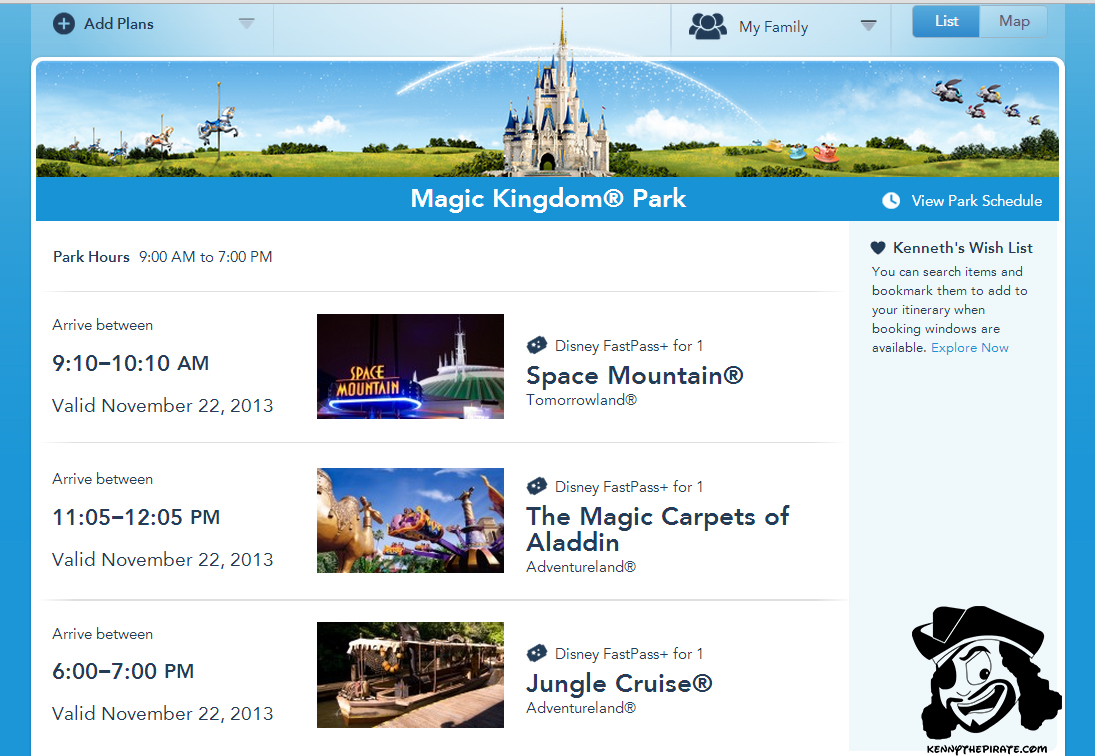 Step THREE:  I'm going to repeat step two, but I'm choosing The Magic Carpets of Aladdin to move to THE LATEST TIME POSSIBLE.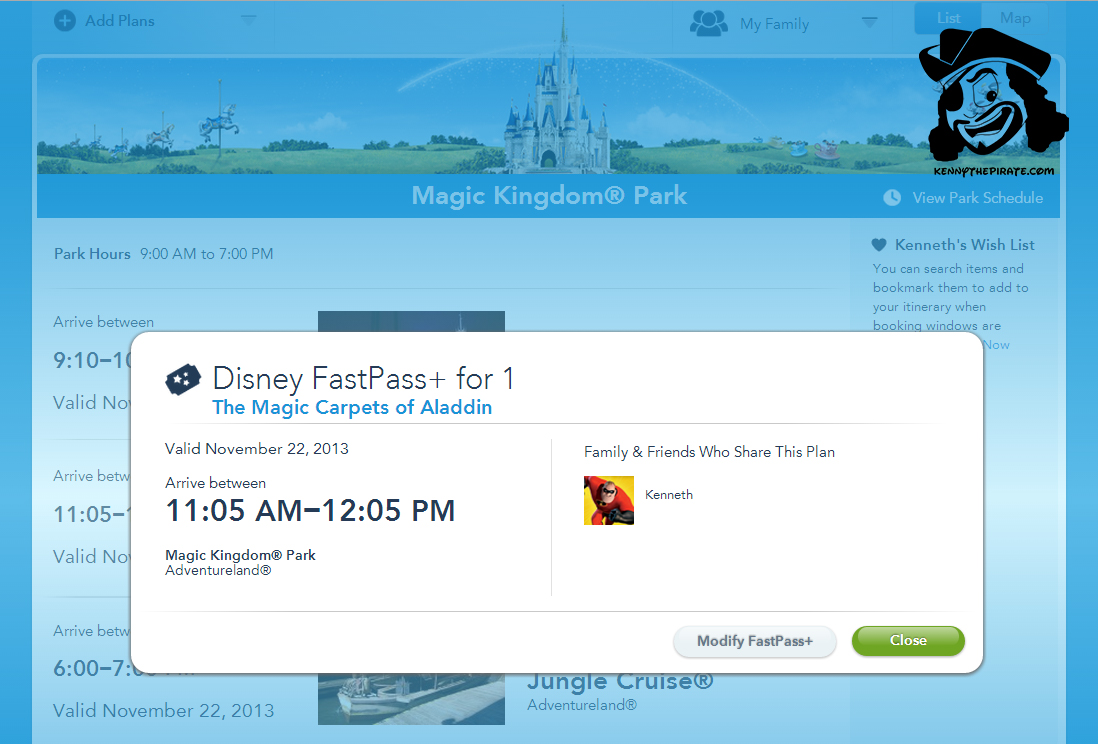 Because FP+ limits you to one hour blocks that do not overlap, you must choose the latest time, which for me on a Mickey's Very Merry Christmas Party night was 5:00 pm.  You'll have more time to finagle when you visit on a day with longer hours, but it's pretty irrelevant.  5:00-6:00 and "Next"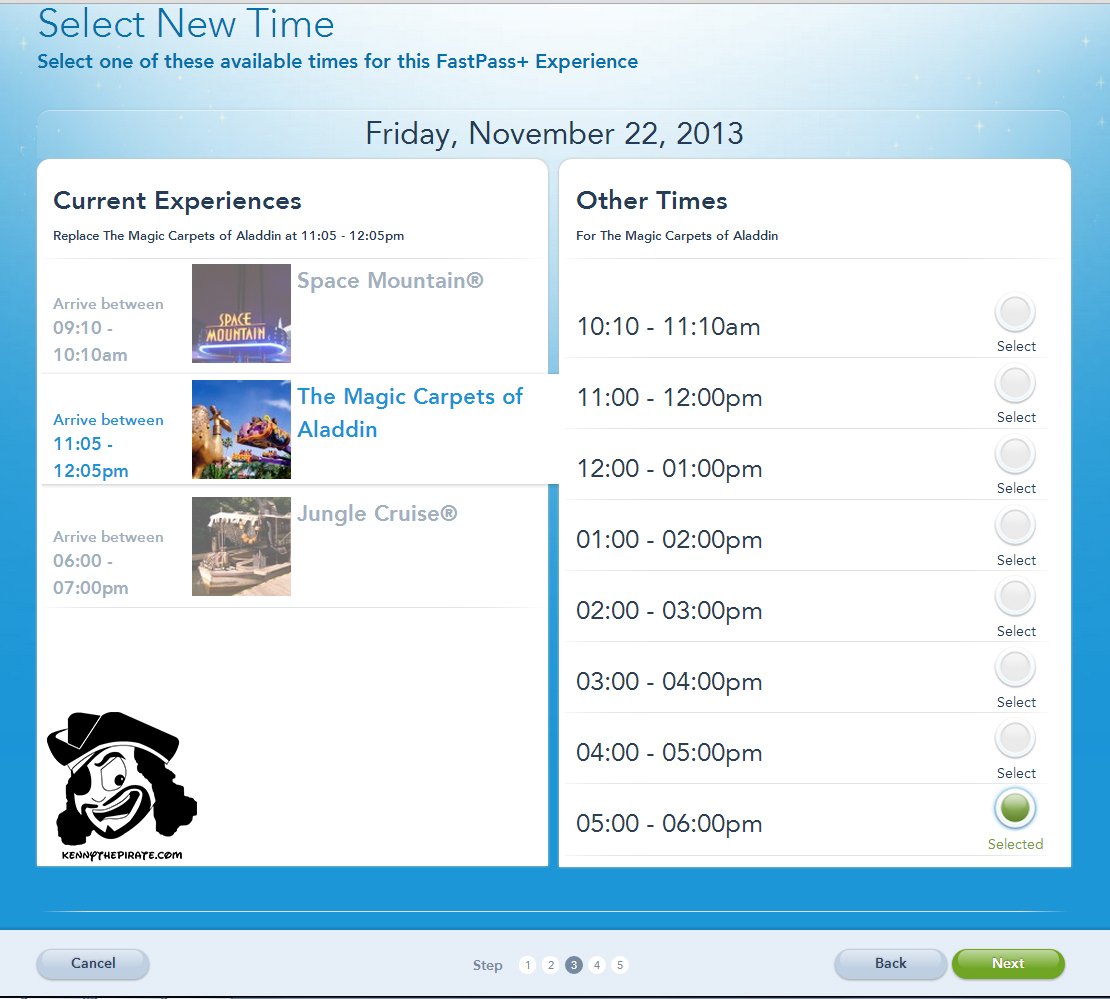 We'll confirm our choices and click "Done."  You'll become dear friends with this confirmation page later in the post.  I know this seems pretty rudimentary right now, but a lot of guests have ZERO experience with My Disney Experience, so I want to make sure we're all on the same page.
Okay, all set up for the big day!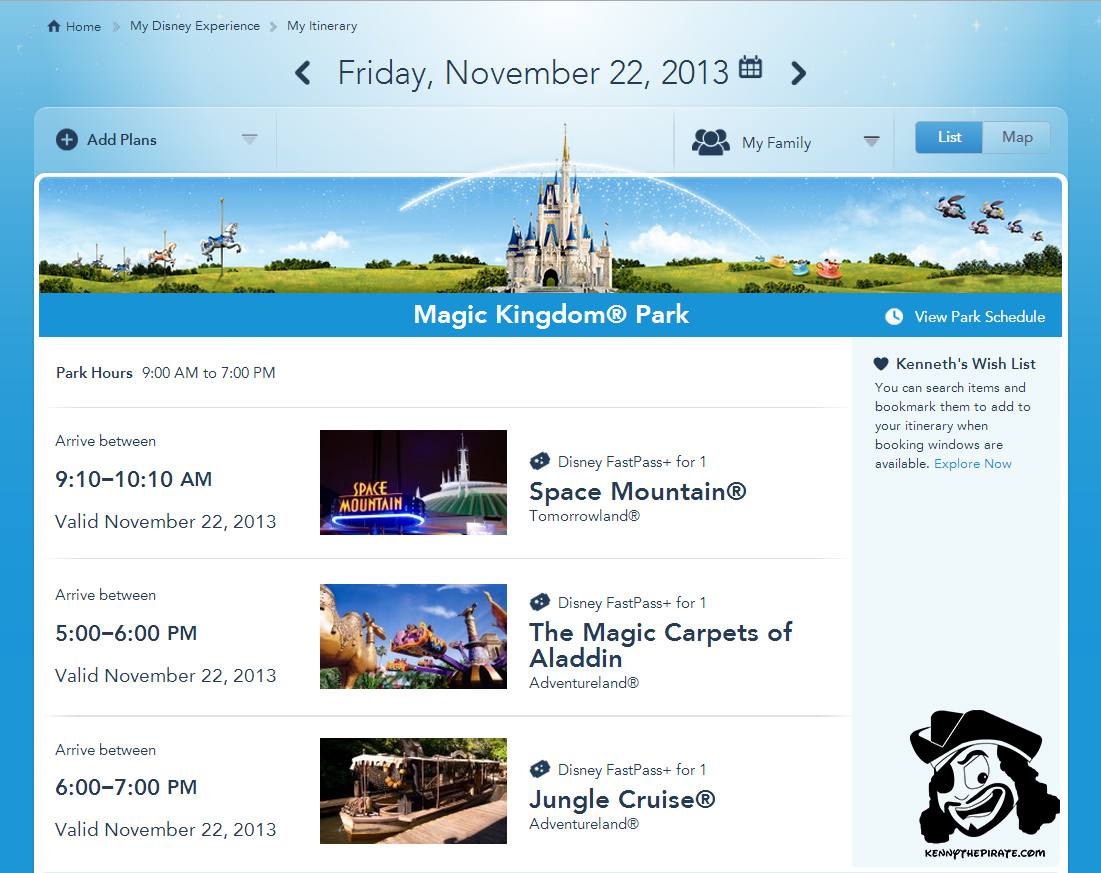 Okay, KtP, why did we place one FP+ near the beginning of the day and two near the end?  Because we want to open up space to add flexibility to our Fastpass+ usage.  We're going to use that FIRST FP+ over and over and over throughout the day.  What I discovered about the MDE App is that it tends to act as a "shopping cart" of sorts.  Imagine going to namebrandstuff.com and choosing a new turkey baster.  It places a hold on that turkey baster for a set limit of time and usually notifies you that it is the case.  "You have x minutes to complete the purchase."  Well, Fastpass+ seems to use a very similar idea that I'll explain for you.
STEP FOUR:  ALMOST select and New Attraction before riding.  Here's where it gets good.  Okay, you're about to board Space Mountain using your FP+ that you pre-selected.  BEFORE you tap the first Mickey Touch Point at the attraction, you'll want to begin the process of choosing a NEW ATTRACTION.  Huh?  Why do I want to want to choose a new attraction before I've even ridden.  You don't, you just want to get VERY close to choosing one.   This must be done EXACTLY as I tell you or it won't work or you'll get an error message at the Touch Point.  Trust me, I've spent about 3 weeks testing this to make sure it works for me (At least until Disney MDE programmers read this) and I've seen how it can fail if it isn't exact.  It's easy, but it can't be done differently.
We'll start using the actual MDE App in the park now.  Get a phone with a great battery, a juice pack or bring your charger!
Open the app and wait, you may have to wait and wait or wait and wait and wait.  I observed that the Android app was much slower to respond than the iPhone app.
Click the drop down menu on the left and select "My Reservations"
Select "Fastpass+"
Click on the day upon which you are working.
Click on "Update Your Fastpass+"
Click "Change a Faspass+ selection for a new selection or time"
Click on the FIRST selection in your list.  In my case it was Space Mountain.  Remember, we are doing this BEFORE we ever enter the FP+ line.
Click on "Change the Experience" (You can Change the time if you wish to re-ride the same attraction)
Select the Party Members to which you want this to apply and click "Next"
Click on the little block to the left of the attraction you wish to travel to AFTER riding this ride and click "Next"
STOP!  Yes, I said STOP.  DO NOT click "Done."  If you click "Done" before boarding the attraction you are about to join the FP queue for you are going to mess everything up.  I accidentally backed out of this step after one Mickey Touch Point at the Rapunzel meet and it messed me up and I had to begin working on the second FP+ option.  I messed up again at the second Peter Pan's Flight because I was talking and clicked "Done" and it blocked the second one and I was left with only the ability to edit the third one.
Darken out your screen to save battery, but DO NOT CLOSE THE APP.  Remember, we don't click Done yet also.
Tap your Magic Band to the first Mickey Touch Point at your attraction and it will turn Green.  Enter the FP queue.  Do NOT click Done yet either.
Tap your Magic Band to the second Mickey Touch Point at this attraction.
If you have a good cell connection or wifi connection, you can now click DONE on My Disney Experience.  Here's the deal, you have about 30 minutes 25 minutes plus 3 minute additional warning period for a total of 28 minutes as of 11/26/2013 from the time you pre-selected that next FP+ before you have to click Done, even if you just used FP+ for a different attraction.  You may recall that I said that it acts basically as a shopping cart that is holding your reservation for you.
After you click Done, wait until the system completes the transaction before darkening your screen or doing any other thing with your phone.
Repeat the process over and over and over.  The times for your next attraction may not be to your liking, you may try to adjust the time or even change the experience to get something you're looking for.  It basically offers you the next FP+ slot that available.
It's actually quite easy to do this.  It requires a little effort and remembering not to click "Done" until you pass though BOTH Mickey Touch Points, but it's a pretty simple method that I used to get 20 FP+ in one day with witnesses that it works.
How to use this knowledge to Park Hop using FP+
Because you've never used that FIRST FP+, or any FP+ as it is recognized by the system, you can now Cancel all your Fastpass+ reservations and make new ones for a different park.  Follow the same steps or just use your 3 new ones as you desire.
If you mess up and click "Done" at the wrong point or don't have a good cell or wifi signal when you do click "Done," you'll lose the ability to Park Hop with FP+
DISCLAIMER: I do not guarantee that this glitch in My Disney Experience will work for any user. Furthermore, I am released from all liability for any damages, if choose to use this information for your own personal gain in any form. This issue has been reported to Disney in hopes that they will fix this broken system.