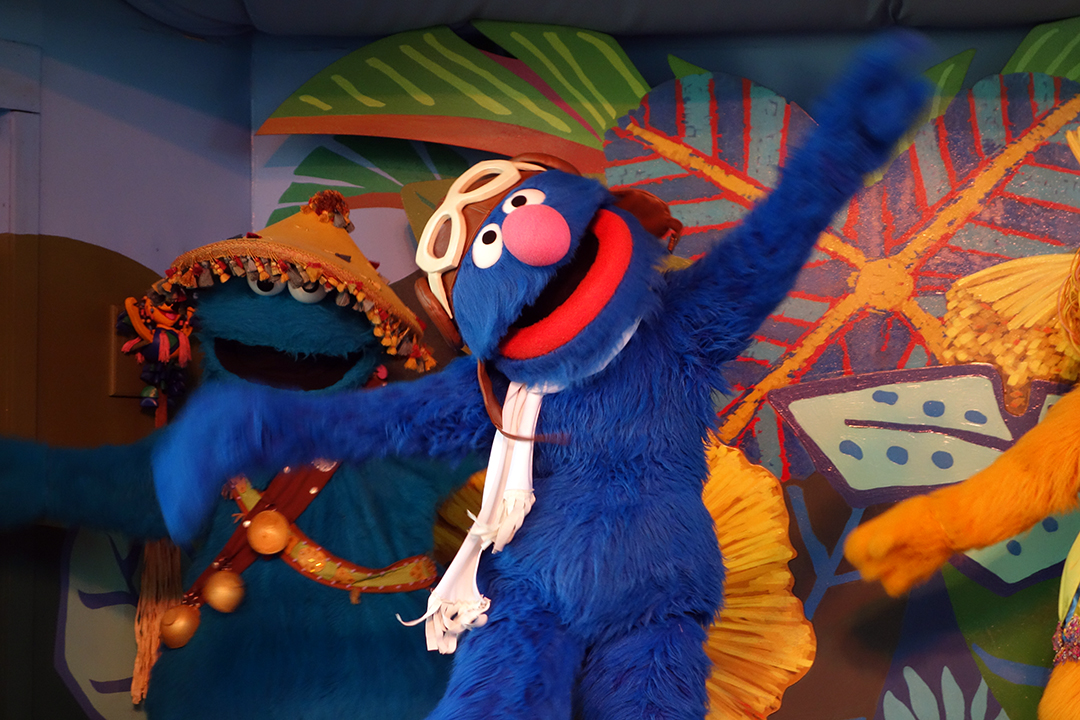 My family and I ventured over to Busch Gardens in Tampa to ride all the great thrill rides and meet the characters.  On the thrill ride front, my son said Busch is his favorite park for the coasters.  They have a wide variety of them and they all have varying experiences.  If you'd like me to share photos, info, touring ideas on Busch Gardens, just let me know in the comments of the post.
Today's post is about the characters!  To be honest, I was pretty geeked out when I heard a while back that King Julian and Gloria were meetable characters at Busch Gardens.  I love King Julian from the Madagascar movies.  He is one of the wittiest characters around and has a bit of sass to him.  Gloria is awesome because she's "chunky."  You'll need to watch the second movie to understand that reference.  We went to check out the live stage show, Madagascar Live – Operation Vacation, and hoped to meet the characters afterward.  The show was a lot of fun, but the character meet and greet was a bit awkward. We found this to be true with the set location for Sesame Street characters too.  It's awkward because they ask you to stand waaaayyy off to the side to take your photo.  They are trying so hard to sell you the one that their photographer takes that they aren't very accommodating and at the King Julian crew meet, the person was downright rude.  It was an unexpected disappointment to otherwise meeting great characters.  We are accustomed to Disney World and Universal offering photos with their cameras and they are always very accommodating and even willing to use your camera.
After the show, we quickly found that the line to meet the characters was going to form at the top of the stairs at a set location.  We were, of course, among the first in line.  We hoped to meet the whole cast all together, but found that they meet in two sets.  The first set was the Penguins and the second set was Gloria, Alex, Mort and King Julian.  We were fortunate enough to meet both sets after one show by being among the first in line.  They wont allow guests to just come in to meet the characters, you must sit through the show.  If you miss a set of characters, you have to watch the show a second time.
We didn't realize that the actual camera person wouldn't take our photo with our camera, so we had to hand it off to another attendant.  That person took the camera off to the side and snapped this quality photo for us.  After leaving the meet I looked at the photo and saw how terrific it was and requested another photo and was told to, "get back in line."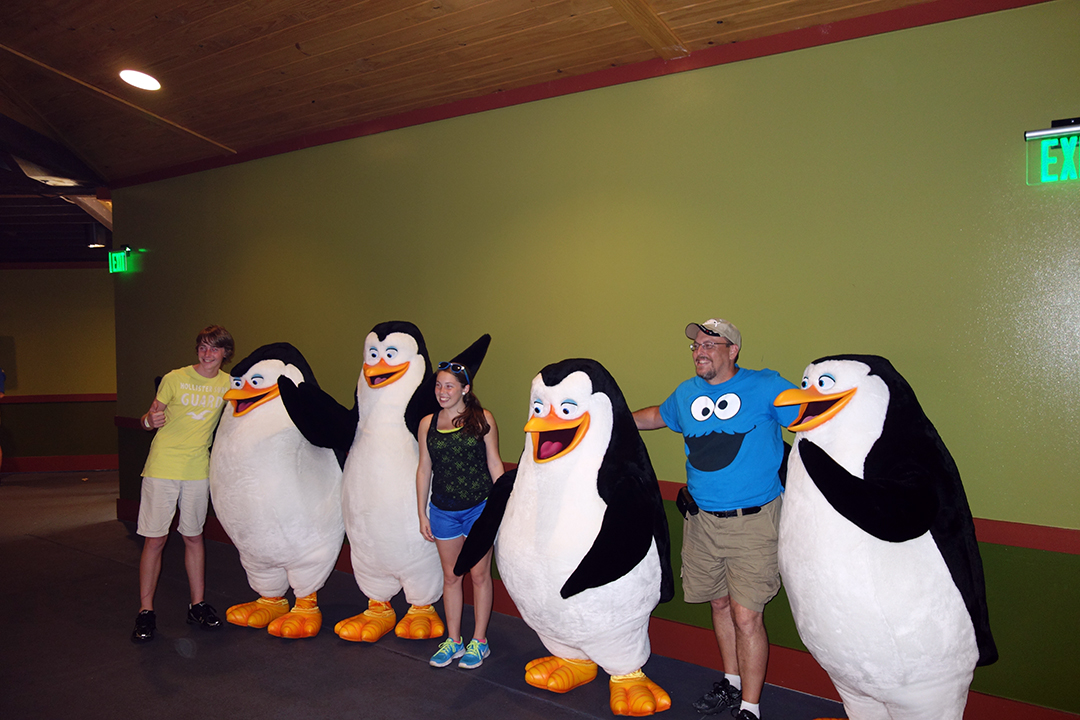 To be honest, the interaction times were fun, but the photo ops were so annoying that we didn't even bother stopping at the photo kiosk to see the photos that their photographers took.  I couldn't find myself spending extra money after being treated so poorly as a guest.  We took that sage advice to get back in line and a little bit later it was our time to meet Gloria, King Julian, Mort and Alex.  I just opted to take a photo of my kids with the characters.  After the BG photog snapped the wasted shot I called everyone's attention over my way and took this photo.  It's a little better, but still not very good customer service.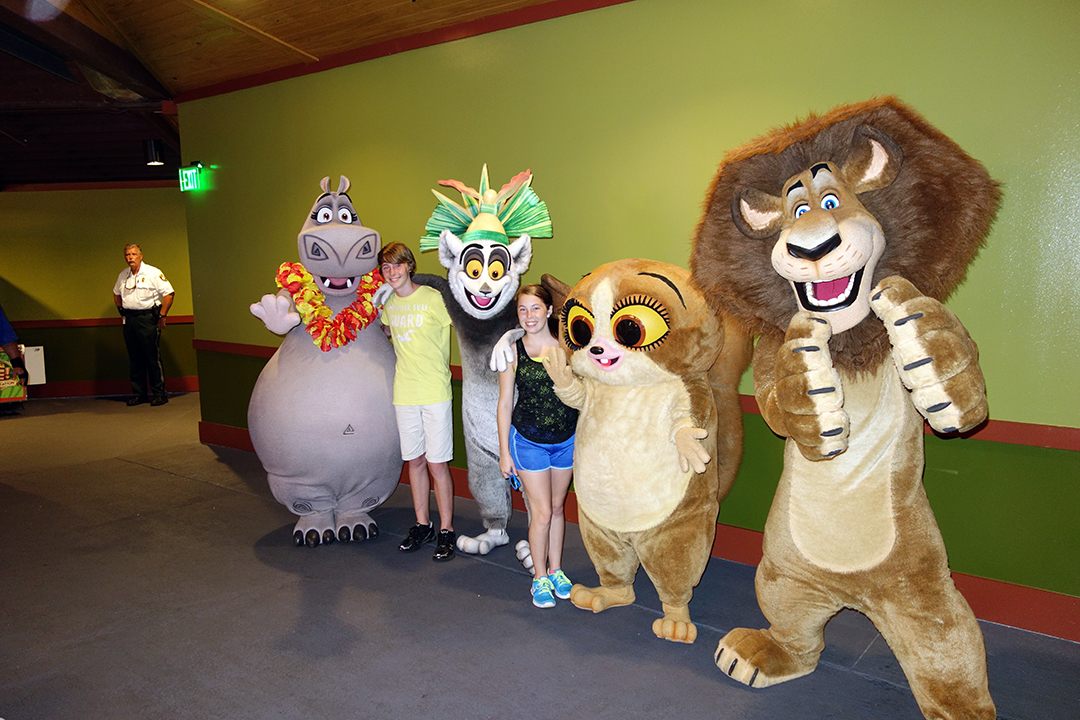 Perhaps a person's dream of the day was just to meet one of these characters and they were told they had to stand waaayy off to the side to take a picture or that an employee would snap such a poor photo for you, it doesn't make people want to return to the park, huh?  I'm hoping that a BG person will read this and correct this situation.
Later in the day, we ventured to another area to meet the stiltwalker characters that Busch Gardens offers.  They were pretty cute and just kind of wandered after a very brief little show.
[youtube=http://www.youtube.com/watch?v=l5Q8iRlAIL8&w=560&h=315]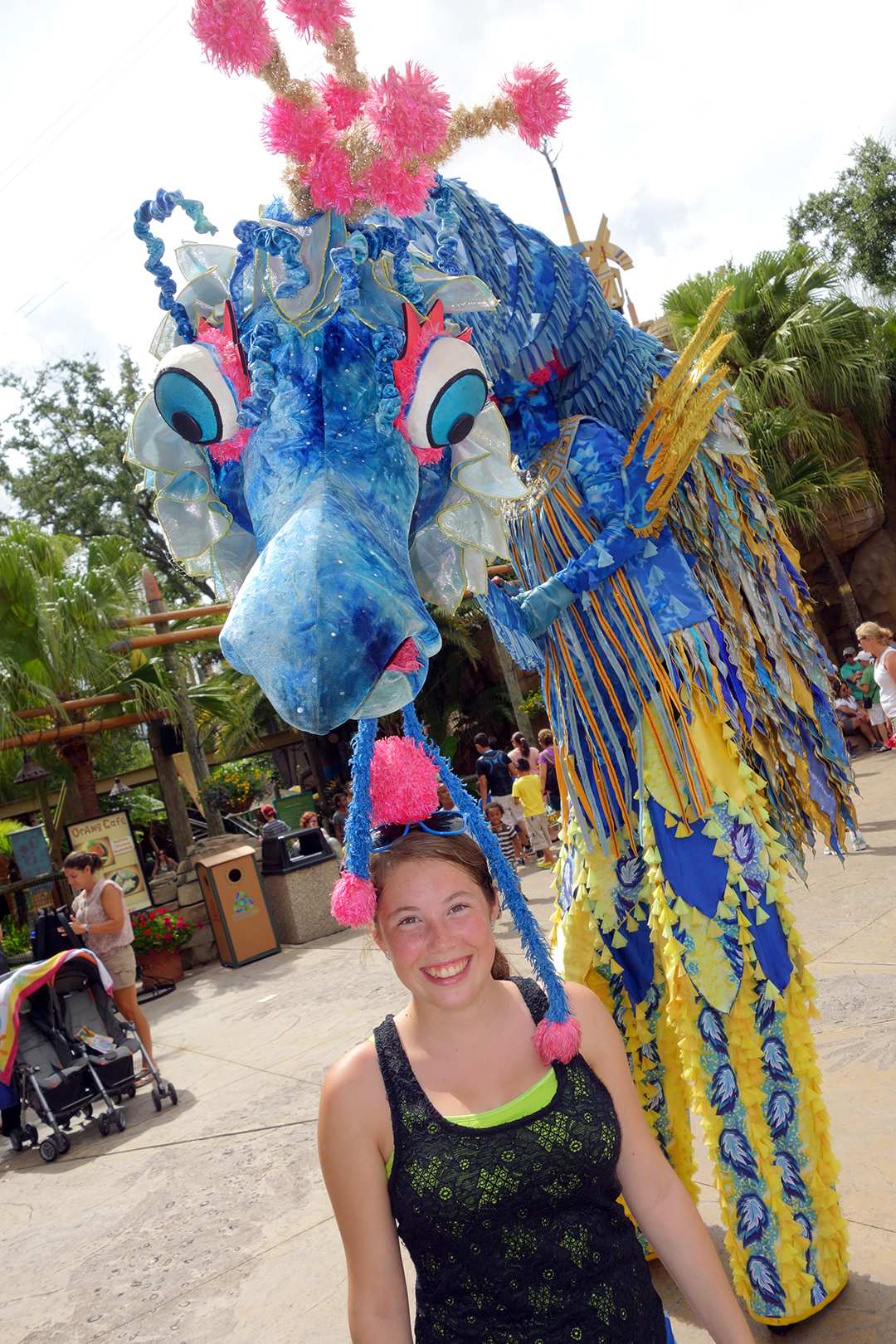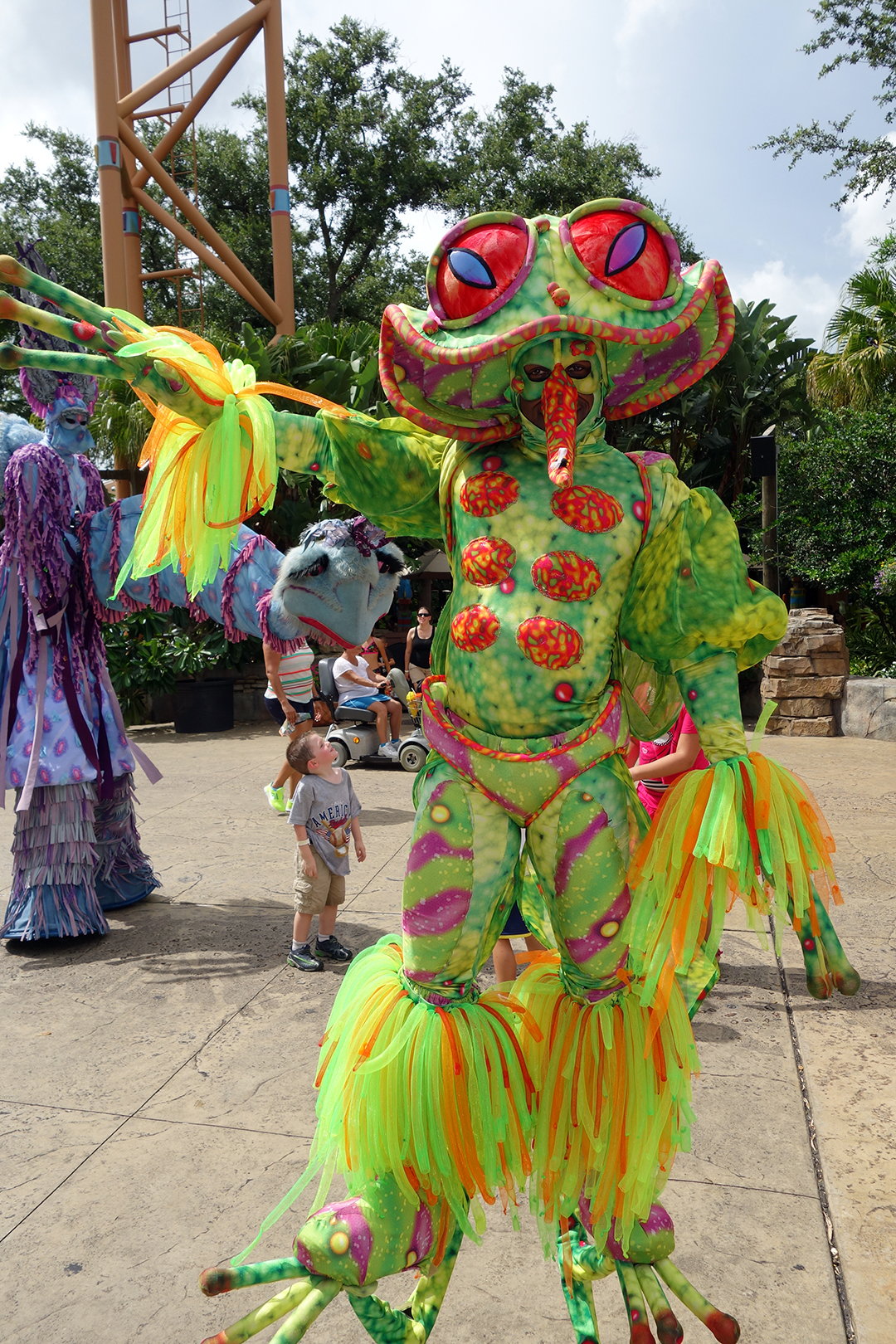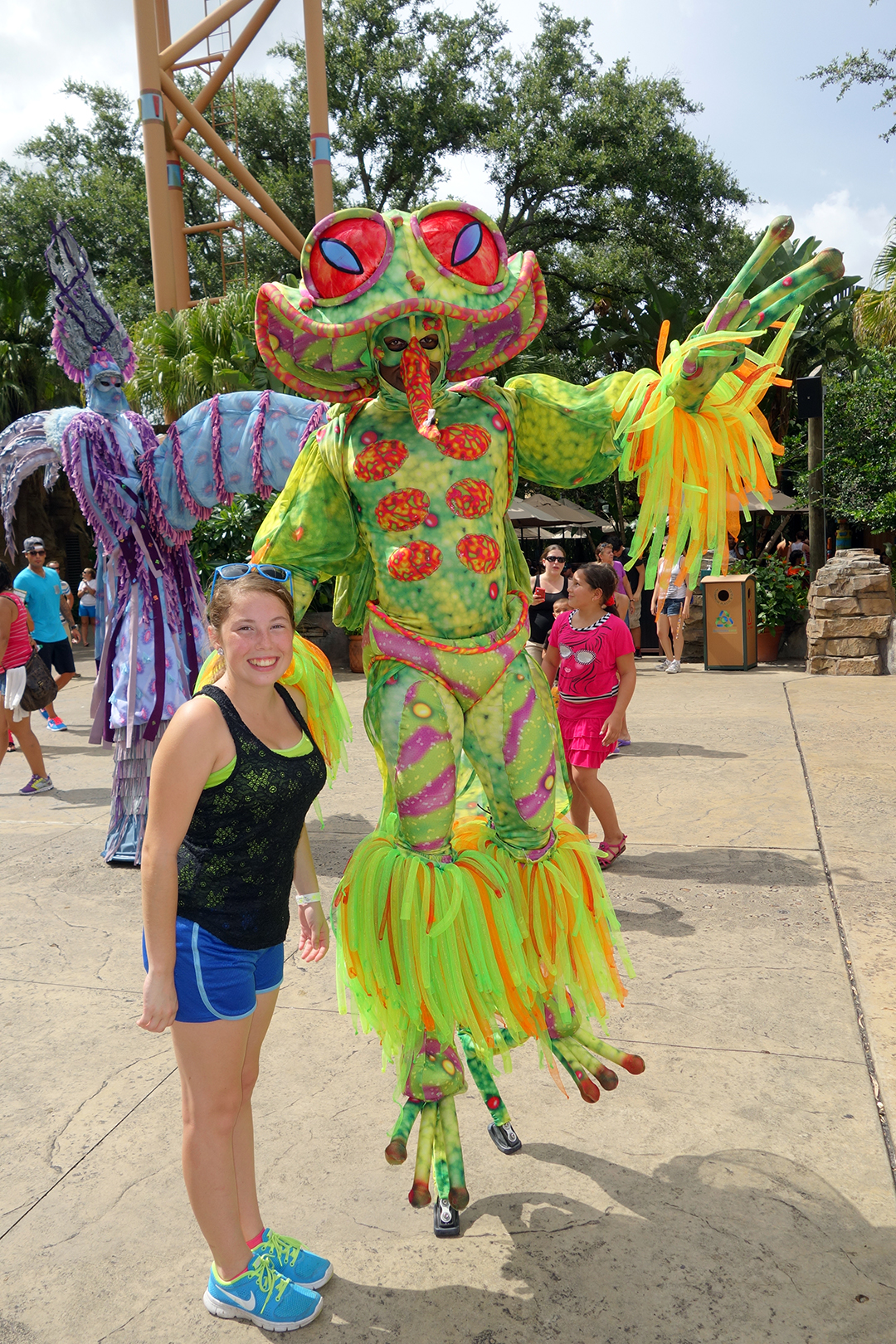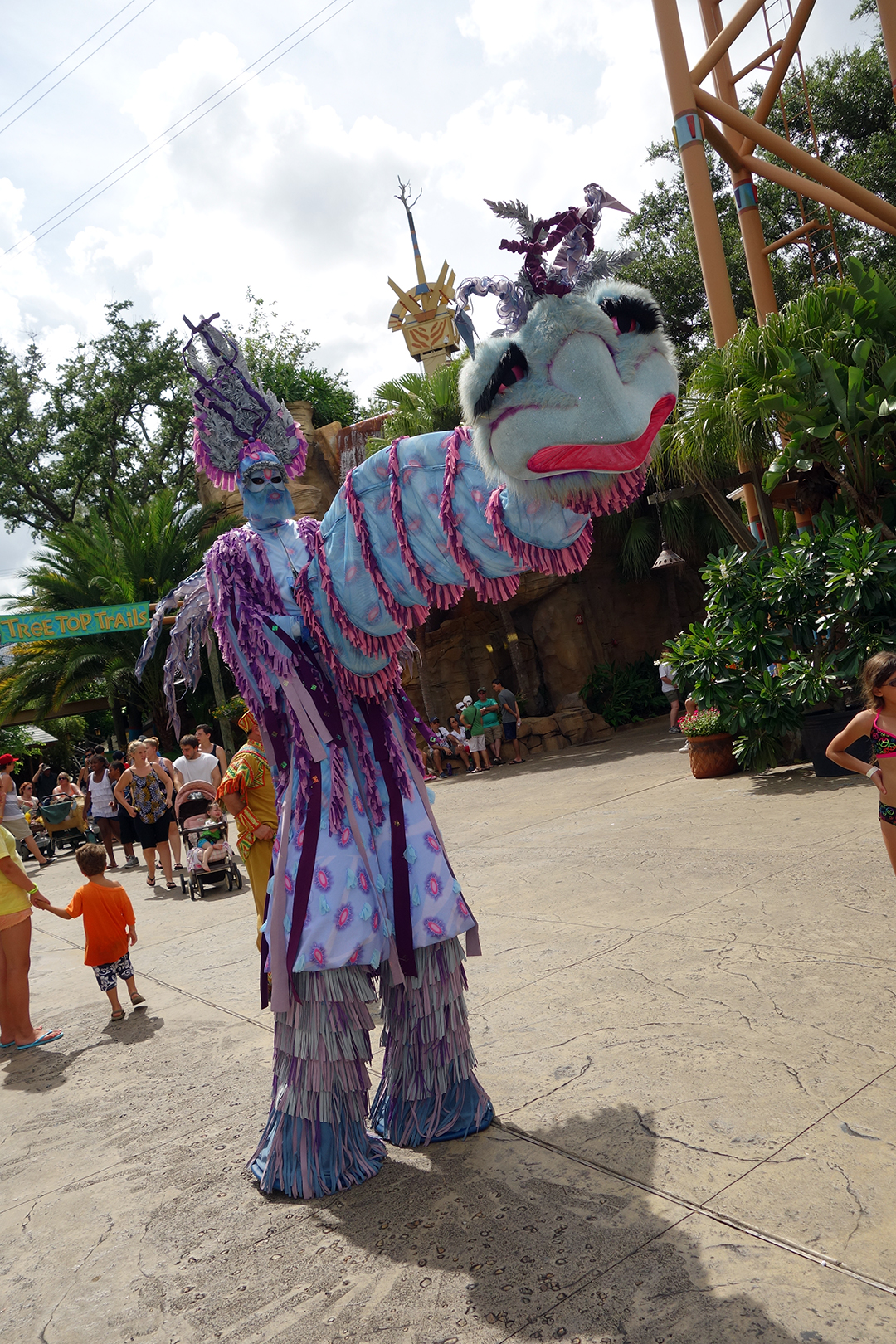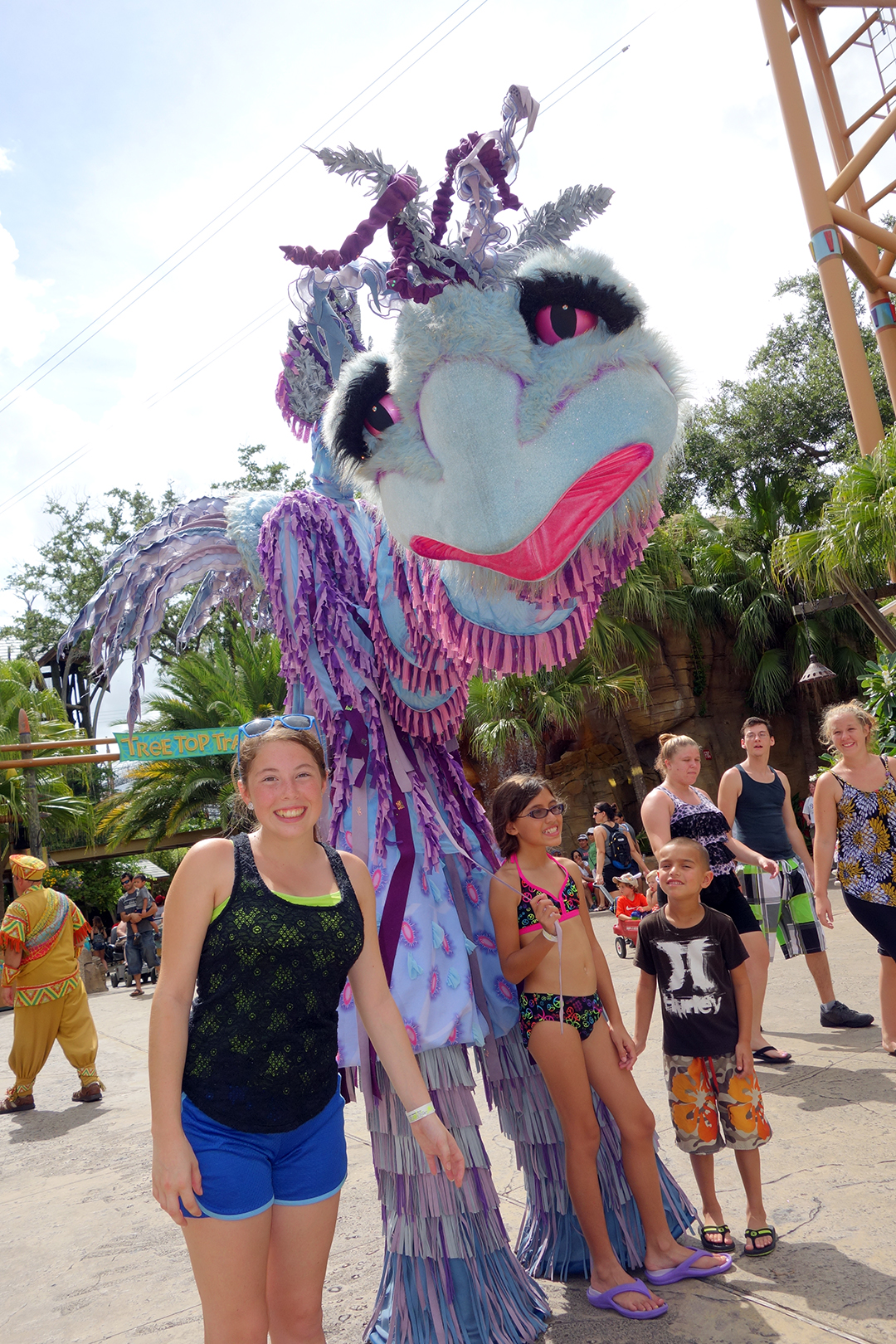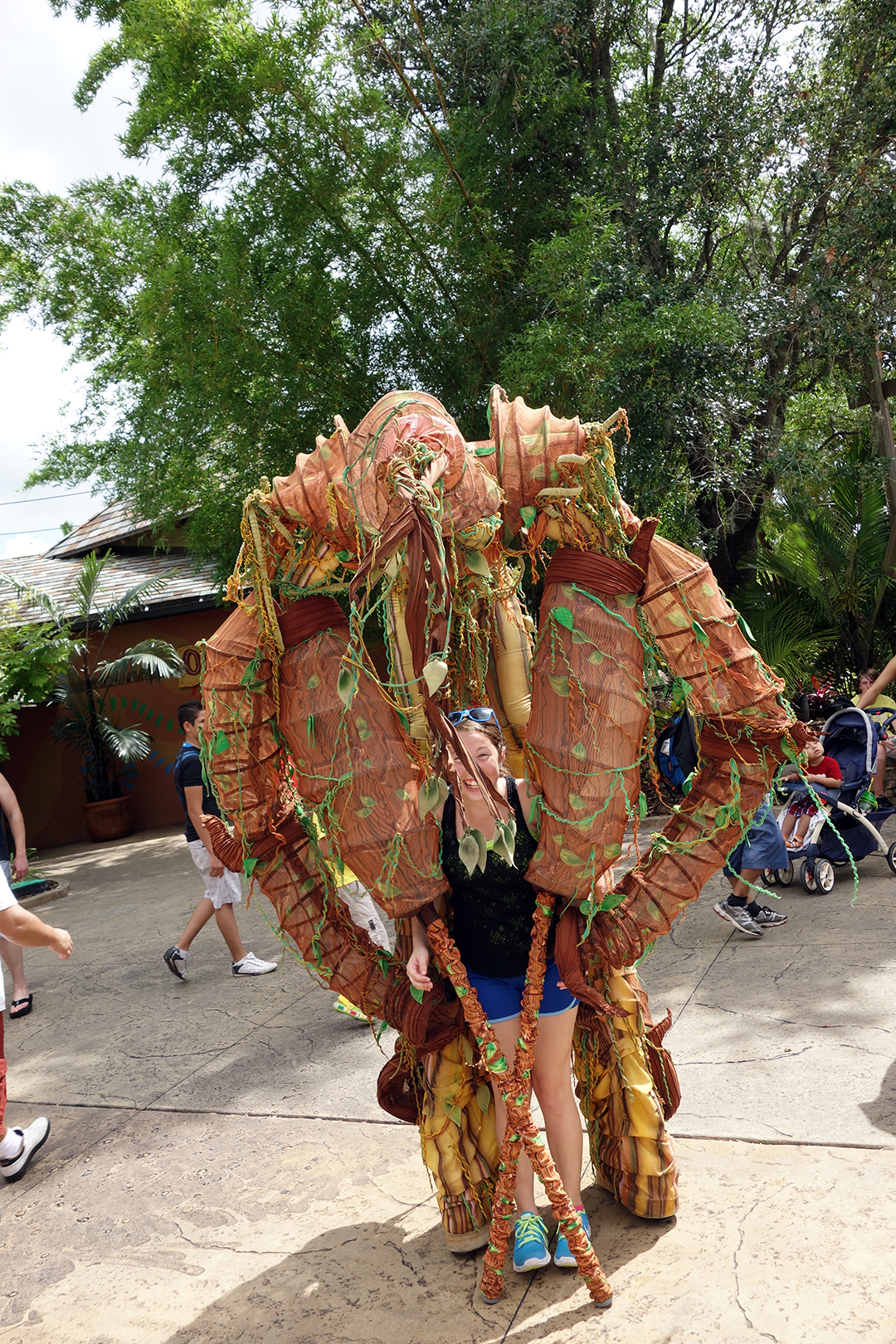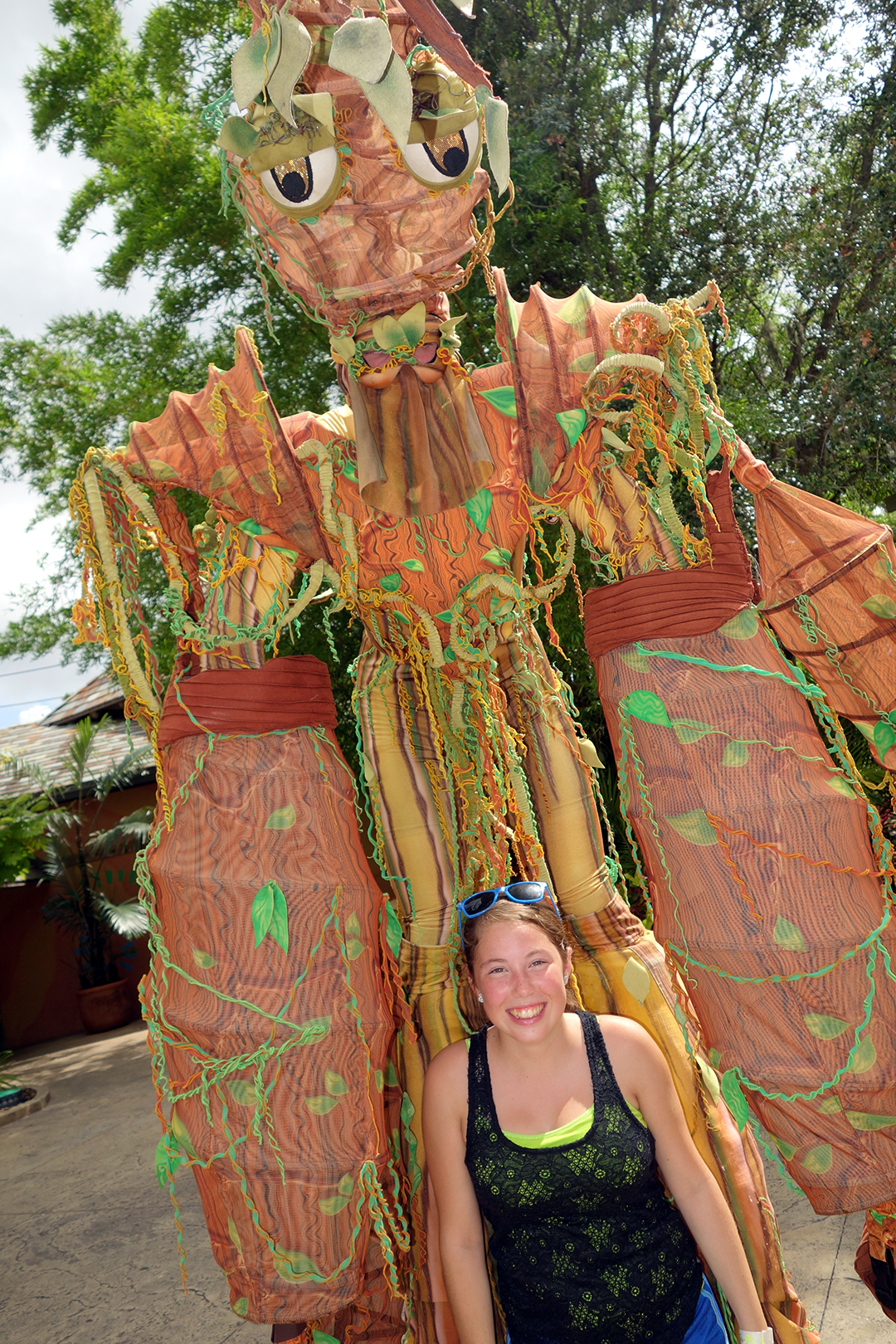 The other characters that Busch Gardens offers are the ones from Sesame Street.  I grew up, well did I really grow up, watching Sesame Street and Cookie Monster was always my favorite character on the show.  We learned that Big Bird offers a regular meet and greet in the Sesame Street area, so late in the afternoon we headed over to the area to find him.  The employee over there who was taking pictures wouldn't even take the photo with my camera and there was no one else in line, so I had to stand waaayyy off to the side behind the rope to take a photo of my daughter with the characters.   Can you tell that this is bugging me? Elmo was hamming for the camera too.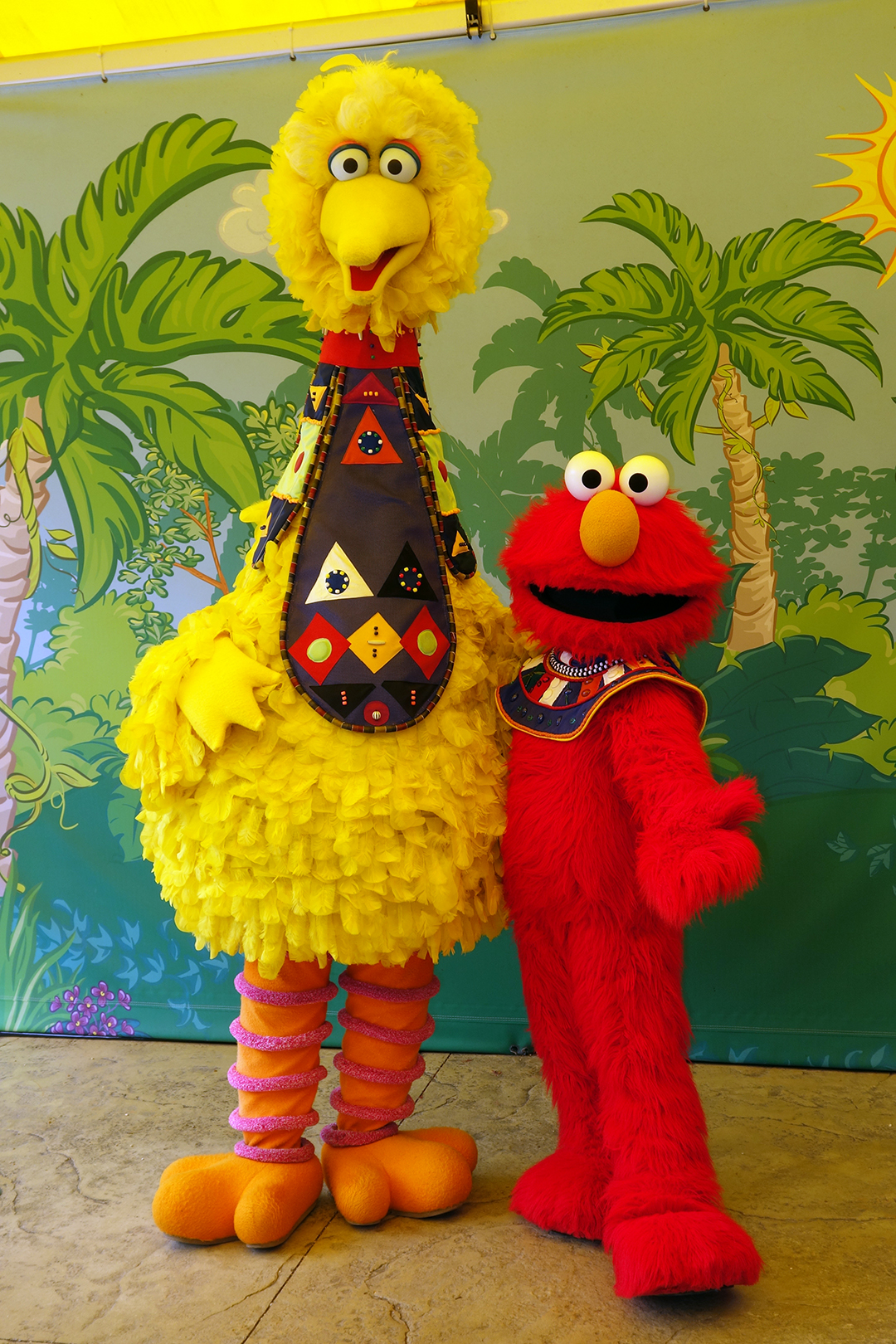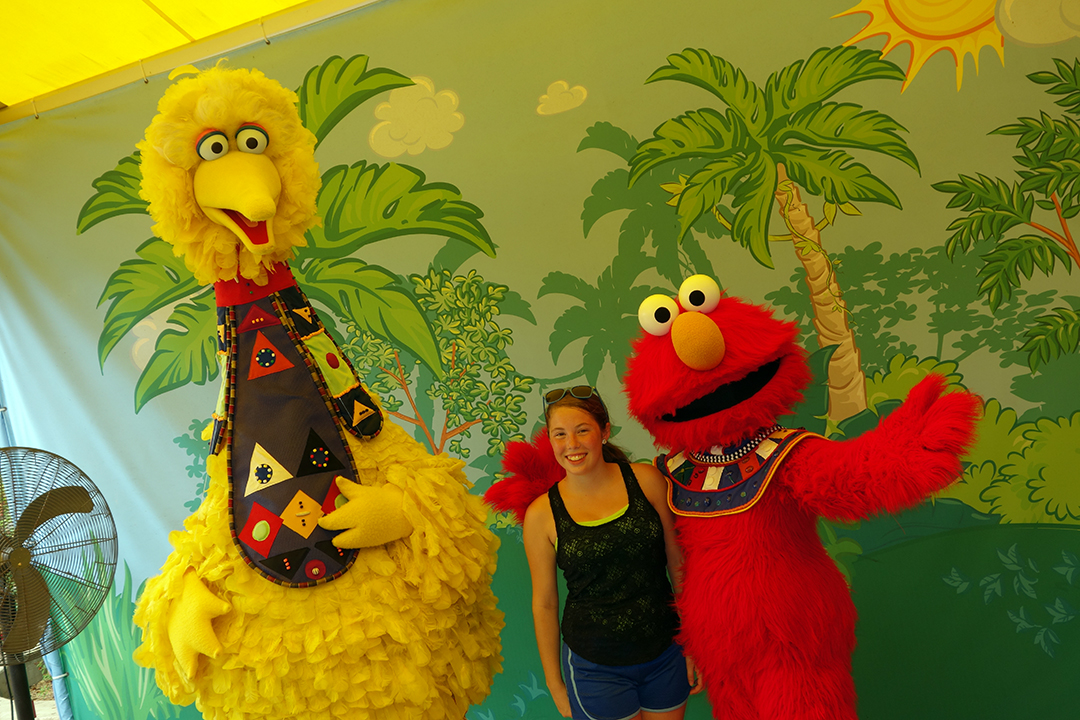 We did some asking around and learned that other Sesame Street characters appear in the A is for Africa show and meet briefly afterward.  We were able to meet COOKIE MONSTER, Zoe, Grover and Abby Cadabby.  They were still onstage and the employee didn't require some strange angle photo from the dark reaches of Central Africa.  This person was actually very accommodating.  My son didn't really want to meet these characters, so he served as the photographer.
On the way out of the park we also saw this belly dancer lady.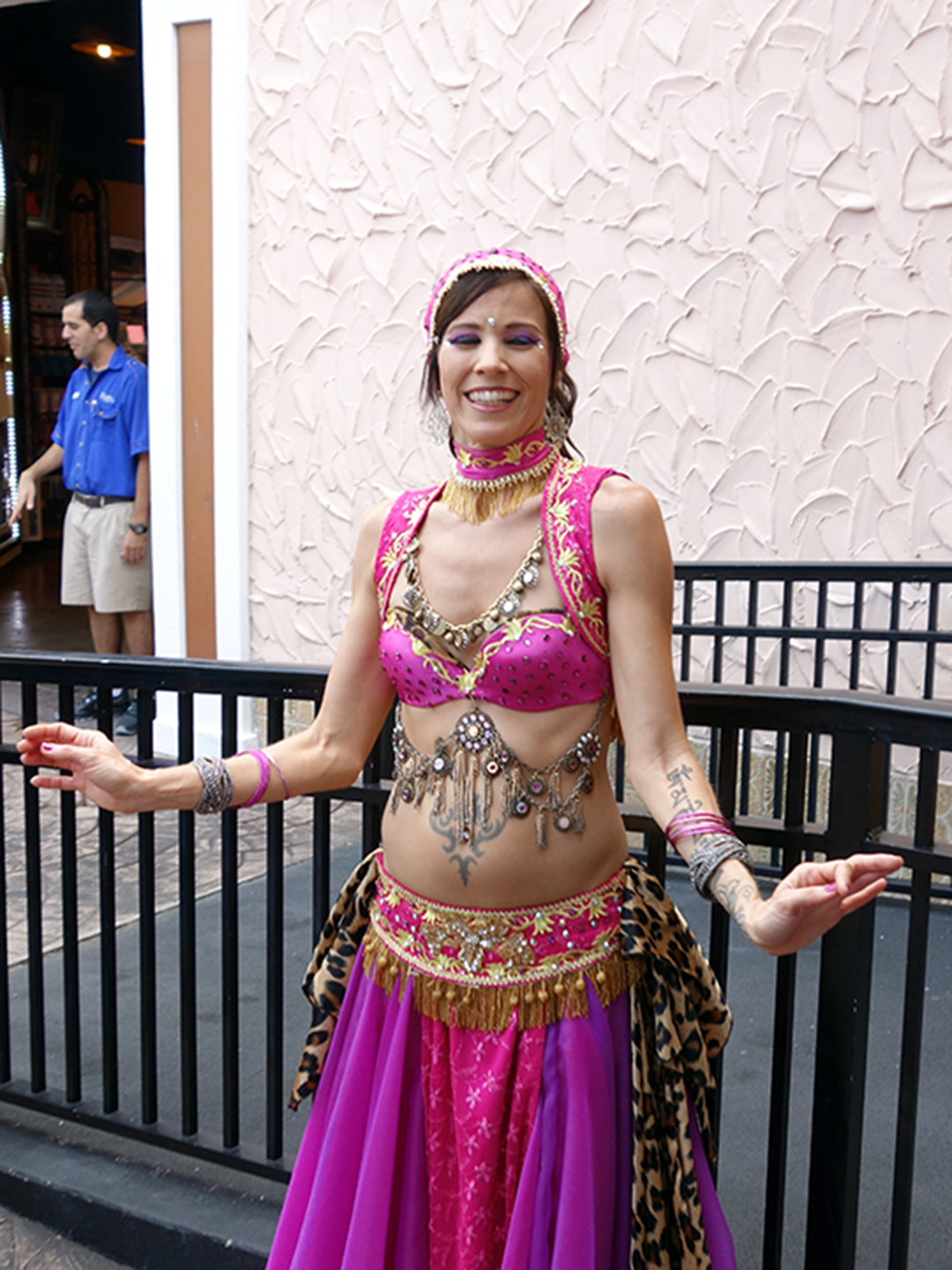 It was nice to meet some characters we hadn't interacted with before and Cookie Monster was really excited that I was wearing his shirt, but the experience with the photos really needs to be improved.