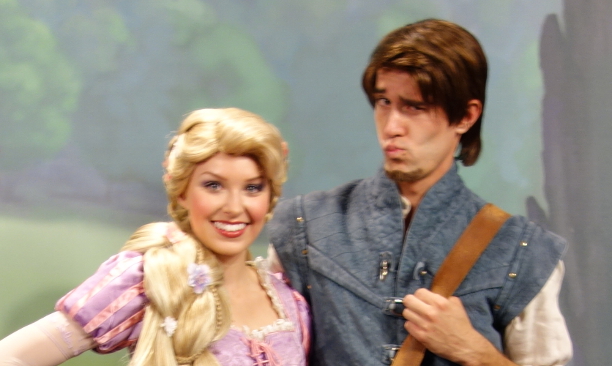 Often, when browsing various web forums for character information requests I come across threads that discuss the schedule disappearance of many great classic characters over the last year or so like:  Beast from Epcot, Flik, Flynn Rider, Jiminy Cricket, Lilo, Meeko, Miss Bunny, Mrs. Incredible, Hundred Acre Wood leaving Hollywood Studios, Pinocchio, Price Eric, Rosetta, Stitch leaving Animal Kingdom & Epcot, Terance, Terk, Thumper, Timon,  and Vidia.  Most assumptions for these characters leaving are financial cutbacks and seasonal losses.  Some people assume that the Walt Disney World has been greatly affected by the world economy, which really isn't true.  Walt Disney World is still very financially strong.  Some people assume it's just seasonal changes that do take place when there are lower crowds expected.  Hours for different entertainment acts and even character meet ARE adjusted seasonally, but characters aren't usually removed entirely based on season.
I've often referred to "budget allocation" and it's been misread to think that I'm saying that it's "Budget Cuts."  If I refer to money or finances, I've been jumped on by some saying I don't know what I'm talking about.  Well, it's not "Budget cuts" or "Seasonal changes" that are causing the reduction in the TOTAL number of characters available in a given park.  The reason that there's a reduction in character count is putting last things first.  "What does that mean," you say?  Disney operates its theme parks on four key values that were developed by Walt himself.  They are Safety, Courtesy, Show and Efficiency.  Walt intended them to be in that order as well.  Safety must always come first.  That is why the Cast Members are constantly asking guests to ask their child to get off the railings or asking them to come down off walls.  (I always told my very active son, "If you want to ride the rails, become a hobo."  As a side note I told him in nice restaurants, "If you don't see a clown, don't act like one." ) Safety is why we have railings around things and can't have sand in front of the new Pirates attraction in Hollywood Studios.  Cast Members do a terrific job making the park a very safe place for families.
Next the cast is taught that courtesy to guests is of a very high priority.  Offer a gentle, not forced smile and be polite when assisting guests.  Cast Members are trained to point the "Disney way" with two fingers or a full hand, to guide guests to their location and to assist them in guest recovery when things don't go as they should.  Disney Cast Members are the most courteous staff members as a whole for any travel or theme park industry.  I've visited hundreds of hotels, dozens of countries, dozens of theme parks and multiple cruise lines.  Through all those experiences the Disney cast have always ranked highest to me and my family.  I've only met one, yes one, truly negative Cast Member.  I've left hundreds of compliments for cast and only one complaint ever.  I don't go to Disney Parks to leave gripes about hard working people.
After courtesy the cast is trained that Show is important.  That is why every cast member wears a costume.  They are part of the show on a stage, even staying in a resort is seen as "on stage."  When I had the brief opportunity to play the role of a pirate, we were shown the yellow line.  The yellow line is the magical dividing line between on and off stage.  It's the place magic happens for guests after it's created offstage.  Parade performers for example continue to dance beyond the gates, because the line is out of guest's line of sight.  You don't see the number of paraders who collapse at the line in the hottest times of the year.  I have a lot of respect for the daily cast who perform on stage.  It's often a difficult, insanely hot job dealing with often irritable and frustrated guests.  Can you imagine how Marie and Pluto feel standing in the hot sun at the flag pole with no shade?
The last element of the four keys is Efficiency.  Efficiency speaks to the ability to provide the same experience to as many guests as possible in one day.  Did you know that Walt Disney World knows an average of how many attractions the average guest will experience on a given day at each theme park?   Rides like the Haunted Mansion, Pirates of the Caribbean and Ariel's Undersea Adventure have a huge capacity and are seen as very efficient rides while Dumbo is very inefficient, thus the addition of a second spinner.  FASTPASS was added a number of years ago to help guests get through lines and spend money in shops.  It was supposed to increase efficiency.  Well, for planners like me it did.  I can ride every ride, see every character and watch every show in one day in most theme parks due to FASTPASS.  However, if you don't use FASTPASS or don't use it well, you are experiencing a less efficient park.  Also, if you arrive at 11:00 am like many guests, your efficiency level is lower.  The future of FASTPASS though is to offer guests what I call "perceived value."  I call it perceived value because they will offer you some FASTPASSes if you are willing to pay a lot of money to stay in one of their most expensive hotels or rooms.  You can even choose when you want to use them with FASTPASS+!  Just seems like a lot of marketing to me.  They will soon offer FASTPASS on almost everything, many that don't need it like Pirates and Haunted Mansion.   They will create even longer stand by lines for Tomorrowland Speedway and The Magic Carpets of Aladdin.
Okay KtP, you gave me a lesson on the four keys, what does that have to do with character meets?  When Town Square Theater opened April 1, 2011 (ironic date?) it ushered in a new era in character meets.  Why was it so special?  Epcot already had the Character Spot for a nice air-conditioned meet and greet area.  Which, by the way, I fully support for the safety of the performers and it's nice for people who want to stand in a nice long air-conditioned line for 30-60 minutes to take a photo with Mickey unless they arrive early.  Town Square Theater was different in a couple of ways.  Without spoiling the magic, Mickey and 2 or 3 princesses are now MORE available now with a shorter line than ever before AND it offers FASTPASS!  As a matter of fact, but not new knowledge, Mickey's FASTPASS is "free" and unconnected from the system meaning you can get that FASTPASS and any other FASTPASS at the same time.  Town Square Theater was also the first attraction to be co-staffed with operations and entertainment Cast Members.  Operations gets you to the last door, then entertainment takes over.  The number of guests through the door matters!  It is tracked and studied to see how many more Photopass pictures they can sell each day.  With Mickey and the Princesses being MORE AVAILABLE, one of two things must happen:  Remove other characters from the park or increase the operating budget.  Are you following me here?  With MORE Mickey and MORE Princess opportunities, there are less other opportunities.  This is becoming the future of the meet and greet.  It's less about the experience with the character and more about processing as many guests through the line as possible.  It's putting last things first.  The guest is still safe, the Cast are still courteous, the show is actually better with all the amazing sets the Imagineers are creating, but efficiency must be met at a character meet just like it were Pirates of the Caribbean or Toy Story Mania.  Last things first.  Efficiency becomes king.
Rapunzel meeting with Flynn Rider was an example of an extremely inefficient meet.  Guests loved meeting the couple, especially Flynn and his smolder.  He was a great character and people were willing to stand in line for hours to meet him.  BUT many thousands of people complained about the long line.  The characters were on stage for a time, say 30 or 40 minutes and off stage for 20 or 30 minutes to rest.  This increased the wait dramatically with more guests joining the line, but the line not moving.  When the couple first appeared in the park, they didn't begin meeting until 10:00 a.m. or after.  The line was HUGE before the couple even appeared, so the start time was adjusted down to 9:15 a.m., which still builds a longer line than necessary if you begin at 9:00 a.m. sharp.  Guests were still waiting in long lines and other guests were still complaining.  The only time I ever actually waited was on Leap Day when the line that was only back to the well took 3 ½ hours!  We usually just went straight there when we wanted to meet them.  They removed Flynn and made Rapunzel MORE available, otherwise several characters would be cut.  Eventually Rapunzel found her way into Town Square Theater with her lowest waits and guests could use FASTPASS.
Some characters have lost their spots in the parks due to dining as well.  When the Tusker House extended to a character lunch from breakfast only, that meant that several characters had to leave regular meet and greets.  I think this is ridiculous, but it's how the budget is allocated.  Even though the restaurant now makes MUCH more money at lunch, the restaurant doesn't pay for the characters.  The characters come from the entertainment budget.  Beast created a similar situation.  Beast met at Epcot intermittently and was then moved to the Magic Kingdom to meet ONLY dinner guests at Be Our Guest Restaurant.  His meet is still provided by entertainment, but most guests never even know he's there.  Honestly, he isn't even necessary at that location to bring in guests at this point.  The restaurant is booked solid for the foreseeable future.   Beast doesn't add to the show by standing by the exit before you leave.  He would add to the show by being at the entrance or in front of the restaurant greeting guests.  The show continues to move indoors as it relates to characters.
So, before we wrap up, let's talk facts and stats and we'll take it park by park.
Magic Kingdom
Daisy, Donald & Goofy – before they moved to Pete's Silly Sideshow they used to meet only half the day and now meet for the full day, which means that either the budget must go up or character count go down (Minnie moved from Town Square Theater).   We didn't have enough of Daisy, Donald, Goofy or Minnie so we need them all day.
Pinocchio, Bert and Wendy left to make way for Rapunzel and Merida.
Periwinkle just cut variety of fairies, not availability.  We lost Terance, Rosetta and Vidia for example.
Gaston was added to the Enchanted Forest.  A GREAT addition and he's very popular with guests.  He is the only character outdoors in the new land and loves to talk about his Tavern.  Great way to sell frozen apple juice and tasty pork shanks.
Marie was added to the flag pole.  I assume it's because her movie is now on DVD and Blu-Ray.   She certainly has longer lines at the flag pole than she did in France.
Ariel and Eric used to meet together in Adventureland.  Ariel was moved into her new Grotto in fin form and Eric was retired to add MORE availability for Ariel in fins and she now meets all day.
Two new Streetmosphere type acts are being added to Fantasyland and Storybook Circus. The Royal Magic Makers (like Fantasyland Citizens) and Storybook Giggle Gang (some type of clown group) are being added.
Epcot
We lost Stitch and he was replaced with Goofy.
The new Epcot Character Spot is said to offer FASTPASS which offers MORE availability, but they went ahead and retired Beast, Marie, and Sailor Donald, and Goofy's hours were reduced.
Hollywood Studios
Winnie the Pooh, Eeyore and Tigger were traded for Wreck-it Ralph and Vanellope.
Piglet has been traded for Santa Goofy in the short term.
Mrs. Incredible was traded out to allow Frozone to meet the entire time with Mr. Incredible instead of rotating.
Someone is coming soon, but I'm not sure who.  Perhaps Sofia the First?  Hollywood Studios is very heavily boy centered in its characters vs. other parks.
Animal Kingdom
Russell and Dug moved in and that was a great thing, but we lost a lot of characters too.
The Animal Kingdom is confusing.  I get that 4 characters were removed for Tusker House lunch. I don't like it, but I get it.  But there were additional cuts made too though.  Is it because the new Bazzar location will offer FASTPASS and require MORE availability, so they went ahead and made the cuts?  Many people have blamed it on Avatar Land, but there isn't a bulldozer in sight yet.   Did the characters smell the diesel fumes and scurry for cover from Camp Minnie Mickey?
As a paying annual passholder (not media) whose family loves meeting characters, it can be a bit disconcerting to see the VARIETY and character COUNT thinned down.  In the effort to create shorter lines, air-conditioned meet areas and FASTPASS usage, Walt Disney World is making a more stale character environment.   Efficiency is king as numbers are crunched and last things are becoming first.