Tropical Depression Fred is currently a disorganized system just north of Cuba.  The system is expected to restrengthen into a Tropical Storm.  Find out the expected timing and track of Fred and its impact on Florida over the next few days. Will you be at Disney during Fred?
Tropical Depression Fred
As of the 8am advisory from the National Hurricane Center, Tropical Depression Fred is located off to the northeast of Cuba.  The system is about 175 miles northeast of Guantanamo, Cuba.  Maximum sustained winds are at 35 mph. 
Earlier in the week Fred was classified as a Tropical Storm, but has been downgraded to a Depression after passing over the island of Hispaniola.  The mountainous terrain cuts off much of the fuel a tropical system needs.
Where is Fred Headed?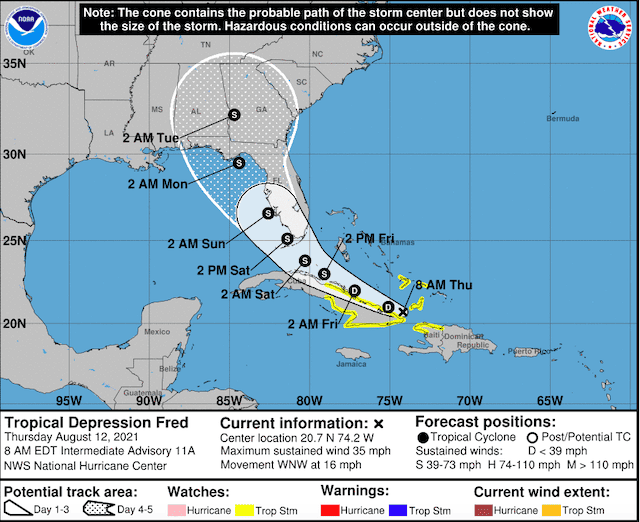 As seen in the image above from the National Hurricane Center forecast, Fred is expected to pass just north of Cuba, through the Florida Keys, and turn northward along the Florida peninsula as an upper level trough forces the turn to the north. 
Fred is expected to regain tropical storm strength sometime tomorrow (Friday) as the system enters a more favorable environment.  Once a storm has maximum sustained winds of 39mph or greater it is consider a tropical storm.
Just about all weather computer model guidance has Fred remaining a tropical storm and not reaching hurricane status which is good news.  Below you can see the expected probabilities of seeing tropical storm force winds.  You can see the Orlando area is in the low chance category below.  In addition, as the storm turns north the greatest threat seems to be offshore or along the west coast.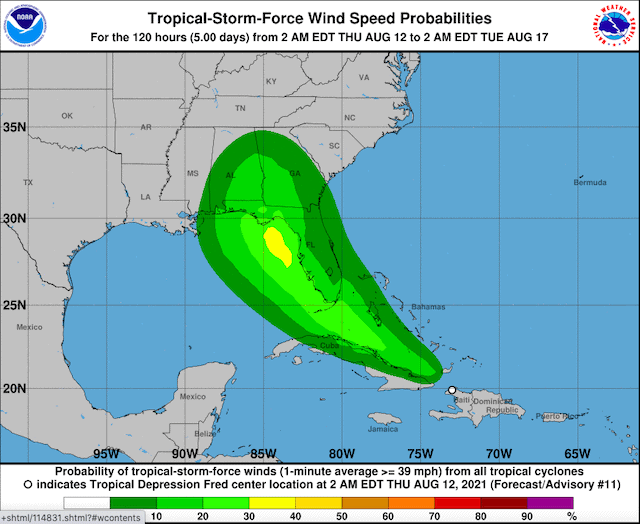 The biggest impacts from this system will likely be the heavy rain.  Areas of flooding are possible with the highest potential across South Florida.  The heavy rain will move up the Peninsula, but greatest impacts look to cover South Florida.  I'm sure we will see pictures on social media of flooded Tomorrowland walkways!
Disney World Impacts
The major takeaway is that operations in Disney should remain mostly normal. I would not change any plans. The highest likelihood of periods of rain, breezy conditions, and thunderstorms from Fred looks to be as we move through the day Saturday into Saturday night and through Sunday. This is in addition to the typical August daily thunderstorms that we see in Disney this time of year.
Disney During a Tropical System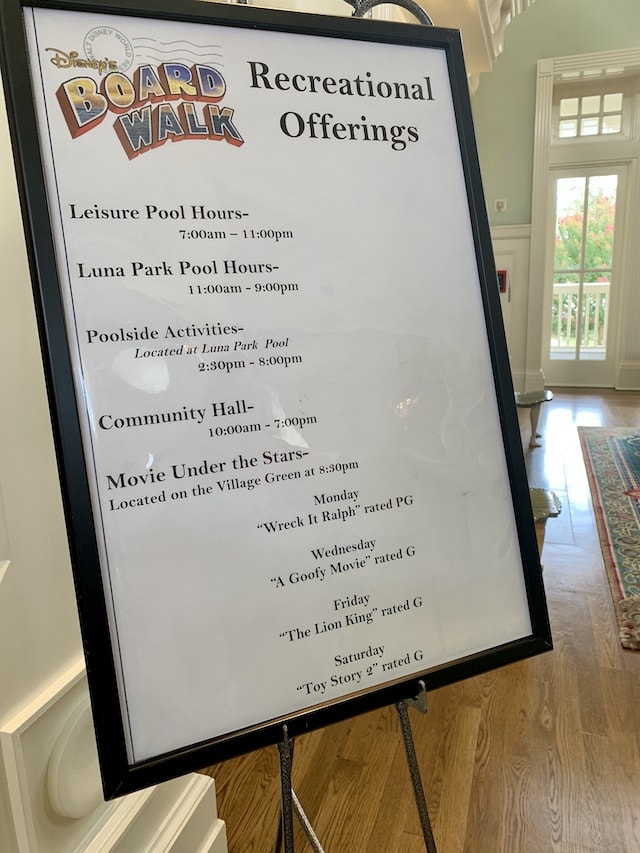 Disney is a decent place to be in the event of a tropical system impacting Central Florida.  Schedule changes and closures may happen in more serious storms, but Disney will do their best to provide alternate inside activities and even provide Hurricane meals if conditions would worsen. 
Disney is actually a place that coastal residents try to book a room at in the event that they are forced to evacuate.  Again, nothing like that is expected with Fred.  
Find a Forecast You Can Trust
If you are in Disney, follow the National Hurricane Center forecasts and follow the advice of local officials and Disney World operations.  There are also a number of local weather forecasts that are great.  Find the one that you can trust.  Rebecca highlighted one last month as Hurricane Elsa approached here.  Be careful of sources that are trying to sensationalize an approaching storm.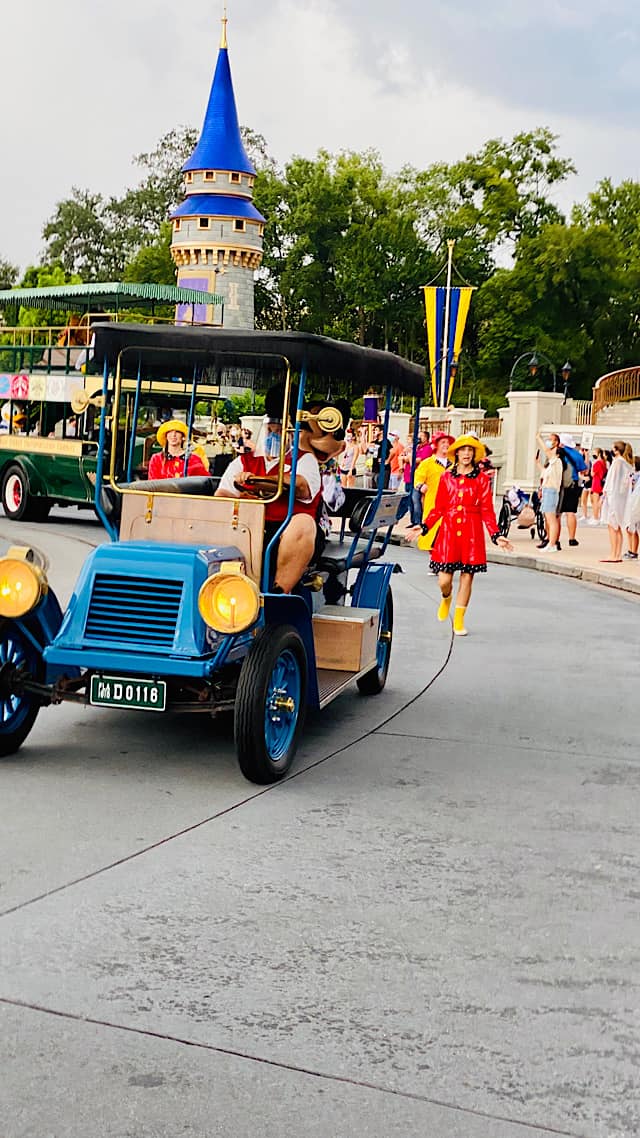 If a source is always picking a computer model that has the most extreme outcome that should be a red flag.  Certain computer models are better at tropical systems than others.  Models that can forecast an east coast winter storm might not do well with a hurricane.  Your weather forecaster should know that. 
Your weather source should take into account multiple computer model projections and always reference the NHC.  The main goal is to provide information that allows people to make a decision that is best for them and their situation.  
We'll keep watching Fred over the next few days.  Have any questions or concerns about Fred?  Let us know in the comments below or on Facebook!
Are you planning a vacation? Reach out to our trusted travel agency sponsor Authorized Disney Vacation Planner
Mouse Class Travel
!