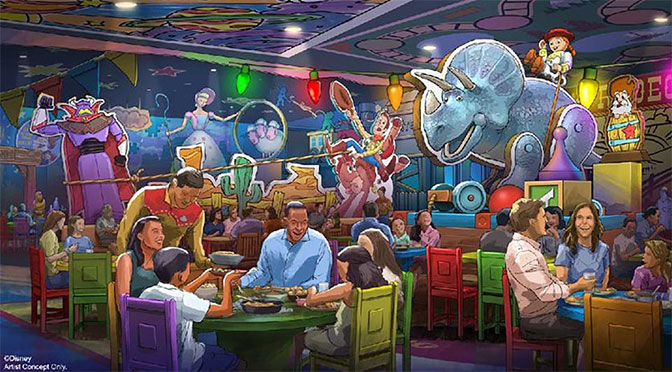 Toy Story Land in Disney's Hollywood Studios will be adding a new Table Service restaurant to be called "Round Up Rodeo BBQ." 
This will be the first new addition to Toy Story Land since the land was completed almost a year ago.  Originally, the plans called for a larger restaurant like this, but it was cut, in favor of Woody's Lunchbox.
The setting is obvious from the art that it takes its queues from Toy Story Mania.  It appears that it will be a family style restaurant and there was no mention of whether characters will appear or not.   If they make it a character meal, it will be a huge hit.  If they don't, it will be another option for dining.
As for the food, it seems obvious that they will serve BBQ style dishes like you might find at Whispering Canyon.  The new restaurant will be located on your right, as you enter Toy Story Land.  Hopefully, we'll hear more about this in the coming days and weeks.