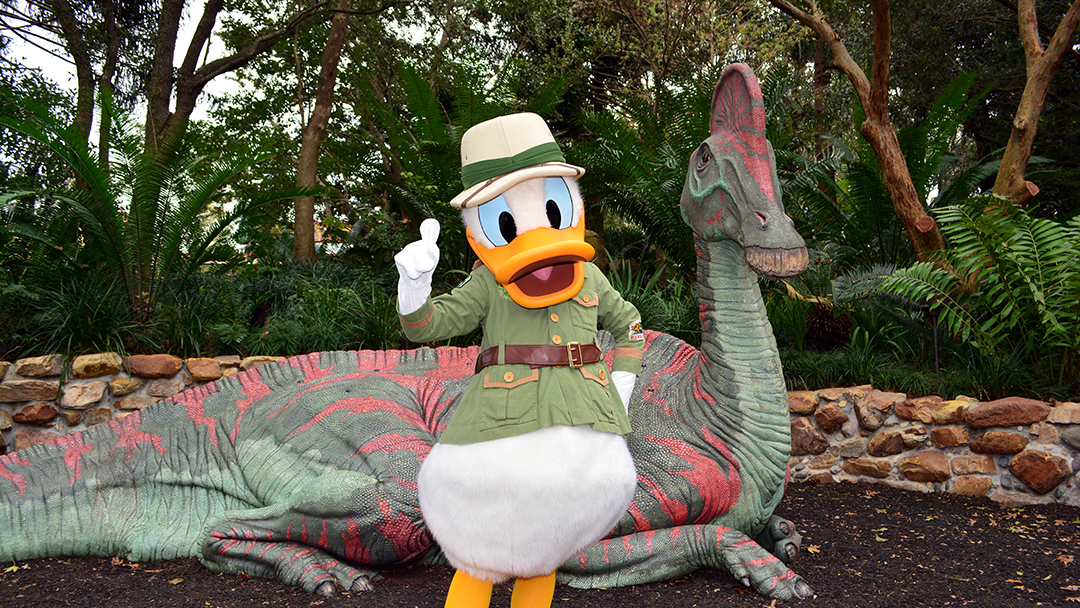 I dropped into the Animal Kingdom today to verify all the new locations that I mentioned the other day.  I had a bunch of people asking if the characters meet on Sundays.  YES, the characters meet on Sundays.  The new schedule began on a Monday and is only posted through this Saturday.  I update the app every Saturday night with new schedules.
I decided to go visit Donald Duck first because I was entering the park mid-day.  Normally, I would start with Pocahontas, then Baloo and Louie, then Chip n Dale and finish with Donald Duck.
DONALD DUCK
Donald has relocated to Dinoland.  To reach him, go to the Tree of Life and hang a right.  (Click on any pic for a larger image)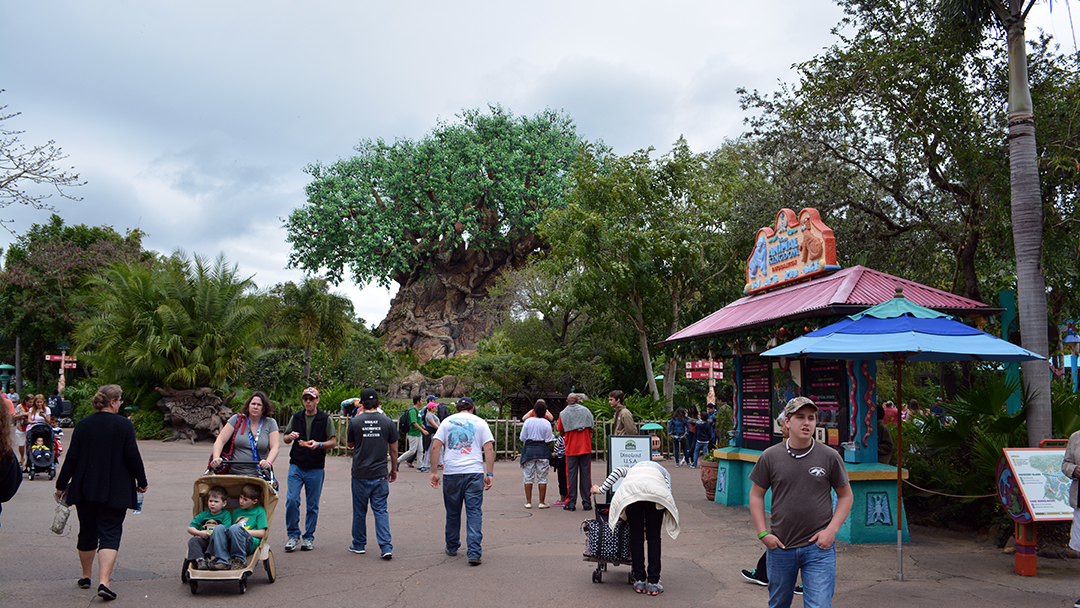 You'll see a sign just ahead that points to Dinoland on the right.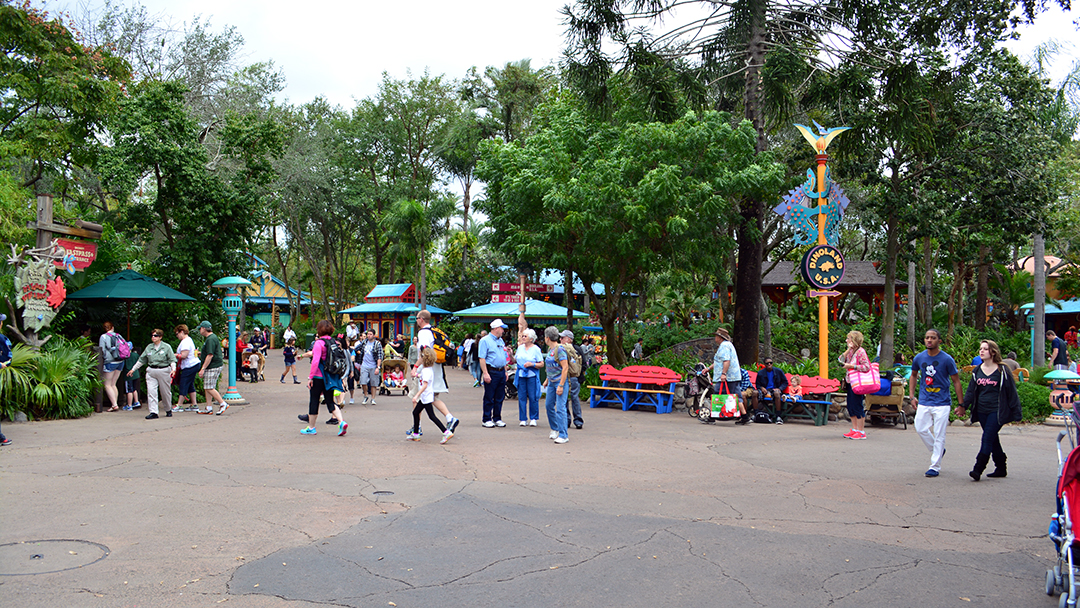 You'll see Pluto and Goofy's regular meet inside the service station on the left, to reach Donald, hang a right and he is immediately on the LEFT at the beginning of the Cretaceous Trail.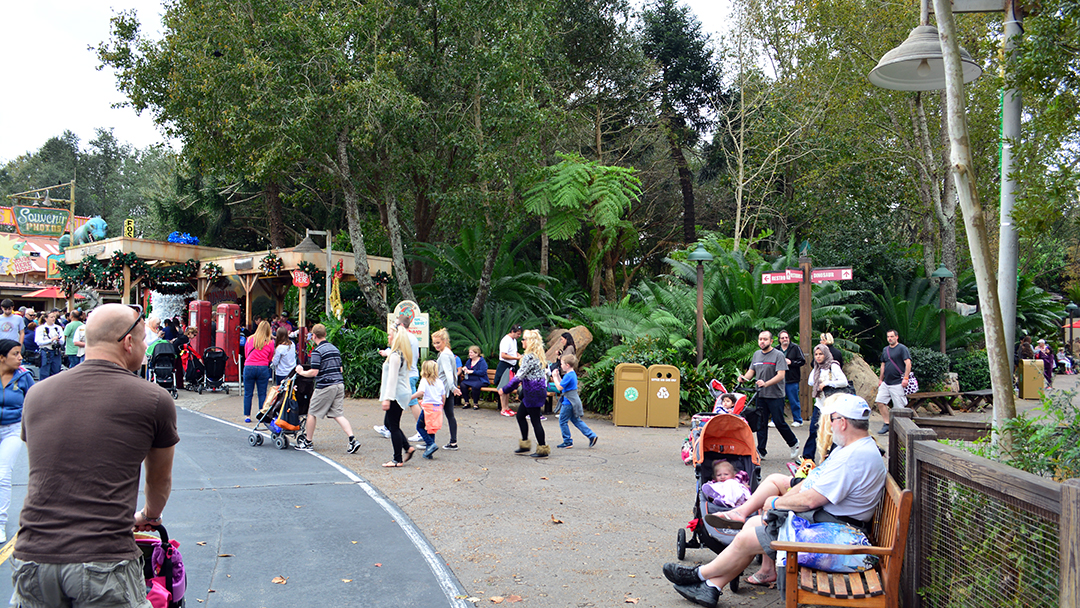 You'll see the green sign below and the line form in this area.  The line was pretty short to meet Donald, but he went for his short break, so the meet took me 20 minutes.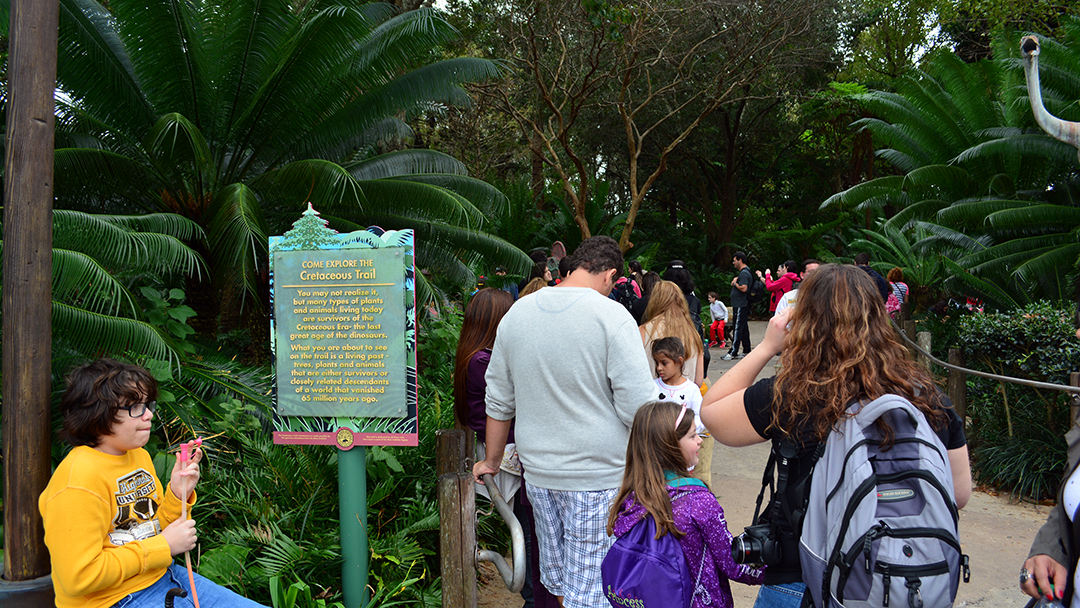 The Animal Kingdom lists the meet as The #1 Duck, it doesn't mention at as said Duck.  We all know it's really Daisy, but we appease his ego.  Donald continues to meet in his regular Ranger uniform.  This would have been a great day to waddle him out in his Duckosaurus costume.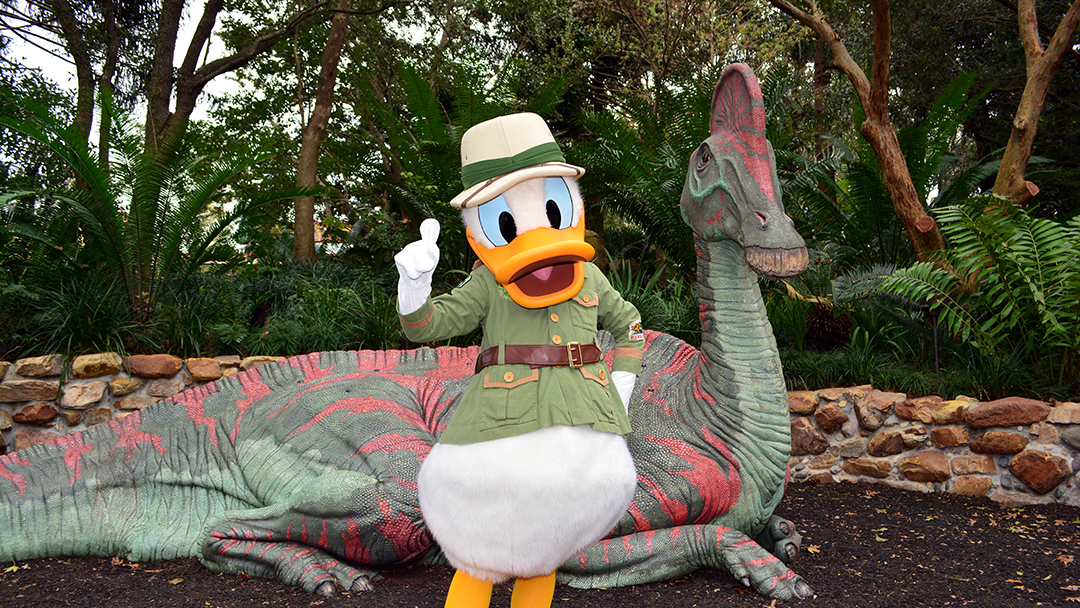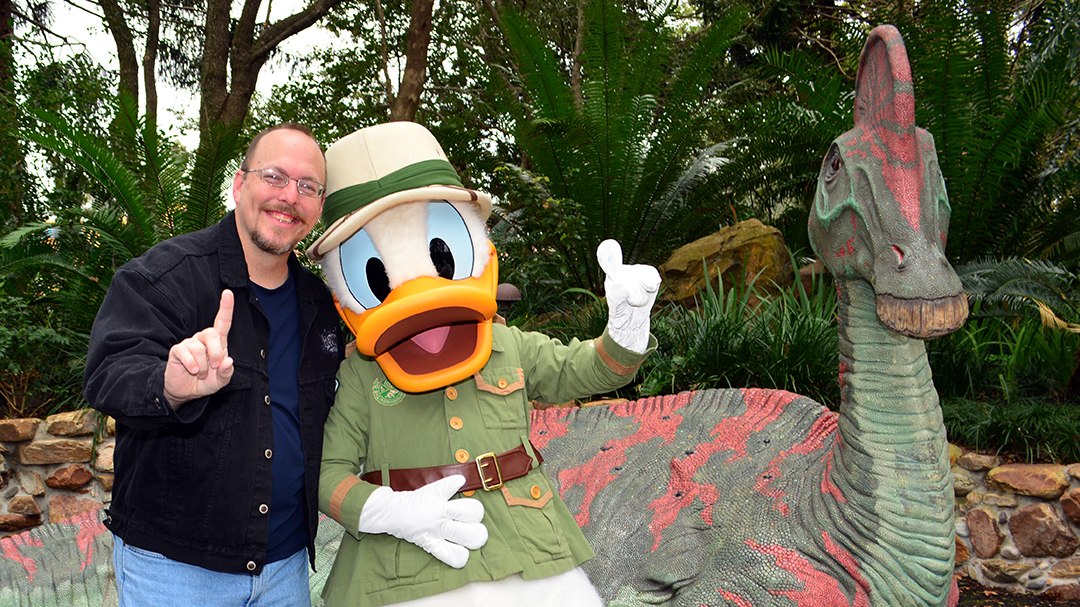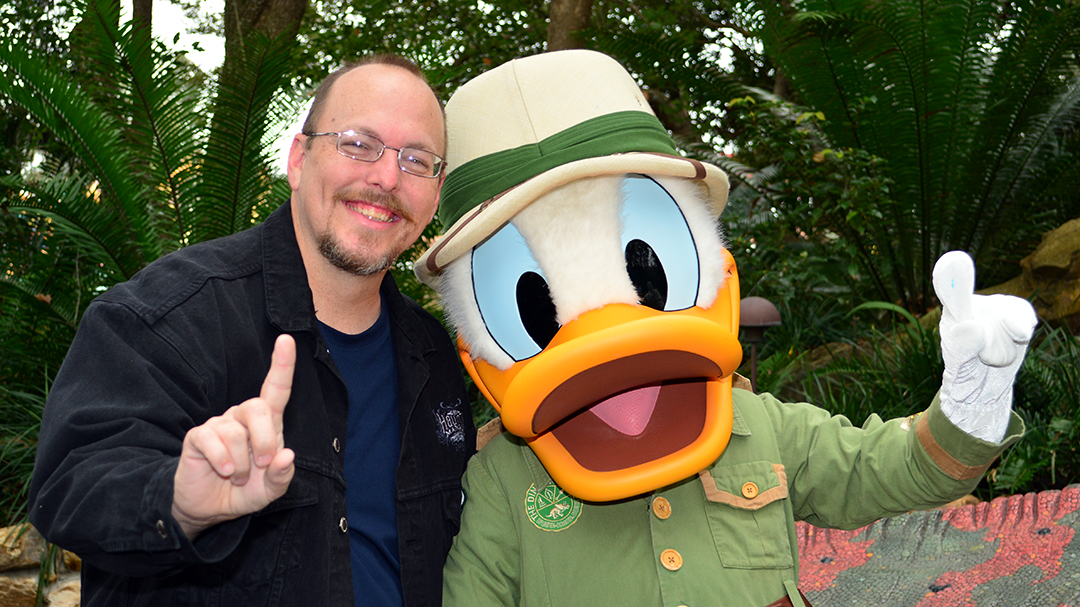 I had heard that Animal Kingdom was testing a new dance party with some rare characters like Mushu, Slim, Gypsy, Meeko, Flik, Atta, Thumper, Miss Bunny and more, but I missed it due to needing some sleep after working all night.  I'll try again.  It's totally unpublished (well, until now) and not guaranteed to happen as it's just a test.  The schedule today was 10:30, 11:30 and 12:30 in Dinoland.  Look for the truck below.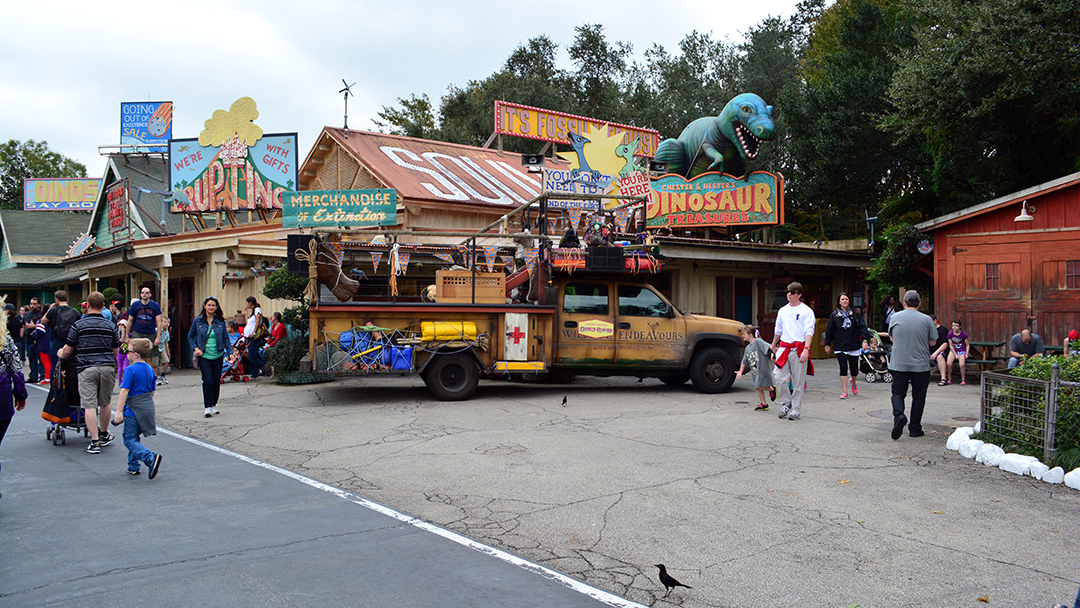 After meeting Donald, I headed over to see Pocahontas.
POCAHONTAS
Next I ventured over to meet Pocahontas.  She has a temporary location on the Discovery Island Trail.  It's basically on the way to Africa.  Go past the Giraffe.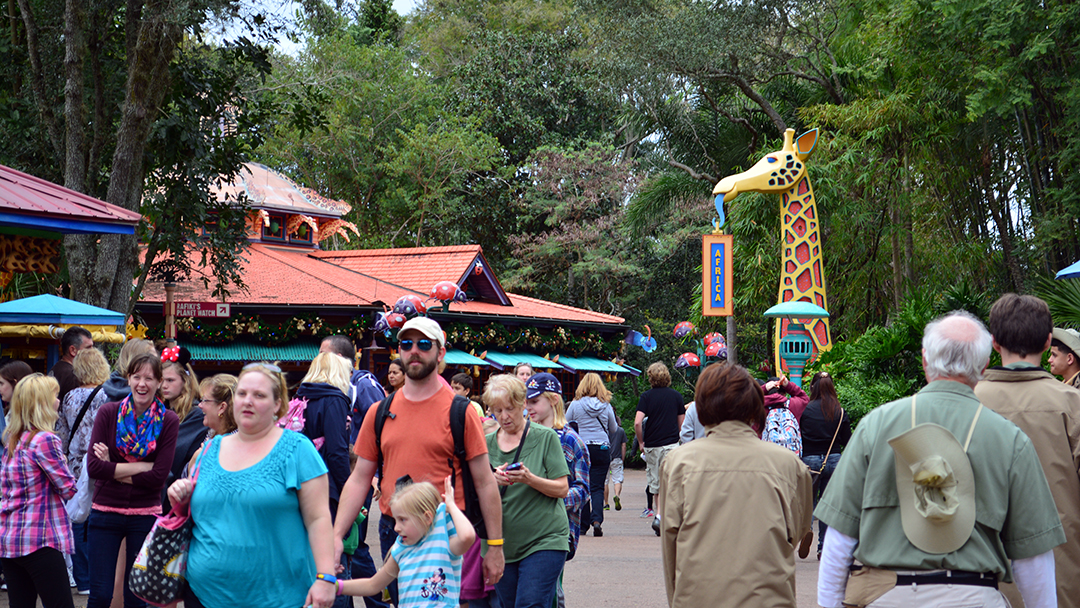 You'll see a little sign for the trail on the right just before the Ice Cream shop.  If you're coming from Africa, it would obviously be on your left :)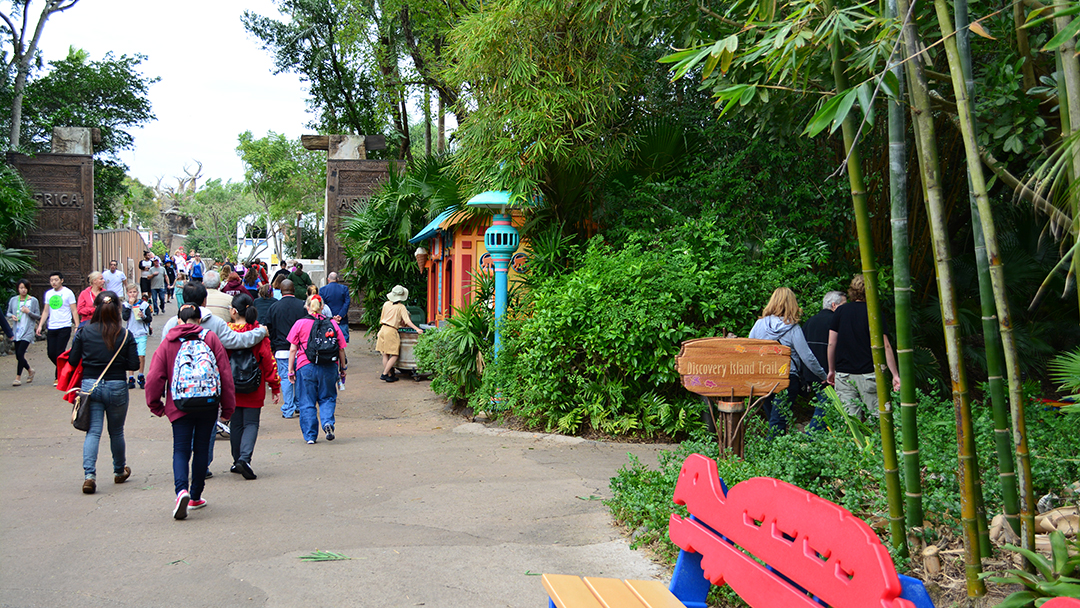 Walk a short distance down the trail and you'll see the Macaw area.  If you get to the Galapagos Tortoise, you've gone too far.  Pocahontas will meet on the right hand side across from the colorful birds, unless it's raining.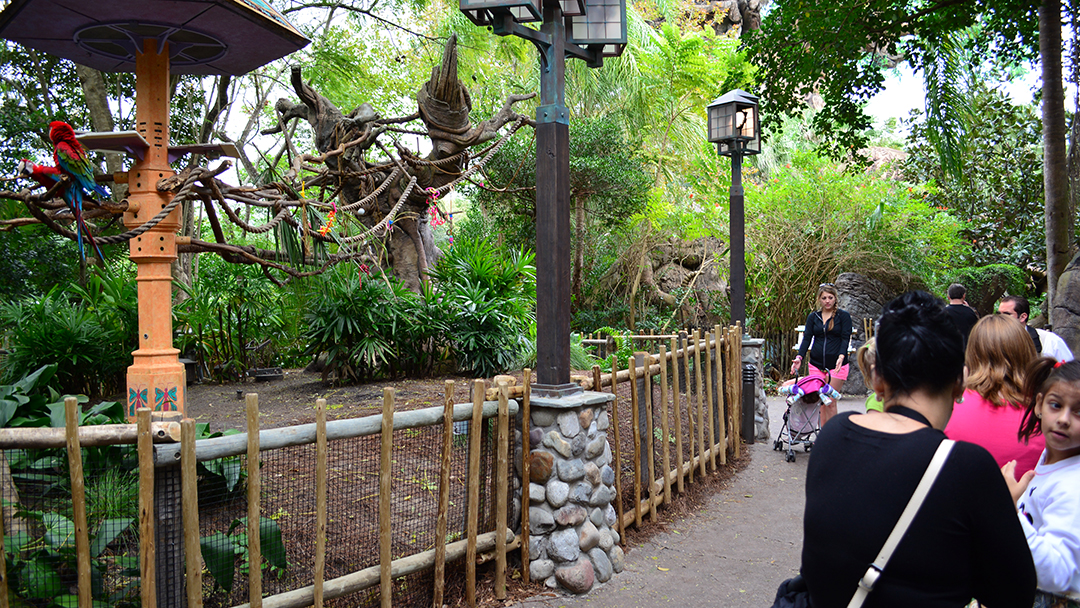 I took a couple of photos of the beautiful birds while I waited.  I arrived about 12 minutes early for the 1:55 meet and saw the line grow pretty quickly.  I was told that the line had been REALLY short in the morning.  It probably took guests 4 hours just to figure out where Discovery Island Trails were located after seeing construction walls a Camp Minnie Mickey's old location.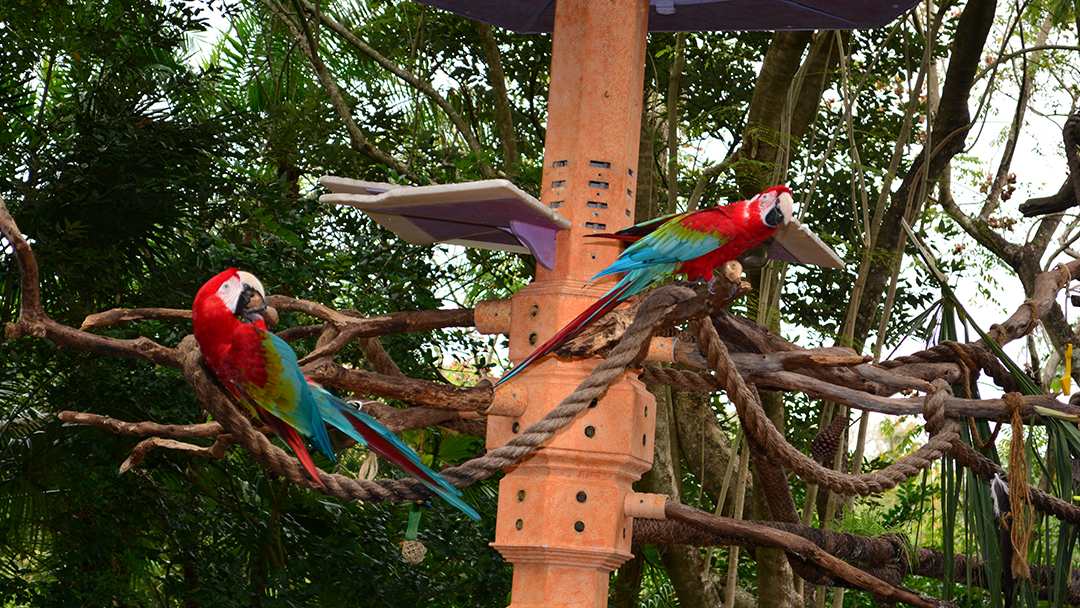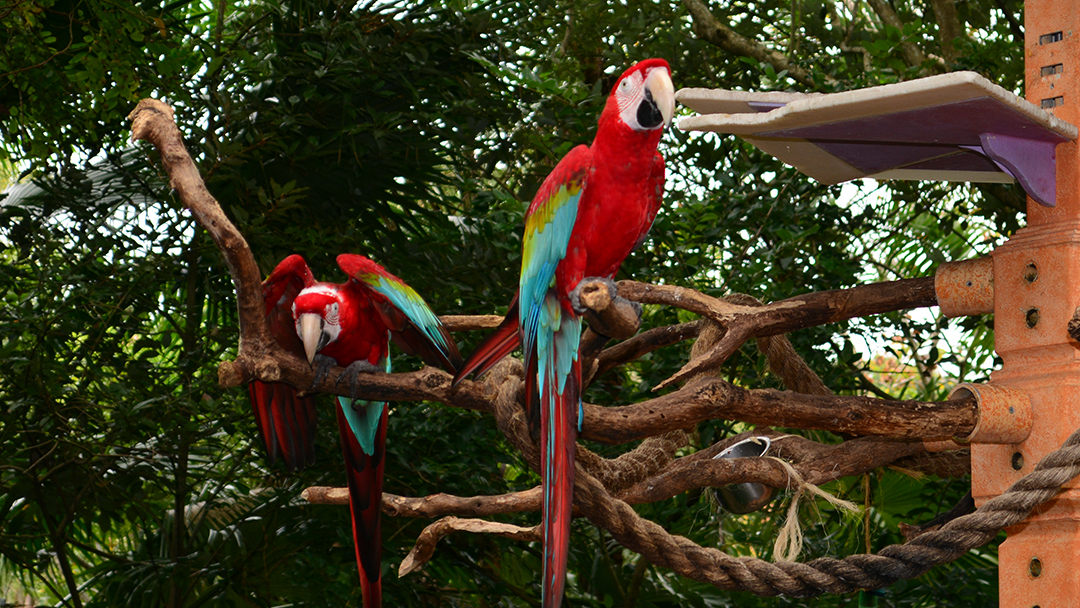 Pocahontas arrived and there was a very light drizzle.  She felt it was best to escort us to her rain meet location.  She asked that we stay in line and follow her.  We started a little Pocahontas parade from this location and followed her over to the Island Mercantile.  If you're familiar with the park, it's the store that is on the left before the old entrance to Camp Minnie Mickey.  Lilo and Stitch used to meet here.  These little girls got a great treat as Pocahontas guided them to the rain location.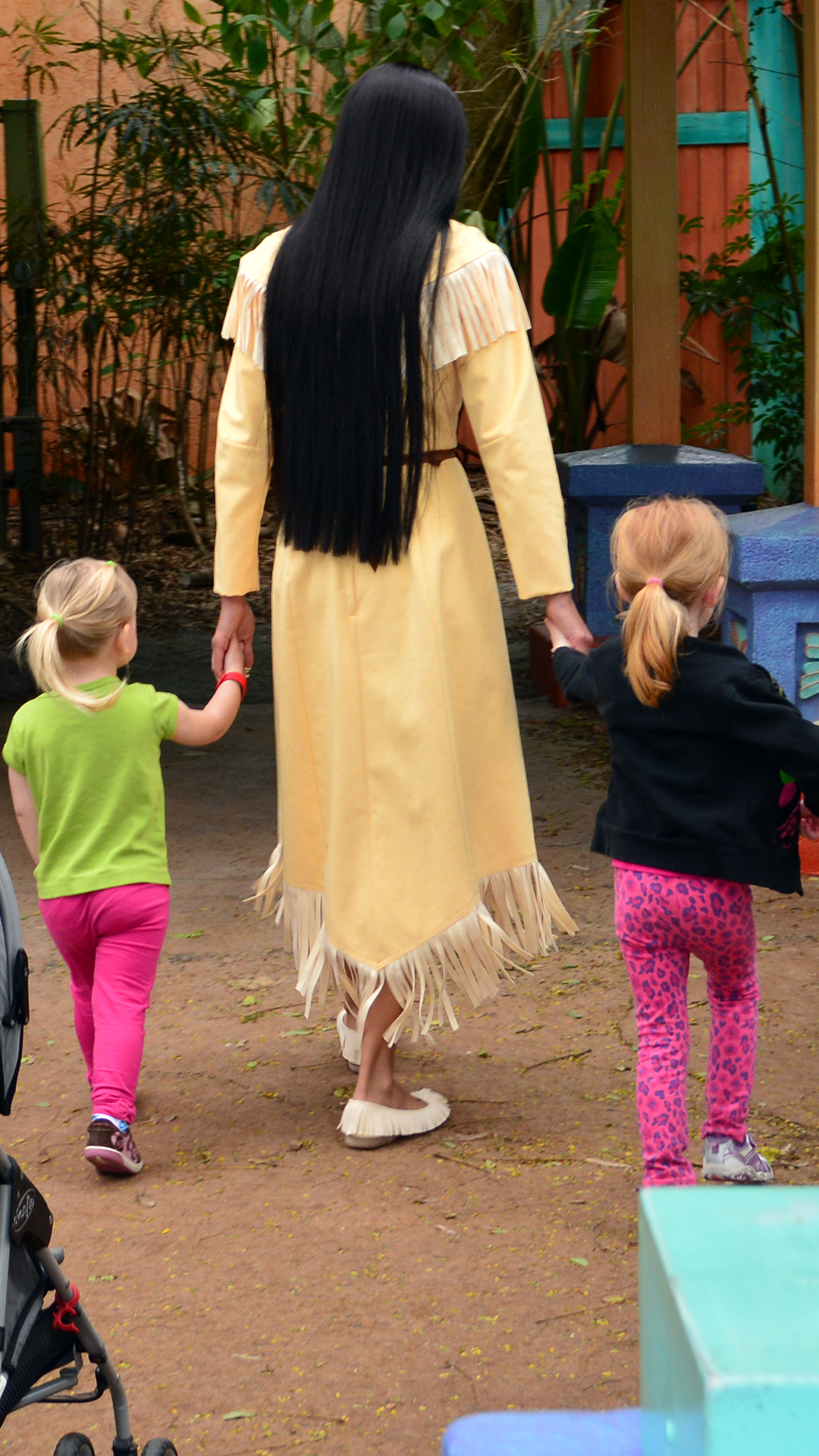 The lovely Pocahontas was wearing her cooler weather dress.  There's a big cold front coming through tonight that will drop lows into the upper 20's with wind chills in the teens.  Smart move to bundle up and dress in layers!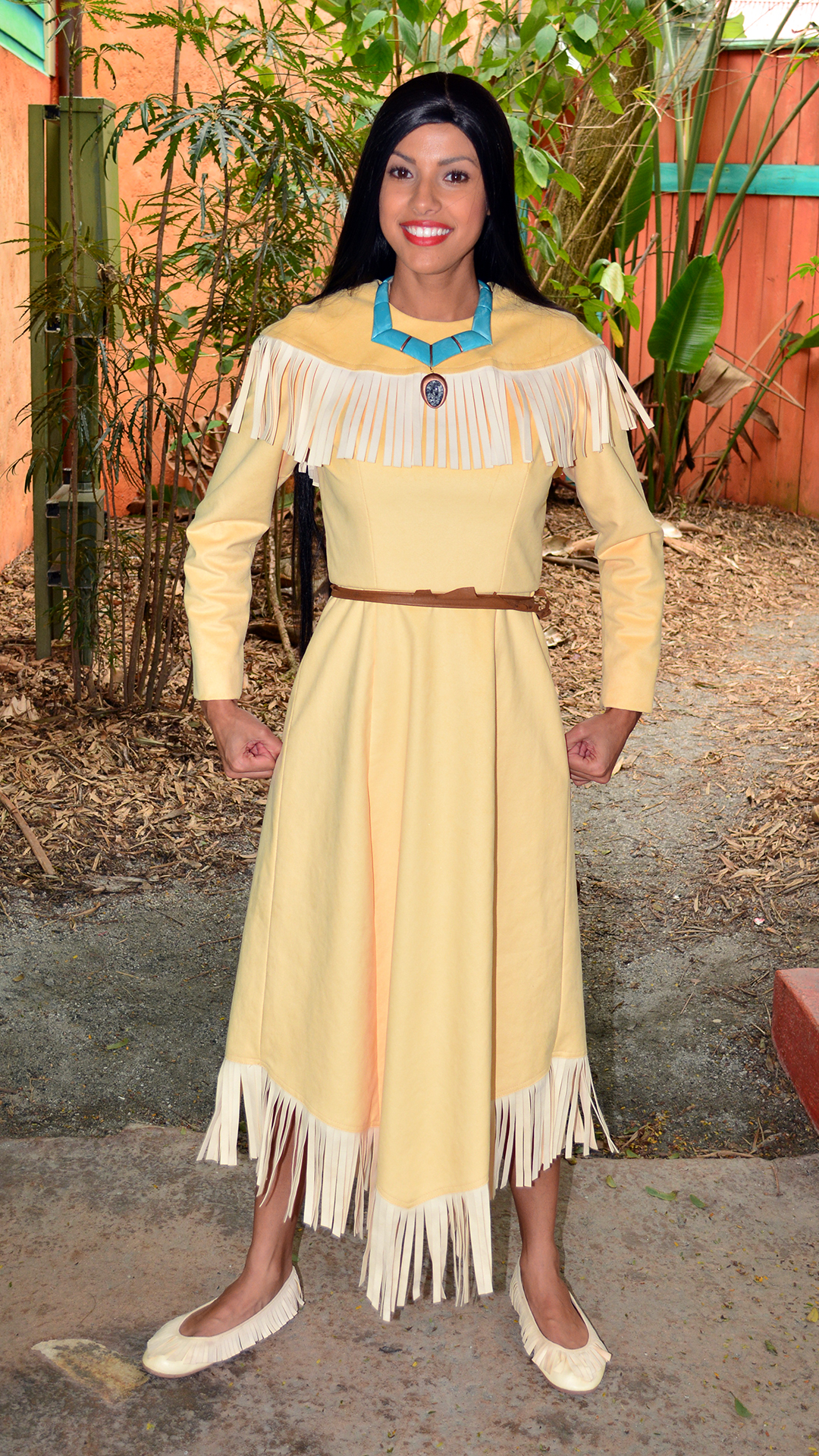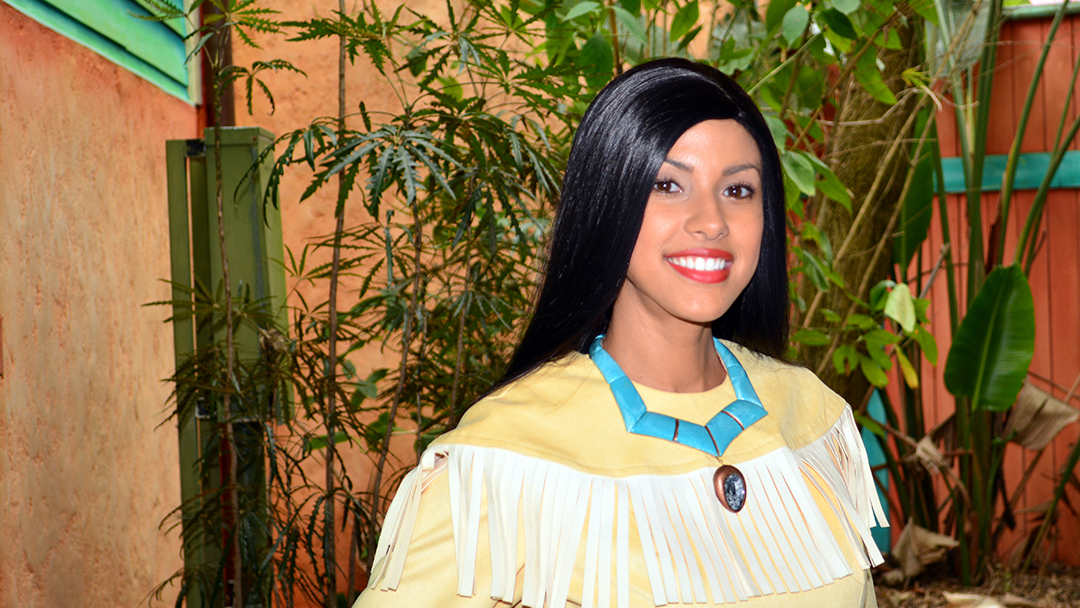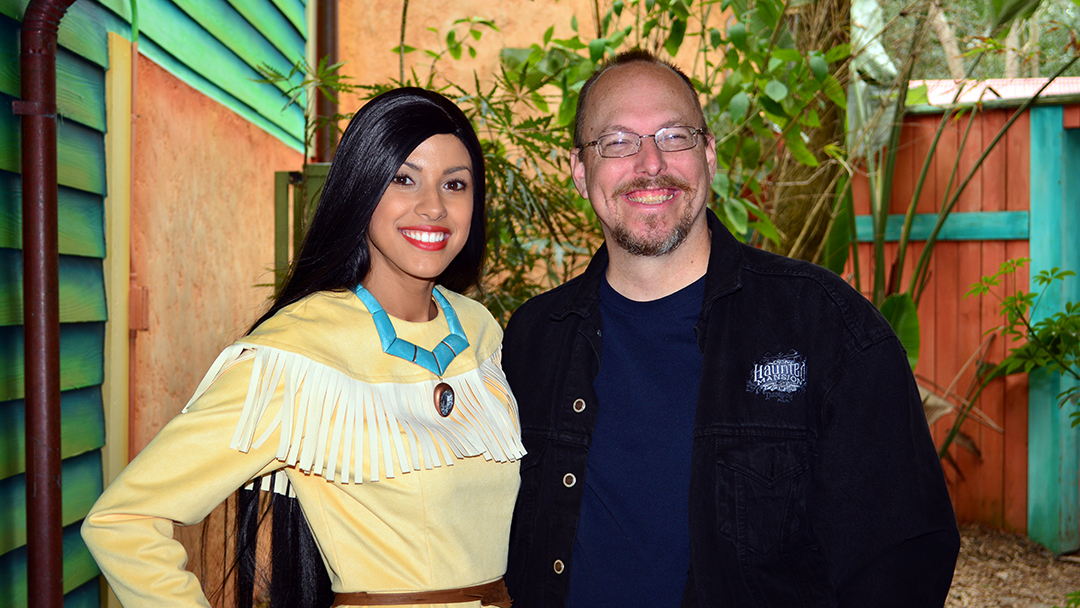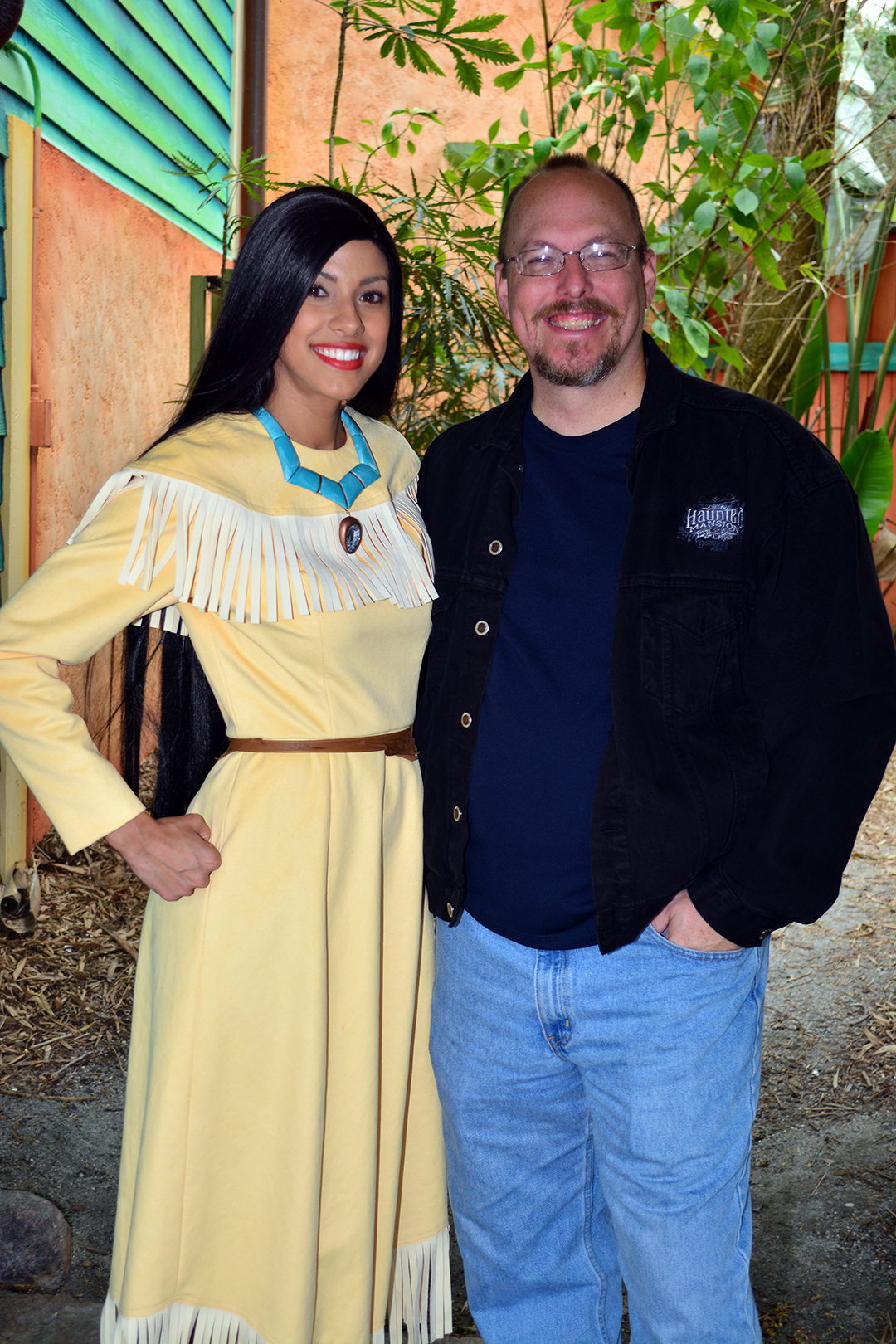 After meeting Pocahontas, I headed over to see Baloo and King Louie

BALOO AND KING LOUIE
Baloo and King Louie have relocated to Asia.  That makes great sense because the movie  actually took place in Asia.  Initially, I was told they would return to the Bradley Falls trail in Africa, but this location makes better sense.  The meet takes place at the Upcountry Landing which is immediately across from Flights of Wonder.  Don't go to this meet immediately after the show!  I was told lines were longer in the morning. There's nothing marking this as a character meet.  Just a sign on the right coming from Africa that informs you it's Upcountry Landing from the old boat right from many years past.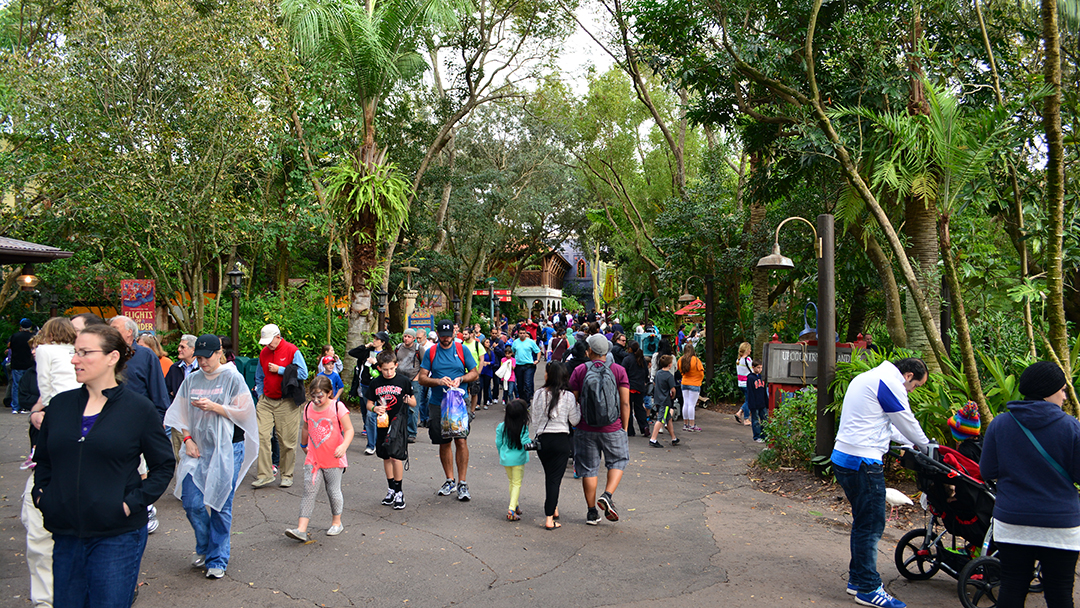 You enter the meet on the LEFT side and exit on the right.  Head down the ramp.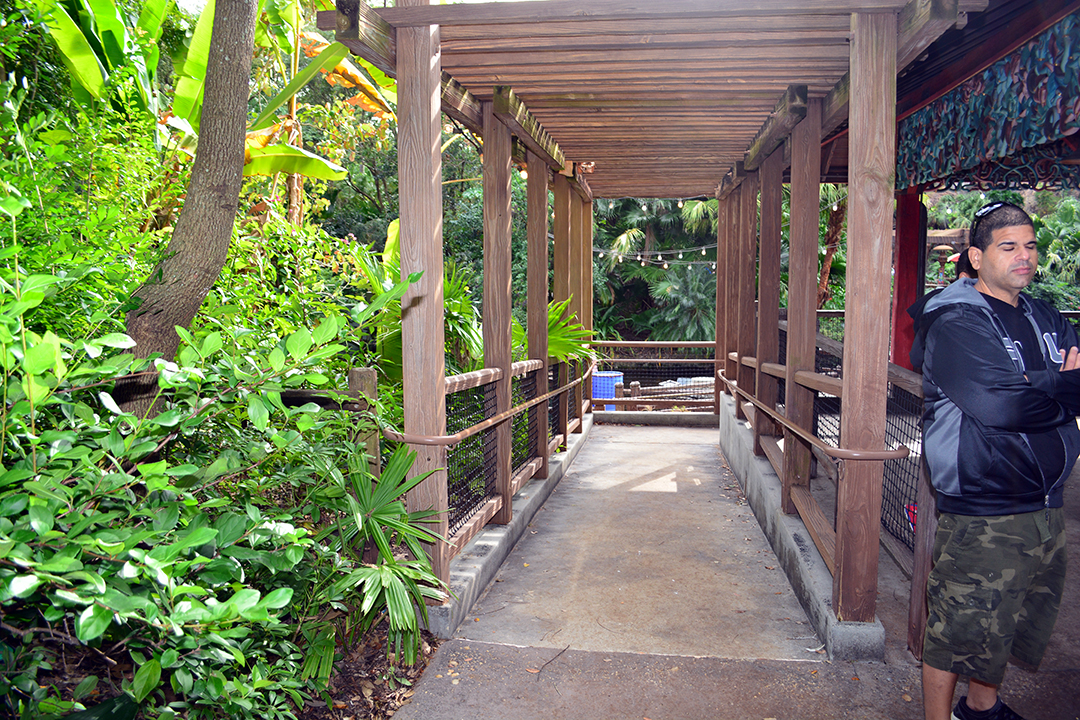 Makes a nice little photo op and you can see 3 different bridges too.  Now head back up the ramp.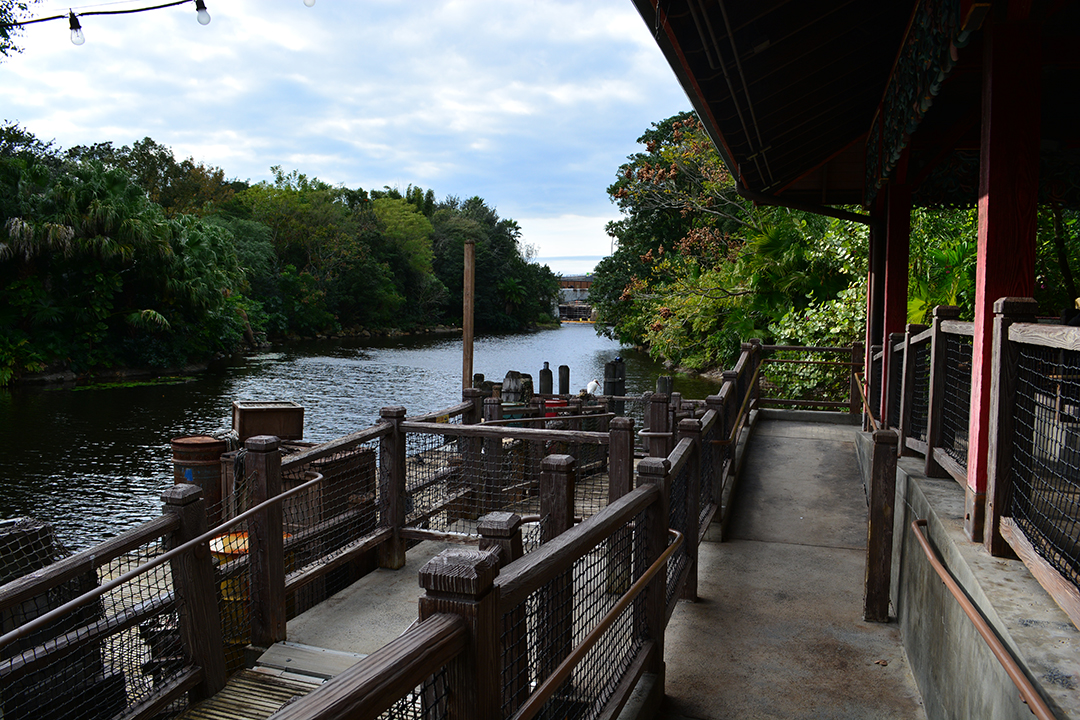 I waited 14 minutes as the characters had just left for a quick break as I arrived.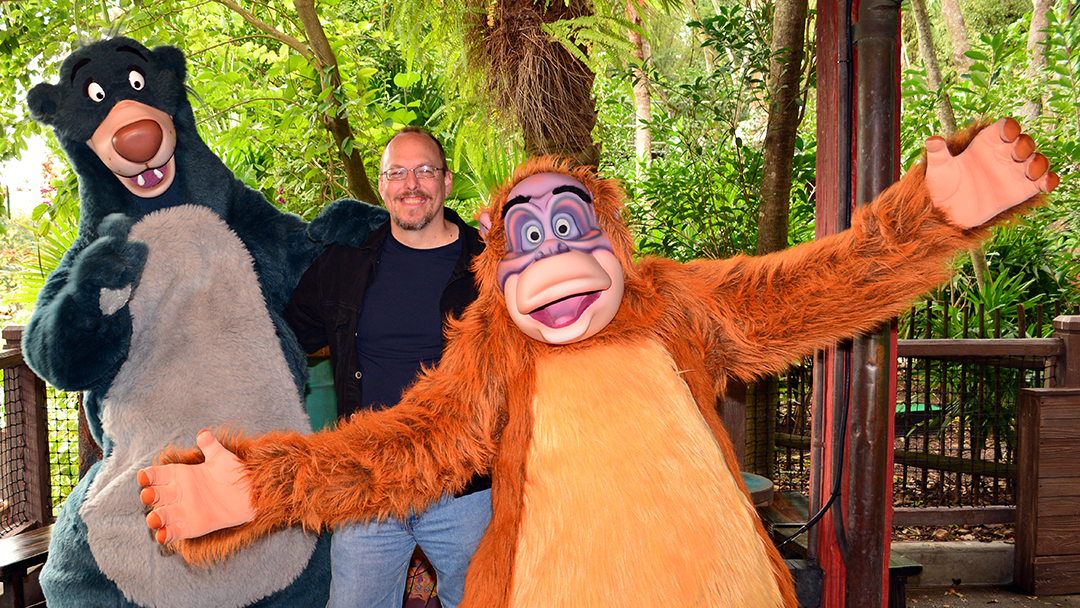 I concluded my day by meeting Chip n Dale and Rafiki and listening to GiTar Dan at Rafiki's Planet Watch.
GiTar Dan, CHIP N DALE and Rafiki
To meet these characters, you'll need to board the Wildlife Express Train in Africa and take the short ride over to the Conservation Station.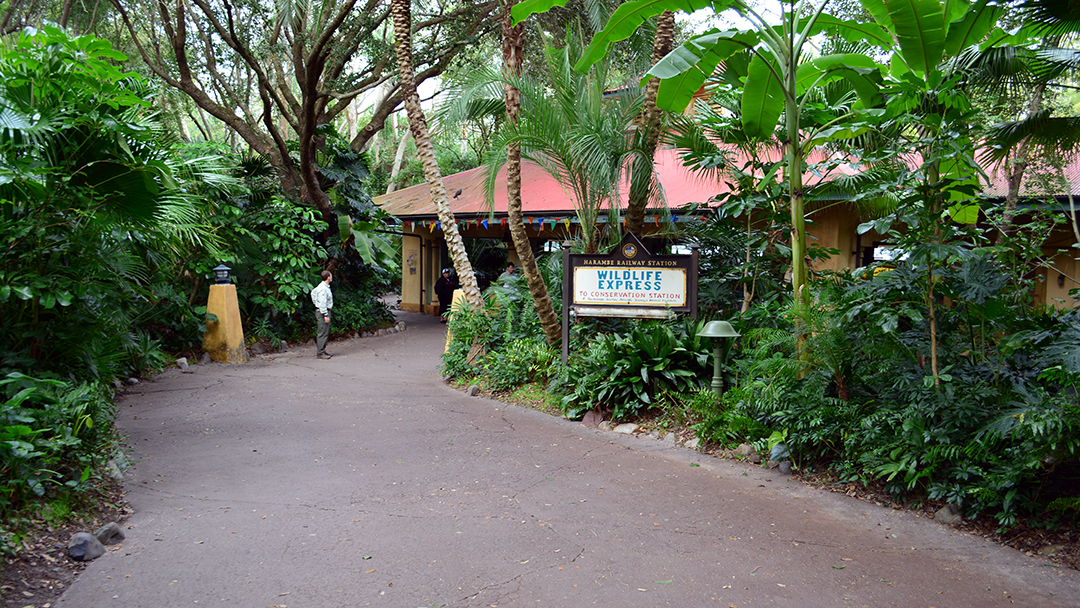 You'll go past some the the animal buildings.  I'd love to give you the full experience, but the Honey Boo Boo Scratch n Sniff hasn't been fully implemented on the blog yet.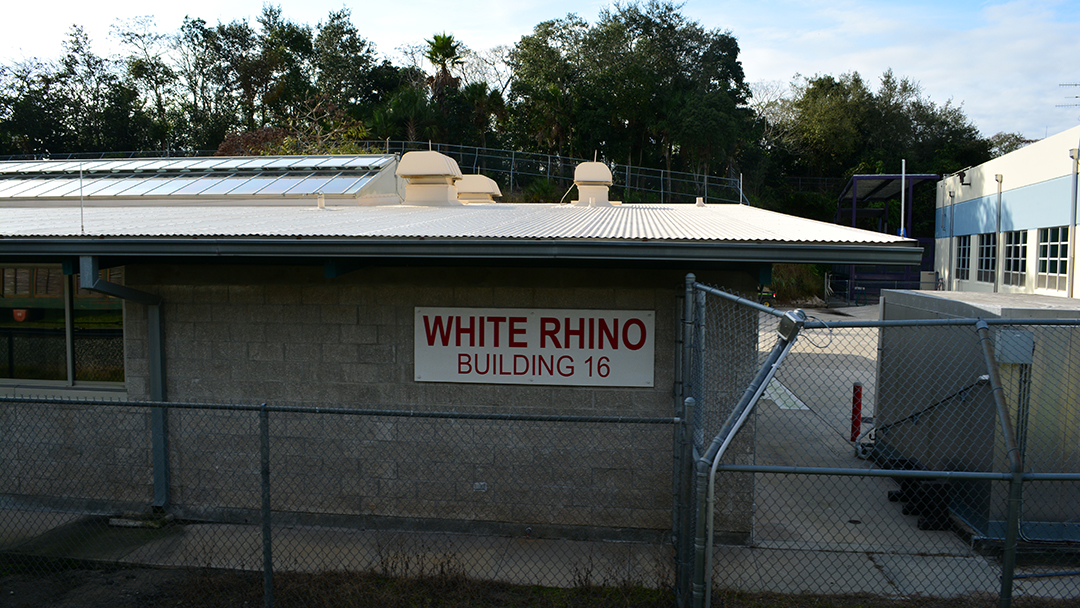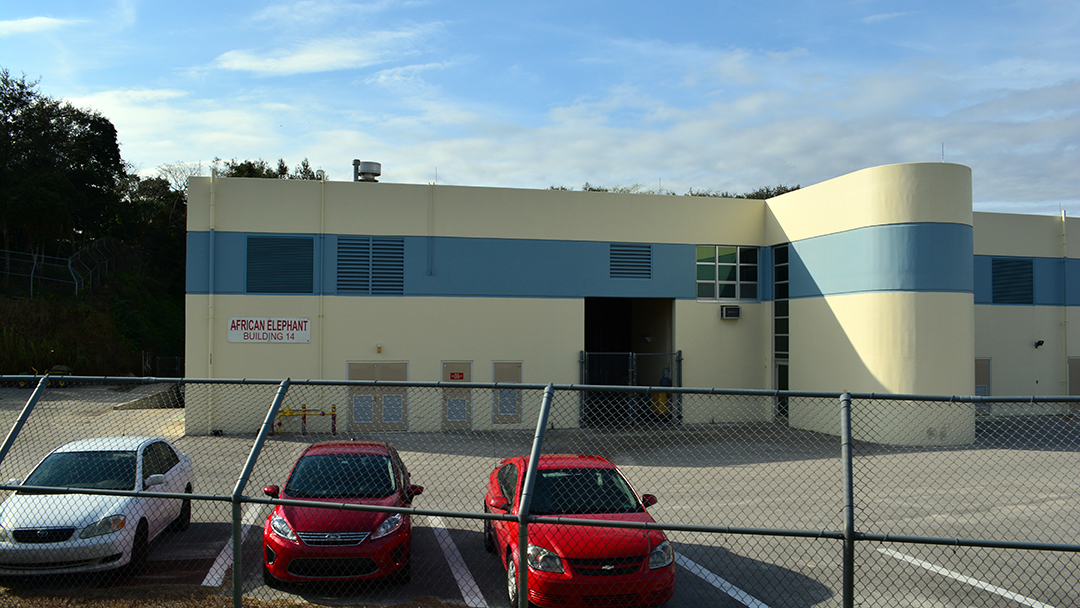 Rafiki urges you to stay the right hand side because we're Americans and that's how we roll!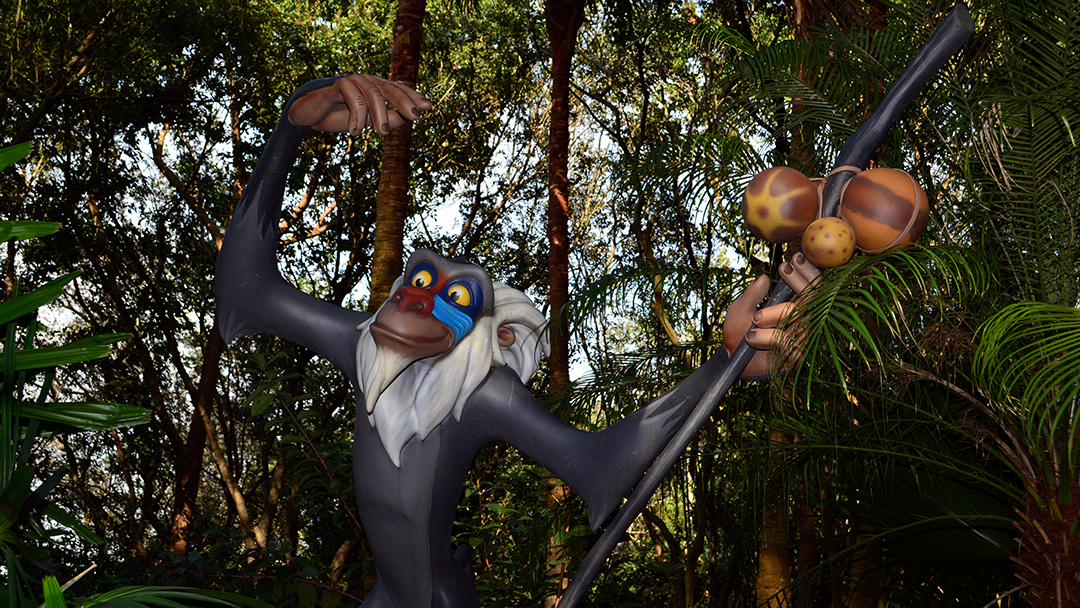 I really enjoy GiTar Dan!  His little show where he makes up a song on the fly is a classic Animal Kingdom attraction.  I'm glad that they kept him after the Avatar bulldozers moved in to destroy Camp Minnie Mickey.  Have him record a free song for a friend sometime.  It's the only free thing you can do in Walt Disney World.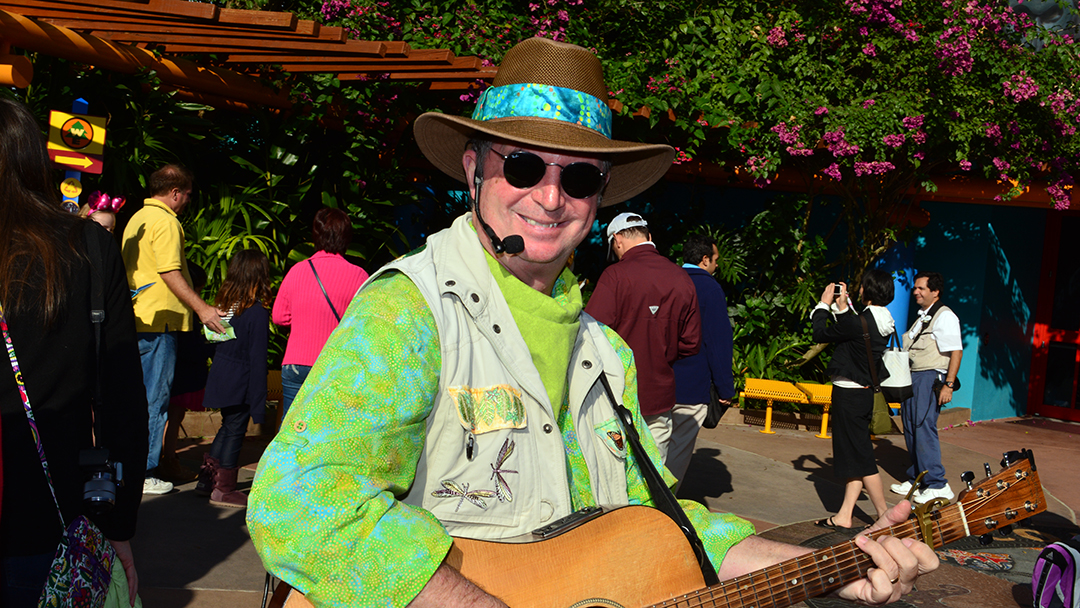 If the weather is nice, you'll find Chip n Dale outside the Conservation Station.  If it's raining, they just move indoors.   Convenient huh?  I had a very short wait for the chipmunks and noticed as I ate my Mickey Premium Bar that the line went to nothing pretty quickly.  (I think WDW needs a frequent buyers club for Mickey Premium Bars!)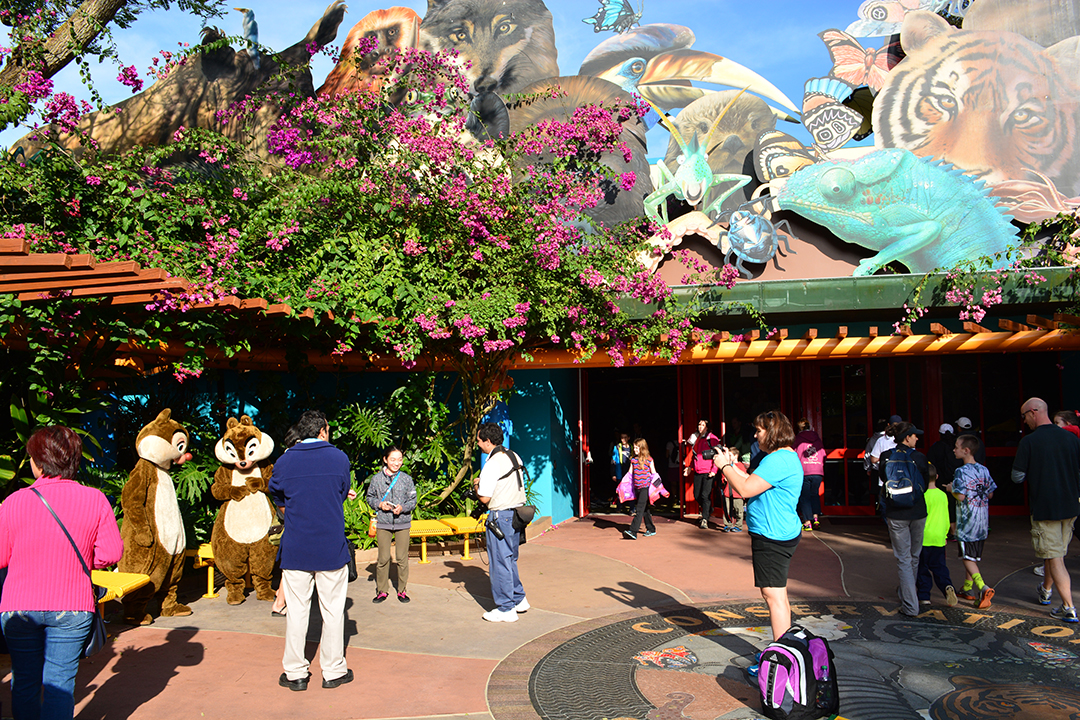 I had to get the guys to stop showing off and pose for the camera.  Dale thought he had the better muscles, but Chip said he's the smarter of the two.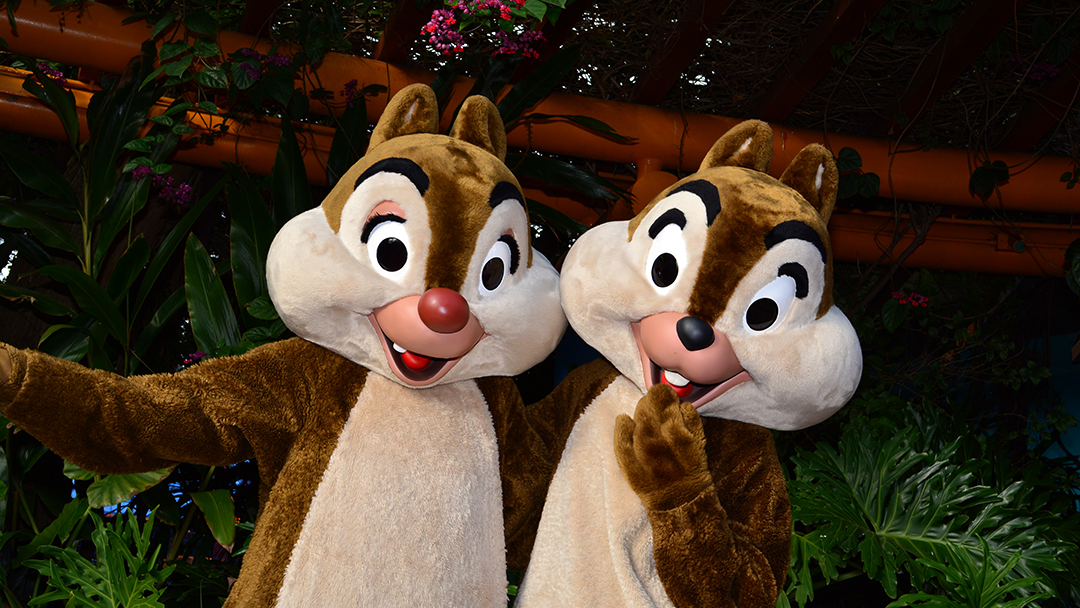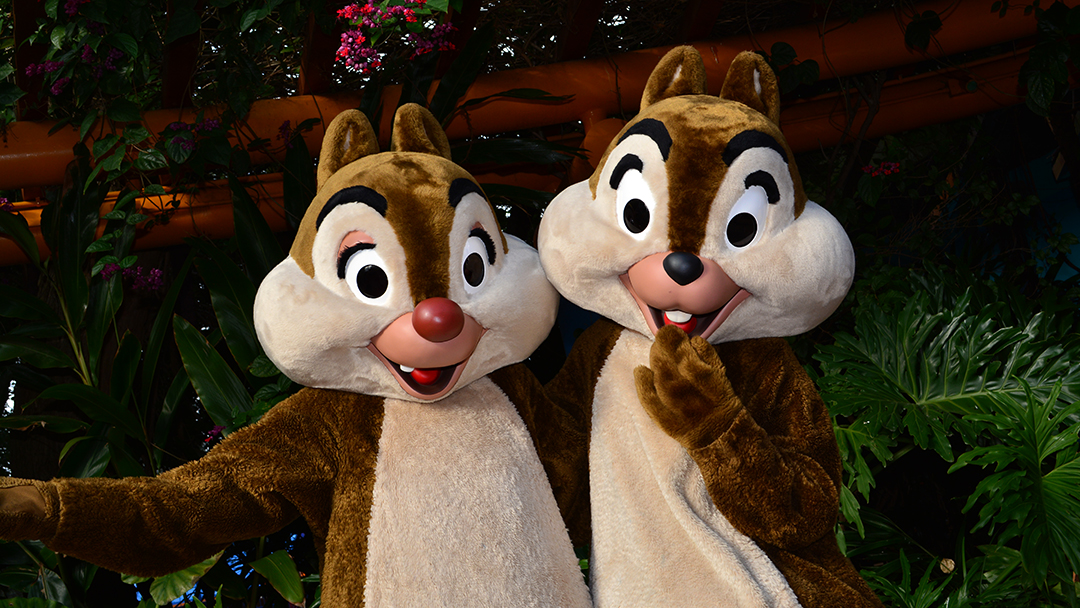 I had already made the great effort to get to the Conservation Station, so I accepted the 2 minute wait to meet Rafiki while visiting.  He was excited to see me.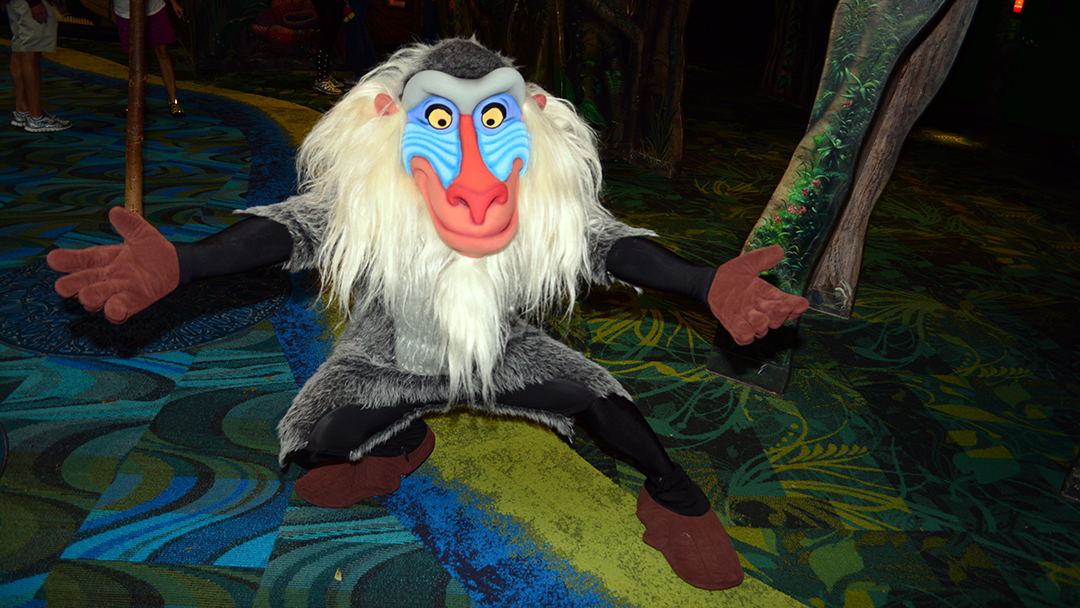 See the smile on his face?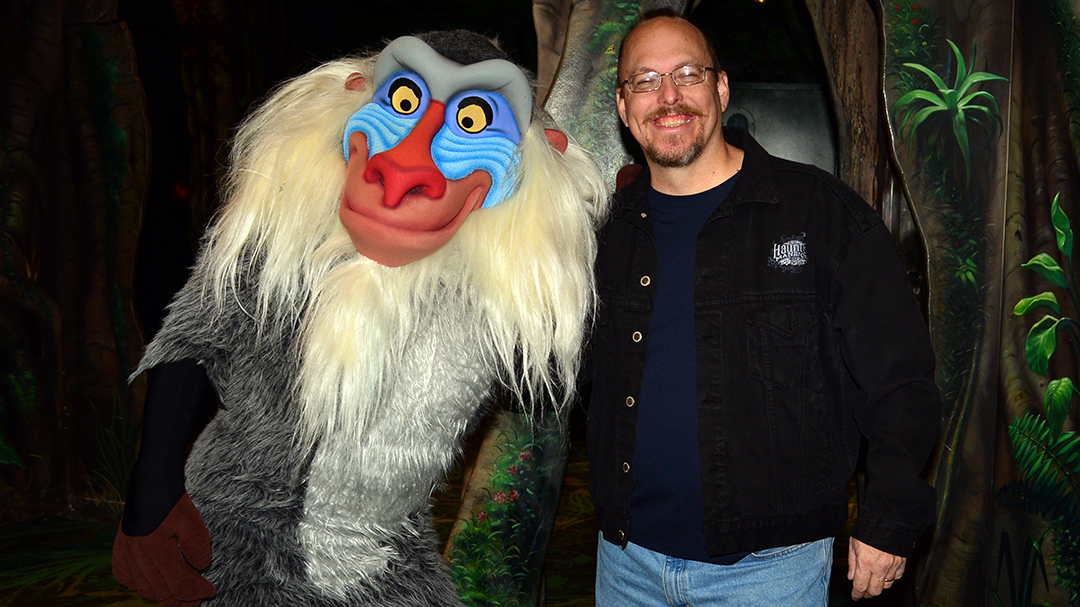 You made it to the end of the post, so I'll share something that I was told while visiting.  I was told that Pocahontas could be relocating to this same area.  You'll see some construction walls below.  If the rumor I was given is correct, this will become her permanent meet location.
I didn't have to do anything illegal or immoral to get this shot. The wall on the other end didn't have any of that netting stuff on it, so I just snapped a pic.  I know people love to see stuff being built at WDW, so enjoy!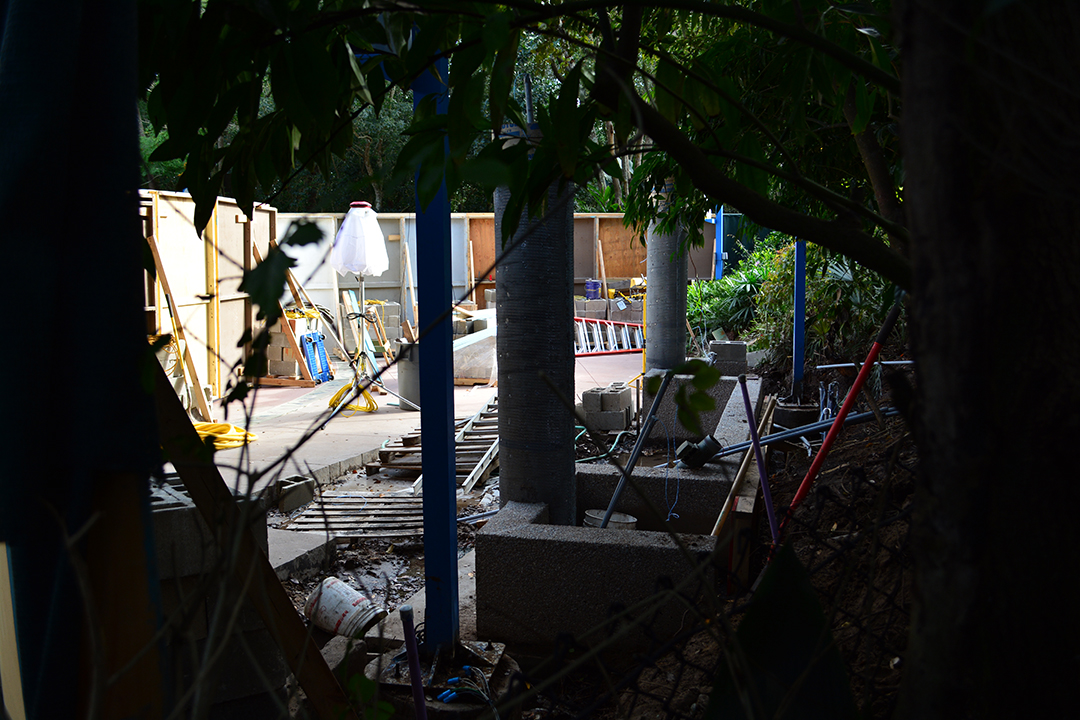 Are you excited to meet these characters in their new locations?  What would you have done differently?